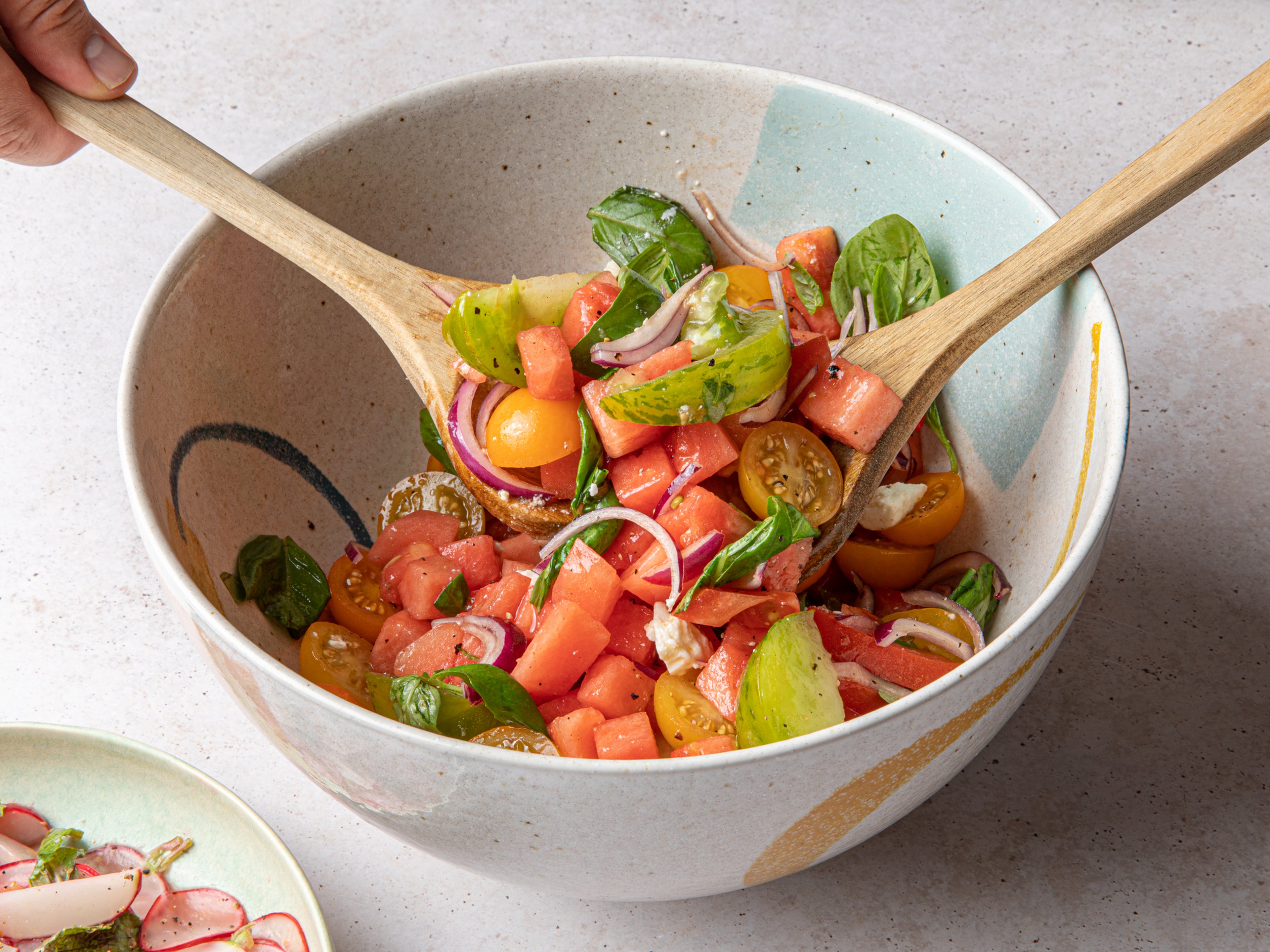 80+ Sides to Bring to Your Next Summer Picnic and Grill
Our best recipes for eating al fresco
Food Editor at Kitchen Stories
The sun is out and with it, barbecue season has come in full swing. What to actually put on the grill rarely comes into question; instead, the question of the tastiest and most suitable dishes to enjoy on the side. How does the saying go? We have something for you! Namely a huge amount of inspiration from our collection: over 80 side dishes where you will be sure to find what you are looking for.
Side dishes for barbecue
Principally there are no rules. Unless you're grilling or picnicking at home, cold dishes that are easy to prepare are the best choices. Here you will find all kinds of delicious treats, from pasta and potato salads to Asian delicacies, dips, and salads of all kinds. And of course, we can't forget about sweets and baked goods. Let's go!
Pasta salads for barbecue
The nice thing about pasta salads is that you can make them based on your own preferences. Italian, Asian, fruity, or using leftovers from yesterday's dinner: pasta always tastes good, even one day old.
Simple Mediterranean pasta salad
Colorful Asian-inspired noodles
Light pesto pasta salad
(Quick) potato dishes
It's hard to imagine a BBQ without potatoes. My preferred way to eat them is wrapped in foil that has been resting on the charcoal. But they also go great in salads.
American potato salad
Loaded smashed potatoes
French potato and green bean salad
Creamy potato salad with mayonnaise
Patatas bravas
Asian side dishes
The Asian dishes selected here are wonderfully fresh and are therefore perfect for a warm summer's day.
Vietnamese-inspired summer rolls
Glass noodle salad with lemongrass dressing
Asian kohlrabi salad
Napa cabbage salad with ramen noodles
Papaya salad
Gado-gado (Indonesian salad with peanut sauce)
Bok choy and mango salad with miso dressing
Korean cold spicy noodle platter (Jaengban guksu)
Rojak (Malaysian-style sweet and sour salad)
Smashed cucumber salad
Easy nori sandwich
Make fresh herb quark yourself (plus more dips)
Try one (or a few) of our dip suggestions for a bit of variation. They go well with our easy homemade flatbread or Lebanese manakish.
Hummus, baba ghanoush and carrot salad trio
Fresh herb quark with potatoes
Carrot hummus with pita bread
Chickpea-yogurt dip
Roasted eggplant with sesame dip
Simple guacamole
The colorful world of salads
For leaf salads, it is useful to bottle the dressing separately and pour it over the salad just before eating. Otherwise, the salad can quickly look sad – and no one wants that.
Avocado citrus salad with mixed nut pesto
Refined chickpea salad
Quick cauliflower tabbouleh
Garlicky lentil salad with yogurt dressing
Celery Salad with Cilantro and Sesame
Fennel, arugula, and apple salad
Cobb salad
Red cabbage with grilled avocado
Lentil salad with apple and celery
TikTok's viral vegan green goddess salad
German cabbage slaw with caraway
Vegetables are king!
I have the feeling that especially among passionate (meat) grillers there is an aversion to vegetables. However, with respect to the following recipes, I can't understand that at all.
Shaved asparagus salad with goat cheese
Grilled corn and tomato salad
Baked zucchini with millet filling
Herby roasted vegetable grain bowl
Grilled vegetable platter
Rice and co.
These side dishes can also be prepared using couscous, bulgur wheat, or quinoa instead of rice.
Djuvec rice
Wild rice salad
Veggie paella with zucchini and eggplant
Kisir – Turkish bulgur salad
Chicken zucchini couscous salad
Warm quinoa salad
Energy salad
5-ingredient pearl barley and roasted carrot salad
Mexican quinoa bowl
Sandwiches
Admittedly, this category is probably more suited to a picnic in the park with no grill in sight. Easily made, quickly packed, and taken with featuring terrific taste. Cut into small pieces and put on skewers, they can easily be upgraded into pretty appetizers.
Poached chicken and avocado sandwich
Italian sandwich with prosciutto di Parma
Homemade chicken salad sandwich
5-ingredient classic BLT (Bacon, lettuce, and tomato sandwich)
Steak sandwich
Grilled cheese sandwich
5-ingredient kimchi grilled cheese and simple salad
… more ideas to bring
Unfortunately, I can't take away the agony of choice from you either. Here are all sorts of other dishes that can be packed well.
Bacon and Egg Muffin Cups
Lentil croquettes with cilantro-lime salad
Green pea falafel with lemon couscous and minty yogurt
Sweet potato, spinach, and feta frittata
Herby Swiss chard fritters with basil yogurt
Empanadas
Mozzarella tomato twist
Turkish cheese rolls
Quick desserts
Something sweet to finish off the evening. All the recipes suggested here are quick and easy to prepare.
Chocolate treat
Chocolate pudding
Chocolate croissant
Energy balls
Overnight oats with three toppings
Published on June 13, 2022
More delicious ideas for you