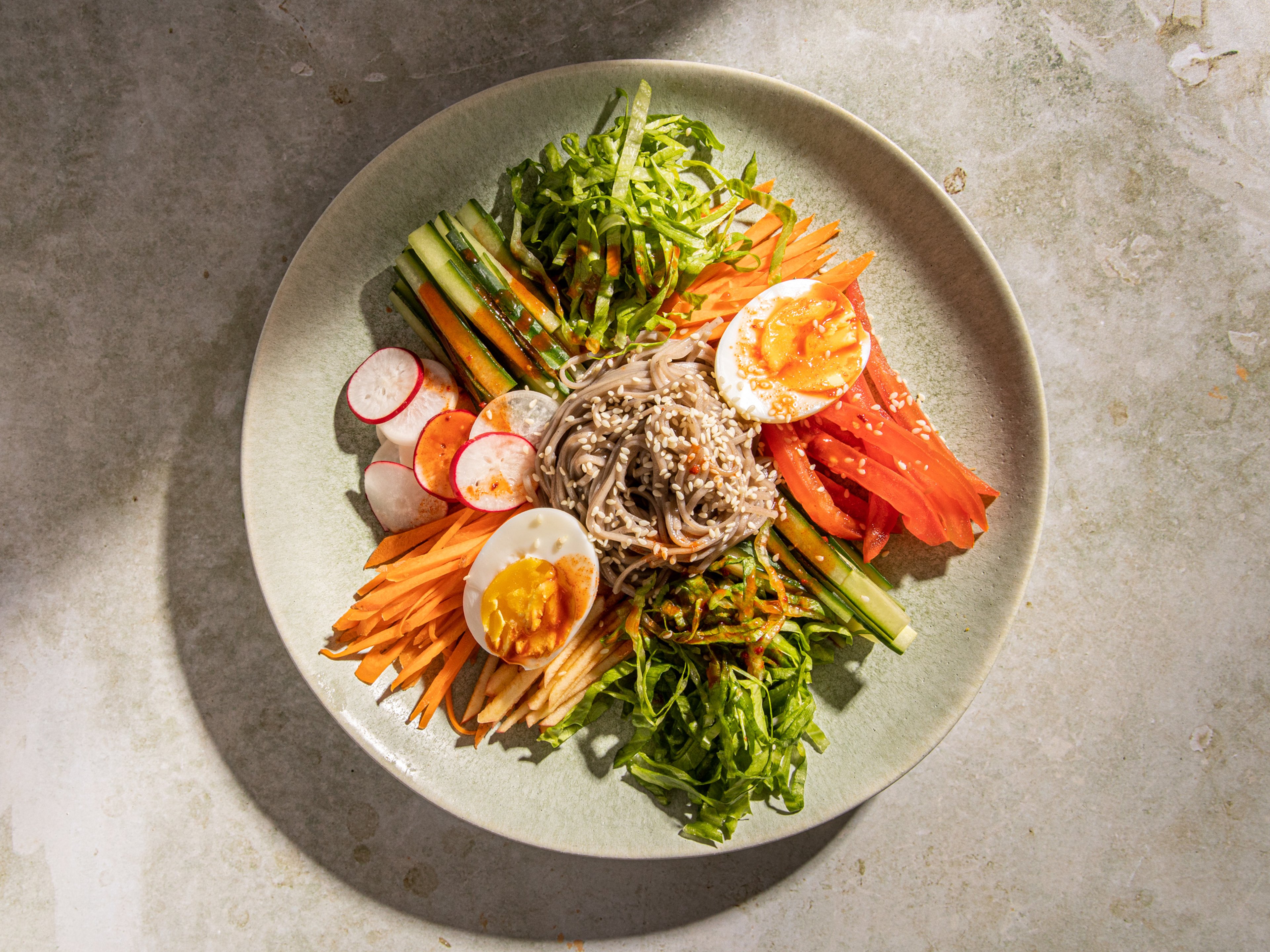 Jaengban guksu (Korean cold spicy noodle platter)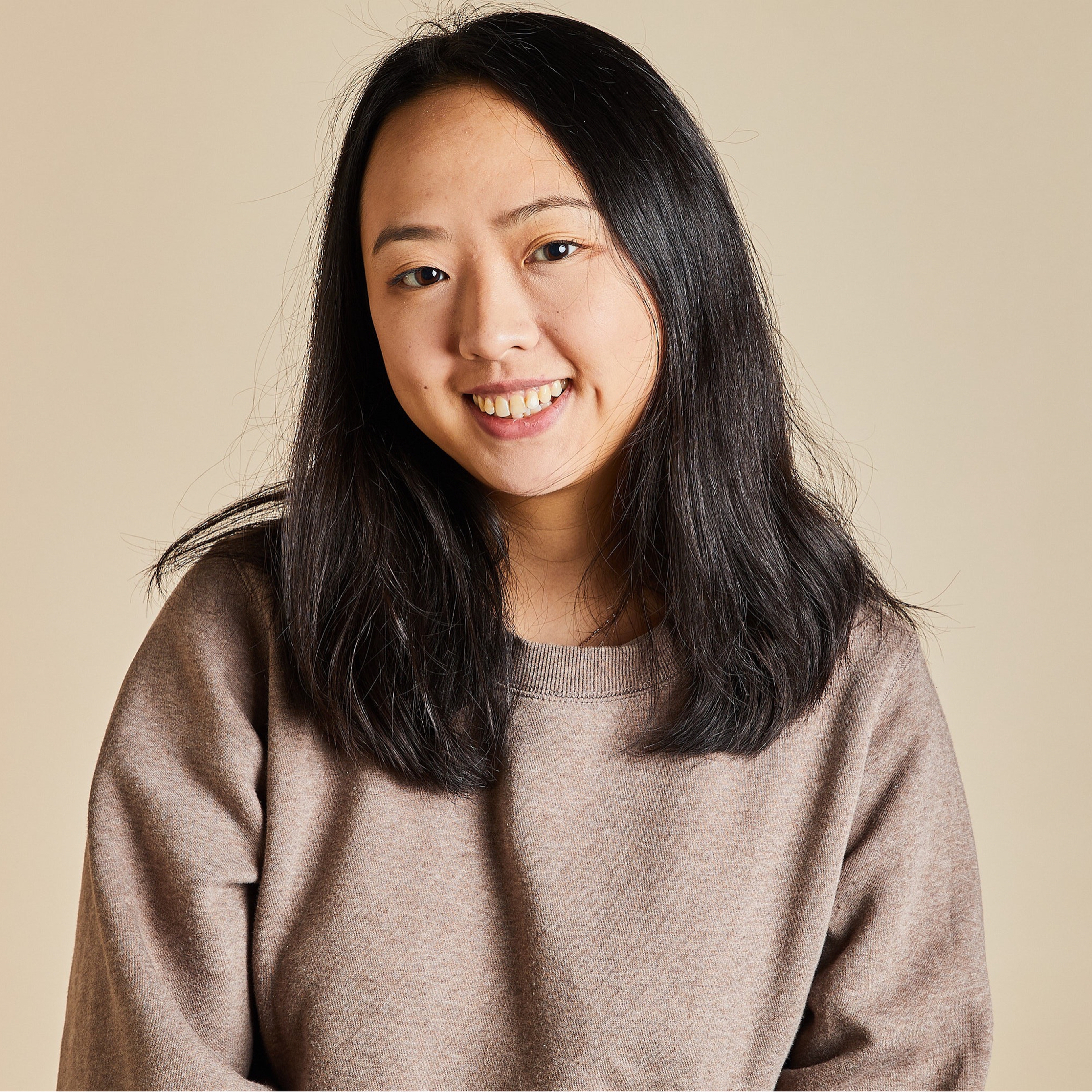 "Just like Naengmyeon (Korean cold noodles in broth), Jaengban guksu is perfect for summer. With chewy soba or somen noodles and crunchy veggies (use any you have!), and a spicy sauce with a fruity note, you'll want to keep on slurping! Traditionally Asian pears are used, but you can also use any other juicy, crisp fruit like pears or apples. I was inspired by Korean cooking expert Maangchi's recipe, which sieves the sauce a step that makes it even more light and refreshing, but you can optionally skip this step. You can dial down the heat of the recipe by adjusting the amount of gochugaru (Korean chili flakes) and gochujang (Korean chili paste)."
Ingredients
toasted sesame oil (for serving)
sesame seed (for garnish)
Utensils
cutting board, knife, pot, sieve, food processor, fine sieve, bowl (small)
How-To Videos
How to cook the perfect egg
How to prepare garlic
How to julienne
How to peel ginger
Step 1/ 4

½

cucumber

½

carrot

½

tomato

¼ head

iceberg lettuce

4

radishes

1

apples

½

onion

1 cloves

garlic

½ tsp

ginger

Julienne cucumber and carrots. Slice tomato and shred iceberg lettuce into thin strips. Thinly slice the radishes. Halve and core the apples. Julienne half of the apples and set the other half aside for the sauce (you can put the apples in water to prevent browning). Peel onion, garlic and ginger.

Step 2/ 4

150 g

soba noodles

1

eggs

Cook soba noodles according to package instructions. Once the soba noodles are cooked, strain and rinse them with cold water until they are cool. Set aside. Boil the eggs for approx. 6 min. Remove them from the pot and let cool. Peel the eggs, then quarter or halve each.

Step 3/ 4

½ tsp

Korean chili flakes

1 tbsp

gochujang

1 tbsp

rice vinegar

½ tbsp

soy sauce

1 tsp

sugar

salt

food processor
fine sieve
bowl (small)

In a food processor, puree half of the apple, onion, garlic and ginger (add 2 tbsp water if it's too dry). Strain through a fine sieve and collect the juice. Combine the juice with Korean chili flakes, gochujang, rice vinegar, soy sauce, and sugar. Season with salt. Mix to combine.

Step 4/ 4

ice cubes (for serving)

sesame seed (for garnish)

½ tbsp

toasted sesame oil (for serving)

Before serving, combine the sauce with some ice cubes. Place a nest of noodles in the middle of a big serving bowl or plate, and arrange the salad ingredients around the edge. Place eggs on top and garnish with sesame seeds and a drizzle of toasted sesame oil. Serve with the spicy sauce, or pour it over the top. Enjoy!

Enjoy your meal!
More delicious ideas for you