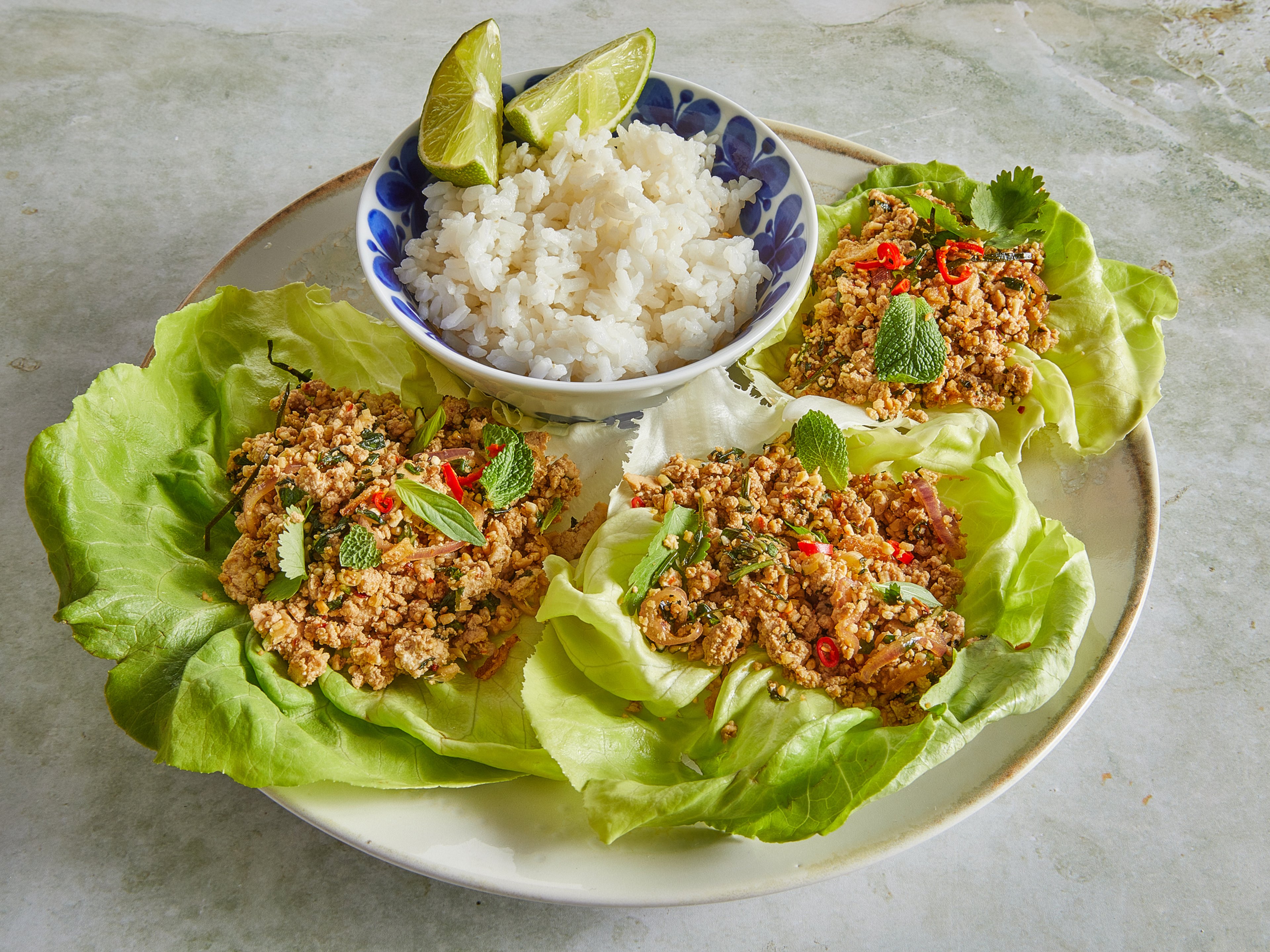 Vegan larb tofu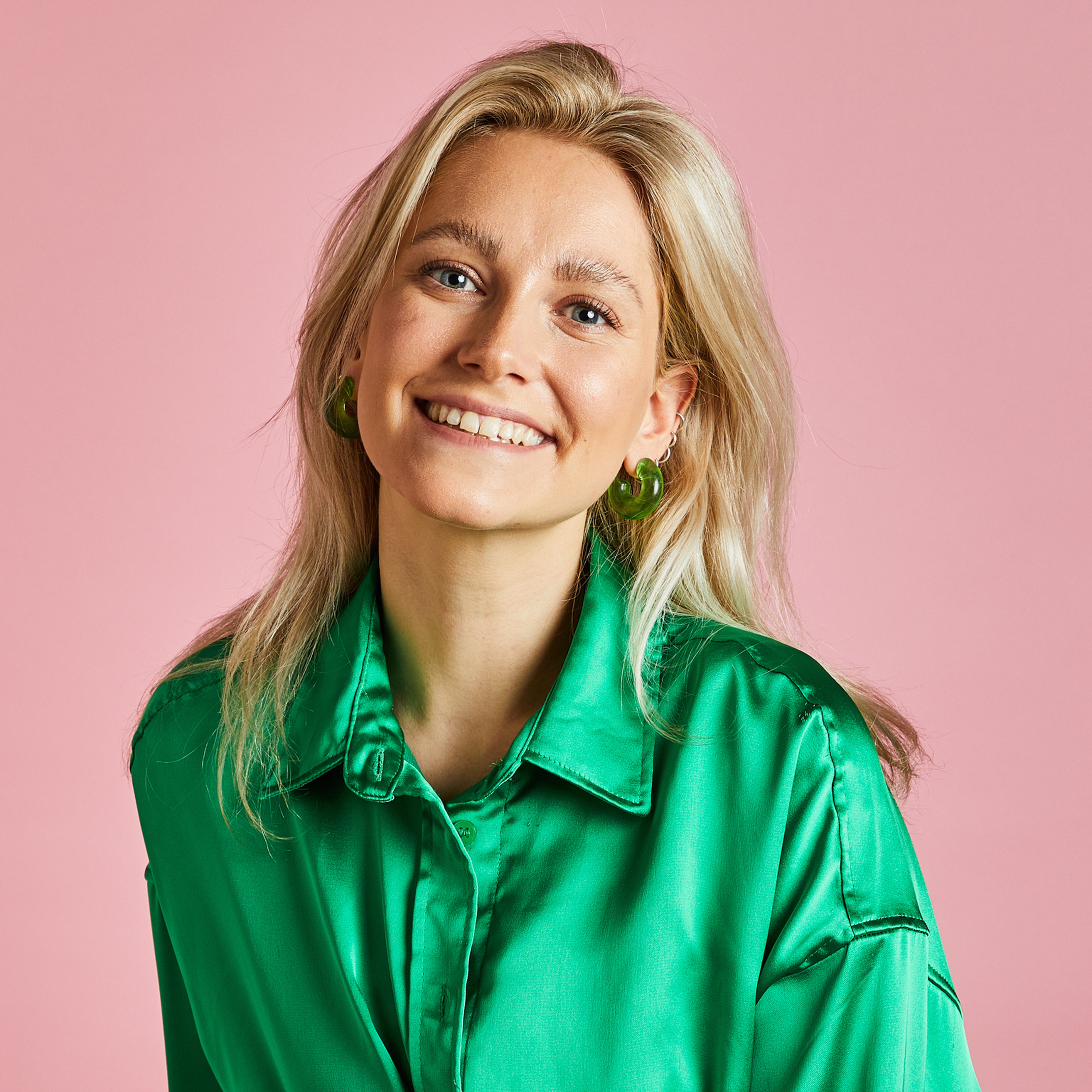 Food Editor at Kitchen Stories
"This recipe is inspired by the Southeast Asian larb, a spicy, lukewarm salad made with chopped meat and lots of fresh herbs. Originally from Laos, the dish is also very popular and widespread as street food, especially in the northern regions of Thailand. At the so-called "Thaiwiese" in Berlin, I ate a vegan version with tofu and was immediately thrilled. The crispy fried tofu provides the perfect protein-rich canvas for the many flavors and effortlessly soaks up the spicy-fresh lime dressing. Traditionally, fish sauce is used for seasoning, but here we replace it with a little more soy sauce and salt, but you can also add vegan or regular fish sauce if needed. The roasted rice powder, khao khua, is the secret star of this dish. Not only does it give a mild nutty flavor, but it also adds an exciting new crunchy texture level. So don't skip it! You can also prepare the rice powder in advance and use it in other delicious dishes like yum nua (Thai beef salad). However, it's best to add it before serving to stay nice and crispy. You can also use jasmine rice instead of glutinous rice for serving. With rice as a side dish, this recipe will easily satisfy up to 4 people. This dish is especially fun if you eat it straight from the lettuce leaves. If you want to learn more about this larb, check out my article about the dish."
Ingredients
Makrut lime leaves (optional)
butterhead lettuce (for serving)
sticky rice (cooked, for serving)
Utensils
frying pan, cooking spoon, food processor, knife, cutting board, fine grater, kitchen towel, bowl (small), spatula, bowl (large)
How to prepare lemongrass
How to chop green herbs
How to zest citrus fruits
How to prepare rice in a rice cooker
Step 1/ 5

frying pan
cooking spoon
food processor

For the toasted rice powder, heat a dry frying pan over medium-high heat. Add the rice and roast, stirring or tossing occasionally, for approx. 10 min. until golden brown and it takes on a nutty aroma. Let cool down. Then put the rice into a food processor or spice grinder and grind until it is still a coarse but not too fine powder, then set aside.

Step 2/ 5

1

shallot

1 stalk

lemongrass

2

Makrut lime leaves (optional)

4 sprigs

mint

3 sprigs

Thai basil

5 sprigs

cilantro

1½

limes

400 g

firm tofu

1 tbsp

brown sugar

3 tbsp

soy sauce

1 tbsp

chili flakes

knife
cutting board
fine grater
kitchen towel
bowl (small)

While the rice is roasting or cooling down, finely slice the shallot. Remove the outer layer from the lemongrass and cut into very fine rings. Cut the lime leaves, if using, into very fine strips. Set aside a few of the herbs for serving, pluck the remaining herbs from the stems and chop coarsely. Zest and juice the limes. Pat the tofu dry, wrap in a clean kitchen towel, squeeze lightly to remove as much liquid as possible, then crumble into small pieces with your hands. For the dressing, whisk together the lime juice, lime zest, brown sugar, ¾ of the soy sauce and chili flakes in a small bowl until the sugar has dissolved.

Step 3/ 5

3 tbsp

vegetable oil

1 tbsp

soy sauce

Heat the same pan used for toasting rice on medium-high heat and add a little oil. Fry the tofu in it for approx. 5 min. until crispy, season with remaining soy sauce. Remove from the pan and add to a large bowl. While the tofu is still hot, add the lemongrass and shallots, mix together and let the remaining heat soften.

Step 4/ 5

Add the dressing, lime leaves if using, herbs, rice powder, and a little salt to the tofu and mix well. Season to taste and add more salt or soy sauce if needed.

Step 5/ 5

1 head

butterhead lettuce (for serving)

lime (for serving)

fried onion (optional)

1

Thai chili (optional)

sticky rice (cooked, for serving)

Pluck whole lettuce leaves from the head. To serve, spoon the tofu salad onto the lettuce leaves. Garnish with remaining herbs and lime wedges. Sprinkle with crispy onions if using and garnish with fresh chopped chilli. Serve with steamed sticky rice, if desired.

Enjoy your meal!
More delicious ideas for you