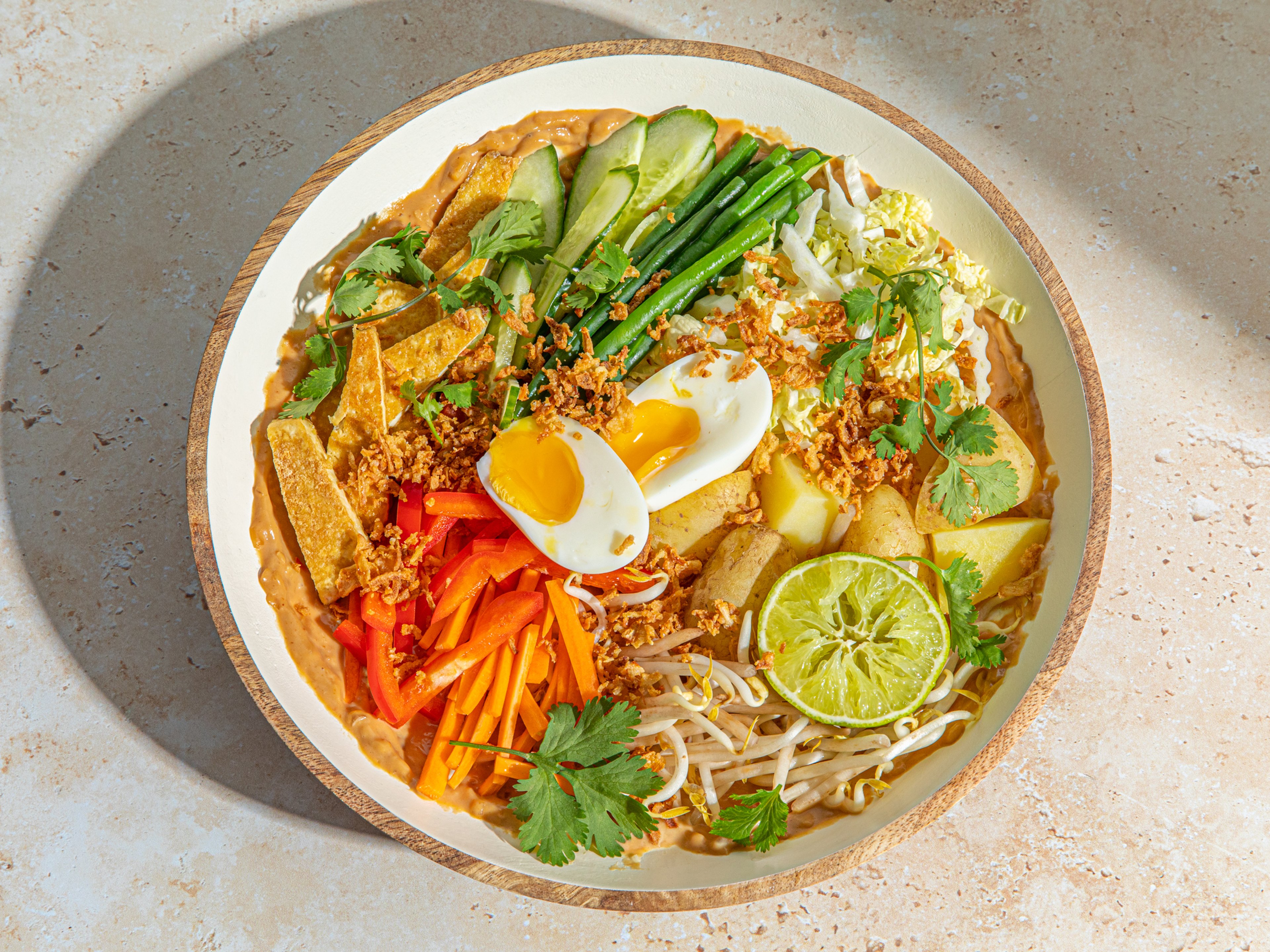 Gado-gado (Indonesian salad with peanut sauce)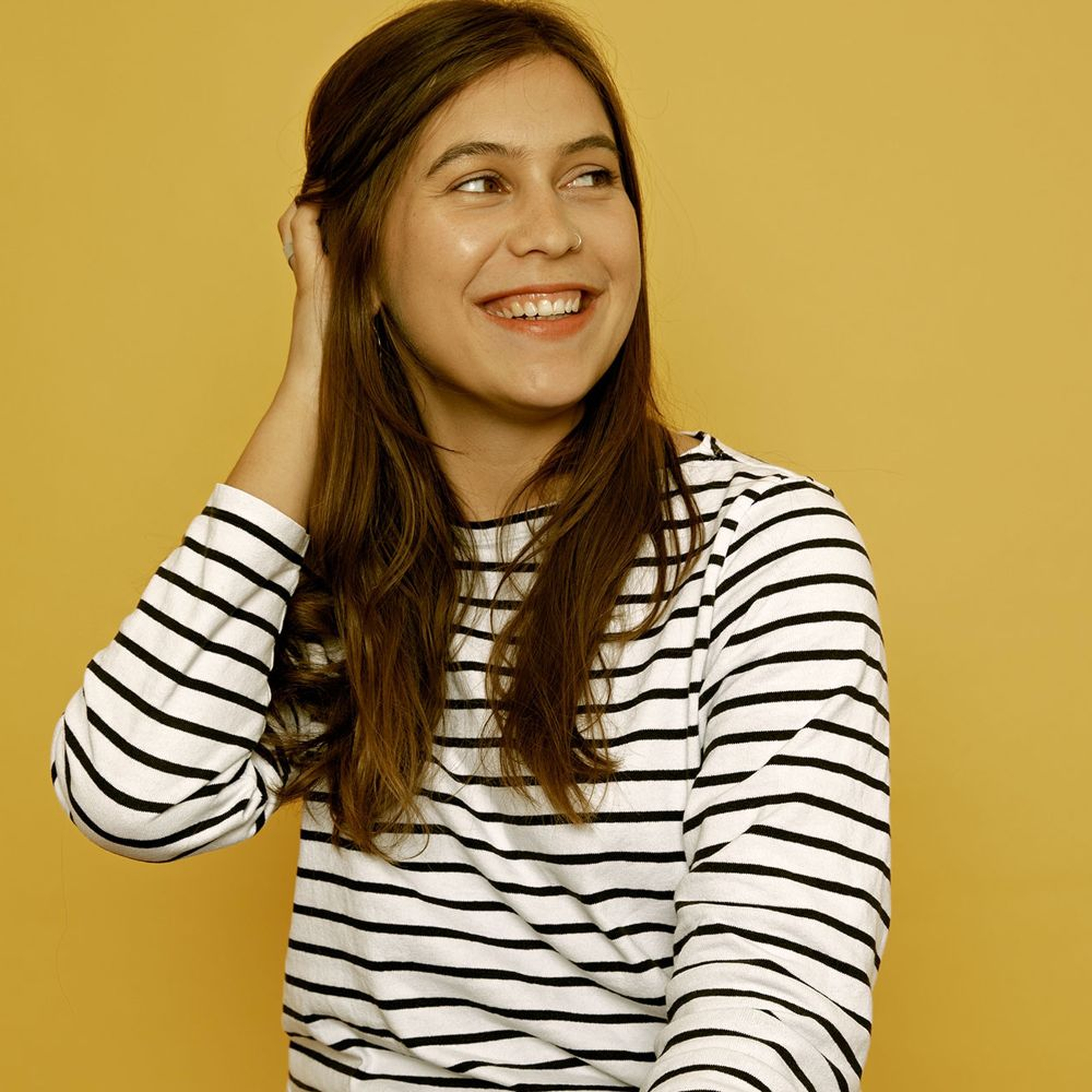 "Indonesian gado-gado is bright on the eye, and even brighter on the palate. This mixed salad made up of both fresh and cooked vegetables, fried tofu, and a boiled egg, served with a generous helping of peanut sauce. I love how easy it is to assemble (the cooking is reserved to the very quick sauce and some speedy vegetable blanching) and what a treat it is to eat, simultaneously fresh and filling. There are many regional ways to make the recipe and many ways you can approach the recipe yourself—you can use fried tempeh instead of tofu, toast and grind your own peanuts instead of peanut butter (just be sure to use the so-called Spanish peanuts, identifiable by their small size and papery red skins), add dried shrimp paste, palm sugar, and makrut lime leaves to the recipe (which I can highly recommend!), or vary the selection of vegetables, using sweet potatoes instead of regular potatoes, for instance (just be sure to use a mixture to balance fresh and crunchy vegetables with more starchy vegetables)."
Ingredients
vegetable oil (for frying)
fried onion (for serving)
Utensils
cutting board, knife, fine grater, sieve, 2 saucepans, 2 spatulas, whisk, pot, slotted spoon, bowl, frying pan
Homemade peanut sauce
How to cook the perfect egg
How to blanch
How to zest citrus fruits
Step 1/ 4

1

shallots

1 cloves

garlic

1

Thai chilis

¼

lime

100 g

Napa cabbages

2

new potatoes

¼

bell pepper

½

carrot

¼

cucumber

50 g

green beans

25 g

bean sprouts

50 g

tofu

cutting board
knife
fine grater
sieve

First, prep the ingredients for the sauce. Finely mince shallot, garlic, and chili. Zest half of the lime and juice the rest. Set aside. Then prep the ingredients for the salad. Finely slice the Napa cabbage and halve the new potatoes. Slice the bell pepper and carrot into sticks. Slice the cucumber on the diagonal. Trim the green beans, if needed. Wash and drain the bean sprouts. Slice tofu into squares approx. ½ cm/3/4 in. thick, then slice across diagonally into triangles.

Step 2/ 4

½ tbsp

vegetable oil

40 g

creamy peanut butter

100 ml

coconut milk

½ tbsp

sweet soy sauce

salt

To make the peanut sauce, add vegetable oil to a saucepan. Once heated over medium-high heat, add shallots and sauté 1 min., add garlic and chilli and fry for another 1 min. Reduce heat to medium, add peanut butter and very gradually pour in the coconut milk while whisking the mixture to incorporate it. Add sweet soy sauce and season with salt. Bring to a boil, whisking now and then to make sure it doesn't stick, then lower the heat, and let simmer for 5 min. until thickened. Add lime juice and zest and stir well until fully combined. Remove from heat and let cool slightly.

Step 3/ 4

saucepan
pot
slotted spoon
bowl

Add eggs to a saucepan of water, over medium-high heat. Bring to a boil, reduce heat and let simmer for 7 min. to achieve a medium-cooked egg. Remove from heat and cool eggs under cold running water. Add halved new potatoes to a pot of salted water, bring to a boil, and let simmer until cooked, approx. 6 min. Remove potatoes with a slotted spoon. Using the same water if you like, add beans to boiling salted water and blanch for 1 min., then transfer to a bowl of cold water.

Step 4/ 4

vegetable oil (for frying)

¼

lime

salt

fried onion (for serving)

cilantro (for serving)

Heat some vegetable oil in a frying pan, over medium-high heat. Add tofu and flash fry until crispy. To assemble the salad, spread the sauce on the bottom, then top with remaining ingredients: Napa cabbage, bell pepper, bean sprouts, carrot, cucumber, and fried tofu. Squeeze the juice of half a lime over the top of the salad ingredients and season with a little salt. Garnish with the halved eggs, a generous amount of fried onions and cilantro. Serve with extra lime. Enjoy!

Enjoy your meal!
More delicious ideas for you