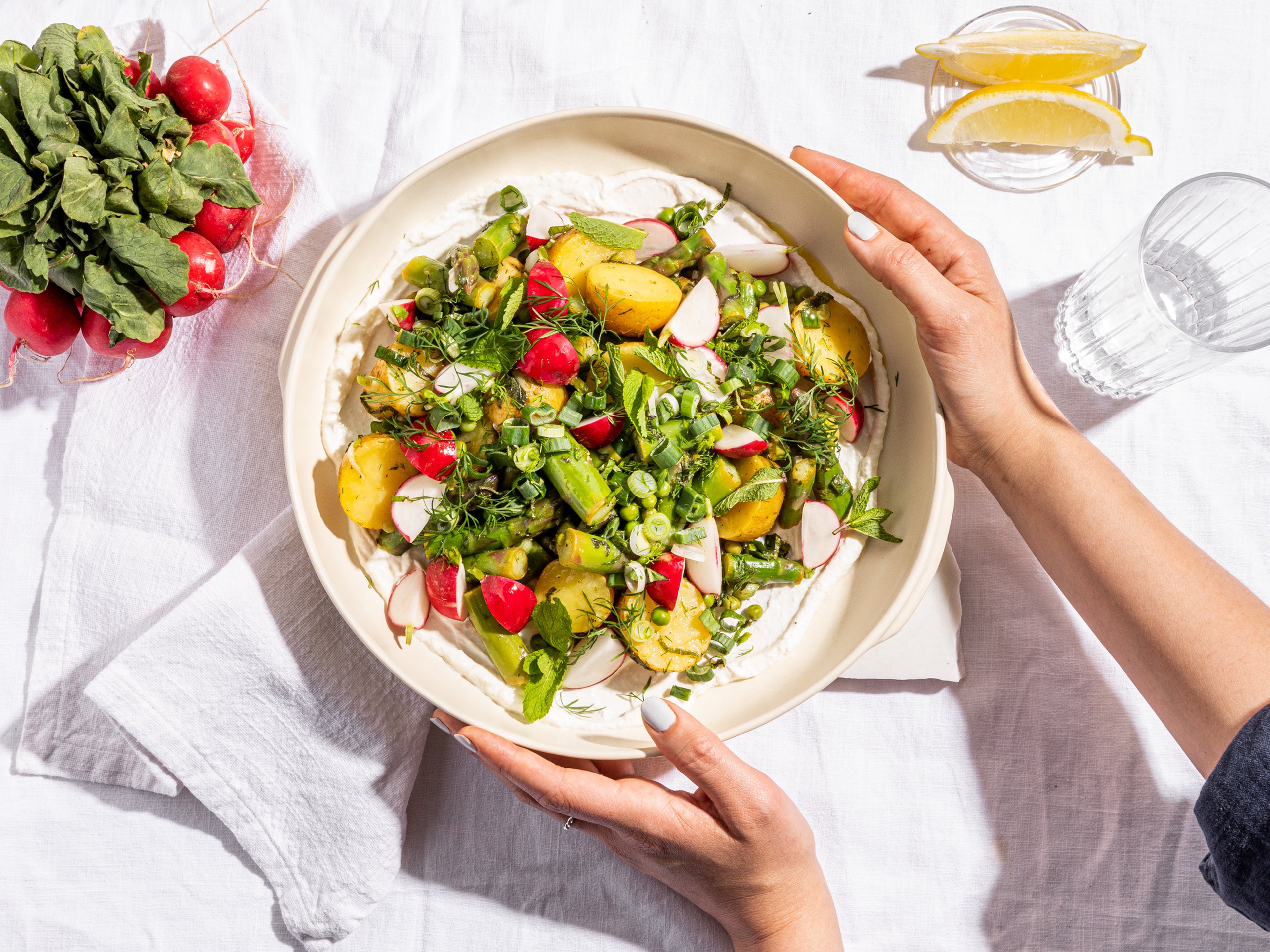 Spring potato and asparagus salad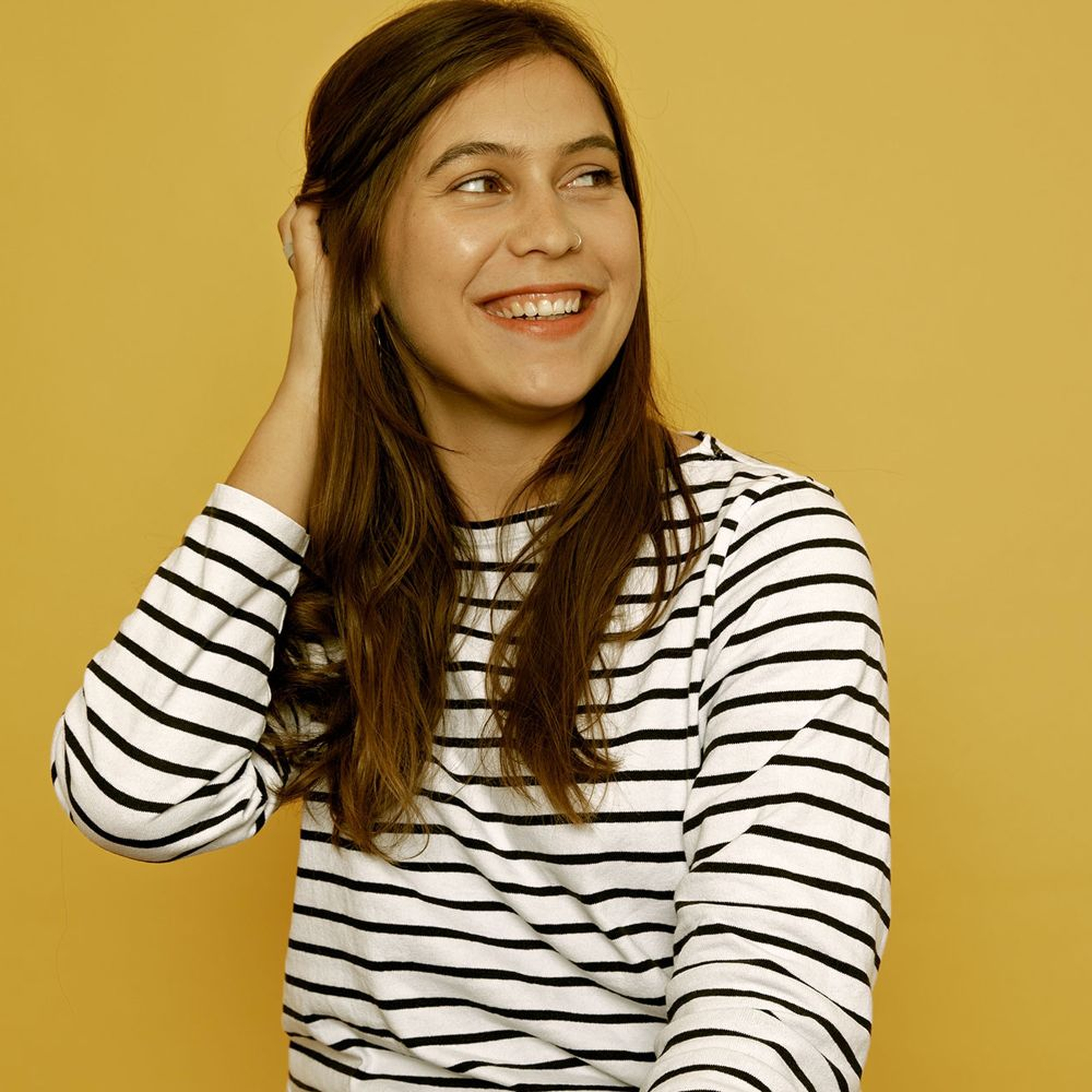 "You asked for it—a spring potato (and asparagus!) salad! For those who can't agree on a creamy potato salad or a sharper-dressed one, here you don't have to: Once tossed in a zesty vinaigrette, the potatoes is tumbled onto on a bed of horseradish spiked Greek yogurt—so just scoop up your favorite bits or mix it all together on your plate! The salad uses a whole lot of the season's produce: creamy new potatoes, green asparagus (since asparagus salad was the runner up, I decided to give you both in one recipe!) peas, radishes, and herbs. You can substitute or dial up the dill and mint with whichever soft, spring herbs you like or have on hand—like parsley, wild garlic, or tarragon. This recipe is part of "The Community Issue," a collaboration with Infarm—the urban farming revolutionaries based in our Berlin community; with global reach across 10 countries and 30 cities. Check out their website for more information and to check if their 100% locally grown produce is available in your community."
Utensils
knife, cutting board, 2 pots, slotted spoon, 2 large bowls, grater, bowl, plate
How to shell peas
How to chop green herbs
How to prepare green asparagus
How to cook potatoes
Step 1/ 4

7½ g

mint

7½ g

dill

2

scallions

100 g

peas

250 g

green asparagus

3

radishes

250 g

new potatoes

Roughly slice the herbs and scallions. Pod peas, if you are using fresh ones. Remove woody ends on the asparagus and slice into bite sized pieces. Slice the radishes in quarters and halve the new potatoes.

Step 2/ 4

2 pots
slotted spoon
large bowl

Add potatoes to a pot and cover well with water and salt. Bring to a boil, then reduce the heat and let simmer until fork tender. Meanwhile, bring another pot of water to the boil, blanch the asparagus for approx. 2 -3 min., until it's cooked through, but still has some bite to it. Scoop out with a slotted spoon and transfer to a bowl of cold or iced water. Use the same water to blanch the peas for approx. 2 min., then drain and add to the bowl with the asparagus.

Step 3/ 4

½

lemon

1 tsp

honey

1 tbsp

white wine vinegar

25 ml

olive oil

50 g

full-fat Greek yogurt

1 tsp

horseradish

salt

pepper

To make the dressing, zest and juice the lemon and add to a large bowl (big enough to toss the salad in). Next, add honey, white wine vinegar, olive oil, salt, pepper, and half of the chopped herbs and scallions. Add peas, drained potatoes, and toss well. Let sit for 10. min to marinate. Mix Greek yoghurt with horseradish in a small bowl and season it with salt and pepper.

Step 4/ 4

To serve, spread horseradish-spiked Greek yoghurt onto a large plate or large, shallow bowl. Tumble potato and pea salad on top and garnish with remaining herbs. Enjoy!

Enjoy your meal!
More delicious ideas for you