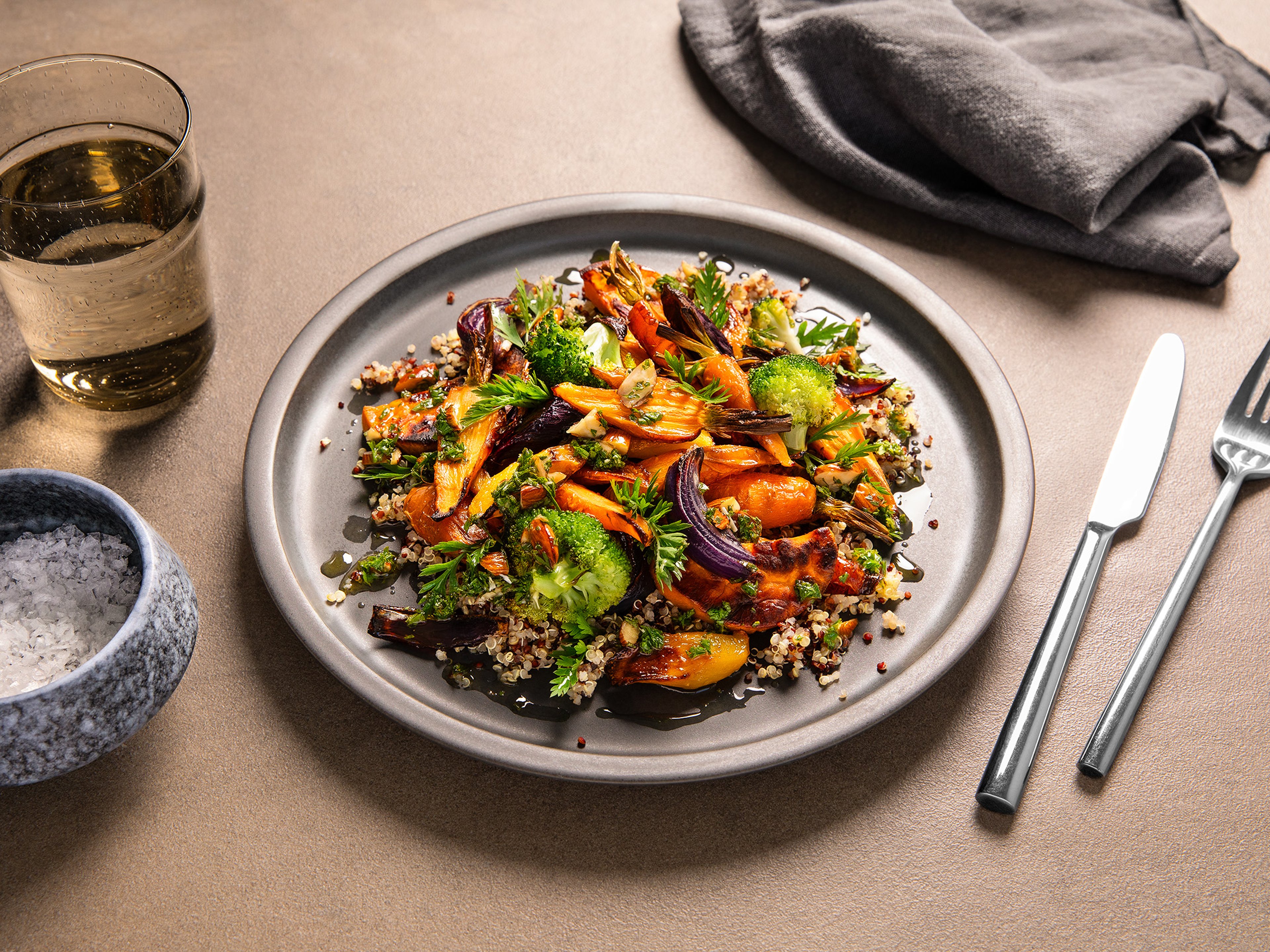 Herby roasted vegetable grain bowl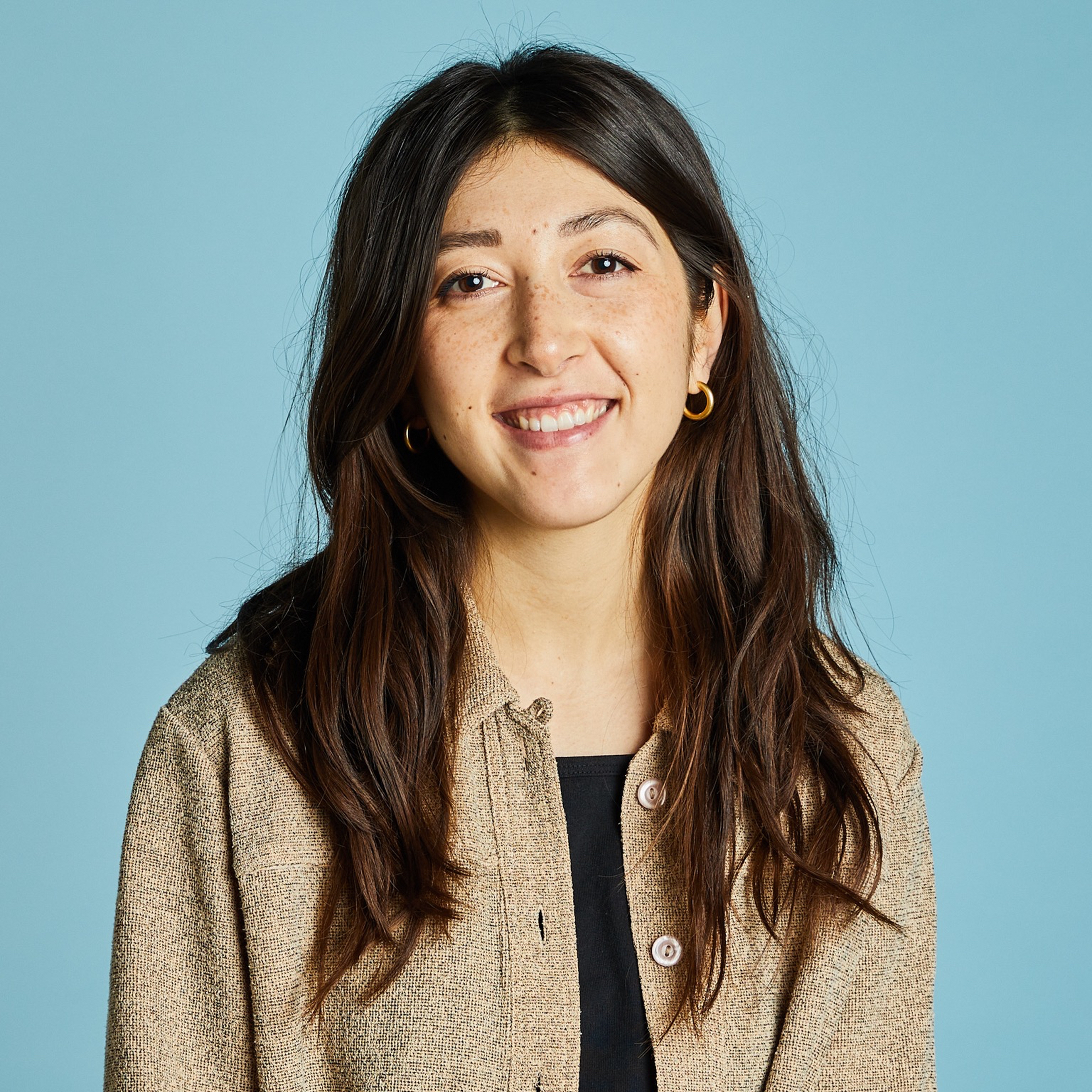 "Want a shortcut with more flavors? Try our DRESSING UP seasoning in this recipe! This bowl can make use of just about any vegetable and grain you have, so use up things you already have around! Instead of carrots and carrot greens, use mixed beets and beet greens and add other vegetables or use different nuts to your liking. Use rice, millet, farro, or barley instead of the quinoa. It could also be served atop a bed of lettuce or served as a side with just the roasted vegetables and herby gremolata."
Ingredients
Kitchen Stories Dressing Up seasoning (optional)
Order ingredients
Utensils
Oven, e.g. from Siemens, baking sheet, cutting board, peeler, knife, Cooktop, e.g. from Siemens, fine sieve, pot (small, with lid), fork, bowl (small), fine grater, citrus press, Dressing Up seasoning
How-To Videos
How to chop nuts
How to cook aromatic quinoa
How to cut broccoli
3 easy ways to juice a lemon
Step 1/3

20 g

almonds

4

mixed carrots

1

red onion

1

sweet potato

½ head

broccoli

olive oil

salt

pepper

Oven, e.g. from Siemens
baking sheet
cutting board
peeler
knife

Preheat oven to 215°C/425°F. Transfer almonds to a baking sheet and toast in the oven for approx. 5 min. In the meantime, peel carrots, red onion, and sweet potato, then roughly chop into large chunks. Cut broccoli into small florets. Remove almonds from the oven, set aside. Transfer vegetables to the same baking sheet you toasted the almonds on and drizzle with olive oil, season with salt and pepper, and toss to evenly coat. Roast for approx. 25 min., or until the potatoes and carrots are tender.

Pro tip

You can use the Smart function of the Siemens oven and prepare the dish perfectly: Select a dish. Your oven automatically sets the right programme and switches off when your dish is perfectly prepared.

Step 2/3

90 g

rainbow quinoa

230 ml

water

Cooktop, e.g. from Siemens
fine sieve
pot (small, with lid)
fork

In the meantime, rinse the quinoa under cold water in a sieve. Add water to a small pot and bring to a boil, add a pinch of salt and the rinsed quinoa. Let simmer over medium heat for approx. 15 min., or until the quinoa is cooked. Fluff with a fork and set aside.

Pro tip

How to avoid overcooking your dish: The innovative Cooking Sensor Plus is attached directly to your pot and communicates with the self-sufficient hob via Bluetooth. The sensor detects the temperature you set and prevents overcooking by intelligently counteracting it.

Step 3/3

25 g

carrot greens

1

lemon

1 clove

garlic

5 tbsp

olive oil

1 tsp

Kitchen Stories Dressing Up seasoning (optional)

salt

pepper

bowl (small)
fine grater
citrus press
Dressing Up seasoning

Roughly chop toasted almonds and transfer them to a small bowl. Use your hands to tightly pack and roll the carrot tops to make them easier to chop, then finely chop and transfer to the bowl with the almonds. Zest and juice lemon and add to the bowl as well. Grate garlic into the bowl then add a little olive oil, our DRESSING UP seasoning (if using)season with pepper and a little salt to taste, and mix well. To serve, distribute quinoa to serving plates or bowls. Top with roasted vegetables and the carrot top gremolata. Serve and enjoy!

Enjoy your meal!
More delicious ideas for you