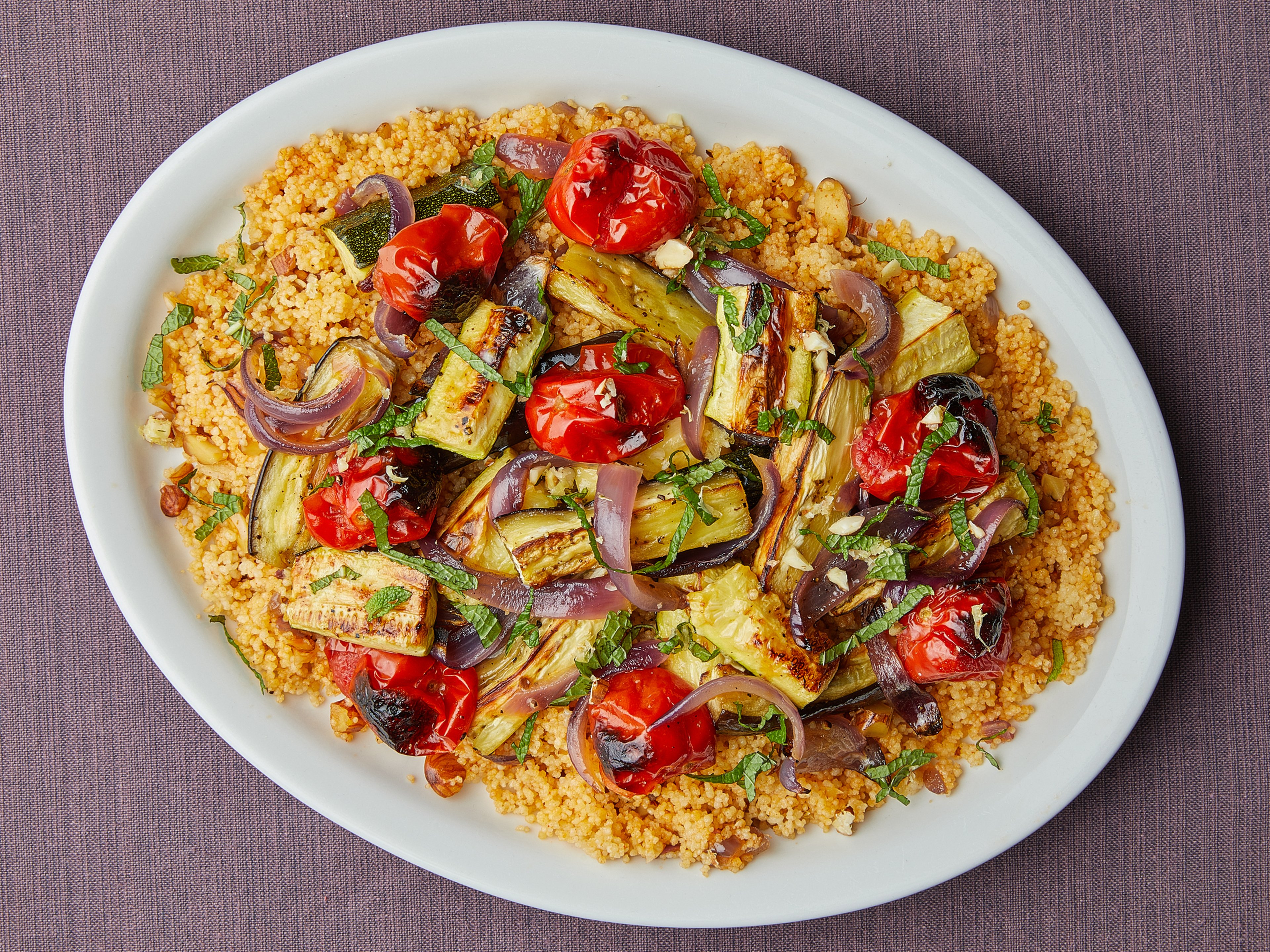 Roasted vegetable couscous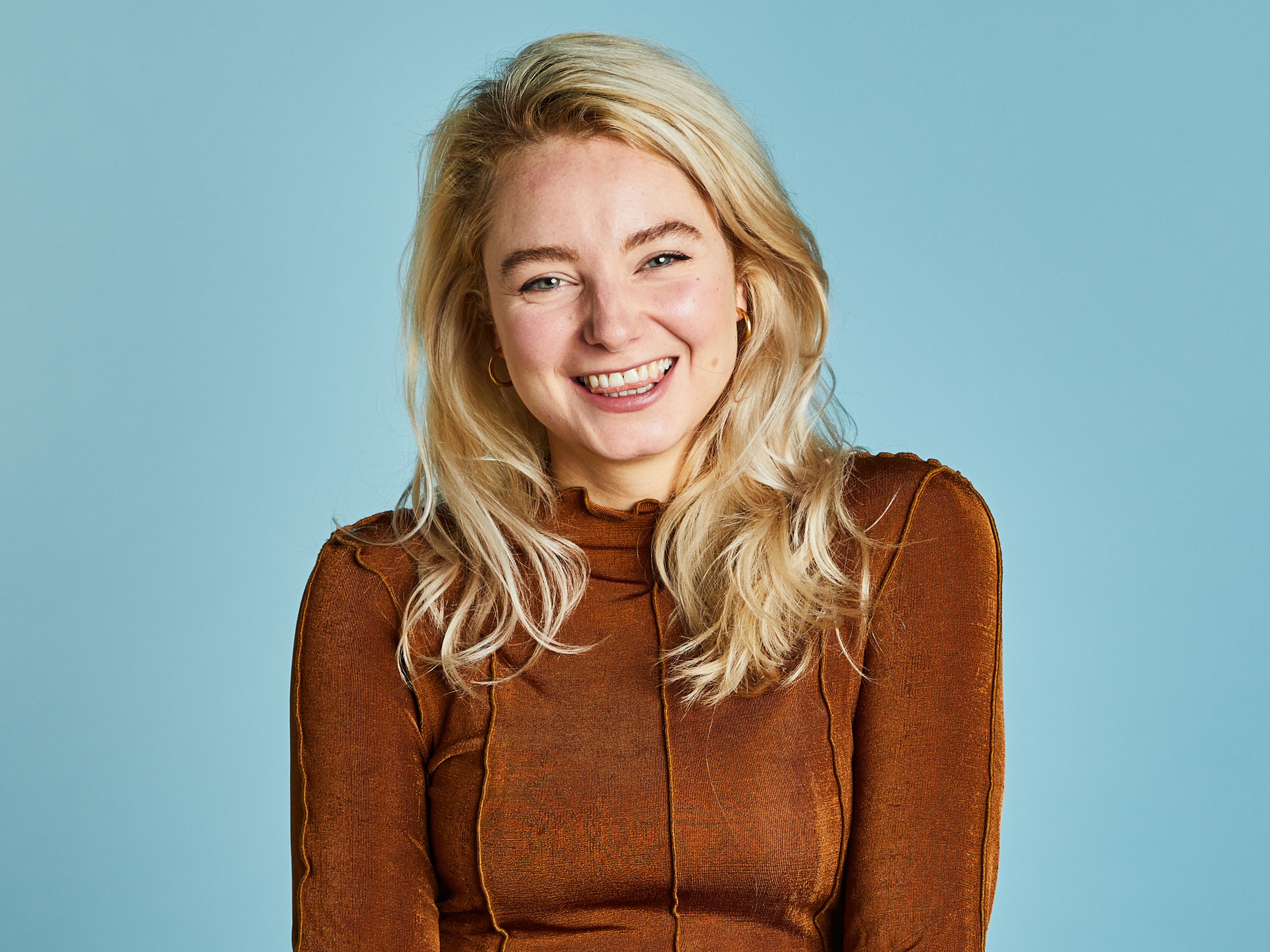 "Want a shortcut with more flavors? Try our VEGGIE WUNDER to substitute paprika powder. I've noticed that there are recurring phases in my life – one of them is the couscous phase. It usually occurs towards summer, when I prefer to spend a lot of time outside rather than inside in the kitchen. However, delicious and fresh food remains high on the priority list year-round. With this recipe, the time commitment is minimal while enjoyment and versatility are kept high! I always prepare at least 3 servings of this, as it tastes so good even cold and on the go. Combined with fresh salad or arugula, this dish becomes the perfect light lunch and is especially enjoyable when eaten on picnic blankets. Tip: If you want to save even more time, you can also prepare the couscous with hot water in the pot or cook it for 2-3 minutes in the microwave with a lid."
Ingredients
Kitchen Stories Veggie Wunder seasoning (optional)
Utensils
oven, cutting board, knife, baking sheet, parchment paper, frying pan, pot (with lid), spatula, Veggie Wunder seasoning, fine grater
How-To Videos
How to cook aromatic couscous
How to chop herbs
3 easy ways to juice a lemon
How to prepare zucchini
Step 1/ 4

1

zucchini

½

eggplant

lemon

1

red onion

200 g

cherry tomatoes

2 tbsp

olive oil

salt

pepper

oven
cutting board
knife
baking sheet
parchment paper

Preheat the oven to 220°C/430°F. Cut the zucchini and eggplant into pieces of about 5 cm / 2 inch. Zest and juice the lemon. Cut half of the red onion into wedges and the other half in cubes. Place zucchini, eggplant, red onion wedges, together with the whole tomatoes on a baking tray lined with baking paper. Add the oil and season with salt and pepper, mix until evenly distributed. Roast the vegetables for about 15-18 min, or until the vegetables are lightly browned. Toss halfway through baking.

Step 2/ 4

Dry roast the almonds in a pan until golden brown. Remove, let cool and chop coarsely. Set half of the almonds aside for the gremolata.

Step 3/ 4

1 sprig

rosemary

½ tsp

Kitchen Stories Veggie Wunder seasoning (optional)

½ tsp

hot paprika powder

120 g

couscous

240 ml

water

1½ tbsp

olive oil

pot (with lid)
spatula
Veggie Wunder seasoning

Sauté the remaining onion cubes and the other half of the almonds in a saucepan with some olive oil and add a sprig of rosemary. When the onions are translucent, add the paprika powder, or our VEGGIE WUNDER seasoning (if using), and sauté briefly, season with salt and pepper. Deglaze with water and add the couscous. Bring to a boil, then put a lid on the pan, turn off the heat and let the couscous sit for 5 min., until it has absorbed all the water, or according to the package instruction. Add 1 tablespoon of olive oil and half of the lemon juice. Season with salt and pepper if necessary.

Step 4/ 4

2 sprigs

mint

1 clove

garlic

olive oil

To make the gremolata, finely chop mint leaves. Add to a bowl with lemon zest, the other half of the lemon juice. Grate one garlic clove in the bowl, add rest of the chopped almonds, and mix together. Take the vegetables out of the oven when they are golden brown and arrange them with the couscous. Serve with the mint gremolata, and drizzle with more olive oil if desired. Enjoy!

Enjoy your meal!
More delicious ideas for you