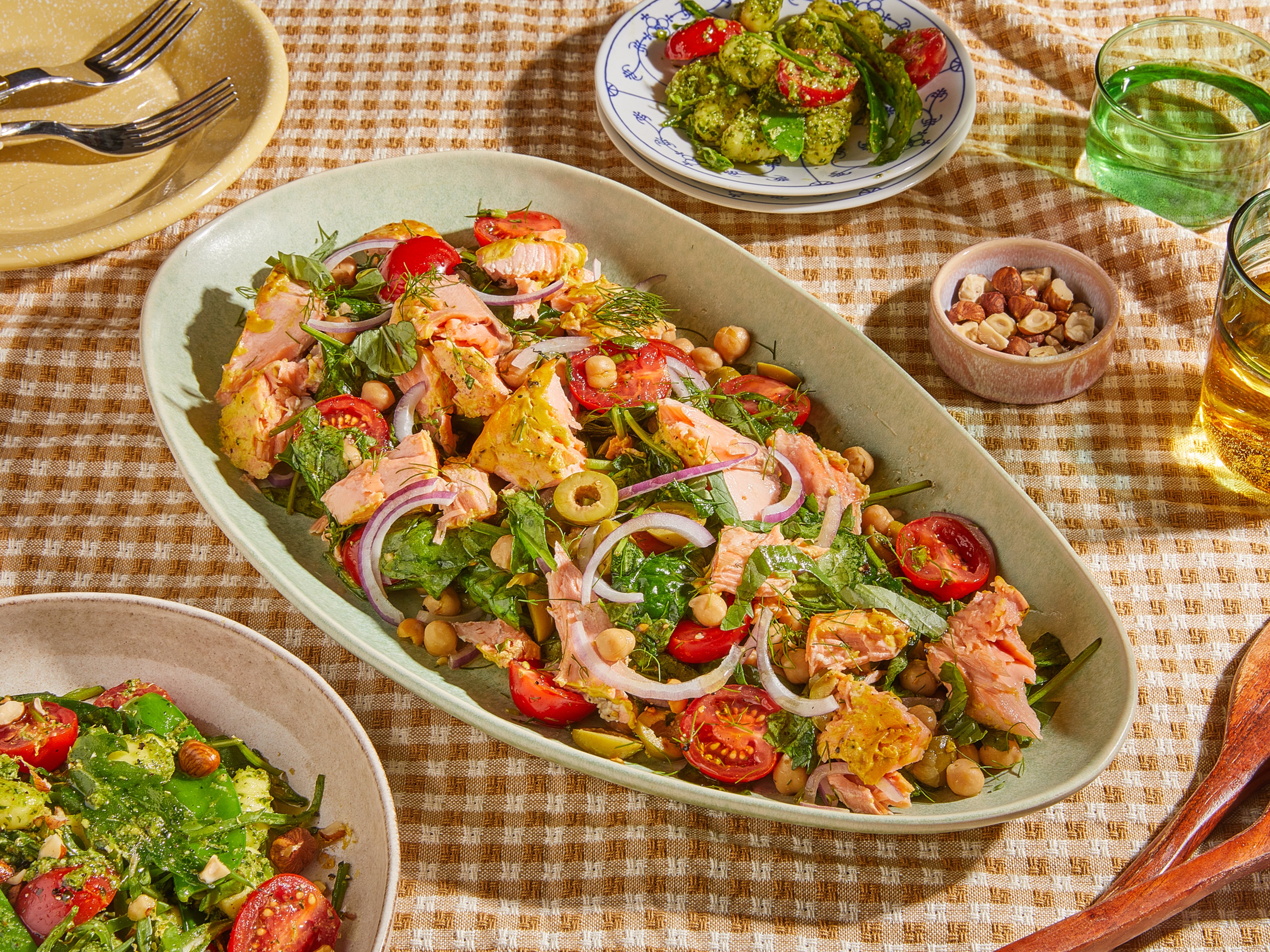 70+ Recipes To Make Before Summer Slips Away
Our best summer dishes to get you through the warm days.
Food Editor at Kitchen Stories
In my opinion, the quintessential summer moments are always about the food: spending the day by the lake with a picnic, enjoying the evening air with family around a barbecue, or throwing a dinner party in the garden for all your friends. However, as the days get shorter, we've compiled a list of all our favorite summer dishes for you to savor the last bits of summer, from burgers to pasta salads and all the way to cocktails!
Don't sleep on these summer produce
Something that will really elevate your summer cooking is using fresh, seasonal ingredients. Your taste buds, purse strings, and environmental footprint will thank me later! Even approaching late summer we get to enjoy various vegetables including zucchini, radishes, iceberg lettuce, tomatoes, cucumber, and beans. Whether in a crunchy salad, fresh pasta, or a tart, here are some recipes to make the most of what is in season.
Burst cherry tomato and miso pasta with sesame crunch
Tomato and watermelon salad
Summer radish salad with lemony, buttery dressing
Simple smoked salmon, cucumber, and fennel salad
Easy tomato tart
Iceberg wedge salad with Italian dressing

Summer is also the time of year when fruits have their moment to shine. Besides classic summer berries, stone fruits such as peaches, plums, apricots, nectarines, and cherries will taste extra sweet and juicy during these months and add a great flavor level to savory salads, and of course, work heavenly in desserts. And if you're a fan of plums, why not make your own jam or try your hand at making some sweet plum dumplings?
Summer salad with grilled peaches and zucchini
Melon ceviche bowl
Strawberry and panna cotta tart with basil
Apricot clafoutis
Cherry parfait with chocolate cookies
Special strawberry jam with matcha
Oat pancakes with fresh strawberry sauce
Lisa makes a summery sponge cake
Our best barbecue recipes
No summer is complete without a grill. I strongly suggest you grab the last chance to have one more! Check out our list of 80+ sides to bring to a BBQ, and here are some more recipes that should definitely be staples at your barbecue.
Grilled sweet and sour pork skewers
Homemade bratwurst
Make the best ever BBQ ribs with Steven
Make grilled lemony salmon with Christian
German pork belly skewers

Just because you don't eat meat, doesn't mean you don't get to enjoy a summer barbecue. My new favorite ingredient of this summer has got to be the oyster mushroom, specifically in the form of this oyster mushroom satay with spicy peanut sauce. It's crispy, meaty and perfect for the grill. Or, try your hand at a tofu satay.
Grilled halloumi and zucchini skewers
Tofu satay with cucumber salad and rice
Burgers
Whether you're a meat lover or prefer a vegetarian diet, there's one thing for sure: everyone loves a burger! Served with some fries (thin and crispy or thick-cut – we don't discriminate), it is the perfect finger food, preferably eaten al fresco.
The best vegan burger
Crispy fried chicken sliders
Eggplant katsu burger
Make a fish and chips burger with Steven
Smash burgers
Classic hamburger
No-cook meals and no-bake desserts
Although I love cooking up a storm in the kitchen, summer is the time to be sweating outside on a hike in the sun, not indoors in front of the stove. Give your oven (or grill) a rest with these no-cook, no-bake and no-fuss recipes!
Classic gazpacho
5-ingredient no-cook zoodle marinara
Lemongrass chicken summer rolls
Big summer veggie sandwich
Pan bagnat (French tuna sandwich)
Uramaki sushi (Inside out rolls)

And we can't forget about desserts! These no-bake desserts will keep you cool in the heat while filling that sweet craving of yours. A tip is to check the weather app and make some of these ahead of time and store them in your fridge or freezer for an upcoming hot day.
Nice cream sandwiches
Homemade Spaghettieis (German ice cream sundae)
Homemade mochi ice cream
Honeydew melon and matcha no-bake cheesecake
No-bake coconut-blueberry cheesecake
Salads for dinner!
In the warmer months, I often find that I lean towards quick, easy and cold dishes. While salad is often seen as a side dish, I love making big, colorful salads that leave me feeling full and satisfied. These are full of different textures and grains that prove that salad is not boring by any means.
Quinoa salad with corn and feta
Roast salmon salad with chickpea and tomatoes
Crispy bread salad with chicken and radicchio
Pesto potato salad
Yum Nua (Thai beef salad)
Tangy marinated lentil salad with feta
Gado-gado (Indonesian salad with peanut sauce)
Ruby makes rojak (Malaysian-style sweet and sour salad)
All about the pasta
While pasta is a year-round favorite, I especially enjoy making big bowls of pasta salad in the summertime. Brought along to a potluck barbecue or served as a main dish in the evening, pasta salads are incredibly versatile and can be personalized to your taste. Whether Korean-style or a classic, I can guarantee we'll have one for you.
Cold noodle salad with peanut sauce
Pasta primavera
Jaengban guksu (Korean cold spicy noodle platter)
Spaghetti aglio e olio with broccoli
5-ingredient creamy orecchiette with peas and crispy Parma ham
Summer cocktails (and mocktails)
Lastly, no summer evening is complete without a drink in hand. My personal favorite at this time of year is the classic Aperol spritz, but if you're feeling a little more adventurous, check out our guide on all the ways to create your own spritz or our other classic and unique cocktails below.
Classic aperol spritz
Pomegranate Mimosa
Honey lemon drop
Michelada (Mexican beer cocktail)
Pineapple mojito
Tequila sunrise
Aperol and elderflower cocktail
Appletini
Strawberry basil frozen daiquiris
Spicy mezcal margaritas
Blood Orange Vodka Ginger Fizz

And if alcohol isn't for you, check out these non-alcoholic drinks below.
Rhubarb soda
Lavender lemonade
Strawberry lemonade
Homemade ginger ale
Iced matcha tea

Although summer is slowly coming to an end, there's still time to enjoy all the good food this season has to offer. Or you can save this collection for next summer, which I'm already eagerly anticipating.
Published on August 22, 2022
More delicious ideas for you