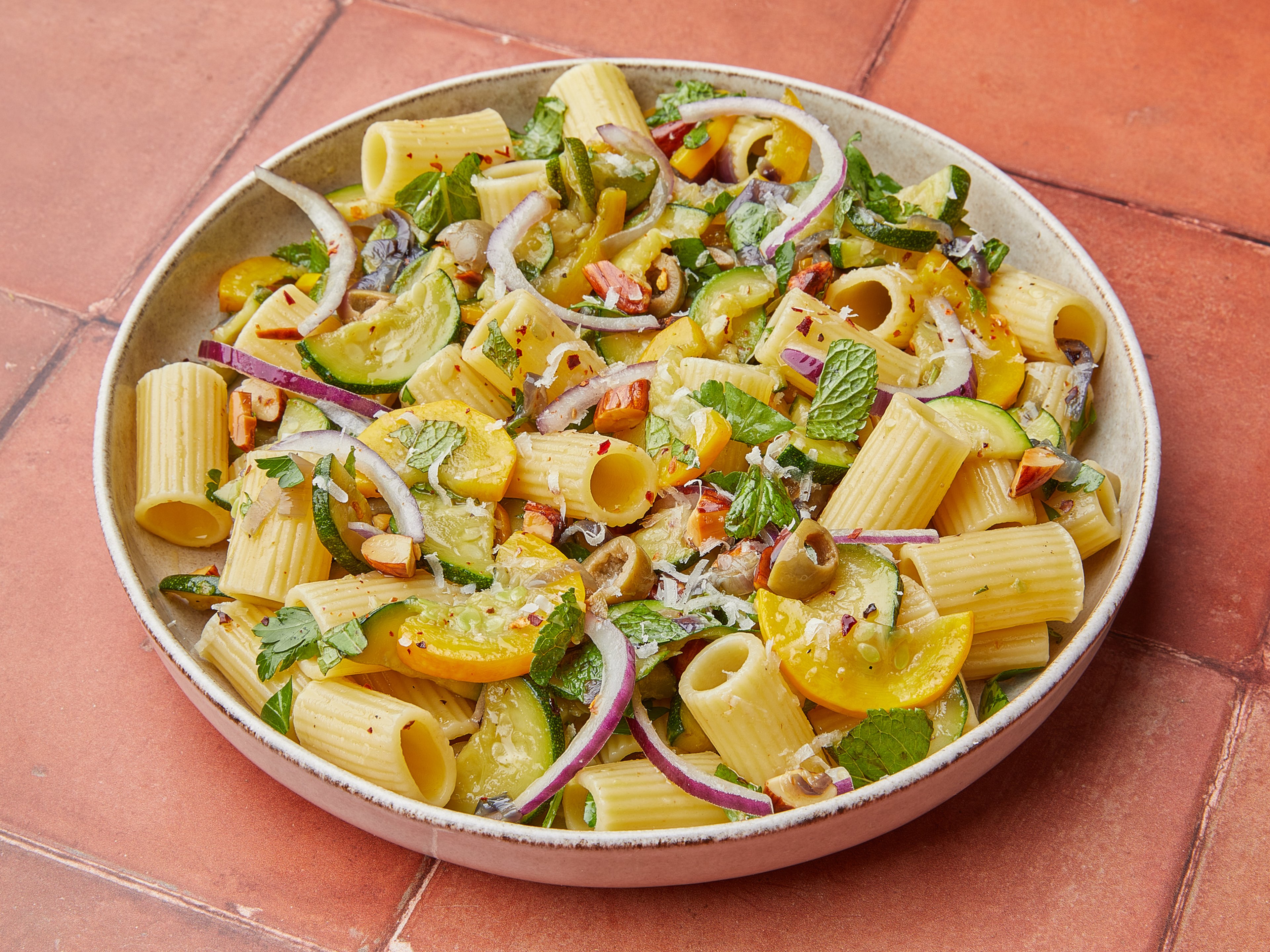 30+ Best Zucchini Recipes to Try This Summer
Soups, Zoodles, Cakes, and More!
Food Editor at Kitchen Stories
As an inherent part of Mediterranean cuisine, zucchini is a great summer vegetable that is in season from July to October. Whether green or yellow, zucchini is mild in taste, low in cost, and incredibly versatile. From soups to zoodles to cakes, there are so many ways to use zucchini, so we've collected 30+ recipes to give you some ideas. A key tip for cooking with zucchini is to first salt them and let the water drain out – this will give them a firmer texture and allow your seasoning to be absorbed better.
Zucchini appetizers
Where better to start than with appetizers! Try out some Italian-inspired Polpette di Zucchine or give zucchinis an Asian twist with our tempura recipe – you'll be sure to find a starter for every meal.
Polpette di Zucchine (Fried Italian zucchini and mozzarella balls)
Creamy zucchini soup
Tempura zucchini sticks
Baked zucchini with millet filling
Basic Minestrone
Mixed vegetable pakoras
Grilled zucchini
Personally, I think the best way to eat zucchini is straight from the grill. They're a great side to any BBQ – and some of these recipes are so tasty you won't be missing the meat! Make sure to slice your zucchini uniformly to ensure an even cook and grill on both sides for maximum char.
Grilled halloumi and zucchini skewers
Grilled zucchini Caprese sandwich
Grilled zucchini and scallions with hazelnut gremolata and ricotta
Zoodles – the healthy noodle
Zucchini noodles, or "zoodles", are made using a spiralizer and are a great, low-carb, and gluten-free alternative to regular pasta. Just because they skip out on the carbs, does not mean you have to compromise on flavor. These recipes elevate your zoodles with wild garlic, tahini, and pesto. If you feel your zoodles tend to become quite mushy, try using raw zucchini like in our no-cook version or salad below, which ensures the zoodles are nice and al dente!
Mediterranean zucchini spaghetti with lemon sauce
Wild garlic pistachio pesto zoodles
Zoodle salad with tahini dressing
Spicy peanut zucchini noodles with shrimp
Crowd pleasers with zucchini
These beautiful summer dishes will be sure to impress your guests, plus, most of them are vegetarian! Use both green and yellow zucchini to give these dishes an added pop of color. Serve for your family and friends at your next dinner party or summer get-together.
Vegetable spiral tart
Zucchini Parmesan
French vegetable tian
Veggie paella with zucchini and eggplant
Sundubu jjigae (Korean soft tofu stew)
5-ingredient stewed white beans and zucchini
Classic Ratatouille
Zucchini and rice gratin
Quick dinners with zucchini
If you're looking for some quick, weeknight dinners using zucchini then look no further. And while these recipes take 30 minutes or less, they are packed with flavor.
5-ingredient caramelized zucchini pasta with feta
Summer tagliatelle with zucchini
Chicken zucchini couscous salad
Italian sausage and pepper stuffed zucchini
One-pan chicken with zucchini
Zucchini parmesan pancakes with dip
Zucchini bread and dessert to try
Why not be experimental and make a dessert out of zucchini? Their relatively mild taste means you can easily hide the vegetable in baked goods.
Schiacciata di zucchine (Italian zucchini flatbread with rosemary)
Zucchini lime cake
Zucchini brownies
Find out more about zucchini, including how to find the perfect zucchini and how to store it here!
Published on July 14, 2022
More delicious ideas for you