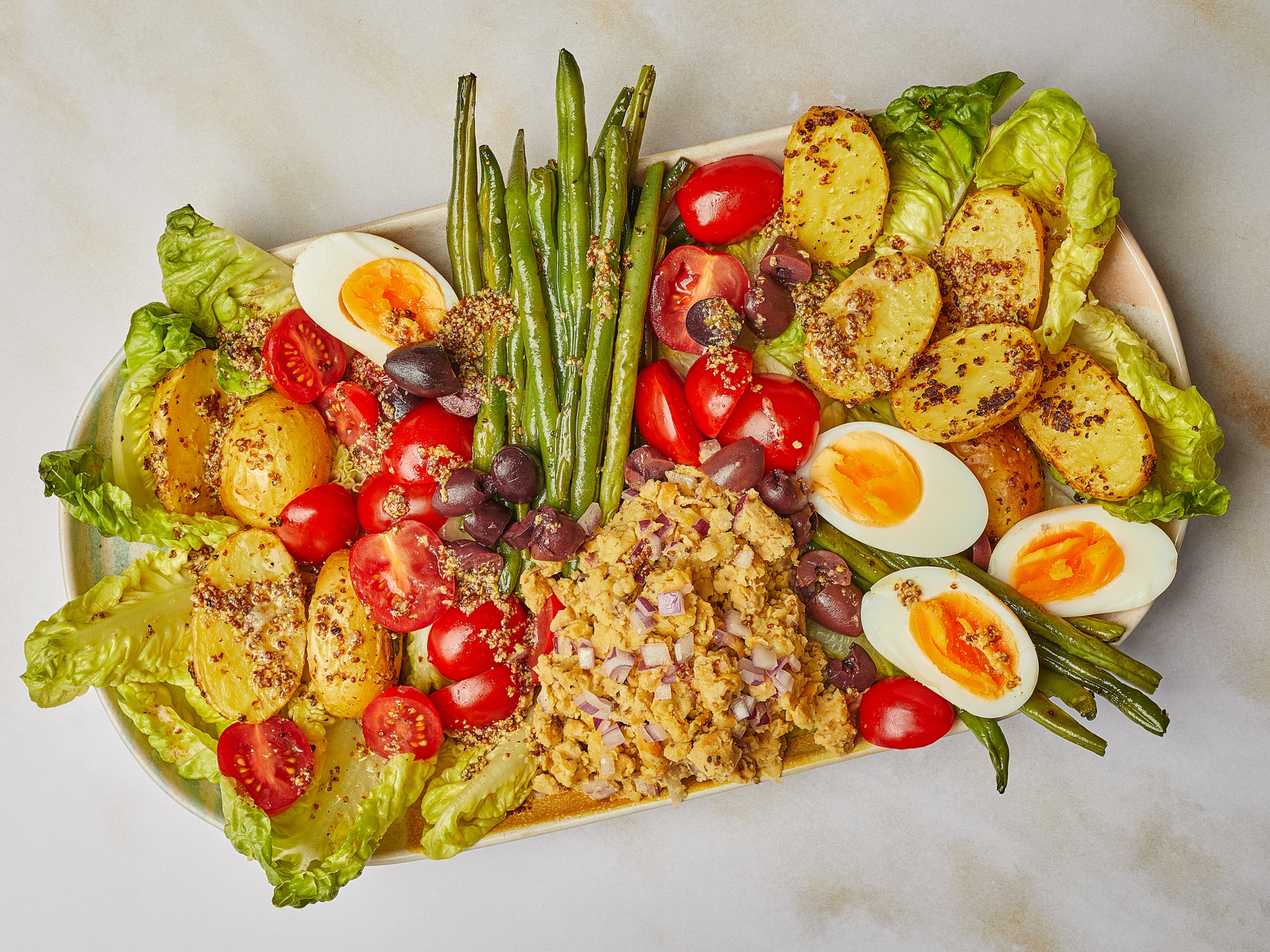 Sheet pan Niçoise salad with chickpeas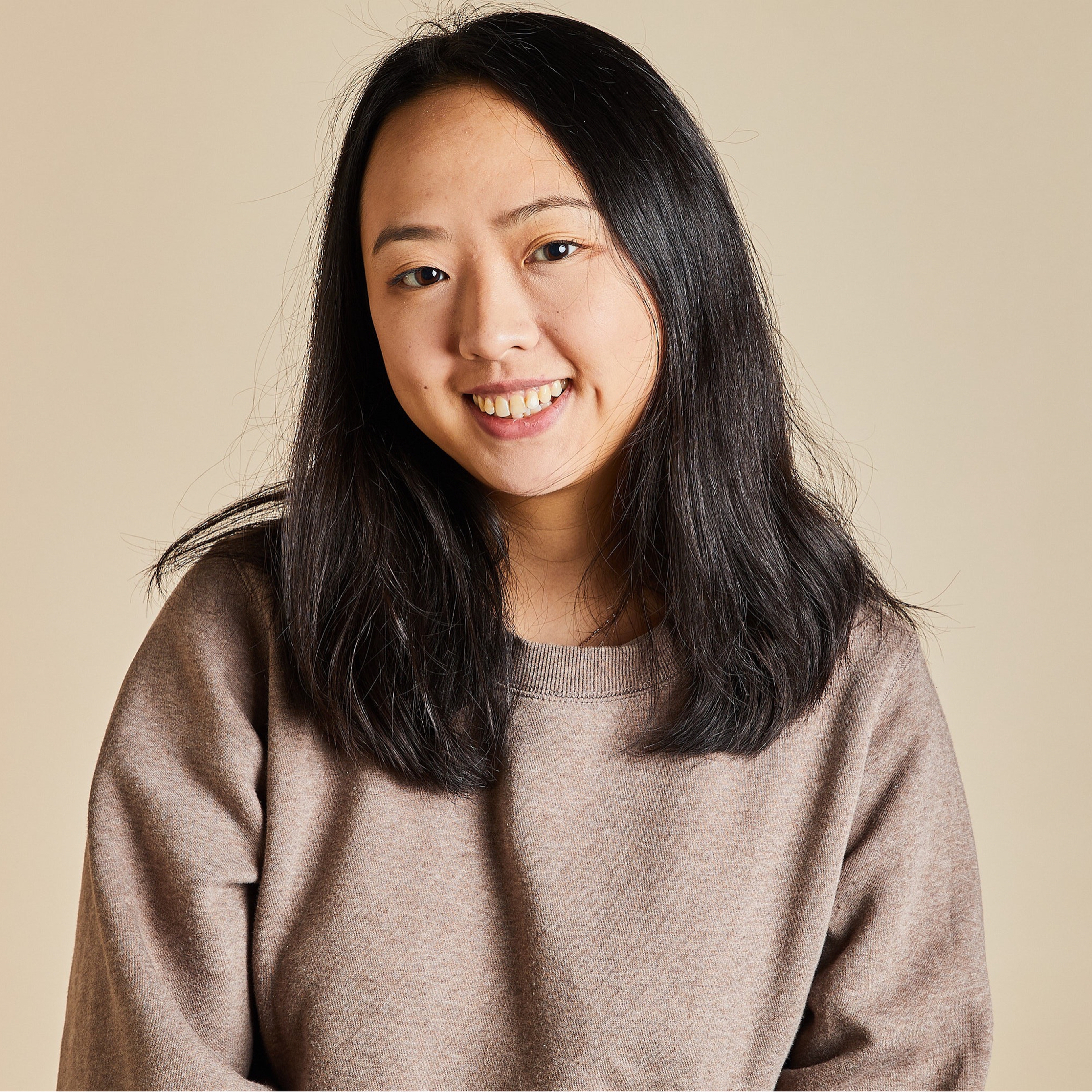 "I have been in the phase of "salad for dinner" for the past year and one recipe on repeat is Devan's "Nicoise-ish salad" (you can find it on our platform as well). Inspired by it, the classic French salad gets a vegetarian twist with "vegan tuna" made with mashed chickpeas with red onion. I prefer the roasted beans and potatoes over the boiled ones, which also provide a nice contrast to the crisp lettuce and juicy tomatoes."
Ingredients
jarred pitted Kalamata olives
Utensils
oven, cutting board, knife, baking sheet, parchment paper, pot, fine grater, whisk
How-To Videos
How to clean, dry, and store salad
How to cook the perfect egg
How to halve cherry tomatoes
How to cut an onion
Step 1/ 4

250 g

new potatoes

150 g

green beans

120 g

canned chickpeas

½

red onion

2 heads

romaine hearts

8

jarred pitted Kalamata olives

150 g

cherry tomatoes

Preheat the oven to 200ºC/400ºF. Half or quarter potatoes and trim green beans. Drain the canned chickpeas. Finely cut red onion and add to a bowl. Remove the leaves of the romaine hearts from the stem, halve the kalamata olives and cherry tomatoes, and set them aside.

Step 2/ 4

2 tbsp

olive oil

2 tbsp

Dijon mustard

salt

pepper

baking sheet
parchment paper

Add potatoes to the baking sheet lined with parchment paper. Add olive oil, and half of the grainy dijon mustard to the potatoes, and season with salt and pepper. Mix until well combined. Roast for approx. 10 min., at 200ºC/400ºF, and remove from the oven. Add green beans and chickpeas to the baking sheet, drizzle more olive oil, and season with salt and pepper. Roast for approx. 10 min. more, together with the potatoes, until the potatoes are cooked through and fork tender.

Step 3/ 4

In the meantime, set a pot of water to boil. Add eggs and boil for approx. 6–7 min., then rinse over cold water to cool and peel. Cut eggs in half.

Step 4/ 4

1

lemon

2 tbsp

Dijon mustard

1 clove

garlic

2 tbsp

olive oil

salt

pepper

To make the dressing, grate garlic in a bowl. Juice the lemon, and add the remaining dijon mustard and olive oil. Season with salt and pepper. Whisk together until the dressing is emulsified. Add roasted chickpeas to the bowl with red onion and 2 tbsp of dressing. Mash the chickpea with a fork – the mixture can still have some chunks. On a big salad plate, arrange roasted potatoes, chickpeas, green beans, cherry tomatoes, romaine hearts, boiled eggs, and olives. Drizzle with the remaining salad dressing.

Enjoy your meal!
More delicious ideas for you