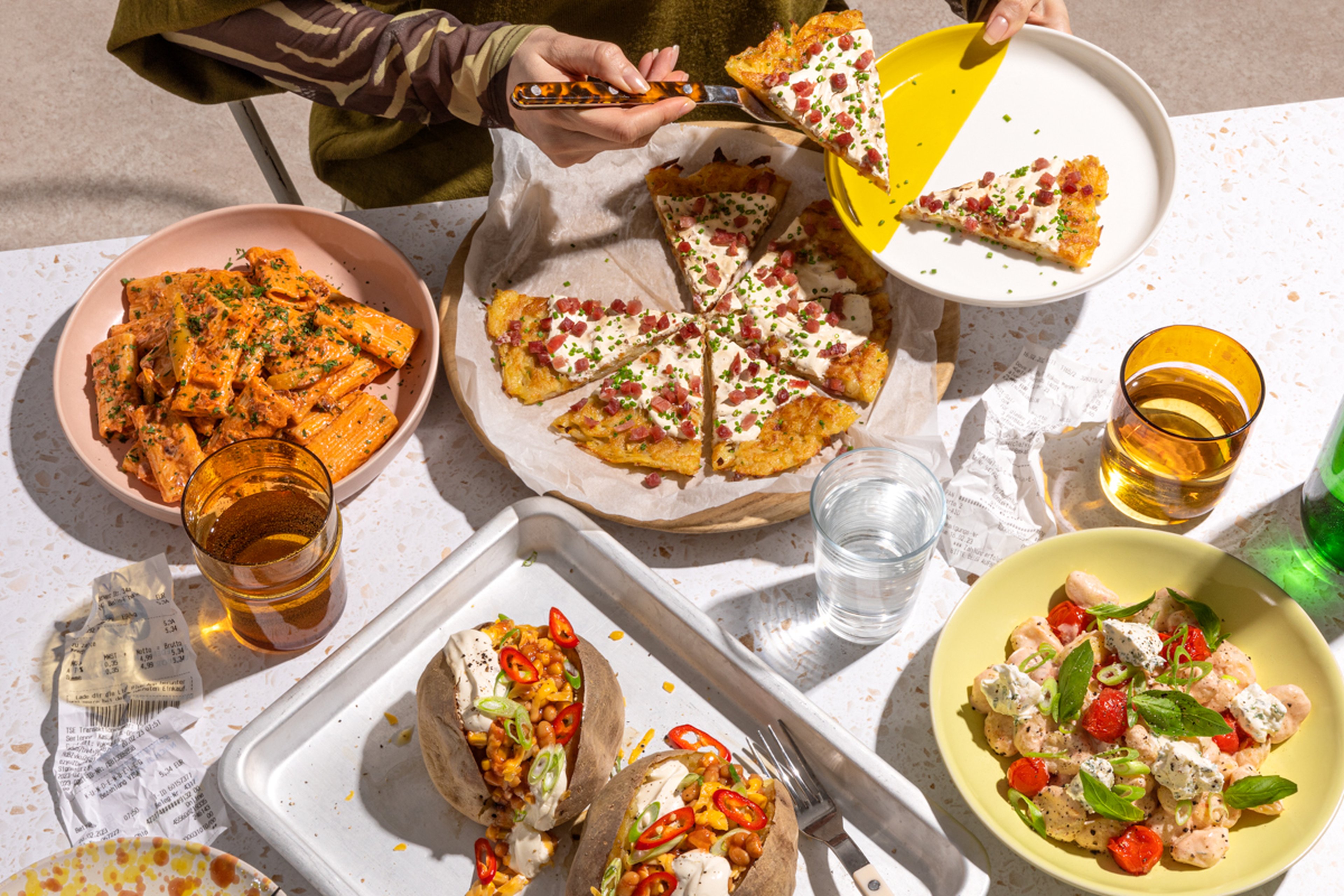 50+ Affordable Recipes Guaranteed to Keep You Full And Happy
Easy on the wallet, full for the stomach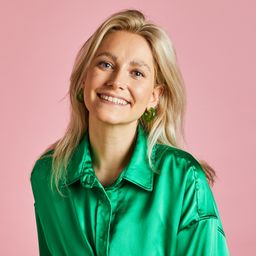 Food Editor at Kitchen Stories
What might have been an issue towards the end of the month has now become a topic that challenges us almost daily: How can I eat well while spending as little money as possible? And by "eating well" I mean filling, nutritionally balanced, and above all, of course: delicious!

When I first moved out of home, I used to invite myself to dinner at my mom's house whenever money became tight. A saving measure, on which since I now live in Berlin and have become a "grown up", I can no longer rely on. Fortunately, time has also made me smarter and better at managing my spending – and that applies to my food budget.

Cooking for yourself at home (our mission at Kitchen Stories!) is actually already the first small but essential step in the right direction for saving money on food. But it doesn't mean we have to miss out on taste or quality! For that purpose, I've collected my favorite budget-friendly recipes based on my personal experiences and what I've learned at Kitchen Stories (starting here).
Budget recipes and money-saving tips for cooking:
In addition to affordability, these recipes have one thing in common: they are satisfying, packed with nutrition and fully convincing in terms of taste. Saving money doesn't mean you have to go hungry!
1. Back to basics: Rethink your staples
Potatoes, pasta, rice and eggs are the basis of many dishes almost everywhere. Why? They are usually cheap and filling! While they seem rather bland on their own, they can be spiced up with a few tricks and easily become exciting meals. Instead of a simple baked potato, you can upgrade them with sour cream, cheese and fresh and canned veggies to turn them into a delightful and filling dish . Pickle eggs with soy sauce and garlic for a change and eat with rice or fry them quick and hot into a sweet and sour omelette? As you can see, it pays to get creative with the familiar staples and think outside the box.These inexpensive basics come with the wow-factor:
Baked potatoes with corn and beans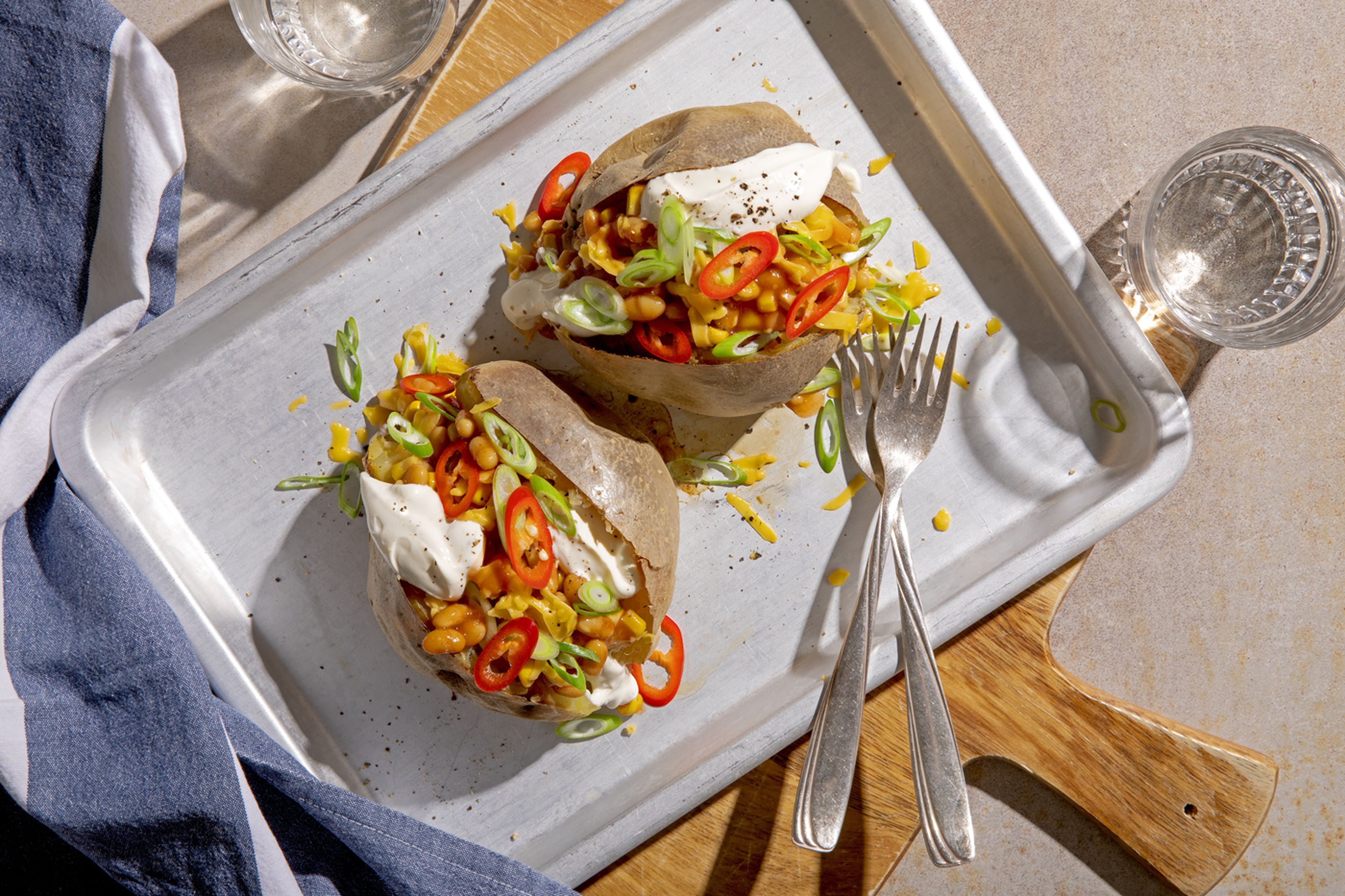 → Go to recipe
– Chinese sweet and sour omelette
– Korean marinated eggs (Mayak eggs) with rice
– Mexican chicken and rice casserole
– Keema curry (spiced ground beef curry with potatoes)
– Tomato and egg noodle soup
– Hash brown pizza with bacon and sour cream
2. Make canned and frozen vegetables your friends
Admittedly, it also took me a while to really appreciate the wonders and the convenience of canned and frozen treasures. Now, cans and jars filled with chickpeas, beans and tomatoes, as well as frozen vegetables such as peas and frozen herbs, make up pillars of my cooking. They are also usually very cheap, available in large quantities, and have a long shelf life. In short: my most reliable kitchen accomplices.

Recipe favorites thanks to can and freezer:
Pasta e Fagioli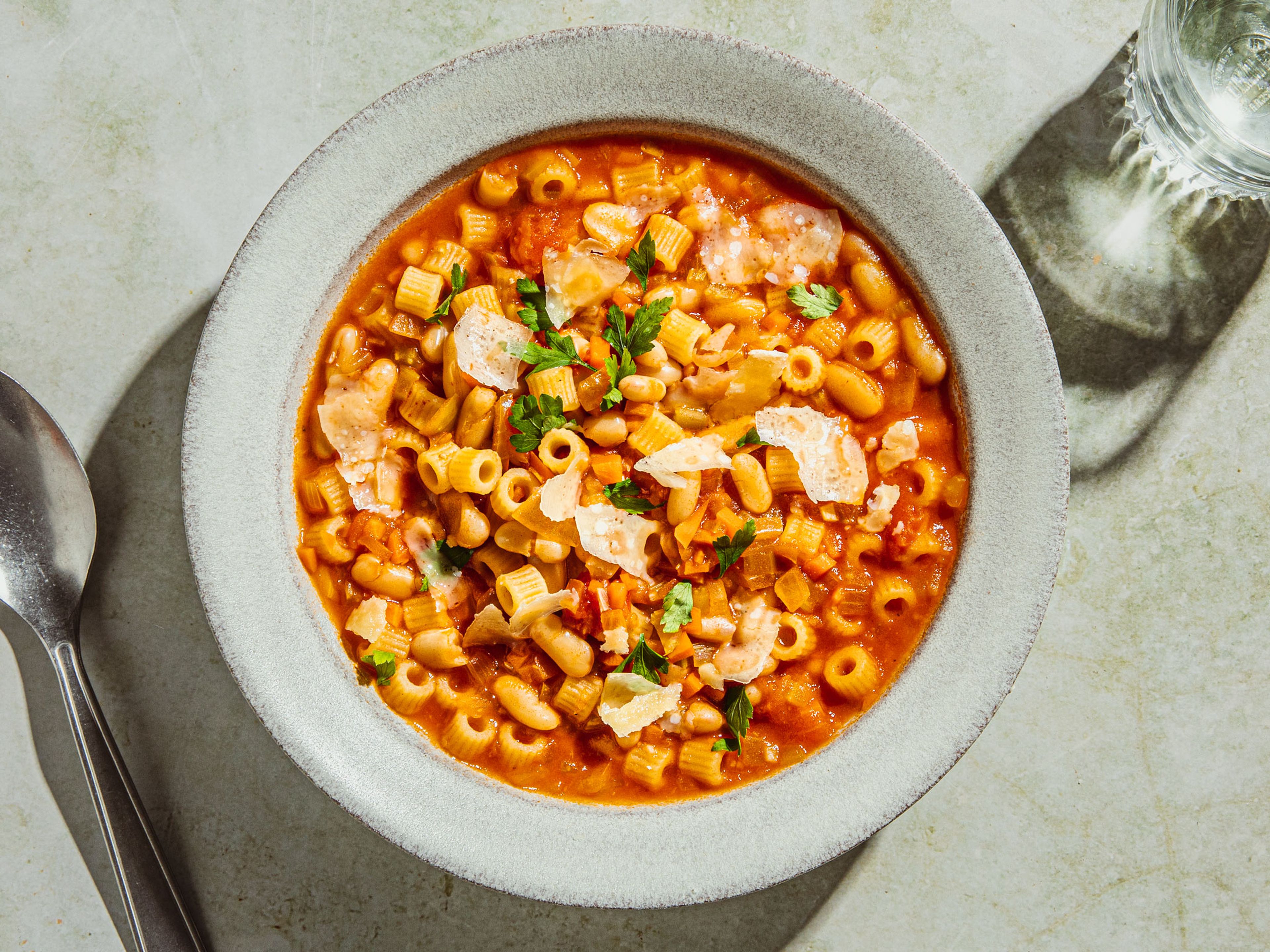 → Go to recipe
– Roasted pepper and butter bean stew
– Easy roasted white beans with tomatoes
– Veggie burrito bowl
– One-pot curry with chickpeas and spinach
– Easy one-pot halloumi curry
– Risi e bisi (Italian rice and peas)
– Creamy parmesan polenta with asparagus and broccoli
3. Big flavor, small price: Choose and adapt recipes according to the season
You've probably heard one too many times: consider seasonal harvests when it comes to fruits and vegetables. But I'm always amazed at how buying and using seasonal produce can actually make a big impact on your wallet. Either pick recipes directly to match the season or adjust ingredients accordingly. You'll be surprised how many recipes can be easily modified seasonally, opening up new worlds and combinations of flavors for you. Another bonus: In season, produce is not only less expensive, but also richer in flavor.

(Adjustable) seasonal recipes:
Sheet pan spring vegetables with miso-tahini sauce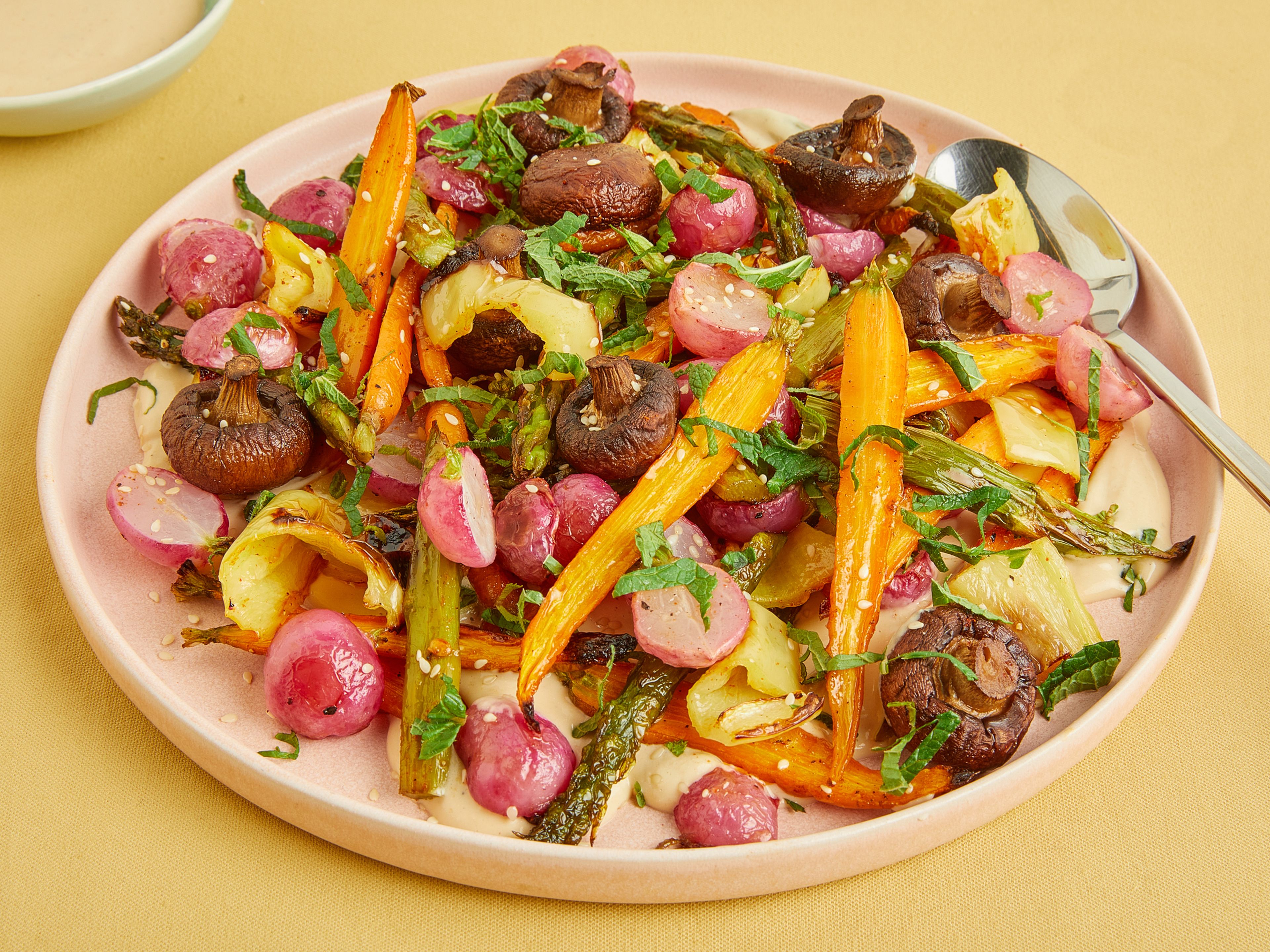 → Go to recipe
– Easy lemony green asparagus pasta (or with green beans)
– Roasted veggies couscous (or with roasted root vegetables)
– Summer pasta salad with zucchini (or with asparagus)
– Orzo salad with harissa-roasted pumpkin and brussel sprouts (or with zucchini and eggplant)
– Oat pancakes with fresh strawberry sauce (or with apples and pears)
4. Also for your meal prep routine: (pre)cook large portions
Preparation is half the battle! The whole topic of meal prep has been in vogue for a few years now, but it's currently picking up steam again. No wonder, because preparing and planning your meal in advance saves not only time, but also money! I do however find the idea of preparing a stack of tupperware days in advance a little daunting, and therefore consider meal prep more of a mindset: Cook a larger batch in advance and enjoy longer. Especially stews, soups and curries are perfect for this and there is nothing like a portion of reheated lasagna from the day before.

Perfect dishes to prepare in larger quantities that taste even better later:
Vegan massaman-style curry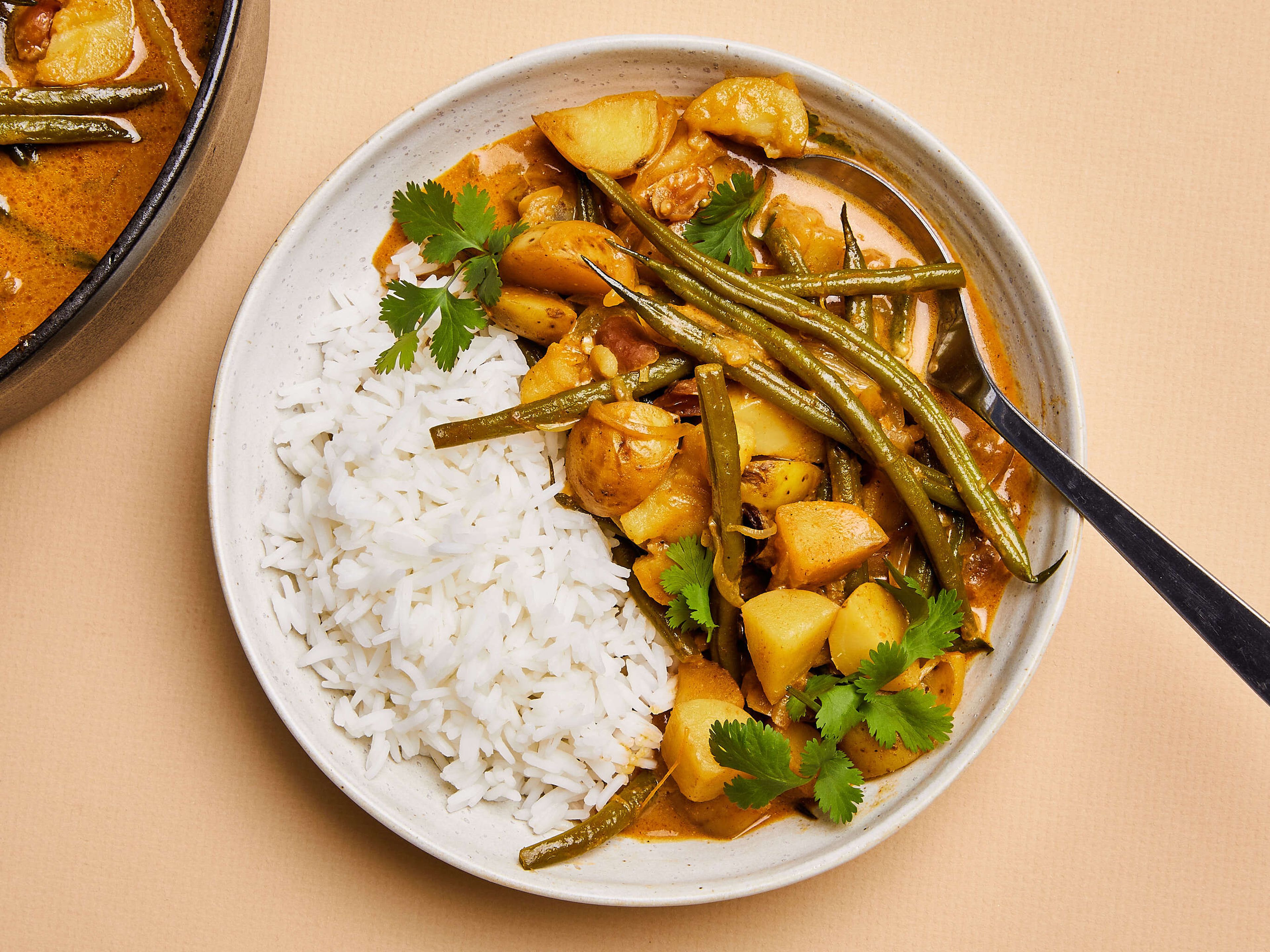 → Go to recipe
– Chili con carne or Warming sweet potato and bean chili
– Creamy coconut, pumpkin and lentil stew
– German-style leek and cheese soup
– Kohlsuppe (German cabbage soup)
– Chana masala
– Easy Italian lasagne
5. Try "chain cooking" and leave no leftovers behind!
It was only in my research for this article that I came across the (admittedly not too melodious) name of this practice. Unconsciously, however, I have been practicing it for a very long time. Chain cooking means that you actively plan your leftovers and turn them into new dishes. To do this, you add a new component or replace an old one the following day. Here's an example: I turn jacket potatoes with cottage cheese into smashed potatoes the next day, accompanied by a salad. This salad accompanies a pasta dish the following day, the leftovers of which are then used to bake a pasta casserole. An almost playful challenge that I personally enjoy immensely! Are you in? I'm curious to see how many days of chain cooking you can manage!

Try your hand at these leftover recipes:
Christian makes pasta al forno (Italian pasta bake)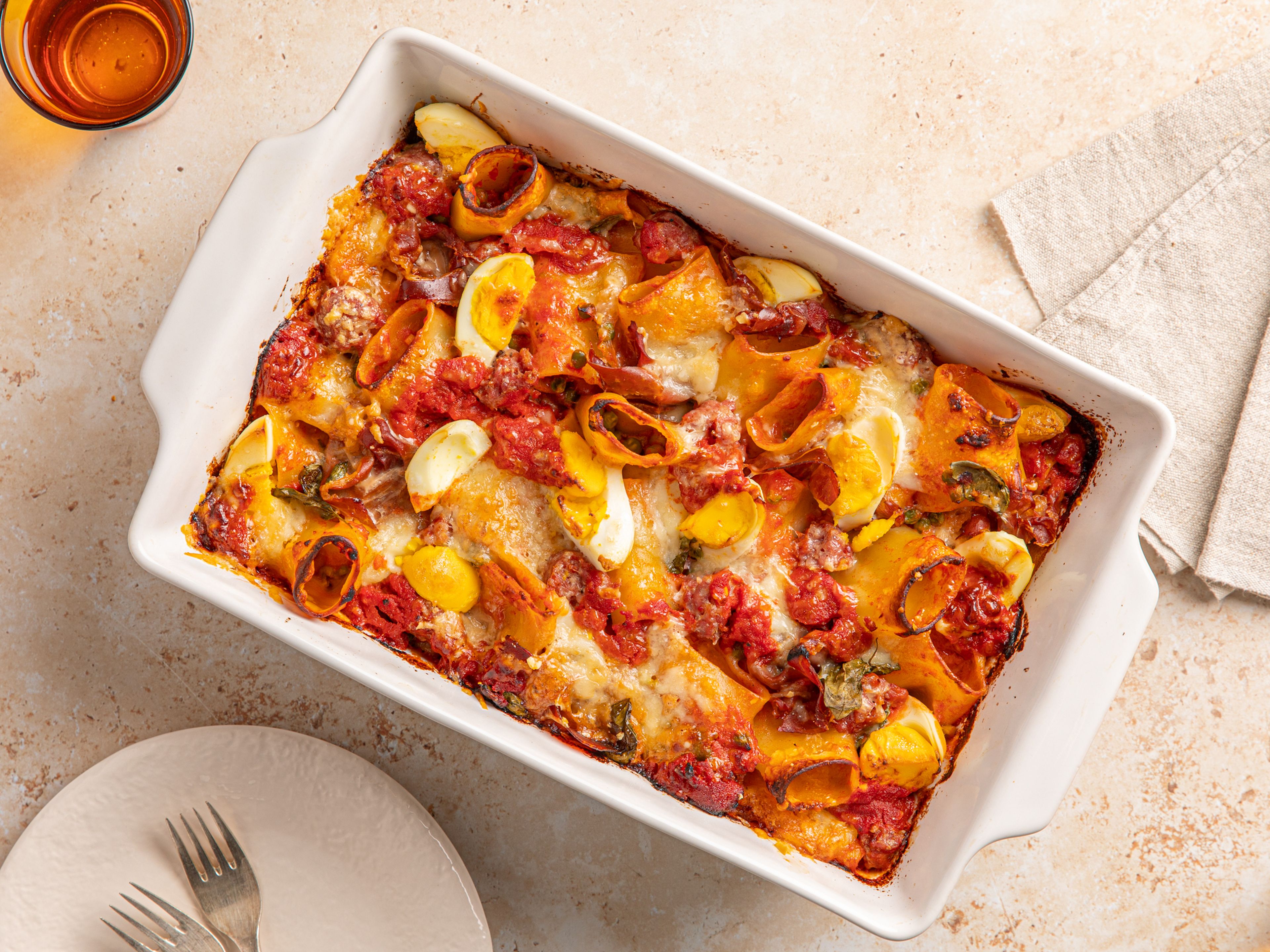 → Go to recipe
– Lazy pasta bolognese
– Easy honey-soy glazed meatballs → Fried Rice
– Buttery kimchi fried rice
– Honeyed carrot risotto → Mozzarella arancini
– Bombay-potatoes → Smashed potatoes with pesto
– Cacio e pepe → Spaghetti Frittata
6. Fewer ingredients = lower cost!
You don't need to be a math genius to work out this formula. Of course, it also depends on which products are used, but you can use this rule of thumb in most cases. The easiest way to do this is with our 5-ingredient recipes. The beauty of these dishes for me is that they both work and taste great in their simplicity, but you can also spice them up at any time with whatever you have at home.

You only need 5 to bring out full flavor:
5-ingredient cacio e pepe pizza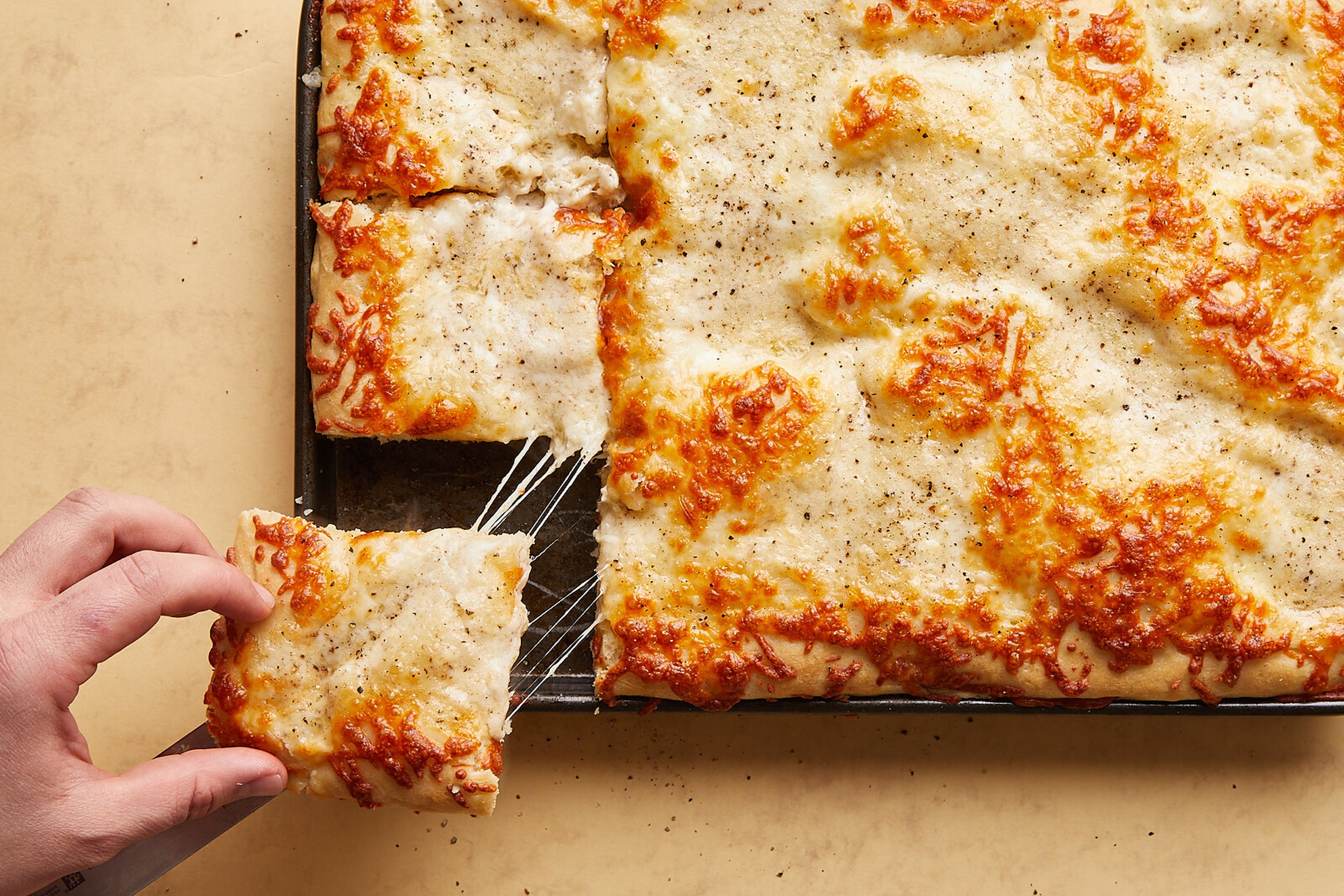 → Go to recipe
– 5-ingredient gnocchi with burst cherry tomatoes
– 5-ingredient baked gnocchi with Italian sausages
– 5-ingredient one-pan smoky chicken and rice
– 5-ingredient classic BLT (bacon, lettuce, and tomato sandwich)
– 5-ingredient curried pork meatballs with rice
7. Eat plant-based
Vegan food can be quite affordable (contrary to prejudices)! Since (meat) substitute products are unfortunately often expensive, I prefer to replace meat simply with natural plant products such as vegetables, mushrooms or legumes. My wallet thanks me–alongside animals and the environment!

Vegetable recipes that are completely without meat (or meat substitutes):
Meatless meatballs with tomato sauce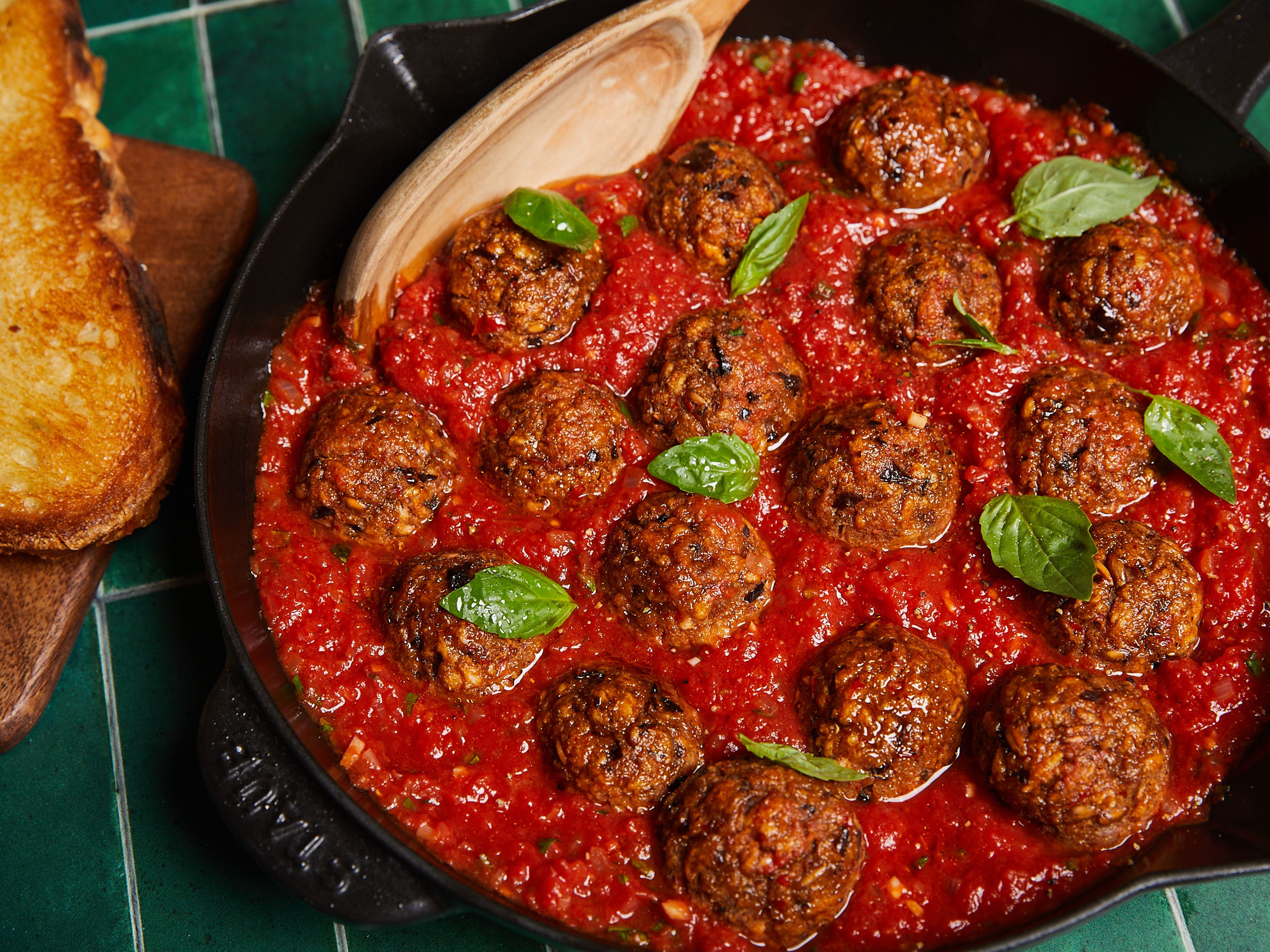 → Go to recipe
– Roasted red cabbage steaks with crispy chickpeas
– Vegan mushroom goulash with dumplings
– Vegan Swedish meatballs
– Kung Pao cauliflower
– Vegan spinach and mushroom lasagne
8. Upgrade your potluck
It's not only better to enjoy food together, but also to save money!
How about a dinner where everyone brings something? But I'm not talking about a traditional potluck: As the host, you provide the basis for your little dinner party and your guests bring different toppings or additions. This way, the costs are shared and you can still enjoy a diverse selection. In my experience, this works especially well for pizza, summer rolls, tacos, wraps, and waffles (sweet AND savory!).

Perfect recipes for shared cooking and eating
Lemongrass chicken summer rolls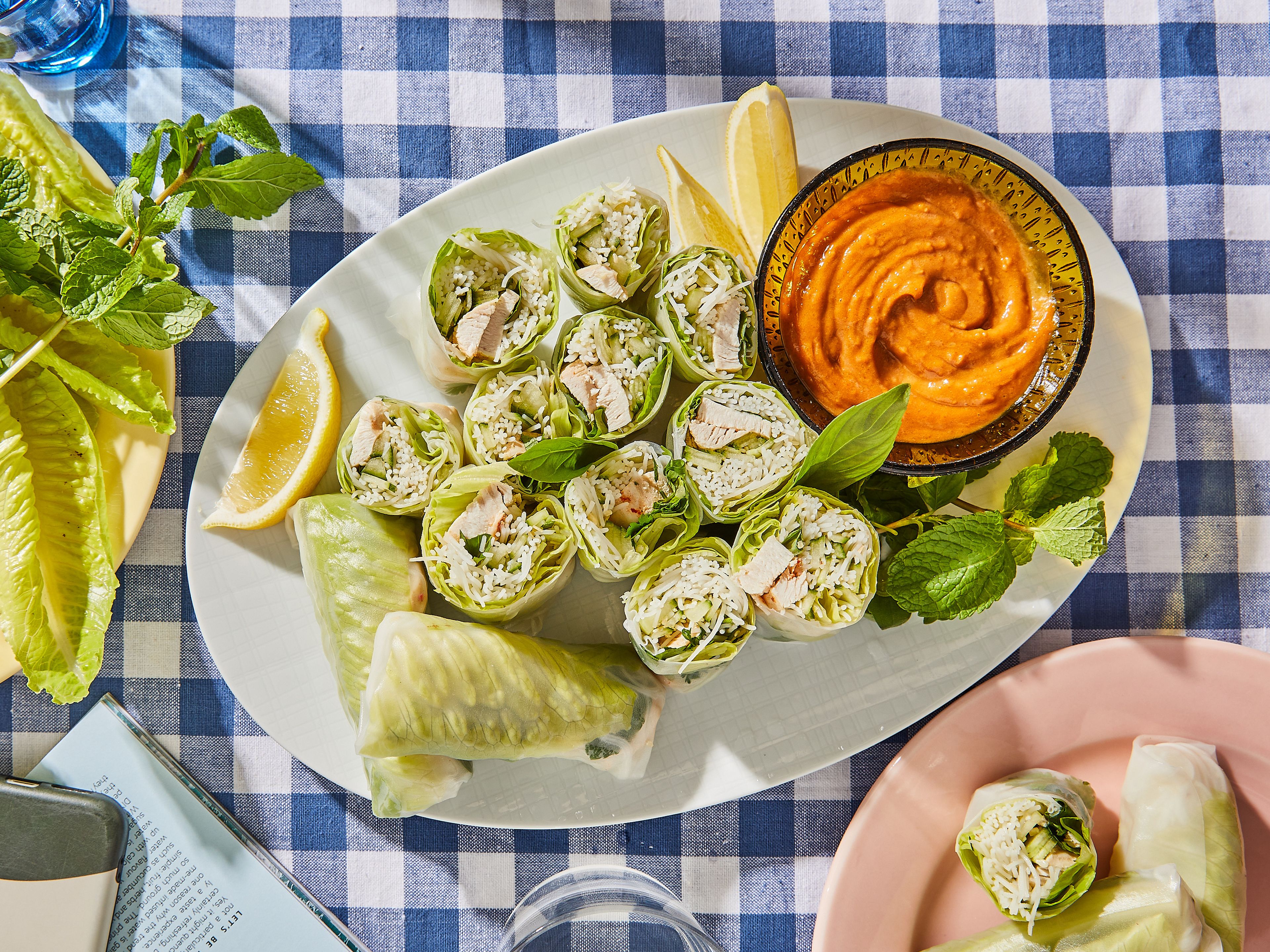 → Go to recipe
– Tinga de pollos tacos
– Make grandma-style pizza with Ruby
– Fresh mango mint wrap
– Easy homemade flatbreads with burst cherry tomatoes
– Blueberry waffles

Attention: More tips and recipes!
In addition to my personal money-saving tips and favorite budget-friendly recipes, we have of course even more articles on the topic of frugality in the kitchen.

More tips here:
– An Honest Guide to Saving Money On Food
– 7 Tips for Saving Energy in The Kitchen

…and more budget-friendly recipes:
– 10 Tasty Recipes Under 2 Euro ($2.35) a Portion
– 14 Cheap Recipes That Aren't Pasta
– 25 Cheap Eats We've Always Relied on

What are your favorite cheap recipes and tips for saving money while still allowing yourself to feel full and indulgent? Let me know in the comments!

We independently select, review and recommend the best products to you. If you buy something through our links, we may earn a commission.
Published on March 7, 2023
More delicious ideas for you