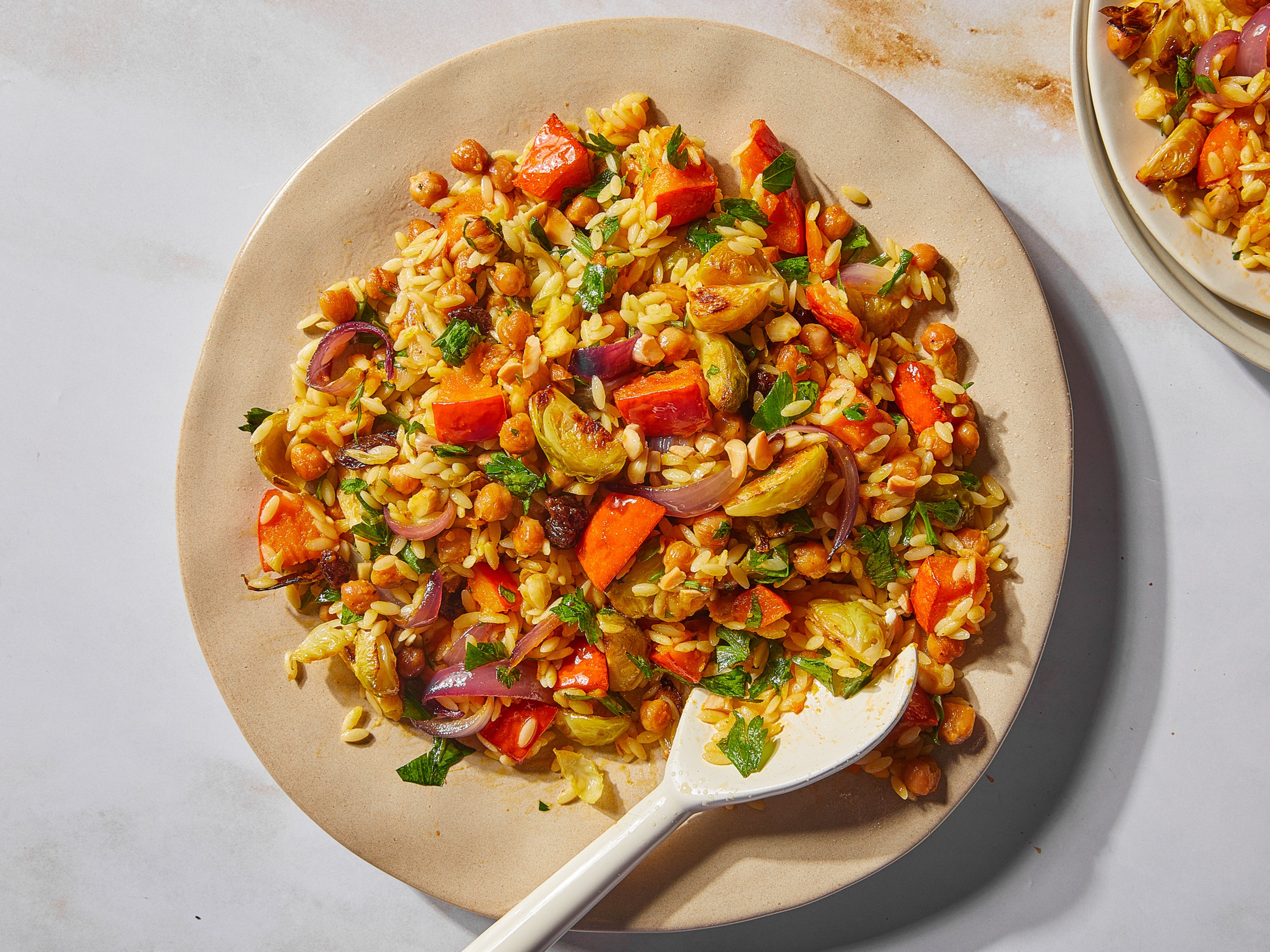 Orzo salad with harissa-roasted pumpkin and Brussels sprouts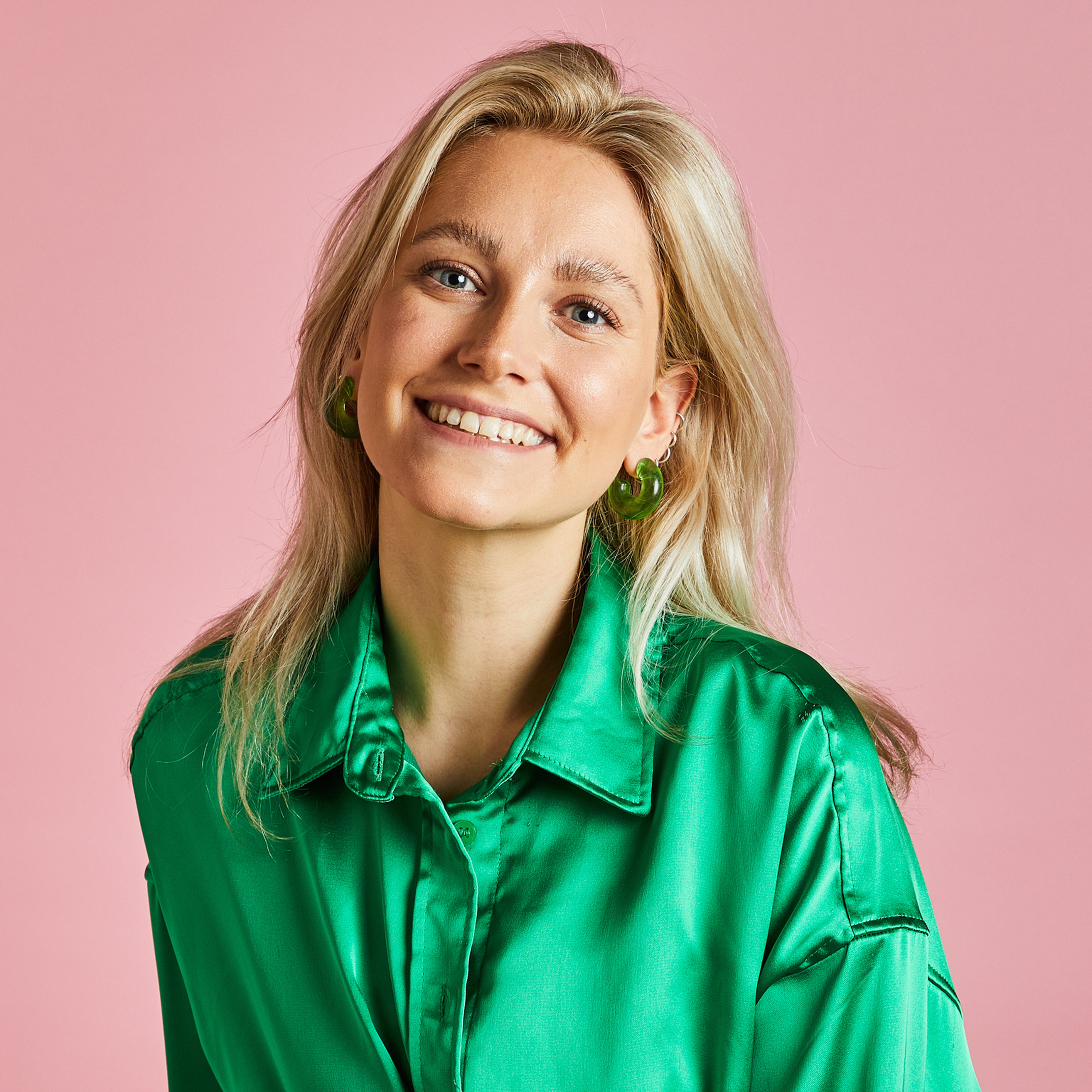 Food Editor at Kitchen Stories
"This vegan orzo salad with colorful oven veggies combines different textures and is full of flavor! For this combination, I was inspired by a recipe from "Cooking for Peanuts", which fits wonderfully into the cold season and is also great for using up your leftover Christmas vegetables. Depending on your preference and the season, you can of course adapt the oven vegetables and find great new combinations with different ingredients. About orzo: What may look like rice at first glance is small Greek pasta made from durum wheat semolina in rice form, also known as kritharaki or risoni in Italy. Is orzo pasta vegan? Like most durum wheat semolina pasta, Greek rice pasta typically does not contain egg and is therefore vegan. Can I prepare the orzo salad ahead of time? The salad tastes best when still slightly lukewarm, but you can also easily prepare it ahead of time and let it sit for a bit, just like any other pasta salad."
Utensils
oven, knife, grater, citrus press, sieve, large bowl, baking sheet, parchment paper
How-To Videos
How to toast nuts
How to zest citrus fruits
How to prepare Brussels sprouts
How to cut Hokkaido pumpkin
Step 1/ 4

1

red onion

300 g

Brussels sprouts

250 g

Hokkaido pumpkins

20 g

parsley

400 g

canned chickpeas

oven
knife
grater
citrus press
sieve

Preheat the oven to 220°C/420 °F. Cut onion into approx. 1.5 cm/0.6 in. wedges. Trim Brussels sprouts, remove wilted leaves, and cut into quarters. Cut pumpkin into approx. 1.5 cm/0.6 in. cubes. Coarsely chop the parsley. Drain chickpeas, rinse thoroughly, and set aside.

Step 2/ 4

2 tsp

harissa

3 tbsp

olive oil

2

garlic

large bowl
baking sheet
parchment paper

In a large bowl, mix harissa with some of the olive oil. Season with salt and pepper. Add the chopped vegetables and chickpea to the bowl. Mix well so they are coated in the harissa-oil mixture. Then place in a single layer on a baking sheet lined with parchment paper. Add unpeeled garlic cloves. Place in the oven and roast for approx. 20 min., turning the vegetables once halfway through. Remove from the oven when the vegetables are golden brown.

Step 3/ 4

Meanwhile, in a large pot without oil, toast the almonds over medium heat until golden brown. Then take them out, roughly chop, and put them aside. Then, in the same pot, bring water to a boil and cook orzo pasta according to package directions until al dente.

Step 4/ 4

2 tbsp

olive oil

1½ tbsp

red wine vinegar

2 tbsp

maple syrup

30 g

raisins

salt

pepper

For the dressing, squeeze the insides of the roasted garlic cloves from the oven, when it's not too hot to handle, into the large bowl used in step 2. Add the remaining olive oil and mix well with a fork. Grate zest and juice lemon into the bowl. Add vinegar and maple syrup and mix well again. Season to taste with salt and pepper. Add oven vegetables, orzo pasta, toasted almonds, raisins, and parsley to the dressing. Mix until combined. Season again if necessary. Best served lukewarm.

Enjoy your meal!
More delicious ideas for you