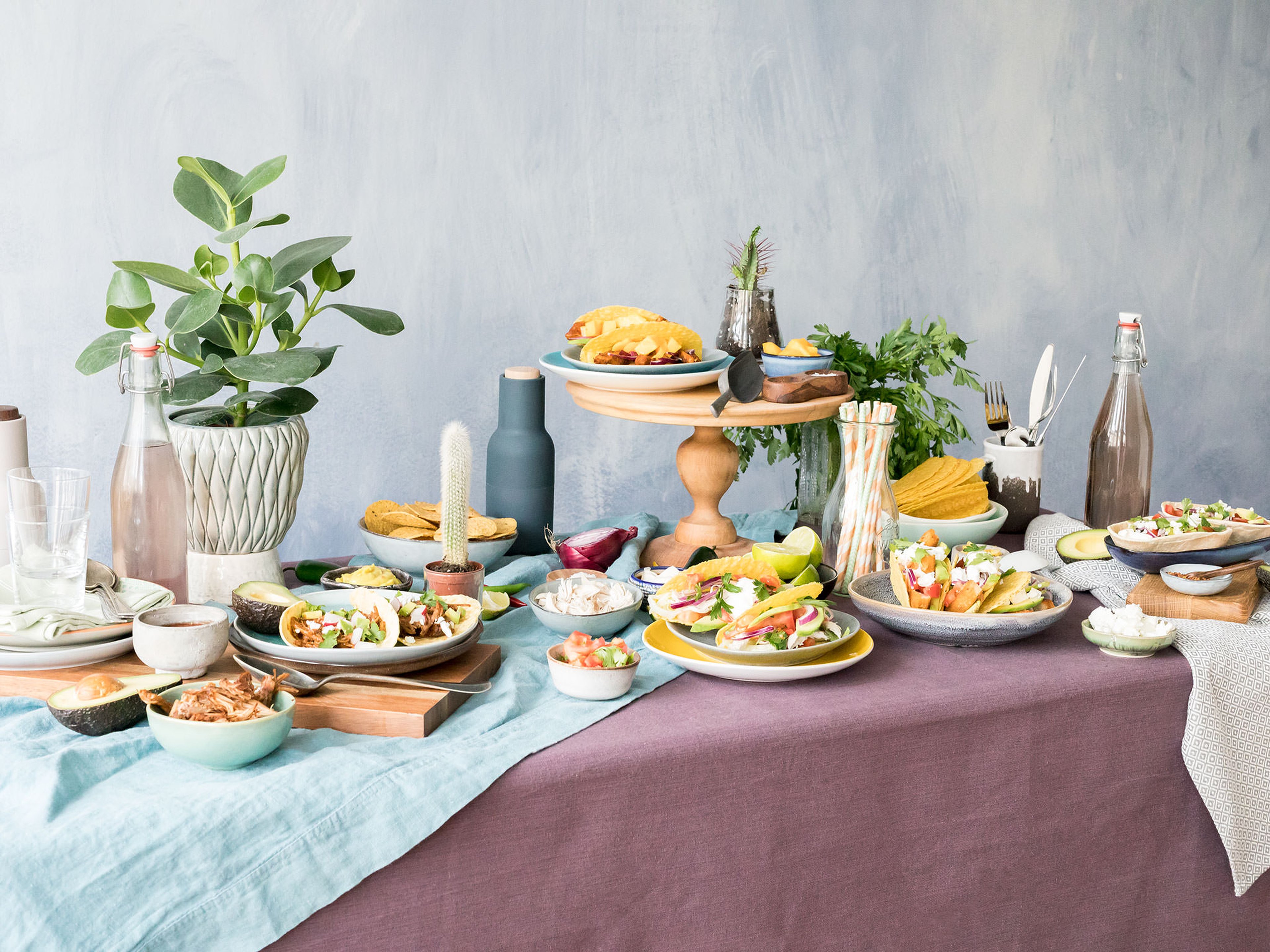 How to Set Up Your Own Taco Bar
Let's taco 'bout it!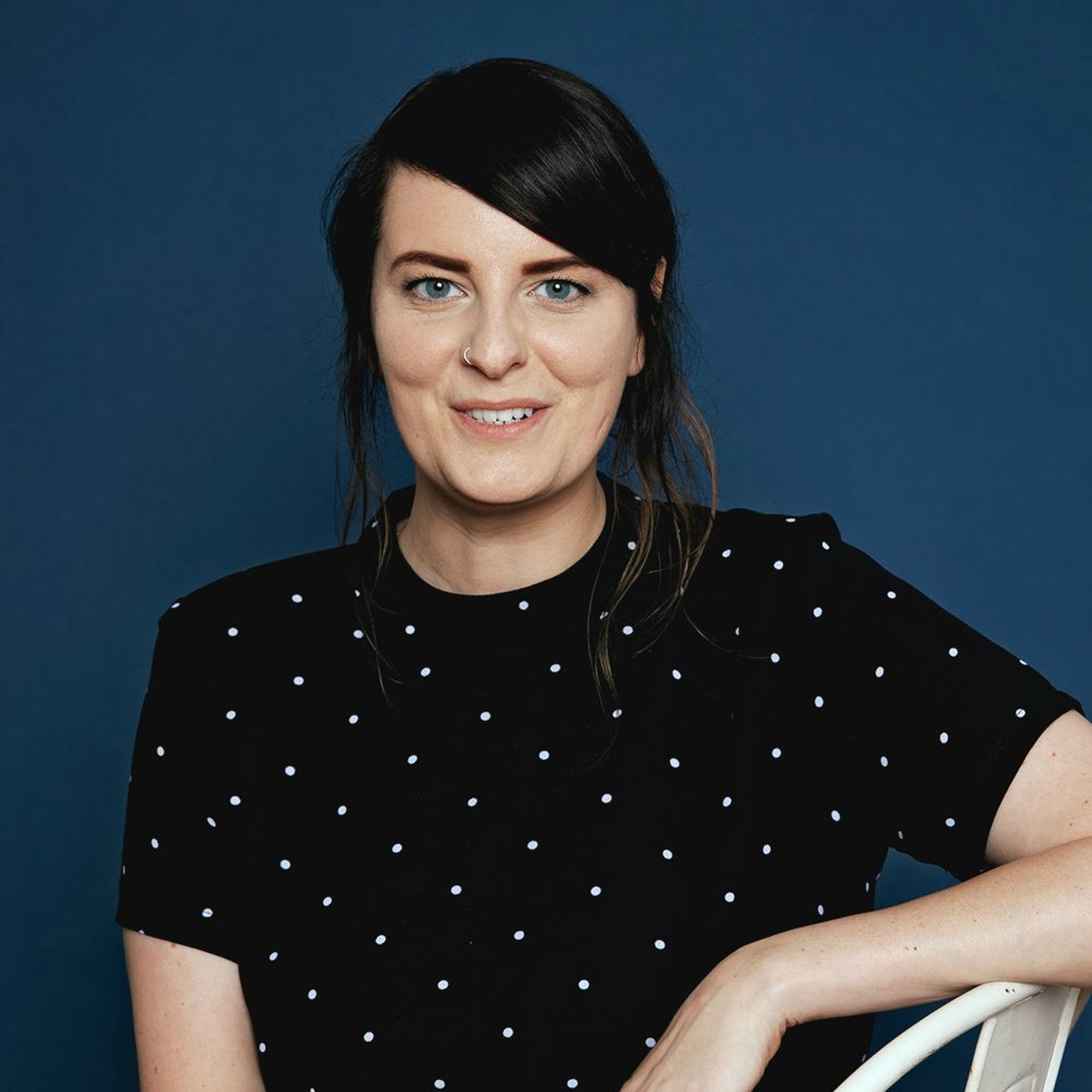 When it comes to parties, I'm a huge fan of food bars. Not only is it by far the easiest way to please a big crowd, but you're also able to spend time with your guests instead of plating up food all night. After experimenting with different formats, from a hot dog or burger bar to a waffle-themed buffet (don't try the latter at home: the only conversation you'll have is with your waffle iron), I can easily elect my favorite: the DIY taco bar!


It's just so easy to prepare everything ahead and the combination of hearty, spicy and fresh ingredients are guaranteed to please a crowd. So if you're looking for some taco bar ideas, here's your complete guide to toppings, combinations, and more.
5 Steps for the Perfect DIY Taco Party
Whether you want to set up your taco bar for a casual get together with a few friends or are expecting a larger crowd for a birthday party—here are the building blocks to have on hand: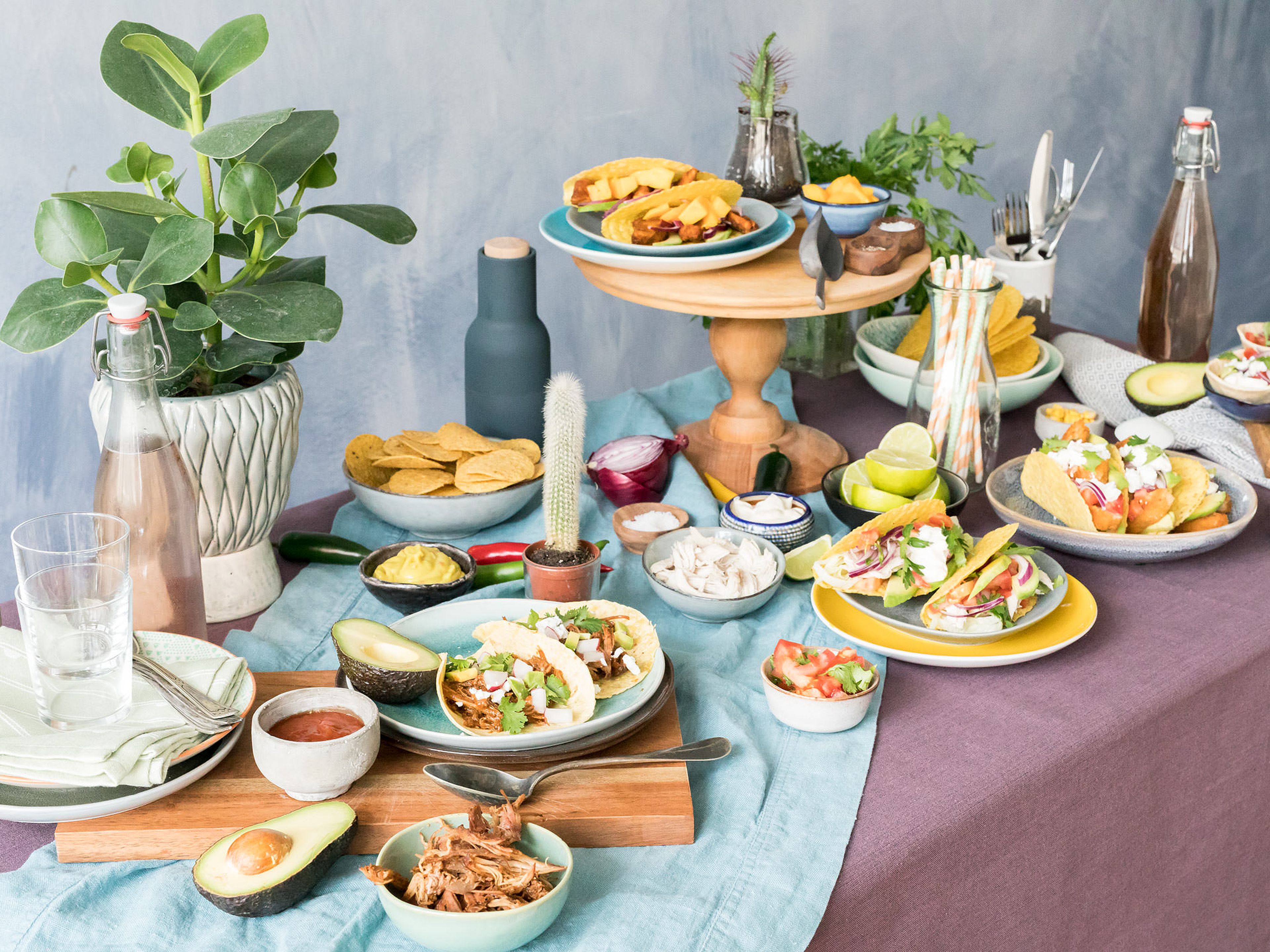 Start with the base: soft tortilla shells, hard taco shells, tostado shells, or soft tortilla bowls.

Add a filling: shredded chicken, pulled pork, ground beef, or flaked fish fillets.

Choose a sauce: guacamole, sour cream, chipotle sauce, mole negro, or tomato salsa.

Finish with toppings: sliced avocado, chopped tomatoes, diced red onions, lettuce, beans, mango, radish, pico de gallo, tortilla chips, cilantro, pickled jalapenos, lime wedges, green onions, corn, crumbled feta cheese, or shredded cheddar.

Enjoy with your favorite drink: Frozen margarita, Watermelon-ginger spritzer, Sparkling lemon iced tea, or Chia fresca.
Your 5 New Favorite Taco Recipes
Now we've told you how to set up a taco bar, you might be wondering which taco fillings to recommend your guests. Needless to say, there are endless possibilities—but we're pretty sure these 5 ones are the best!
Tinga de pollo tacos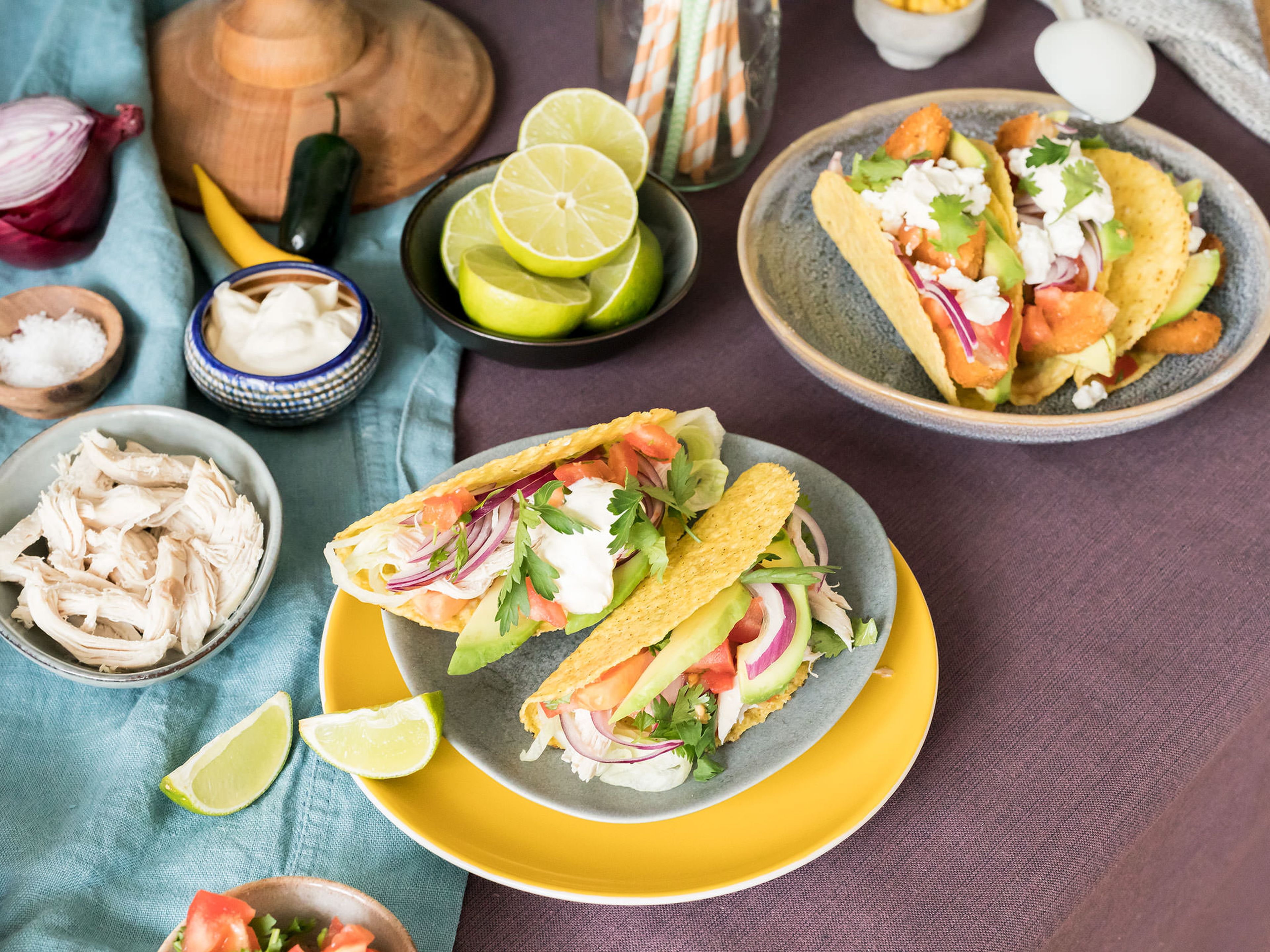 Tinga de pollo, also known as shredded chicken with tomato-chipotle sauce, is a popular taco filling that's often accompanied by avocado, tomatoes, iceberg lettuce, and sour cream. These chicken-filled tacos are easy to make and full of delicious spicy, tangy, fresh and creamy flavor...I could go on. Find the quick and easy recipe right here.
Tinga de pollo tacos
→ Go to recipe
Pork mole tacos
Smoky, spicy, and tender—there's a lot to love about this marinated pork filling. Sure, it needs time to be prepped-ahead, but it's definitely worth the effort.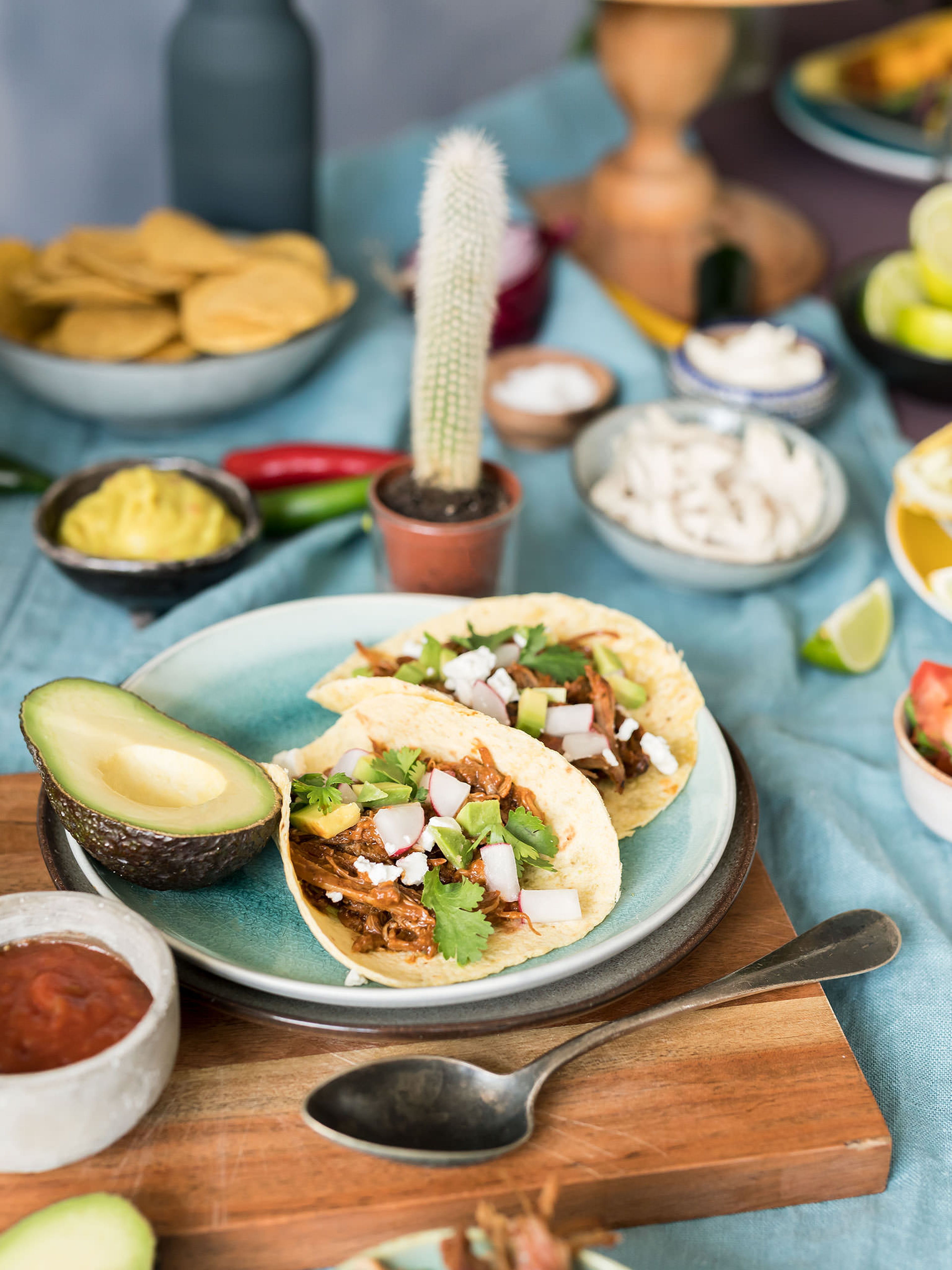 Here's how you make them: Place around 1 pound of pork neck into a baking dish and brush all sides with mole sauce. Roast in preheated oven at 150°C/300°F for approx. 5 – 6 hours until tender, then shred it by pulling apart the meat with two forks.
Prepare a soft tortilla or tostada shell and top with pulled pork, creamy avocado, fresh radish and feta cheese.
Fish tacos with grapefruit salsa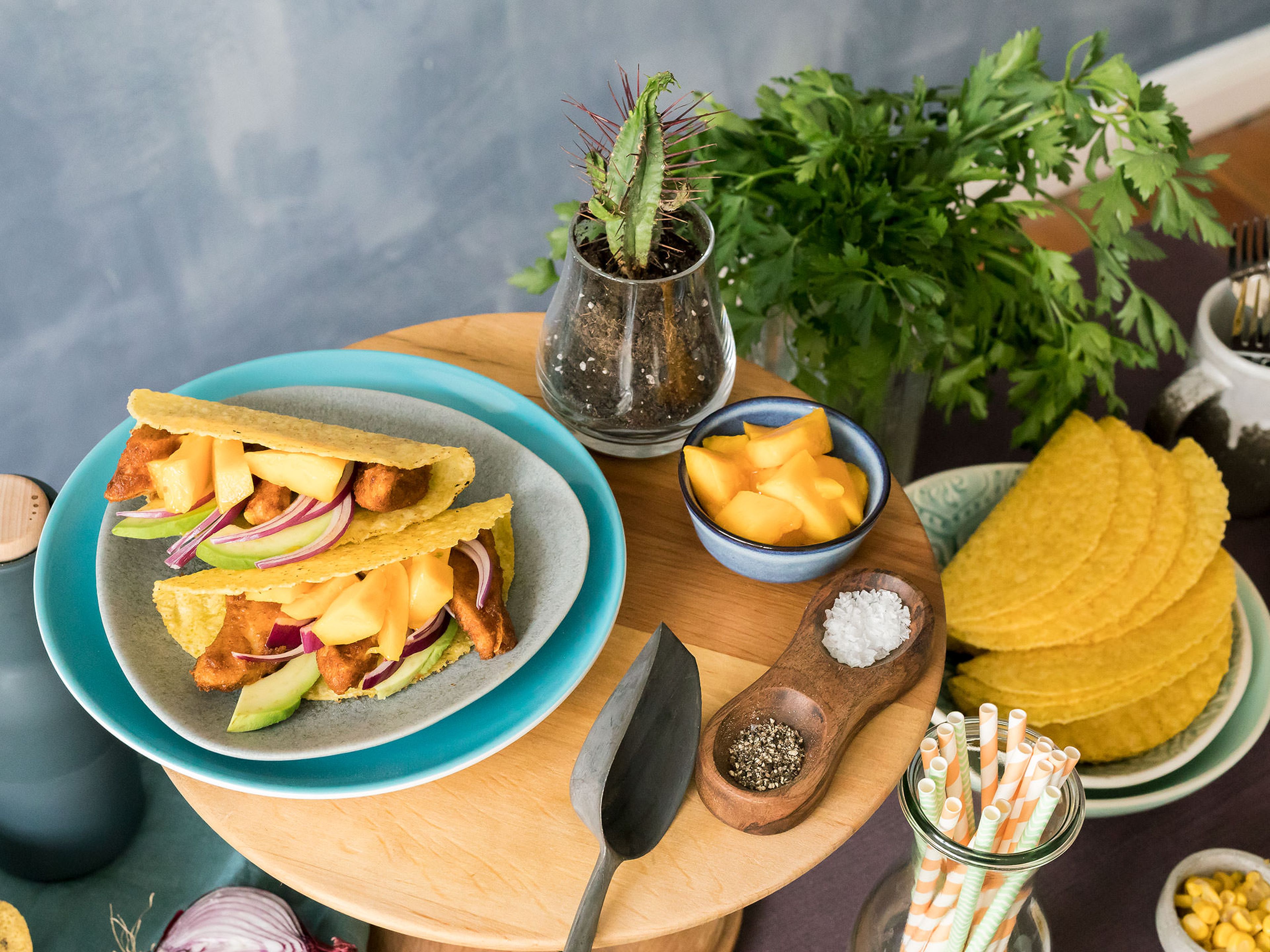 Spicy fish fillets topped with a tangy, summery salsa made of fresh grapefruit, mango, and creamy avocado—this is a big call, but these might be the best tacos ever! A few dollops of crème fraiche dip with lime add a nice finishing touch to these little glories. Here's how to make them:
Fish tacos with grapefruit salsa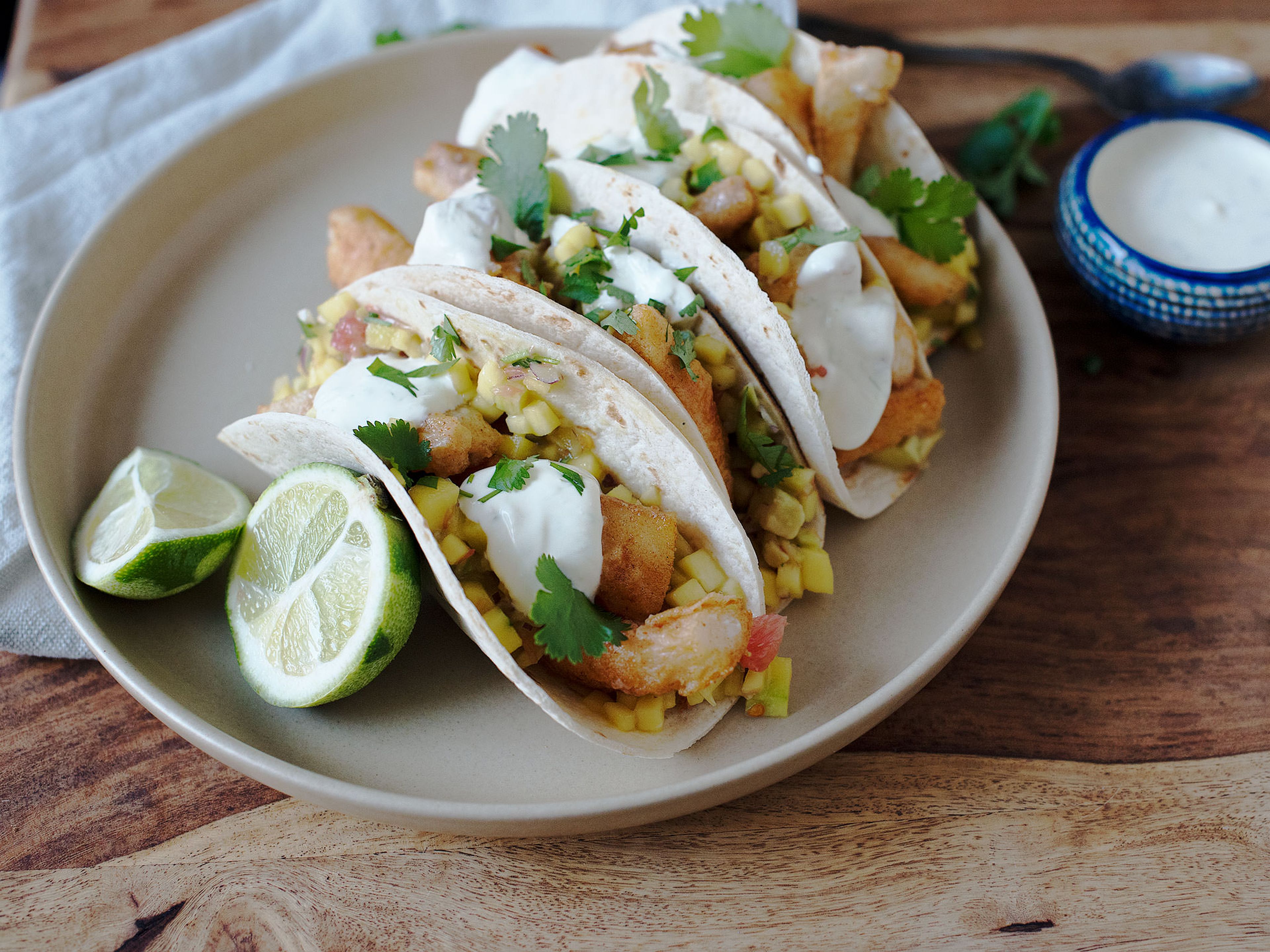 → Go to recipe
Beef taco bowls
These soft tortilla bowls are filled with a spicy mix of ground beef and corn, and are served topped with avocado, tomatoes, red onions, feta cheese and sour cream.

To spice up the ground beef, we used our favorite taco seasoning recipe: Simply mix 1 tbsp chili powder, 1 tsp paprika powder, 1 tsp cumin, ¼ tsp cayenne pepper, ½ tsp oregano, ½ tsp salt, and ½ tsp pepper—that's it! Oh and it'd be remiss not to tell you— you can use this winning spice blend for your other favorite Mexican dishes! Enjoy!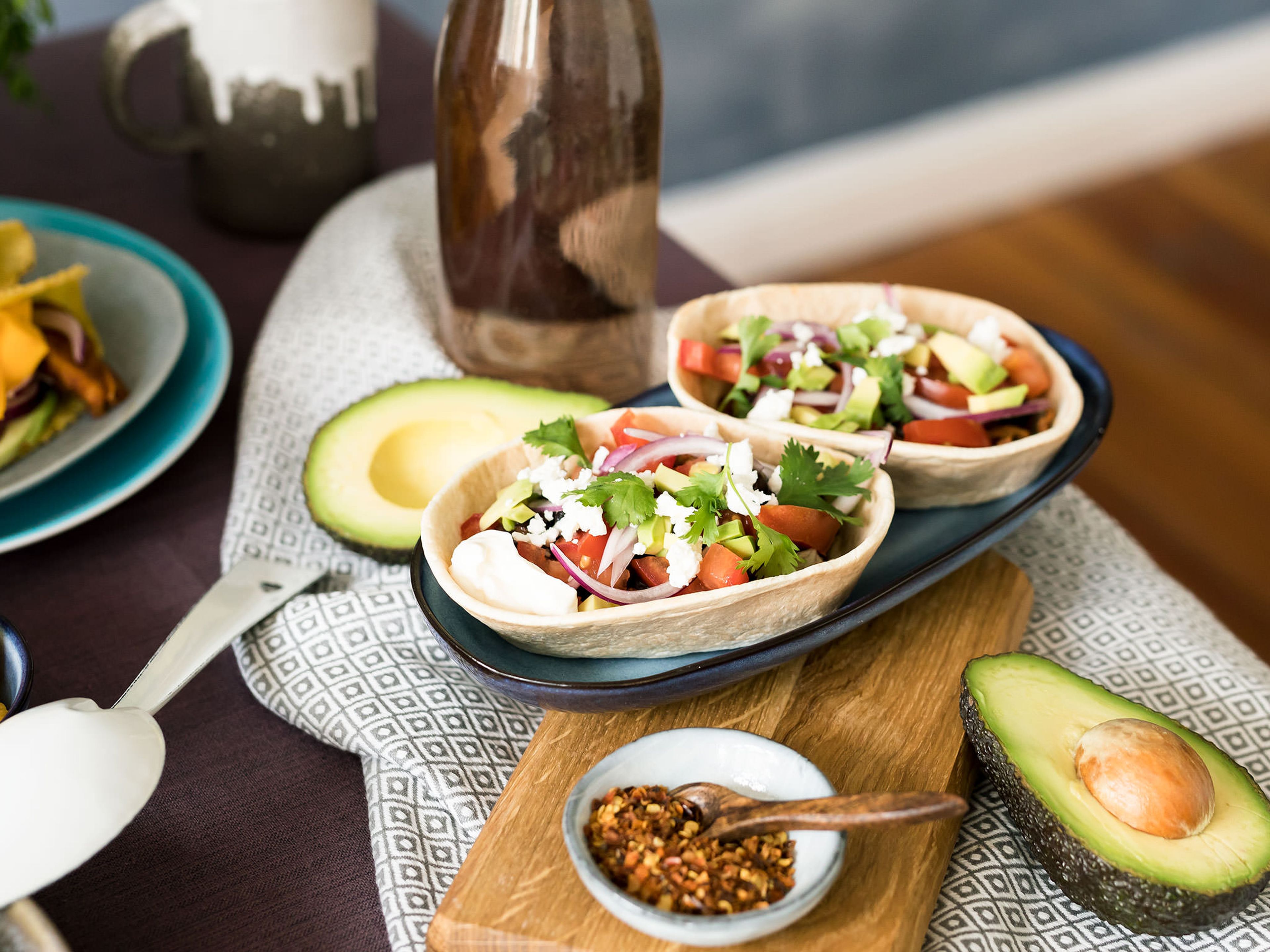 And here's how to make delicious beef taco bowls: Heat some oil in a frying pan set over medium-high heat. Add one chopped onion and sear for approx. 2 minutes, then add ground beef and cook again for approx. 2 – 3 minutes. You will need around 450 g (1 lb) of ground beef for 4 taco bowls.

Stir in taco seasoning, 1 tbsp tomato paste, ½ cup of corn, and some sugar to taste and simmer until slightly thickened. Fill your taco bowls with the taco meat, chopped tomatoes, avocado slices, red onion rings, and feta Cheese and serve with sour cream and some fresh cilantro.
Vegetarian tacos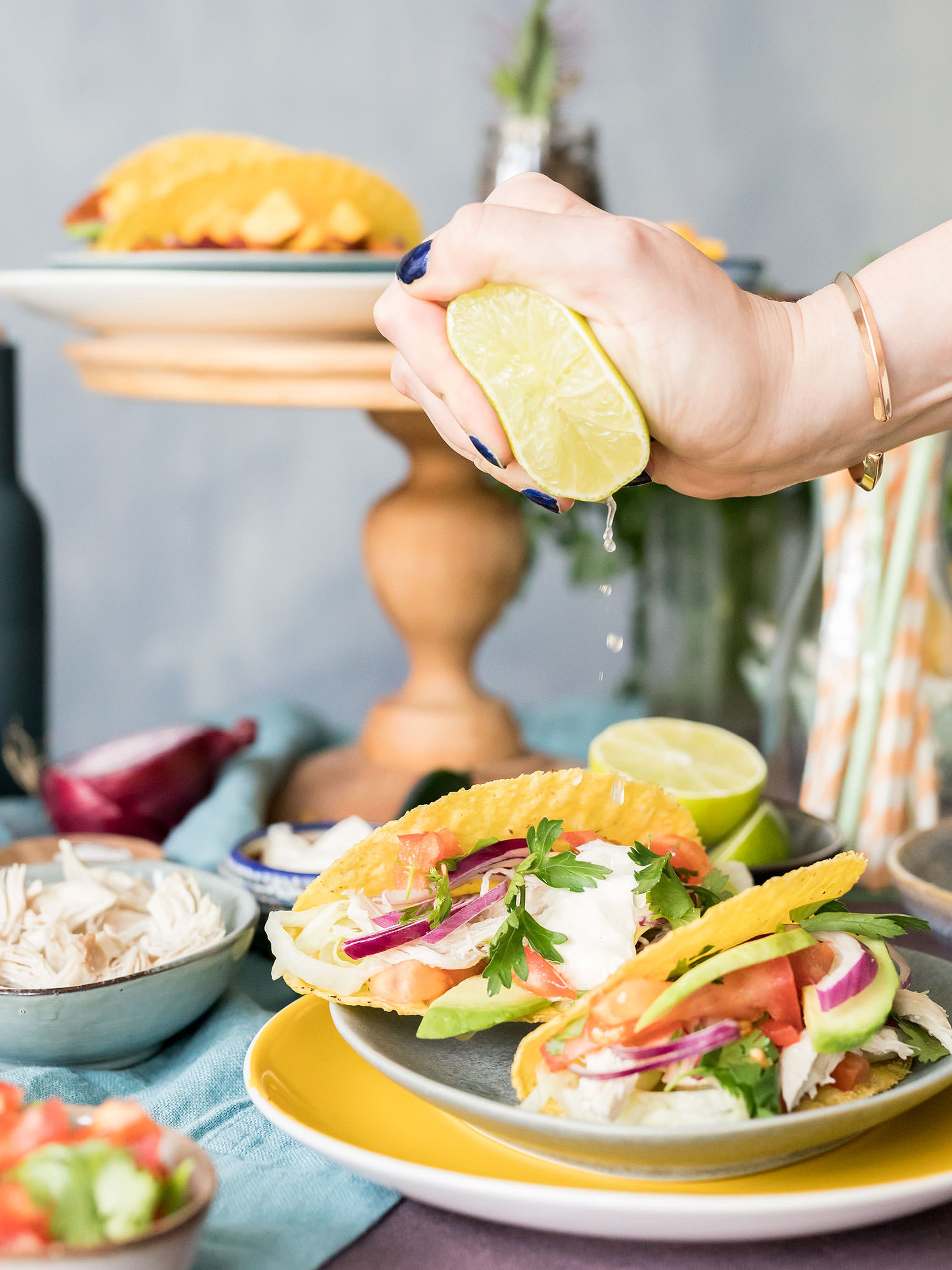 These vegetarian tacos are really hard to beat—even meat eaters will love them, we promise! There's just something about the mix of onions, tomatoes, and avocado topped off with creamy Greek yogurt and feta cheese. And with using sliced vegetarian or vegan mock meats as their tasty highlight, there's nothing you could possibly miss.
Vegetarian tacos with lime-yogurt dip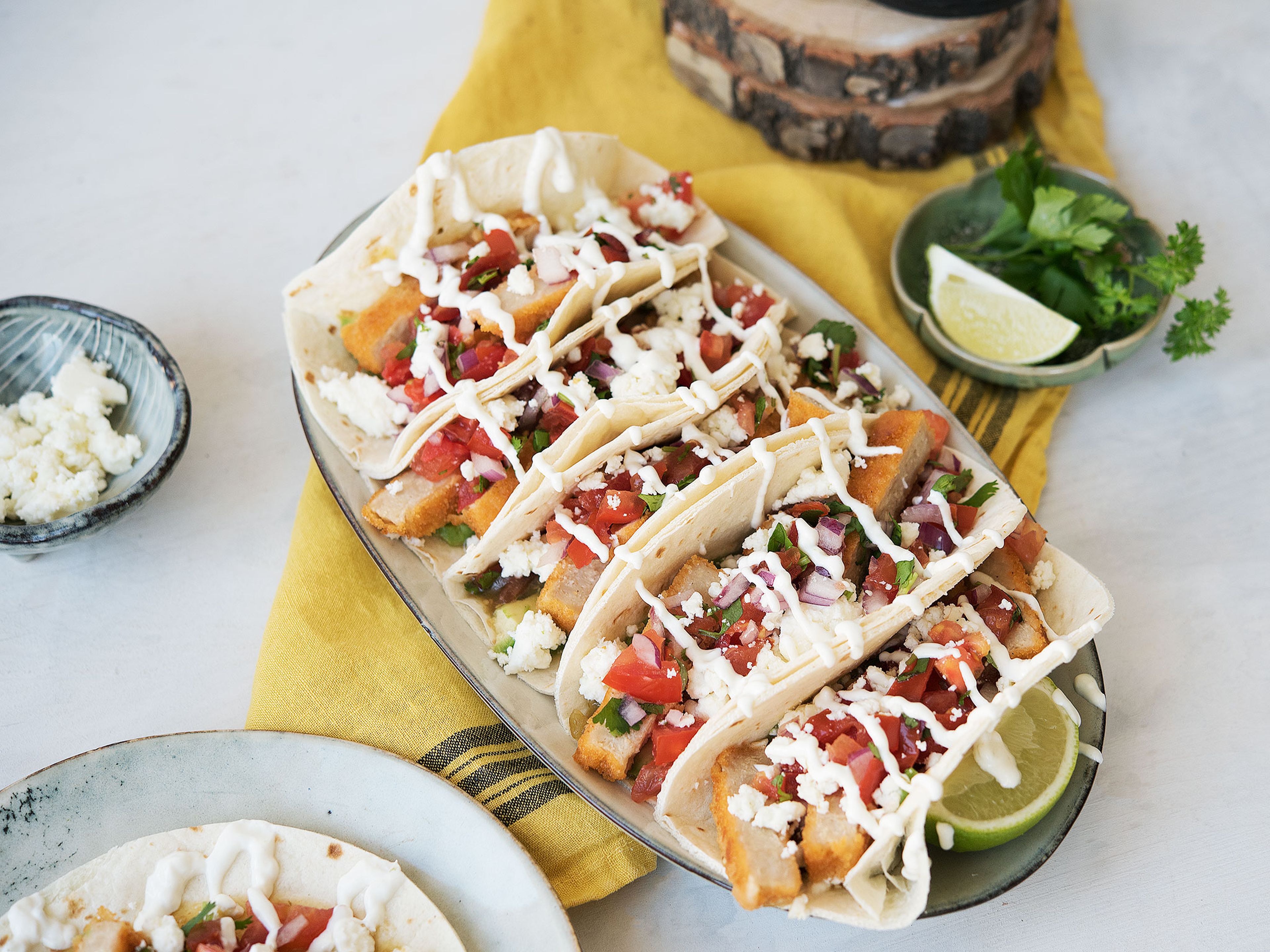 → Go to recipe
Of course, you can combine all the ingredients according to your taste! What's your preferred taco ingredient and combination? Upload your favorite taco recipe to our app for everyone to enjoy!
Published on June 10, 2018
More delicious ideas for you