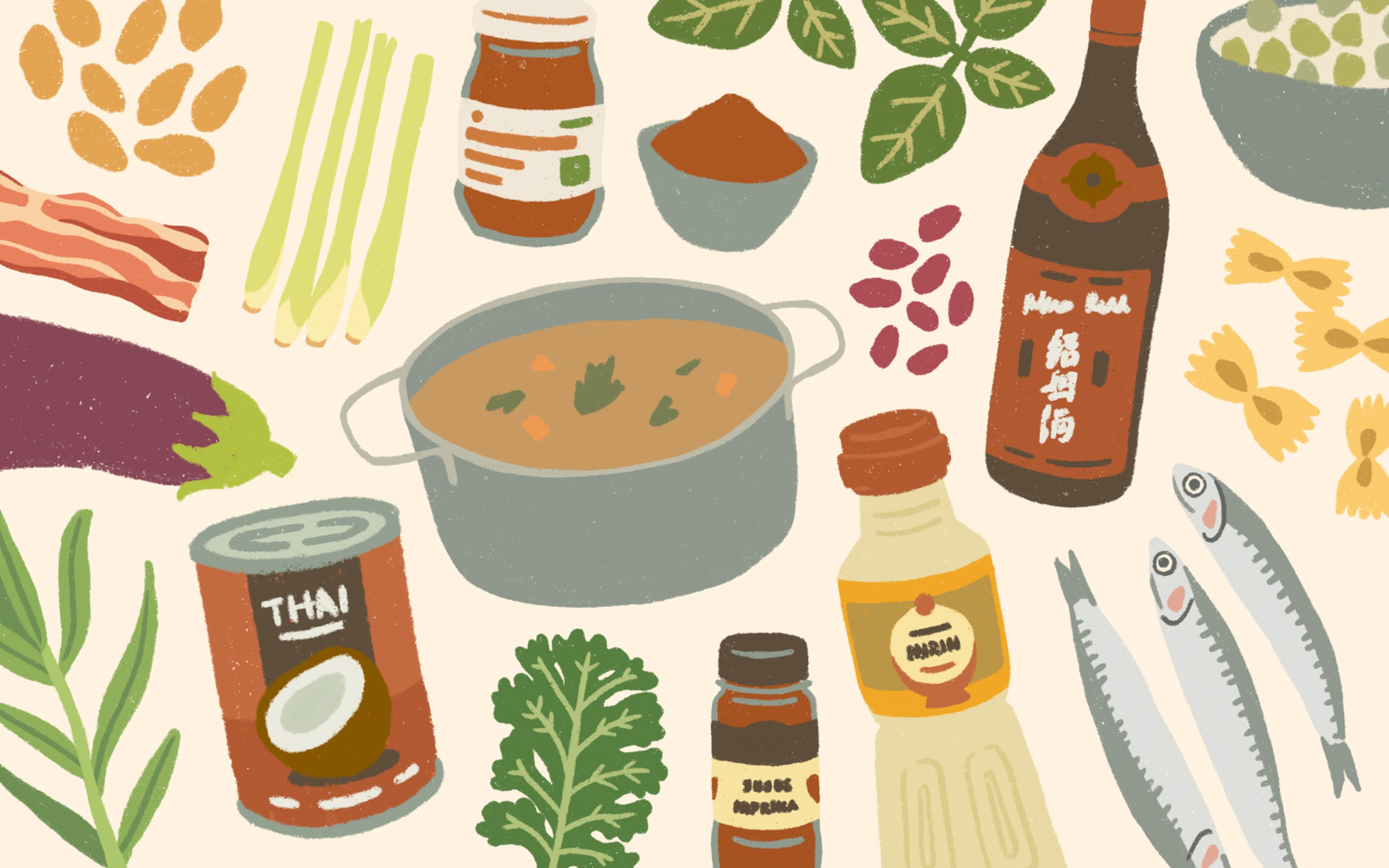 Your Big-Batch, Freezer-Friendly Weekly Meal Plan
Stash the leftovers in the freezer to save you money and time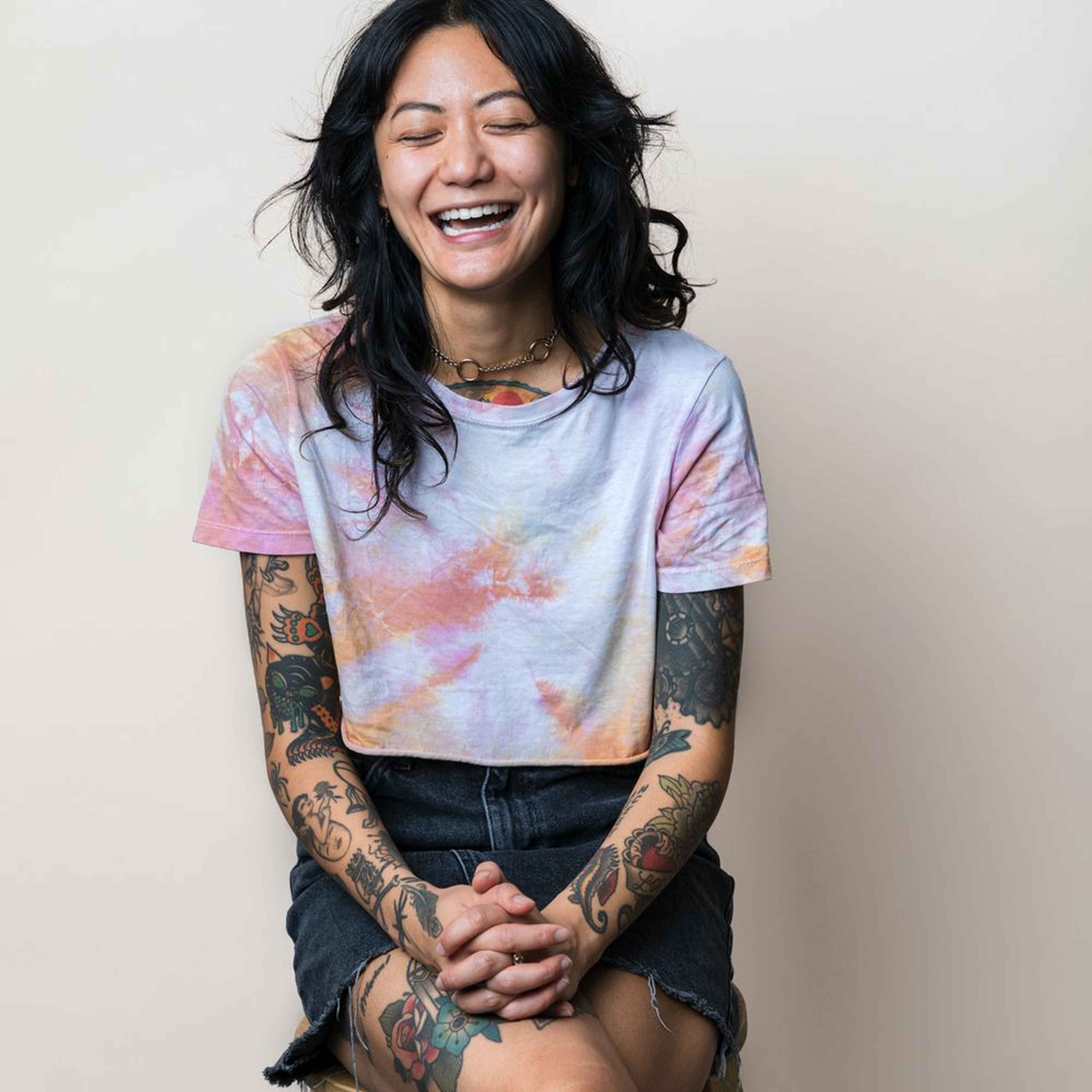 As you know, we've been working on something exciting: our very first cookbook! Anyone Can Cook will be published with Prestel in Spring 2021—you can preorder it here. The cookbook is for brand new or seasoned home cooks looking to infuse fresh ideas into their weeknight cooking routine, which is why this month, to celebrate its release, we'll focus on all the different ways to tackle dinner throughout the week, and share tips and tricks from our chefs and editors. All month long, you'll get exclusive sneak peeks into Anyone Can Cook, plus plenty of new, satisfying, and versatile recipe ideas to rely on the whole week through.

There are countless reasons why meal planning is smart, but if I'm being totally honest with myself and you, it can also be a real chore—sorry, I mean challenge. I'm the kind of person who frantically tells the waiter at restaurants, "I need a few more minutes," over and over until half an hour passes and I'm still undecided and overwhelmed by the number of options. When it comes to figuring out what to cook on my own, I tend to do everything at the last minute, only deciding what I want to make when I'm in the throes of produce boxes and shopping carts. So when I was asked to curate a weekly meal plan, I was hesitant. Coming up with this was difficult, but it also made me rethink the way I approach food, and most importantly, become a more sustainable cook.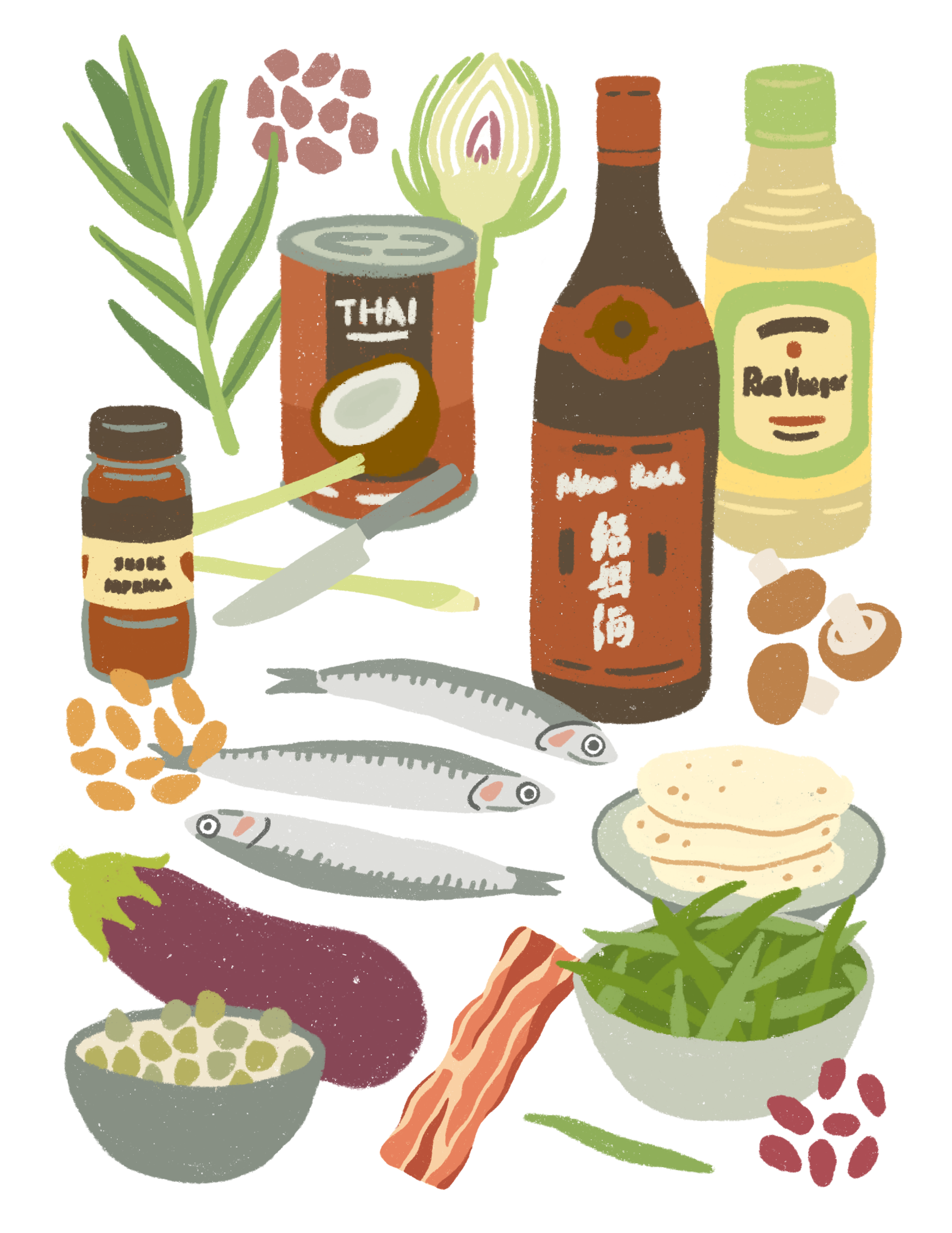 Almost all of the recipes outlined below are freezer-friendly and can be easily doubled or tripled for big-batch cooking. Whether you're planning to feed a family, a crowd of friends, or just need a solo dinner, you can store any leftovers you have in the freezer. Winter is just around the corner and you'll be happy and relieved to know there's a week's worth of delicious food stashed in your freezer—who knows when you'll need it.
Monday
Start your week off right with magical meatballs: Not only are they super easy to prep, they're also something not many of us make on the regular, so their place on the dining table offers a thrilling novelty to the start of the week. Whether it's meatballs in a tangy tomato sauce, mini meatballs spiked with red curry, or even meatless meatballs (yes, it's possible), the possibilities are endless, just as long as you have eggs, breadcrumbs, or some cheese to bind your spices and meat together. Tossing meatballs in a hot oven will save you on prep time, cook time, and cleaning time, which is why we're starting Monday with this easy sheet pan meatballs with savory walnut sauce. They're juicy, tender, and slightly nutty without being too heavy, thanks to the fresh dill and zippy lemon zest. Plus, they're especially freezer-friendly, so if there are any leftovers, simply save them for another day.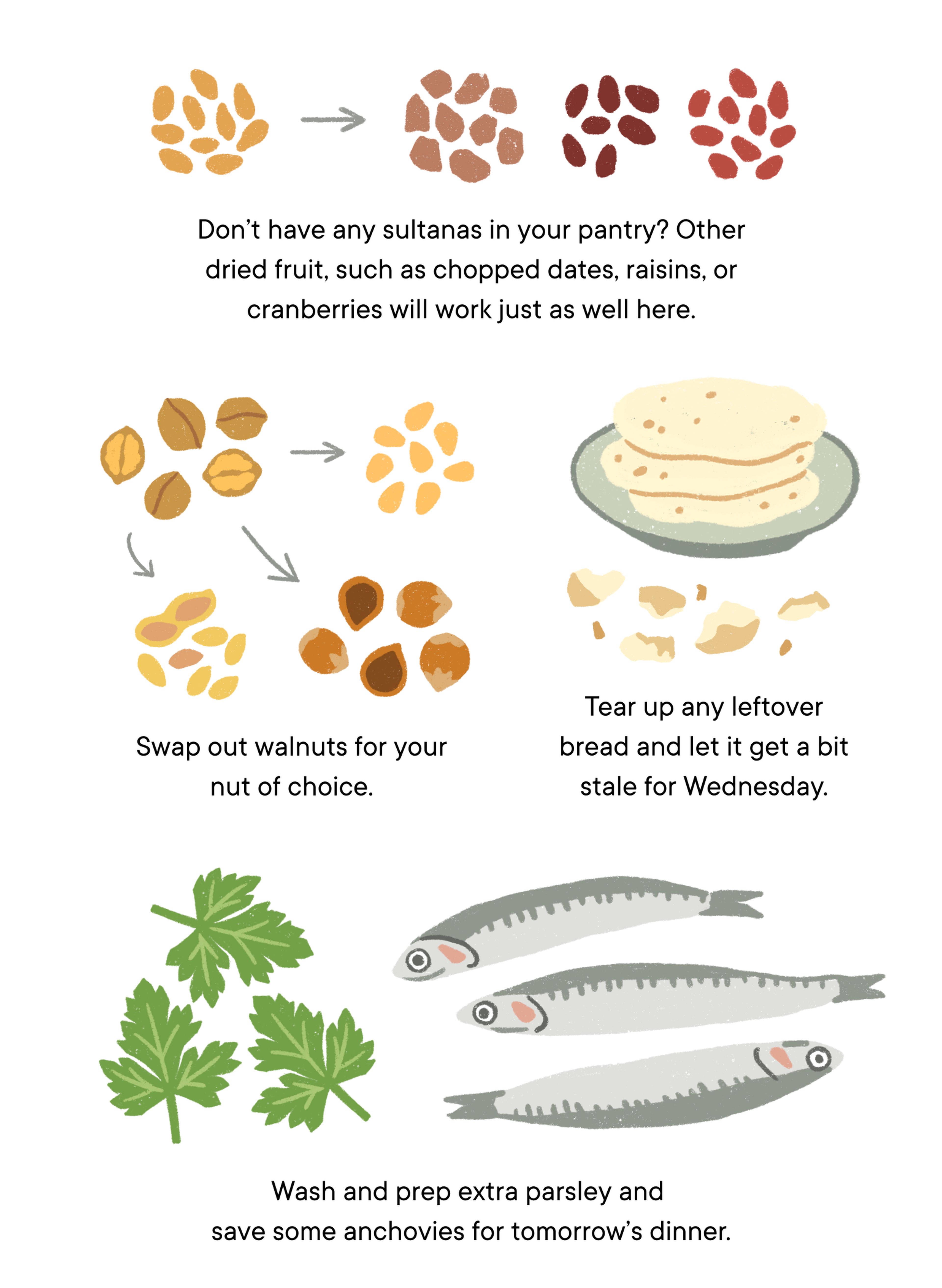 Tuesday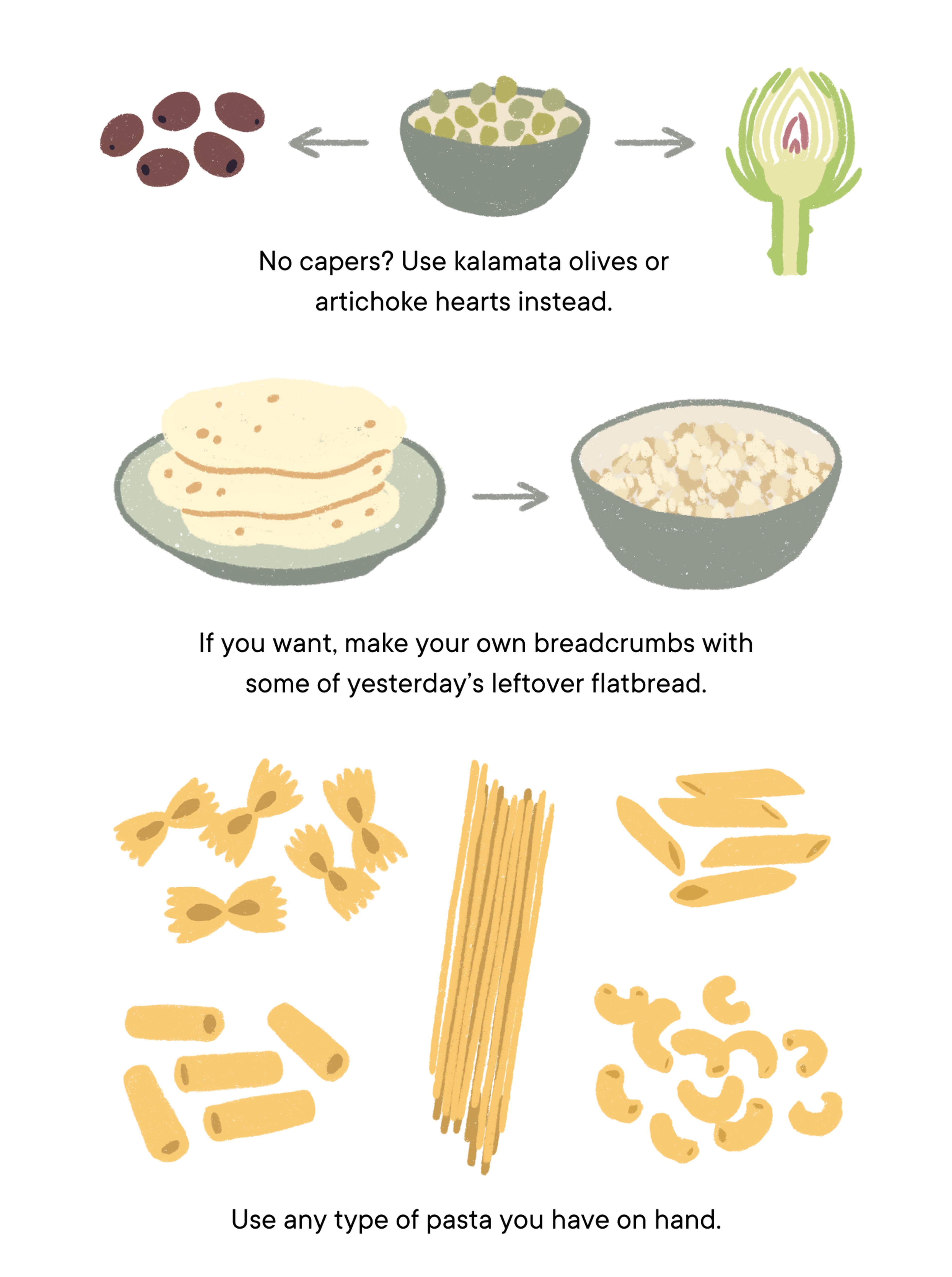 Wednesday
By midweek I'm usually either hyped on the energy from work or totally wiped, and given that I can never anticipate which one it'll be, I like to reserve Wednesday dinners for easy recipes that require minimal effort. So for tonight, let's turn to this restorative sopa de ajo (Spanish garlic soup) to fill us up. You only need garlic, eggs, olive oil, chicken or vegetable stock, and stale bread, which you should already have leftover from Monday's dinner. After a quick simmer on the stove, you'll have a bold and peppery soup swirled with flecks of toasted garlic, soft bread, and egg ribbons—if this doesn't pack a nourishing punch that's perfect for carrying us through the midweek slump, then I give up.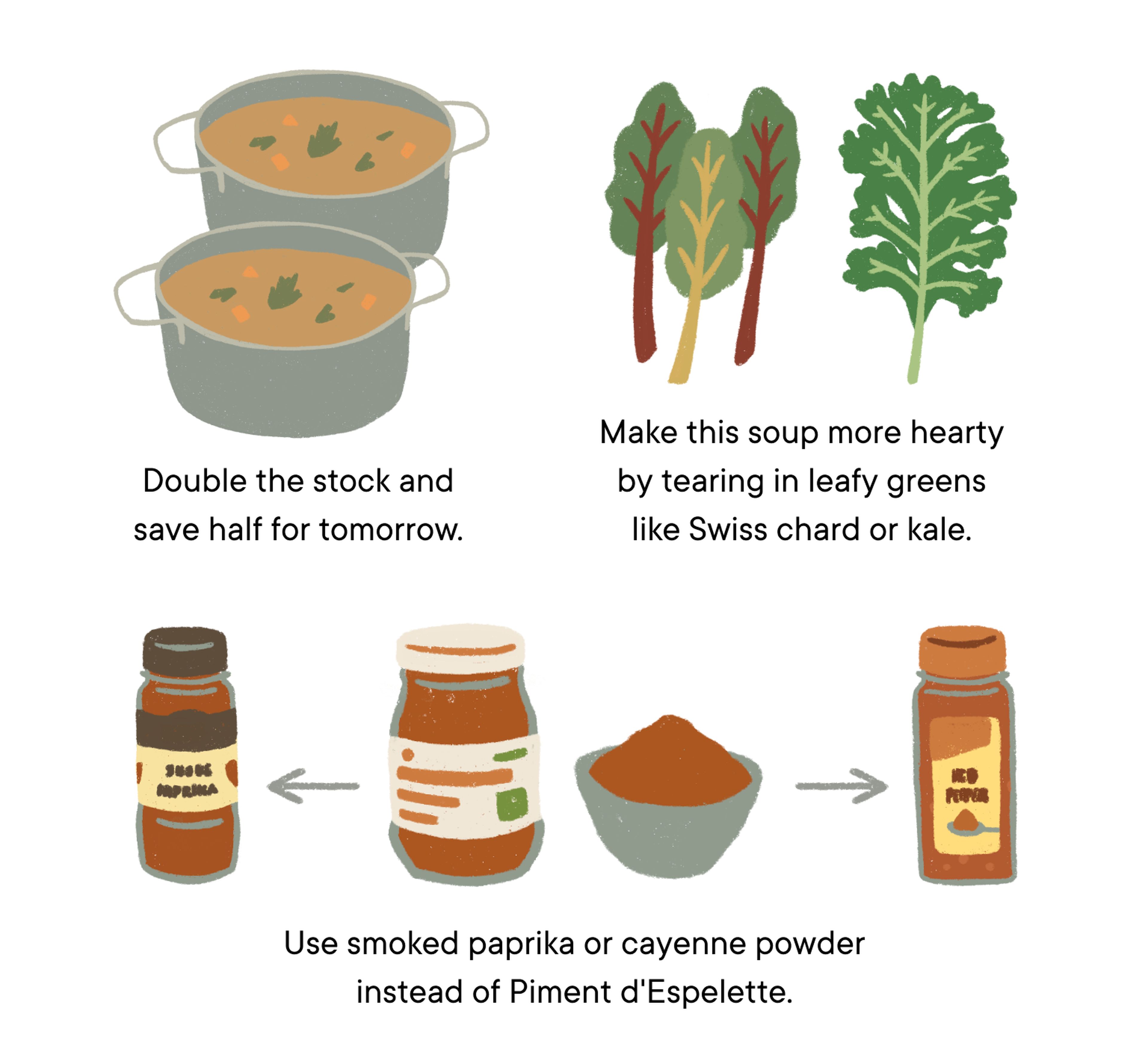 Thursday
Use the leftover stock from Wednesday as the foundation for tonight's dinner: shrimp and pork wonton noodle soup. The combination of chewy shrimp, tender bits of pork, silky wonton wrappers, and sharp ginger results in a warming bowl of soup that's perfect for any meal, be it breakfast, lunch, or dinner. If you've made too much filling, simply wrap them into wontons and freeze for future bowls of wonton soup, spicy wontons, or fry the leftover filling up as mini meatballs.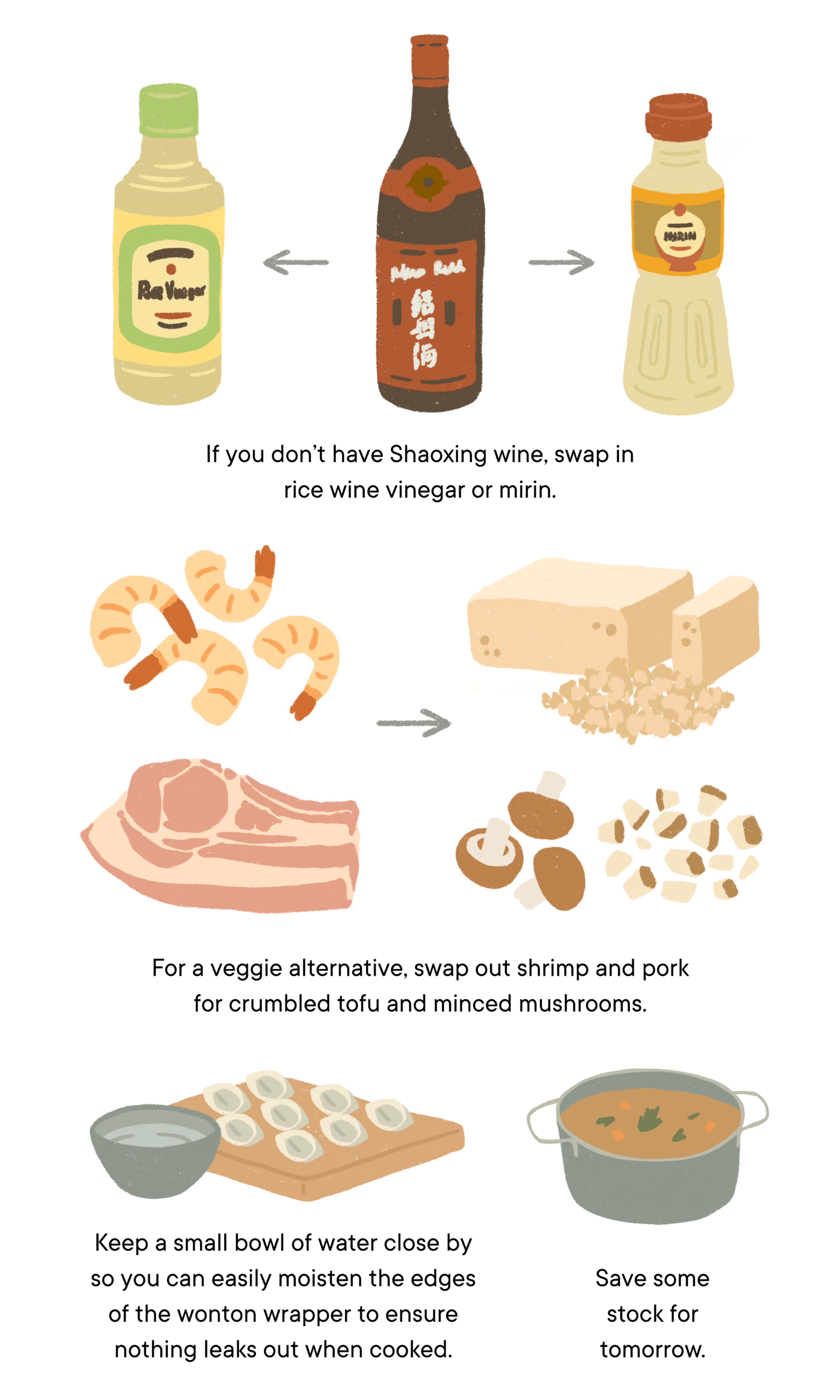 Friday
Citrusy lemongrass, sweet coconut milk, and the remainder of yesterday's chicken stock make up the poaching liquid for today's dish: poached coconut chicken with bok choy. Poached chicken often gets a bad rep for being dry and bland, but steeping the right aromatics in the stock (like ginger, chili, and garlic) transforms the chicken into something so flavorful and delicate it almost melts in your mouth. If you have any leftover chicken, consider sandwiching it between two slices of bread with some sliced avocado like in this recipe.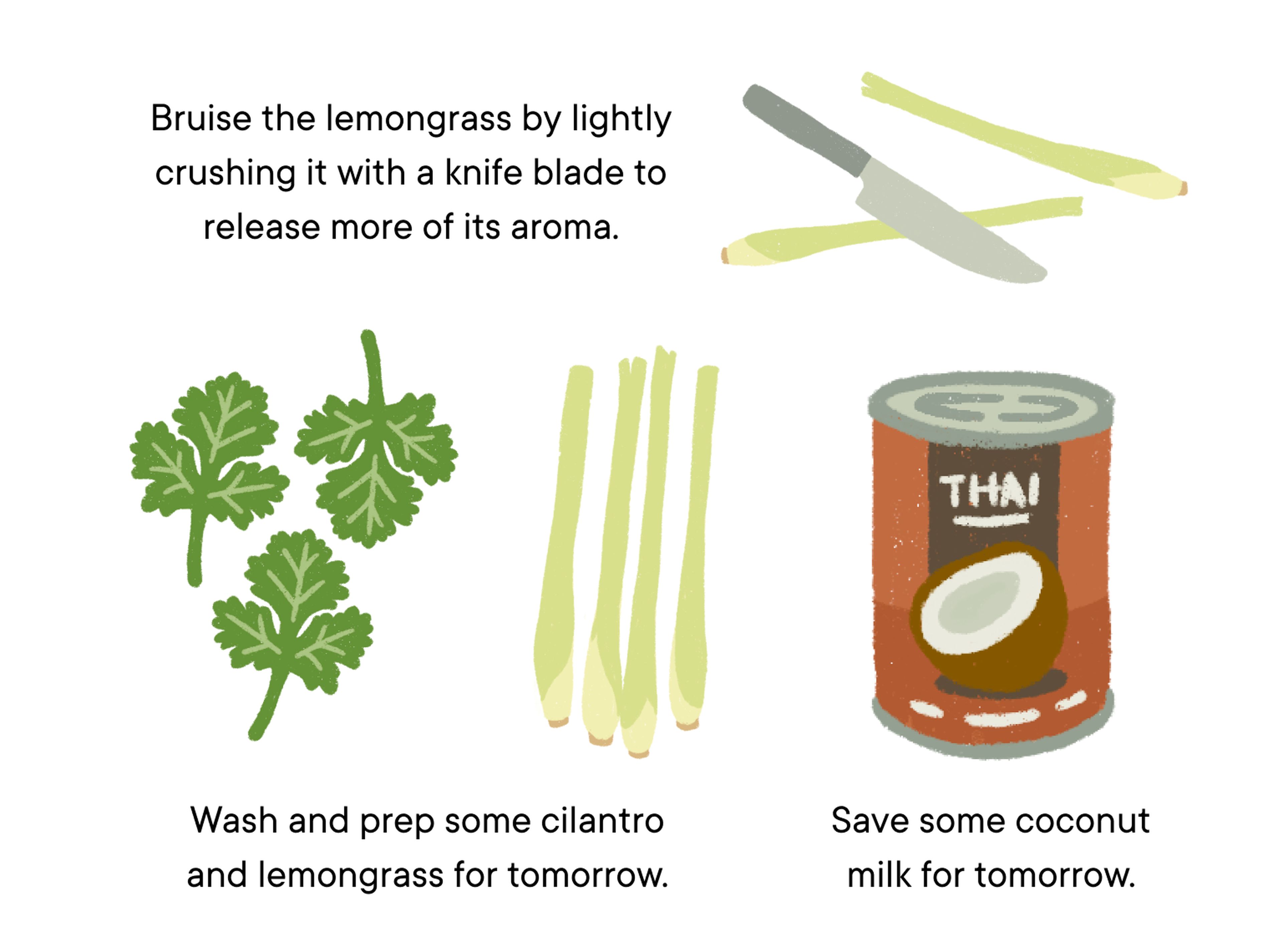 Saturday
Make green beans your market haul today and save most for tomorrow's dinner, tonight we're making a green bean and lemongrass noodle soup. I know three days of soups might seem repetitive, but each of these soups have their own unique textures and flavors, so in my humble opinion, they're very different dishes. Unlike the soups from earlier this week, this noodle soup is bright and complex, arousing many of our senses and tastes, thanks to the aromatic lemongrass, zingy lime juice, warm brown sugar, creamy coconut, and earthy eggplant. If you want to freeze this, leave out the rice noodles, which are extremely delicate and don't freeze and defrost very well.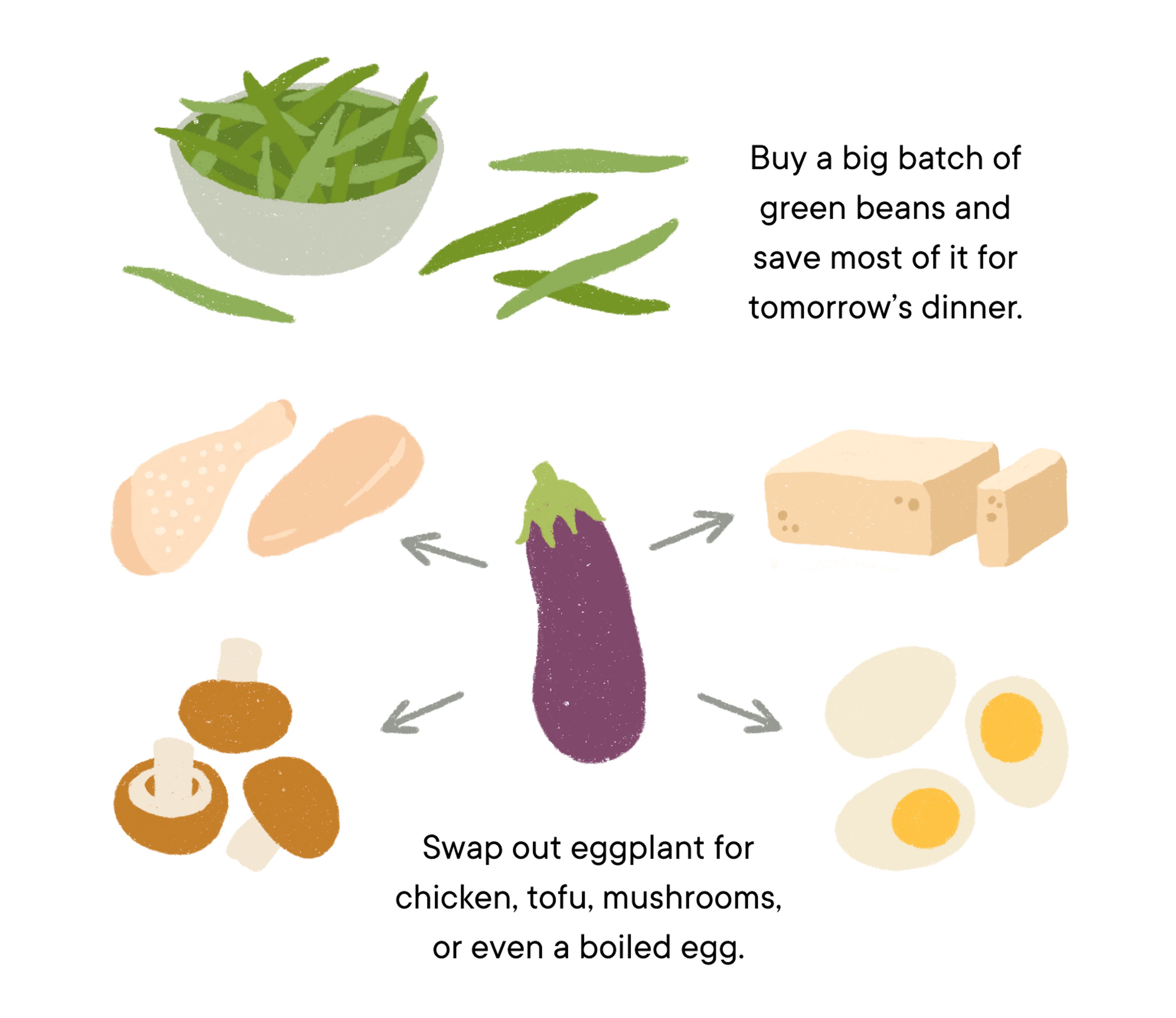 Sunday
End the week (or start the week, depending on how you look at the calendar) with a hearty green bean casserole. This recipe smothers green beans and mushrooms under a blanket of crispy, cheesy Parmesan breadcrumbs—comfort food at its finest. If you don't have tarragon on hand, try another leafy herb like basil or dill, or sprinkle some ground anise over the top to make up for tarragon's licorice-like flavor. Instead of breadcrumbs, you can also blitz whichever nuts you have to add a boost of protein, omega-3, and omega-6 fats. Of all the recipes from this week, this one will freeze up the most beautifully, so be sure to save some leftovers for the weeks to follow.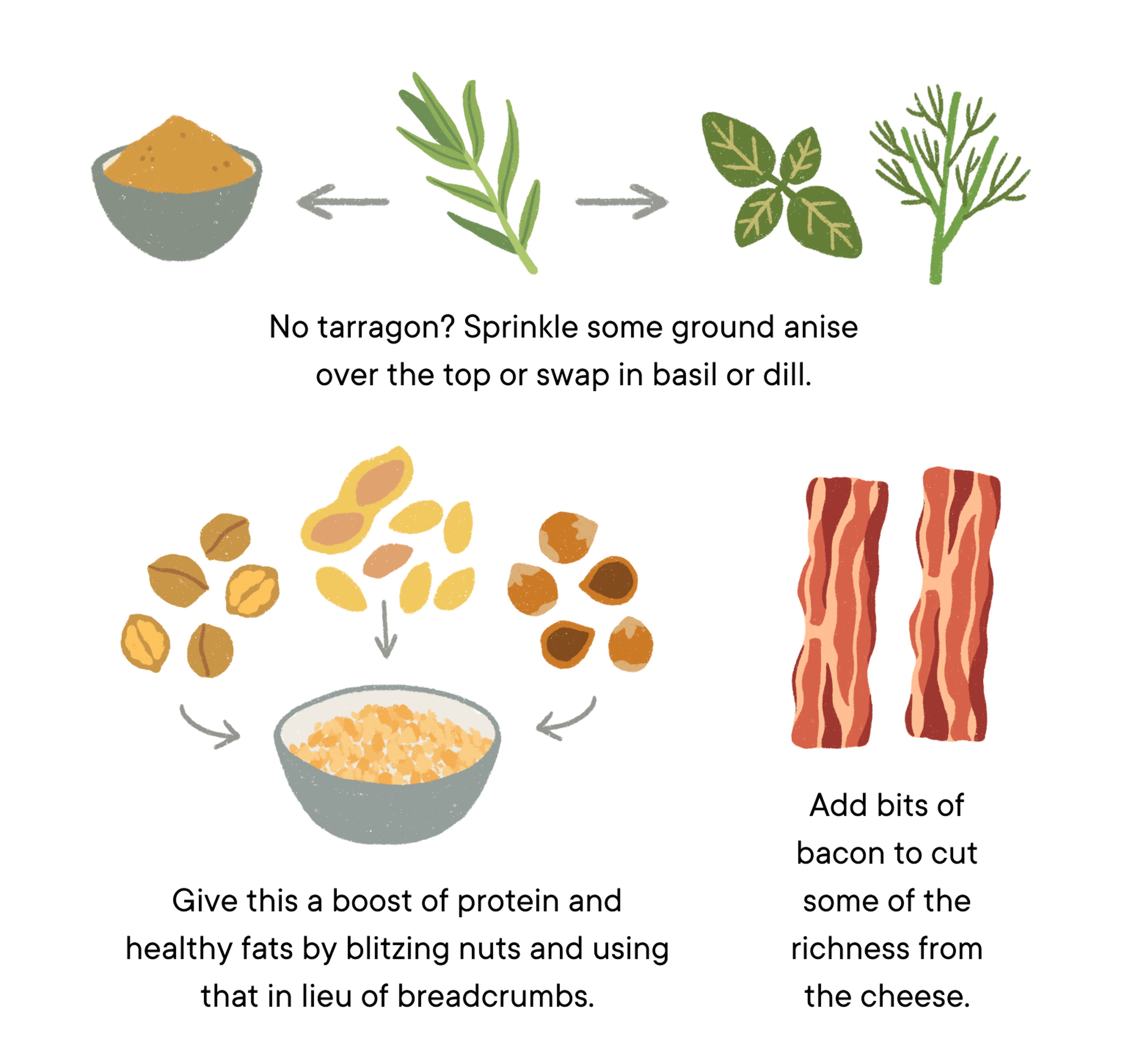 Published on September 14, 2020
More delicious ideas for you