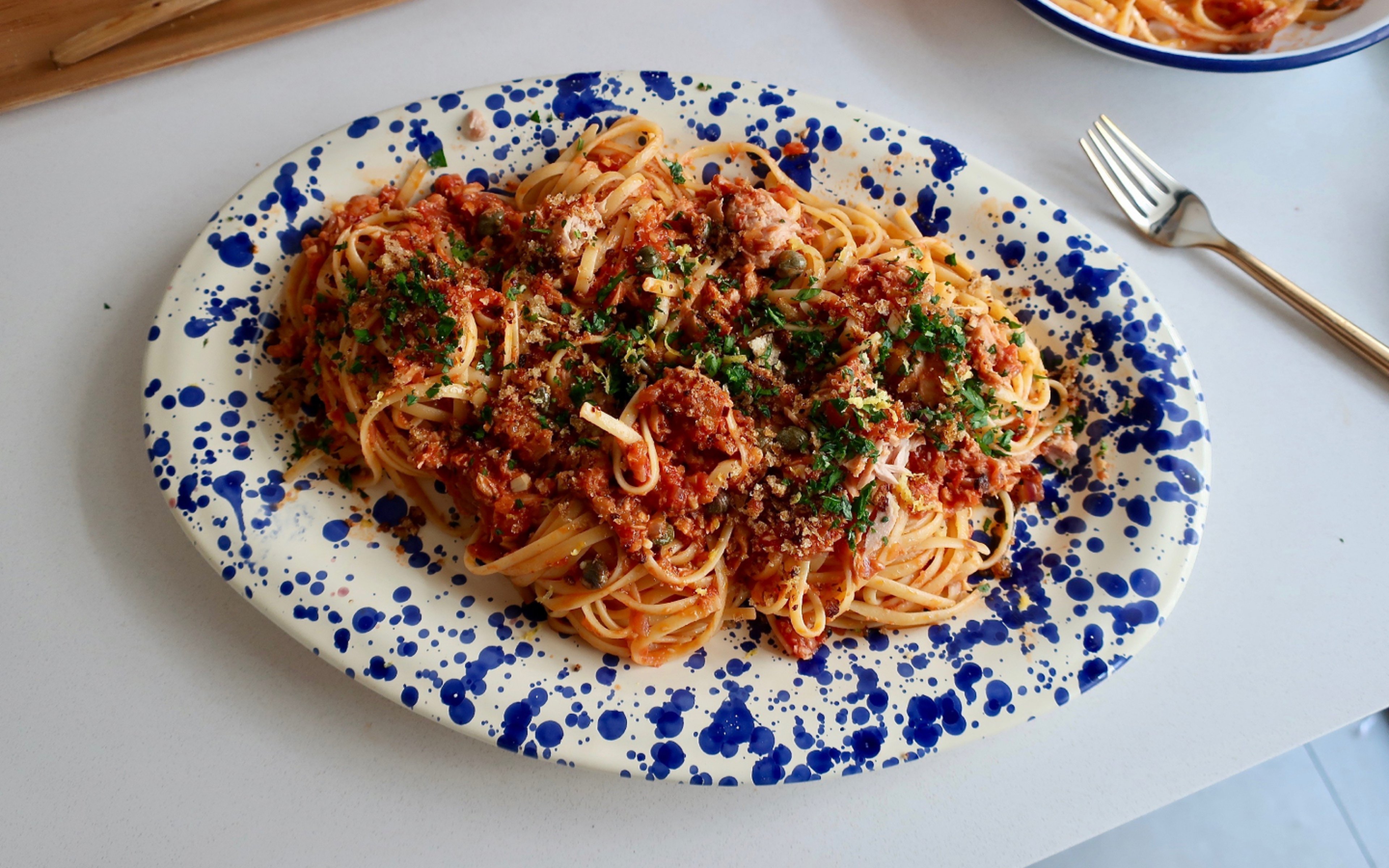 Pantry tuna pasta with capers and crunchy breadcrumbs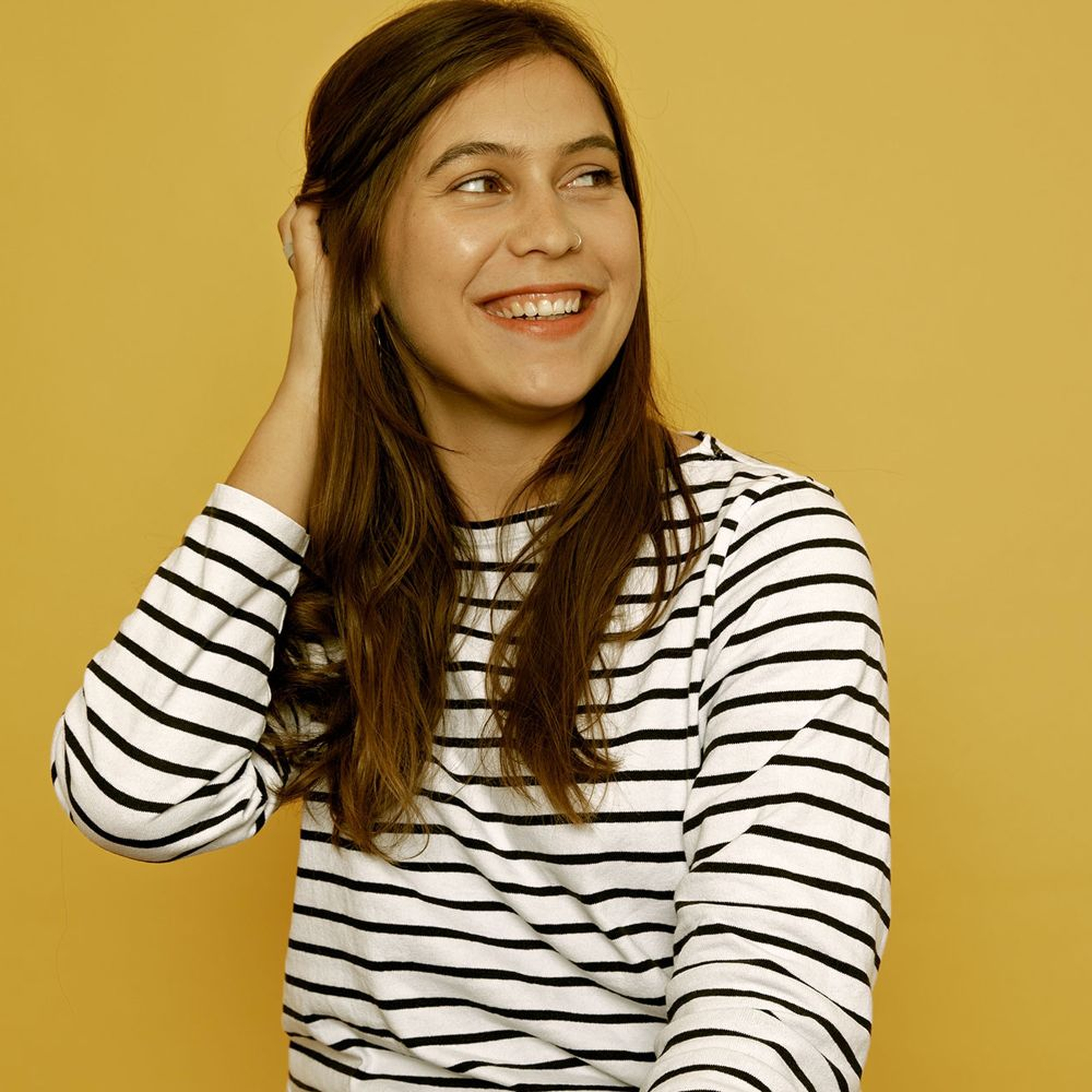 "There are, in my opinion, two tricks to excellent tuna pasta—the first is to use canned tuna in oil (or mix drained brined tuna with a little olive oil), the second is to stir through the tuna right at the end of the cooking time to prevent it toughening up and disintegrating into the sauce. This pantry-friendly pasta is inspired by Sicily with its capers, lemons, and breadcrumbs! I blitz up the dried-up ends of sourdough loaves and jar them so I always have some on hand. #stayhomekeepcooking"
Ingredients
canned whole peeled tomatoes
Utensils
cutting board, knife, 2 bowls, fine sieve, frying pan, cooking spoon, pot (large), cup, colander
Step 1/ 5

400 g

canned whole peeled tomatoes

1

red onion

3 cloves

garlic

1 strip

lemon zest

parsley (for serving)

cutting board
knife
2 bowls
fine sieve

Finely mince onion, then the garlic cloves. Peel a large strip of lemon zest. Strain canned tomatoes to separate the whole tomatoes from the canned liquid and set both aside. Finely chop parsley for serving.

Step 2/ 5

½ tbsp

olive oil

4 tbsp

breadcrumbs

2½ tbsp

olive oil

2

anchovies

Heat olive oil in a pan over medium-high heat. Add coarse breadcrumbs and fry until crispy. Remove from frying pan and set aside. Lower heat to medium-low and add remaining olive oil to the pan. Once heated, add the red onion and anchovies and sauté until softened., approx. 5 min., using the spoon to break up the anchovies. Add garlic and cook approx. a further 2-3 min, or until very fragrant.

Step 3/ 5

1 tbsp

tomato paste

½ tsp

chili flakes

Add the drained whole tomatoes to the frying pan and break them up roughly using your spoon. Add chilli flakes, lemon zest, and tomato paste. Fry until most of the liquid has evaporated and the tomatoes are darker in colour, approx. 5 min. Add canned tomato liquid, stir through and let bubble, then bring the heat down to a gentle simmer.

Step 4/ 5

Let sauce simmer very gently while you prepare the linguine according to the package instructions. Remove a minute from the given cooking time to ensure an al dente result. Reserve some pasta water for the sauce.

Step 5/ 5

185 g

canned tuna

1½ tbsp

capers

Just before adding the pasta, you add the drained tuna and capers and stir gently to only to warm through. Then, while the frying pan is still over a very low heat, add pasta with a splash of the reserved cooking water and toss together. Serve pasta on a large serving plate with breadcrumbs and chopped parsley on top.

Enjoy your meal!
More delicious ideas for you