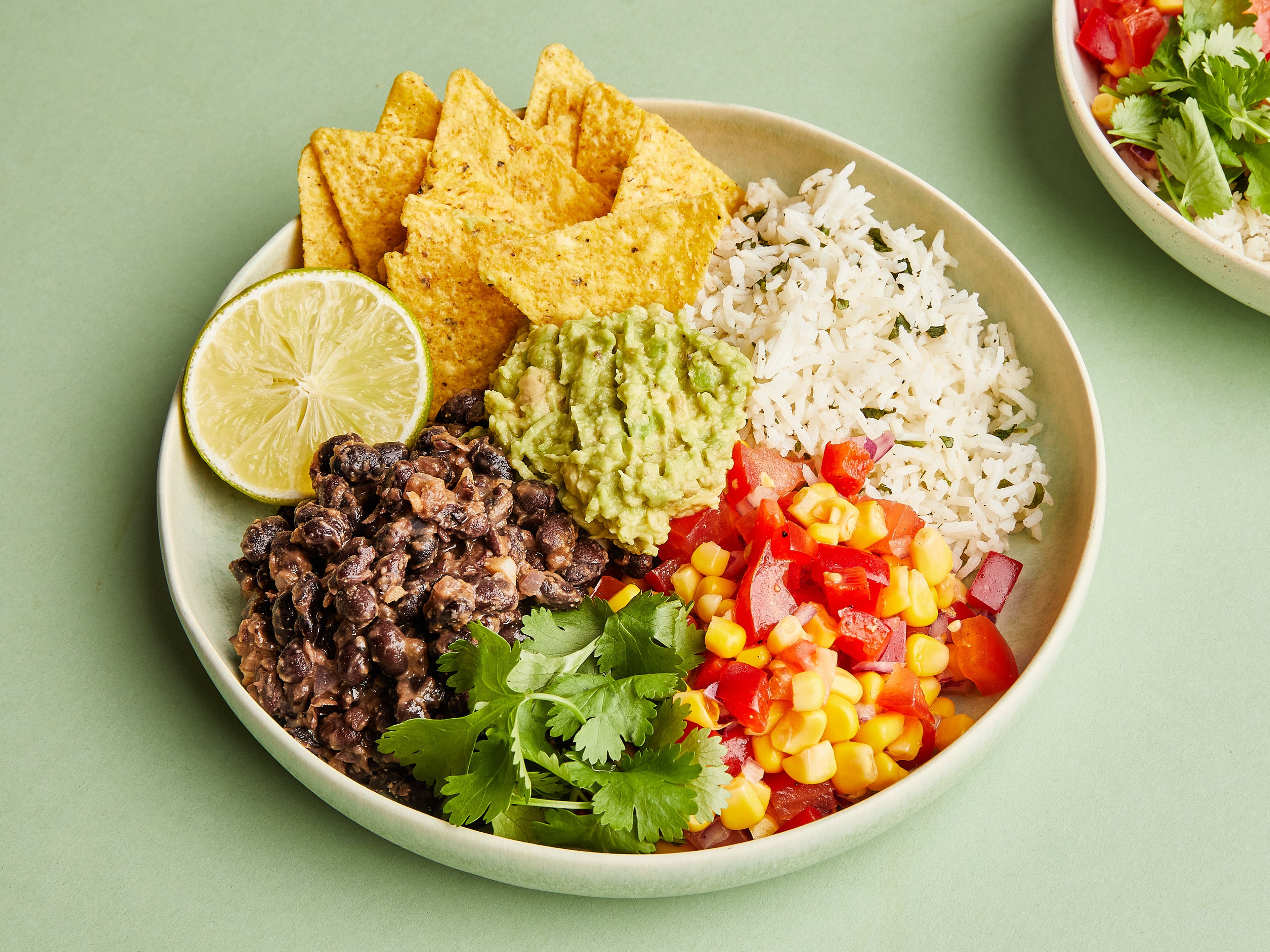 Veggie burrito bowl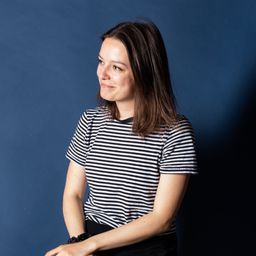 "A burrito bowl is effectively a deconstructed burrito, and as such, it can have all sorts of components that you'd usually love to roll up into a tortilla. For our bright, filling (and veggie) bowl, we've opted for creamy black beans, a quick tomato, corn, and bell pepper salad, guacamole and crispy tortilla chips (in place of a tortilla wrap) served on limey cilantro rice. You can also add some spice and pan-fried ground beef, chicken, or crumbled tofu to your mix. On top, add some cilantro leaves, a dollop of sour cream and your favorite fiery salsa, if you like."
Ingredients
sour cream dip (for serving)
tortilla chips (for serving)
Utensils
pot (small, with lid), 2 sieves, knife, cutting board, pot (small), cooking spoon, 2 bowls (small), fork
Recipes made to your taste
Get your personalized recipe picks in 10 seconds.
How-To Videos
How to cook basmati rice
How to chop green herbs
How to cut a bell pepper
Simple guacamole
Step 1/ 4

150 g

basmati rice

salt

pepper

1

bay leaf

280 ml

water

1 tbsp

olive oil

Add the rice to a small pot, set over medium heat. Dry-toast it briefly (approx. 1 min) stirring constantly. Add salt, pepper, bay leaf, water, and a drizzle of olive oil to the rice. Bring to a boil on high heat, then put a lid on, reduce to low heat and let cook for approx. 12 min. Remove from heat and let the rice continue to steam with the lid on until serving.

Step 2/ 4

400 g

canned black beans

1

red onion

1 clove

garlic

1 tbsp

olive oil

½ tsp

ground cumin

¼ tsp

hot paprika powder

salt

pepper

sieve
knife
cutting board
pot (small)
cooking spoon

Drain the black beans and reserve the liquid. Finely dice red onion and garlic. Heat some olive oil over medium-high heat in a pot and add half of the onion, cook until translucent, then add the garlic and fry until fragrant. Add the beans, a few tablespoons of the bean liquid, cumin, hot smoked paprika, salt, and pepper. Let simmer until creamy, breaking some beans up with your cooking spoon, and adding more bean liquid as needed. Remove from heat and set aside.

Step 3/ 4

1

avocado

1

lime

175 g

canned sweet corn

1

tomato

½

red bell pepper

½

red onion

1 tbsp

olive oil

Make a quick guacamole by mashing the avocado with some lime juice to taste, then season with salt and pepper. Set aside. Drain corn, then dice tomato and deseeded red bell pepper. In a small bowl, mix together corn, tomatoes, bell pepper, and remaining red onion. Season to taste with olive oil, lime juice, salt, and pepper.

Step 4/ 4

15 g

cilantro

1

lime

hot sauce (for serving)

sour cream dip (for serving)

tortilla chips (for serving)

Before serving, finely chop cilantro and stir it through the rice, fluffing with a fork, and adding lime juice to taste. Add rice to plates and spoon servings of the black beans, guacamole and salad around it. Top with some extra lime, coriander, a drizzle of hot sauce, a dollop of sour cream, and some crunchy tortilla chips. Enjoy!

Enjoy your meal!
More delicious ideas for you