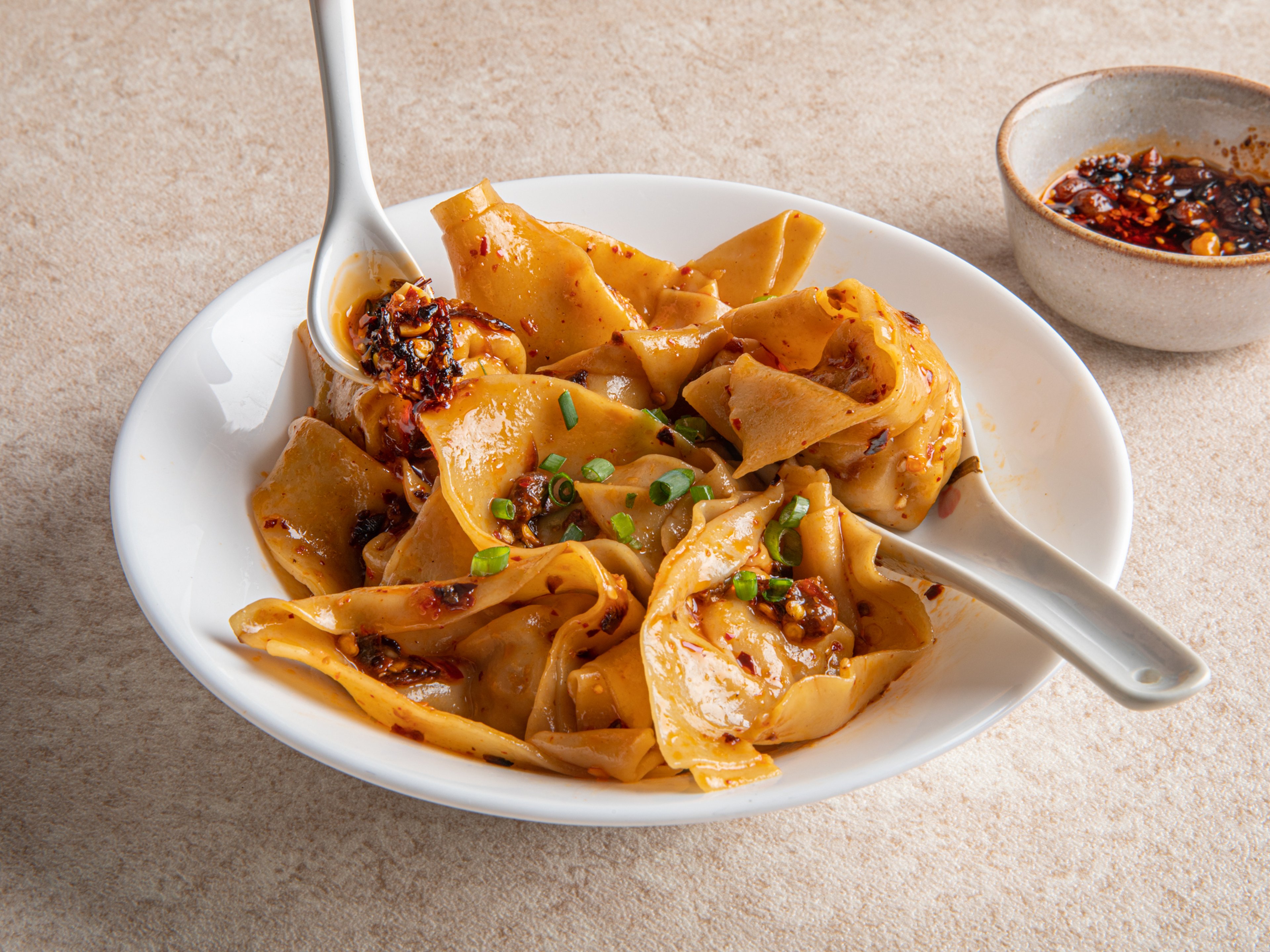 25 Cheap Eats We've Always Relied On
Cooking inspo can be found in the unlikeliest of places: We're taking you back to your student days!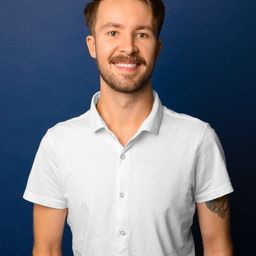 Food Editor at Kitchen Stories
Whether you're cooking for one, two, or an entire family, there's always more to be learned about the art of eating well, for less. In our Big Taste, Low Budget issue, we'll show you how to be a smarter, more thrifty cook that can use up what you've got, pack flavor in a pinch, and drum up something inspiring and delicious with limited ingredients. To stay up to date, check back here for our latest recipes and articles from the issue, and don't forget to follow us on Instagram for exclusive content.
I still look back at the beginning of my student days fondly; the move to a different city, my first shared apartment, the bustling lecture halls. But I remember just as well my first, rather awkward attempts at self-sufficiency and I know I'm not alone in that experience. Cooking for yourself can be tricky at first; be it lack of experience, small and sparsely equipped kitchens, or, as is often the case for students, a teeny tiny budget!

Although I'm much better versed in the kitchen today, as we tackle our Big Taste, Low Budget issue I couldn't help but think of how our early days of cooking for ourselves stick with us. Surely, they still impact how we cook and care for ourselves today?
This article, and the recipes included, are intended as a back-to-basics, budget-friendly guide; a source of inspiration to make your self-care easier and get you in touch (again) with cooking for yourself. I sought out some help and asked our team about their initial obstacles, time-worn tips and tricks, and the foolproof recipes that they discovered as students and still love to cook today.

P.S. If the wontons above have got your appetite wondering,  scroll down to the "Meal-Prep for Beginners" section. Xueci's recipe for homemade Sichuan-style chili wontons comes along with a recipe and step-by-step instructions - have fun trying it out!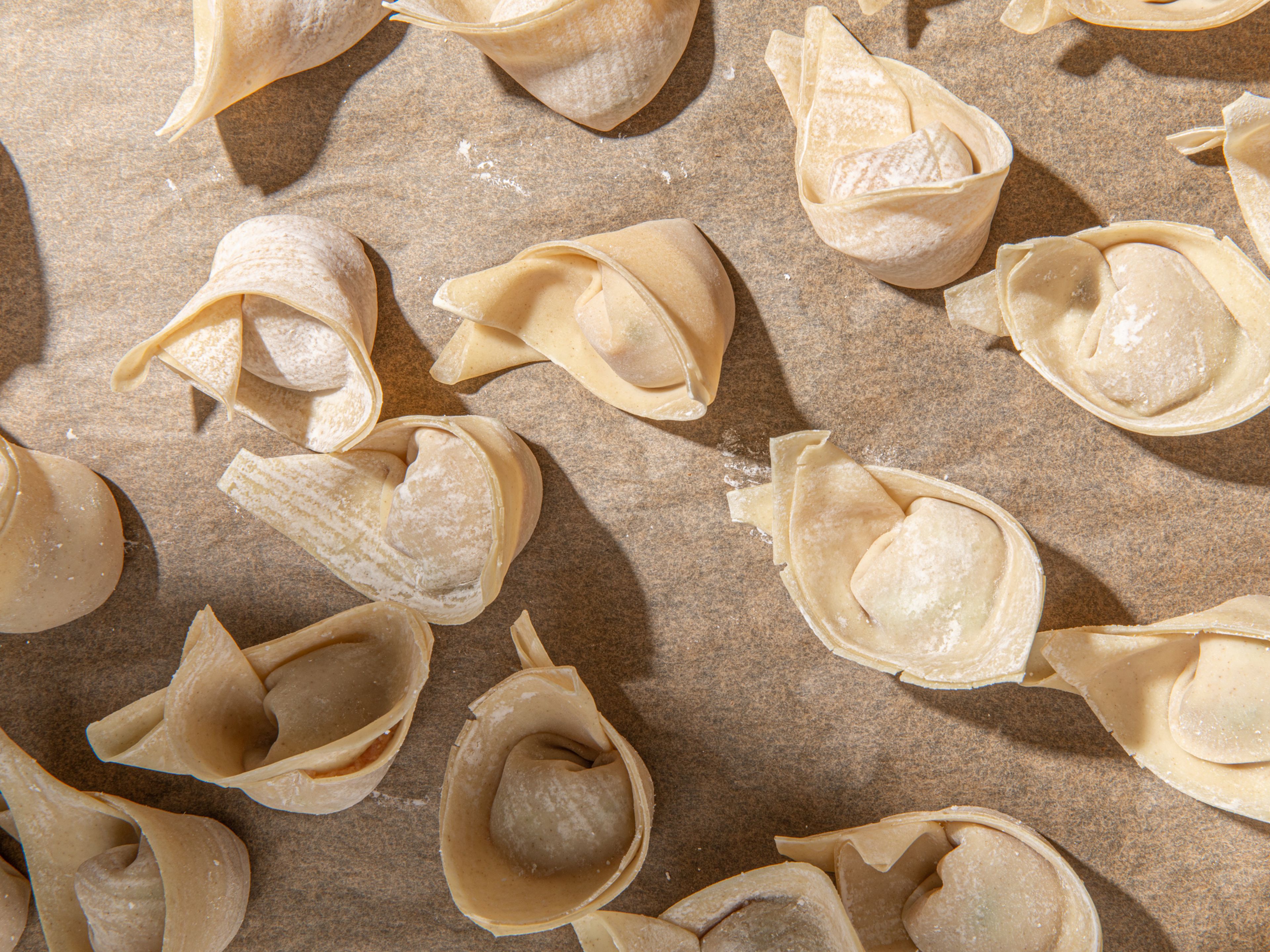 Oatmeal: The infinitely variable start to any day
Antonia Schröder, Junior People Manager: "For breakfast the standard dish was, and is, classic porridge. Oatmeal is quite cheap by nature. I usually make mine with water, sometimes with milk or oat milk, and add apple, banana, seasonal fruit, and toppings like nuts, chia seeds, agave syrup, etc. The toppings tend to be a bit higher priced, so I occasionally buy inexpensive cookies (e.g. Oreos) or chocolate, chop them up, and use them instead." 

Just like Antonia, I love my oatmeal in the morning! Whether it's with caramelized pears, berry compote, or as a banana bread-y porridge. Lately, I've also been moving to either overnight tiramisu oats or fruity baked oats for even more variety at the breakfast table.

Check out my recipes for breakfast oats, two new ways in our new latest How-To:
Tiramisu overnight oats and baked oats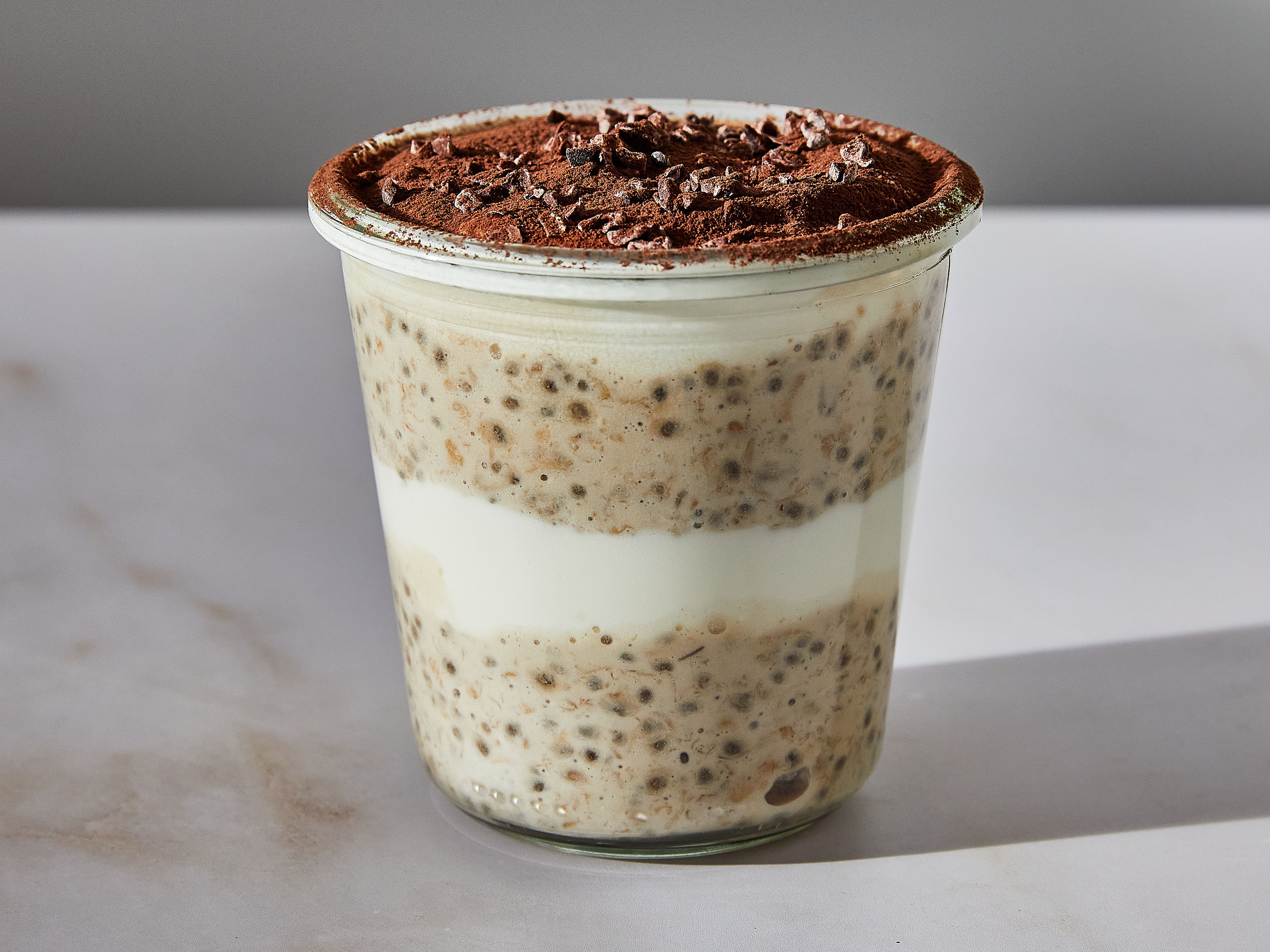 → Go to recipe
Slurpable noodle soups
Jennifer Nguyen, Junior Project Manager: "Admittedly, although my own attempts at cooking are still pretty bumpy, I've developed my own way of cooking, borrowing from my parents' cooking and from others I've cooked with. I tend to avoid shopping as much as I can before cooking. I used to cook up whatever I had on hand, generally of the lower-budget variety, but still as healthy as I could. My favorite recipe from back in the day is probably Cơm với trứng luộc và nước canh, rice with boiled eggs in soy sauce with fresh vegetables (Chinese cabbage or kohlrabi) in a broth. Sounds super fussy, but it's not, I promise!"

If you're a fan of noodle soups, then Xueci's tomato and egg noodle soup might be just the thing for you!
Tomato and egg noodle soup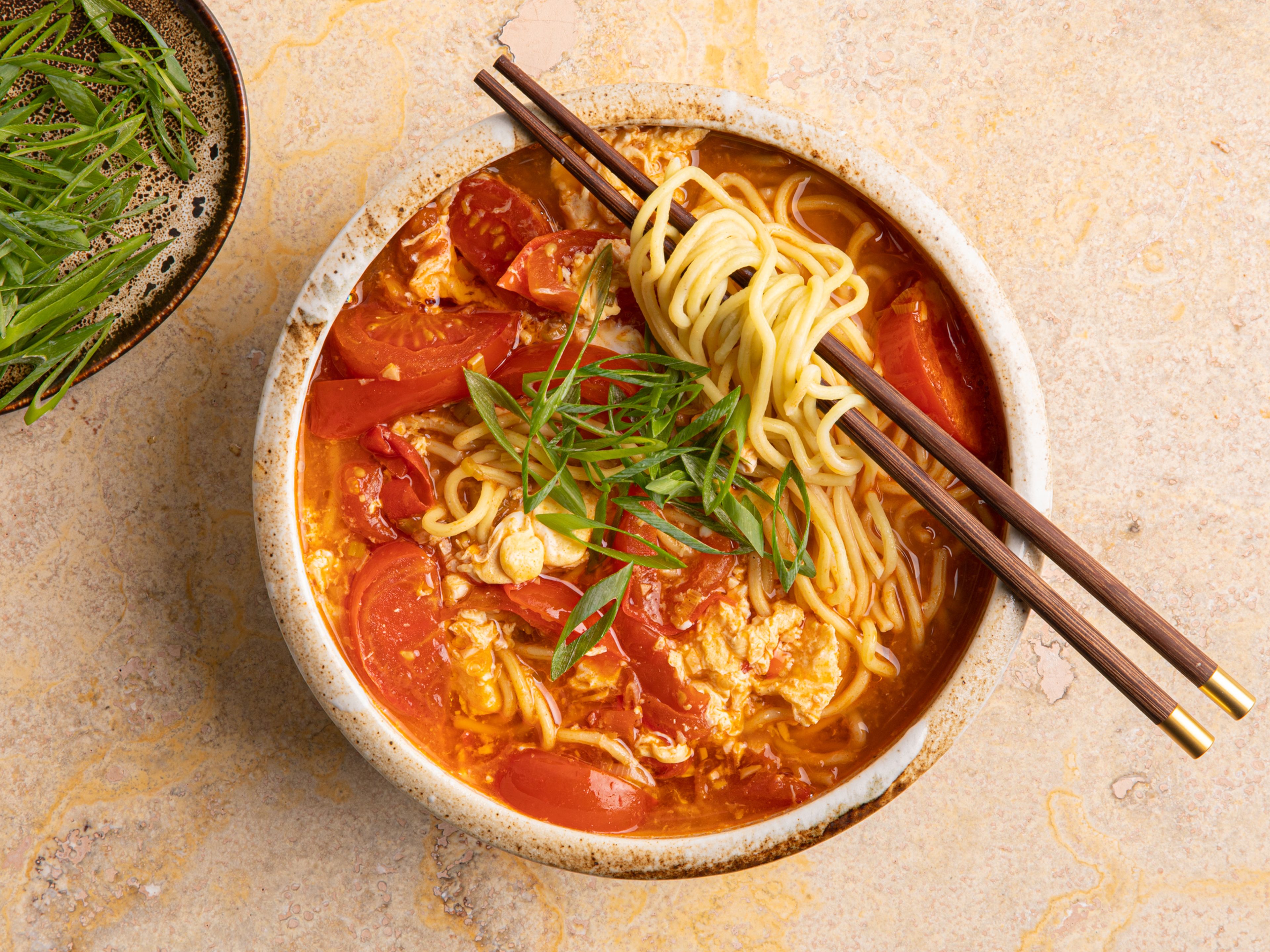 → Go to recipe
Small snacks for everyday life
Concentration flags quickly on an empty stomach, whether you're studying or working. How to fill the hunger pangs, and fast? How about a sandwich?
Lisa Schölzel, Lead Food Editor: "Four things I always have at home, even back in my college days, are eggs, cheese, butter, and bread (in addition to the obligatory pesto and pasta, of course). A cheese sandwich before my first lecture at 10 AM—no problem! At lunchtime, I went to the university cafeteria, which couldn't be cheaper, and in the evening, thanks to my basics, I had everything I needed. A perennial favorite that I still do several times a month is 2 toasted slices of bread with butter that become a sandwich with a roughly-folded cheesy, creamy omelet in the middle. Today, I add a few extras on top: chili oil, kewpie mayo, scallions or parsley, sometimes tomatoes or whatever else is hanging around in the fridge. Simple, inexpensive, and in my opinion, still wonderfully delicious and filling!"

Check out Hanna's one-pan egg sandwich in the video below:
Hanna cooks eggs in 5 unexpected ways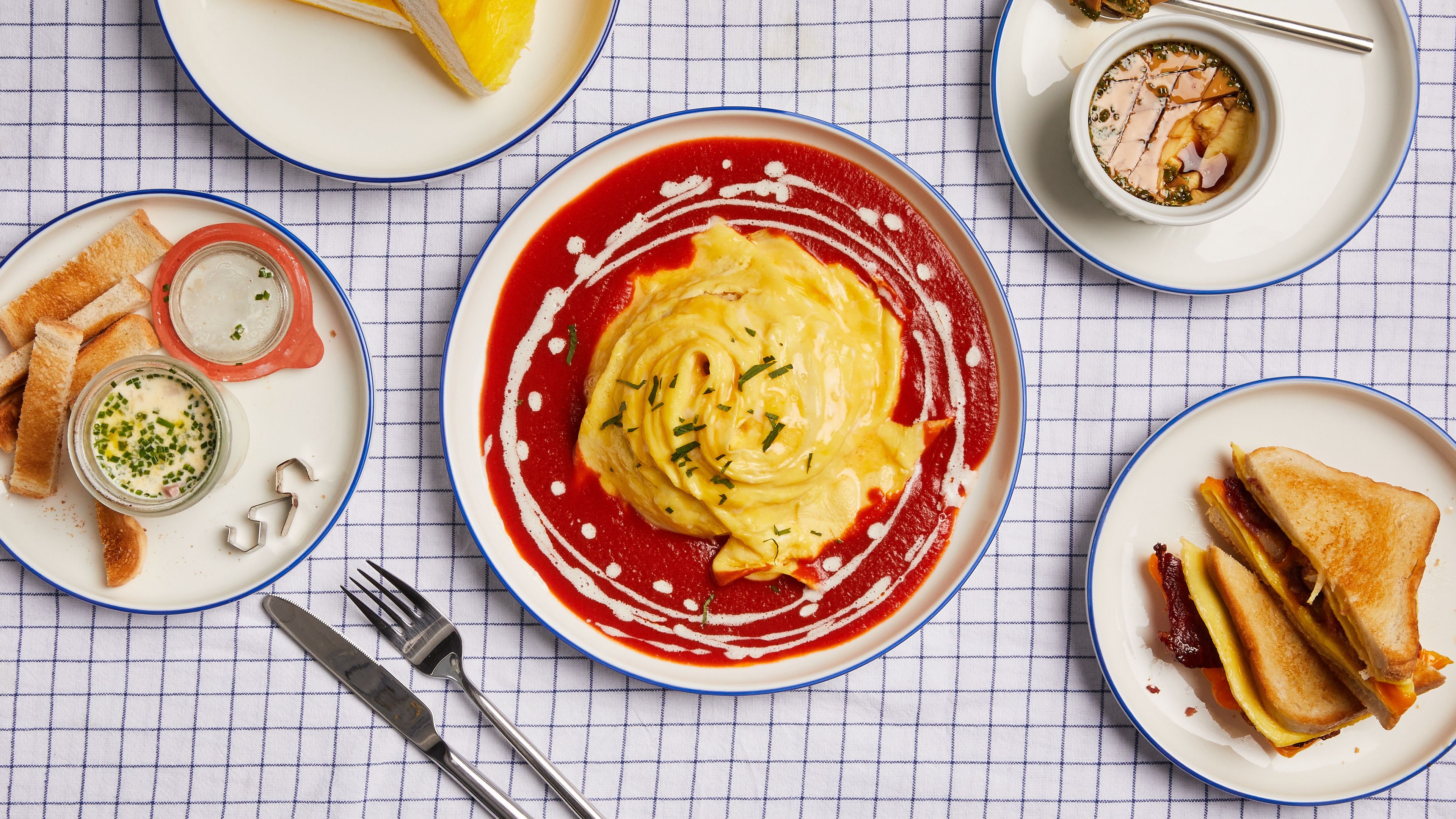 → Go to recipe
More easy sandwich recipes:
– Easy Bacon Sandwich  
– The TikTok Trend: Pesto Eggs 
– 5-ingredient tuna salad sandwich
– Green Goddess Sandwich
Meal Prep for Beginners
Meal prep is a great way not only to cook cheaply, but to maintain a varied and balanced diet. By preparing individual meal components ahead, which can then be frozen and cooked in a variety of recipes, means you always have something to whip up on standby. 

Xueci, Food Editor: "Wontons are a typical dinner I grew up with in my native Sichuan. When I moved to Berlin as a student, a fellow Chinese student gave me the idea to make them myself at home and freeze them in smaller batches. She said, "It's really so easy that you can make them while watching TV." Using store-bought wonton dough sheets (available at almost any Asian grocery store) and a pork filling, wontons became my quick and cheap weeknight dinner...then and now."

See how Xueci serves (and importantly, folds) her wontons, in the recipe below
Xueci makes Sichuan chili wontons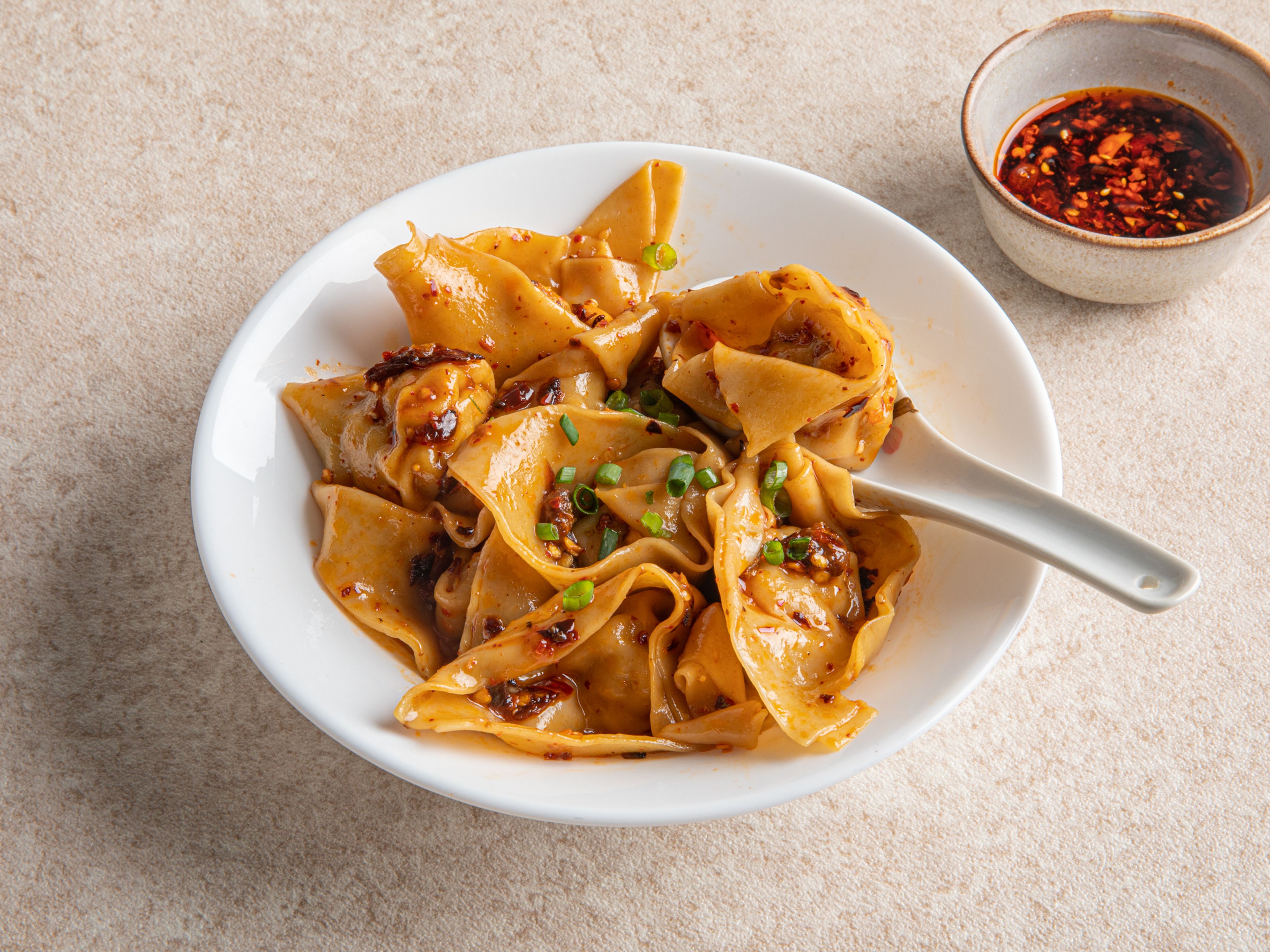 → Go to recipe
Recipes for social evenings
Antonia Schröder, Junior People Manager: "I used to love to make summer rolls during my studying, apartment-sharing days. Most of the time, everyone brought something with them and the core ingredients, as well as the vegetables, were usually available at the small Asian grocery store around the corner. Then everything was sliced up (vegetables), fried (tofu), rolled, and then served. The obligatory peanut sauce (homemade, of course) was never missing. I would always buy cheap, crunchy peanut butter. I always found it worked the best, and most importantly, tasted the best!"
Lemongrass chicken summer rolls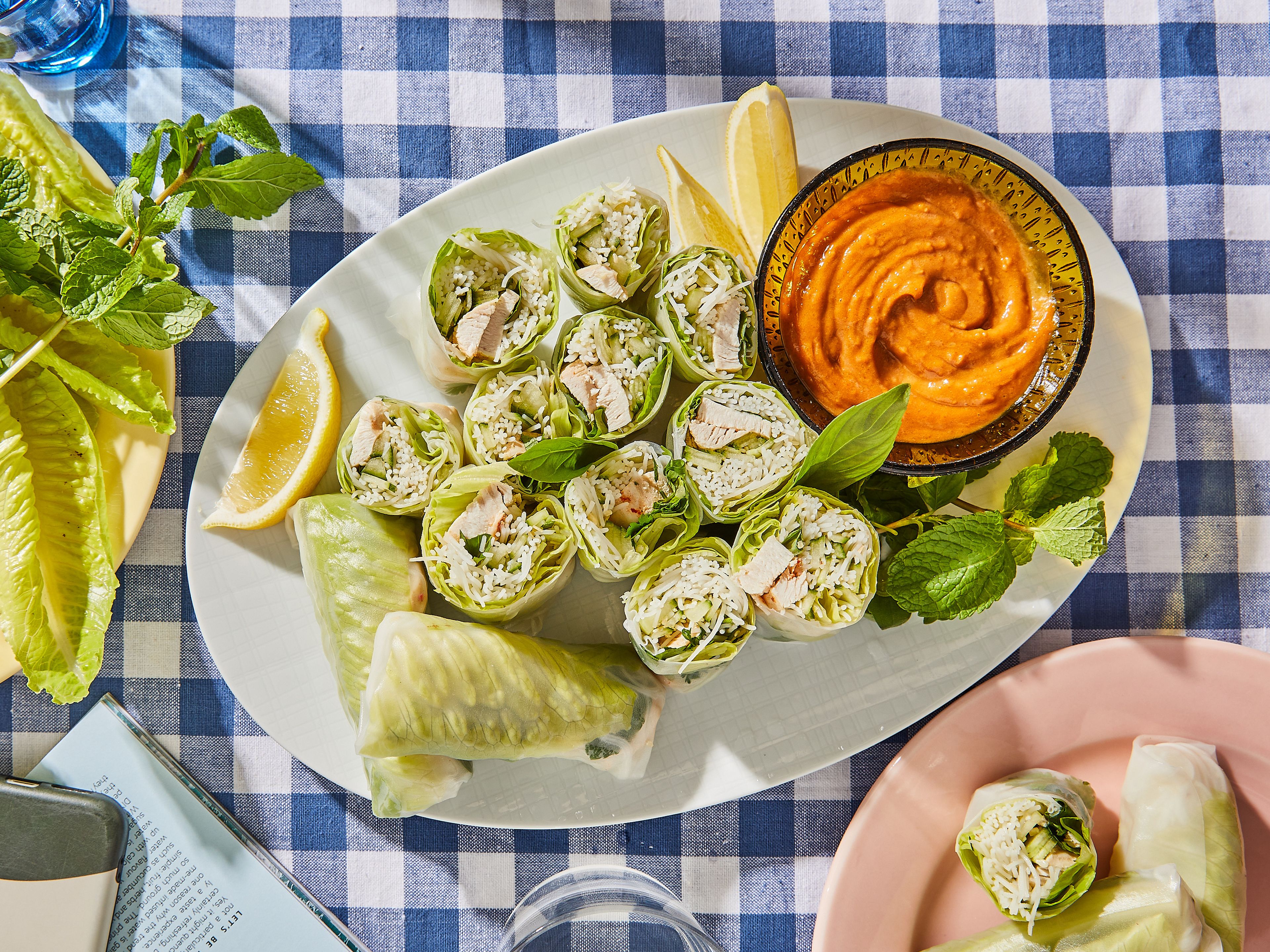 → Go to recipe
More delicious summer roll recipes:
— Thai-inspired summer rolls with peanut sauce 
– Vietnamese-style summer rolls
Inexpensive feel-good recipes for cold days
Amina, Communications Designer: "My favorite recipe (especially in this grey weather) was and still is (because it's not only inexpensive, but also really delicious) a pureed lentil soup Turkish style, Mercimek Çorbası. It's really easy to make and always tastes great."
Turkish-inspired red lentil soup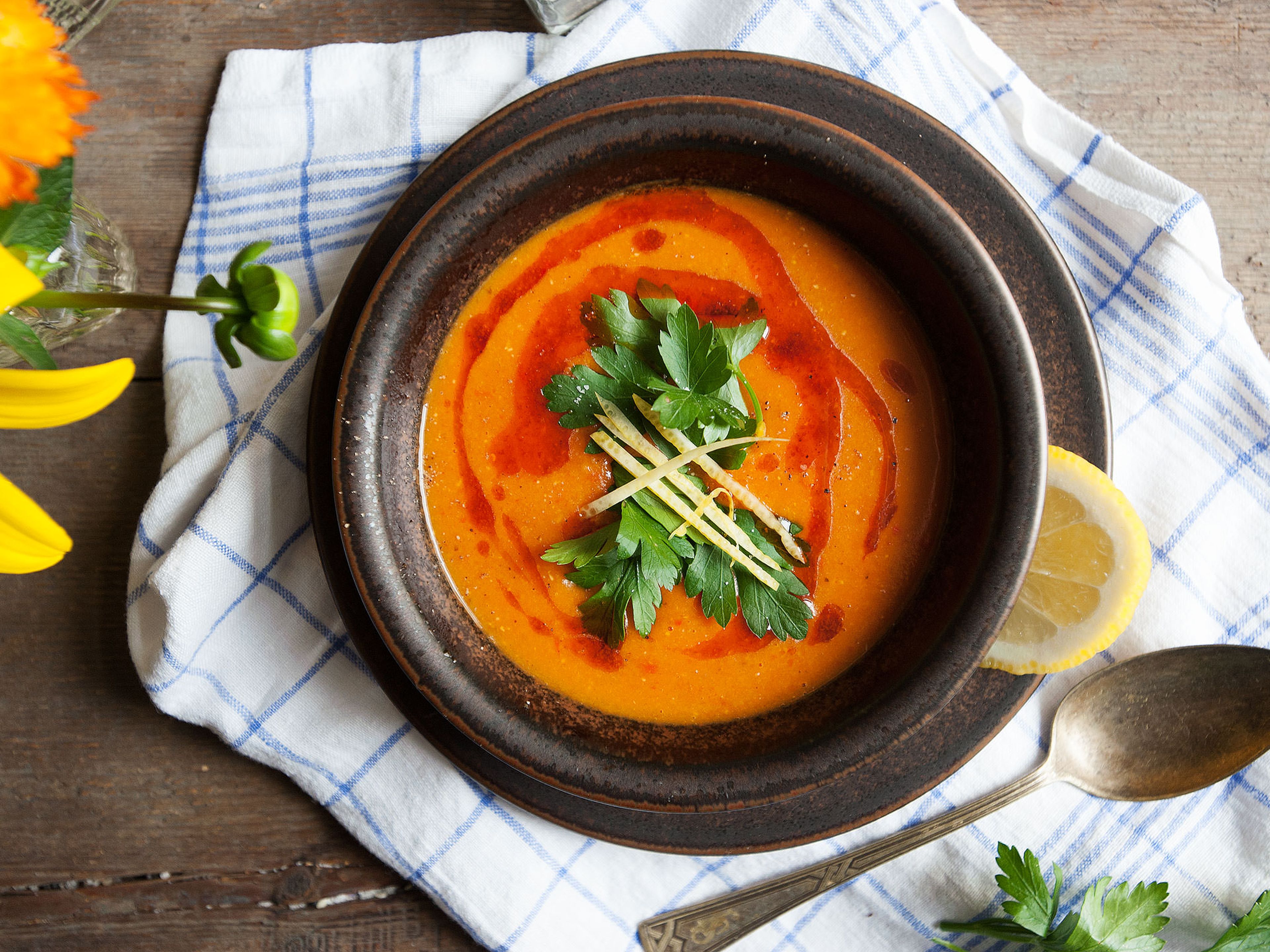 → Go to recipe
Eva Koch, Social Media Management Working Student: "It may sound a bit banal and not particularly innovative, but I've always relied on is classic pasta with tomato sauce. I started out with a ready-made sauce (is it okay to say that as a KS employee?) and pasta. Over the years, I've learned to love cooking and working with exciting ingredients. I've left the ready-made sauce in the past and now make my own tomato sauce. In come ripe tomatoes from the market, organic tomato purée, high-quality olive oil, fresh basil, shallots, garlic, a dash of red wine, organic vegetable broth, a dash of maple syrup, and some seasoning, of course."
Philipp Zeile, Partner Operations Working Student: "As a student, I often make my version of spaghetti aglio e olio. I prefer to use bavette or linguine instead of spaghetti and use lots of parsley and lemon. Finally, I deglaze the pasta with a cup of pasta water and let it simmer for another 1 – 2 min. Then, add the zest and juice of one lemon, olive oil, salt, and pepper and toss well again. To serve, add parsley and Parmesan to taste."
Spaghetti aglio e olio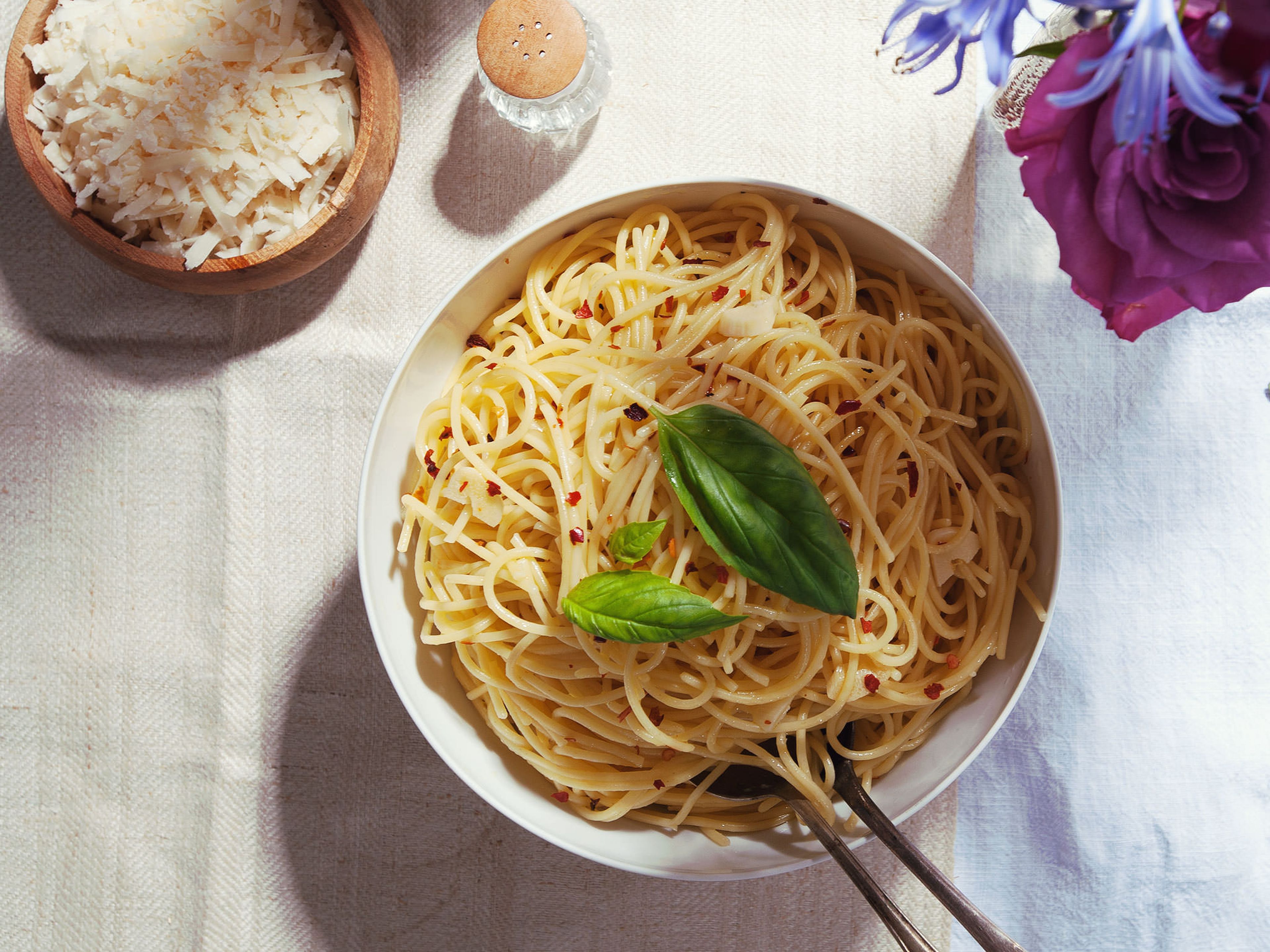 → Go to recipe
More low-budget recipes for your back pocket:
– Pasta with quick tomato sauce 
– 5-ingredient butternut squash soup
– Crispy tofu and broccoli stir-fry
– Lemony fennel and lentil soup
– 5ID one-pan smoky chicken and rice 
– Vegan massaman-style curry
– Baked mozzarella sticks
– Cheesy pizza rolls 
– Neapolitan-style pizza 
– 5-ingredient crispy Camembert
Do you still have some favorite recipes from your student days that are in your dinner rotation? Let us know in the comments!
Published on October 25, 2021
More delicious ideas for you