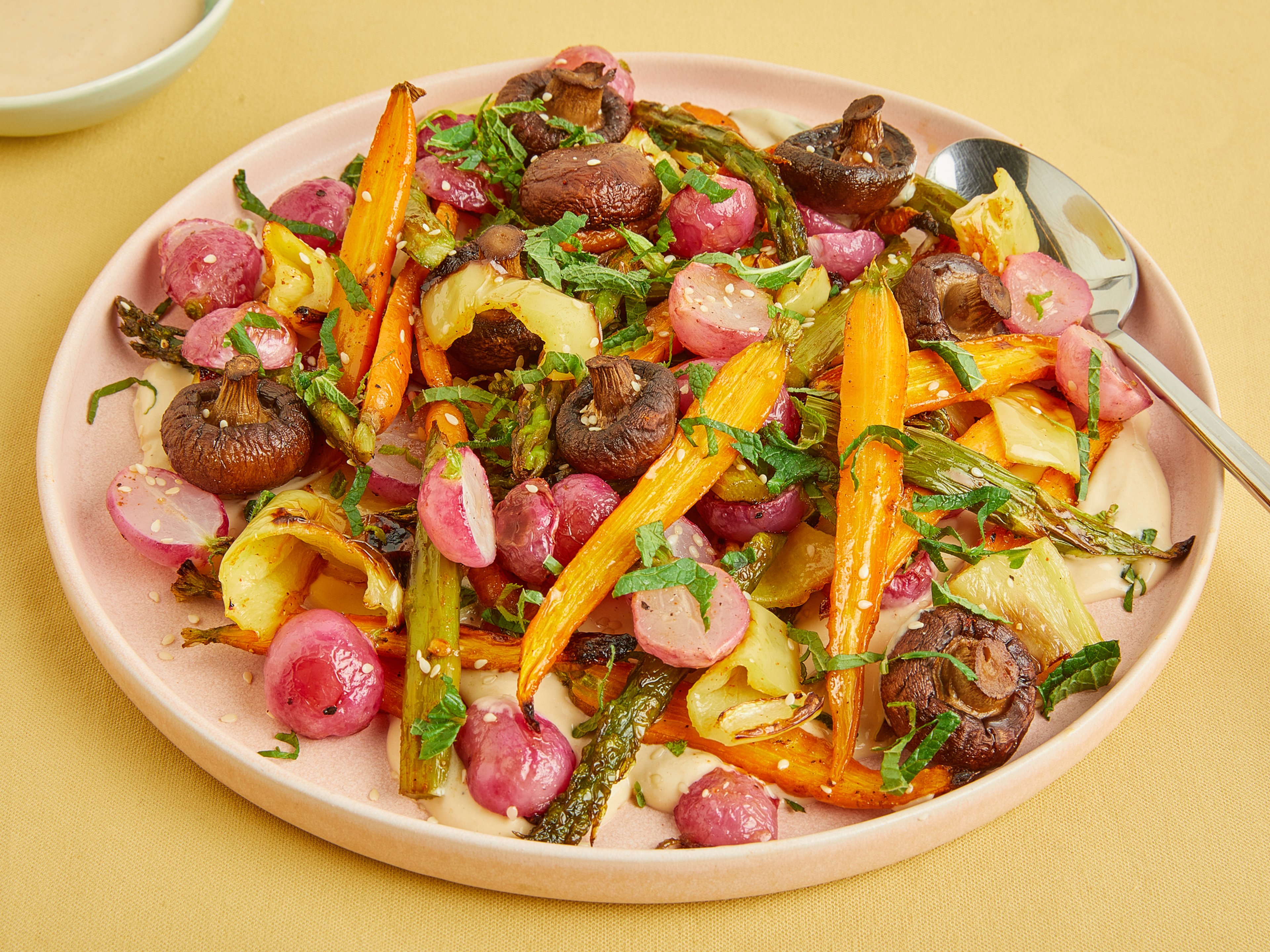 Sheet pan spring vegetables with miso-tahini sauce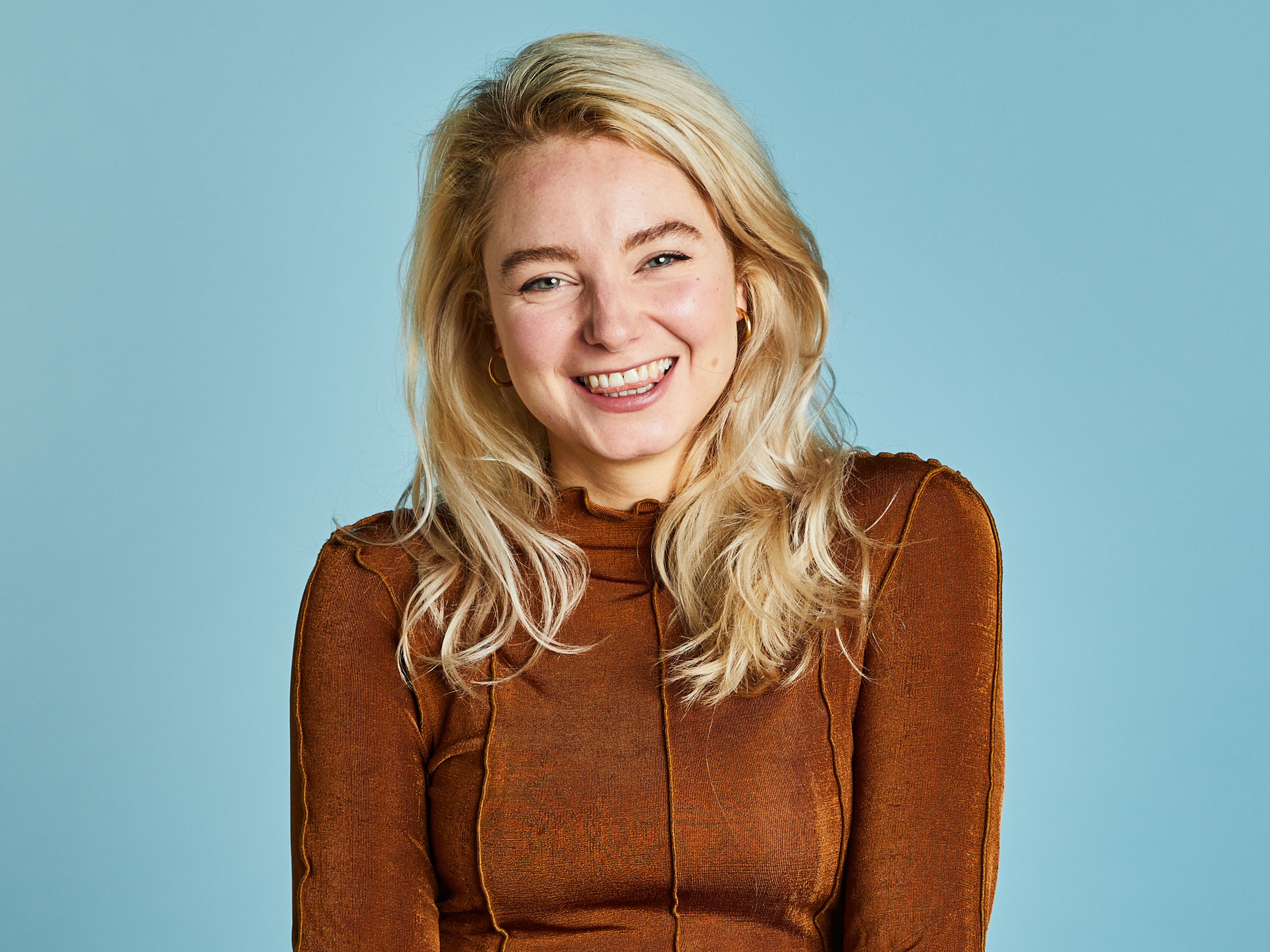 "Want a shortcut with more flavors? Try our VEGGIE WUNDER seasoning to substitute sweet paprika powder. The best way to prepare vegetables? For me, the answer is: In the oven! The combinations of different vegetables and spices are countless and as soon as the roasted flavors come into play, the pleasure is, for me at least, doubled. In this seasonal spring recipe, it's especially exciting how the taste and texture of the radishes change. In the case of the peppers and asparagus a tart and at the same time sweet note permeate and yet all the tastes work really nicely with the miso-tahini sauce. You can, of course, use other vegetables and spices depending on the season and your preferences. Turnips and kohlrabi also do particularly well in the oven, in my opinion, and, like radishes, take on a completely different flavor profile when roasted. Keep in mind the different cooking times when slicing (trying to get everything about the same size, thickness, so they cook evenly)."
Ingredients
Kitchen Stories Veggie Wunder seasoning (optional)
Utensils
oven, peeler, cutting board, knife, large bowl, baking sheet, Veggie Wunder seasoning, bowl (small), fork, platter
How-To Videos
Homemade Tahini
Homemade tahini dressing
How to secure a cutting board
How to prepare green asparagus
Step 1/ 3

100 g

baby carrots

5

radishes

4

green asparagus

4

brown mushrooms

1

green pointed peppers

¼ tsp

Kitchen Stories Veggie Wunder seasoning (optional)

¼ tsp

sweet paprika powder

salt

pepper

1 tbsp

oil

oven
peeler
cutting board
knife
large bowl
baking sheet
Veggie Wunder seasoning

Preheat the oven to 220°C/425°F (convection). Finely chop the mint and set aside. Remove tough bottoms of the asparagus then cut into thirds. Cut carrots in half lengthwise. Halve radishes and mushrooms. Core and slice bell pepper, and transfer all the veggies to a baking sheet. Add oil and season with paprika, or our VEGGIE WUNDER seasoning (if using), salt and pepper. Mix everything until the spices are distributed evenly. Bake for approx. 15 min.

Step 2/ 3

1 tbsp

tahini

¼

lemon

¾ tbsp

miso paste

75 g

soy yogurt

In a small bowl mix the tahini, lemon juice, miso paste, and yogurt and whisk with a fork until smooth. Then season with pepper and add more lemon juice to taste.

Step 3/ 3

After approx. 15 min, turn on the grill function of the oven. Let them bake for approx. 4 min., or until browned. Remove from the oven. Put the sauce on a plate and roasted vegetables on top. Garnish with sesame seeds, mint, and enjoy!

Enjoy your meal!
More delicious ideas for you