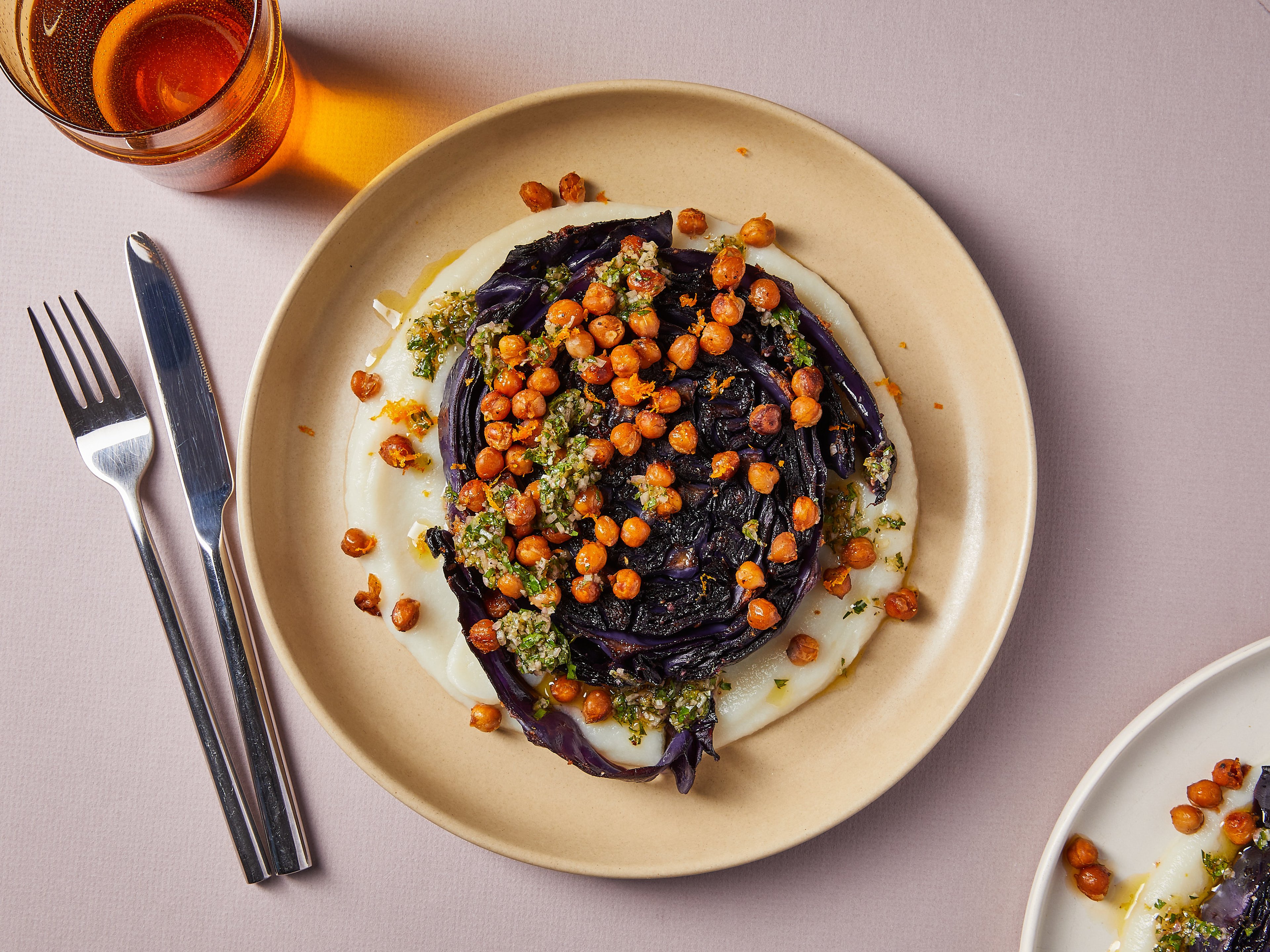 Roasted red cabbage steaks with crispy chickpeas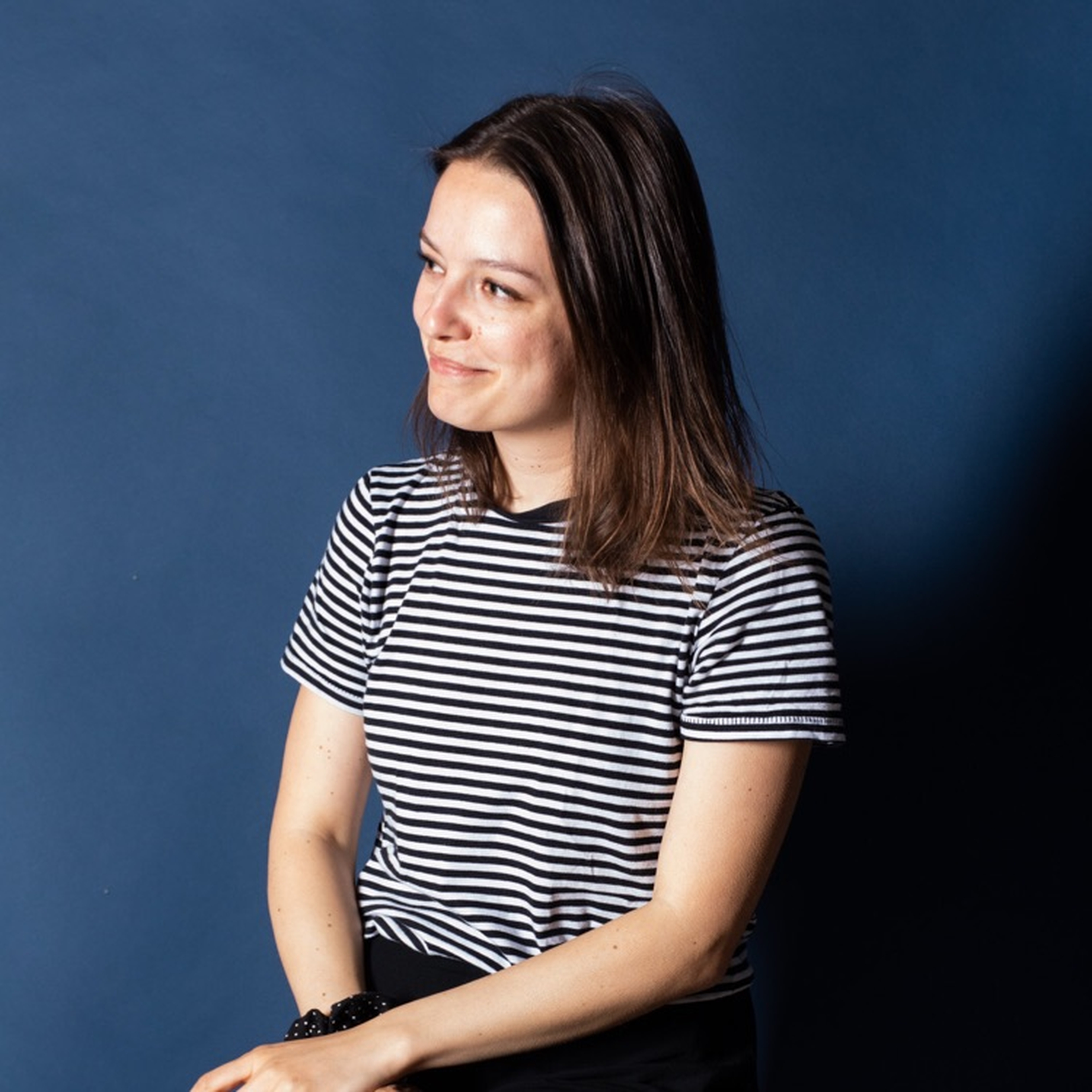 "When brushed with marinade and cooked in the oven for a long time, on high, red cabbage becomes wonderfully tender, caramelized delight. In this recipe, the 'steaks' are served on a bed of cauliflower purée and topped with crispy chickpeas. It's light on the wallet too, elevating affordable ingredients to create a dish you'd happily serve up to impress, whether yourself, your family, or guests. If you like, you can give the cauliflower purée a more intense and cheesy flavour either with 1 – 2 tablespoons of nutritional yeast and more salt, or with Parmesan cheese. Feel free to season the chickpeas with the spices of your choice, such as paprika and coriander powder."
Utensils
oven, knife, cutting board, baking sheet, parchment paper, sieve, bowl (large), fine grater, citrus press, paper towels, 2 bowls (small), whisk, pastry brush, large pot with lid, liquid measuring cup, immersion blender
How to cut cauliflower
How to prepare garlic
How to zest citrus fruits
Step 1/ 5

¾ kg

red cabbage

½

orange

200 g

canned chickpeas

½ clove

garlic

oven
knife
cutting board
baking sheet
parchment paper
sieve
bowl (large)
fine grater
citrus press
paper towels

Preheat the oven to 220°C/430°F top/bottom heat. If needed, remove the outer leaves of the red cabbage and then cut crosswise into at least 4 thumb-thick slices or "steaks". Place on one side of a large baking sheet lined with parchment paper. Drain chickpeas and dry excess liquid with a paper towel, add to a bowl. Zest and juice the orange. Very finely mince half of the garlic.

Step 2/ 5

½ tsp

cayenne pepper

1½ tbsp

olive oil

salt

bowl (small)
whisk
pastry brush

In a bowl, whisk together the orange juice, cayenne pepper, half the zest, the minced garlic, and half of the olive oil. Season with salt. Toss the chickpeas with half the marinade and add to one half of the sheet pan. Brush the red cabbage steaks with the remaining marinade. Transfer to the oven and bake at 220°C/430°F for approx. 1 hr.

Step 3/ 5

350 g

cauliflower

½ clove

garlic

salt

To make the cauliflower puree, cut cauliflower into florets, add to a pot, along with the remaining garlic clove. Cover with water, season with salt, and bring to a boil. Reduce heat and let simmer, with a lid on, for approx. 20 min.

Step 4/ 5

½

shallot

7½ g

parsley

¼

lemon

1½ tbsp

olive oil

While the cauliflower is cooking, make the gremolata. Finely dice the shallot, then the parsley. zest and juice the lemon. Then add to a bowl, along with the remaining orange zest, and remaining olive oil. Mix well to combine.

Step 5/ 5

liquid measuring cup
immersion blender

Drain cauliflower, transfer to a large measuring cup and puree until very smooth, approx 2 min. Season with salt and pepper. Spread the cauliflower puree evenly on plates and top each with a red cabbage steak. Top with the crispy chickpeas and finish with the gremolata! Enjoy!

Enjoy your meal!
More delicious ideas for you