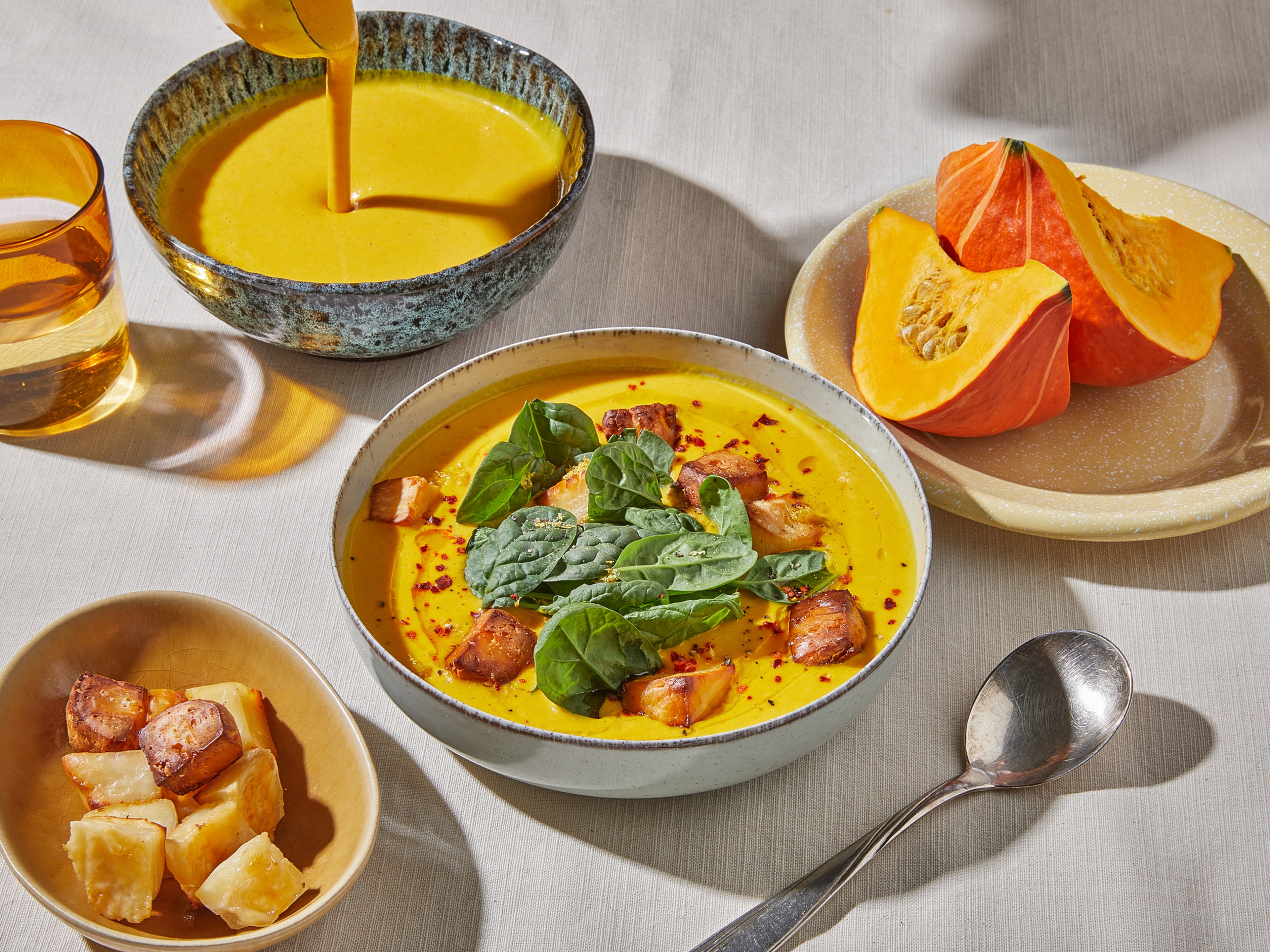 50+ Recipes to Get Us Excited For Fall
Using the best seasonal produce of the harvest season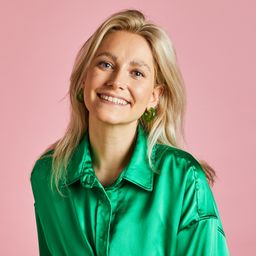 Food Editor at Kitchen Stories
Slowly but surely, summer is coming to an end and we are approaching the beautiful, golden fall. Although I always feel a little melancholy at first when the days get colder and shorter, I still welcome fall and all of its colors.
If anything, when I think of all the wonderful fruit and vegetables on offer to us, I look forward to this season more than any other!

Bright orange pumpkins next to red and colorful ringed beetroot. Green, white and purple-red cabbages. Mushrooms in various shades of brown, as well as red-cheeked apples and sweet yellow pears. These are sure to whet your appetite for colorful and tasty fall cooking!




This time of year also offers a bounty of seasonal and regional produce. And there is a lot of it during harvest time! Ripened over the summer, we can finally enjoy their fresh harvest in the cooler months.

Inspired by this, I've collected our favorite fall recipes that make the most of the season's fresh produce.
Pumpkin recipes we love
For me, pumpkins are the epitome of fall cuisine. With their bright orange color, soft flesh, and gentle, nutty flavor, they are made for dishes that evoke a feeling of comfort and home. 

As soon as I spot the first regional butternut or Hokkaido pumpkin on the market, I can't help but grab it and start making all my favorite pumpkin recipes. These include not only delicious soups, pasta dishes, and salads, but also tasty baked goods, such as pumpkin-swirl brownies, glazed butternut squash bundt cake, or an autumnal pumpkin chocolate chip cake. So if you are craving some autumnal soul food, you've come to the right place.
Sheet pan pumpkin soup with halloumi bites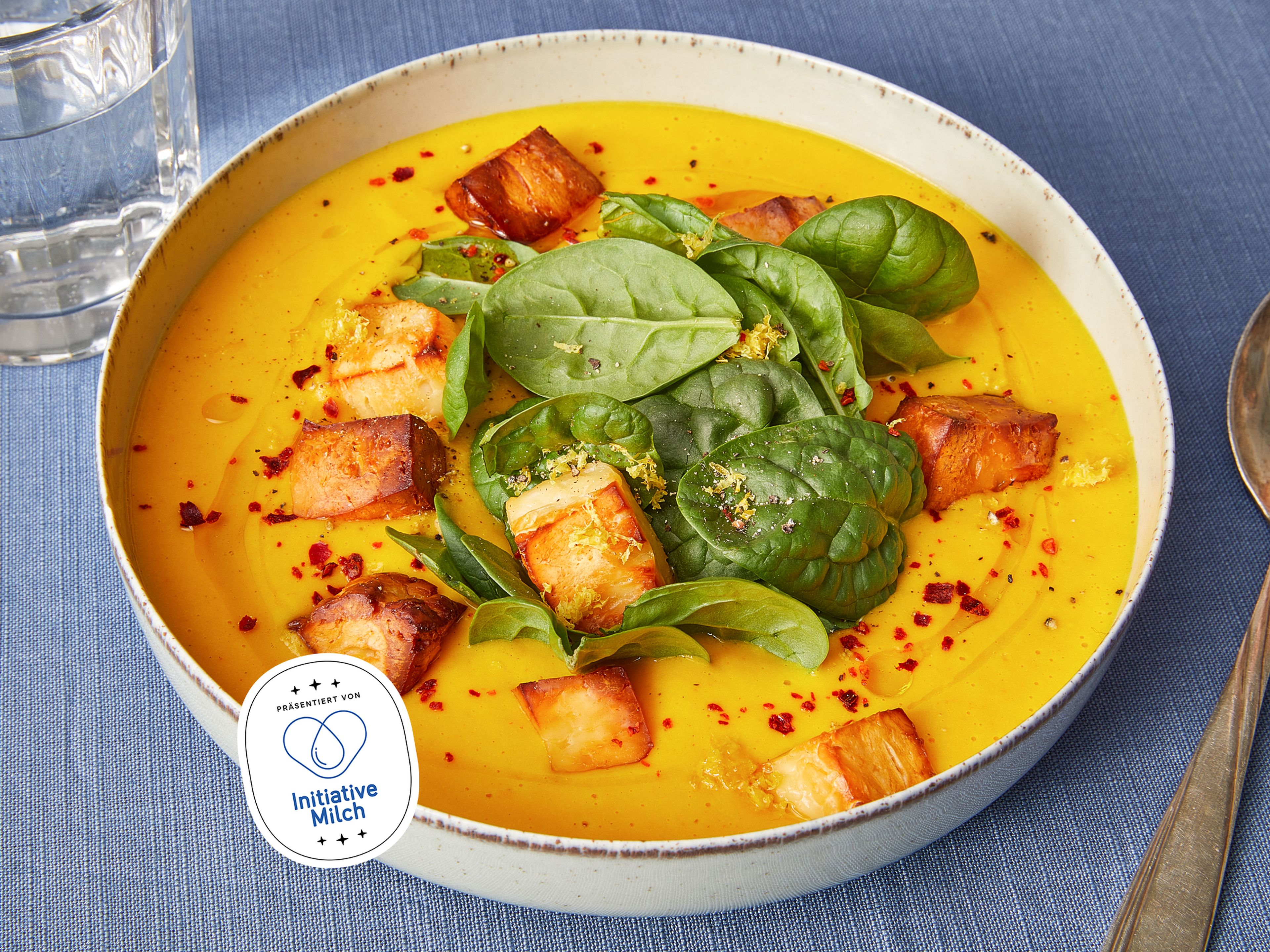 → Go to recipe
One-pot vegetarian lasagna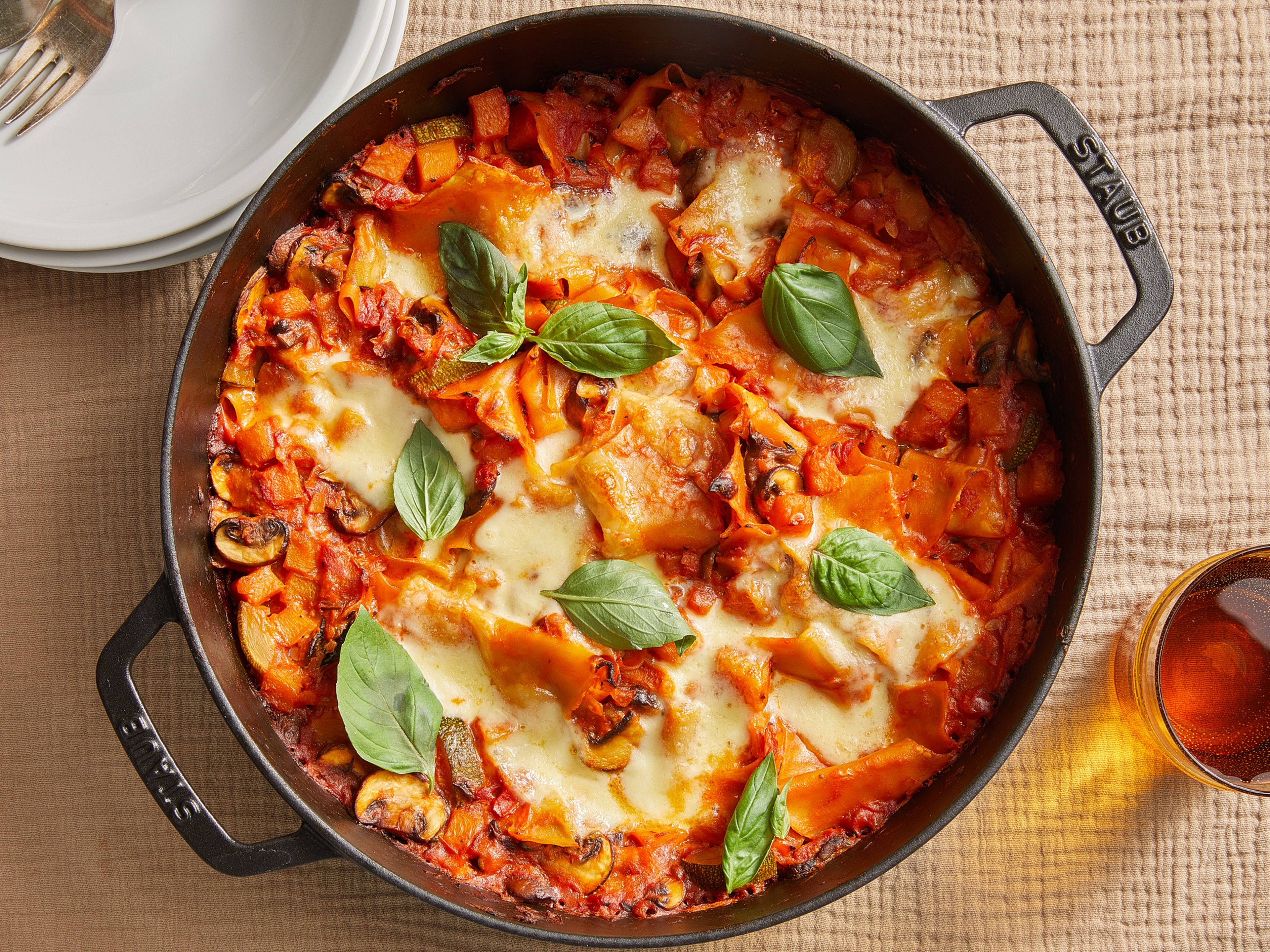 → Go to recipe
—5-ingredient butternut squash soup
—Creamy coconut, pumpkin, and lentil stew
—Butternut squash and mushroom lasagna
—5-ingredient stuffed butternut squash
—5-ingredient creamy pumpkin and leek pasta
—Pumpkin gnocchi with Parmesan sauce
—5-ingredient miso cacio e pepe with squash noodles
—Spelt salad with pumpkin, grapes, and hazelnuts
Recipes with beetroot (and its colorful family)
With beetroot it is the classic case: Either you love it or you hate it. I definitely belong to the first faction and can always be won over by the earthy-sweet bulb with its intense red color. That's why I was super excited to discover a beetroot latte in many a Berlin café or find it hiding in smoothies or in pretty pink pancakes or cakes. Although it is available vacuumed packed all year round, the freshly harvested ones are usually in season from September onwards and fit wonderfully into these hearty recipes.

Plus, beetroot is not only good for our taste buds: especially when the days get colder, the small beet's powerful antioxidants help strengthen our immune system. 

While the most well-known is the red beetroot, there are also other colorful varieties in white, yellow, orange, or even beautifully striped (also known as candy cane beets). Everything else you'd like to know about this little power food can be found here. We also have a little guide for you on how to prepare them best.
Beet, blood orange, and burrata salad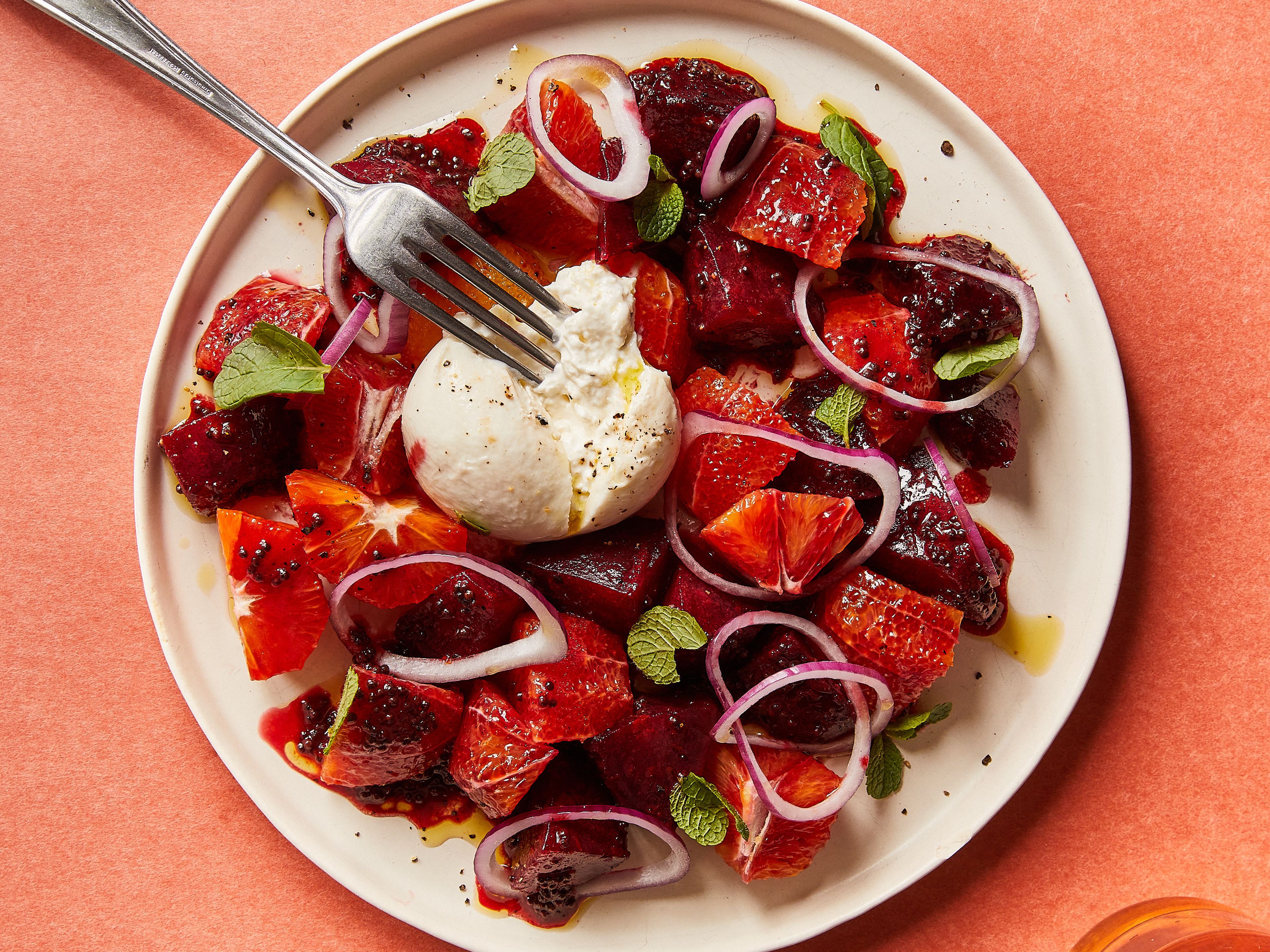 → Go to recipe
Roasted beet salad with horseradish and pumpkin seeds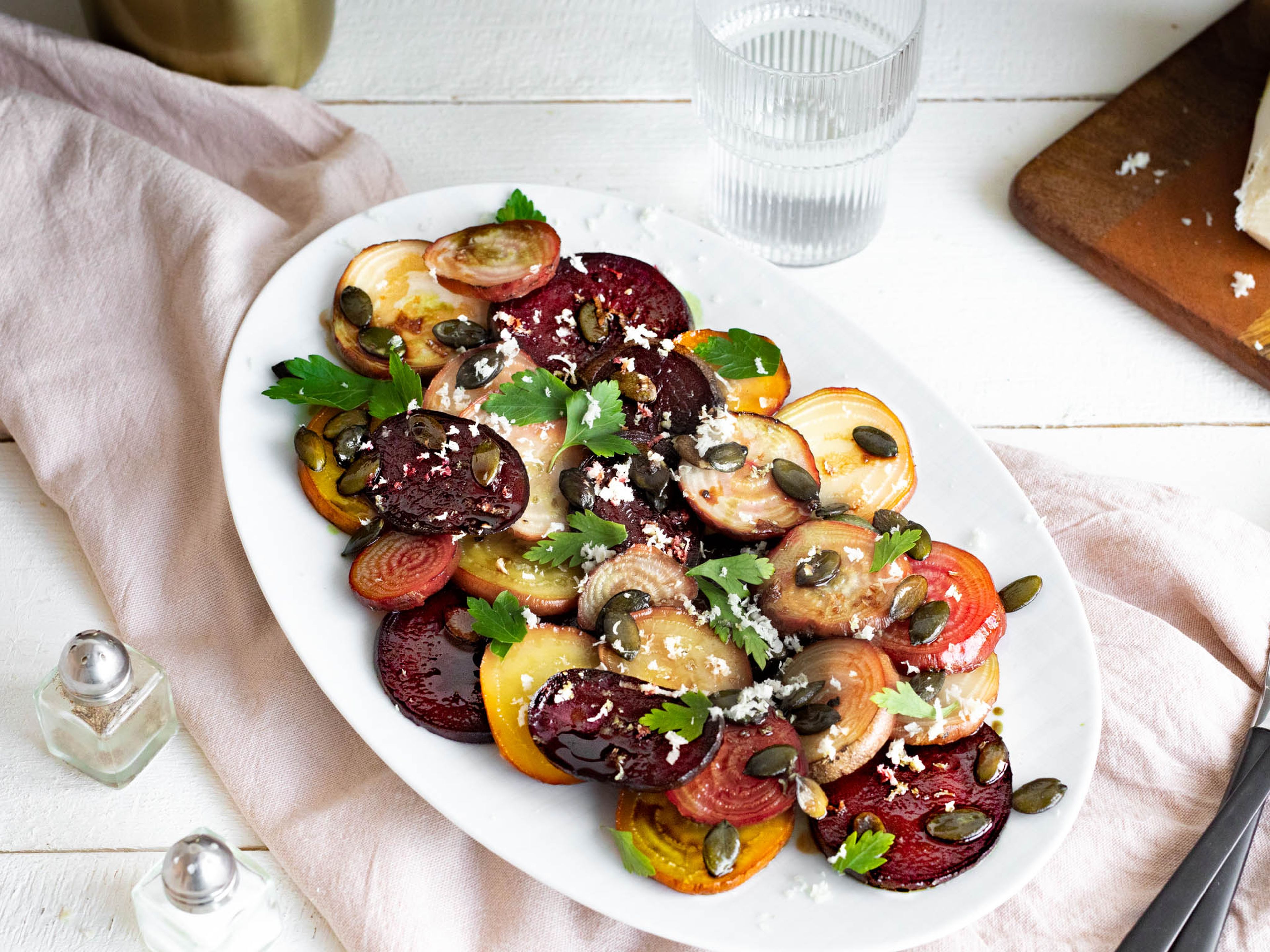 → Go to recipe
—Salmon in parchment with beetroot salad
—5-ingredient beet risotto
—Beet salad with citrusy dressing
—Zoodle salad with tahini dressing
—Borscht
—Oven-roasted char with herby mayonnaise
— Mini vegan beet Wellingtons
Delicacies from the world of cabbage
Since us Germans can't seem to get enough of it, "Krauts" is a sometimes more (sometimes less) endearing term used abroad to refer to people from Germany. But let's be honest: cabbage is insanely delicious and versatile - and some varieties also look great (I'm thinking Romanesco) – so I'll take it as a compliment!

Whether it's kale, red cabbage, white cabbage, pointed cabbage, or even Brussels sprouts, there are so many different great cabbage and kale varieties that are wonderful in the fall and work their magic in a wide range of recipes.

Here we take you into the wonderful world of cabbage.
Roasted red cabbage steaks with crispy chickpeas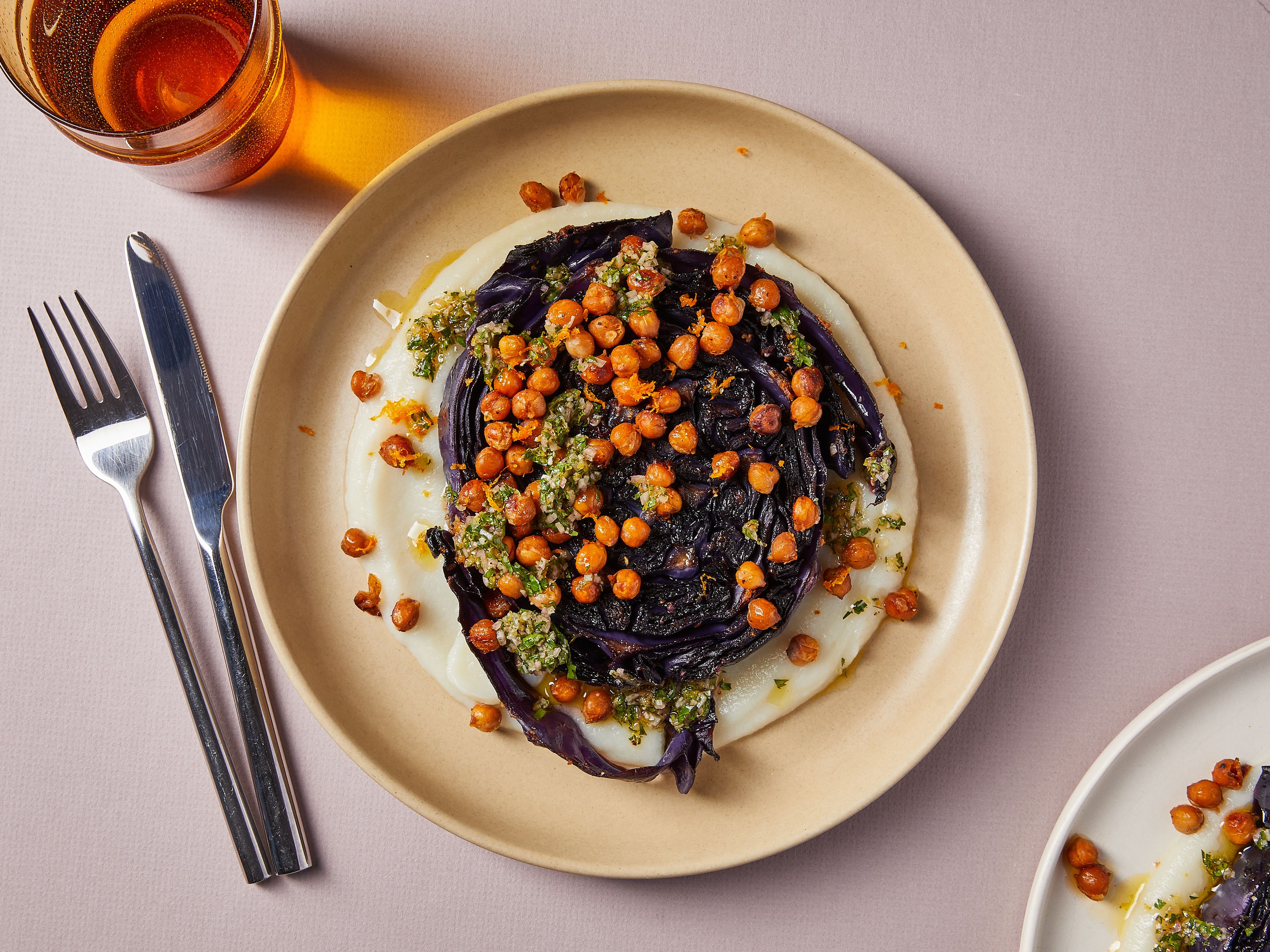 → Go to recipe
Crispy pan-fried gnocchi with Brussels sprouts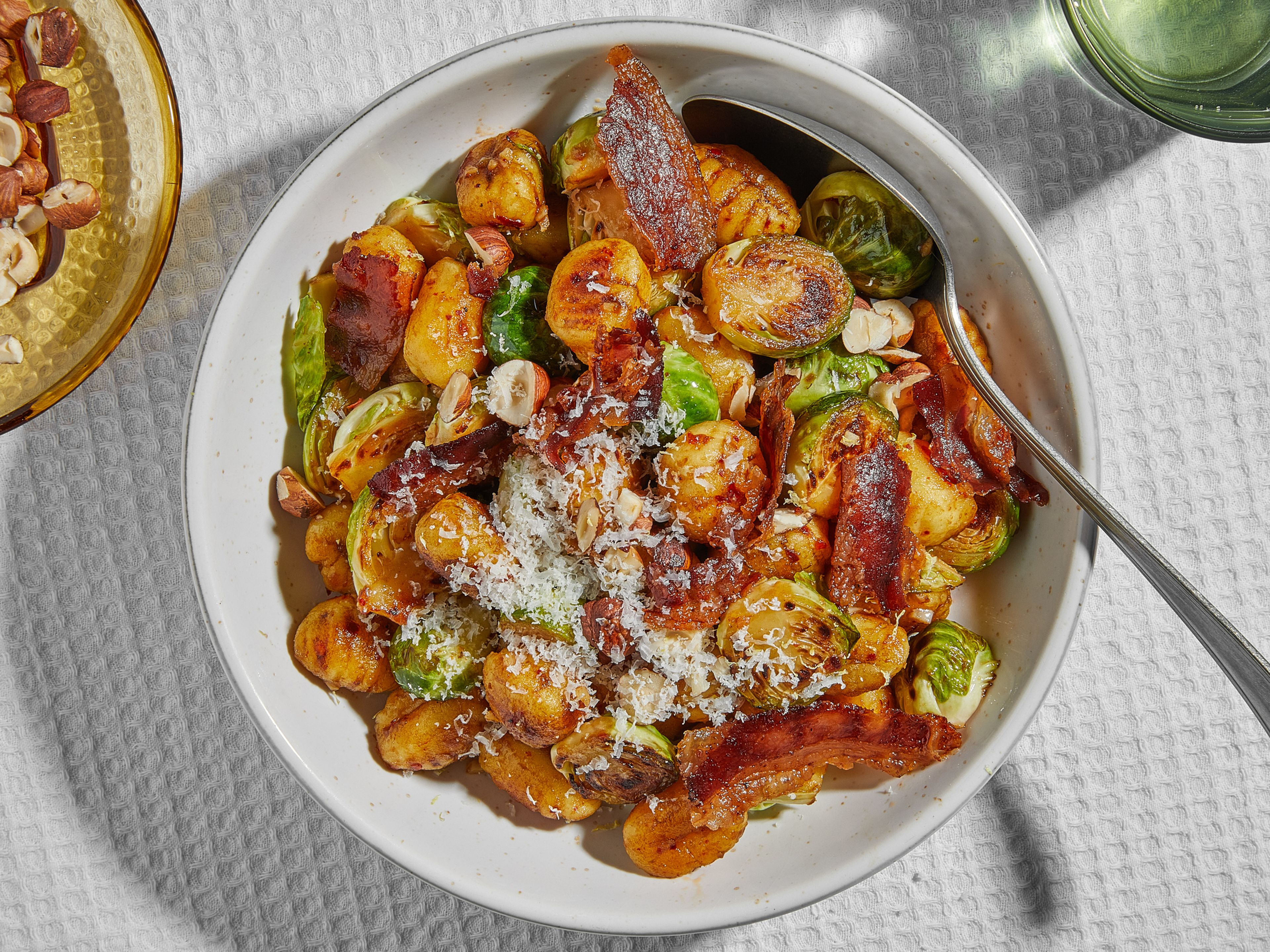 → Go to recipe
—Kale pesto pasta
— Kohlsuppe (German cabbage soup)
—Brussels sprout pasta carbonara
—Grünkohl (German-style braised kale with smoked sausage)
—Lentil soup with Italian sausage and kale
—Easy miso glazed cabbage
—Roasted Brussels sprouts with walnuts and honey glaze
—Jammy eggs and kale in turmeric-coconut gravy
—Cabbage fritters with sriracha mayo
Plenty of mushroom recipes
September and October are considered the peak season for mushrooms. During this time, many passionate mushroom pickers set out to hunt their own fungi. They come in a variety of shapes, colors and tastes, and today there are over 100,000 known species of mushrooms (some edible, some not).They are arguably the star of fall cooking, giving dishes an intense nutty and umami taste.

You can find everything you've ever wanted to know about mushrooms as well as 5 simple tips to make your mushrooms flourish here.
Vegan mushroom goulash with dumplings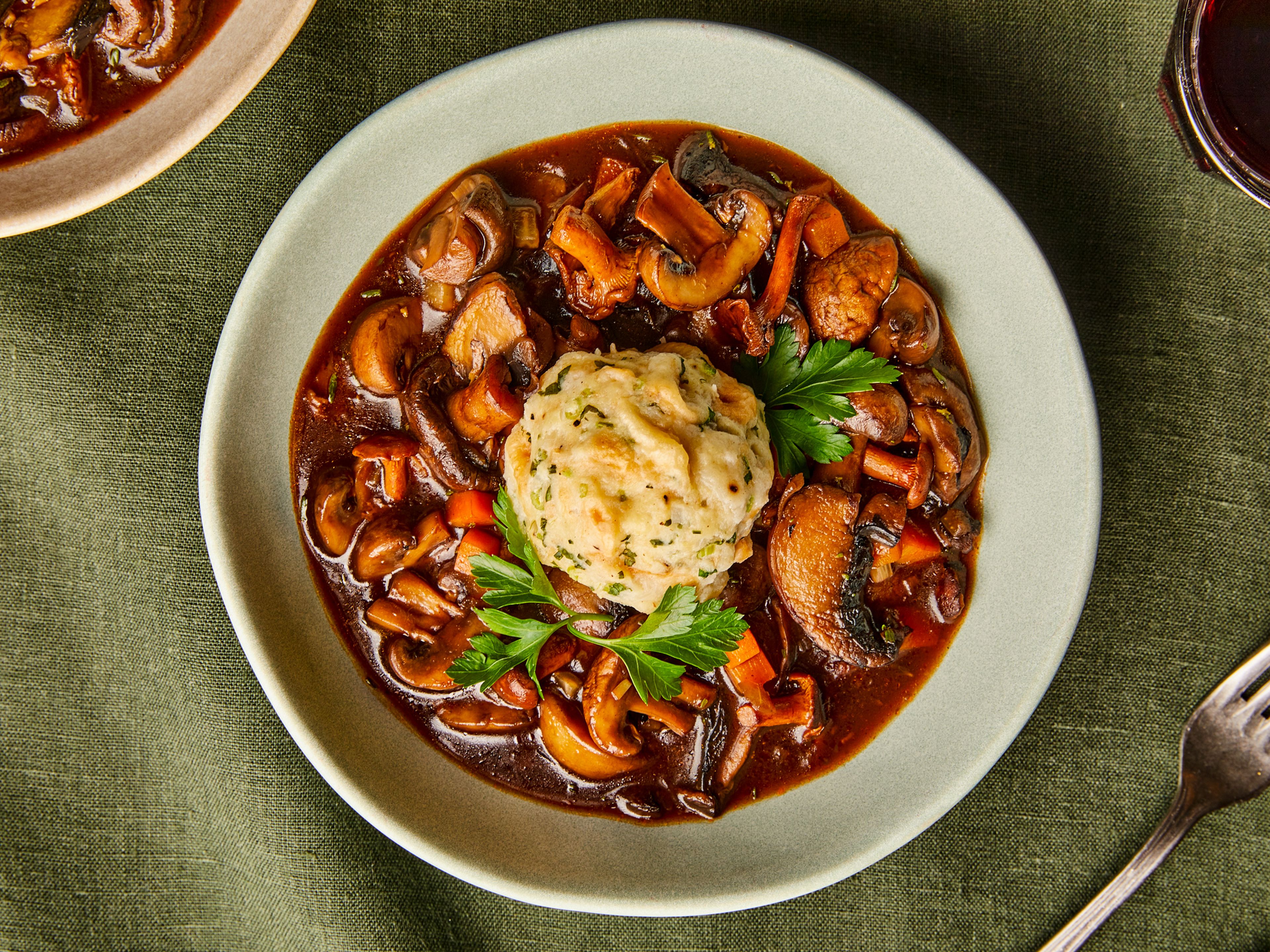 → Go to recipe
One-pot beef stroganoff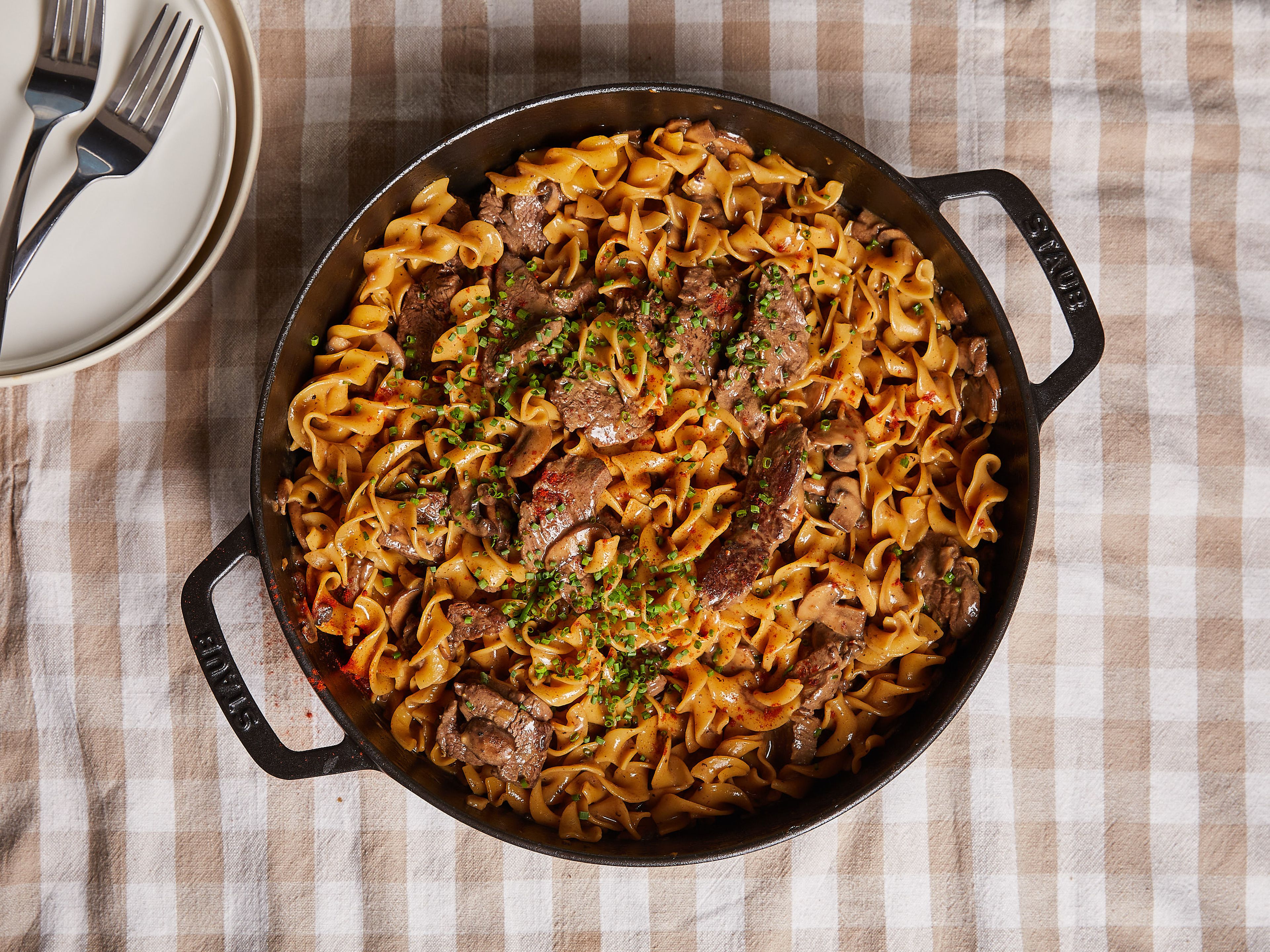 → Go to recipe
—5-ingredient mushroom quesadillas with spicy sour cream
—5-ingredient mixed mushroom gratin
—Chanterelle-stuffed baked potatoes
—White mushroom lasagna
—Tagliatelle with creamy chanterelle mushroom-bacon sauce
—5-ingredient miso mushroom risotto
—Chanterelle Gruyère tart
—Make schnitzel with mushroom gravy with Christian
—Chicken marsala with fettuccine
Fall recipes with apples and pears
In the garden or in orchards, apples and pears are sure to be hanging heavy in late summer and by early fall are eager to be harvested.

There are not only sweet fall desserts and delicious pear and apple pies, but also delicious savory ways to use them. These two fruits lend to similar flavor combinations in many fall recipes.

You can learn more about how to buy, store, cut, and prepare apples properly here.
And you can find everything you need to know about pears here, as well as practical tips on coring and slicing.
Caramelized pear, radicchio, and blue cheese salad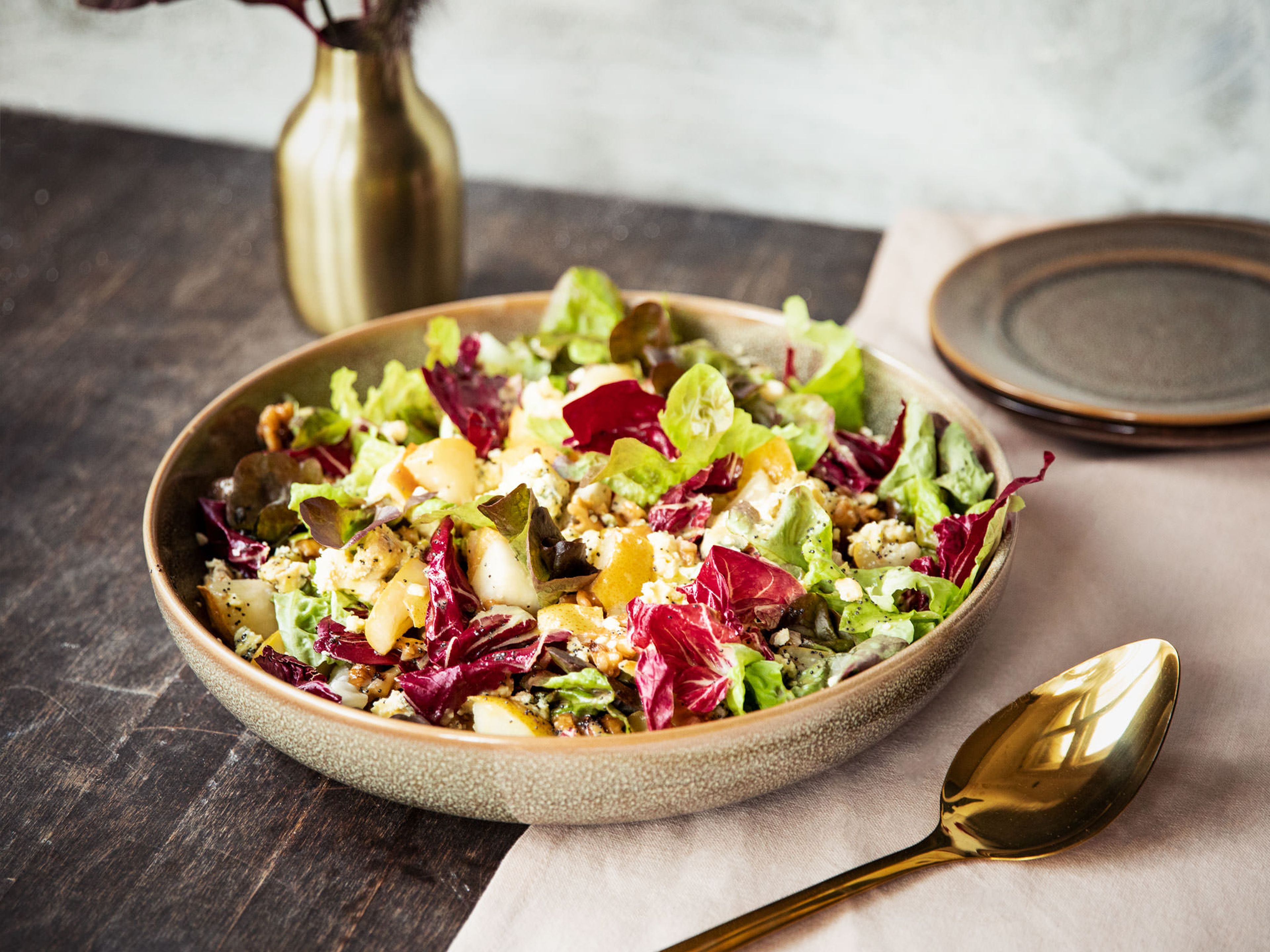 → Go to recipe
Braised chicken with fennel and apples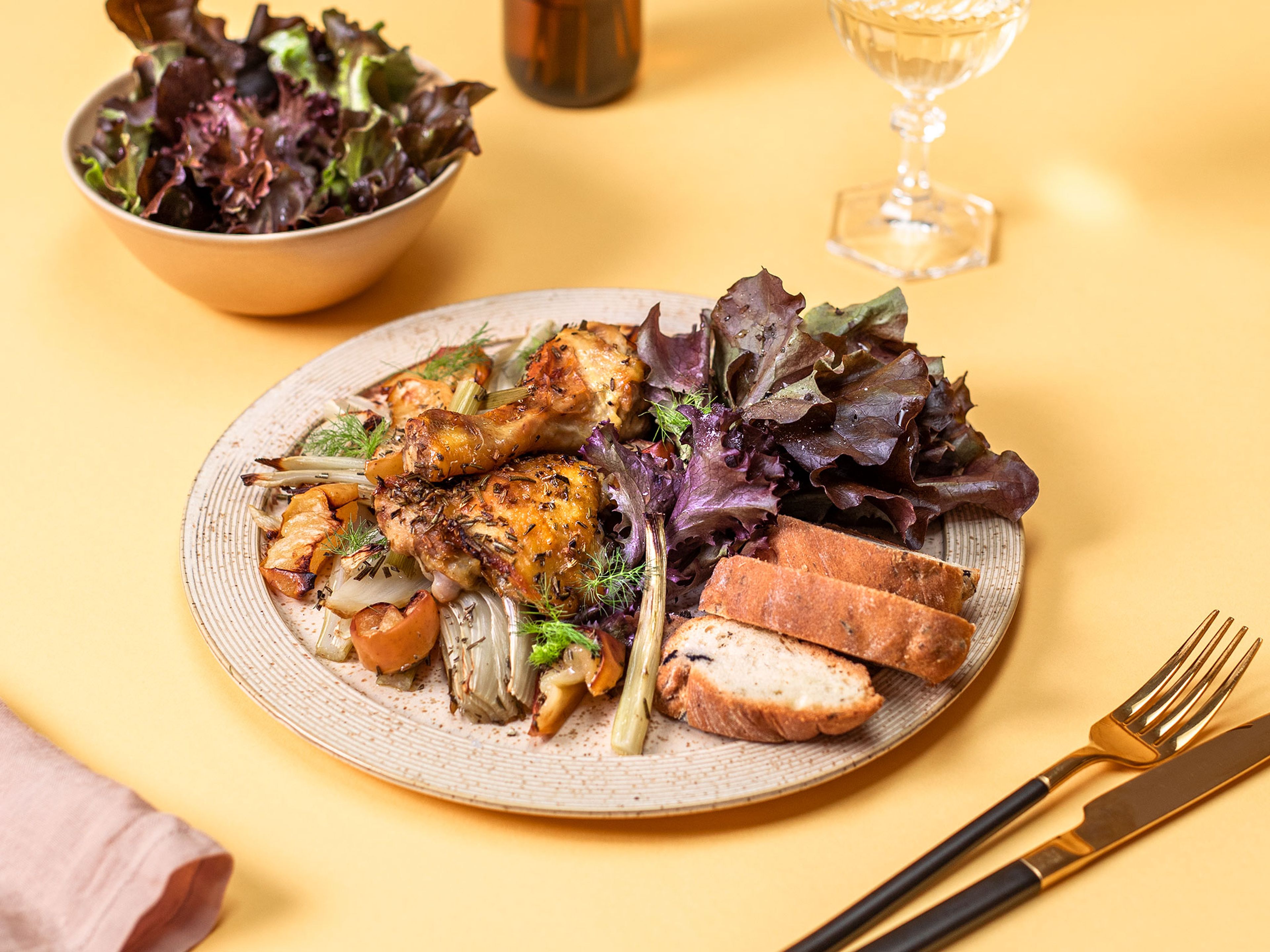 → Go to recipe
—Fluffy apple pancakes
—Apple crumble in a glass
—Cauliflower salad with apples and roasted chickpeas
—Black salsify and goat cheese tart with pear chutney
—Light Waldorf salad with caramelized grapes
—Savoy cabbage salad with pears, walnuts, and ham
—Carrot and pear soup
—Roasted pork chops with caramelized pears and thyme
—Easy pear cake with spiced whipped cream and walnuts


Are you in the mood for more fall recipes? Then you'll find all the dishes from our Kitchen Stories repertoire that fit wonderfully into the feel-good season right here.
Published on September 26, 2022
More delicious ideas for you