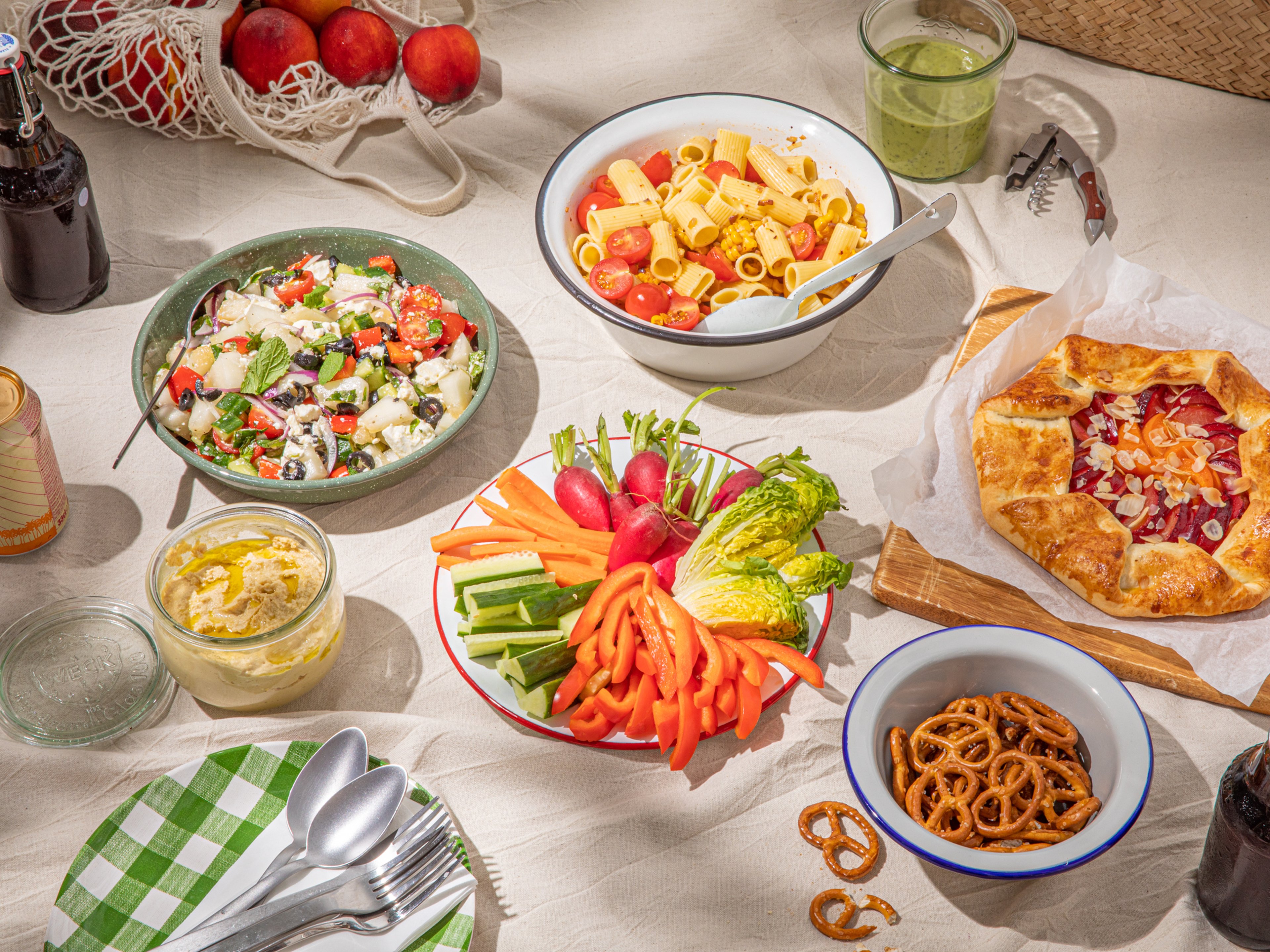 The Cheat Sheet For What to Take To Your Next Picnic
Our favorite recipes to pack up and bring along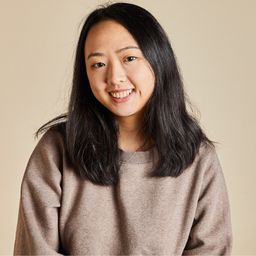 From big bunches of Swiss chard to baskets full of juicy heirloom tomatoes, aromatic peaches to bundles of crisp red radishes, enjoying the abundance of summer is one of life's simple pleasures. This article is part of "The Big Veggie Summer Issue," a month of plant-based recipes presented by Garden Gourmet. Whether you're an omnivore or flexitarian, vegan or vegetarian, there's something for everyone! To get up to date on all the amazing veg we're cooking with this month, check back here for a full list of our latest recipes and articles, and don't forget to follow us on Instagram for extra tasty content!
Summer is synonymous with eating al fresco. On a sunny weekend, all you need (in my opinion) is a good picnic, whether it's in your neighborhood park, by the sea, in the woods, or in the evening, under the summer moon. If we've learned one thing from the past year, it's that being outside is regenerating—and the sun makes everything look and taste better.

Picnics are easily scalable. I even do tiny picnics with myself: Grab a blanket, some fruit, a travel bottle of tea, and a book, find the nearest park, and idle away my time. If you're making plans with a bigger group, ask your friends to bring something themselves, so you don't have to be the helicopter host!

Lacking in ideas? Problem solved! I asked the Kitchen Stories team to share what to bring to a summer outdoor gathering.
Here are the best recipes to take along to your next picnic!
All kinds of dips
Nothing is easier or more versatile than a box of luscious dips, served with bread, chips, or fresh crunchy vegetables. According to Devan (our Managing Editor), you should make in-season vegetables pop as crudités on an eye-catching salad platter. In the kaleidoscopic world of dips, Alex (iOS Developer)'s salsa recipe is one to remember and always made friends at Kitchen Stories' taco Thursday. Recently, a Thai-style cashew dip recipe from Bon Appetit, served with mango and cucumber, won me applause at a picnic.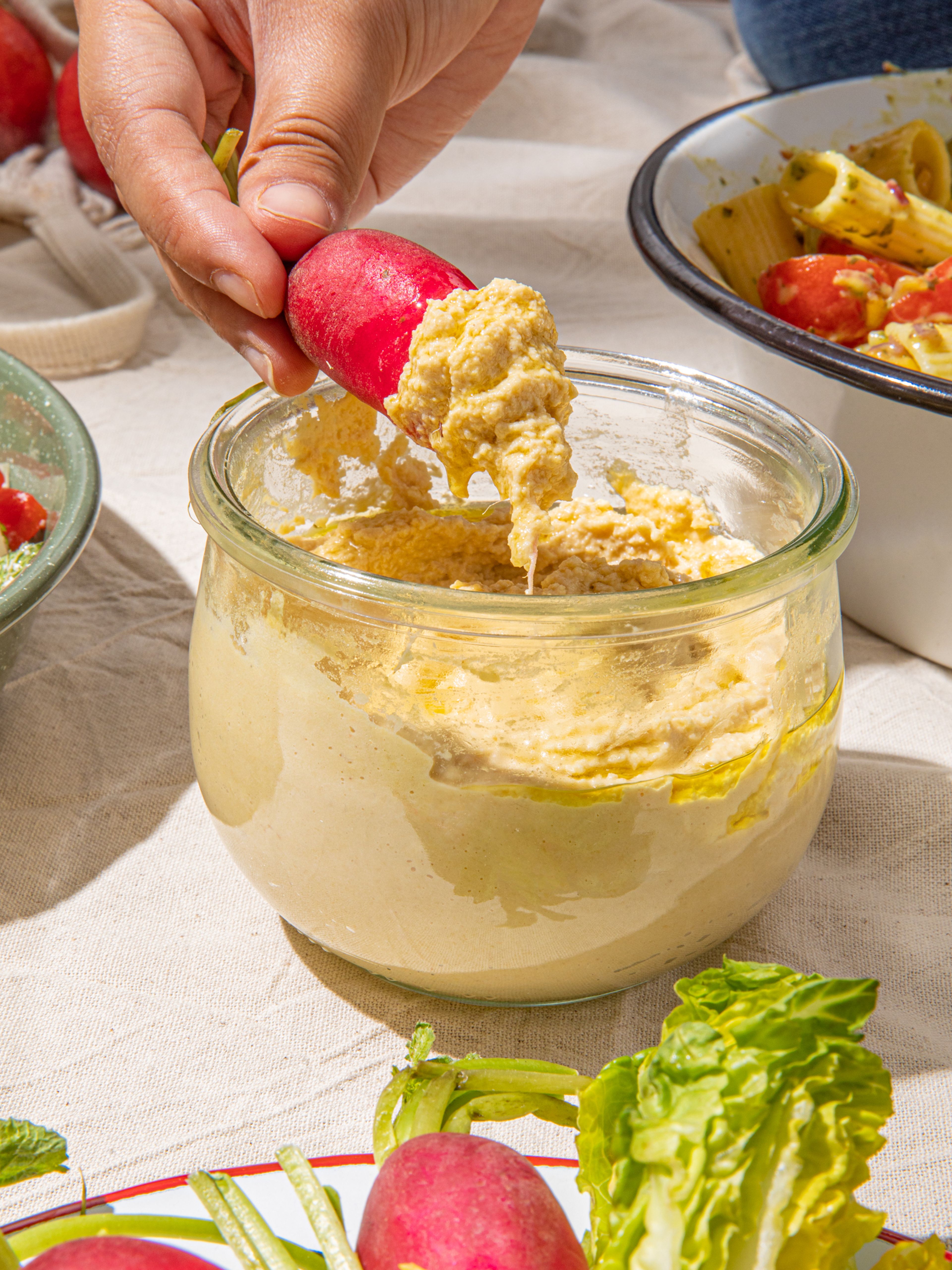 Some of our best dips:
— 7 layer dip
— White bean and fennel dip
— Muhammara (walnut and roasted bell pepper dip)
— Mint hummus
Anything and everything wrapped
On our path of "eating with our hands", wrapped food comes next. Here I dare to ask you to think bigger than sandwiches, and instead, of summer rolls, Korean gimbap, or even wrapped dessert (remember swiss rolls?). Or in Patrick's (Senior Video Editor) world, a saladwich, "It's basically toast, some remoulade, lots of baby spinach or lollo rosso or whatever comparable, (bacon), and flavor-y cheese. With a lot of pepper and some scallions." He doesn't mind if the toast gets a bit soggy as long as he can bite into the crunchiness of the fresh salad. Never had it? Try Hanna's green goddess sandwich.

To keep the word soggy out of our picnic book, wrapped food can be packed separately and assembled on-site. Don't forget to ask people to bring their own fillings or sauces.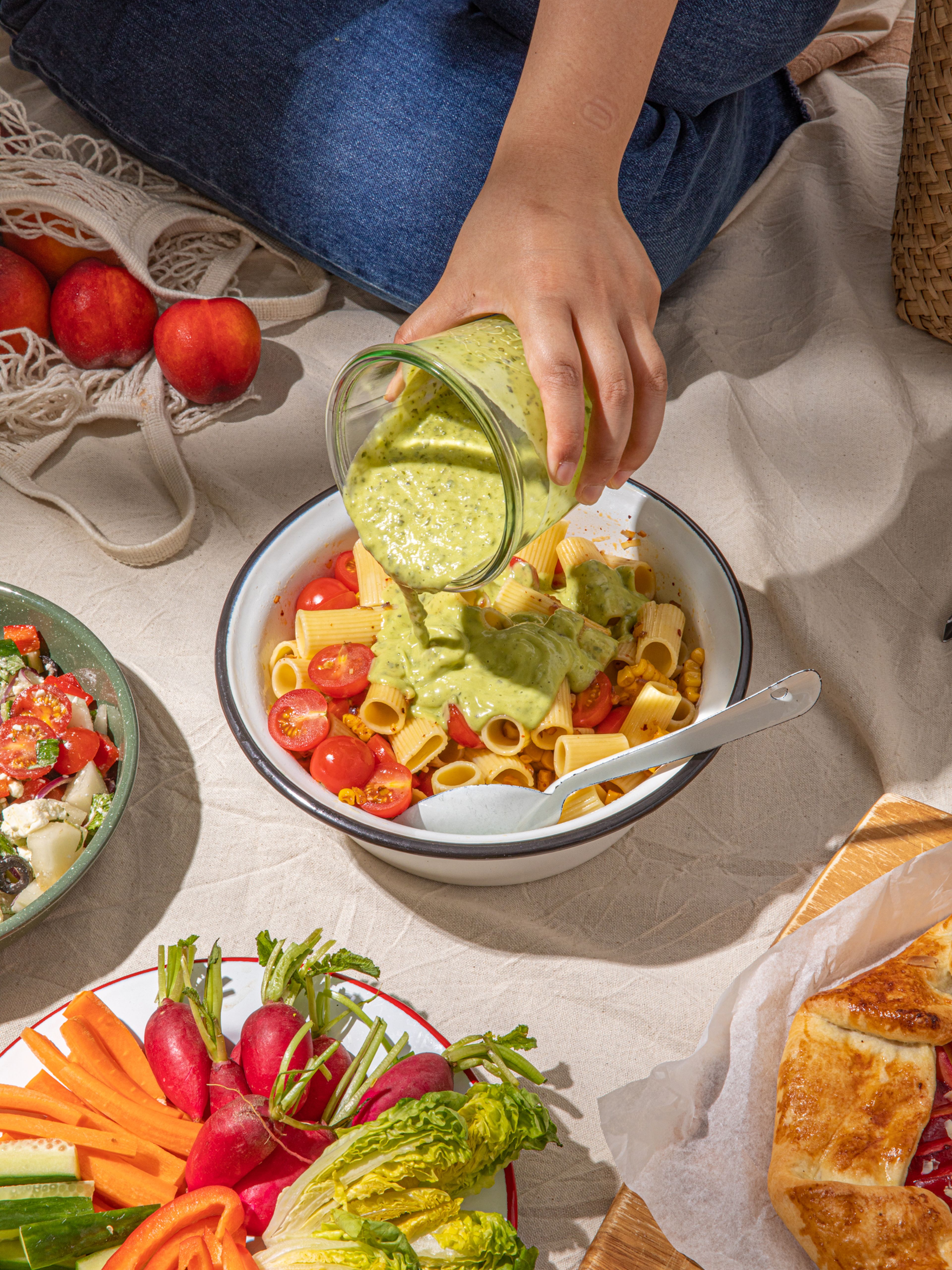 Salads made with pasta, grains, or fruit!
Pasta salads never get old (or chance dramatically in texture from sitting in the sun). Philip (Partnerships Intern) endorsed this romanesco pasta salad from Bon Appetit, "It is always a highlight and banger at a picnic or BBQ". My personal favorite is a refreshing glass noodle salad with tofu skin, slathered with spicy sour dressing.

On the same note, you shouldn't overlook grain salads or panzanella. Mengting (CEO & Founder) always makes this chicken zucchini couscous salad to savor the peaking zucchini season. In Luise's (Senior Marketing Manager) opinion, grilled vegetables, like rosemary potatoes, can be served both warm and cold and taste even better with a bit of Parmesan cheese.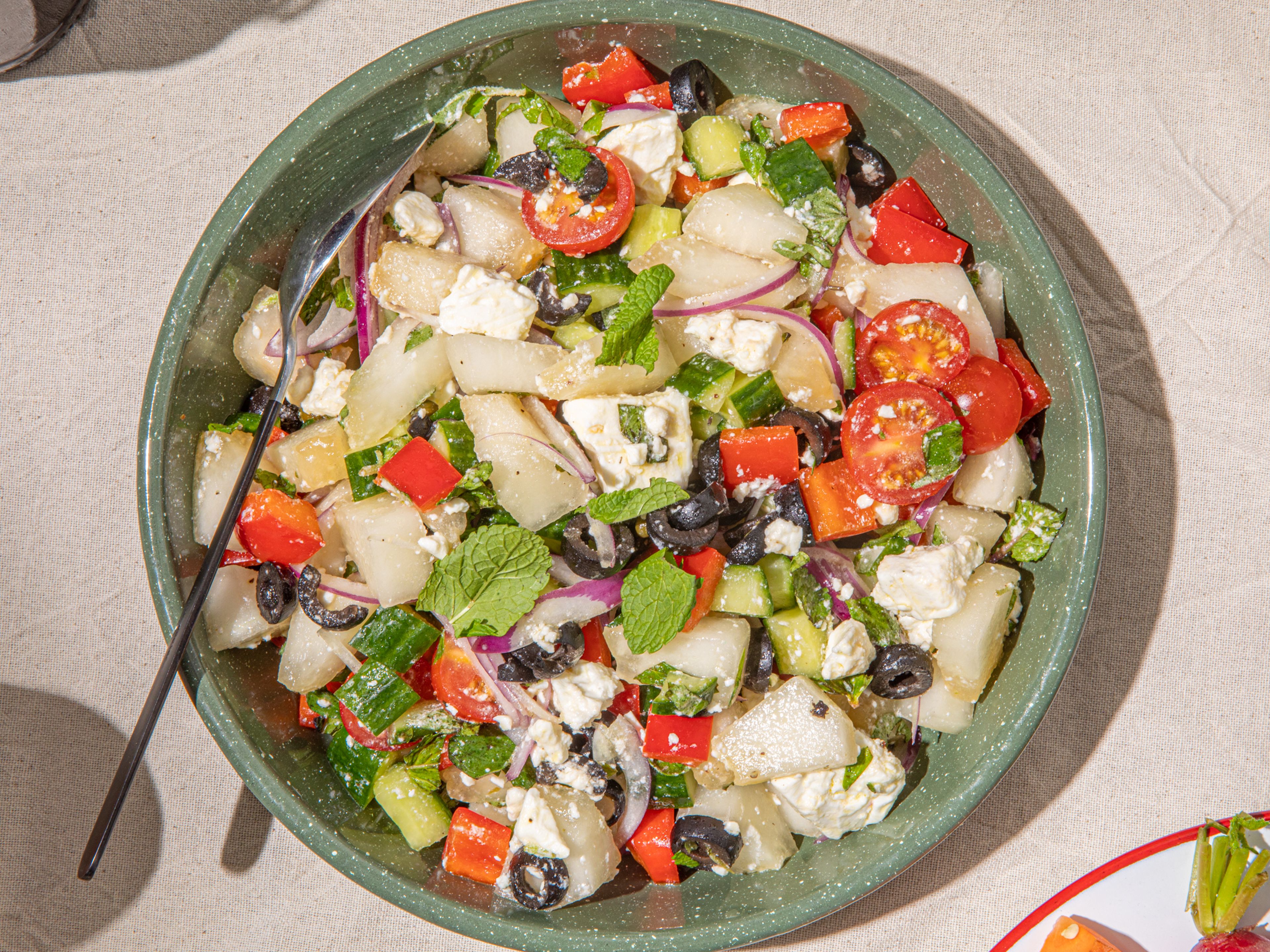 And what about a good juicy fruit salad—think melon, stone fruits, and berries. Ruby always goes for a Greek salad, and suggests: "Hold the feta, dressing, and fresh herbs until serving. Make the dressing in a jar and then pour it over the top at the picnic 5 minutes or so before you want to eat." Annelie (Social Media Manager) loves this watermelon feta salad, and her "lazy trick" is to not grill watermelon—yes, that is forgivable, too.
More salads to try:
— Garlicky lentil salad
— Pasta salad with roasted corn
— Tangy marinated lentil salad with feta
Transportable desserts
Many desserts don't travel well, but some do (as confirmed in this article), such as sheet cakes, brownies, and cupcakes/muffins. My pick is an easy galette: I've been thinking of making it since I shot this rhubarb galette with my fellow editor, Lisa. Luise, meanwhile, has found her must-have picnic dessert being banana bread, "In my opinion the best banana bread recipe ever, and it's even better with some blueberries."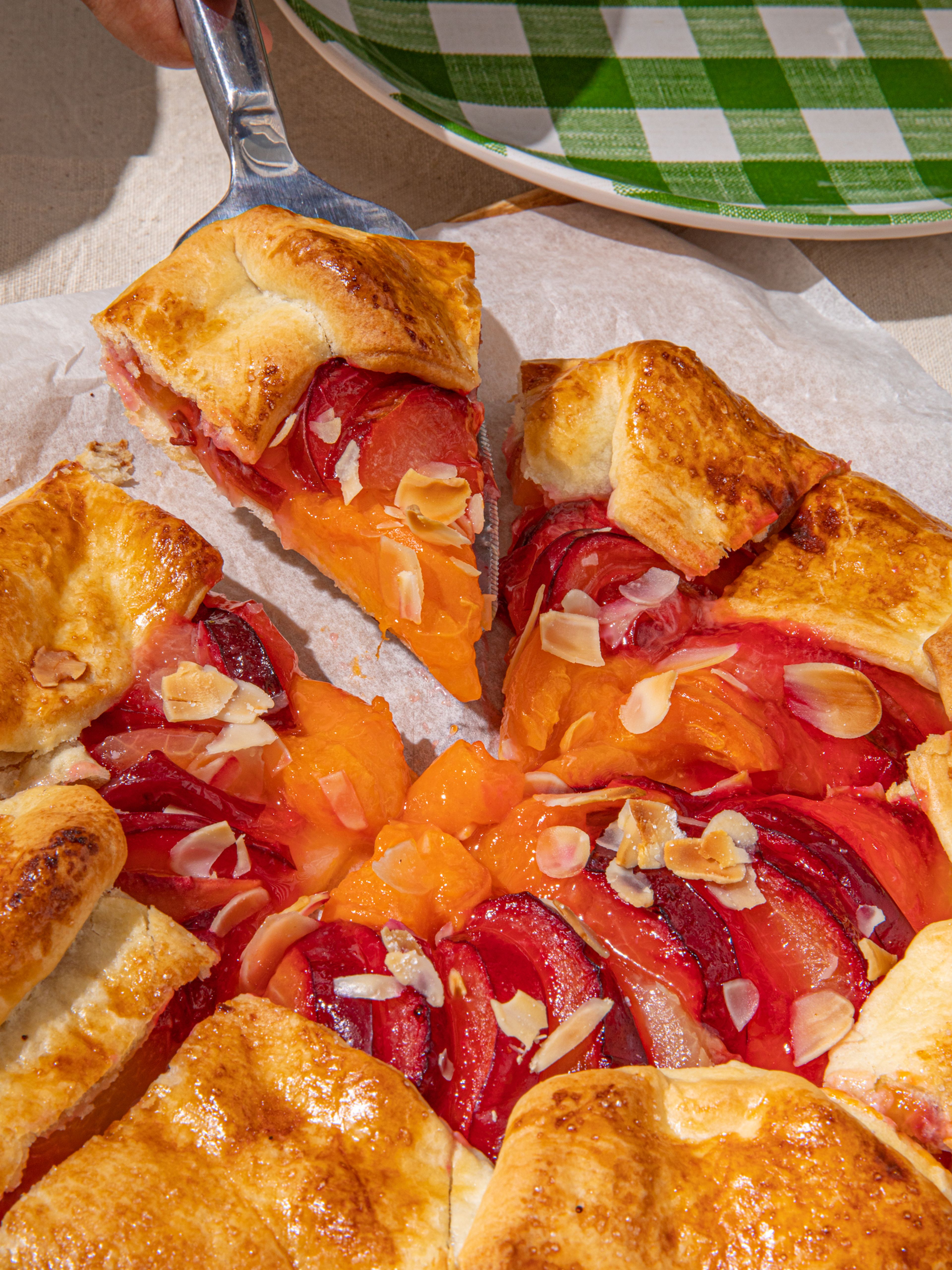 Refreshing drinks
To many, drinks are the key to a successful picnic. A perfect afternoon picnic ends with the sun sets and everyone is a bit tipsy (ok, not the kids or drivers) from drinks or the heat. So pack some ice in a cooler and bring a pitcher of pre-made iced tea or cocktails. Spanish sangria or an Aperol spritz (check out Ruby's guide to make every kind of spritz) also fit perfectly to summer and can be scaled up into a batch.

You could also bring some flavored syrup (it's elderflower season!), or herbs, to jazz up the store-bought sodas or sparkling water that are already on the picnic blanket.
For your barbecue
A barbecue might be a different affair, but for me, it's just an extended version of a picnic. So everything mentioned above can be brought along as well! You need a bit more time to prepare ahead, marinating the meat or your chosen grill content a day before. Condiments like miso or herbed butter can be true flavor enhancers—try these glazes, marinades, and rubs for more ideas!

Before you plan your next picnic, check out our must-have list for picnics here. If you really don't have time to prepare anything, a selection of fruit—think berries, stone fruit, and watermelon are there to rescue you. One last tip before you head out the door: Don't forget your Bluetooth speaker and bottle opener! Happy picnicking!
What's your favorite thing to bring to a picnic and barbecue? Let us know in the comments!
Published on July 21, 2021
More delicious ideas for you