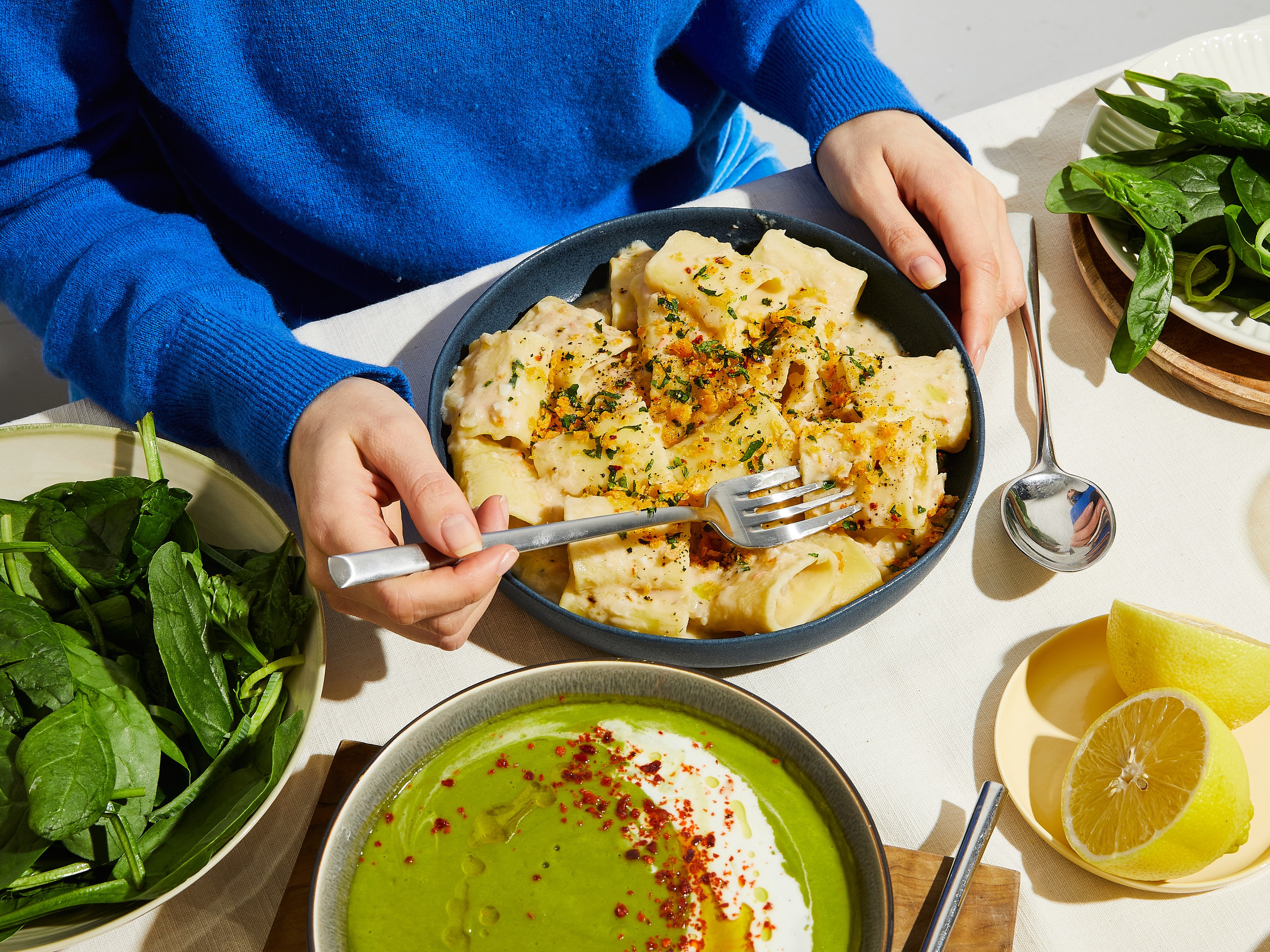 40+ Plant-based Recipes to Try This Year
Our best vegan recipes to help diversify your cooking routine
Food Editor at Kitchen Stories
The beginning of a year comes with many resolutions, some more realistic than others. After a month full of feasts and celebrations, starting the new year off with lighter meals can sound not only more attractive but also more achievable than, say, going on morning runs everyday or mastering a foreign language. Whether you're already on board with our Veganuary challenge, or simply in need of inspiration for a change in your cooking routine, here we have collected 40+ vegan recipes that will help you try easy, fun new ways of cooking and eating. From a quick meatless lunch to delicious vegan cookies, you will find everything you need in this ultimate collection, pulled from our favorite plant-based recipes. 
Classic dishes can be vegan, too
These recipes will make you go: THIS can be vegan?, but while you're cooking and eating, the simplicity of the preparation and the rich flavors will have you not looking back twice. And that's exactly the point of our Veganuary challenge: vegan eating doesn't have to be complicated or restrictive, it can also be about discovering new and more diverse ways of enjoying your favorites!
Meatless meatballs with tomato sauce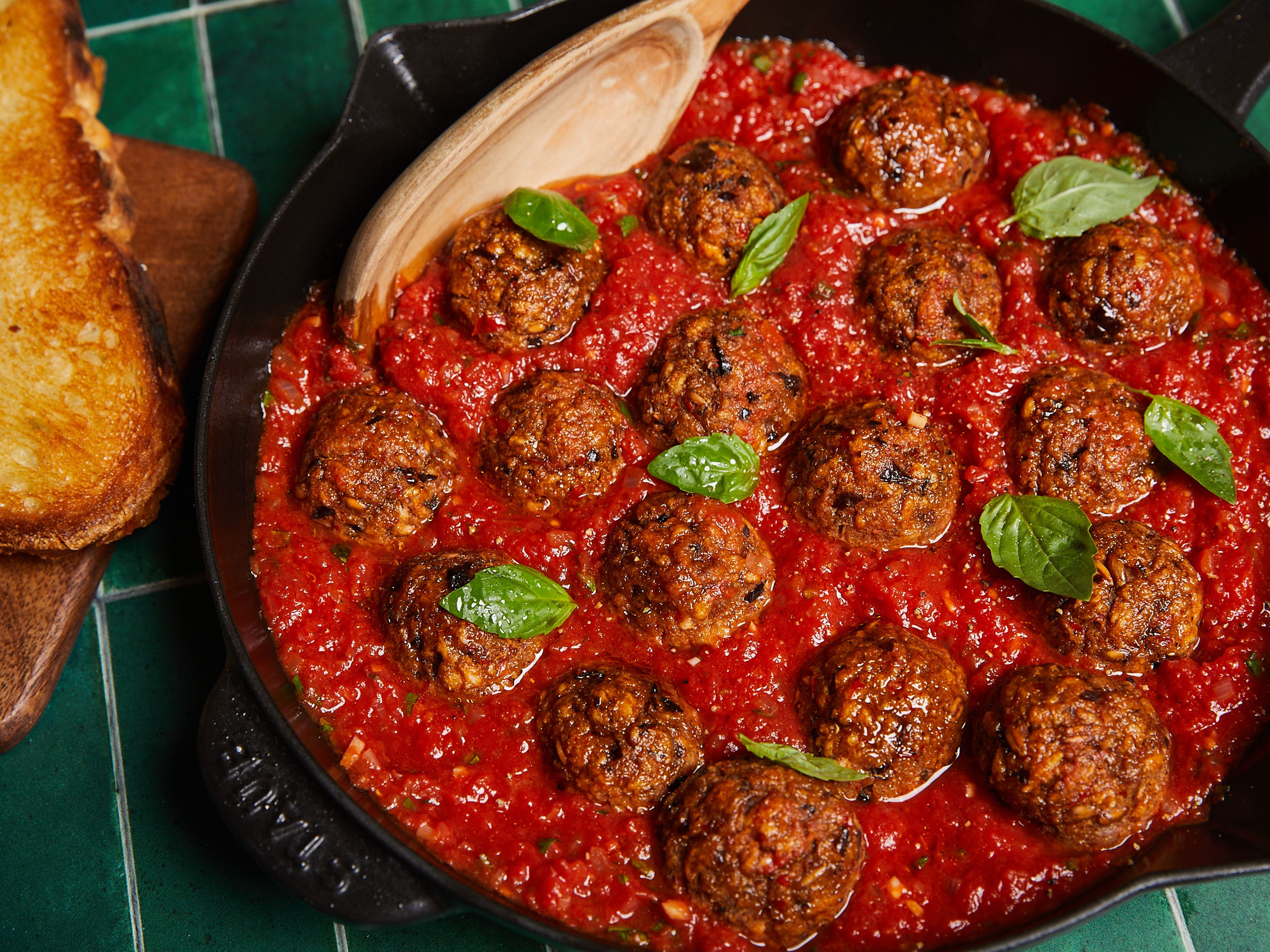 → Go to recipe
– Creamy white beans pasta
– Lentil moussaka
– Vegan French toast with caramelized bananas 
– Vegan scrambled eggs 
– Vegan mac and cheese
– Crispy seitan schnitzel
3 must-know ingredients in vegan cooking
The world of vegan cooking too can be multiple and dynamic, and sometimes daunting for beginners. One easy way to navigate your many meal options is to focus on a few star ingredients: mushrooms, tofu, beans, and of course, veggies. Each brings in a distinct flavor and texture that not just replaces meat or dairy, but at times (dare we say it?) surpasses it!
Add a bit of earthy magic: Mushrooms
These woodsy creatures offer not just earthy flavors and versatile textures but also numerous kinds of nutrients - protein, fiber, vitamins, and antioxidants - and have been a staple in many cuisines around the world, from Thai to Hungarian. In vegan cooking, mushrooms, depending on the variety (read more on mushrooms), can add a surprisingly meat-like, tender texture (look for oyster mushrooms), or an intense, natural umami flavor to your soups and broths (go with shiitake mushrooms). Plus, they respond well to almost all modes of cooking and yield different but delicious results each time.
Vegan spinach and mushroom lasagna
→ Go to recipe
– Oyster mushroom satay with spicy peanut sauce 
– Vegan mushroom goulash with dumplings 
– Mushroom pad kra pao 
– Vegan pulled mushroom burger 
– 5-ingredient miso mushroom risotto
Soft and silky to firm and crispy: Tofu
Growing up in Korea, our table had a tofu dish almost every day. Tofu's versatile textures meant that we could trust it to become the creamy, filling source of protein for the easy-on-the-stomach breakfast Jook (savory rice porridge). In its firmer form, it appeared fried and dipped into soy sauce and became what can be described as a tofu steak for festive times. While the consistency varies from pudding-like to spongey and firm, tofu packs up soy protein and various nutrients like calcium and magnesium and becomes a great carrier of flavors for both savory and sweet dishes. Read more on tofu variety and cooking tofu.
Sundubu jjigae (Korean soft tofu stew)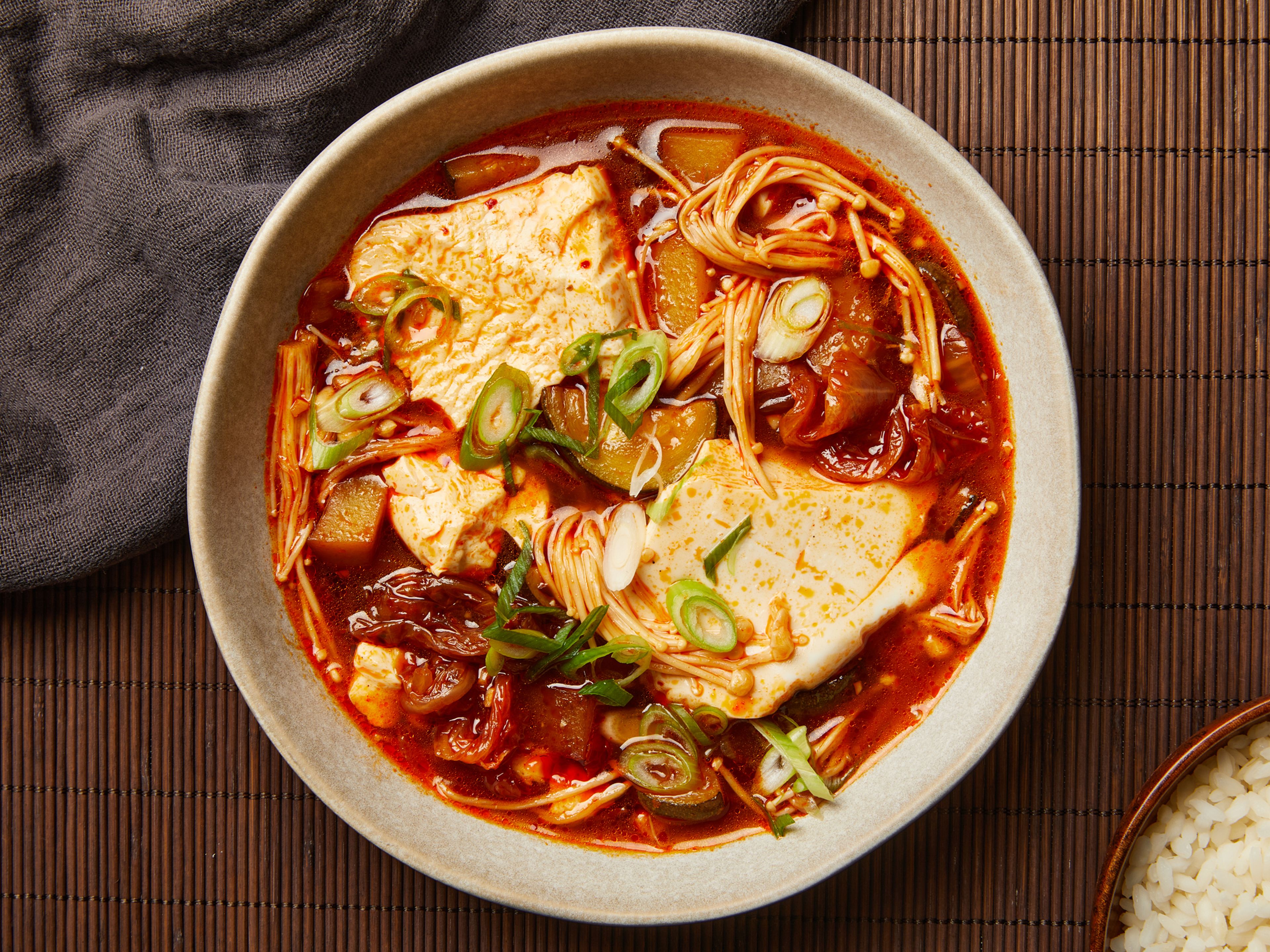 → Go to recipe
– Vegan larb tofu 
– Miso roasted tofu with sweet potato
– Rainbow glass noodle salad with tofu and red cabbage slaw 
– Thai-inspired red curry with tofu 
– Bok choy and crispy tofu stir fry
– Sweet and sour tofu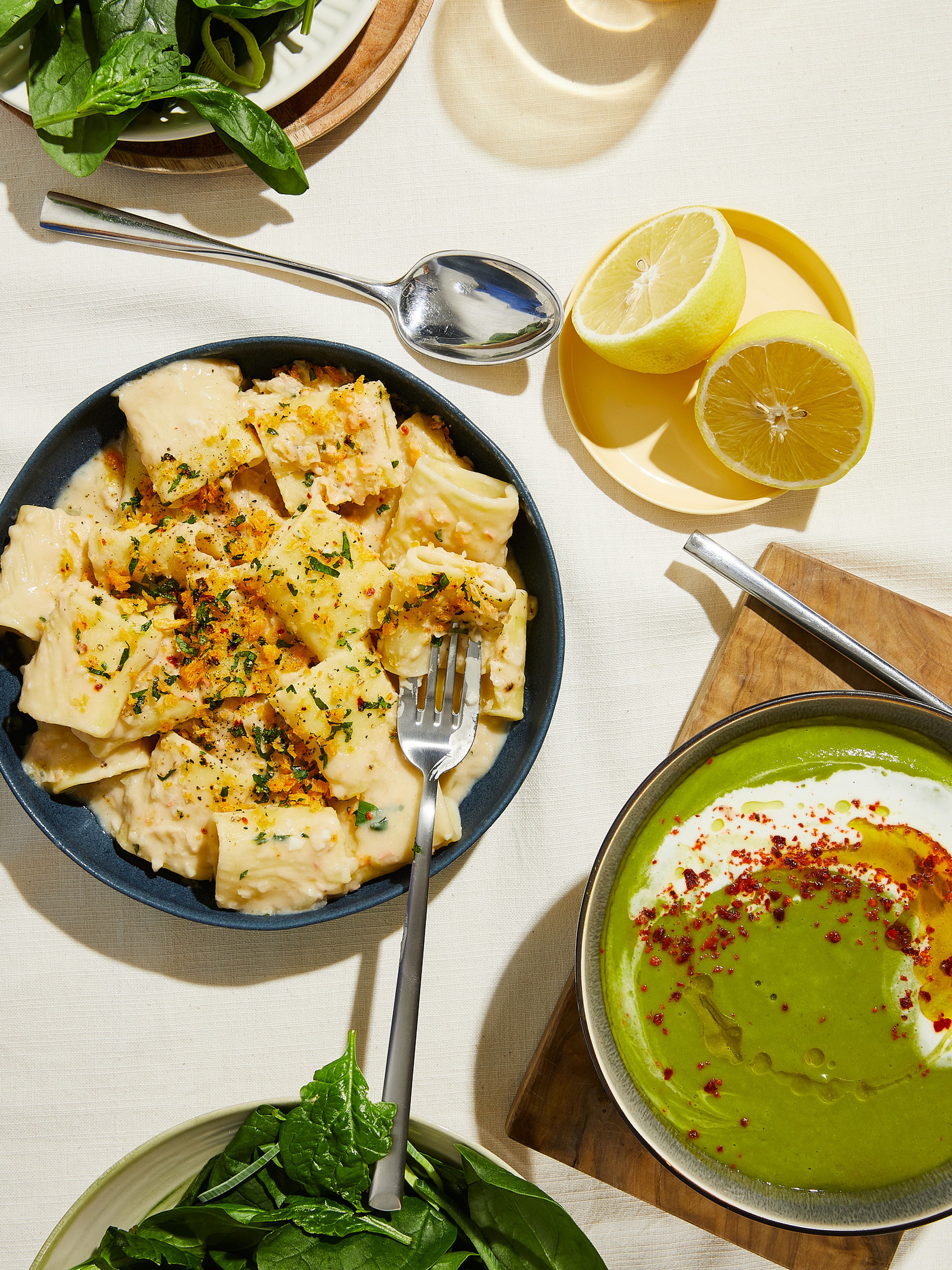 Beans, beans, beans
I discovered the joy of cooking with beans especially when I started living by myself - having the canned option saved a lot of time in preparation and the (almost) infinite shelf life made them an accessible, reliable source of protein and creaminess that quickly dressed up any soup or salad. Cooking them also soon opened me up to many Mediterranean and Middle Eastern cuisines that I hadn't tried before: each variety - whether white beans, chickpeas, or lentils - added a unique intense flavor and texture. Now that I'm familiar with them, canned or fresh, they're one of my favorite things to start my own fusion dish with.
One-pot creamy chickpea and spinach curry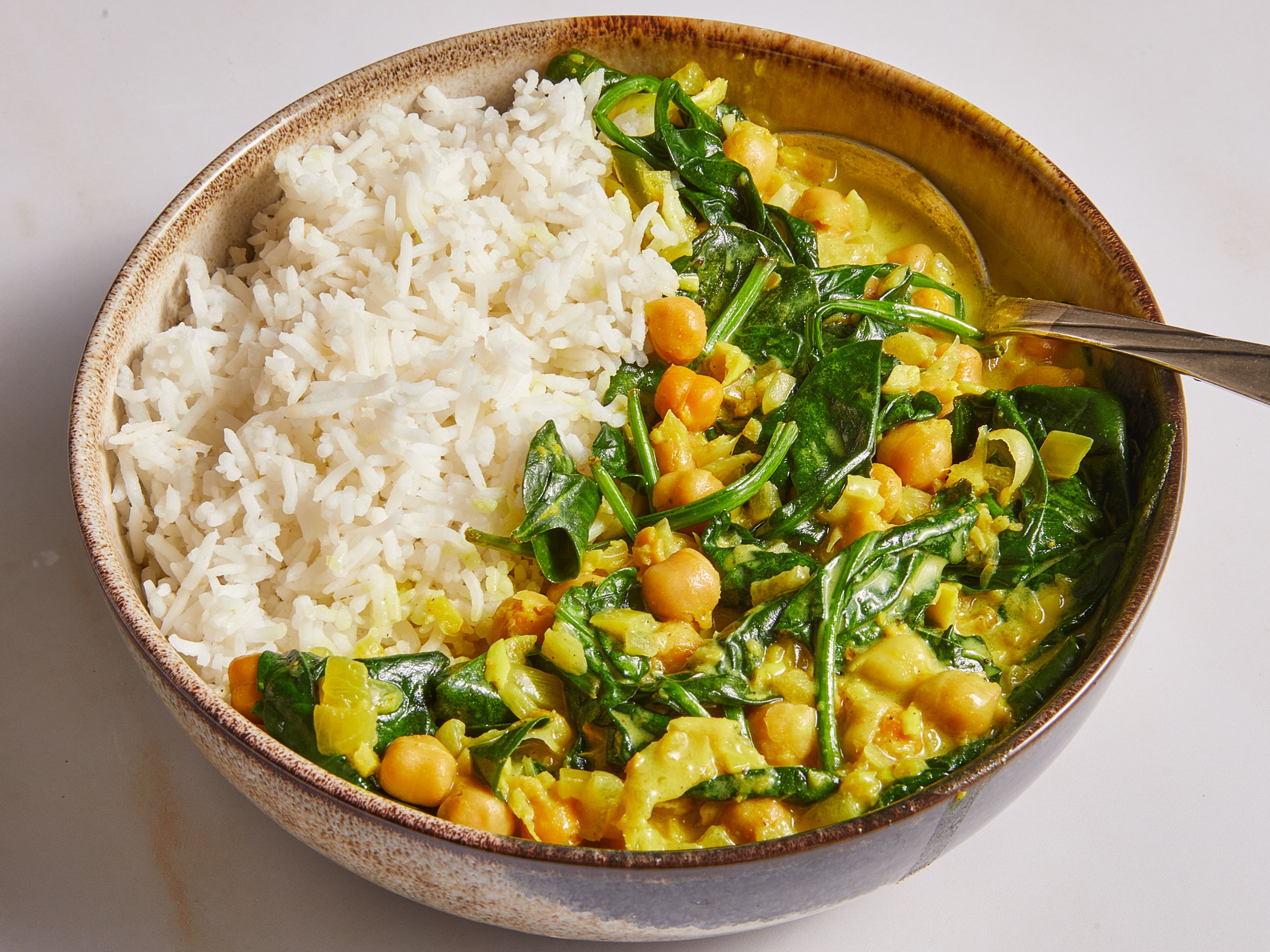 → Go to recipe
– Carrot hummus with pita bread
– Creamy coconut, pumpkin, and lentil stew 
– Lemony fennel and lentil soup 
– 5-ingredient stewed white beans and zucchini 
– 5-ingredient sweet potato lentil curry soup
– 5-ingredient chickpea pancakes with fennel and olives

Let them sing their song: Veggies medley
Whether they're leafy greens or substantial root vegetables, these vegetables create a delicious harmony with each other. Clearing your plate for the vegetables will help you discover the surprising natural versatilities and flavors of each ingredient and how it pairs with other vegetables (plus herbs and sometimes fruits) to create a well-balanced, filling meal.
Orzo salad with harissa-roasted pumpkin and Brussels sprouts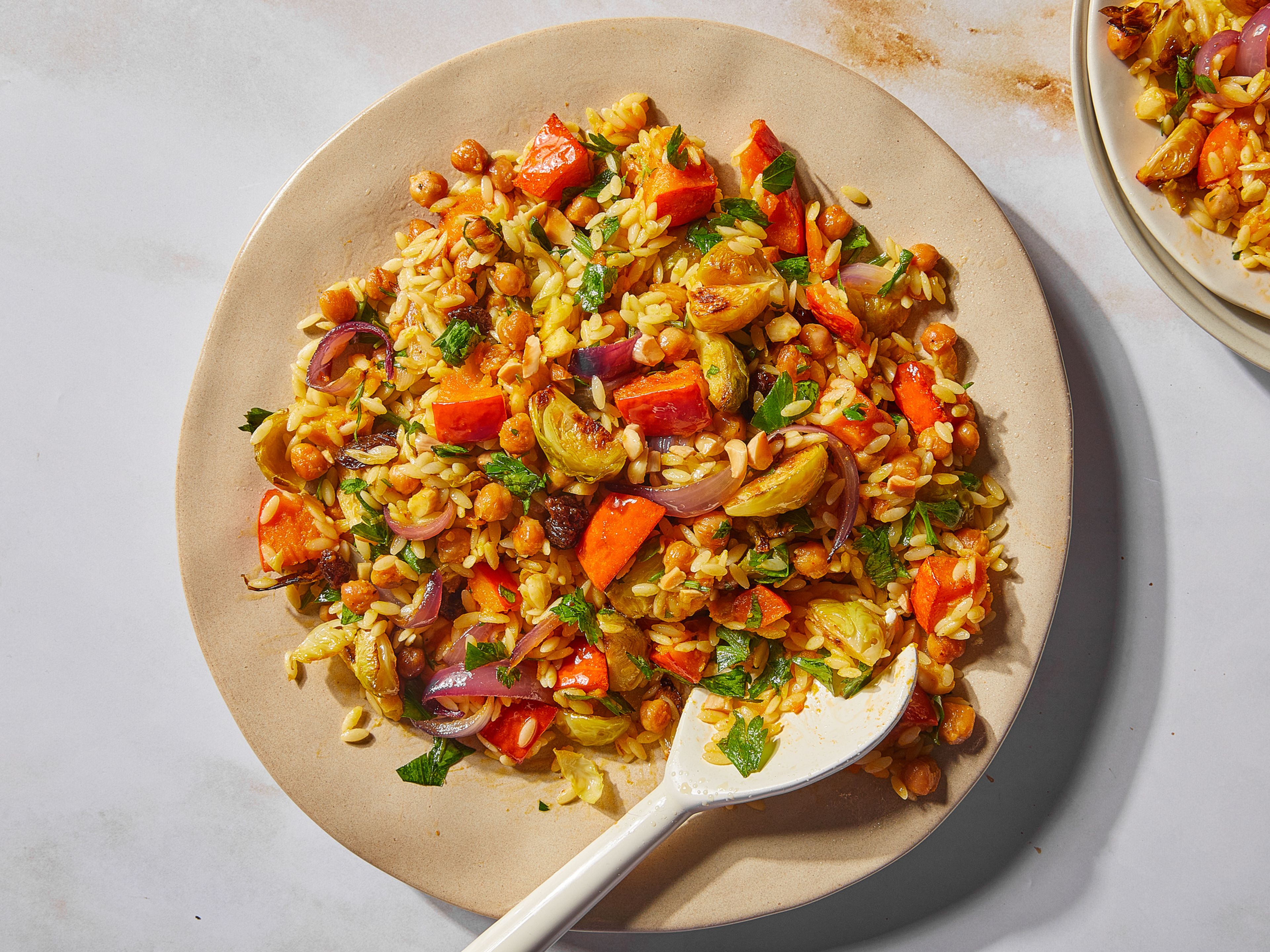 → Go to recipe
– Creamy pasta with broccoli 
– Roasted vegetable couscous
– Easy Chinese steamed eggplant with spicy garlic sauce
– Kung Pao cauliflower 
– Vegan massaman style curry 
– Vietnamese-inspired summer rolls 
– Roasted red cabbage steaks with crispy chickpeas
You might be wondering… What about desserts?
Yes, I know: I have a sweet tooth too. But not using milk or eggs doesn't mean you have to stop indulging in richness or sweetness! Many vegan desserts use fewer ingredients than their non-vegan counterparts, and induce natural sweetness from what they do use. It also means that a lot of them are extremely simple to put together, while retaining their creativity and fun.
No-bake brownies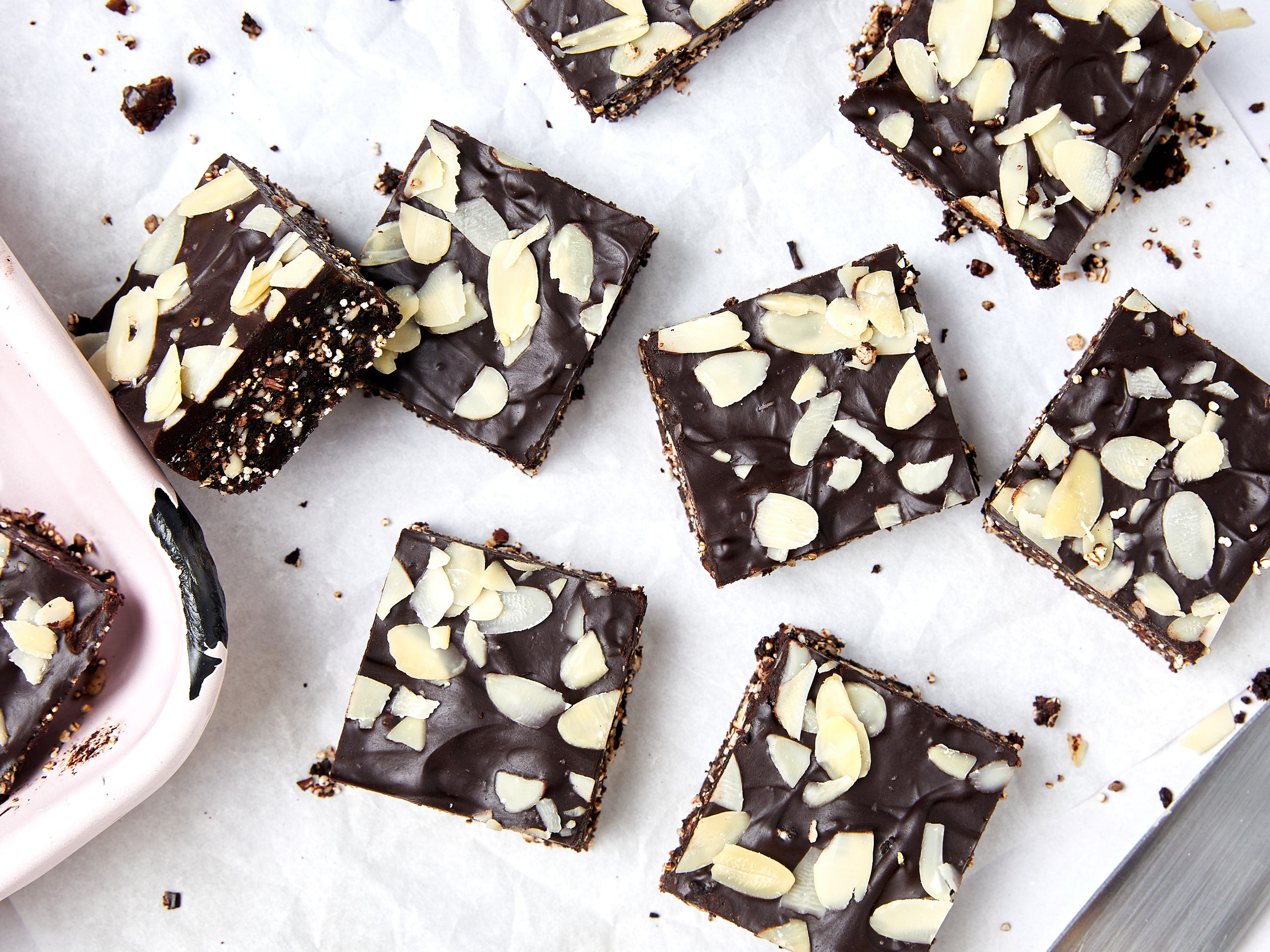 → Go to recipe
– Pistachio halva 
– Soy vanilla pudding with blueberry sauce 
– Fig-walnut bread 
– Vegan tahini chocolate chip cookies
– The easiest vegan chia seed banana bread
But okay, some smoothies and salads are too good to write off
While we're trying to focus on newer ways of trying vegan eating, we can't ignore the vegan staples: smoothies and salads. After all, much to my woe, they can taste good and fill you up, too. Try making these at home, have fun mixing up the ingredients and discovering how they compliment each other–both visually and taste-wise!
Roasted persimmon salad with maple-mustard vinaigrette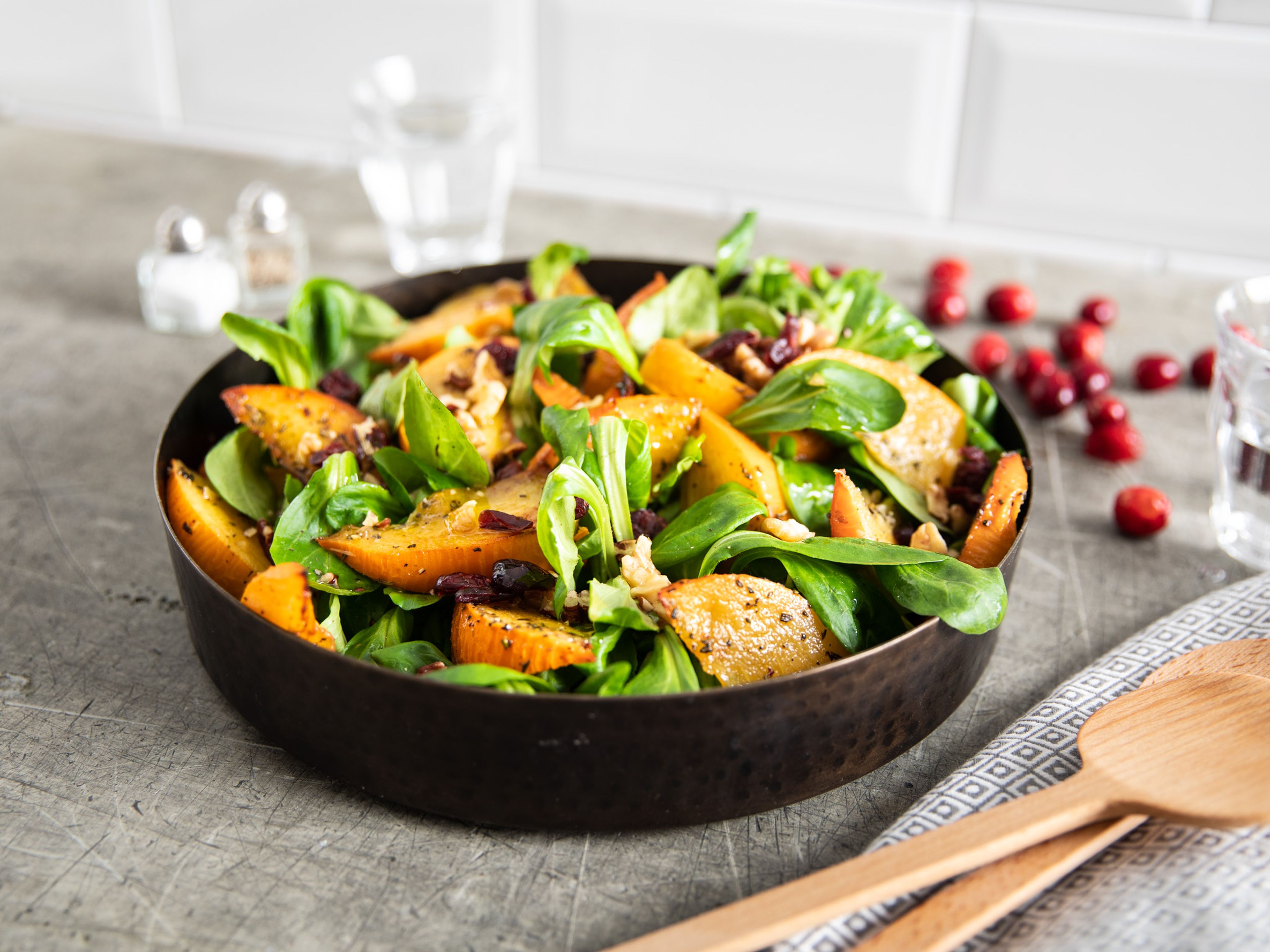 → Go to recipe
– Matcha smoothie bowl with chia seeds
– Dreamy chocolate date smoothie 
– Orange smoothie with arugula 
– Spelt salad with pumpkin, grapes, and hazelnut
– Fresh avocado and mango salad

Plant-based cooking is more about discovering new ways of using ingredients or highlighting flavors and textures that might have gone overlooked, than it is about removing ingredients or restricting the joys of eating and cooking. With this collection I hope we've convinced you to try at least a few and add them to your routine in the new year!
Published on January 9, 2023
More delicious ideas for you