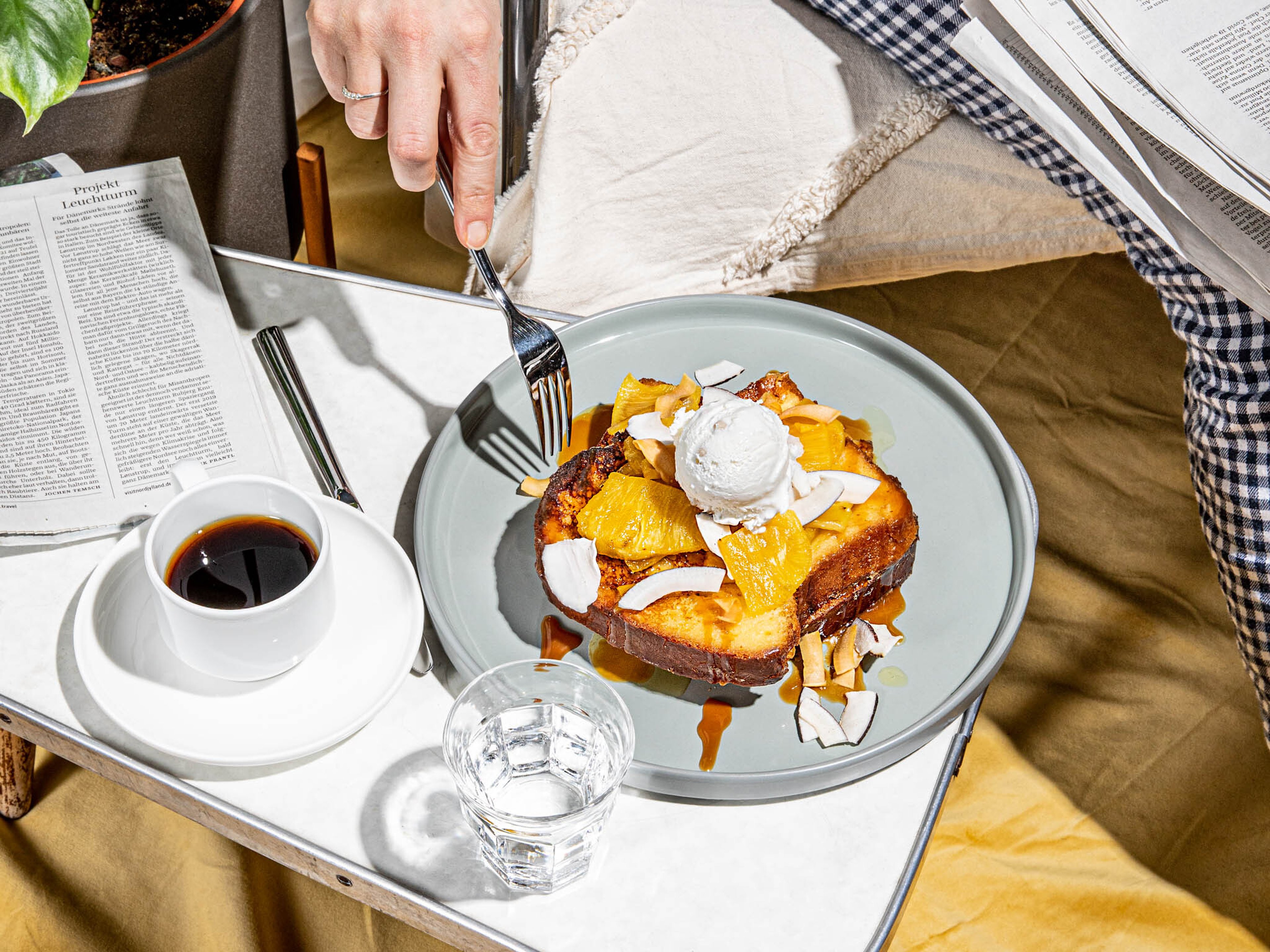 Invite Yourselves to A Cafe-Style Brunch—At Home
All the tricks and recipe ideas for dining like you're out... when you're staying in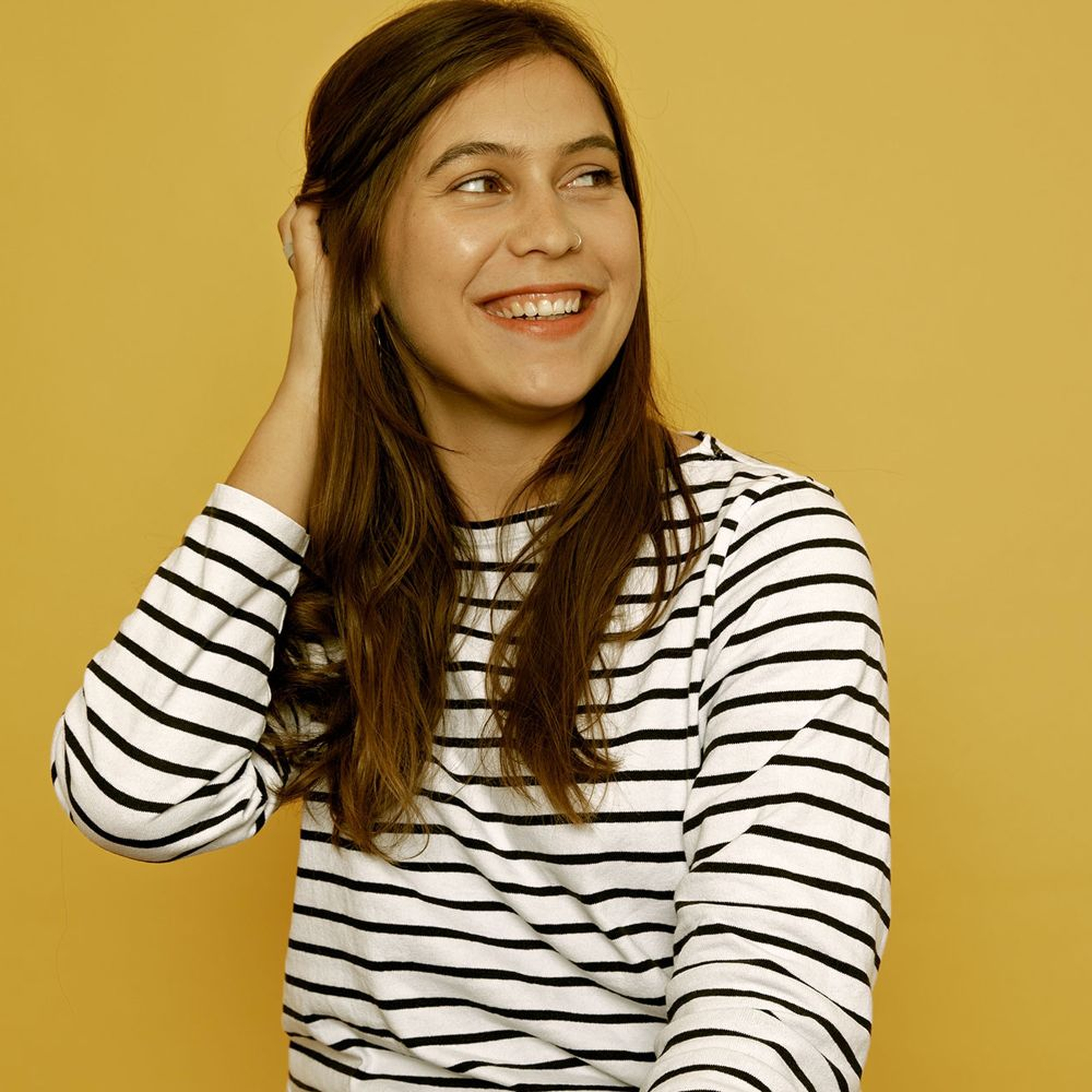 This article is part of our monthly issue "The Breakfast Issue," an all-you-can eat celebration of one of our favorite meals. All month long, we'll share tasty new recipes, fun ideas to entertain you at home, tips for better prep, and great starts for days to come! Check out this link to find an overview of all our weekly topics, stories, and recipes—and don't forget to follow us on Instagram for behind the scenes, extras, and more!
Though we're making do with the occasional takeaway coffee and a pastry stuffed into a bag on a chilly walk, there's no denying we miss dining out. Sitting at cafe tables and staring out the window at passersby, not having to cook or eat something out of a box, I even miss not being able to tune out of other people's too-loud conversations—but mostly it's the social occasion of meeting for food, of being surprised by someone else's cooking, that I miss the most.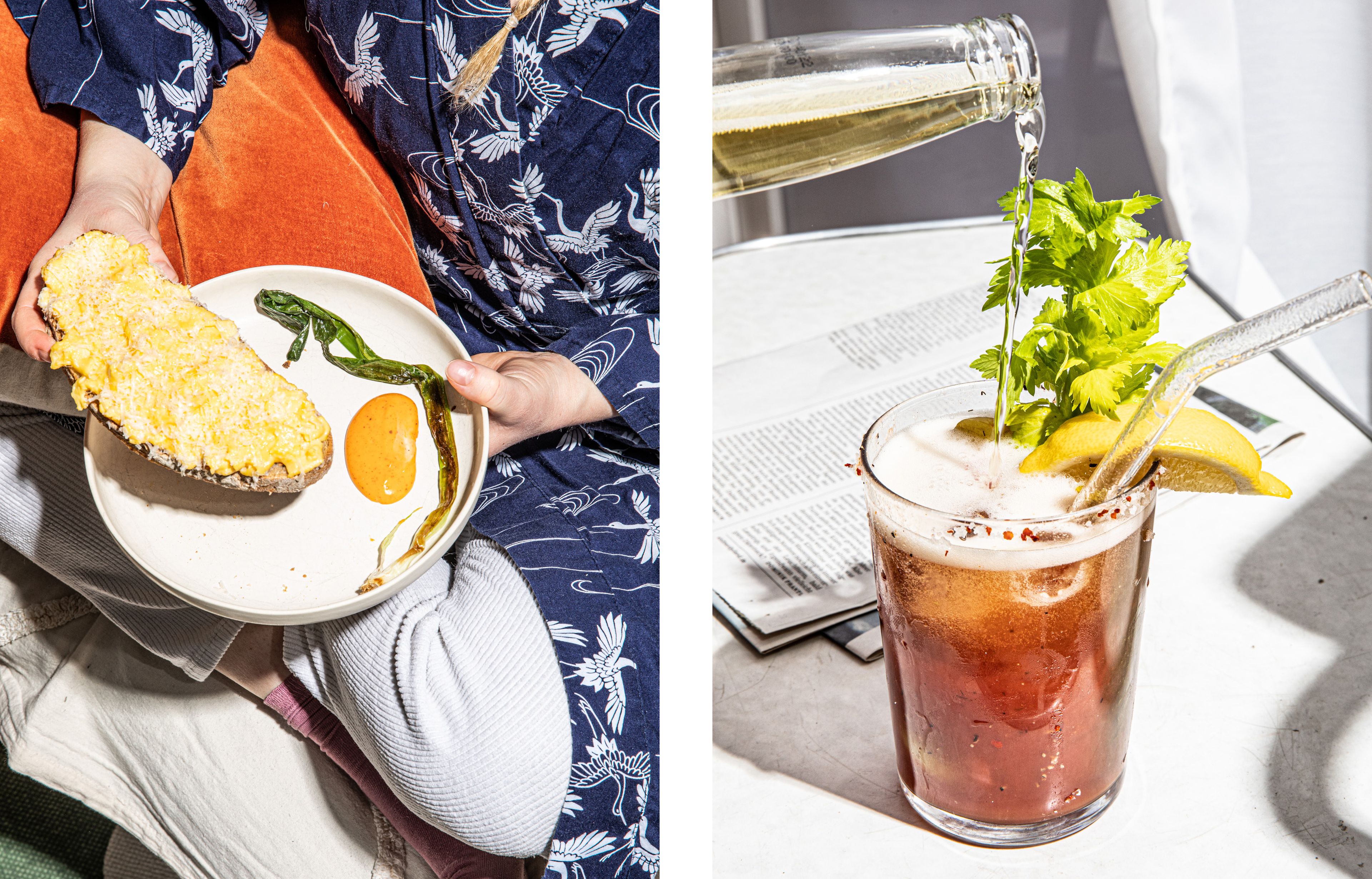 We couldn't have a breakfast issue without celebrating brunch. Far from just a gimmicky portmanteau of breakfast and lunch, to me, it's a much-needed term for a leisurely, but impressive meal that segues from morning into the afternoon. What more says the weekend, I ask?
It's is by nature a little "extra", veering off the tracks of your routine scrambled eggs or muesli and calling you to the table for a good time. Right now, when life feels more repetitive than ever, I'd argue that there is still every reason to make an impressive brunch—even without a crowd, even if you live solo—perhaps even more reason than ever. To paraphrase RuPaul, "If you don't love brunching with yourself, how in the hell are you gonna love brunching with somebody else?"
Here are 5 ways to boost your brunch at home, inspired by cafes we love and miss.
1. Take up a show-stopping brunch project
To make a truly bananas-impressive recipe, a great cafe makes use of cheffy techniques to elevate the simplest ingredients.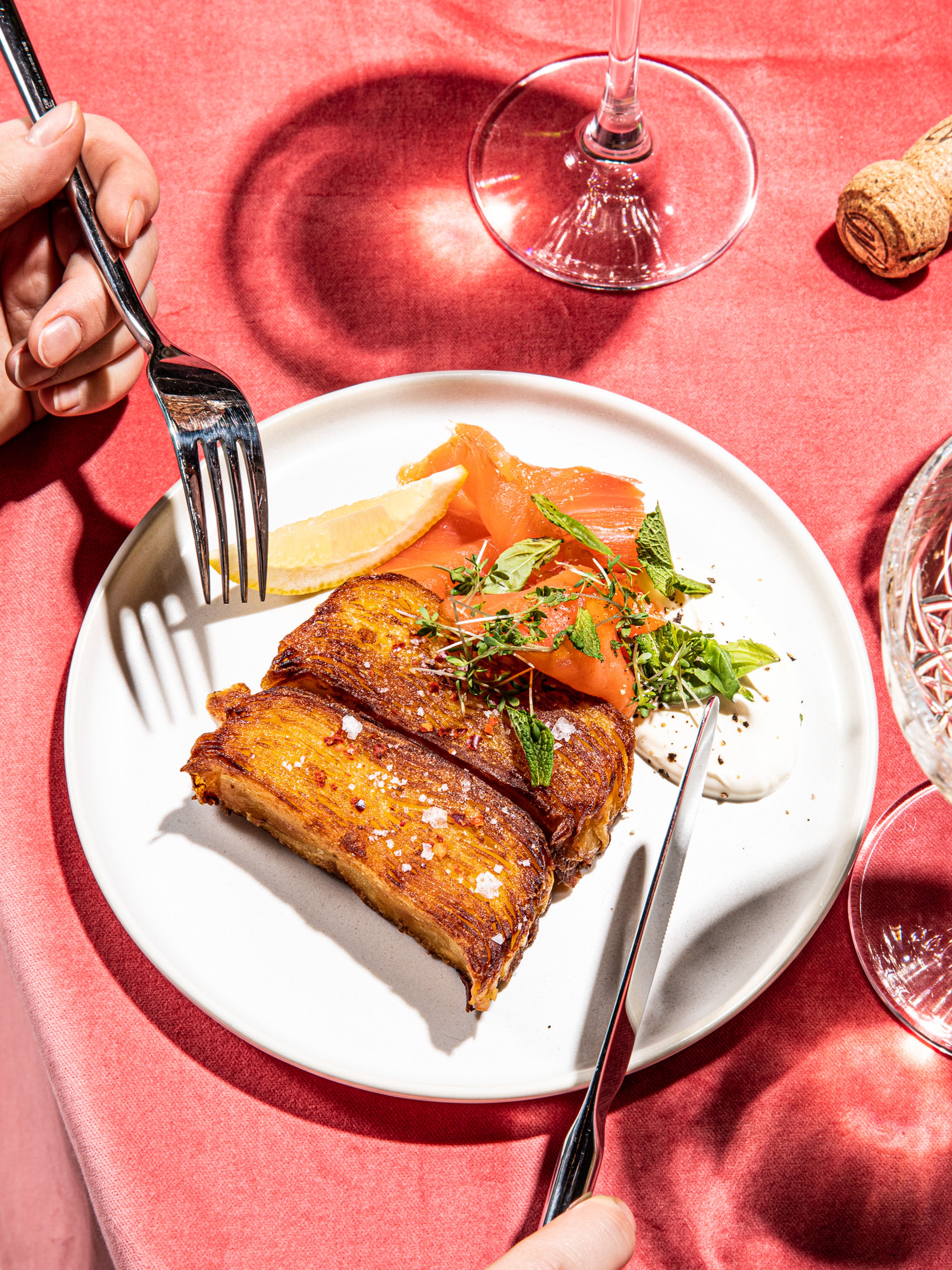 To show you how to eat like you're dining-out when you're staying-in, Hanna whipped up a recipe for crispy-on-the-outside, soft-on-the-inside potato stacks topped with smoked salmon, lemony sour cream, and a tumbling of cress and herbs. The dish is a nod to one of her favorite Berlin haunts. "I miss the whole routine of brunch, getting dressed up nicely, meeting friends, and having a long boozy feast outside in the sun. This recipe is inspired by a dish at one of my favorite brunch spots in Neukölln, Sorrel, and gives you that wow-factor—right in the comfort of your own home!," says Hanna.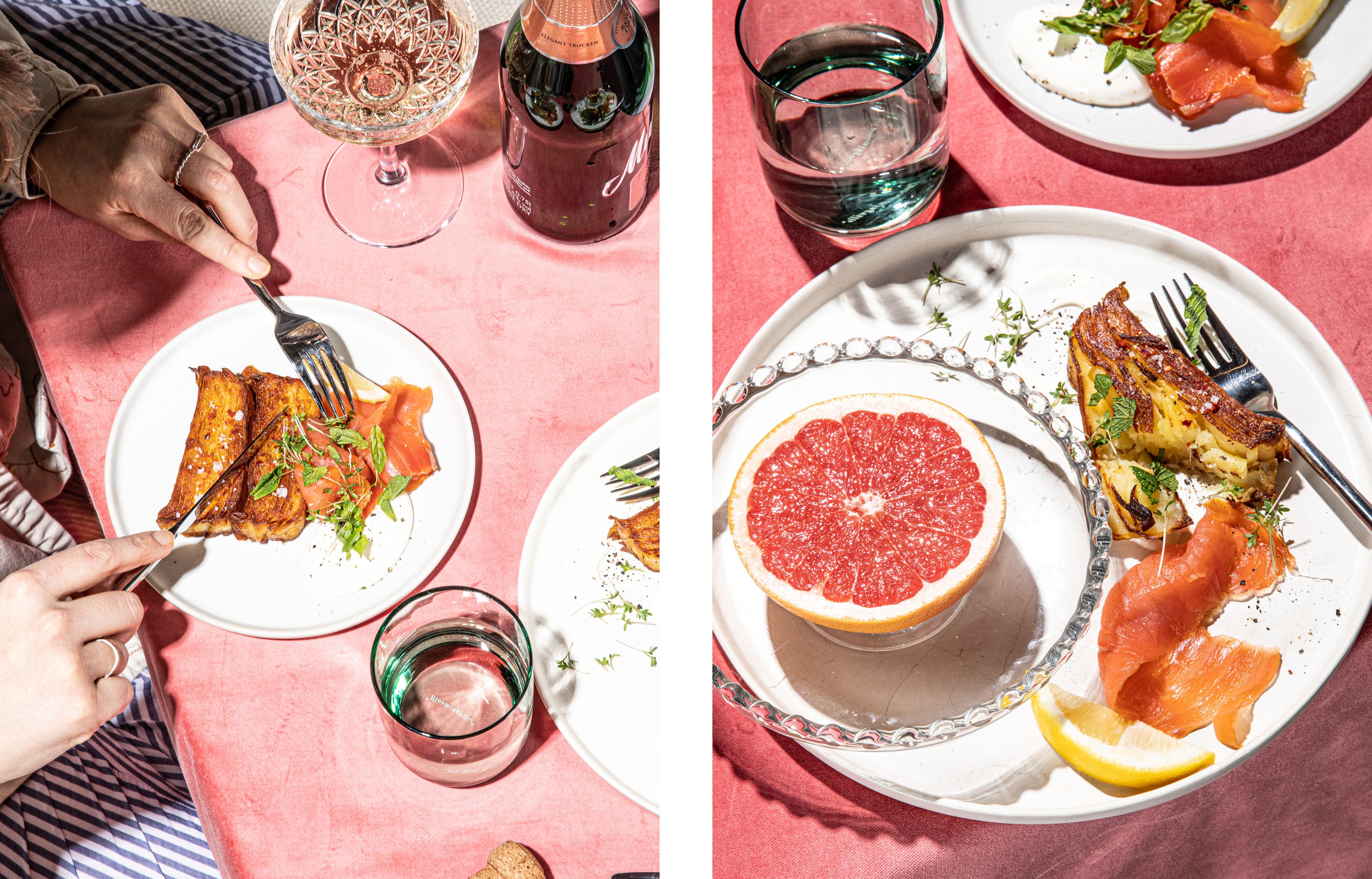 The recipe might look impressively technical—but as I watched Hanna make it on set, I was blown away by the easy process—truly magic! All you need to do is factor in the prep-ahead, overnight-resting time. Here's the technique: You layer thinly-sliced potatoes, bathe them in clarified butter and bake them, weighted down, until they become a compact potato brick. It then chills out overnight ready for you to slice, fry, and dress it up in the morning.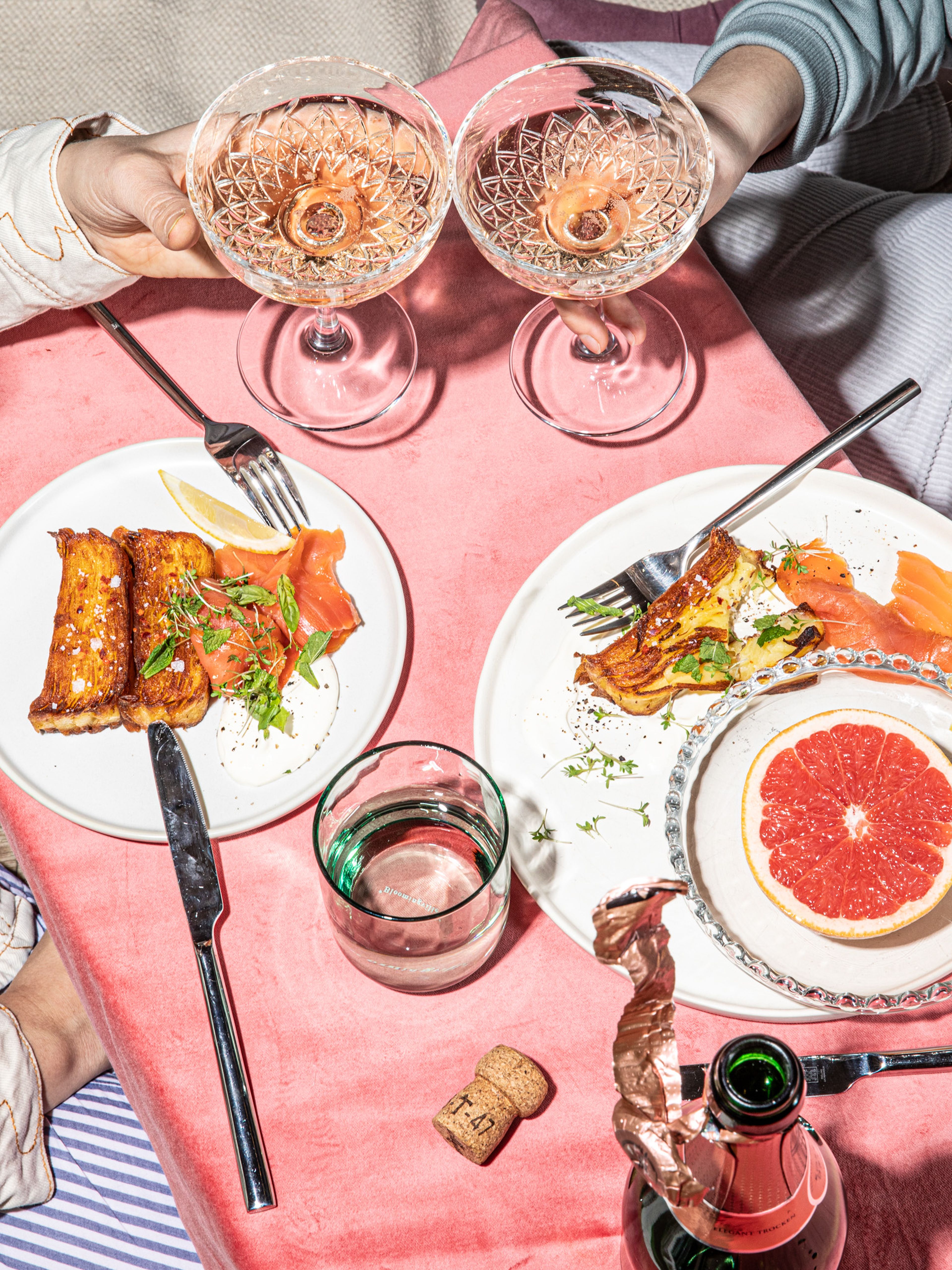 Click the recipe link below to watch Hanna make the perfect brunch potato stacks!
Make crispy potato stacks and smoked salmon with Hanna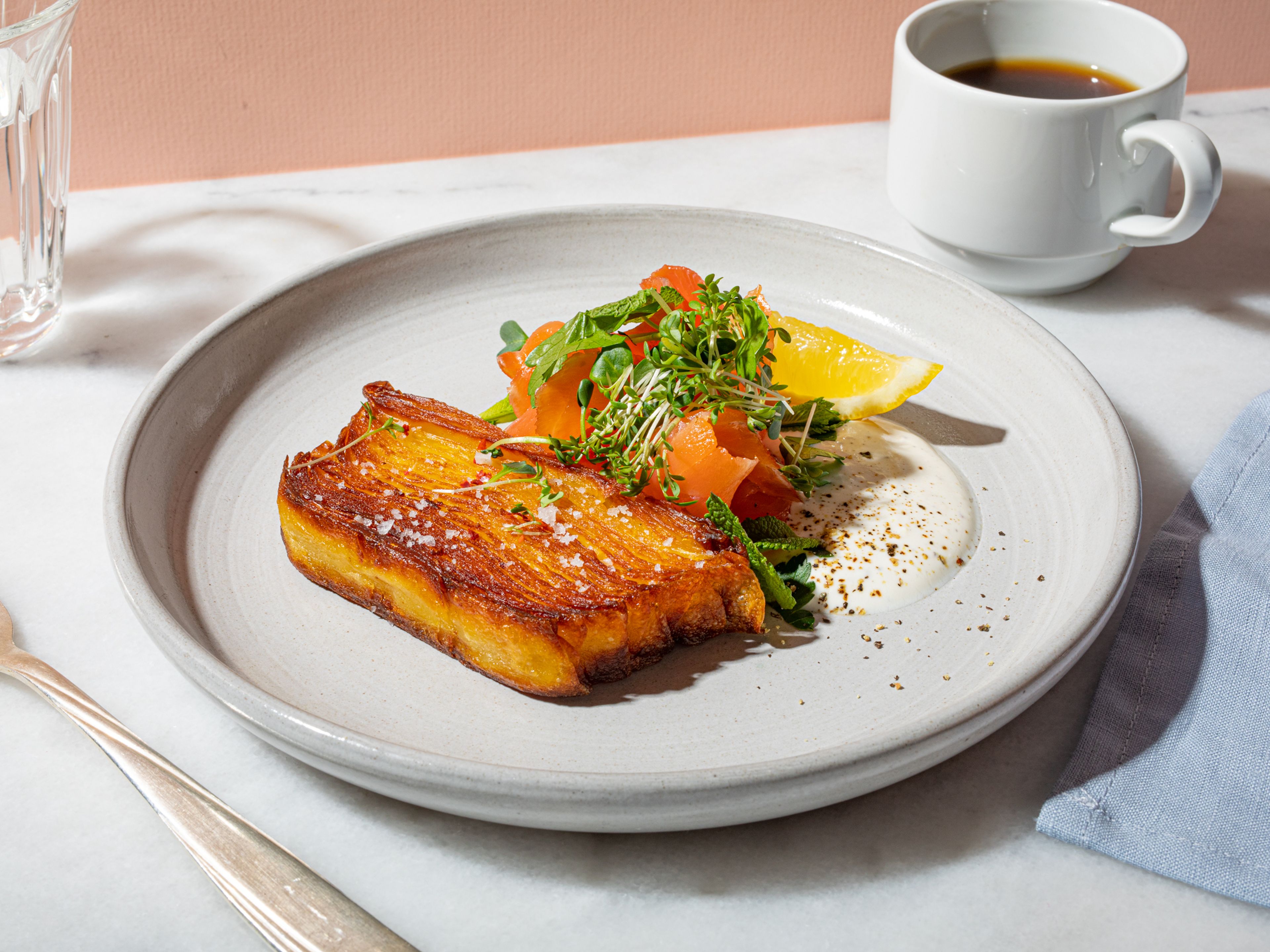 → Go to recipe
2. Upgrade classic breakfast recipes
My favorite brunch dishes involve being surprised by the experimental. One of my most memorable was softly scrambled eggs on sourdough, drenched with a chili-caramel sauce at Wide Open Road in my hometown, Melbourne—possibly the first spot I ever had brunch out.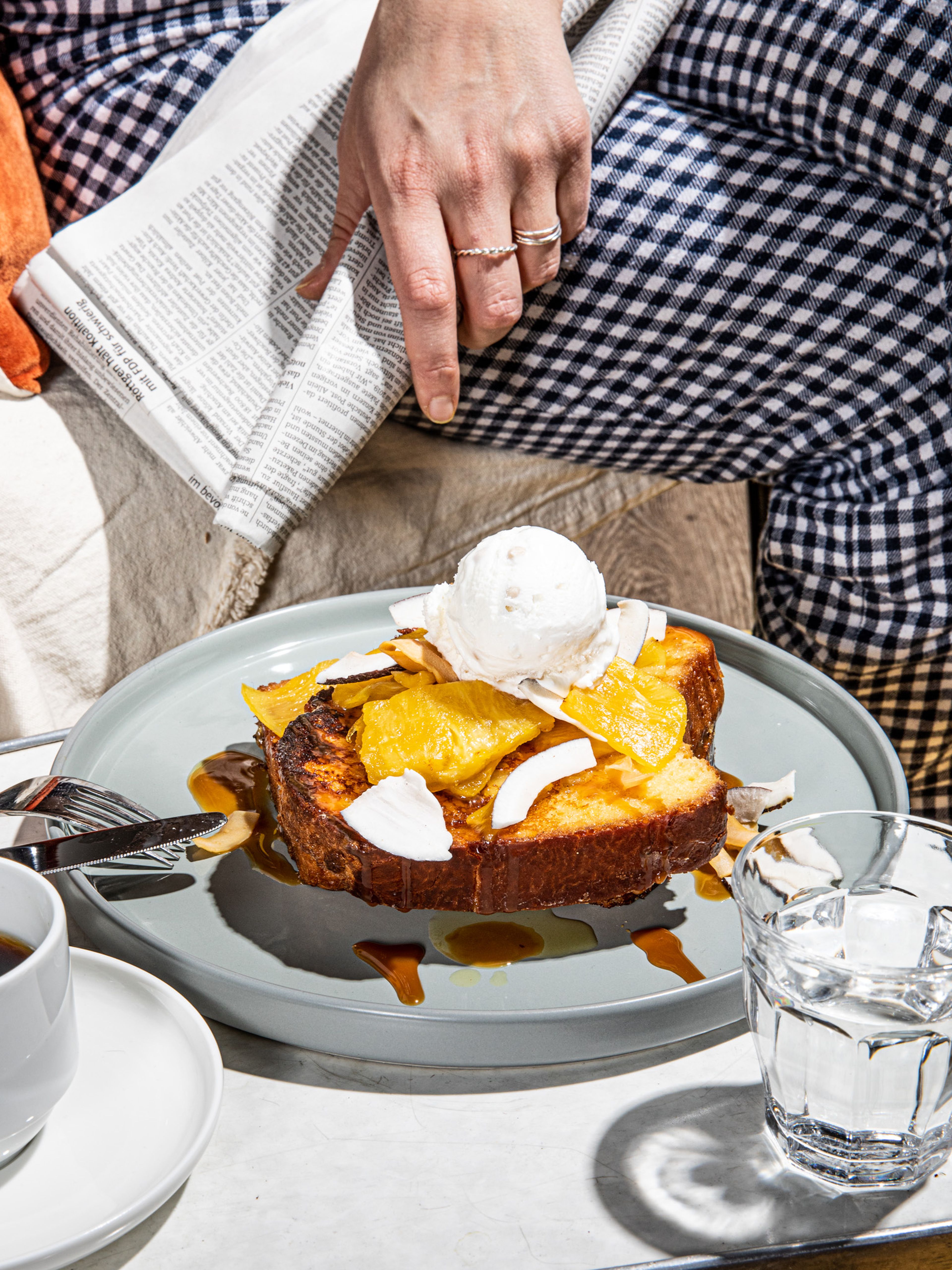 Taking cues from your favorite menus, you can get as creative as you like (I tried a take on the above at home and it was well, well worth it)  and load up your favorite pancakes, waffles, eggs, or French toast with any manner of toppings.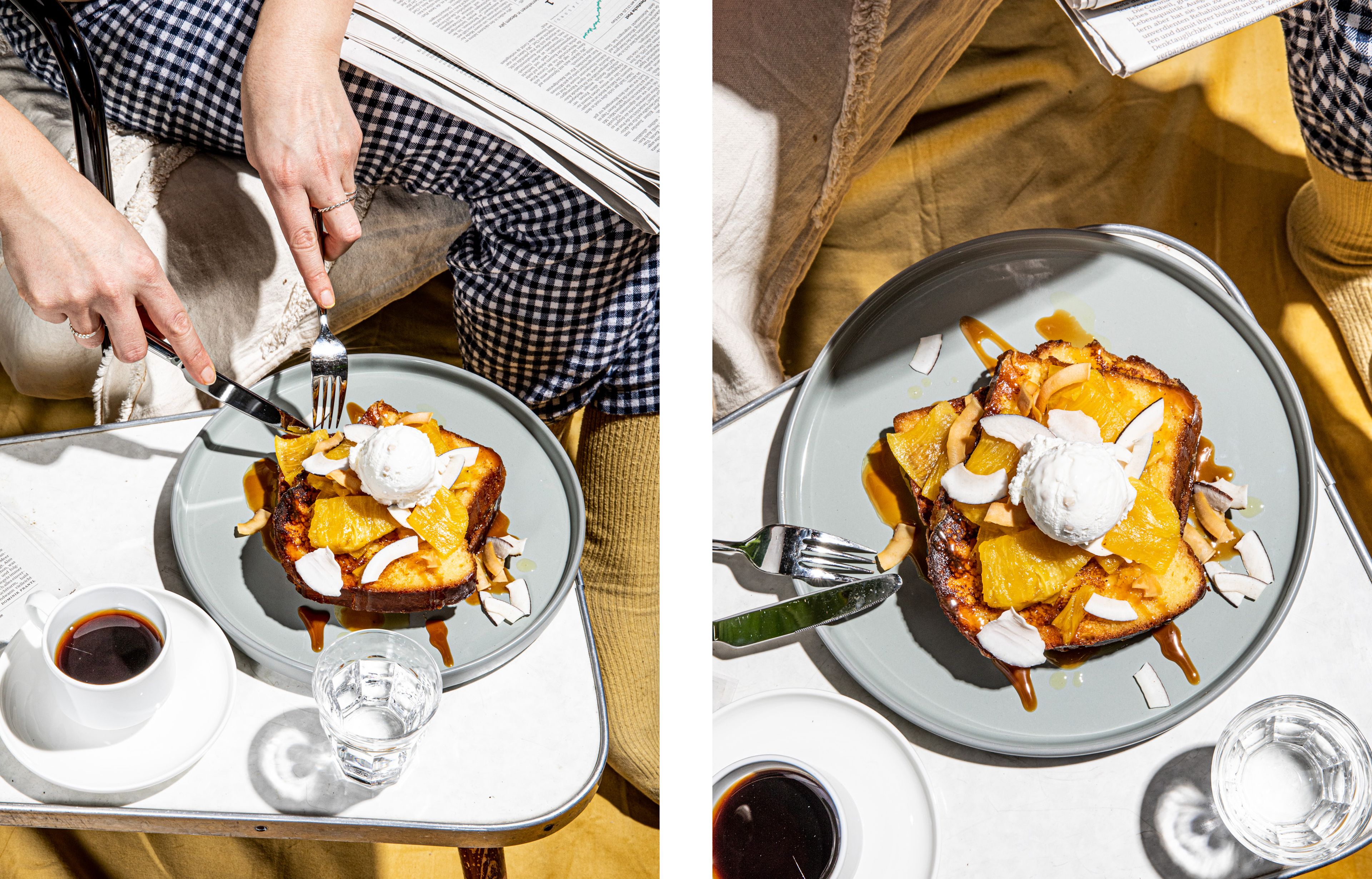 Sticking to the caramel theme, Hanna recreated her version of a dish from another Berlin cafe, YaMe Numnums to deliver you some extra inspiration in the form of caramel, coconut, and pineapple-studded French toast. When she doled out extras from the shoot, I heard an empty plate returned with the words: "That was the best French toast of my life". 
For the pineapple, she makes her go-to recipe: Make a simple sugar caramel (find everything you need to know here), add fresh or drained, canned pineapple, and let it caramelize. Add a pinch of saffron, deglaze with Pernod, and cook until the sauce thickens. Ta da! Pour the sauce all over freshly fried French toast, add a scoop of coconut ice cream, and shower on toasted coconut flakes.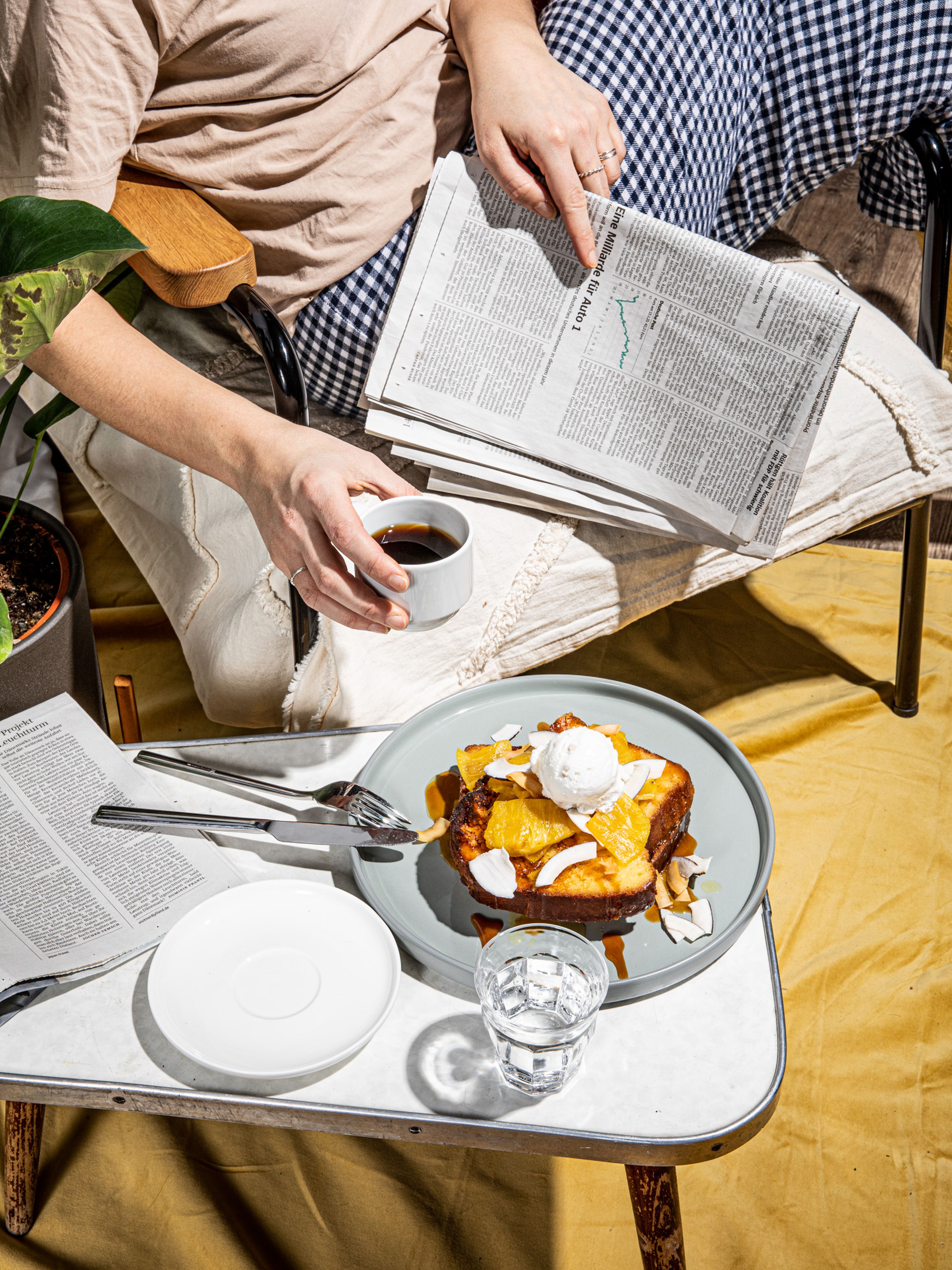 More ideas for re-interpreting your favorite breakfast recipes:
3. Gogh for it—your plate is your canvas
To create a brunch-worthy dish you want to look at as much as you want to dive into, you don't need any fancy ingredients. The proof is in the pictures above and below.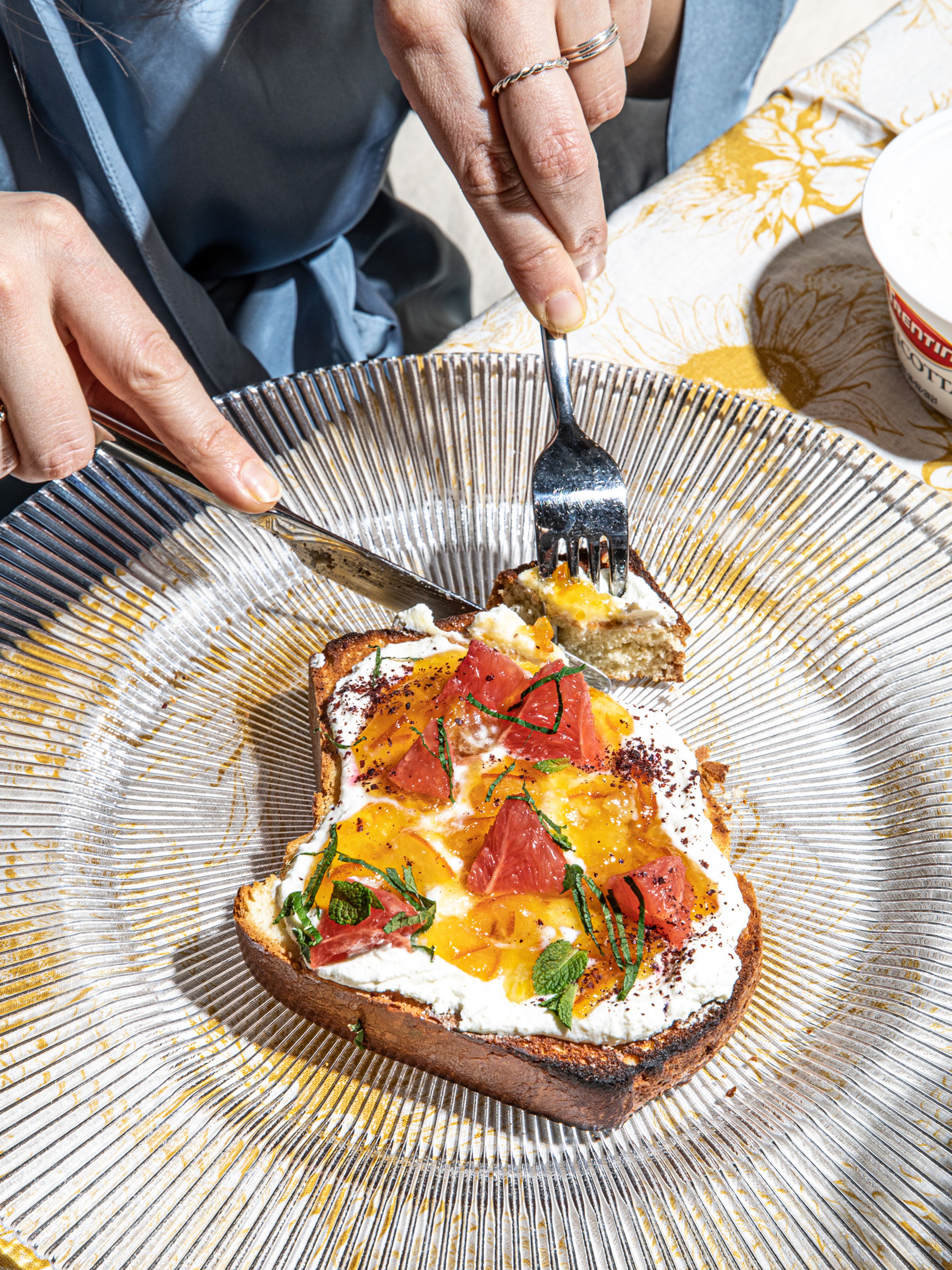 Here's one of my favorite things to eat in bed on the weekend: Thickly sliced brioche or crusty white bread. Spread with a thick layer of ricotta, spoon on dollops of marmalade, and top with small slices of grapefruit, before adding mint, a final dust of lemony, vibrant sumac and some flaky sea salt to round off the flavors. Every ingredient is there for a tasty reason and together, they're an artwork!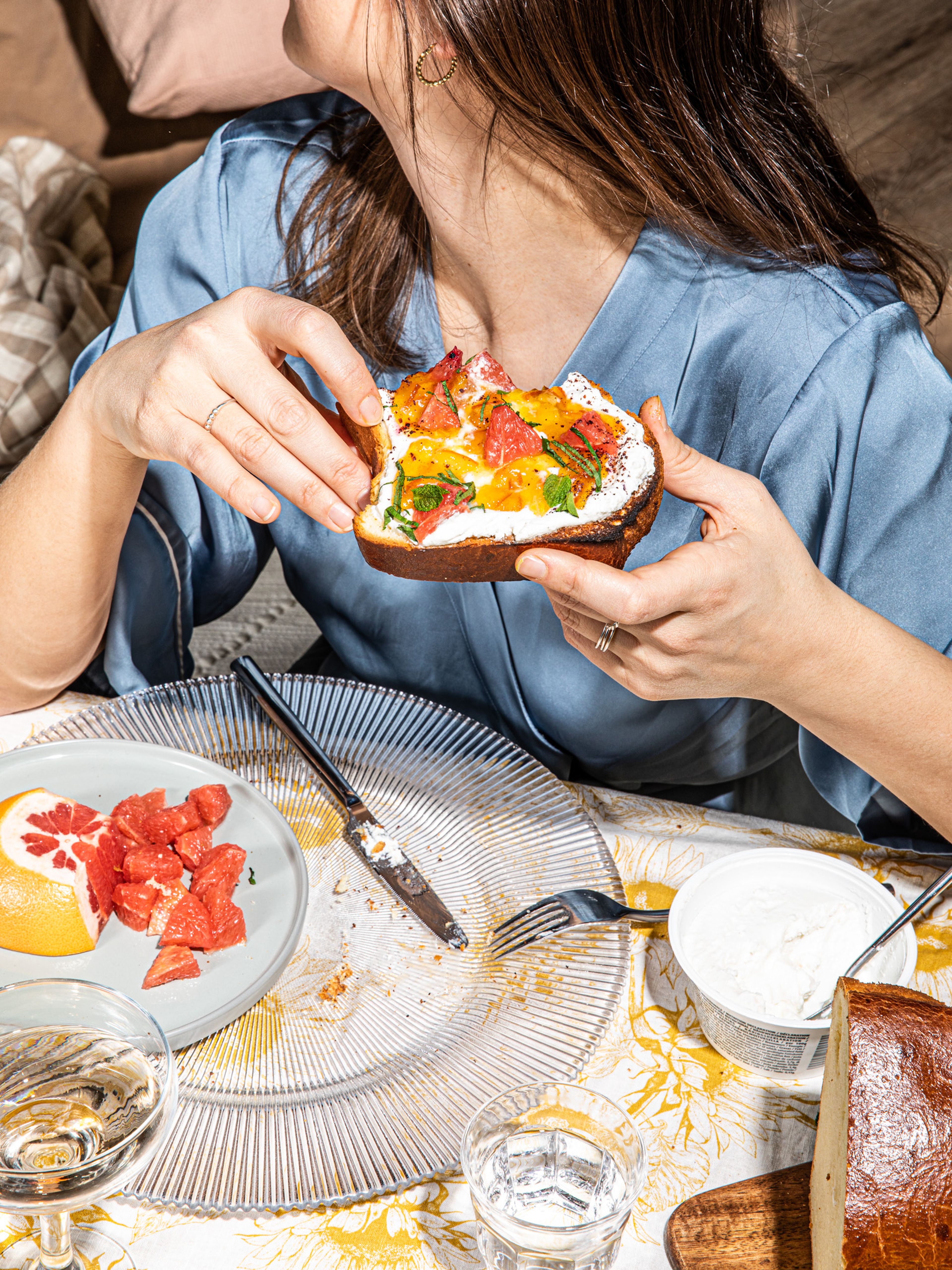 Use this formula with various creamy spreads (mascarpone, nut butter, tahini) and sweet spread (raspberry jam, honey, maple syrup), whatever fresh or dried fruit (from figs to dried cranberries) you have on hand, or whatever nuts and seeds in your cupboard (a crumbling of pistachio or a sprinkle of sesame).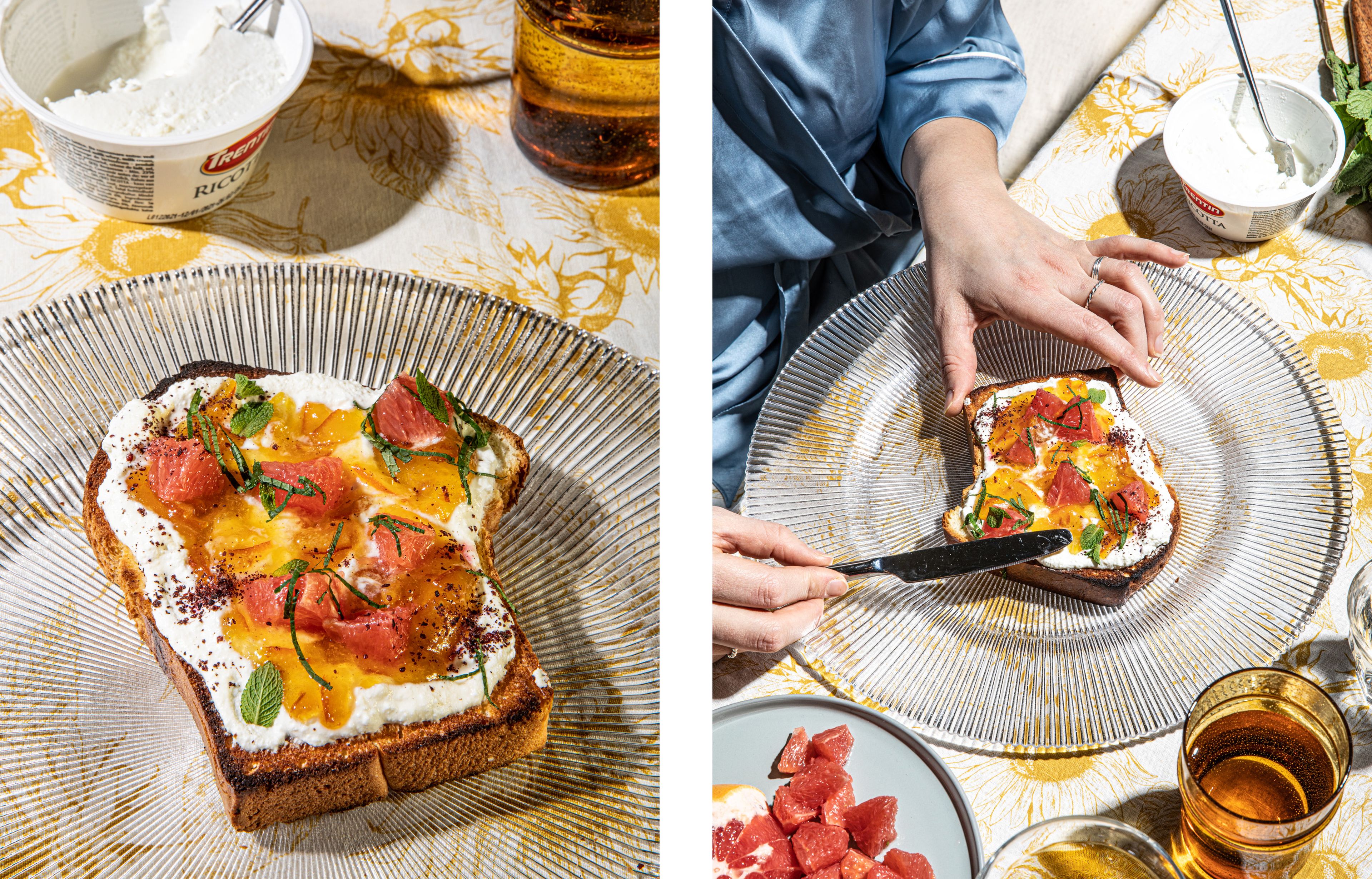 More of our favorite ways to plate:
3. Rethink eggs
Cafe's do wonderful things with the humble egg—offering the perfect inspiration for your weekend. The following is inspired by a dish at the cafe Annalies in Berlin where softly scrambled eggs are topped with a grating of cured egg yolk and served with kimchi and mayo. It looks and tastes like a plate of total sunshine.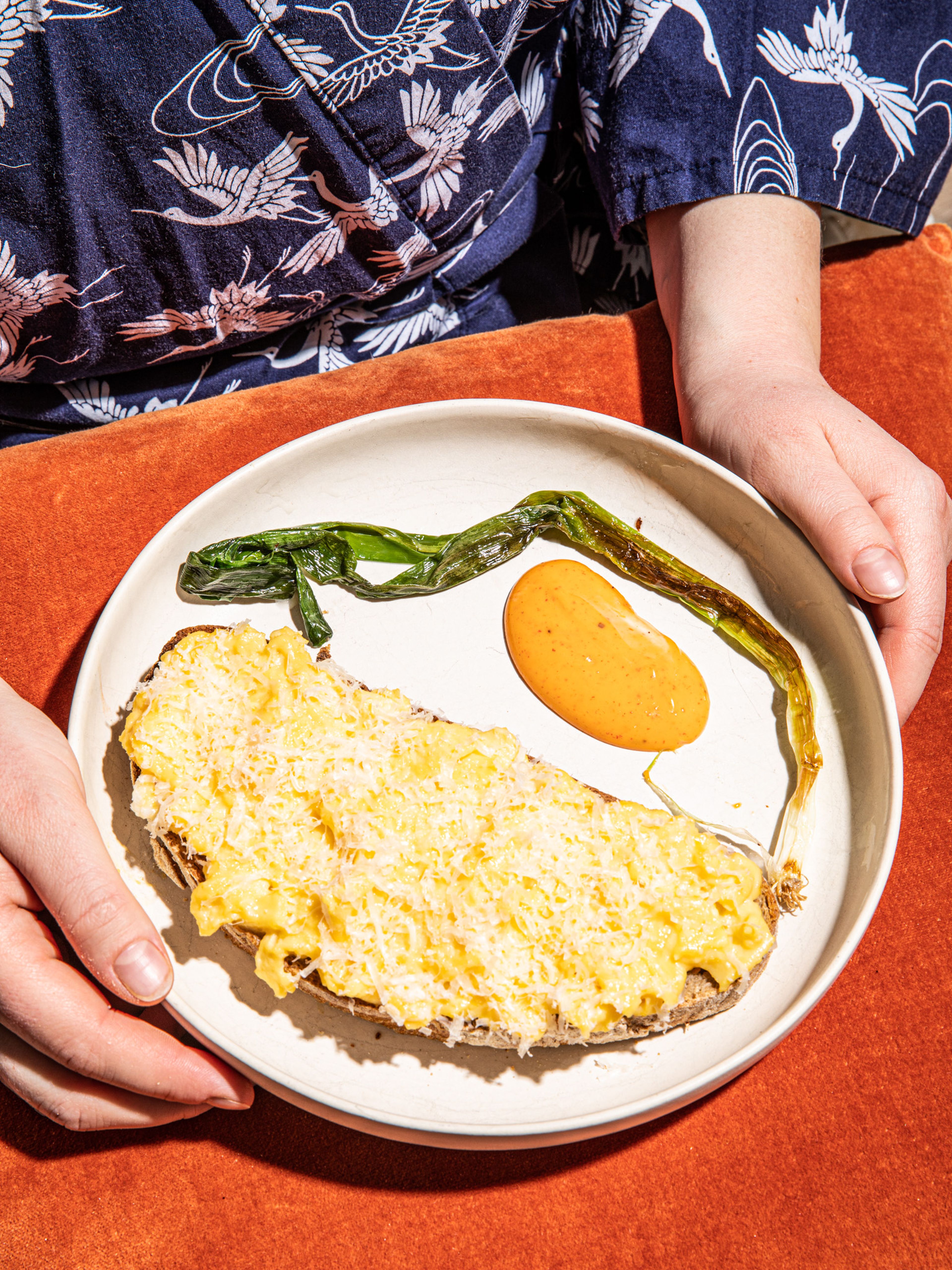 At home, sans the effort of cured egg yolk, try the following: Char a couple of scallions in a hot pan, then set aside. Add a generous amount of butter to a pan and gently scramble your eggs into a custardy tangle. Spoon onto toasted sourdough, add a dusting of microplaned Parmesan, and serve with a dollop of two parts mayo and one part Sriracha or gochujang. Plate as below.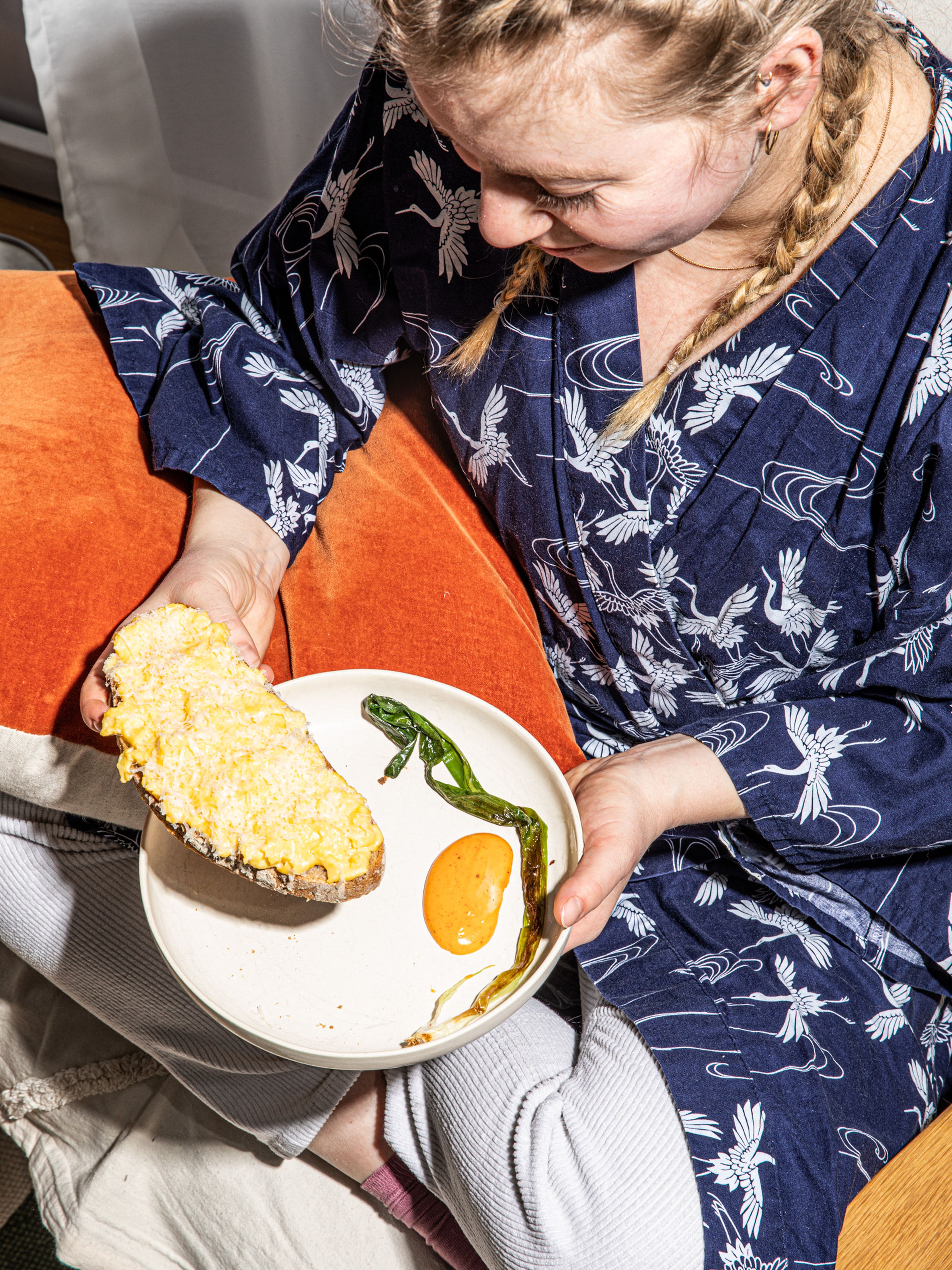 More brunchy ways with eggs:
5. The drinks don't stop at caffeine
Brunch suggests drinks beyond coffee. For some gentle effervescence in more ways than one, we bring you a drink as fun as the name suggests: Chambucha. Fill a pitcher half with kombucha and half with the sparkling wine of your choice, pour over ice and garnish with mint and a slice of lemon. You can try all sorts of kombucha—we'd suggest pairing a lightly, lemony kombucha with a dry sparkling wine and berry-forward kombucha with a sparkling rosé.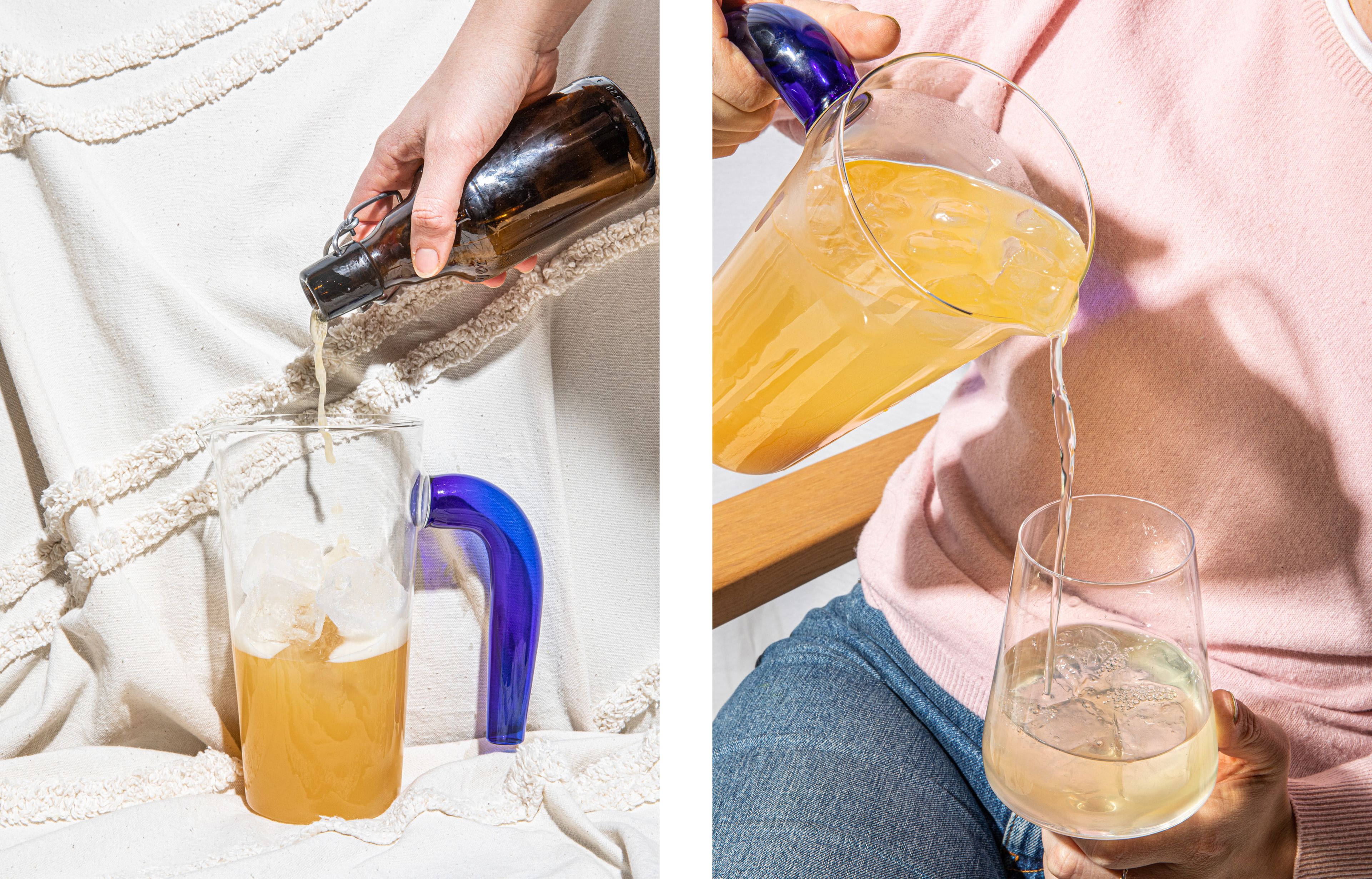 For anyone looking to start the day with even more of a kick, Hanna's current drink of choice (and one that you can make while those potato stacks are frying) is a bloody Mary inspired by Molly Baz—a twist that sits somewhere between the classic bloody Mary and a michelada, it's loaded with olives, pink onions, and pickles—almost like a meal itself in a glass. You can see Hanna's version on our Instagram!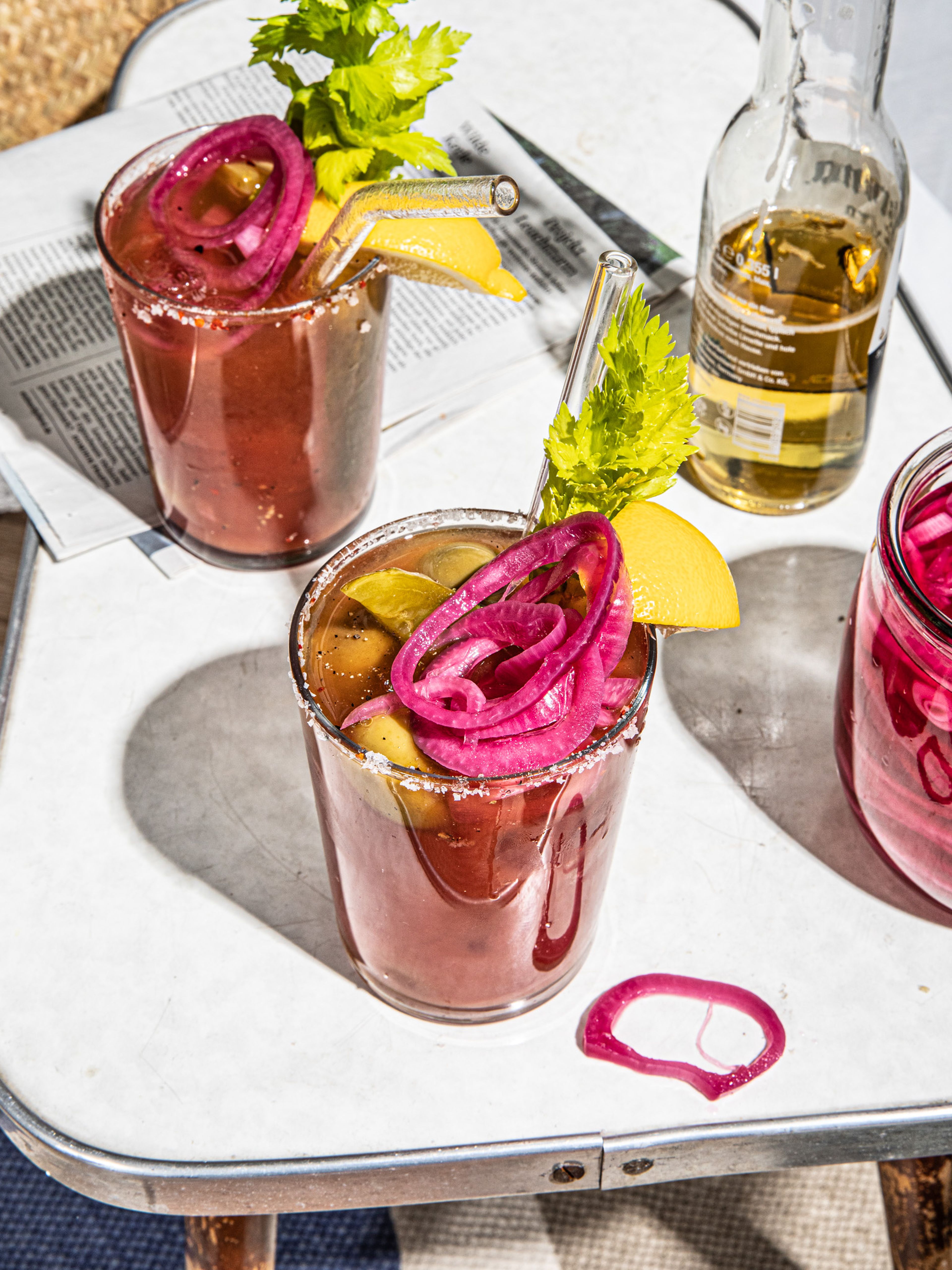 More brunch drinks to mix up:
What are your favorite brunch dishes? Are there any cafe creations you are missing right now? Let us know in the comments! We hope you try out our tips at home!
Published on February 19, 2021
More delicious ideas for you