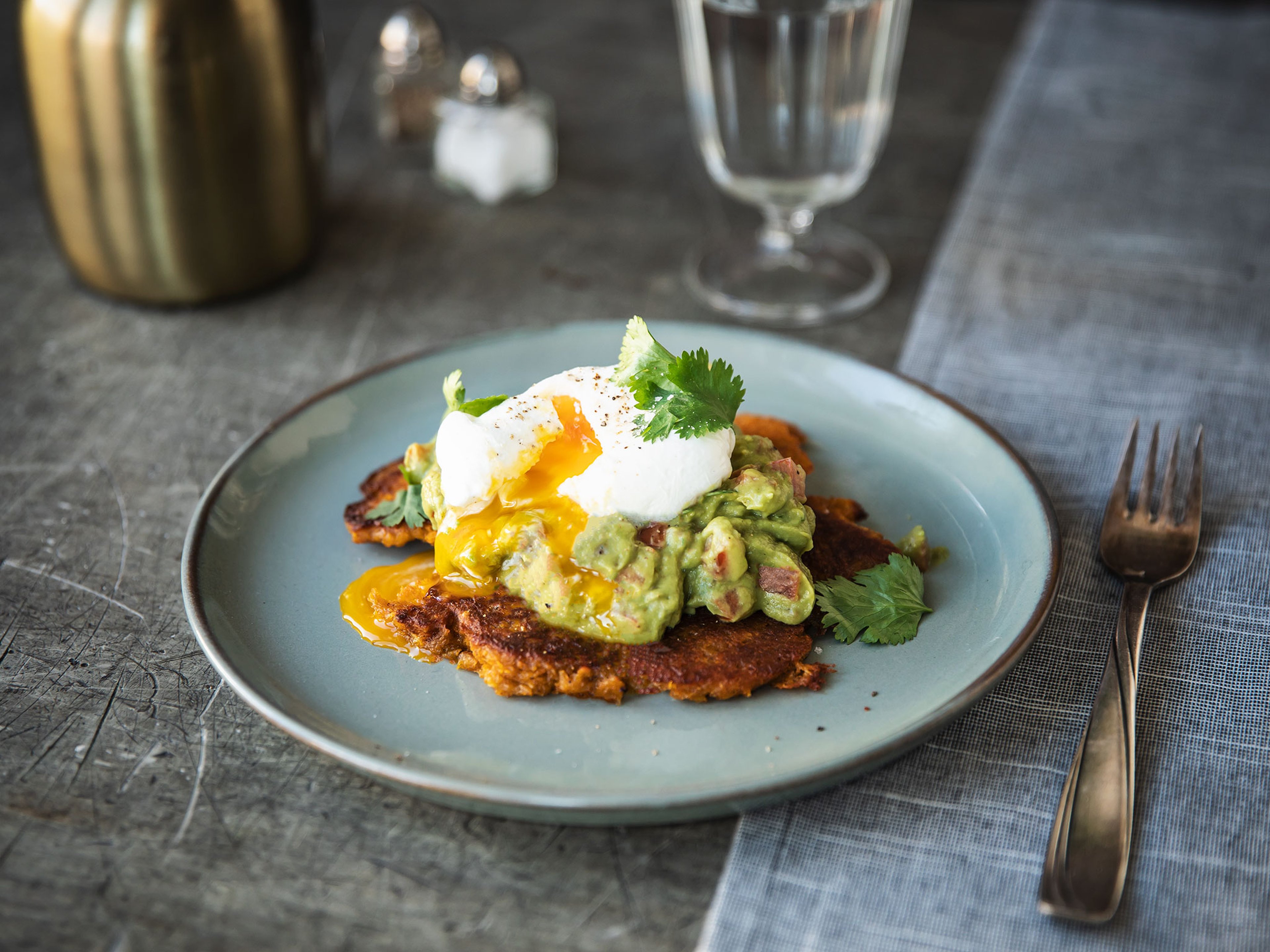 Sweet potato fritters with guacamole and poached egg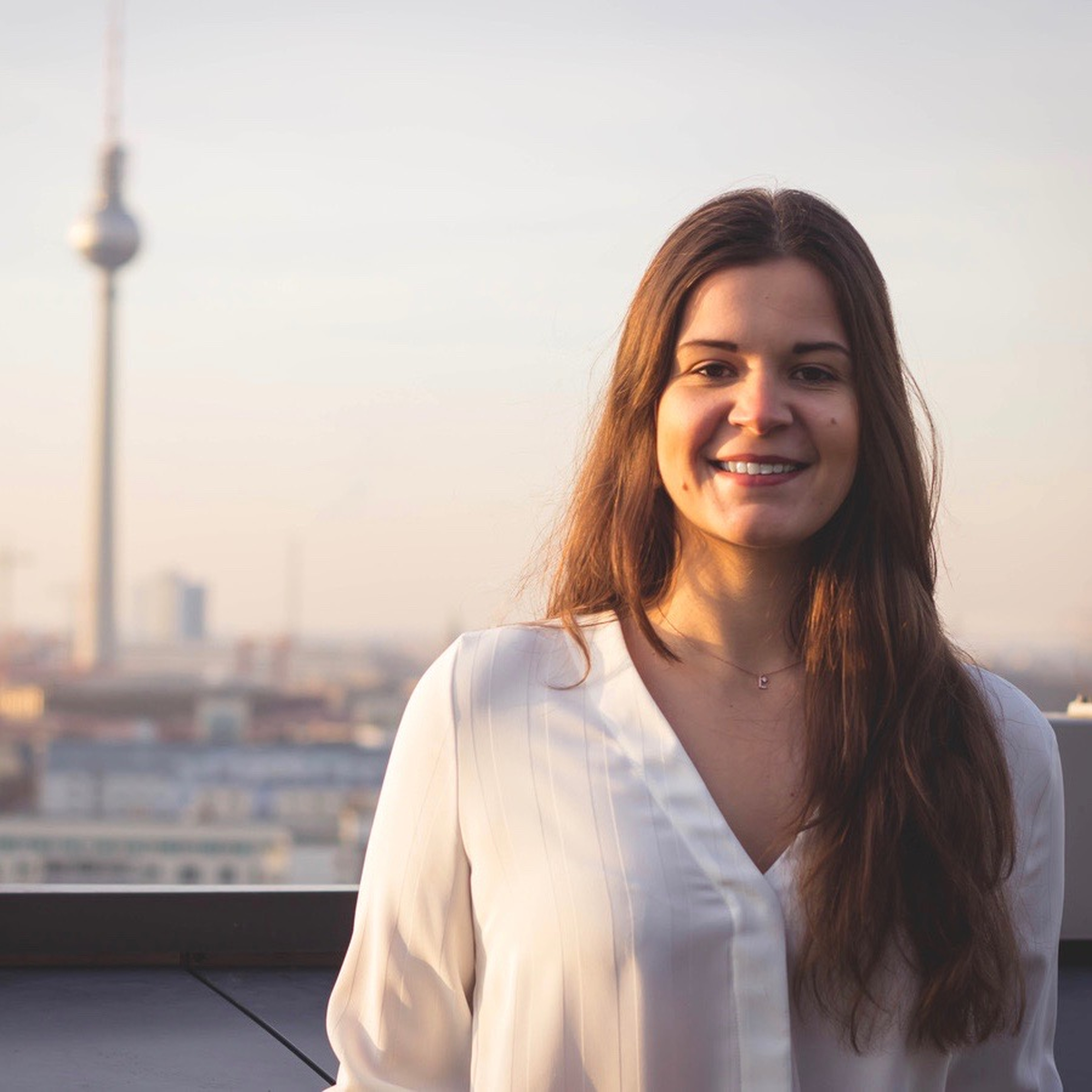 "Want a shortcut with more flavors? Try our AVOCADO DREAMS seasoning in this recipe!"
Ingredients
Kitchen Stories Avocado Dreams seasoning (optional)
Utensils
peeler, box grater, kitchen towel, cutting board, knife, bowl (large), rubber spatula, liquid measuring cup, immersion blender, frying pan (large), offset spatula, pot (small), bowl (small), slotted spoon, Avocado Dreams seasoning
How to secure a cutting board
How to poach an egg
How to pit and cut an avocado
Step 1/ 4

300 g

sweet potatoes

1 cloves

garlic

1½ tbsp

olive oil

1½

eggs

½ tsp

ground coriander

½ tsp

ground caraway

1

avocados

3 tbsp

starch

salt

pepper

peeler
box grater
kitchen towel
cutting board
knife
bowl (large)
rubber spatula

Peel the sweet potatoes and grate finely with a box grater. Drain the liquid out by placing the grated sweet potato in a kitchen towel and squeezing it. Finely mince the garlic. Add garlic and sweet potatoes to a bowl along with olive oil, eggs, ground coriander, ground caraway, salt, and pepper, and mix well. Add starch and mix again. Halve the avocados and remove the stones.

Step 2/ 4

1

tomatoes

½

lime

1 tbsp

olive oil

½ tbsp

sugar

¾ tsp

chili flakes

5 g

cilantro

salt

pepper

liquid measuring cup
immersion blender

Using a spoon, add avocado flesh to a liquid measuring cup and puree using an immersion blender. Quarter the tomatoes, remove the seeds and chop into small dice. Juice the lime and add to the avocado along with olive oil, sugar, salt, and chili flakes. Stir the tomatoes through the blended guacamole. Chop cilantro and set aside.

Step 3/ 4

frying pan (large)
offset spatula

Heat sunflower oil in a larger pan. Add in spoonfuls of sweet potato mixture and fry in batches, pressing them flat, and frying on both sides until golden brown. Repeat until mixture is used up.

Step 4/ 4

1 tsp

distilled white vinegar

2

eggs

Kitchen Stories Avocado Dreams seasoning (optional)

pot (small)
bowl (small)
slotted spoon
Avocado Dreams seasoning

For the poached egg, bring a small saucepan of water to a simmer with the vinegar. Crack the egg into a small bowl and release into the water by gently lowering the bowl to touch the surface of the water. Remove after approx. 2 min. for a soft egg or approx. 4 min for a firm egg. Serve the sweet potato fritter with guacamole, poached egg, and coriander. Sprinkle with our AVOCADO DREAMS seasoning if liking.

Enjoy your meal!
More delicious ideas for you