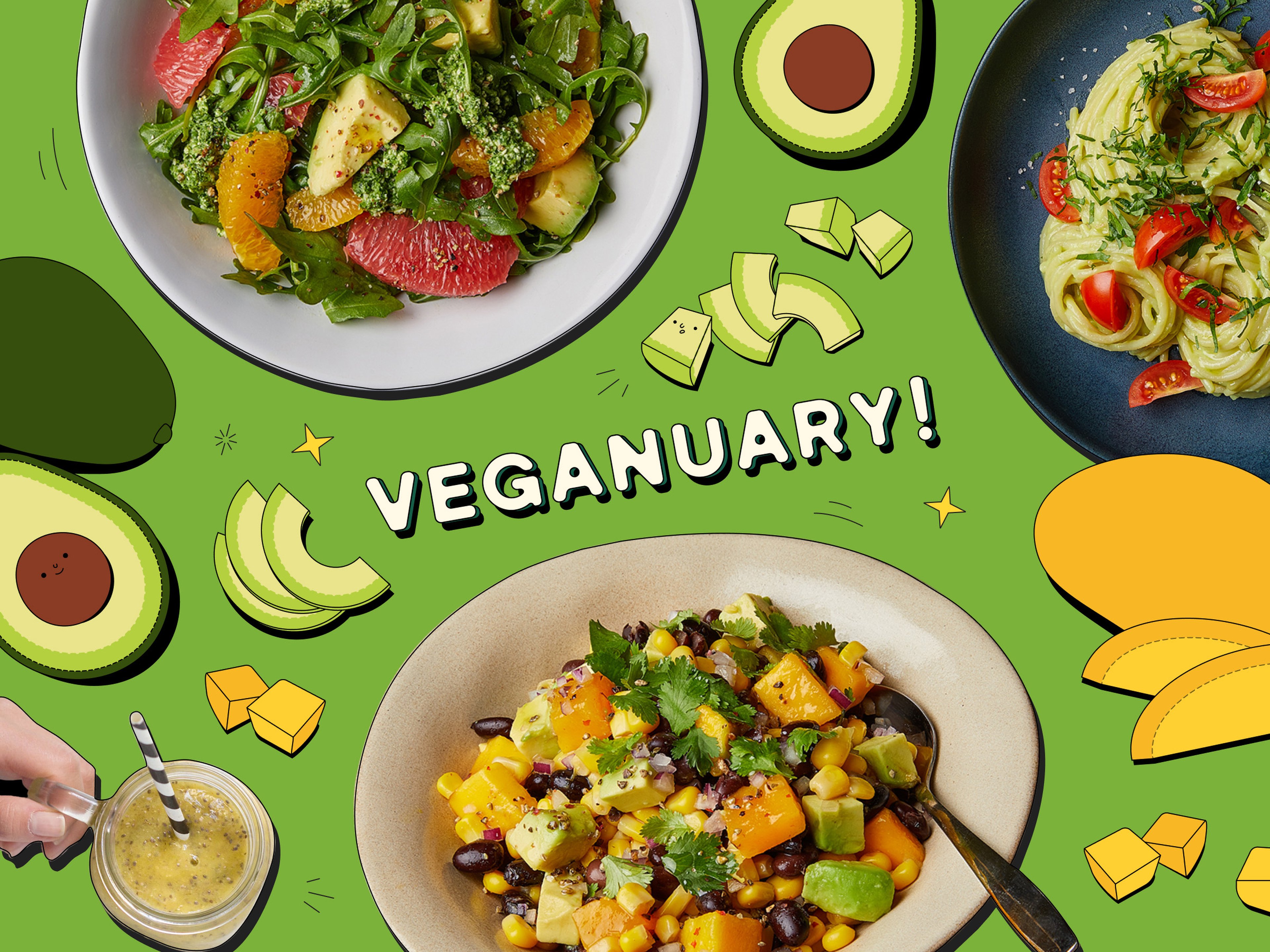 5+ Recipes With Fruits For a Vegan Start to The New Year
Veganuary - trivia, tips & vegan recipes with delicious fruits!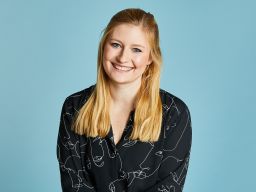 Food Editor at Kitchen Stories
Do you know what month it is?
That's right, it's Veganuary and we are sure: Anyone can cook - vegan!

Welcome to the Veganuary at Kitchen Stories! Today we have a focus: fruits instead of meat! Not only will you be trying out delicious new recipes, avoiding animal suffering and helping to protect the environment, but you'll also be giving your immune system that extra vitamin kick it needs in the cold winter months.

It is the time for setting intentions for the year and we want to inspire you with our Veganuary Challenge where you spend January cooking and eating plant-based meals, created by the initiative of the same name. My colleague Caro has summarized everything important for you here!

We've often written about tofu, jackfruit and other meat alternatives but rarely thought about recipes with fruit when it comes to vegan nutrition - maybe because bananas, apples and co. are so obviously vegan? You'll be amazed, though, at the delicious dishes you can make with fruit, some of them at first glance not 'fruity' at all - unless you noticed the avocado hiding in that chocolate pudding with fruity pineapple topping!
No-bake chocolate-avocado pudding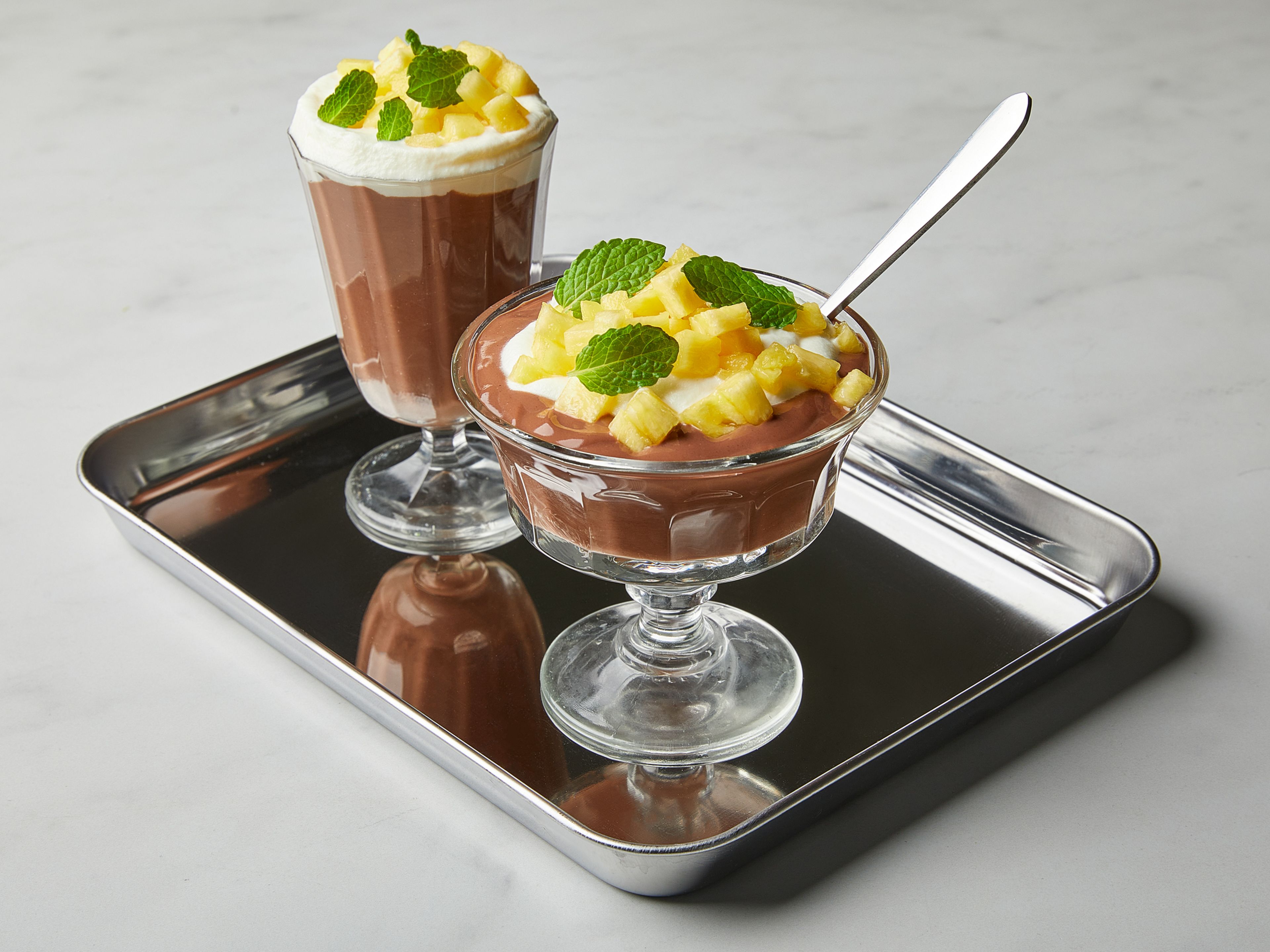 → Go to recipe
Together, we celebrate the diversity of fresh, exotic fruits and bring you 5+ of our most delicious recipes featuring SanLucar Avocados, Mangos, and Pineapples that will make Veganuary easy for you too!
Just like our motto for Veganuary of offering simple recipes for your vegan start into the new year, the premium fruit and vegetable brand SanLucar provides you with many different types of fruit and vegetables. So you can be sure to find the right fruit for every recipe from the juicy-sweet to delicious-creamy fruits!

Tell us in the comments if you discovered our recipes while shopping fruits and share a picture with us!

Find out how to easily incorporate fruit varieties into delicious vegan recipes and what else you should know about the benefits and cooking properties of these super fruits in this article. Let's get off to a vegan start to the new year!

Vegan cooking with fruit
Everyone knows how to eat fruit with cereal, yogurt or as a healthy snack in between meals, but have you ever cooked vegan with fruit?

Fruit adds a sweet, juicy note to savory dishes, extra nutrients and interesting consistencies from creamy to crunchy, for example in salads or soups. For example:
Cauliflower salad with apples and roasted chickpeas
Sweet potato and orange soup
Spelt salad with pumpkin, grapes, and hazelnuts

Have a look here for the recipes with SanLucar paradise grapes to see how sweet and savory pair together!

Even in recipes with exclusively vegetable ingredients, fruit can add unique consistencies on top of flavor. Using creamy, ripe avocado instead of dairy for pasta sauces, salad dressings and puddings comes to my mind as a prime example.

Below we show you what you can prepare with the fruity fresh fruit varieties of SanLucar during Veganuary!
Cooking with avocado
What ingredient has quickly become a global breakfast champion? Avocado!
It has taken our hearts and yours by storm in recent years and is more sought after than ever! What makes the hyped fruit so popular? The so-called butter fruit in some countries is super versatile, is particularly nutrient-rich due to its high vitamin and mineral content and contributes to beautiful skin and hair due to the healthy fat content, but is a delicious ingredient in mainly savory dishes, often used raw.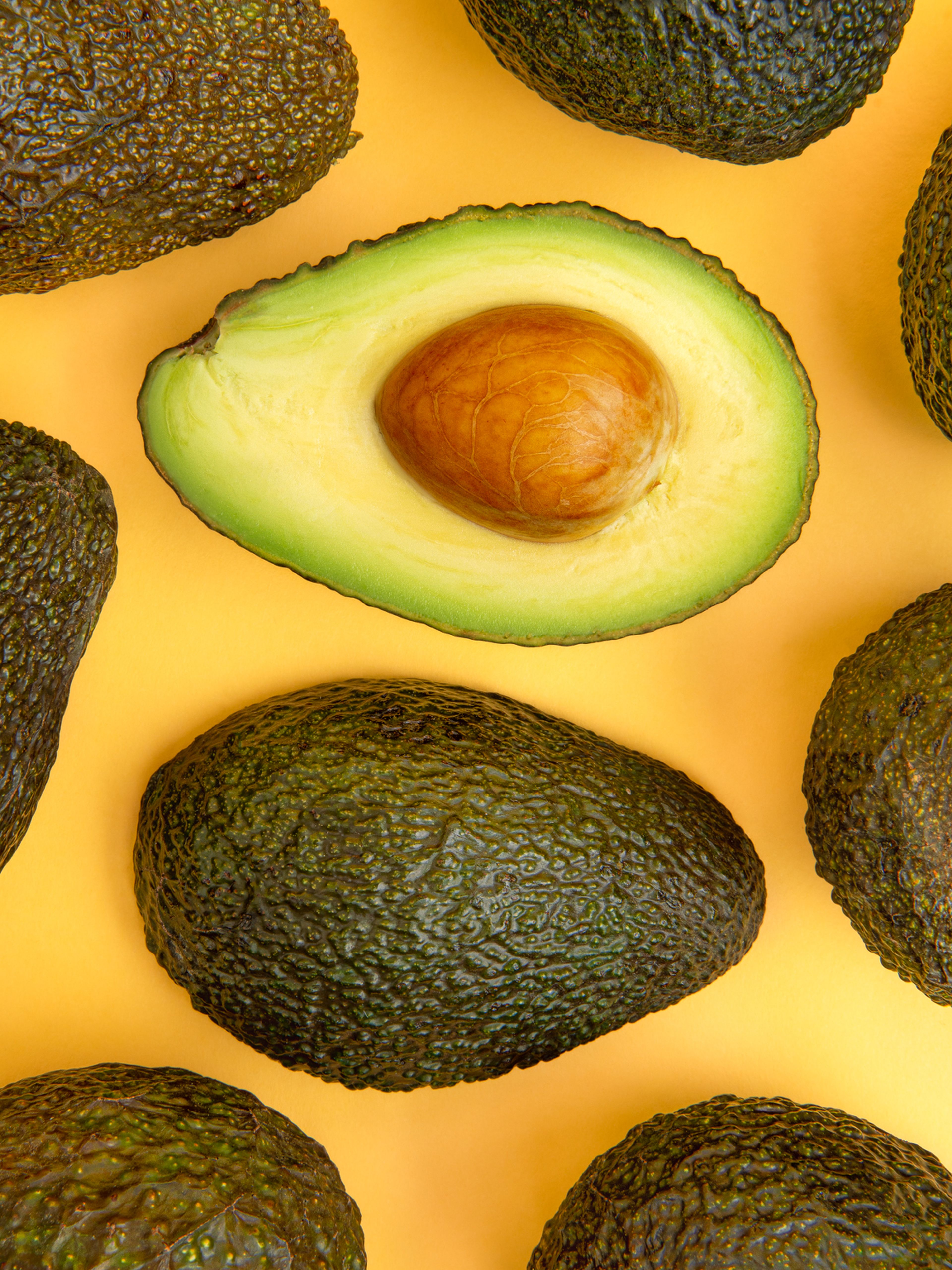 3 facts you should remember:
1. Do you know sweet recipes with your favorite green fruit?
Its high content of healthy unsaturated fats is perfect for adding a special creaminess to dishes, such as dips or this lightning-fast pasta recipe:
Spaghetti with avocado pesto and tomatoes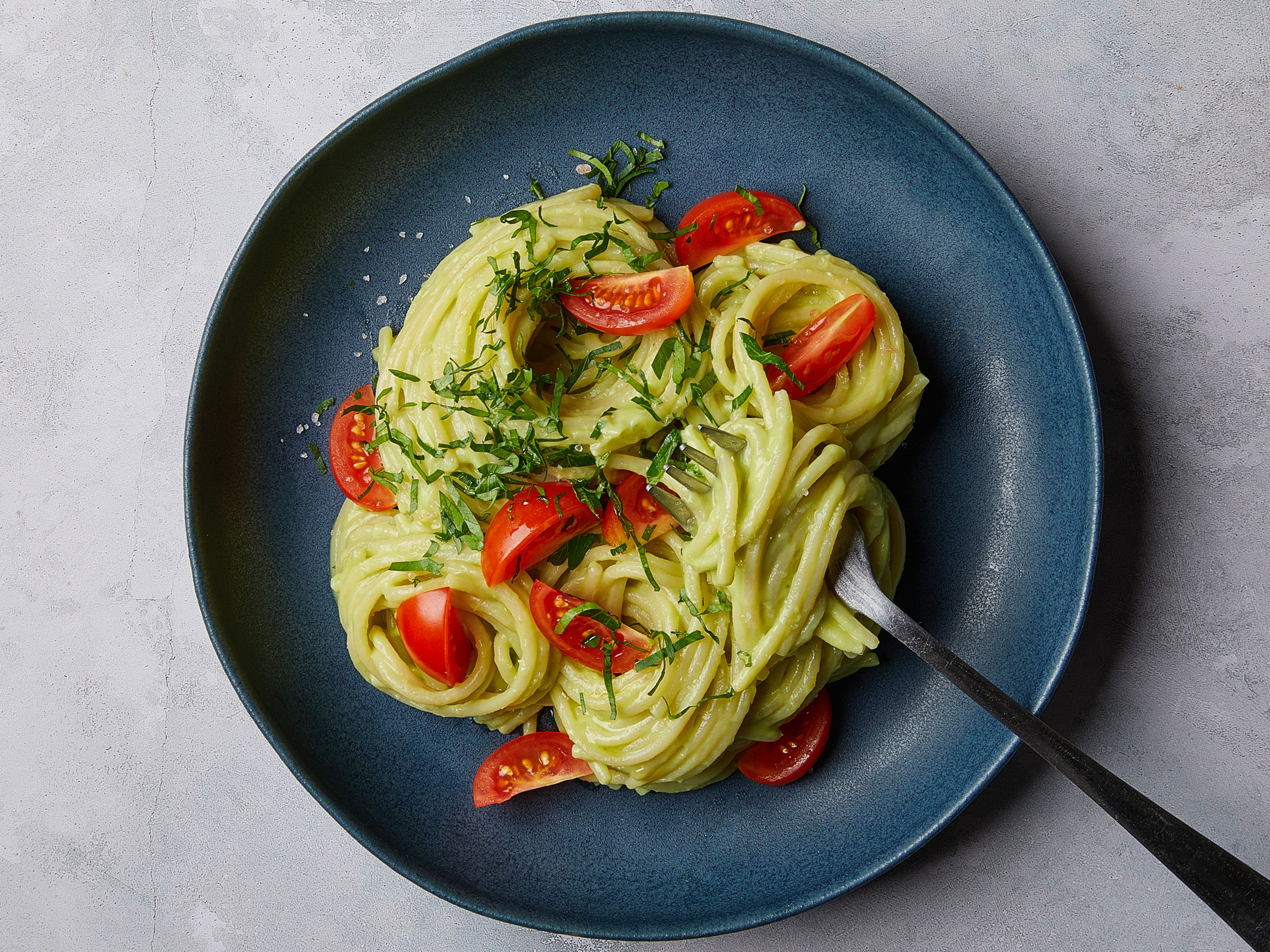 → Go to recipe
or this delicious salad combined with citrus, where you can easily omit the grated cheese or replace it with yeast flakes or other cheese alternatives:
Avocado citrus salad with mixed nut pesto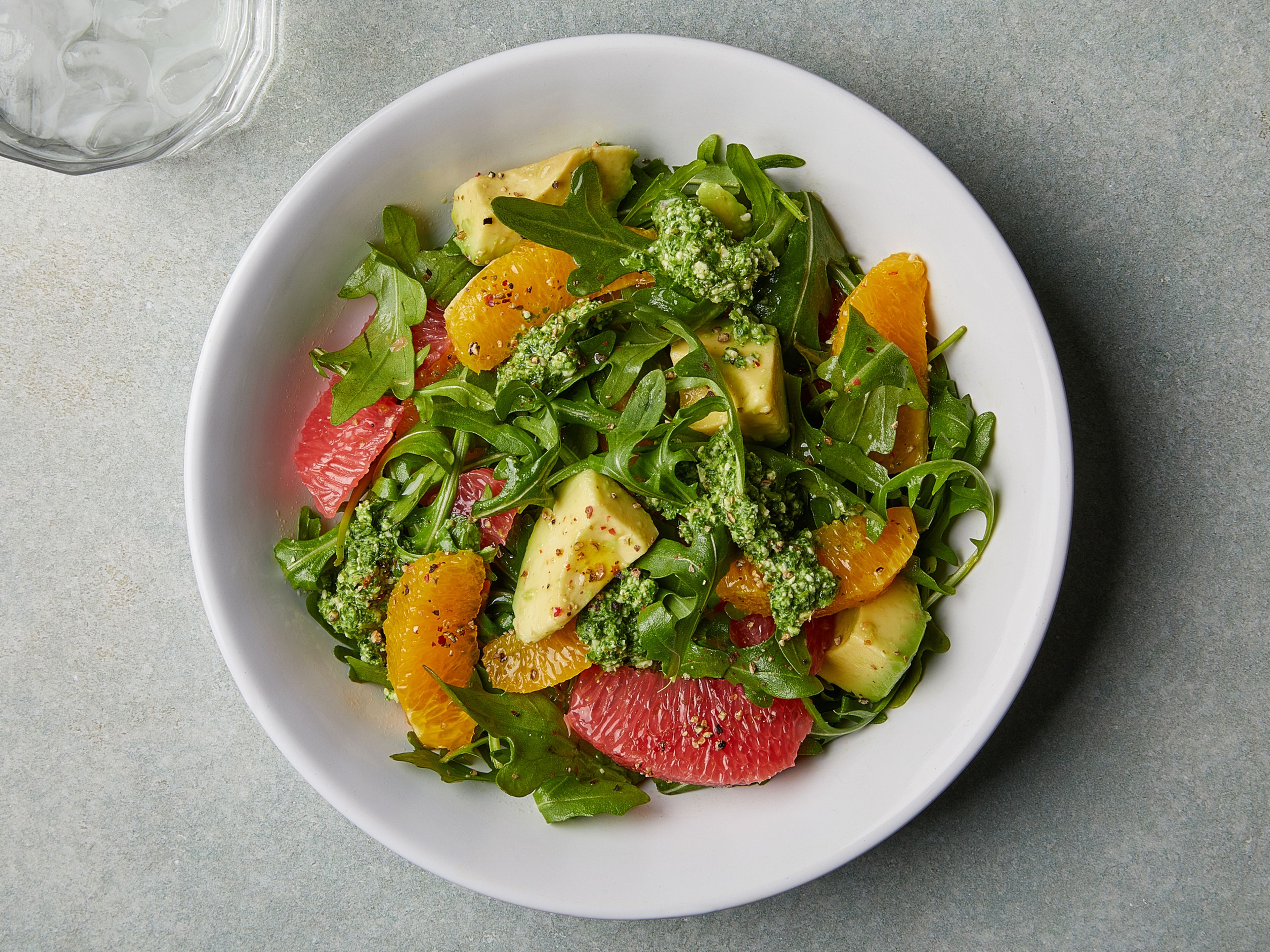 → Go to recipe
Not to overlook: sweet vegan avocado recipes for smoothies, ice cream and chocolate pudding. Give it a try!

2. The supreme discipline: a perfectly ripe avocado!
The surest sign is the ripeness check at the base of the stem. If the small lump can be easily removed and the flesh underneath is light green, the avocado is perfectly ripe! Our tip: SanLucar avocados ripen under tropical conditions and you can recognize the perfect degree of ripeness by the banderole: firm-ripe or creamy-ripe.
If you are unsure: Buy firm avocados, wrap them in newspaper or put them in a plastic bag with apples and let them ripen for 2-4 days at room temperature.

3. Did you know that there are nearly 400 different varieties of avocados? In Germany, however, you'll most often find Hass avocados with a deep green to purple skin, grown in fertile soils at high altitudes in tropical and subtropical regions like SanLucar, as well as the Fuerte type, which you'll recognize by its smooth green skin.
More information about the pear-shaped fruit can be found in this article!
More vegan recipes with avocado:
Baked sweet potatoes with zesty avocado filling
Green salad with avocado dressing
Red cabbage with grilled avocado
Pink pomelo salad with kale and avocado

Cooking with mango
Did you know that the mango, as a stone fruit, is botanically related to the cashew nut and pistachios?
The golden-yellow fruit is also rich in vitamins, fiber and minerals and convinces young and old with its sweet-juicy taste. For us, it is the epitome of summer! No wonder we wasted no time chopping them up and putting them in mango salad with popcorn or in tomato and mango salad with chickpeas! Our secret favorite, though, is this fruity salad with sour-sweet lime dressing that you must try this Veganuary!
Mango-avocado salad with lime dressing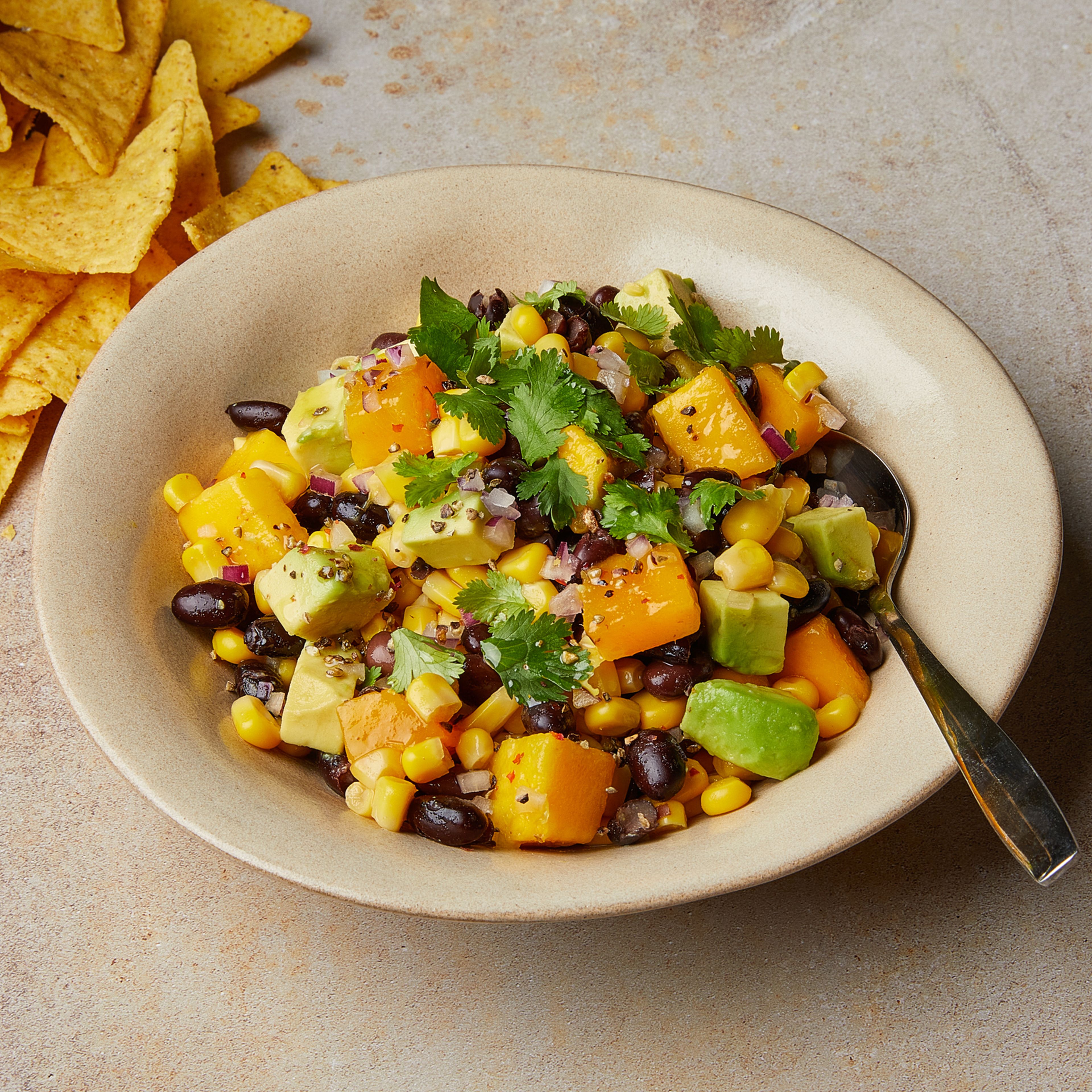 → Go to recipe
Of course, the tropical fruit is also a popular smoothie (bowl) ingredient for a quick, vegan breakfast with extra fruit power:
Carrot smoothie with apple and ginger
Matcha smoothie bowl with chia seeds

Don't forget to check out our favorite recipe below:
Banana, mango, and chia smoothie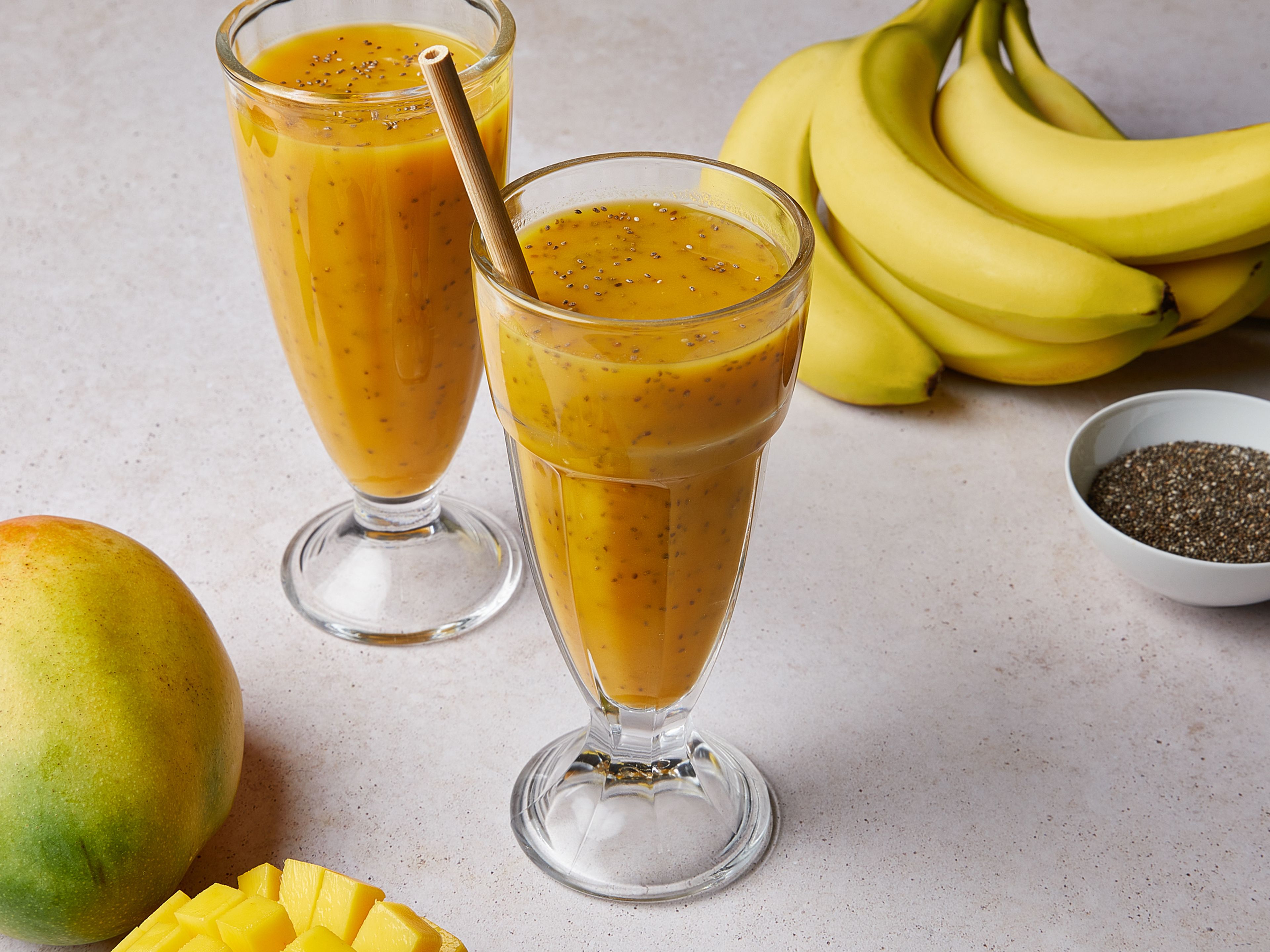 → Go to recipe
3 Facts to remember:
1. Mango originated in India and is grown in tropical and subtropical regions and exported all over the world.
So are SanLucar's mangos that are extra-sweet and low-fiber. No wonder, that in Indian, Thai and Vietnamese cuisines, to name a few, mango is often used as a fruity component in savory dishes, both raw and as an ultra creamy purée form. Mango goes well with so many ingredients - try and experiment!

If you need inspiration, have a look here:
Mango chutney
Rainbow summer rolls
One of my favorite dishes: Bok choi and mango salad with miso dressing

2. Always follow your nose: Ripe mangoes smell aromatic and fruity
Similar to avocado, you should store mangoes at room temperature. To ripen them, you can also place them next to fruits such as apples or bananas, whose ethylene release allows the unripe mango to ripen faster. But be careful: the ripening process of mangoes does not take long, so you can enjoy the mango already after 1 - 2 days, or as soon as the fruit feels tender under light pressure.
How to eat a mango? I prefer to use a peeler for the peel, then cut along the core and cut the two large halves into pieces, but there are other ways depending on the recipe. Bon appetit!

3. The color of the mango does not tell you the degree of ripeness!
Mango varieties: There are about 1000 different mango varieties, which differ in shape, color and size, so the color does not tell you so much about the degree of ripeness! There are about 30 different varieties in the German market, which include the popular Kent, Osteen and Tommy Atkins varieties.

More vegan recipes with mango:

Fresh mango mint wrap
Coconut rice pudding with mango sauce
Glass noodle salad with lemongrass dressing
Mango-lime nice cream
Mango chia pudding
Cooking with pineapple
Avocado and mango already give us a proper vitamin and nutrient kick. Then comes pineapple–a zesty bomb with an extra dose of vitamin C! Thanks to its imposing crown of leaves, it is also known as the queen of the tropics, and its golden-yellow flesh tastes sweet and aromatic with a slight sourness. Not sure how to cut them? Click here for video instructions!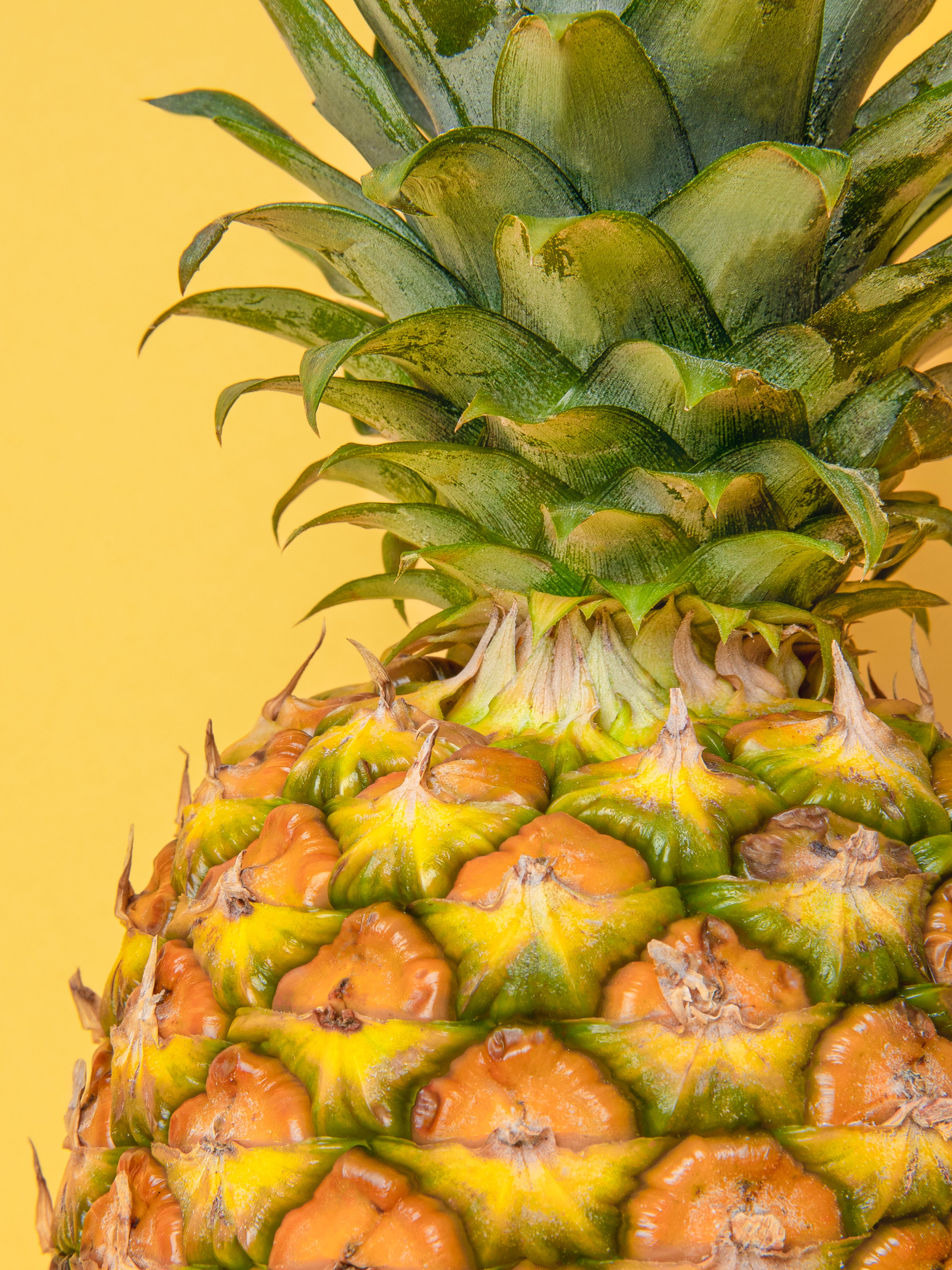 3 facts you should remember:
1. Perfect mix between sweet and sour!
The tropical queen comes from Central and South America–more specifically, Caribbean Gold pineapples of SanLucar from Costa Rica! There they ripen for 12 to 14 months in a tropical climate and usually maintain a constant sweetness throughout the year. Admittedly, often the pineapple, if not simply eaten as a snack, topping or in a fruit salad with orange, mango and berries, is often combined with meat or seafood. Because the unique flavor of pineapple is really incredibly complex and gives any savory or spicy ingredients an extra kick of flavor, its use in vegan cooking is super versatile. Our recommendation: combine with fresh herbs, like basil and cilantro to make a delicious salsa with chili and tomatoes - or how about barbecue? One of our favorites: Grilled pineapple! When grilled, the pineapple caramelizes, condensing the sugar and intensifying the sweetness.

2. Turn to the pineapple's leafy crown for its sweetness and aroma!
Pineapples that are used to tropical climates are also best stored at room temperature. You can tell a ripe pineapple by pulling off a leaf from the center of the leaf crown. If it can be removed easily, the fruit is ripe. A ripe pineapple also exudes a fruity-sweet scent!
Pro-Tip: Since the fruit sugar sinks from the top to the bottom, the pineapple is particularly sweet at the bottom!

3. Fun Fact: Pineapple from England!
Of all places in Europe, pineapples grow in Cornwall in The Lost Gardens of Heligan. At over €1000, it's a pretty pricey delicacy. You can read the whole story here!

More info about the pineapple can be found in this article!

More vegan recipes with pineapple:

Peach-pineapple wine slushie
Chilled pineapple and persage soup
Rojak - Malaysian-style sweet and sour salad (omit fish sauce or replace with No Fish Sauce).

If you have a favorite way of cooking with pineapple, comment and share it with the community!


Try our vast selection of vegan recipes for a month and discover the benefits of plant-based cooking without sacrificing taste or enjoyment!
Now that you're equipped with tips and stories about cooking with avocado, mango, and pineapple, you can get started cooking vegan now with extra fresh sweetness from fruits!

Tell us in the comments how you like to use fruits in your cooking!
Published on January 6, 2023
More delicious ideas for you