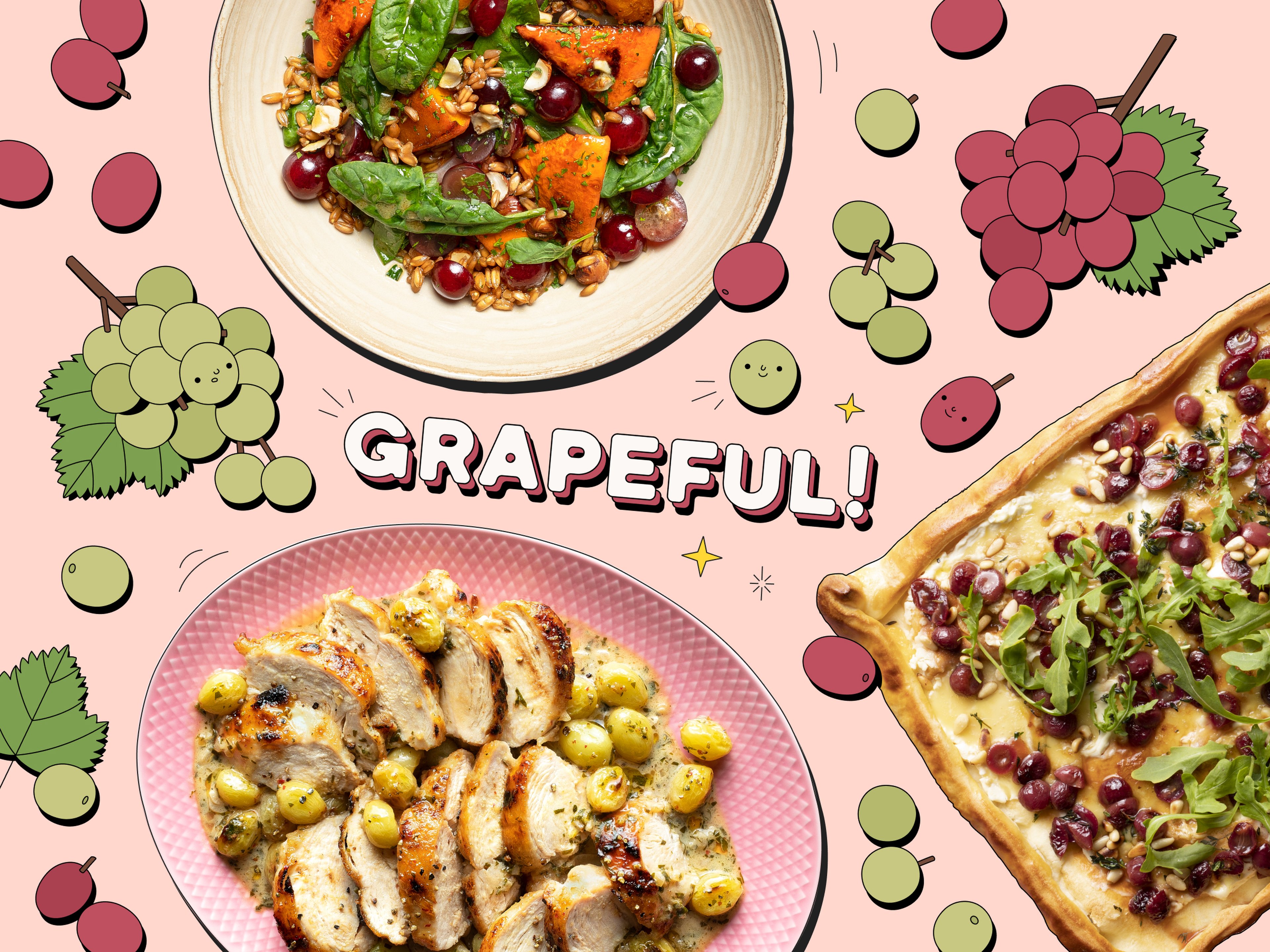 3 Grape Recipes for This Fall
Best Ways on How to Prep and Store Grapes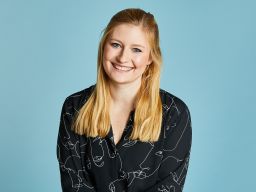 Food Editor at Kitchen Stories
I must confess, I eat grapes most often as a fruity snack in between meals or like to decorate a cheese platter with the pretty berry fruit instead of cooking with grapes. Of course, they taste best in fall, when they are in season and the grapes, which shine in green, yellow, red and blue, are particularly juicy-sweet and crunchy.
As old as the history of one of the oldest cultivated plants of humankind is, as diverse is its use in the kitchen. They are available raw as a snack or as a topping in fall salads, cooked as a fruity component to meat dishes or in desserts, dried as either a discarded or beloved raisin in morning cereals, or not to forget – as an essential ingredient for juice and wine production.
Together with SanLucar, we want to celebrate the diversity of grapes and present some of our most delicious dishes using fresh grapes! The premium fruit and vegetable brand SanLucar provides you with various kinds of grapes in addition to many other fruit and vegetable varieties. So you are sure to find the right variety for every recipe among the fruity-sweet grapes!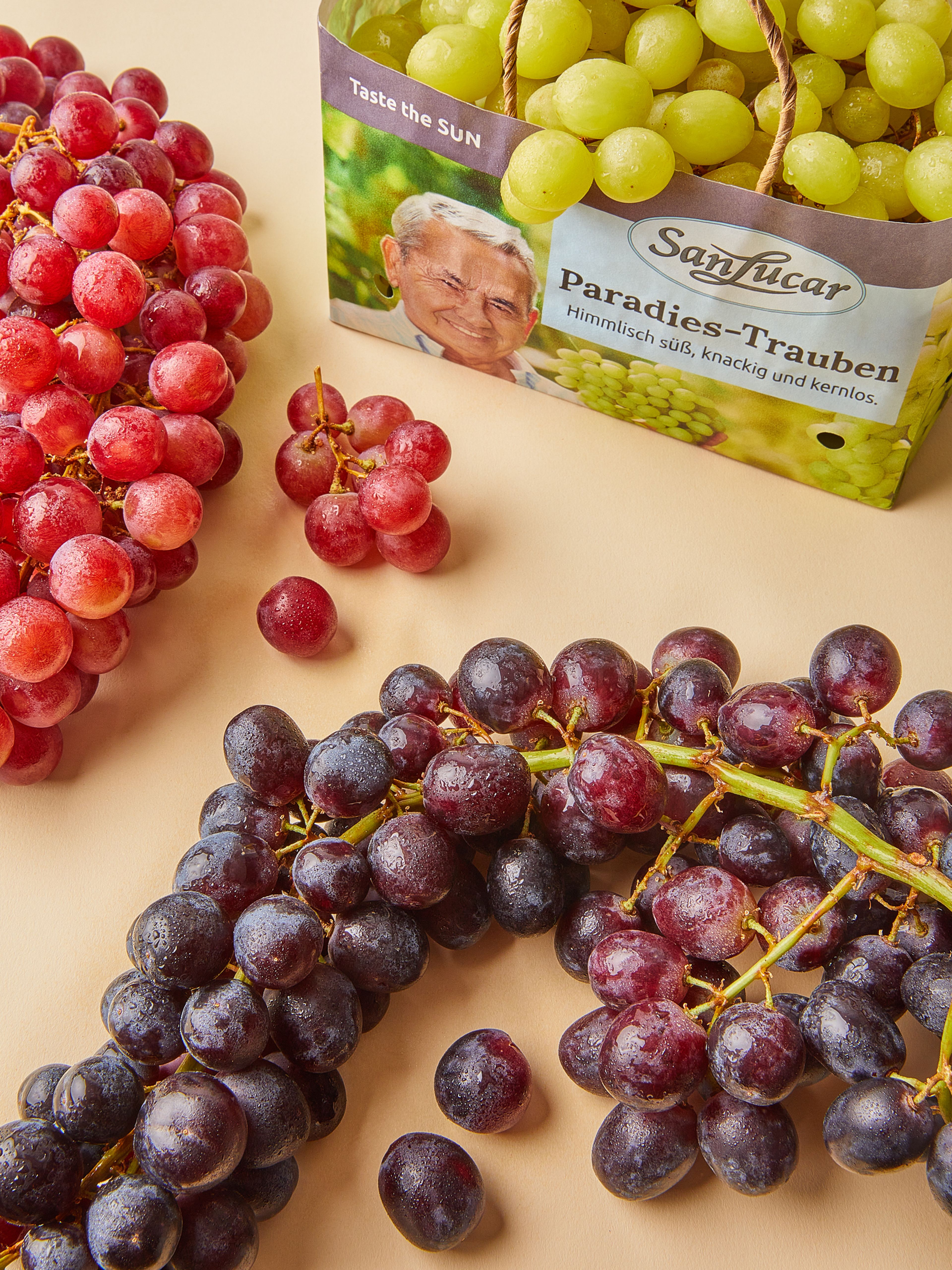 Find out what ingredients transform grapes into delicious, hearty fall recipes and what you should consider when buying and storing them with this article! Let's go!

3 Grape Facts from Purchase to Preparation
... you should remember!
When is Grape Season?
In Europe, grape season, depending on the region, starts already in July and can last until December. Then the umbels, which each bear between 50 and 150 berries, are ready for wine production. The fruits of the grapevine especially love the sunny and mild climate of the Mediterranean region. This is why we can enjoy the juicy-sweet SanLucar grapes from southern Italy during that time.
Which Grapes Taste Best?
Did you know that there is a distinction between table grapes and wine grapes? If we are very precise, the fruits to buy are table grapes and – as the name suggests – the wine grape is suitable for the production of wine and grape juice. They are usually smaller and have a higher acidity.
With more than 2000 different grape varieties and color variations – from purple to dark red and pale green to amber – one can surmise that there are a multitude of flavor differences.
Of course, the different characteristics of the various grape types are important for winemaking. However, for the table grape available to us, only minimal differences between the varieties can be noted: The green table grape is basically slightly more acidic than the red and purple grape.
However, since all grape varieties are individually influenced by the mild climate in the growing region, freshness, quality and personal taste preferences are still among the most important criteria for particularly aromatic grapes.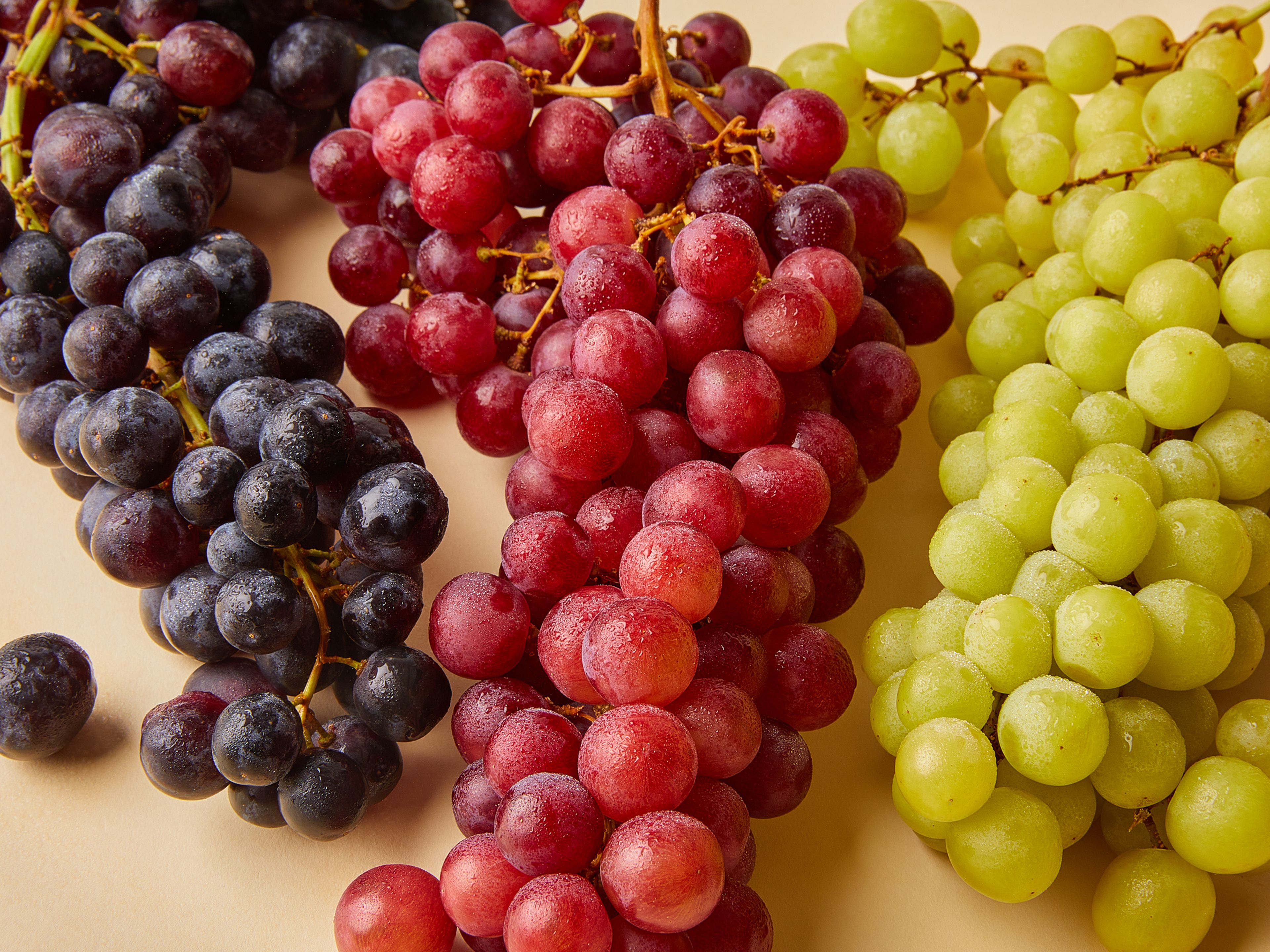 What is the Best Way to Store Grapes?
Since grapes do not ripen after picking, they do not change their taste after purchase. However, if you want to enjoy crisp and aromatic grapes for as long as possible, you should store them in a closed container in the refrigerator, otherwise they will quickly take on other odors from the fridge. Refrigerated, they remain firm and fresh for up to a week. Already at the time of purchase, the so-called pruina (also called scented film or fog dew) is another indicator for freshness. The dew-like, natural protective film, which is also found in the SanLucar grapes, indicates careful handling of the grapes and is a clear quality characteristic of grapes!
Cooking with Grapes
Those who, like me, eat the grape most often as a fruit – watch out!
It is not only a quick energy supplier, but due to its at the same time sweet-juicy, yet slightly acidic flavor profile, it can be excellently combined with many types of food that lack exactly these characteristics.
What ingredients come to mind immediately?
Grapes and cheese
Fruity and tart meets creamy and mild! We all know the familiar and outrageously delicious combination of fruity grapes and creamy fresh or soft cheese from antipasti, cheese platters and finger food buffets. This grape combo of contrasting yet super matching flavors is hard to top!
Cheeses that go perfectly with grapes:
Basically, dairy products + grapes = dream team. Because creamy yogurt, quark and co. also match nicely with grapes!
Fresh cheeses: e.g. ricotta, quark, mascarpone, (buffalo) mozzarella, burrata
Soft cheeses: e.g. Camembert, Brie, Taleggio, soft goat cheese, blue cheese.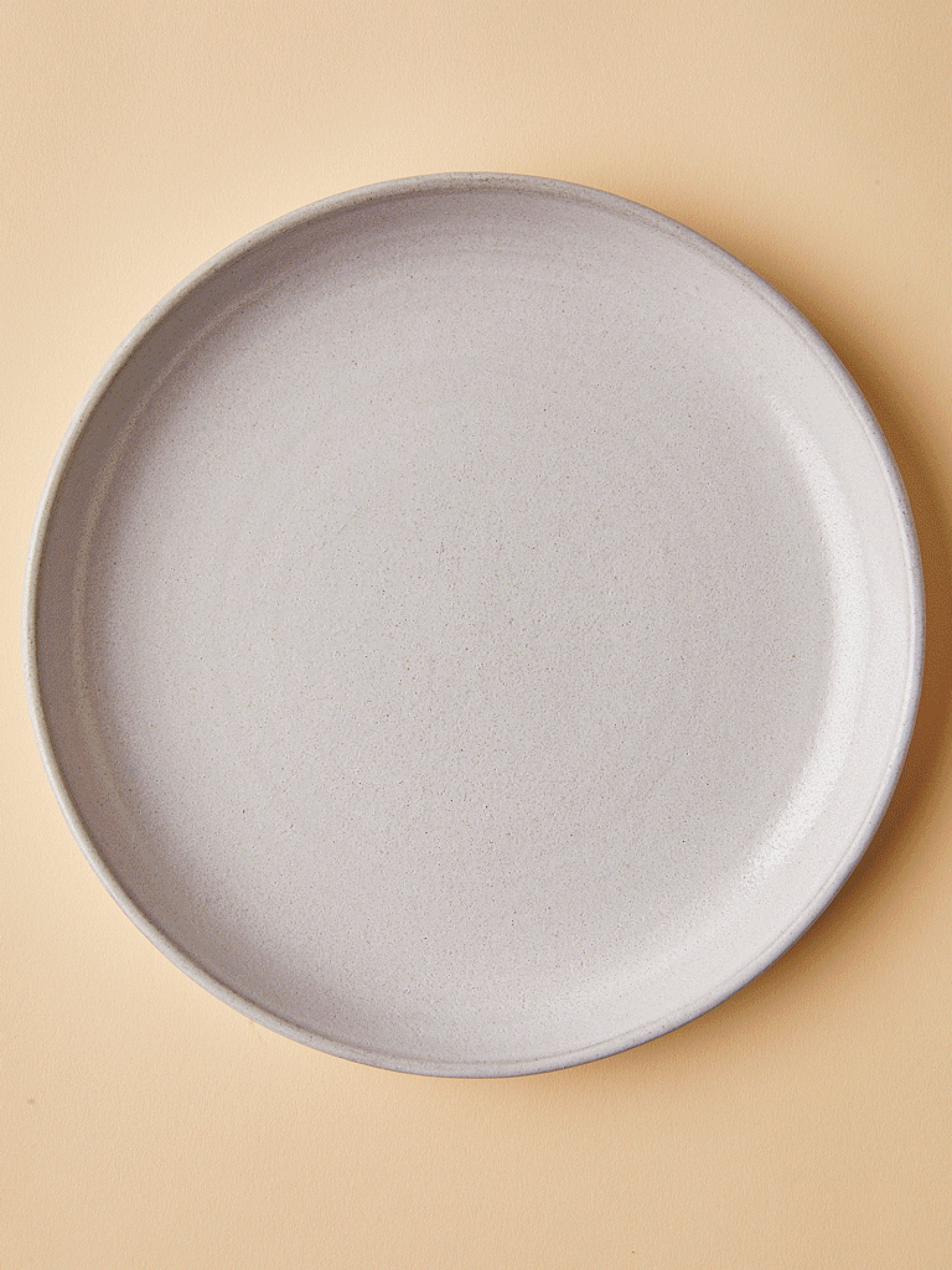 This recipe for crispy pizza with brie, grapes and thyme shows how well cheese and grapes go together. The combination of sweet and creamy is found here as well. The briefly pre-baked pizza dough is spread with cream cheese, topped with brie cheese and the red SanLucar Paradise grapes, drizzled with honey and topped with thyme and pine nuts – off to the oven and bon appétit!
Pizza with Brie cheese, grapes and thyme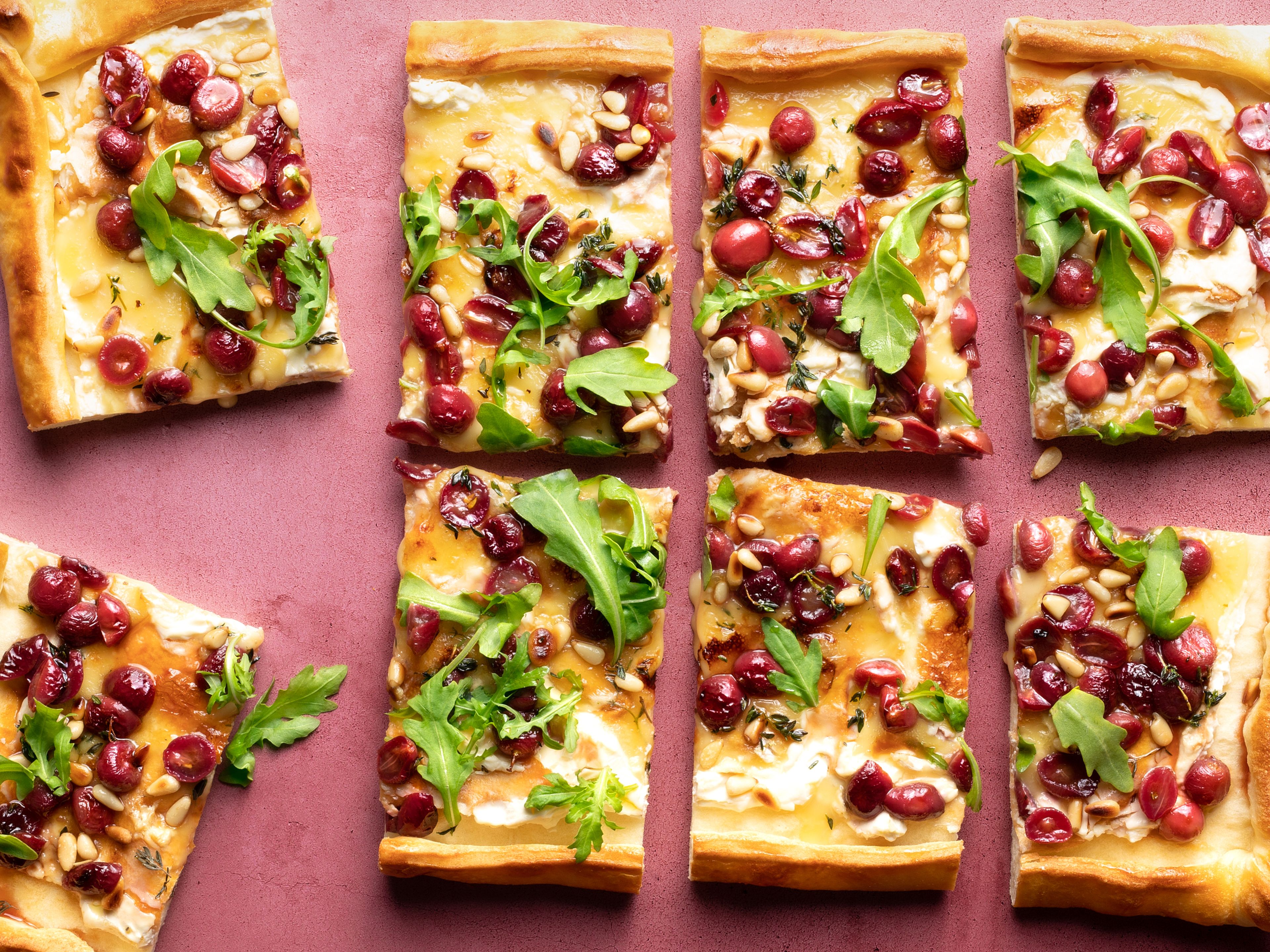 → Go to recipe
Grapes and Fall Ingredients
In keeping with the autumn season, along with grapes we can also find all sorts of seasonal fruits and vegetables in the supermarkets that combine perfectly with grapes. My favorites are, for example, pear, apple, beet, pumpkin, turnip, radish, potato! Again, the more earthy notes of the ingredients listed go perfectly with the green, red or dark purple grape.
Have you ever cooked with spelt? If not, it's about time for this fall salad! The fiber-rich grain not only cooks almost by itself, but also turns SanLucar Paradise grapes, pumpkin, baby spinach and hazelnuts into a full-flavored power salad for the golden season.
Spelt salad with pumpkin, grapes, and hazelnuts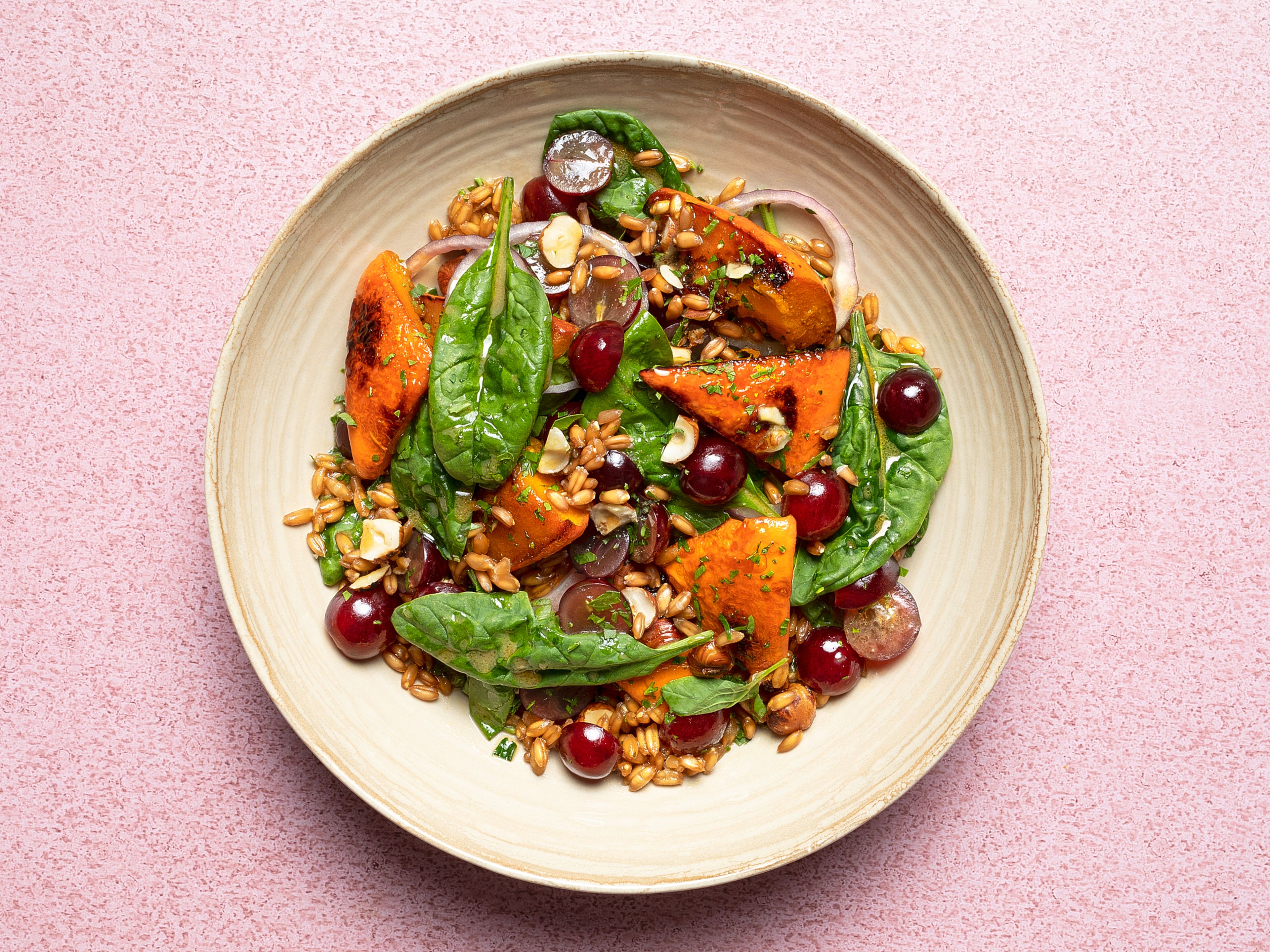 → Go to recipe
Let's stay with cold dishes: Here you can find more salad recipes with grapes!
Fennel salad with grapes and goat cheese
Light Waldorf salad with caramelized grapes
Grapes with ?
What other foods go well with grapes?
Fruit: blueberries, lemon, melon, orange, raspberries, strawberries
How about a dessert with grapes and lemon ? → Lemon ricotta semifreddo with grape compote
Herbs: e.g. thyme, garlic, cinnamon, mint
Meat: chicken, pork, lamb, duck
As mentioned at the beginning, grapes are an excellent fruity component for meat dishes. A simple and delicious variant is to add them halved to creamy cream sauces or spicy gravies and only cook them briefly. This way, they retain their crunchy nature while adding some sweetness and fruitiness to the sauce. A delicious dish to start cooking with grapes is this recipe for One-pan chicken breast with creamy grape sauce with green SanLucar grapes. Try it!
One-pan chicken breast with creamy grape sauce
→ Go to recipe
You can find even more grapey recipes that you can prepare with SanLucar Paradise grapes here.
You are now fully equipped with tips and tricks about and with grapes, so you can start cooking now! If you want to learn even more about one of humankind's oldest cultivated plants, you'll find it here!
Tell us in the comments what you like to cook with grapes and share your grape knowledge with us here!
Published on October 1, 2022
More delicious ideas for you