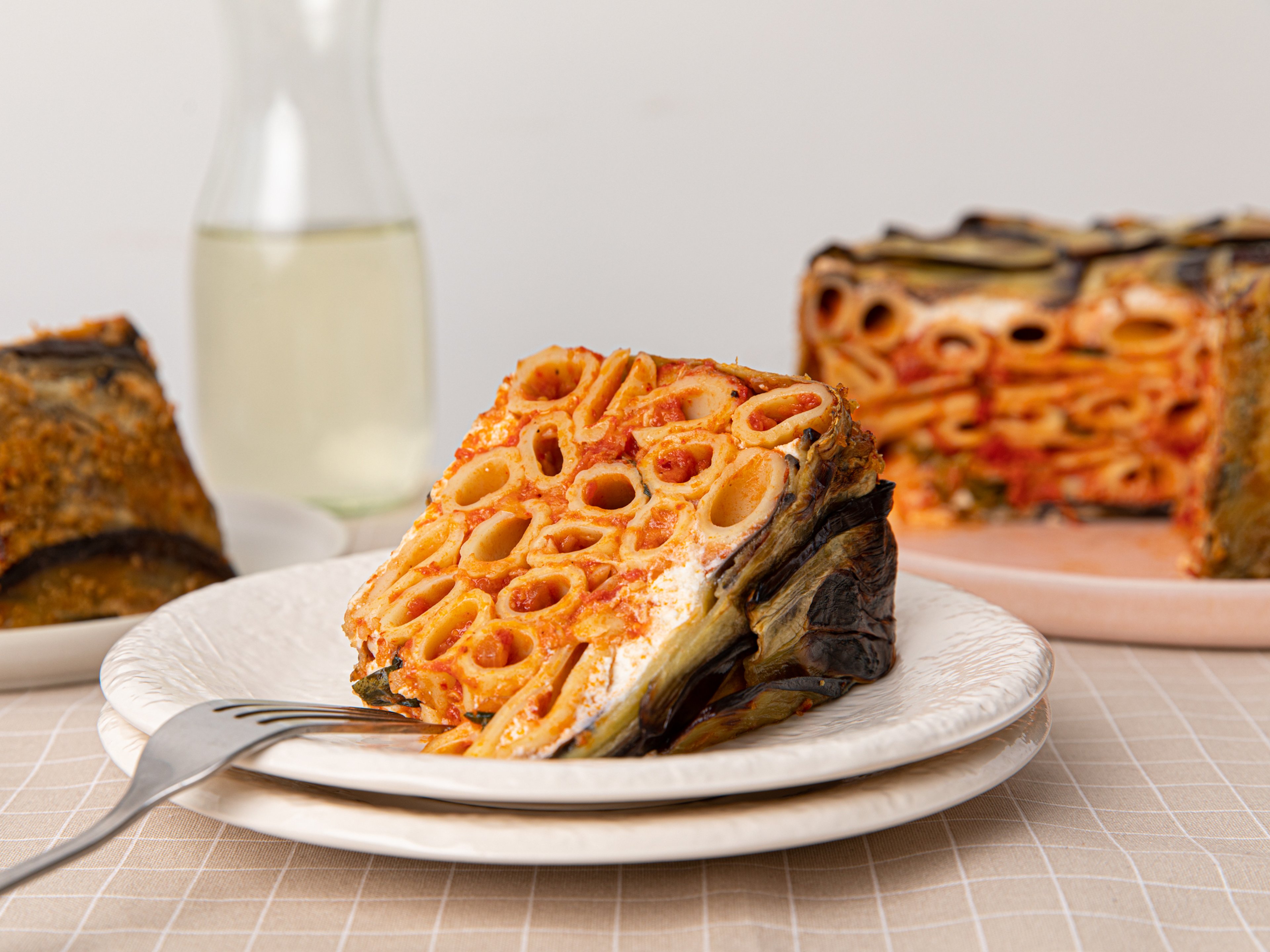 Take Your Pasta Bakes to a Whole New Level
Meet timballo and learn how to make perfect pasta bakes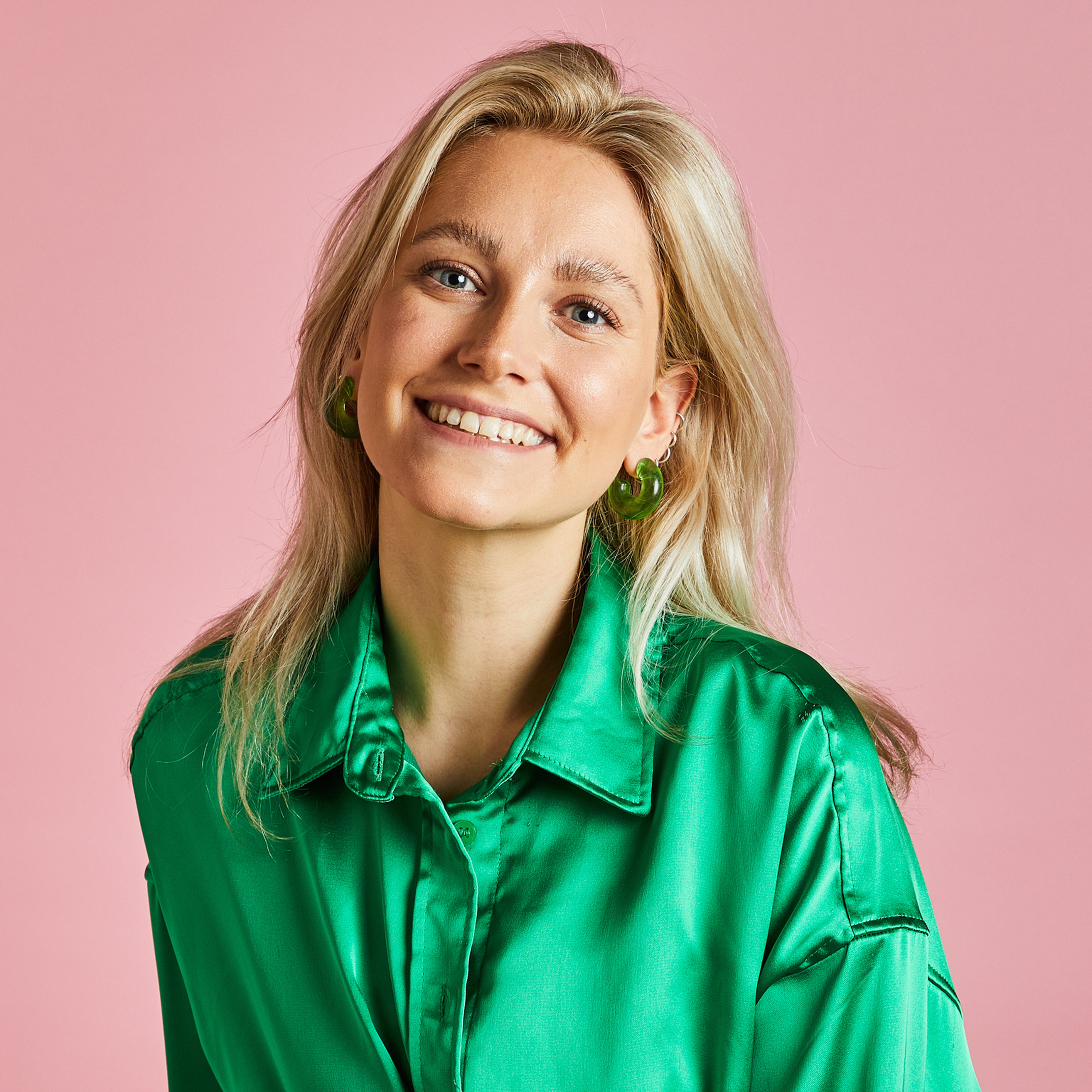 Food Editor at Kitchen Stories
From one-pot pastas to homemade hand pulled Chinese noodles, this month is dedicated to exploring all ends of the pasta and noodle spectrum. To stay up to date with Slurp! The Everything Pasta and Noodles Issue, check back here for the latest recipes and articles, and don't forget to follow us on Instagram for exclusive content.
It wouldn't have been a well-rounded pasta month without talking about straight-from-the-oven, delicious, and fun pasta bakes. Due to the so-so summer weather, I may or may not have resorted to a couple of pick-me-up pasta bakes. They're filling, versatile, and above all, comforting!

In this article, we'll cover two baked pasta highlights. Both are traditional Italian approaches to pasta bakes and definitely have the potential to outrank our all-time favorite, lasagna. And at the very end, we'll show you our new favorite movie scene with a very special star you can meet, right in your own kitchen, thanks to one of our latest recipes.

Pasta al forno: It's what's on the inside that counts
Translated from Italian, pasta al forno simply means "pasta from the oven." This traditional dish from Italy is not only delicious, but also helps you use up the leftovers in your fridge by transforming them into a feel good dish that doesn't seem like leftovers at all. The trick is that you often have the right ingredients on hand already, such as pasta, canned tomatoes, and cheese. With tasty extras like soft-boiled eggs, vegetables, or meats, the dish is always a little different, but with our pasta al forno formula, it's always guaranteed to be delicious! Read on for the building blocks of this comforting pasta bake.
4 pillars for a perfect pasta bake
1. The pasta
Let's start from the ground up, with the pasta. Although many are convinced that pasta shapes with a ridged surface, such as penne, rigatoni, or fusilli, are particularly well-suited for casseroles because they absorb the sauce best, you really can't go far wrong when choosing pasta. The texture of your casserole will change depending on the shape, it will either be a bit looser and airier if you use small, hollow pasta shapes, while you'll get more compact layers with varieties that collapse better, like thick paccheri, lasagna sheets, or spaghetti. Even no-longer-al-dente, leftover pasta (or overcooked pasta) from the day before can be given a new culinary life in a pasta bake! You can even use tortellini or gnocchi for a different experience.
2. The tomato sauce
Pasta without sauce is like fries without ketchup. As with any other pasta dish, your pasta bake sauce is essential for the best taste and crucial for success. What could be better than a classic red sauce? You can easily make it yourself with little effort: Sauté onion and garlic in olive oil until translucent, deglaze with (red) wine as needed, and let the liquid simmer down a bit. Then add tomato purée and season with salt and pepper. After 15 minutes, it's ready to go. If you like it a bit spicier, add chopped chili or chili flakes to the sauce and for even more flavor you can fry anchovies or add some miso for a vegetarian version. Occasionally with pasta al forno, as with classic lasagna, bechamel sauce can be added over the pasta for a nice brown crust, or used instead of tomato sauce for a creamy finish.
3. The fillings
There are so many options for added pasta bake fillings. Instead of Parma ham, which Christian uses in his recipe, you can use a good salami or replace it with different kinds of Italian sausage, whether it's with truffle, fennel, a spicier variety, or plain. If you want to use bacon in your casserole, it's best to fry it until crispy first, so you get extra texture and delicious toasty flavors in your pasta bake. Especially in the south of Italy, small meatballs called polpettine are a must have in a good pasta al forno, and these could definitely take your pasta bake to another level.

Meat is not a must, of course. You can replace it with any vegetable or add whatever you have at home. Frozen vegetables such as peas are also perfect and can be transformed from a freezer staple into an easy add-in for pasta bakes. For extra flavor, intense Italian flavor, and some variety, add antipasti ingredients like sun-dried tomatoes, capers, pickled peppers, or whatever your stash of pickled delights has to offer. Even boiled eggs go great in a casserole and are also a typical topping often used in Italy. The fat, oil or water contained in the many different ingredients will keep your casserole nice and saucy (but not mushy!) and save it from being too dry.
4. The cheese
All those delicious ingredients can only get better under a crunchy cheese crust (do you always try to grab the piece with the most cheese on top, too?) For this, a great hard cheese, like Parmesan or Grana Padano works very well. Since these don't contain as much water, they get extra nice and crunchy (see our guide to the best melting cheese). You can also mix in some cheese in between, in addition to sausage, vegetables or antipasti. If most of your ingredients are already very salty and tangy, balance this out with creamy, mild ricotta or mozzarella. Less flavorful, mild ingredients are balanced with spicy pecorino or other aged cheeses.
Regionally different, always delicious
Although pasta al forno is a true classic of Italian cuisine, there are some differences in the various regions. In the Sicilian version, for example, the ingredients inevitably include eggplant, which is usually thinly sliced or diced and then fried. In other regions, the aforementioned mini-meatballs, much loved in Italy, are also an essential part of the dish. The version with bechamel sauce originated in the central-north of Italy, from which probably also derived well-known dishes such as lasagna and cannelloni from Emilia Romagna. Each pasta dish, therefore, takes on the ingredients and also the culture of the place where it is prepared. Baked pasta is therefore one of the most popular and well-known dishes in Italy. It is incredibly varied and has the most diverse flavors and variations to offer.
Christian's recipe for pasta al forno: Watch the video
Christian makes pasta al forno (Italian pasta bake)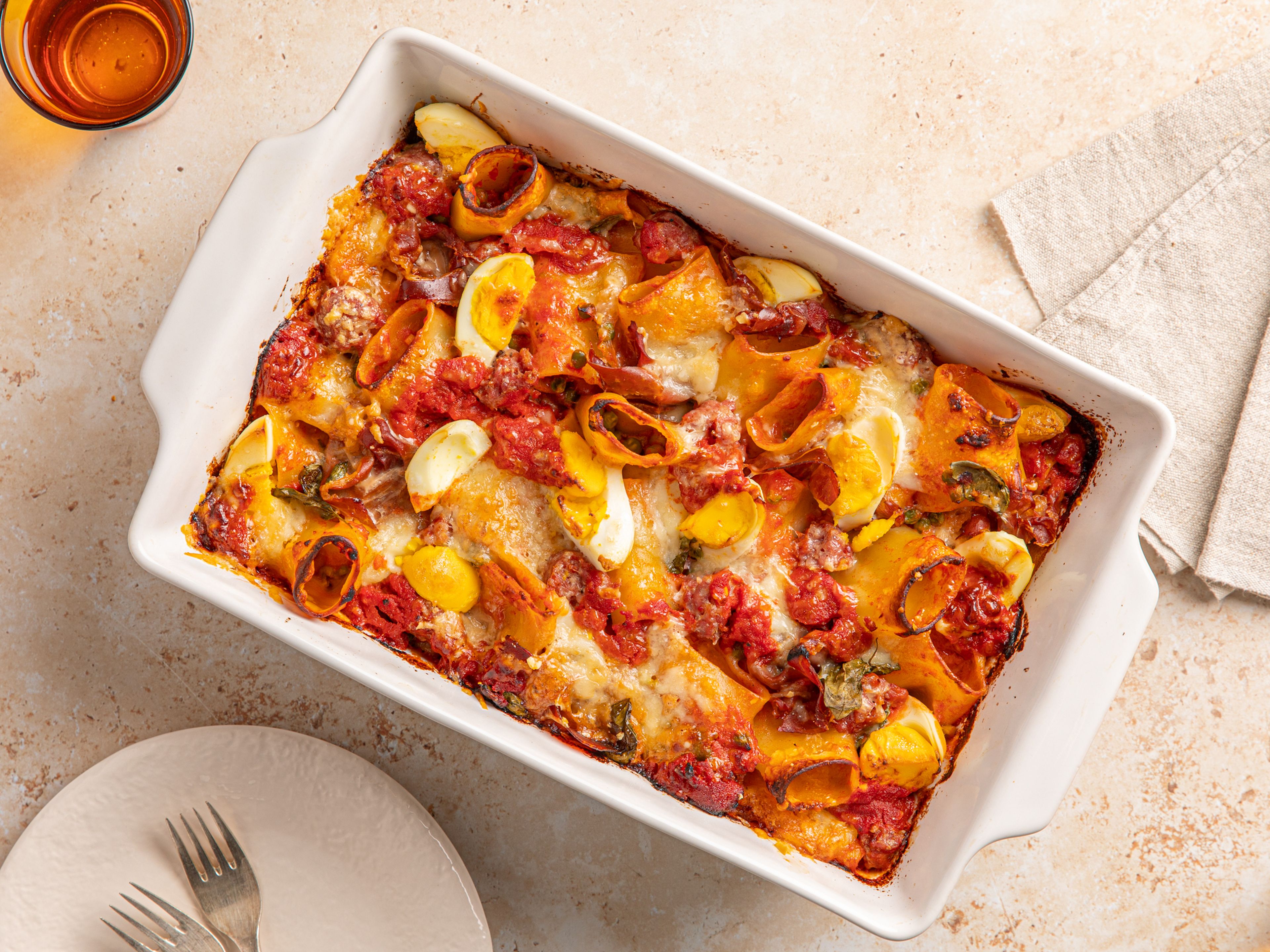 → Go to recipe
Now that you know a thing or two about the basics and how to make a great pasta al forno.... Are you ready for the royal class of pasta bakes? Then let me introduce you to timballo.
Timballo: The pasta bake centerpiece
While pasta bakes are pretty much always delicious: They aren't always visual but visual masterpieces. Until now! An eggplant timballo shines both on the inside and out.
The name timballo derives from the French word for drum, referring to the drum-like shape of the dish or the mold in which it is baked. The term "casserole" actually hardly does this edible work of art justice; in fact, a timballo looks more like a pasta cake or even a pie: It's an elegant dish that looks as if a pasta casserole had wrapped itself in its finest robe for a special occasion. Admittedly, it's not quite as quick and easy as an ordinary pasta bake. But there's nothing wrong with getting a few extra hands to help, and the extra step is worth it for the visual appeal. For this reason, timballo is often served at larger celebrations to make a big impression.
The basic idea of the dish is to line a large baking dish or ovenproof dish with eggplant, zucchini or even dough and fill it with plenty of pasta (or sometimes rice) and other delicious pasta bake ingredients. Traditionally, it is filled with small pasta shapes as well as peas and a classic ragù sauce. In our recipe, we also took the liberty to vary a bit with the filling and opted for a Sicilian-inspired version. Once it's baked in the oven, and after a short rest, the timballo can even be cut into pieces like a real cake.
Cook our eggplant timballo
Timballo (Italian eggplant pasta bake)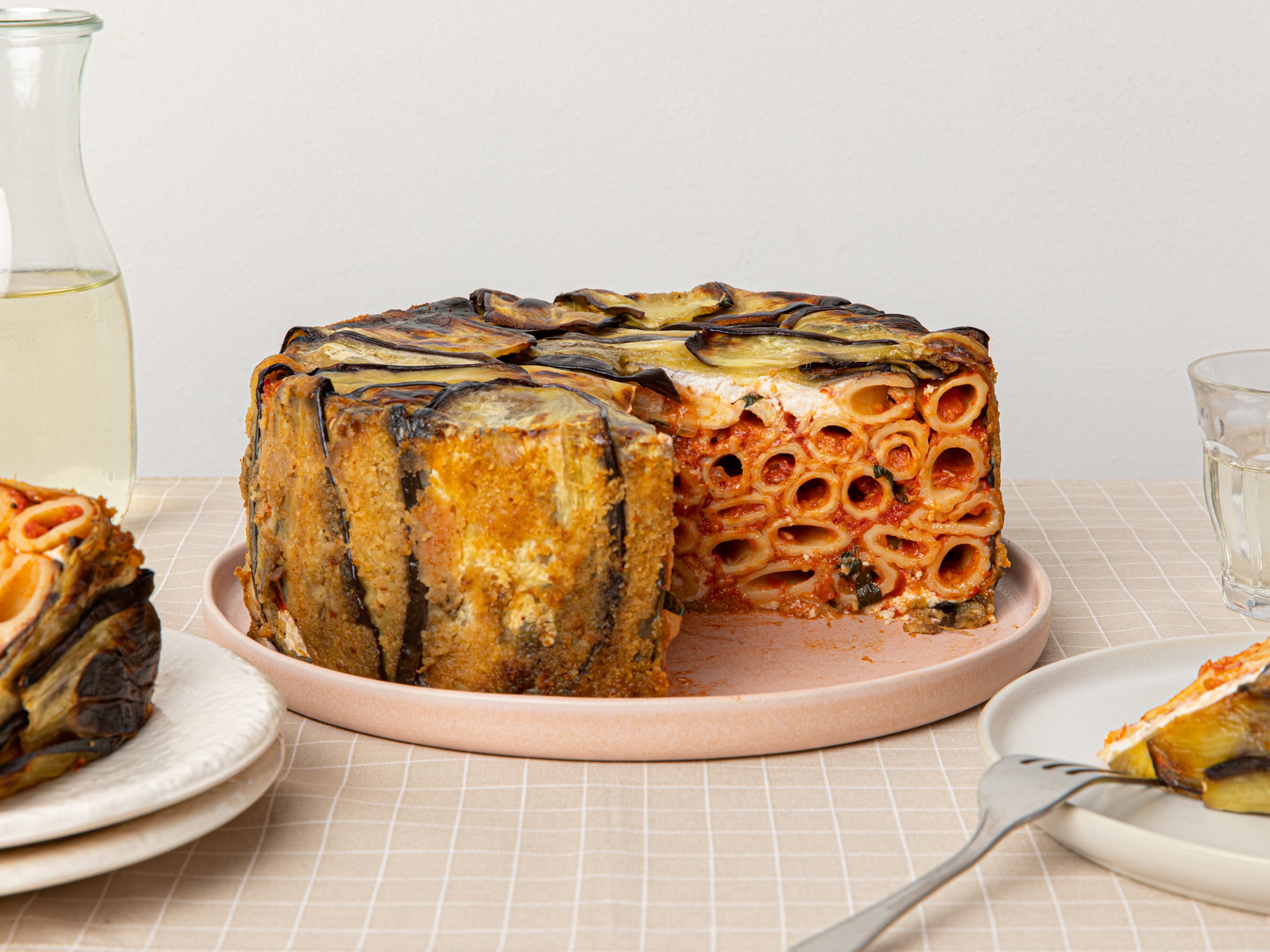 → Go to recipe
Where does timballo come from?
The ingredients in our timballo probably look familiar to you as it's inspired by another Sicilian pasta dish, pasta alla norma. Where exactly in Italy the delicious pasta cake found its origin, however, is unclear and there are still many opinions about it. It is widely believed that the dish originated under Arab influence or that it was developed by French cooks who served the ruling families of the Kingdom of Sicily in the 18th and 19th centuries. Their goal was to create a pasta dish that was far more elaborate and ostentatious than an ordinary casserole, in order to make it appealing and dignified for the Sicilian nobility. In my opinion, they definitely more than succeeded!
Timballo, timpano, tortino: A moviestar with many names
Timballo can also be enjoyed in a wide variety of ways and there are many traditional and modern recipes. For example, it sometimes goes by the names of bomba, tortino, or sartù, a rice-filled version of timballo. 

Some may have also discovered the dough-wrapped version of the dish on the big screen under the name timpano. It made its film debut in the 1996 U.S. drama "Big Night," where it nearly stole the show from Oscar-, Emmy-, and Golden Globe-nominated actors and actresses. Here you can watch the famous film scene in which the pasta casserole is prepared with much devotion and then, duly, celebrated.
Got room for even more pasta bakes and casseroles? Read on:
What goes into your favorite pasta bake to make it the absolute comfort food for you? And did you already know timballo or even had it or prepared it yourself? Let us know in the comments!
Published on September 22, 2021
More delicious ideas for you