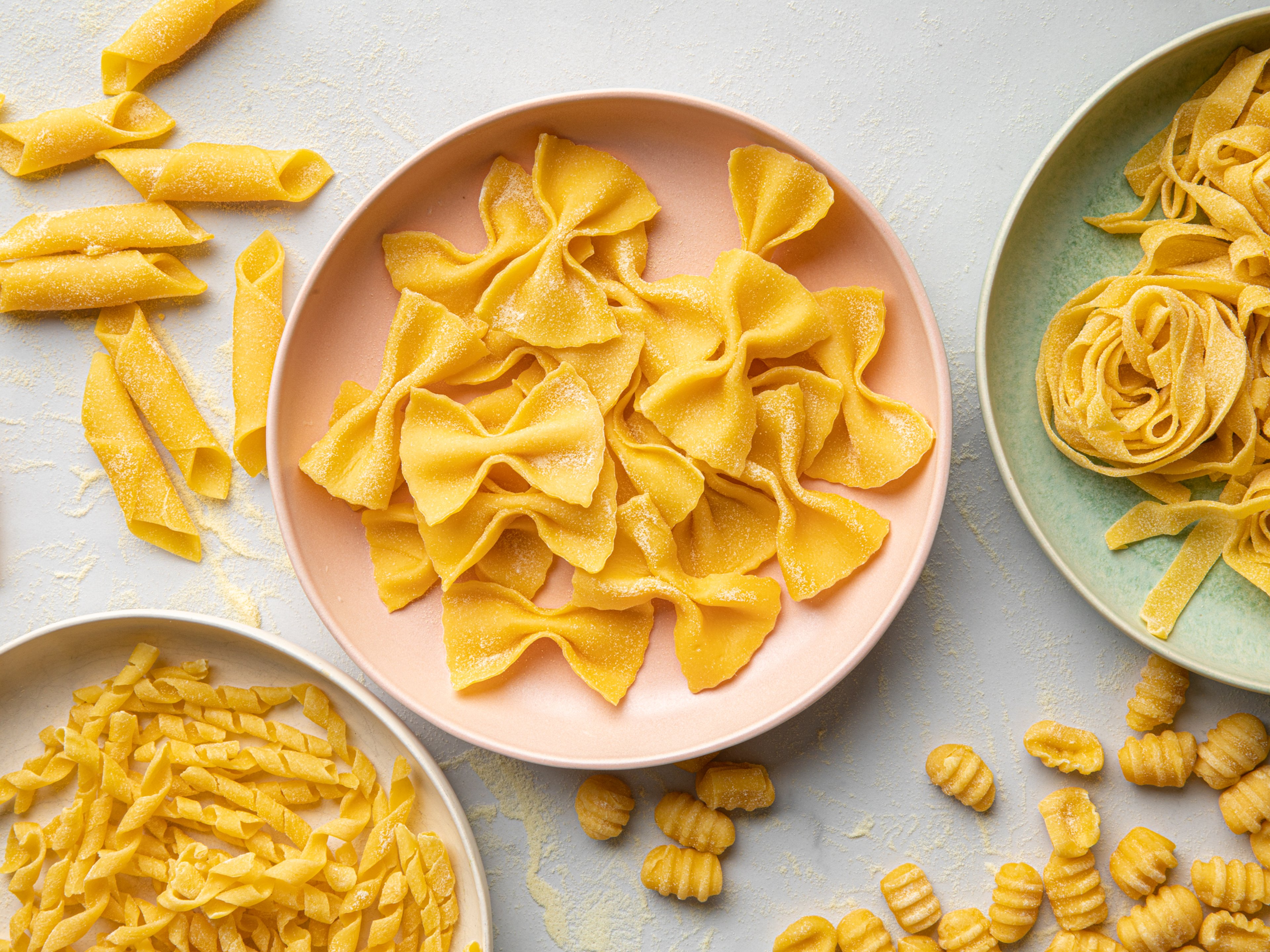 6 Easy Pasta Shapes You Can Make Without a Pasta Machine
Fun ways to shape up your pasta with everyday kitchen tools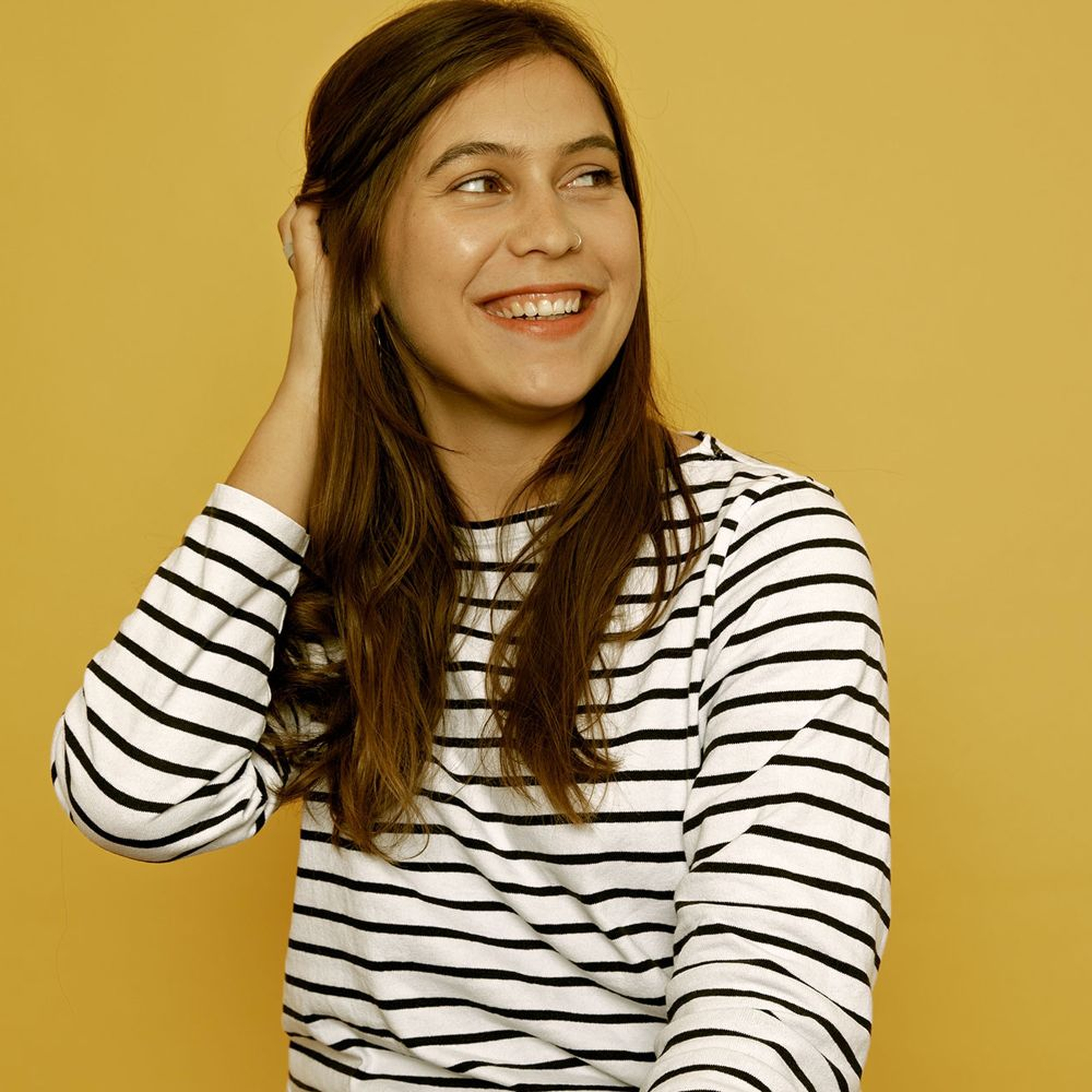 From one-pot pastas to homemade hand pulled Chinese noodles, this month is dedicated to exploring all ends of the pasta and noodle spectrum. To stay up to date with Slurp! The Everything Pasta and Noodles Issue, check back here for the latest recipes and articles, and don't forget to follow us on Instagram for exclusive content.

If you think you need a pasta machine to make pasta from scratch, think again. You don't need any fancy equipment, all you need is a rolling pin, some regular, everyday kitchen utensils, and some dedication to this labor of love (the results are edible and carby, which means they pay off!) The key is to roll the pasta out as thinly as you can—it will allow you to more easily work and form the pasta to keep their shapes.
To get started, you need a pasta dough recipe! Watch the video below (or read the recipe) to make a basic pasta dough, or play with color by adding spinach or beetroot.
Homemade pasta dough, 3 ways
If you happen to have a pasta machine, you can of course roll out your dough using a machine (we have a tutorial here), but otherwise, all you need is a rolling pin and some elbow grease. There's more on making homemade pasta here, too.
6 easy pasta shapes to master at home—plus sauce pairings
1. Hand-cut pasta (tagliatelle, fettuccine, pappardelle, and more)
The easiest "shape" to make at home is cutting hand-rolled sheets of pasta dough into long noodles with a kitchen knife. Here's how:
— Use a dough cutter to divide up your pasta dough (approx. into even handfuls) to make it easier to work with.
— Use a rolling pit to thinly roll out one piece of the pasta dough on a floured (or fine semolina-ed) surface.
— Roll up into a loose log and cut it, widthwise, into equal strips of the desired size (thinner for tagliatelle or fettuccine, thicker for pappardelle).
— Toss with semolina into little nests and use immediately, or dry it out to use later. Repeat with remaining dough.
2. Homemade gnocchi-shaped pasta
Gnocchi-shaped pasta are fun and very easy to make at home—all you need is a regular old fork! Here's how to make them:

— Divide up your pasta dough and roll it into logs approx. 2 cm/½ in. thick.
— Use a pastry cutter (also known as a bench scraper) to slice the log into equally-sized, bit size pieces approx. 2.5 cm/1 in. wide.
— Place your fork so the tines are resting at an angle against your work surface and so that the scooping curve of the fork is facing downward towards the work surface.
— Place your piece of pasta where the fork tines begin and press with your thumb so it rolls down the curve, releasing it at the end so it curls inwards and drops down onto the table as a single gnocco. After you're down, you'll have a whole army of gnocchi!
3. Homemade (giant) penne
I had never thought of making penne at home, but it turns out you can! The size is up to you—all you need is a thick skewer, or to make enjoyably large penne like we did (think of all the sauce that'll get trapped inside!), use the handle of a wooden spoon (in which case you should situate yourself at the edge of a bench or table so the mouth of the spoon can hang off the edge and allow for smooth rolling). Here's how to make these larger than life penne:

— Use a rolling pit to thinly roll out the pasta dough on a floured (or fine semolina-ed) surface.
— Cut into evenly-sized squares using a pizza cutter.
— Place the handle of the wooden spoon on one corner and roll up towards the corner that's diagonally across, pressing slightly at the end to seal. Ta-da!
4. Homemade farfalle (bow-tie pasta)
This is possibly my favorite shape to fold by hand. All you need, in addition to a rolling pin, is a knife or dough cutter, pizza wheel, or pastry wheel. Here's how to shape up farfalle at home:

— Use a rolling pit to thinly roll out the pasta dough on a floured (or fine semolina-ed) surface.
— Using either a knife, dough cutter, pizza cutter—or a crinkly-edged pastry wheel, as we did—divide your sheet of pastry dough into even rectangles.
— One at a time, pinch the longest edge of the rectangle into the centre to create a narrow tunnel.
— Use two fingers (or in my large-handed case, your pinky) to pinch together in the middle to create the butterfly shape. Turn over and use your fingers to primp the hollows of the bow tie (or, if you like, wings) on each side, as if you would a fabric bow-tie, to make them look more pronounced.
5. Homemade busiate (spiral pasta)
Busiate are a pasta shape that look like spirals of ribbon. They originate from Sicily but can also be found in Calabria. To make them, you'll need round-edged chopstick of even thickness or a thick wooden skewer. Here's how to do it:

— Divide pasta dough into small pieces.
— Take a piece and use your fingers to out until very thin, approx. the width of a wooden skewer or a thick strand of wool. Cut the single strand into evenly-sized lengths, approx. 10 cm/4 in. long.
— Wrap the strand around the skewer in a spiral.
— Place on your work surface and roll it for a full rotation, until you have a flattened spiral. You can now gently slip the finished shape off the skewer.
6. Homemade orecchiette
Orecchiette originate from the region of Apulia and are made of a semolina and water dough, rather than an egg pasta dough, which we used for the other shapes above. To make orecchiette, use a small knife with a serrated edge (this helps create the rough-textured hollow), or a regular silver dinner knife (just don't use a steak knife with a pointy end).
Follow our video below to master how to make orecchiette at home:
Homemade orecchiette pasta
— Divide up your pasta dough and roll into logs approx. 2 cm/½ in. thick.
— Use a dough cutter to slice the log into equally-sized, bite size pieces (approx. 2.5 cm/1 in. wide).
— Starting at the longer-side of a small piece (on the edge furthest from you), use the knife to scrape as you would into butter.
— Place the scarped dough, rough side edge up, on your thumb to help give it its classic shape.
Made it before? What's your favorite pasta shape to make at home? Let us know in the comments!
Published on September 6, 2021
More delicious ideas for you