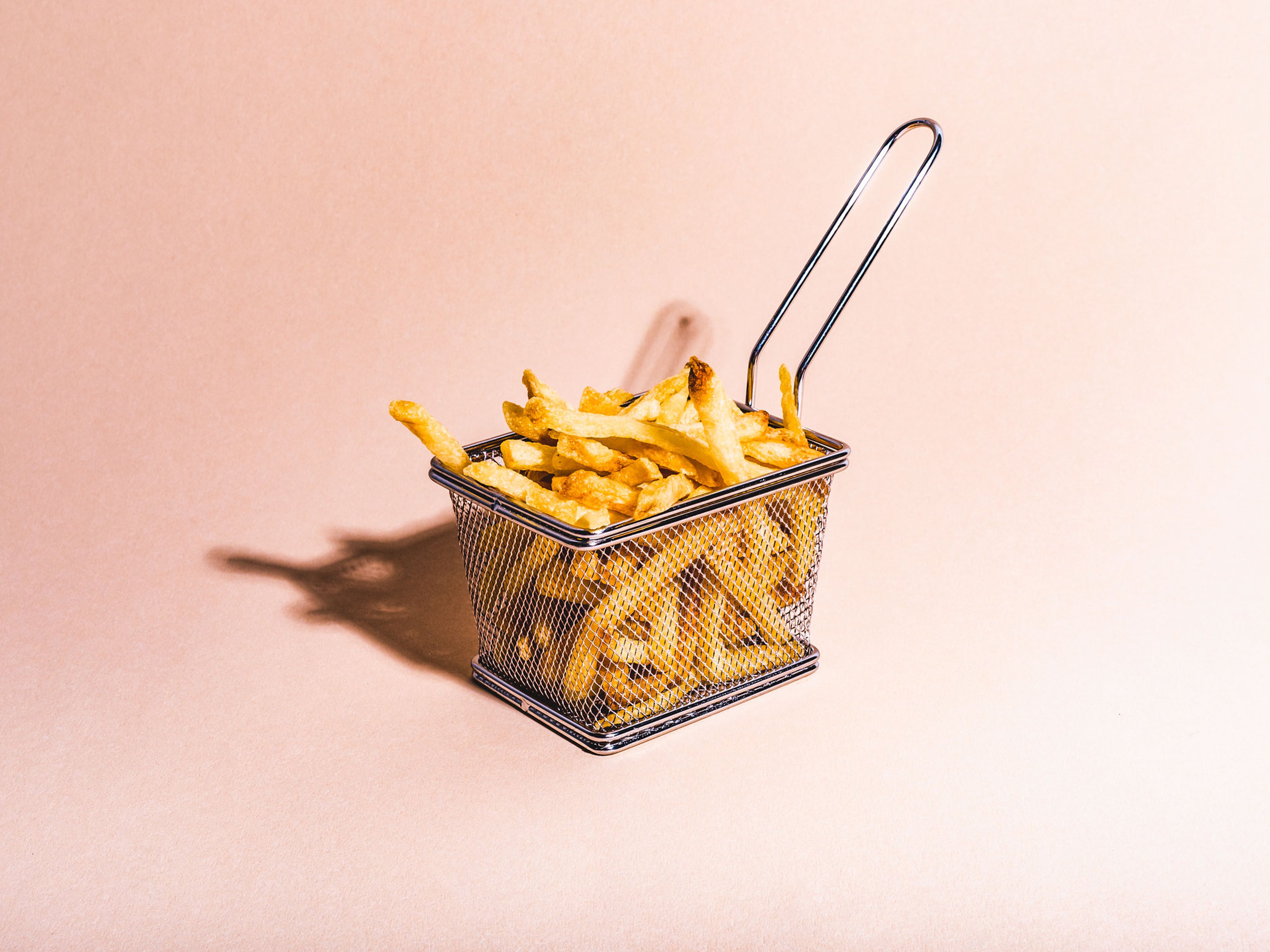 How to Make the Crispiest Fries at Home
From a beginner's version to some twice-fried alchemy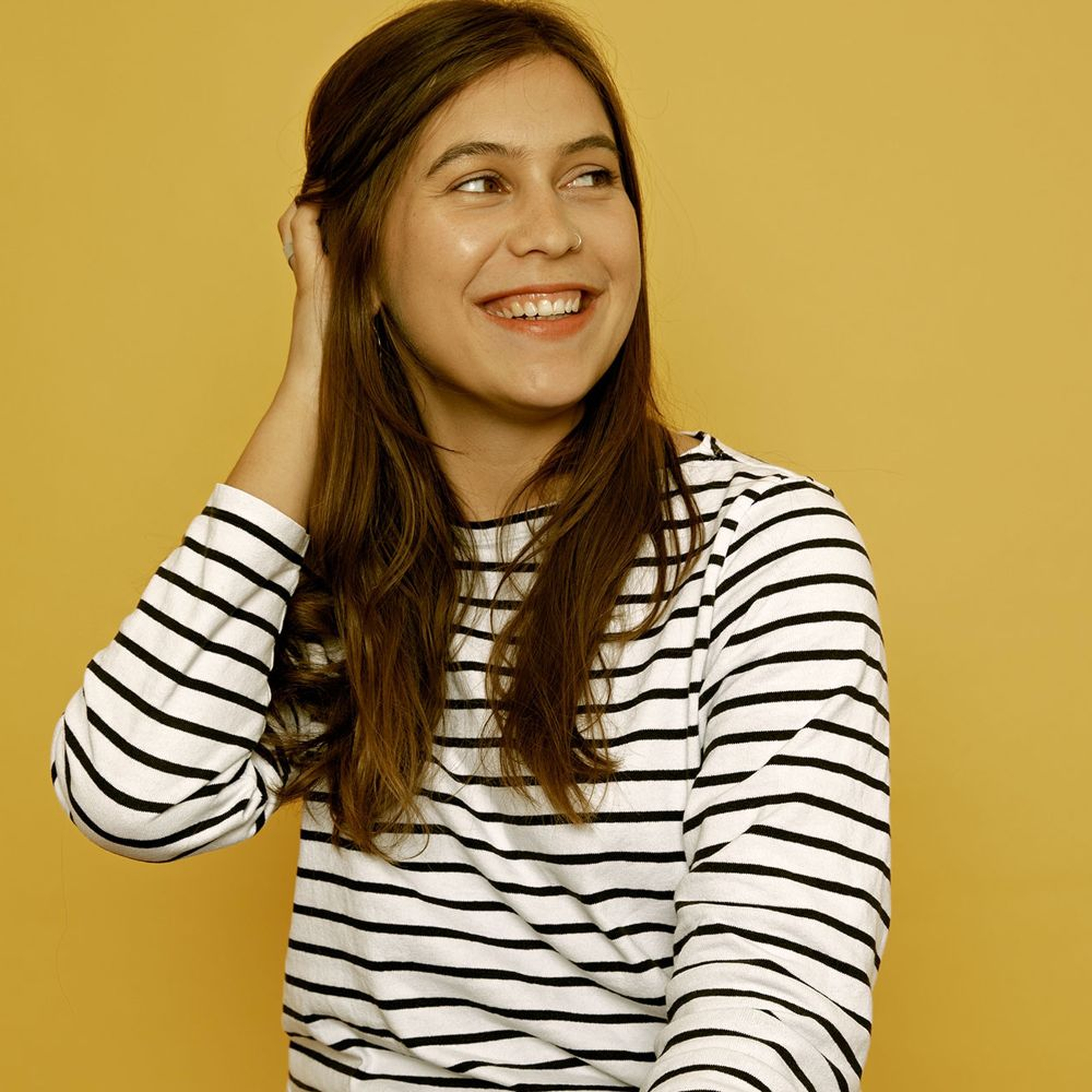 It might be tempting to reach for a bag of frozen fries in the freezer aisle, but let me assure you, Photoshop is really good these days, and while those packaged fries look perfect, golden, crunchy—all the hallmarks you're looking for—you will be let down. In my opinion, fries made at home, in the oven or deep-fried, will always win over anything from a bag—they'll be fluffy (not floury) inside, have a crispy exterior, and offer up proper potato flavor rather than notes of...let's face it: cardboard.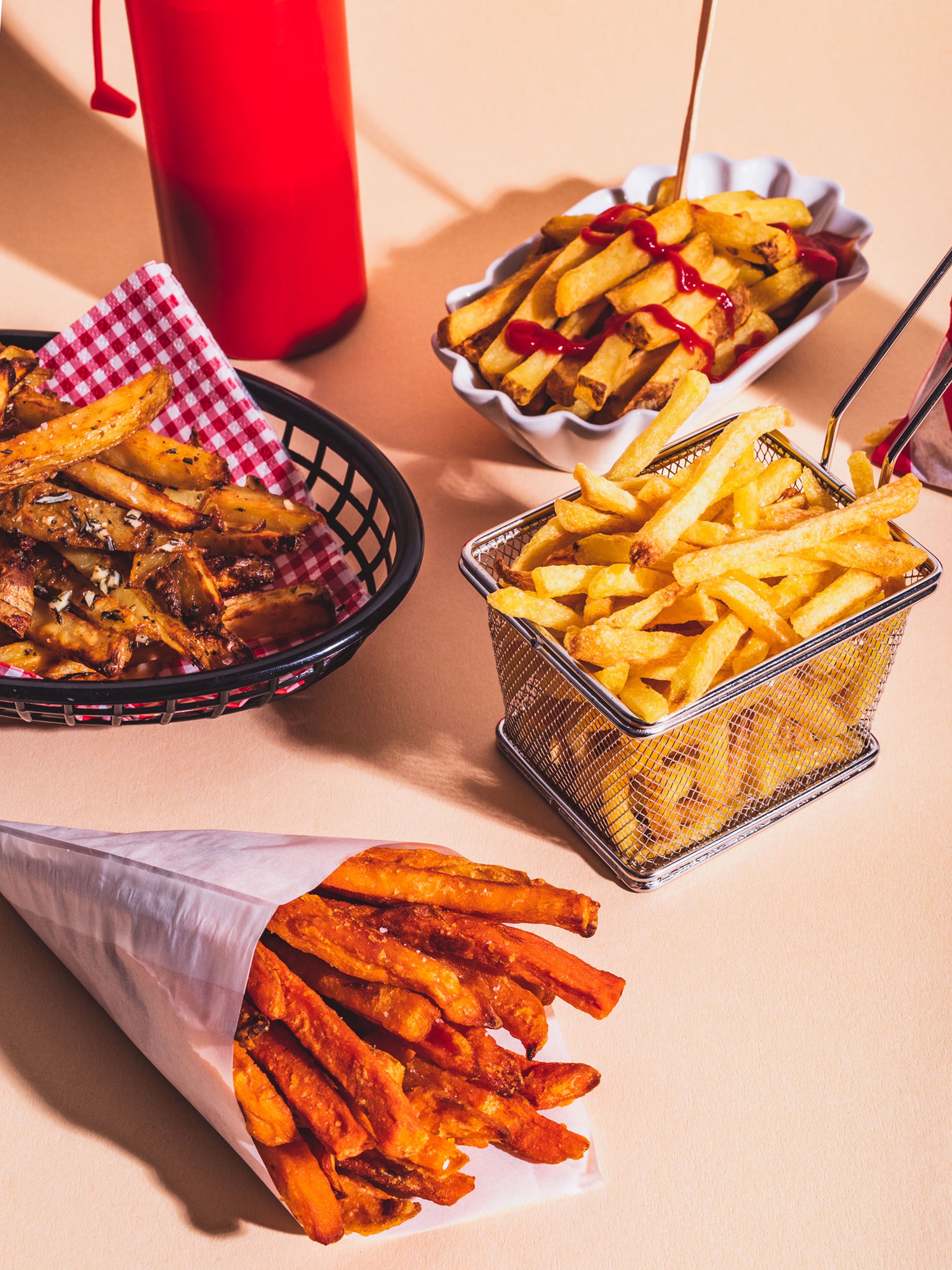 Don't give in to your fears: You don't need to have an industrial deep fryer, or a fancy George Foreman air-fat fryer for that matter, or any kind of special cutting aid to make crispy fries at home. There are different approaches for varying levels of effort, skill, and time—all resulting in that promised golden crunch.
The best potatoes for making fries
Avoid potatoes with any characteristics related to or directly 'floury'. To make crunchy, delicious fries you'll need firm potatoes that are high in starch and low in water content—try Russet Burbank or Maris Piper.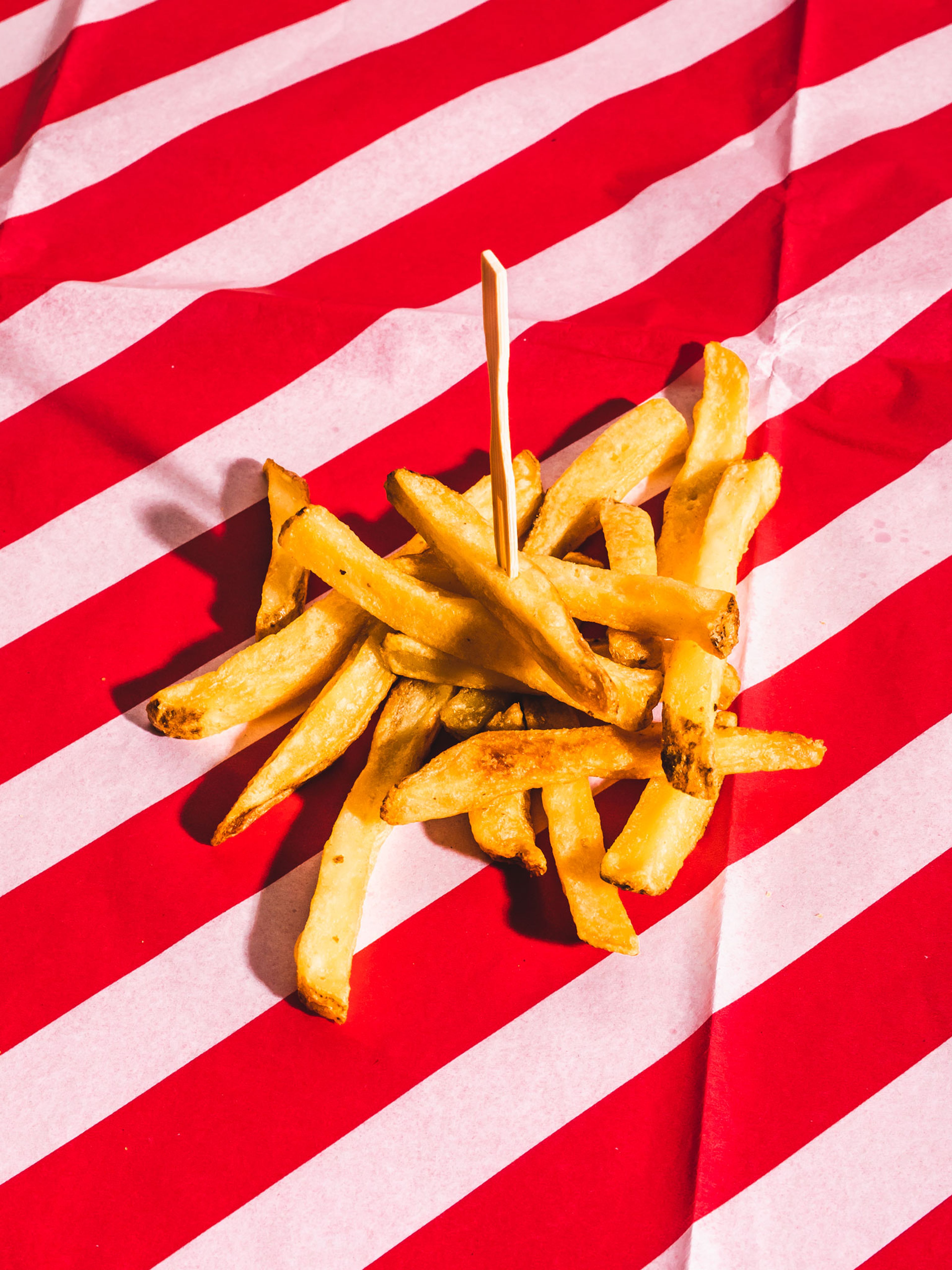 How to cut fries at home
After you've washed your potatoes, the first choice is to peel or not to peel? Personally, for both oven-baked and deep-fried fries, I'm all for skin-on. Not only does the peel get really crispy, giving you a third texture, but it also leaves the full potato flavor intact. Plus, let's be honest, it's one less task in the way of eating amazing fries!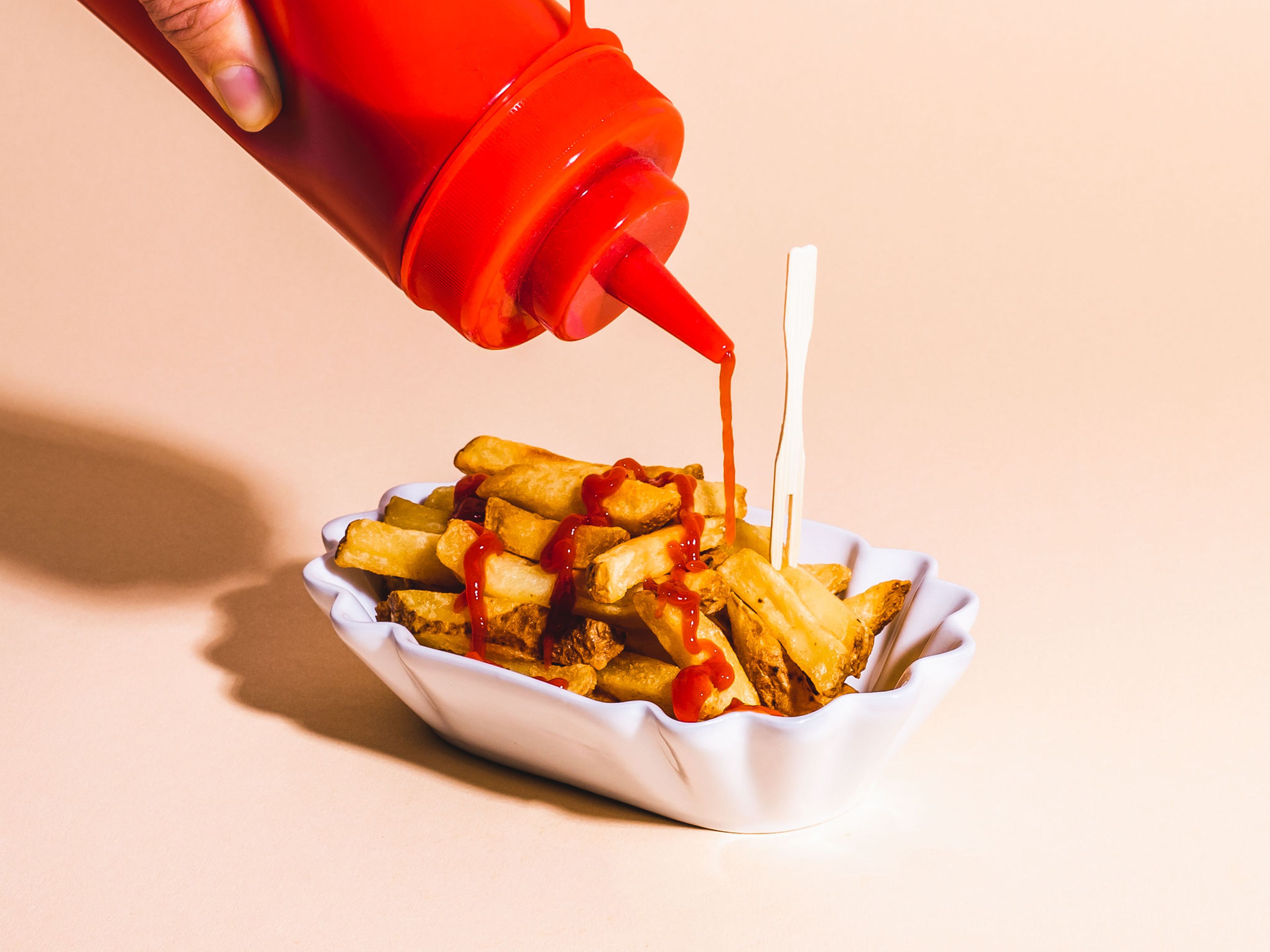 Next, slice your potatoes (or sweet potatoes, zucchini, eggplant, etc.) lengthwise into even slices. Stack similarly sized pieces and slice them lengthwise again, into fries—for French fries you'll need to go very thin (about 0.5cm / 1/4 in.) but for regular hand cut fries, aim for something a little thicker (around 1.5 cm / 0.5 in.) If you want to make wedges, slice your potato into quarters, turn these around so the cut side is facing up, and halve again into wedges.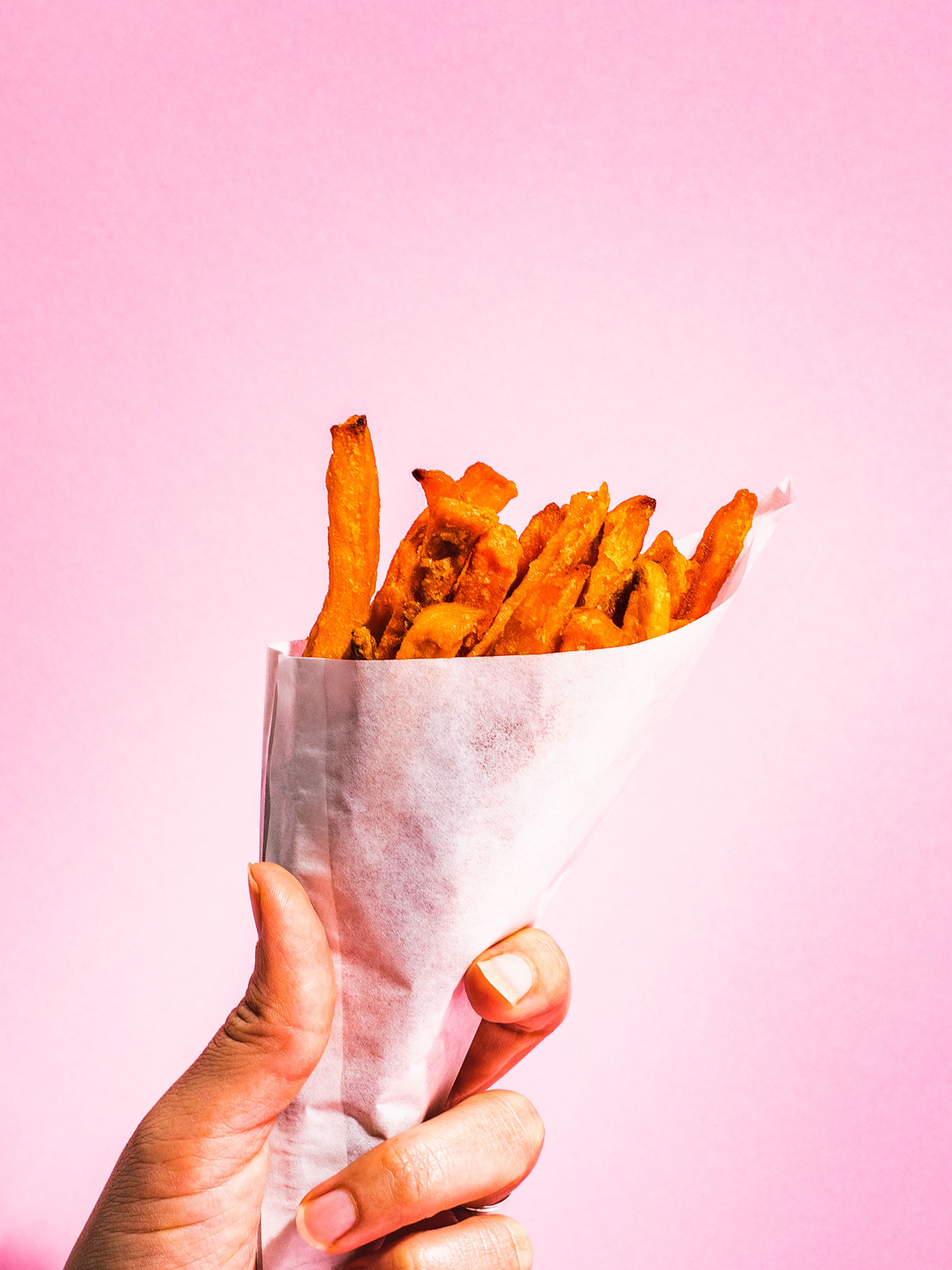 Let it soak
It might seem counterproductive to soak something you're about to fry but leaving your raw fries to sit in a large bowl of water for at least 2 – 3 hours will help leach out any excess starch from the potatoes so you can get the crispiest finish possible. Naturally, you'll need to let them dry or dry them using a clean kitchen towel before frying.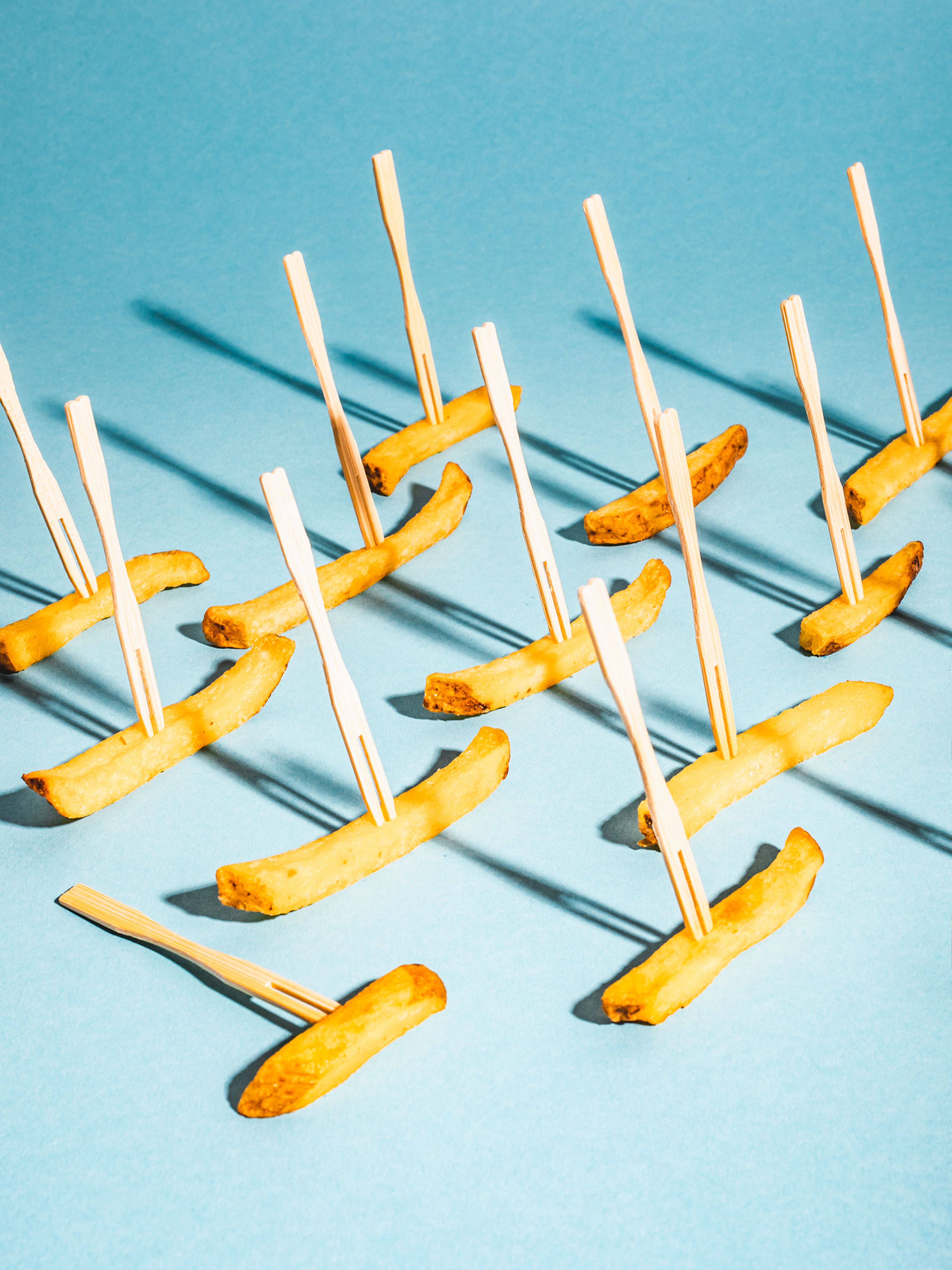 Alternatively, briefly blanch your cut fries in boiling water for 3 – 4 min. before removing, draining immediately, and letting them dry out.
The best recipe for homemade oven fries
The most approachable way to make fries at home is in the oven, so set it 220°C/430°F, gather a baking sheet, potatoes, salt, starch, and oil—and we're ready to go.

The trick to getting oven fries crispy is to toss them in a little starch. This does a few things: first, it soaks up any excess water on the surface of the fry; second, it helps the oil stick to the potatoes; and third, it helps create a crust.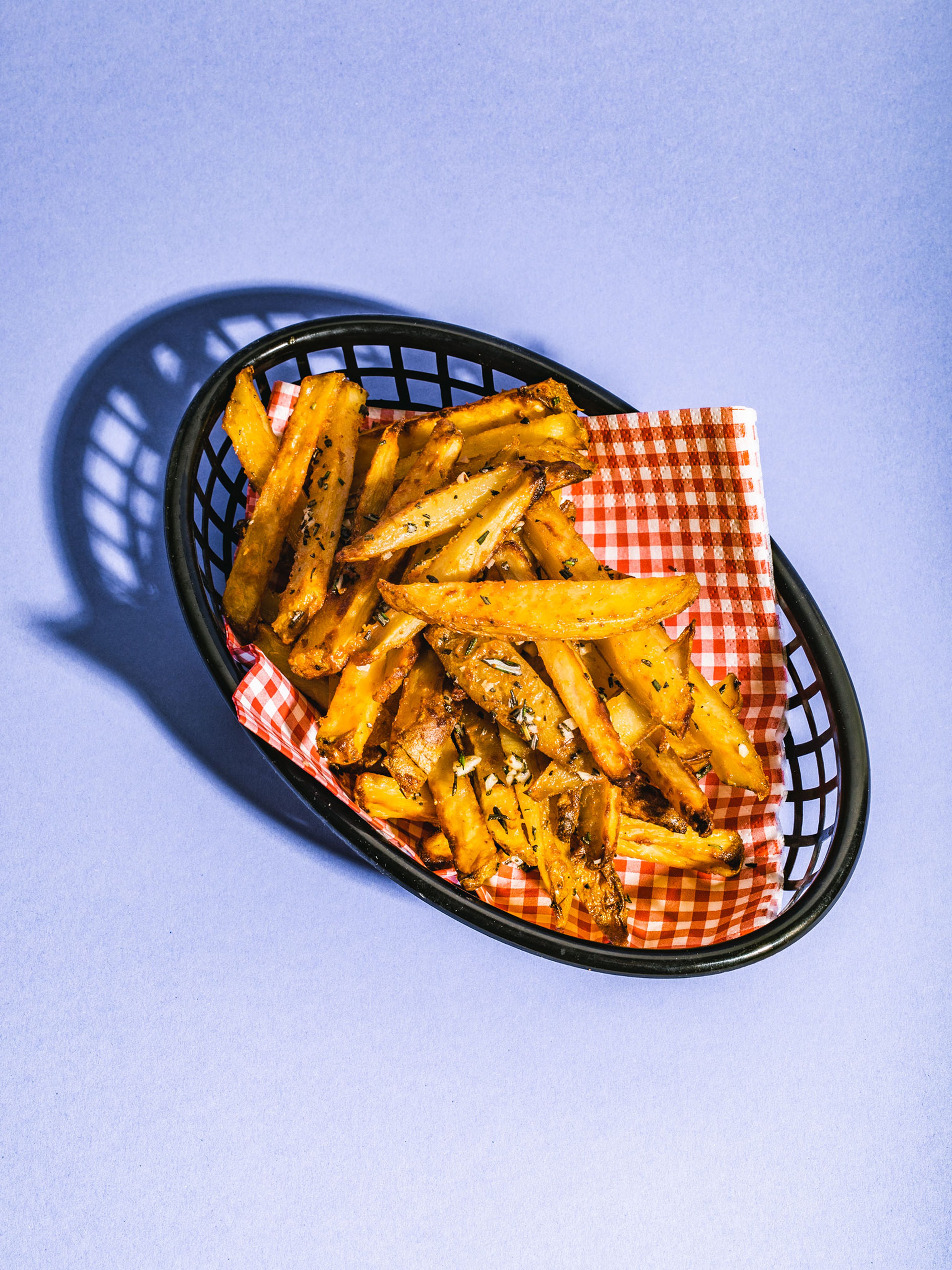 Arrange the fries in a single later on a parchment-lined baking sheet and bake for approx. 40 min., flipping them over halfway through. Toss the fries in olive oil (we like the flavor it imparts especially on seasoned, skin-on fries) or vegetable oils like sunflower oil before baking.
Homemade seasoned oven fries with rosemary and garlic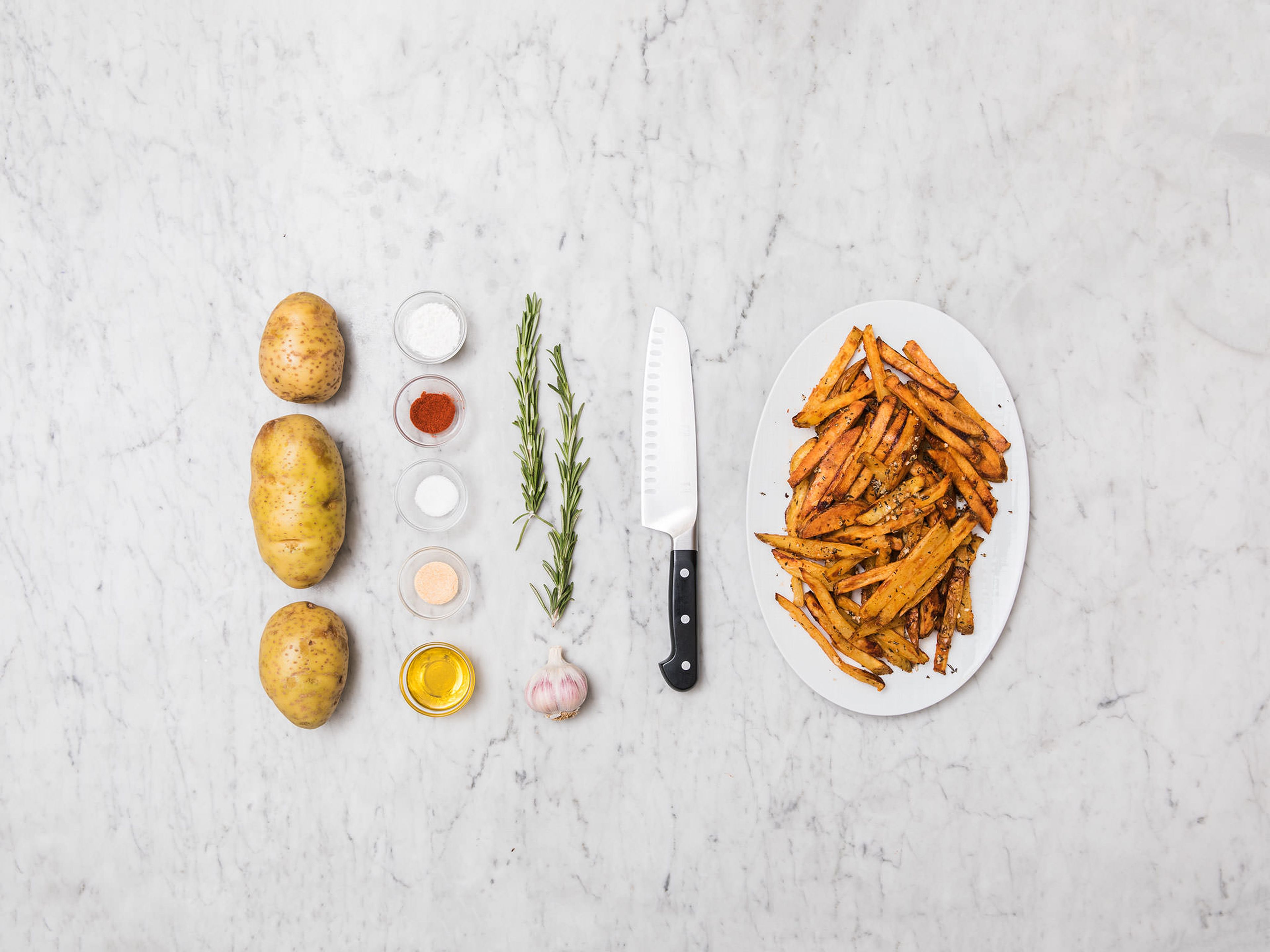 → Go to recipe
If you'd like even more seasoning, we like to add a little not-so-secret seasoning in the form of salt, garlic powder, and smoked paprika powder. Or, try a trick from our chef Johanna by immediately tossing the oven fries in a mixture of finely minced garlic, rosemary, and flaky sea salt as soon as they're out of the oven.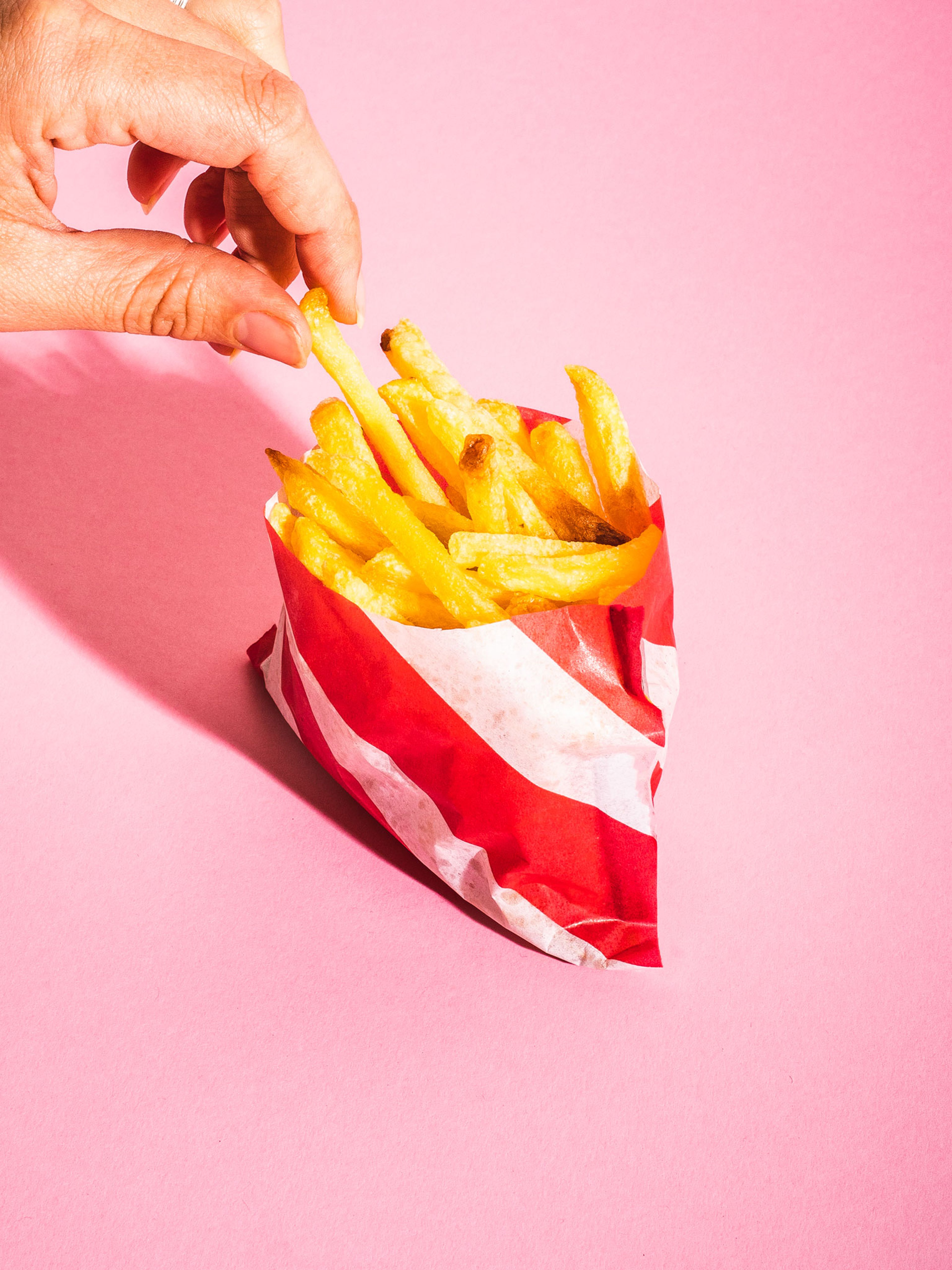 How to deep fry fries, at home
While cooking up some fries in the KS Test Kitchen, I cornered our resident deep-frying-at-home enthusiast, my fellow editor Julia, for her top tips—because if there's a food that can be fried, there's a good chance she's fried it.
The question of temperature was barely out of my mouth before I received the answer: 320°F (160°C) degrees and then 375°F (190°C) degrees for the second frying. Which brings us to two words that always jump off the menu at me—twice fried.
The double-frying method is said to hark back to street vendors peddling pommes frites in France in the 1800s and is the secret to getting fries (or anything else you feel like dunking in oil) enviably crispy. But why twice? Put simply, once is not enough to create a lasting outer crunch because the moisture inside the potato will seep out and turn it soggy.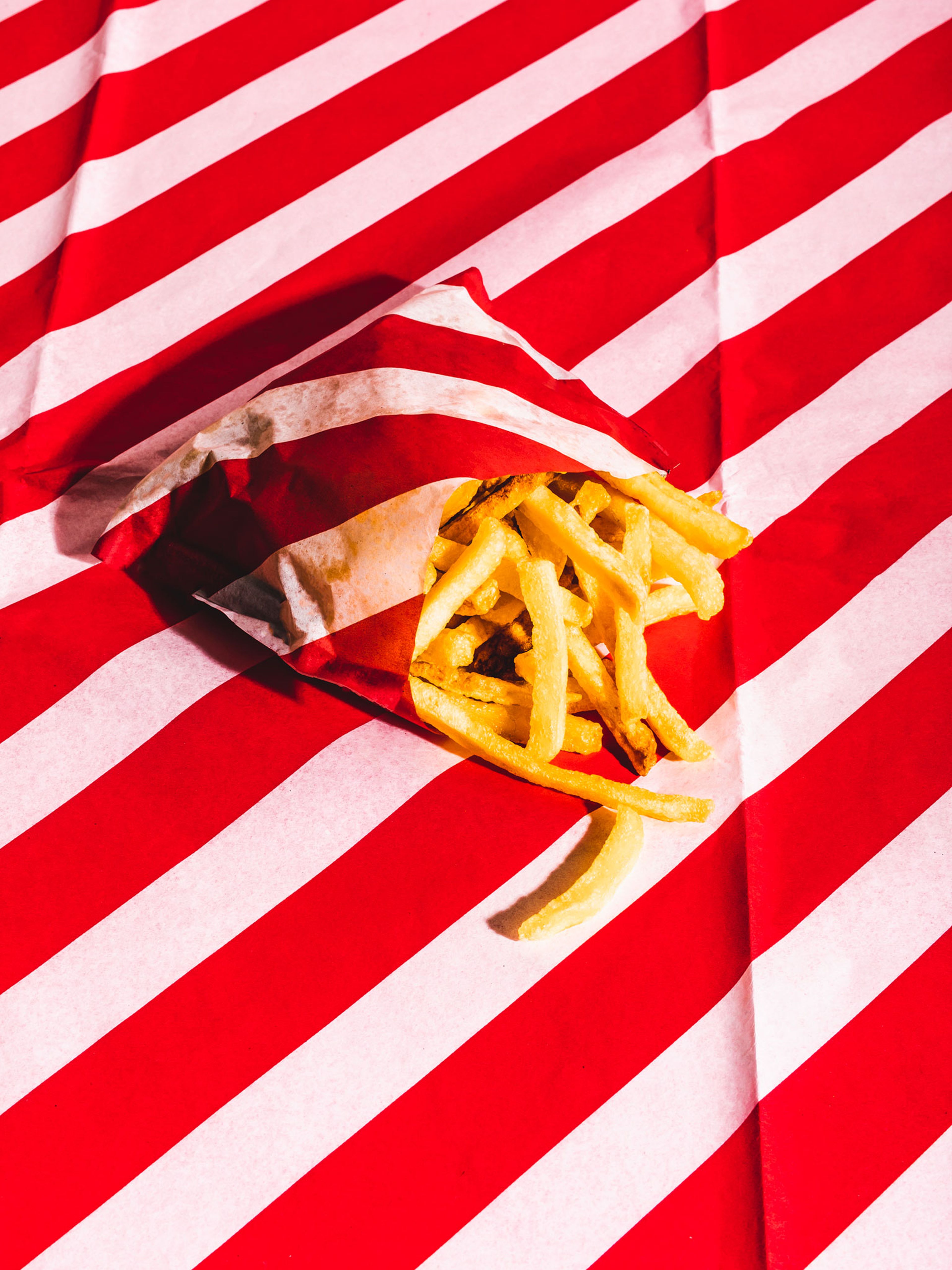 Twice? Well, here we have something nice—double the crunch. You start by frying the potatoes on a low temperature to partially cook them and create the initial crust. Next, you remove the fries, and let them cool a few minutes before reintroducing them to a higher temperature that creates another crispy outer layer that will fortify the first, resulting in the crisp de la crisp of fries.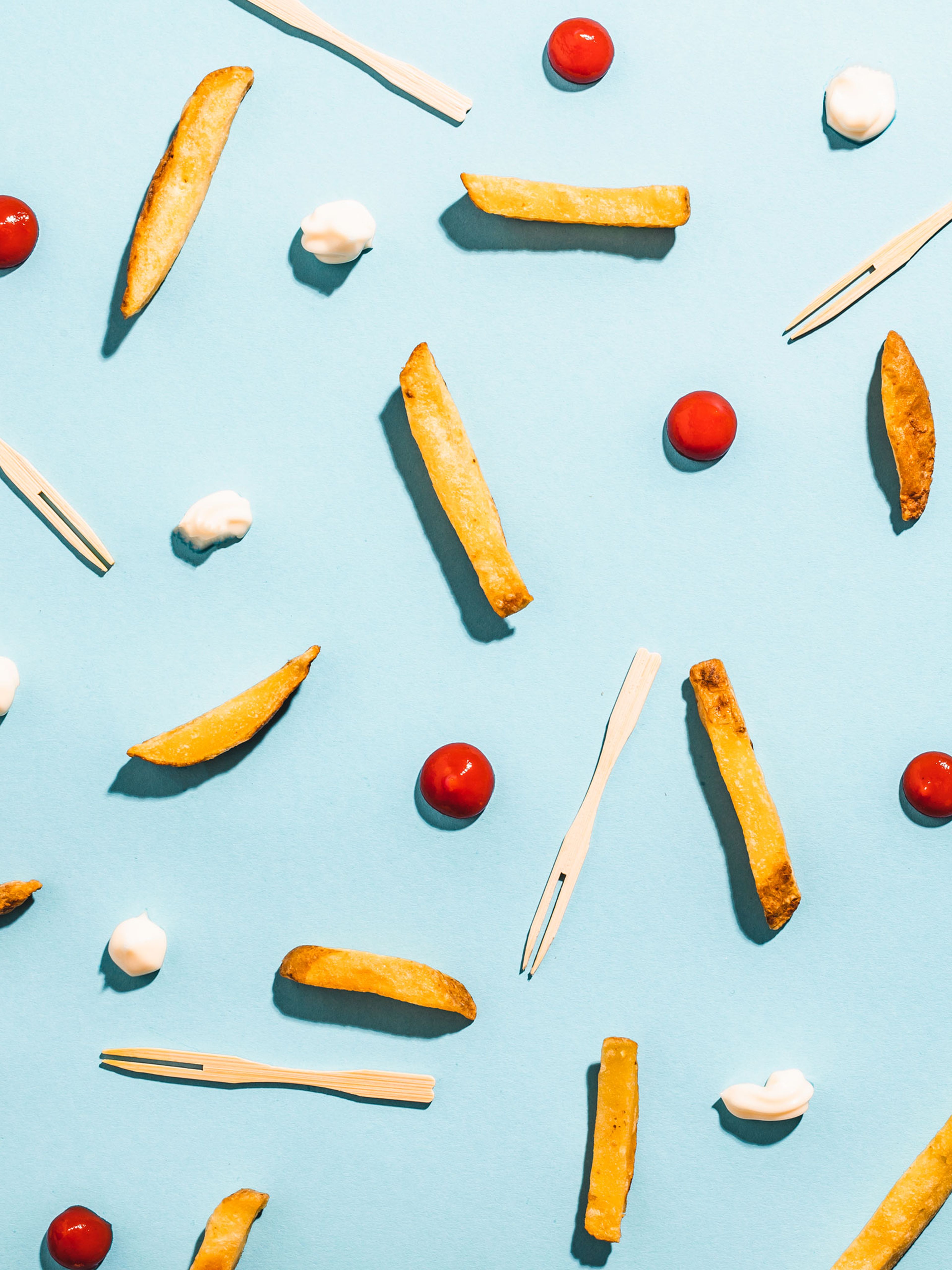 For deep frying, you want to use a neutral-flavored oil with the highest smoke point (see our oil guide here to understand the science behind this)—try grapeseed oil, rice bran oil, or vegetable oil. Fry in batches so that every fry has a fair chance at 360 degrees of golden crustiness, and transfer each batch to a paper towel-lined plate to soak up any excess oil. To make your life easier, invest in a metal fry basket that you can lower into the oil, or a woven or mesh skimmer.
How to reach the perfect temperature for frying
If you'd prefer just one batch of frying, blanch your fries in boiling water for a few minutes as mentioned above, leave to cool, pat dry, and fry in batches for approx. 5 min. in oil heated to 180 °/ 350°F. Enjoy!
Loaded fries
Now that you're primed to make your own fries at home, there are condiments to consider. We've got plenty of suggestions in our guide on how to make the best homemade sauces and dips, but I couldn't write an article on fries without mentioning one of the Kitchen Stories Team's favorite local lunch spots—Goldies in Berlin.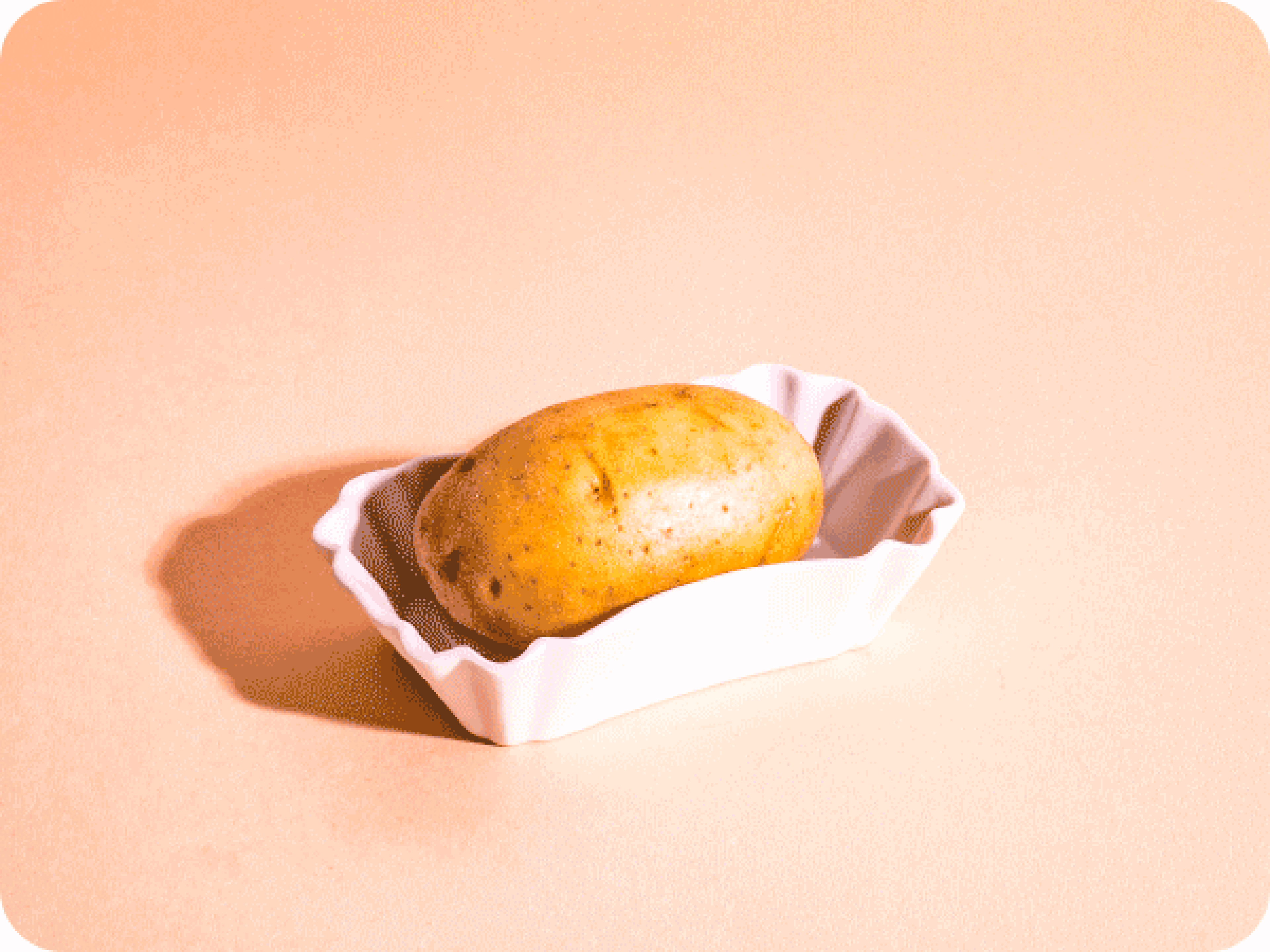 I think the entire company would agree that any post-lunch food coma is entirely worth it in the name of loaded fries. Not only are their hand-cut fries ridiculously crispy, they come served with deliciously inventive toppings from Sicilian-inspired caponata and shaved truffle and parmesan, to Peking duck and hoisin sauce. Here they share the breakdown of their best-sellers for you to re-create at home—or if you're in Berlin, head in store to try the real deal first, or drool on Instagram.
1. Chili cheese
Irish cheddar + Parmigiano Reggiano + pickled jalapeños + chipotle sauce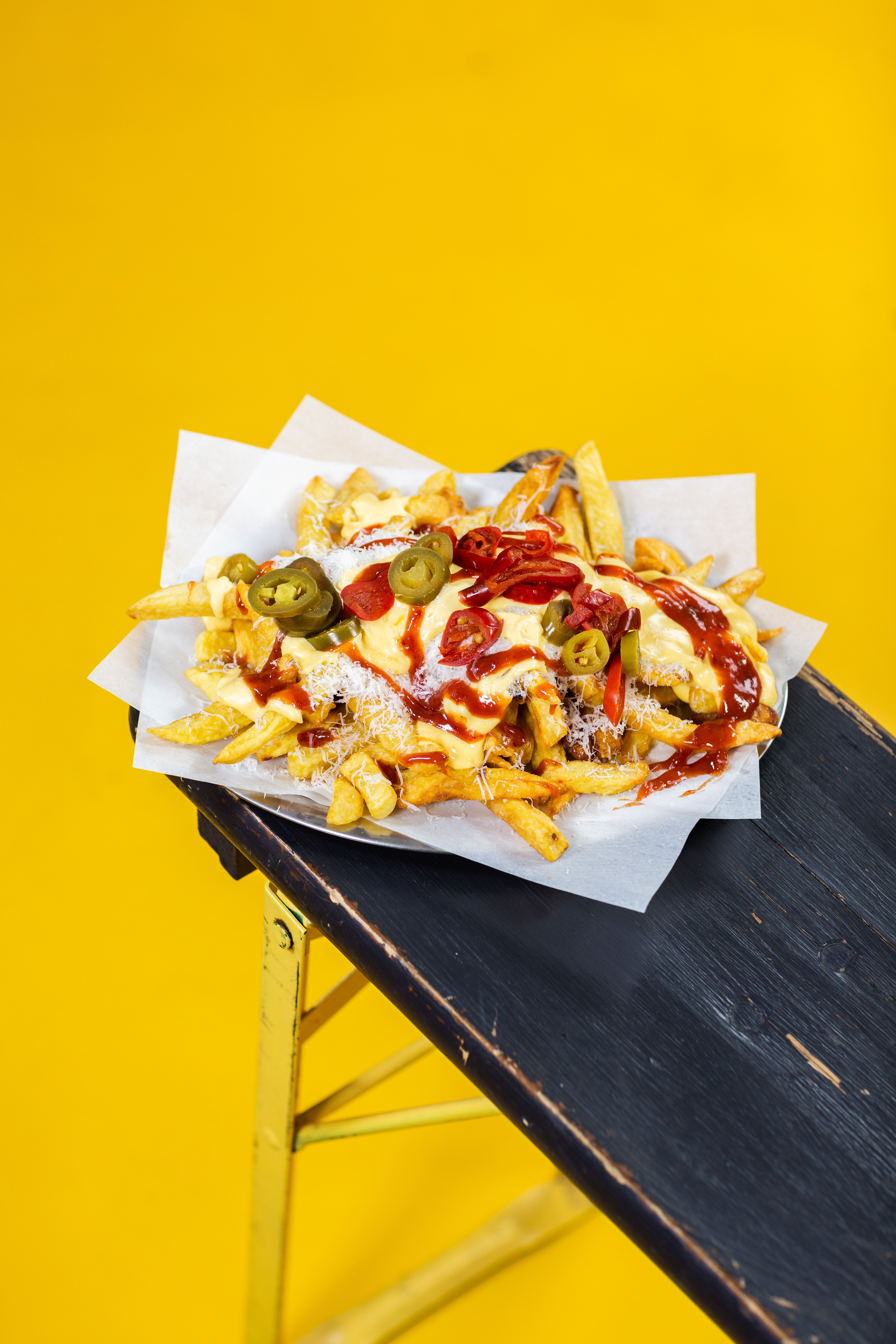 2. Sicilian caponata
Braised eggplant + tomatoes + almonds + raisins + buffalo mozzarella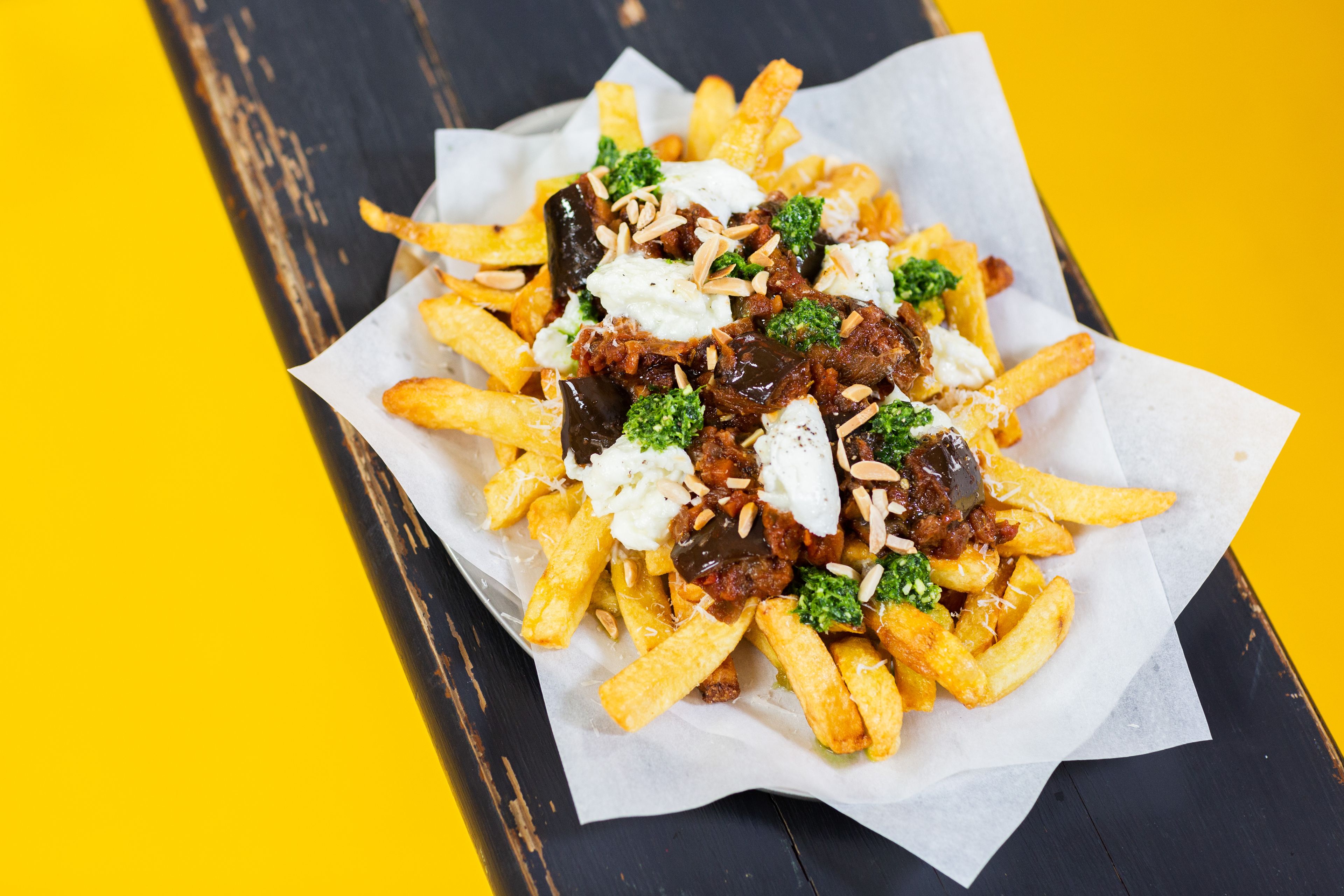 3. Odessa's beets
Beets + horseradish mayonnaise + sauerkraut and carrot mix + dill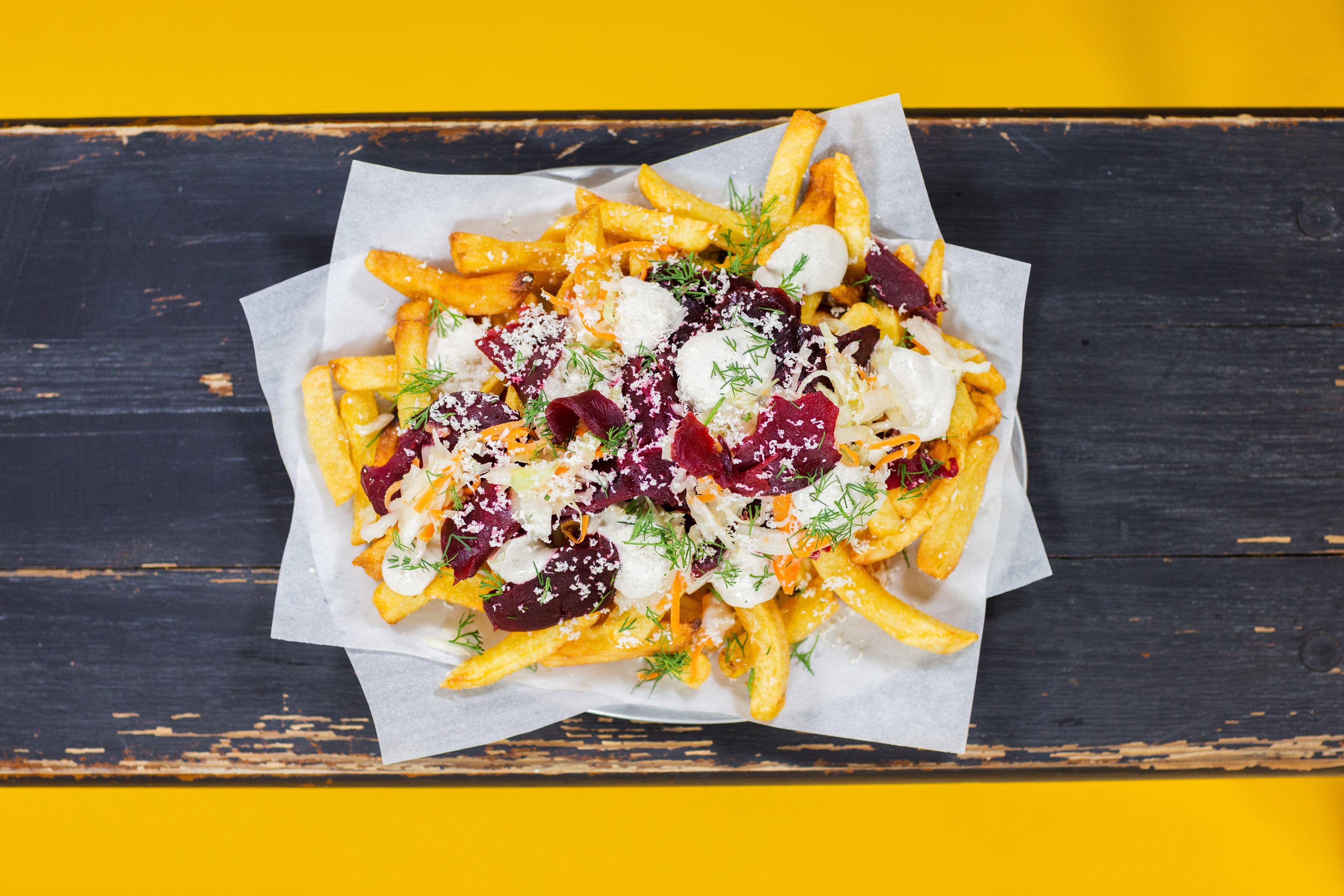 4. Peter and parma
Parsley pesto + garlic mayonnaise + Parmigiano Reggiano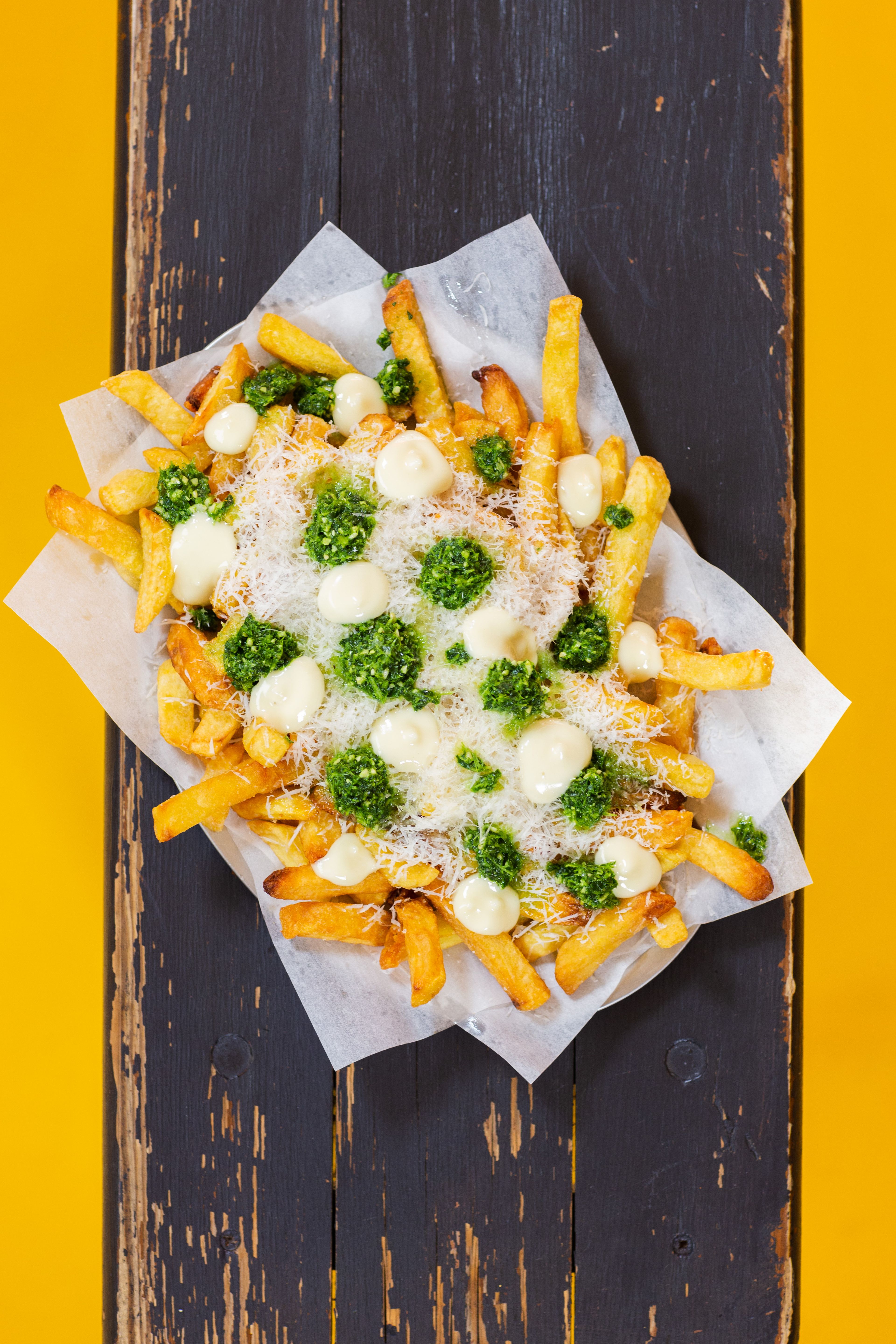 5. Miso kimchi
Miso mayo + kimchi ­+ seaweed mix + fried egg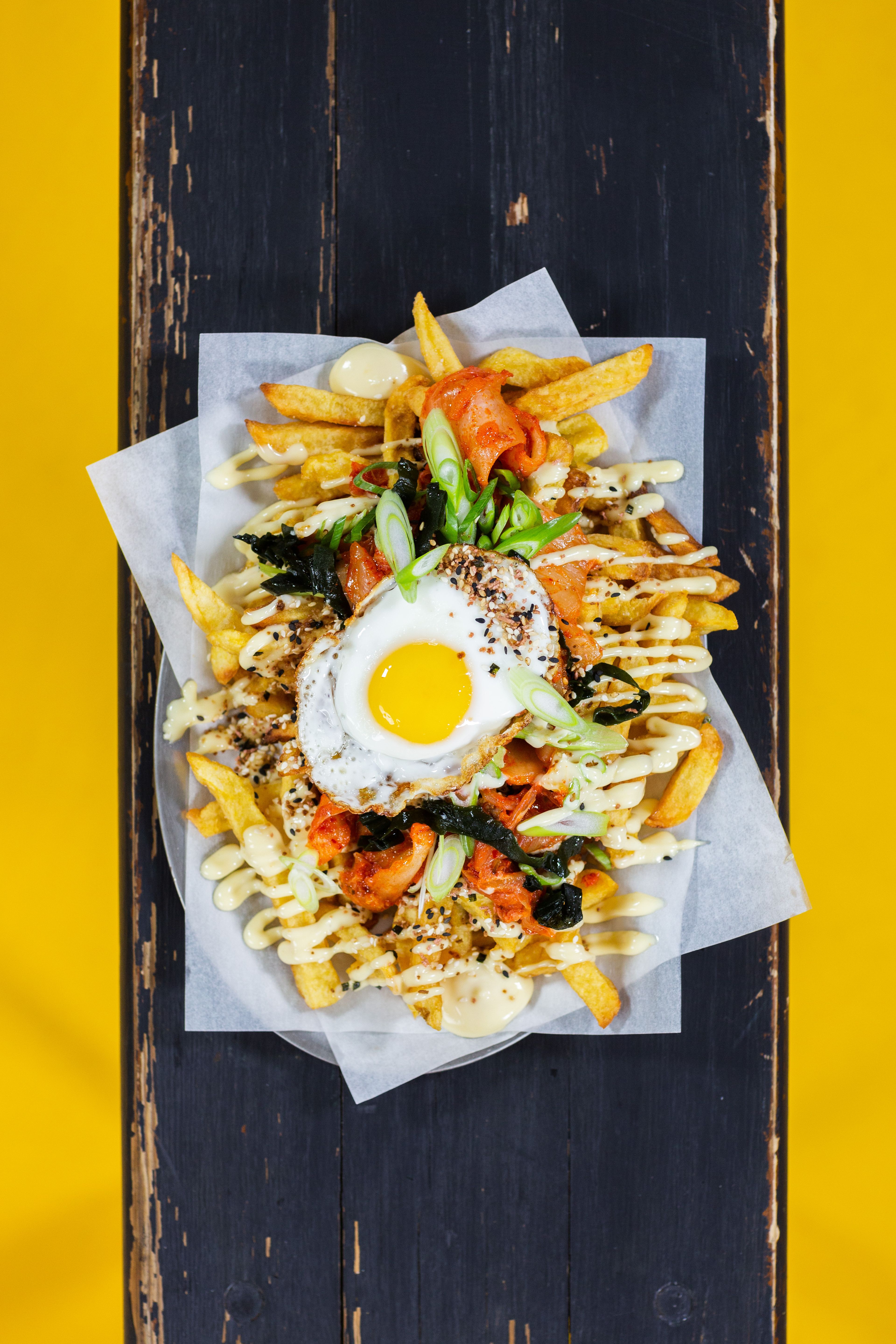 6. Roast beef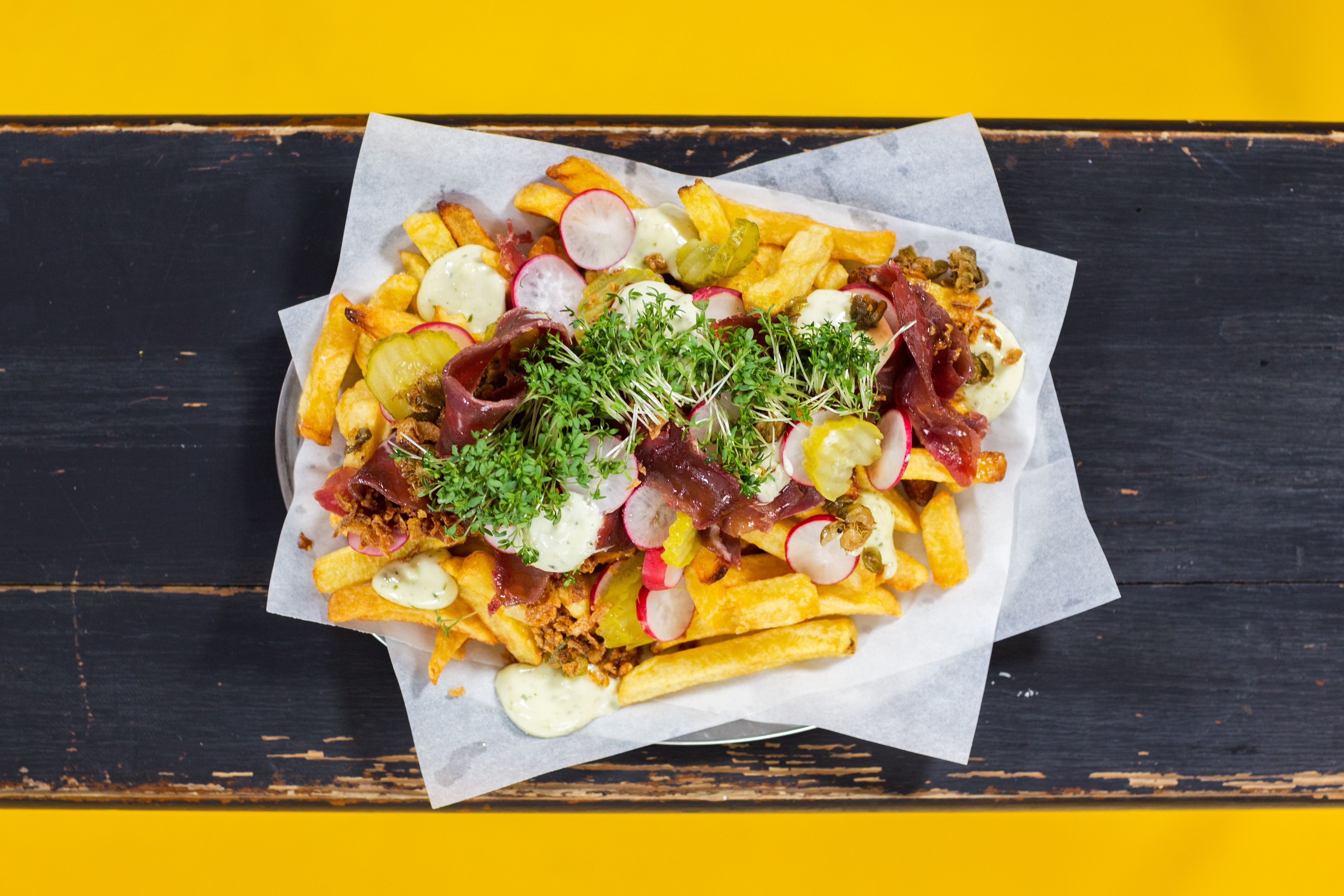 Roast beef + remoulade sauce + cress + fried onions + fried capers
7. Peking duck
Pulled duck + hoisin-plum mayonnaise + mandolined vegetables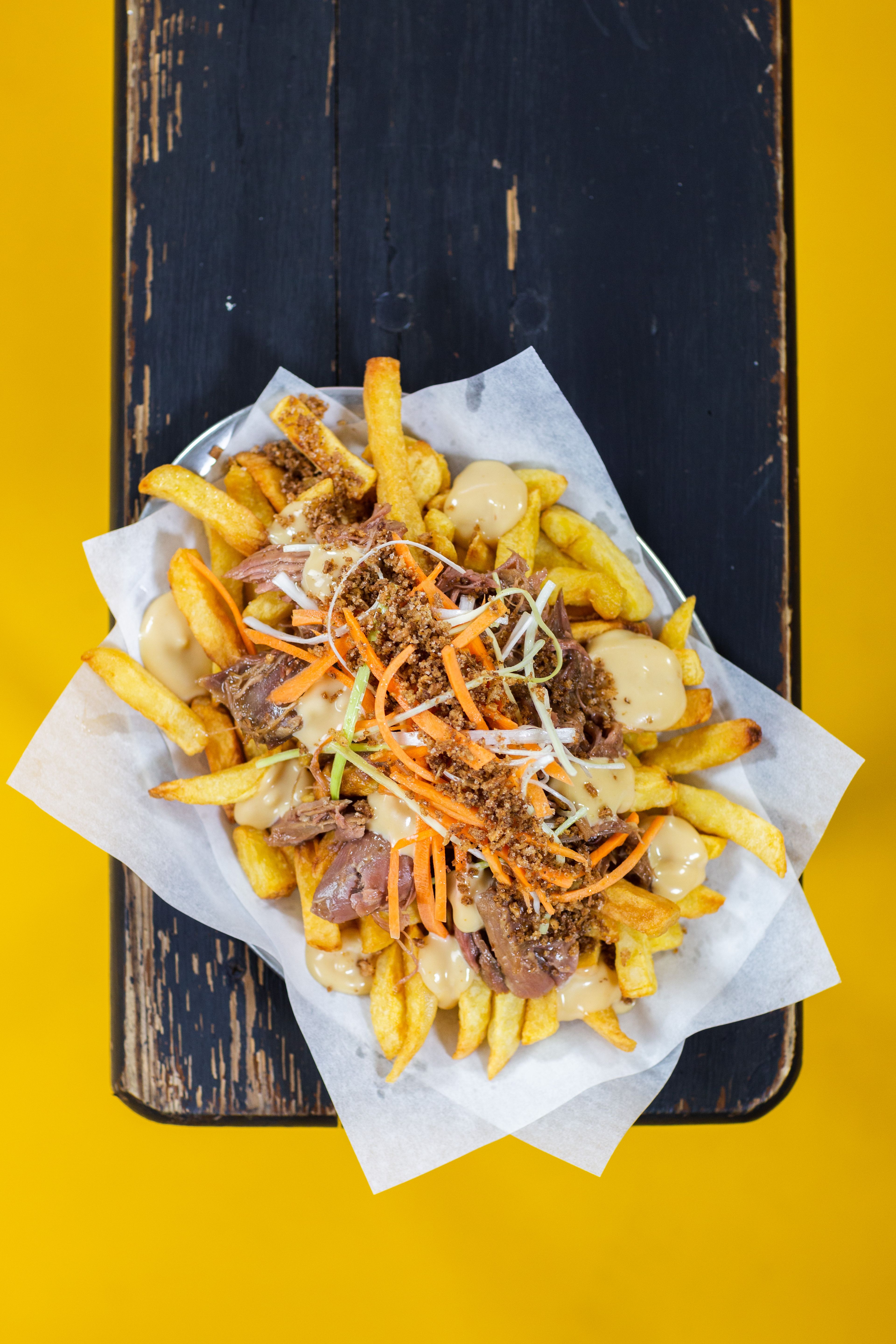 What are your tips for making fries at home? Do you have your own loaded fries toppings to share? Let us know in the comments!
Published on February 17, 2019
More delicious ideas for you