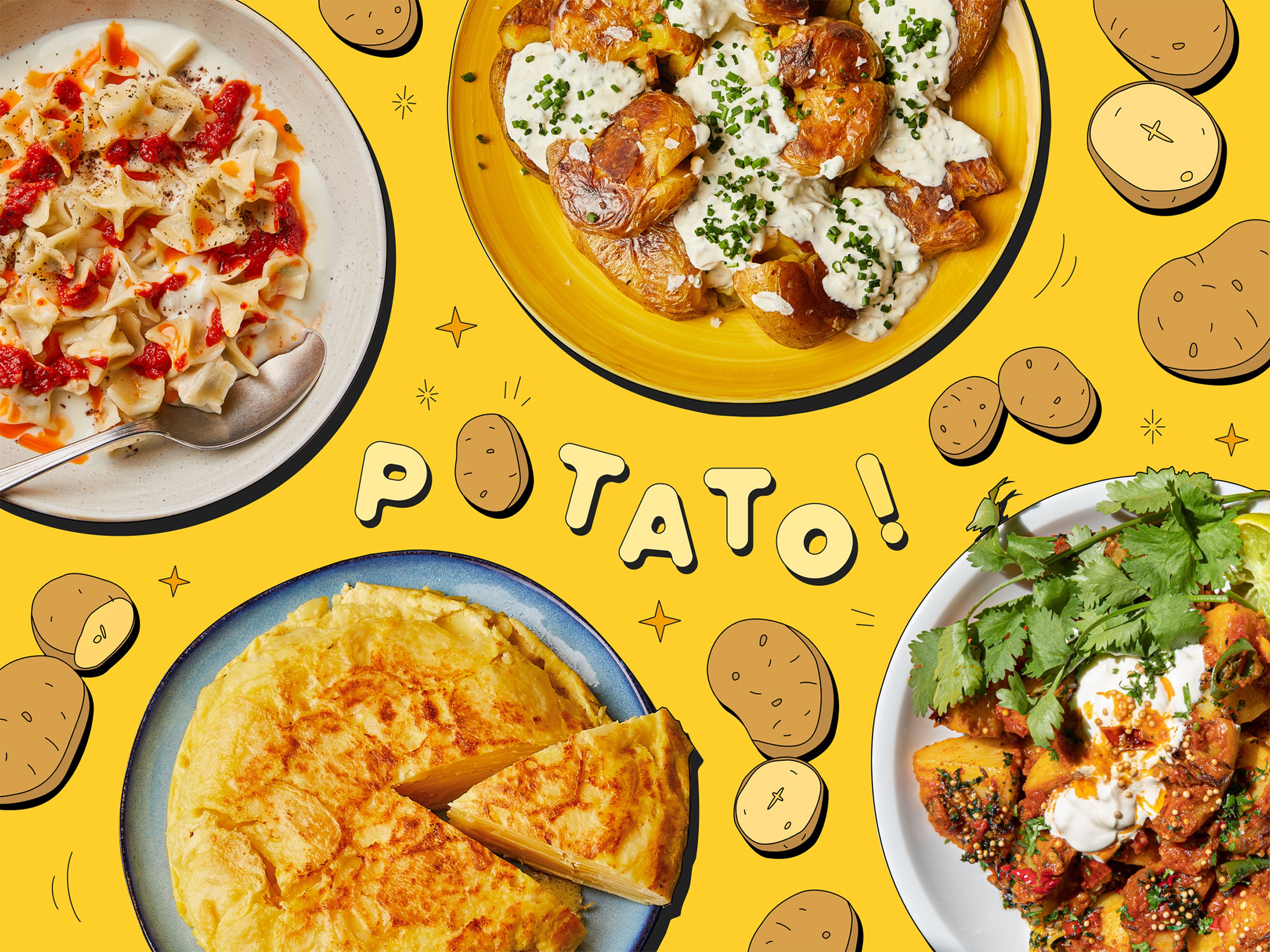 Our 25+ Best Potato Recipes From Around the World
Come with us on a culinary world trip to the best potato dishes from India, Spain and more!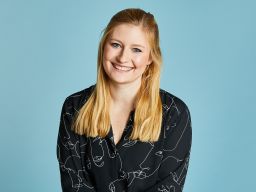 Food Editor at Kitchen Stories
Have you ever heard of Swedish potato pancakes with lingonberries and bacon or did you know that the potato is a popular ingredient in North Indian cuisine? If not, then it's high time for a culinary potato world tour!

The potato - the Germans' favorite vegetable! Potato soup or salad with sausages, potato pancakes with applesauce, potato dumplings at Christmas and not to forget my personal favorite dish: potatoes with cottage cheese, are just a few of the most popular potato dishes that are an integral part of German cuisine.

Once brought to Europe from South America by the Spanish in the 16th century, the potato (also called Erdapfel in parts of Germany and Austria) is now one of our year-round staple foods - and not just in Germany!

In cooperation with our partner REWE Regional we discover the variety of fruits and vegetables in the region!

For this, we are going on a world tour through the diversity of international potato cuisine, away from potato salad and French fries, and have taken seasonal inspiration for our recipes with regional potatoes. By working with regional producers, local farms are supported and thanks to shorter delivery routes, the fruit and vegetables arrive fresh at your REWE store.

Look out for the REWE Regional logo the next time you go shopping! Here you can find out which products are currently in season in your neighborhood.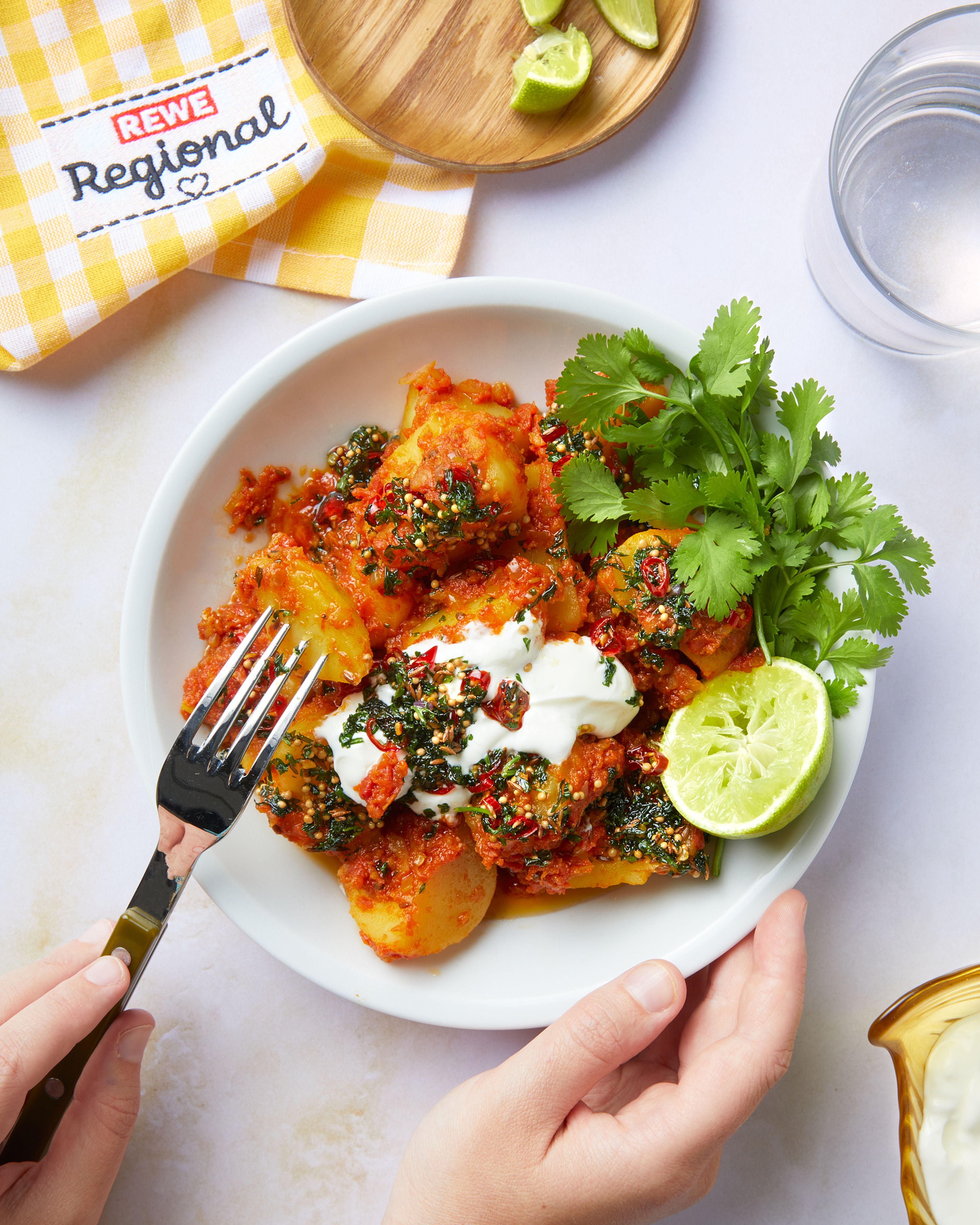 Von polnischen Piroggen mit Kartoffelfüllung bis hin zu indischem Massaman Curry
This article is dedicated to all the delicious potato dishes that inspire us again and again to combine time-tested ingredients, such as the potato, in new ways. That's what makes cooking so interesting, isn't it?
And I can tell you one thing right now: My research has led me to some of the most delicious potato dishes in the world - far beyond international classics like French fries and trendy recipes like smashed potatoes - which I will present to you in the following article.
A little potato 101
But what makes the golden tuber one of the most versatile ingredients in the kitchen?
We firmly believe that the potato has many advantages, especially due to the different ways of preparation and possible combinations with other ingredients. Other advantages: The potato is also inexpensive, available year-round from domestic cultivation and rich in nutrients!
The different varieties of potatoes and their preparation:
In principle, all potatoes can be boiled, fried, deep-fried, baked into bread, mashed and much more - there are almost no limits to your imagination! For a perfect result, however, you should pay attention to the starch content of the potatoes used.

Cooking potatoes made easy: which potato is suitable for which dish?

With more than 2,000 potato varieties available worldwide, of which over 200 varieties, from the special Bamberger Hörnchen to the well-known Annabelle, are available in Germany, it can be difficult to decide. As a general rule, the more starch the potato contains, the more floury it is.

Therefore, we have divided them into 3 different main categories, all of which you can find in the REWE Regional assortment:

Firm-cooking varieties, e.g. the Linda, Sieglinde or Annabelle varieties are suitable for: fried potatoes, potato salad, gratin, French fries and frittata, as the inside of the potato remains firm during cooking and the skin does not crack.
Predominantly firm-cooking varieties, e.g. the varieties Granola, Finka or Bonnotte are suitable as "potatoes for all occasions" for almost all potato dishes, as their consistency lies between floury and firm-cooking, but particularly well for boiled or jacket potatoes and French fries.
Floury varieties, e.g. the Augusta, Adretta or Ackersegen varieties are suitable for: soups, purees, dumplings, gnocchi and potato pancakes, as the inside of the potato easily disintegrates during cooking due to the high starch content.
The seasoning of potatoes can vary
Here we go with our collection of international potato dishes! In addition to the various methods of preparation from boiling to frying, we have investigated the question of what distinguishes the various recipes with the basic ingredient potato from each other: And tada, it's mainly the spices!

Depending on the region, cooking is done with spices, pastes and sauces typical of the country, which give each potato dish its distinctive taste!

Do you know tornado or spiral potatoes? The famous Korean street food snack, now known far beyond any national borders, is spiced differently from India to Germany. We've put together our own spice mix with rosemary, paprika and chili - why not give it a try?
Potato in Indian cuisine
Our little trip around the world starts about a 10 hour flight away from our Kitchen Stories office in Berlin to India. The North Indian cuisine in particular is known for the use of Aloo (the Indian word for potato). Here, typical Indian spices such as cumin, ginger, coriander, garam masala, mustard seeds, cinnamon and turmeric are combined with often boiled potatoes to make quick and delicious curries!
Inspired by the spice diversity of Indian cuisine, we have developed a simple, vegan curry with REWE Regional waxy potatoes and easily available spices that is perfect for dinner after a long day at work - real comfort food!
Vegan indian potato curry (Aloo Sabzi)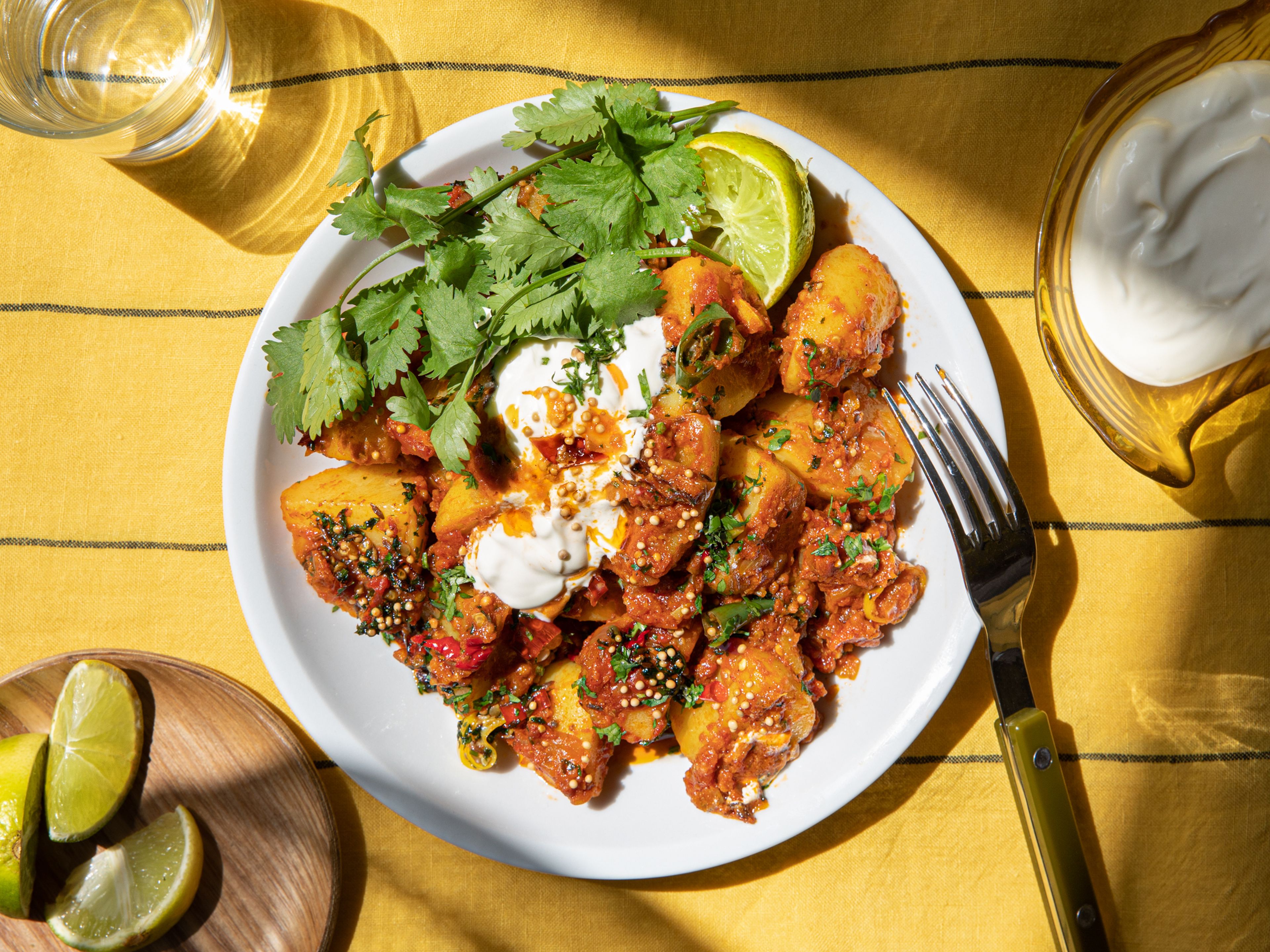 → Go to recipe
With these delicious dishes, you can easily get started with Indian potato cuisine:

Keema curry (Spiced ground beef with potatoes)
Vegan massaman-style curry
Bombay-style potatoes
The potato in Mediterranean cuisine:
If we go a whole 12 hours' flight further west, garam masala and ginger are swapped for olive oil and garlic. Around the Mediterranean - in Italy, Spain, France and Portugal - our favorite tuber similarly finds its place in well-known national dishes. Less spiced than in Indian cuisine, but all the more fried and served as a side dish with fresh fish, Mediterranean cuisine also convinces with delicious potato dishes.

With these delicious dishes, you can easily get started with Mediterranean potato cuisine:

Spanish roasted potatoes with salsa brava
Warm octopus and potato salad
Easy potato and onion tortilla

Now you've gotten a little insight into two very different regional ways of preparing potatoes. Which dish would you most like to cook right away?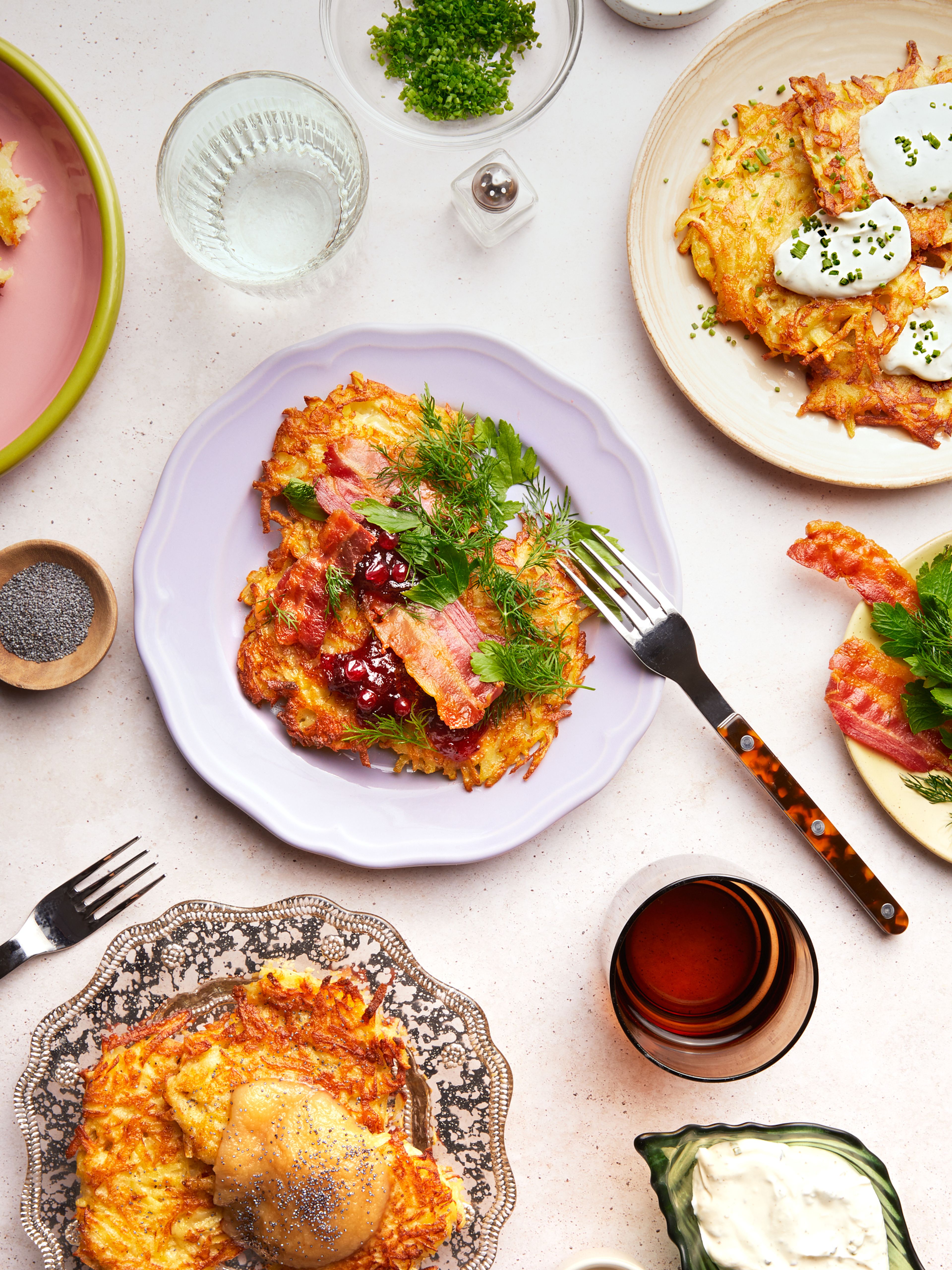 How the potato ended up on several menus around the world
As varied as potato dishes can be, some recipes are so popular and historically evolved that they have made it onto the list of national dishes in several places around the world. The basic potato recipe remains the same, but with different toppings or fillings, they become potato classics that everyone, from toddlers to great-grandparents, associates with their own food culture. Potato dumplings, potato pancakes and French fries come to mind - right?
Potato pancakes & potato fritters
The basic dough of grated potato, egg and salt is supplemented in each case with further ingredients and is called, for example, Hash Browns in the USA, Papates Mücveri in Turkey and Raggmunk in Sweden. The favorite toppings are jam, bacon, salmon, cottage cheese and much more.

Why don't you try one of these versions?
The Swiss classic: Hash browns with fried eggs and bacon
The Swedish classic: Raggmunk

Dumplings with and from potatoes
Did you know that Italian gnocchi, Polish pirogi and kluski, Turkish manti and Austrian schupfnudeln are made of potatoes or filled with potatoes just like our classic Homemade potato dumplings?

Why don't you try one of these variations?
Easy sheet pan pierogi with vegetables and dill dip
Kayseri mantısı (Turkish-style potato dumplings)
Sweet plum dumplings
Schupfnudeln (German potato dumplings) with poppy seeds and plum jam
Homemade gnocchi

This shows that as different as we cook around the world, some basic ingredients, like the potato, bring us a little closer together in culinary terms - food unites us!
Even more potato inspiration:
Bangers and mash
Smashed potatoes
Fish and Chips
Shepherd's pie
Kumpir
Colcannon
Tartiflette
Stir-fried eggplant, potatoes, and peppers
Spicy and sour potato sticks
Salad Nicoise
Okroschka
Chinese beef stew with canned tomatoes and potato

Now it's your turn! Try out our various potato recipes, e.g. using potatoes from the REWE Regional range, tell us your favorite recipes with seasonal ingredients and share your creations with us as a community recipe or in the comments!
Published on September 13, 2022
More delicious ideas for you