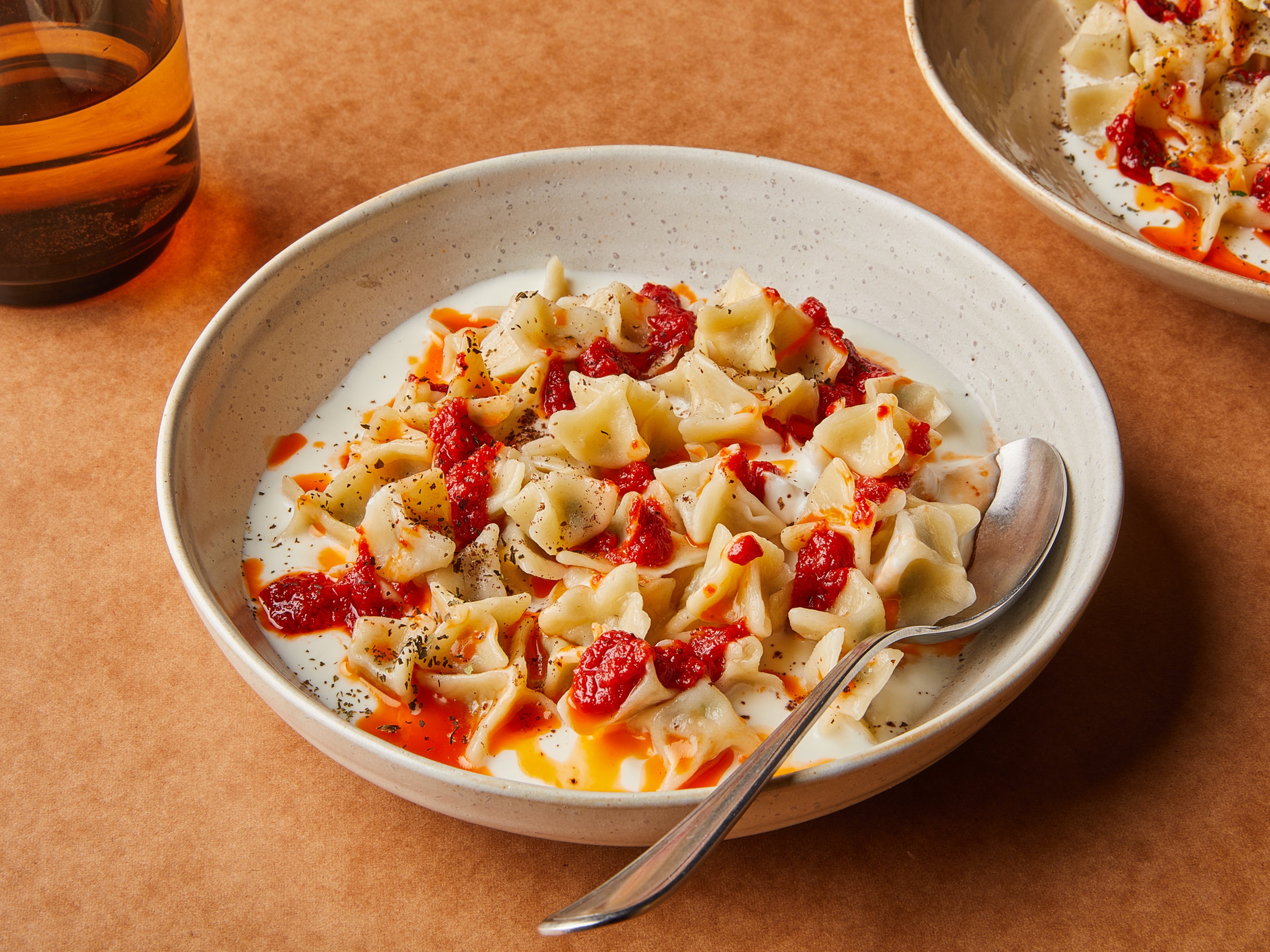 Kayseri mantısı (Turkish-style potato dumplings)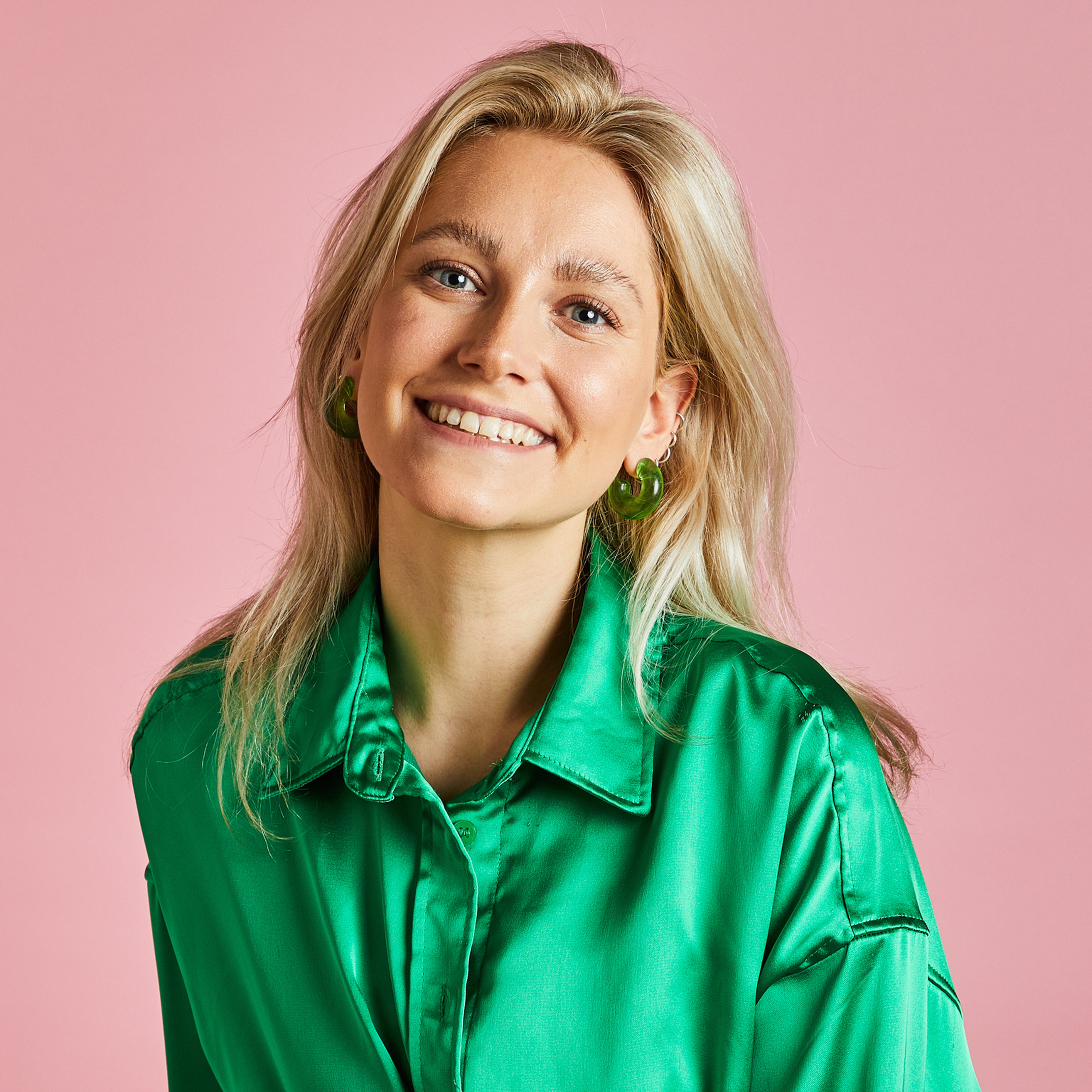 Food Editor at Kitchen Stories
"At one of my favorite Turkish restaurants in Neukölln, you can see manti, small filled dumplings, being folded expertly in a matter of seconds. Manti (or Mantı) originally come from Kayseri, a small province in Turkey, but are popular also beyond, for example, in Russia or Afghan cuisine, with different shapes and fillings. Instead of this vegetarian version, you can also prepare them the very classic way with a meat filling made of ground beef or lamb and onions. It's said that you've made some really good manti when you can fit about 40 pieces on a wooden spoon. Although this is very ambitious for beginners, it means "the smaller the better", so the trick is not to use too much of the filling, so that they are small and nice and easy to seal. The traditional way of folding the manti is not very complicated, but it does require a little practice and time, so it's best to grab a few friends or make the folding a family activity! It's more fun that way, and many hands make light work, as we all know. To roll out the dough, a special rolling pin called an oklava is traditionally used. However, you can easily use a regular rolling pin for this as well, just make sure to roll the dough out nice and thinly. Instead of tomato paste, you can also add paprika powder or biber salcasi, a Turkish red pepper paste, to the butter sauce."
Utensils
peeler, knife, 2 pots (large), 2 bowls (large), plastic wrap, cutting board, potato ricer, pastry cutter, rolling pin, pizza wheel, slotted spoon, bowl (small), garlic press, nonstick pan, spatula
How-To Videos
How to roll out pasta dough
How to chop green herbs
How to prepare garlic
How to cut an onion
Step 1/ 5

200 g

floury potatoes

200 g

flour

½

egg

85 ml

water

½ tsp

salt

peeler
knife
pot (large)
bowl (large)
plastic wrap

Peel potatoes, cut them in half, and transfer them to a large pot and cover well with water. Salt the water, then bring the pot to a boil, lower the heat to medium and cook approx. 20 min., or until soft. Afterwards, drain and let cool. Meanwhile, prepare the dough by mixing flour, egg, water and salt in a large mixing bowl. Knead the dough with your hands or a food processor until an elastic dough is formed. Roll the dough into a ball, cover with plastic wrap, and let rest for approx. 30 min.

Step 2/ 5

½

onion

5 g

parsley

1 tsp

ground cumin

salt

pepper

cutting board
potato ricer
bowl (large)

For the filling, very finely mince the onion and parsley. Press the potatoes through a potato ricer into a large bowl. Add onion, parsley, and cumin to the potato mixture, then season with salt and pepper and mix well.

Step 3/ 5

pastry cutter
rolling pin
pizza wheel

Halve the rested dough with a dough cutter, then roll out one piece out very thinly on a floured work surface. Cover the remaining dough in the meantime. Use a pizza wheel to cut the rolled-out dough into small, even squares, approx. 3 cm/ 1 in. in size. Place a tiny amount of potato filling on each of the dough squares. To fold the manti, bring the two opposite corners together. Then fold the other two corners to the center as well, forming a small pyramid. To complete the shape, pinch the edges together tightly so they don't open up during cooking. Place folded manti on a lightly floured surface so they don't touch and stick to each other.

Step 4/ 5

To cook the manti, bring water to a boil in a large pot. Salt generously and transfer the manti to the boiling water in batches. Cook until they float to the top, approx. 5 min. Remove them from the water using a slotted spoon.

Step 5/ 5

200 g

mild yogurt 3.5% fat

½ clove

garlic

½ tsp

lemon juice

35 g

butter

35 g

tomato paste

salt

pepper

dried mint (for serving)

sumac (for serving)

bowl (small)
garlic press
nonstick pan
spatula

While cooking the manti, prepare the sauces. In a small bowl, mix yogurt with crushed or very finely chopped garlic, season with salt, pepper and a bit of lemon juice. For the tomato butter sauce, melt butter in a non-stick pan over medium heat. Add tomato paste, sauté briefly, approx. 2 min., stirring well. Season with salt. Serve manti with yogurt sauce and tomato butter sauce, sprinkle with sumac and dried mint. Enjoy!

Enjoy your meal!
More delicious ideas for you