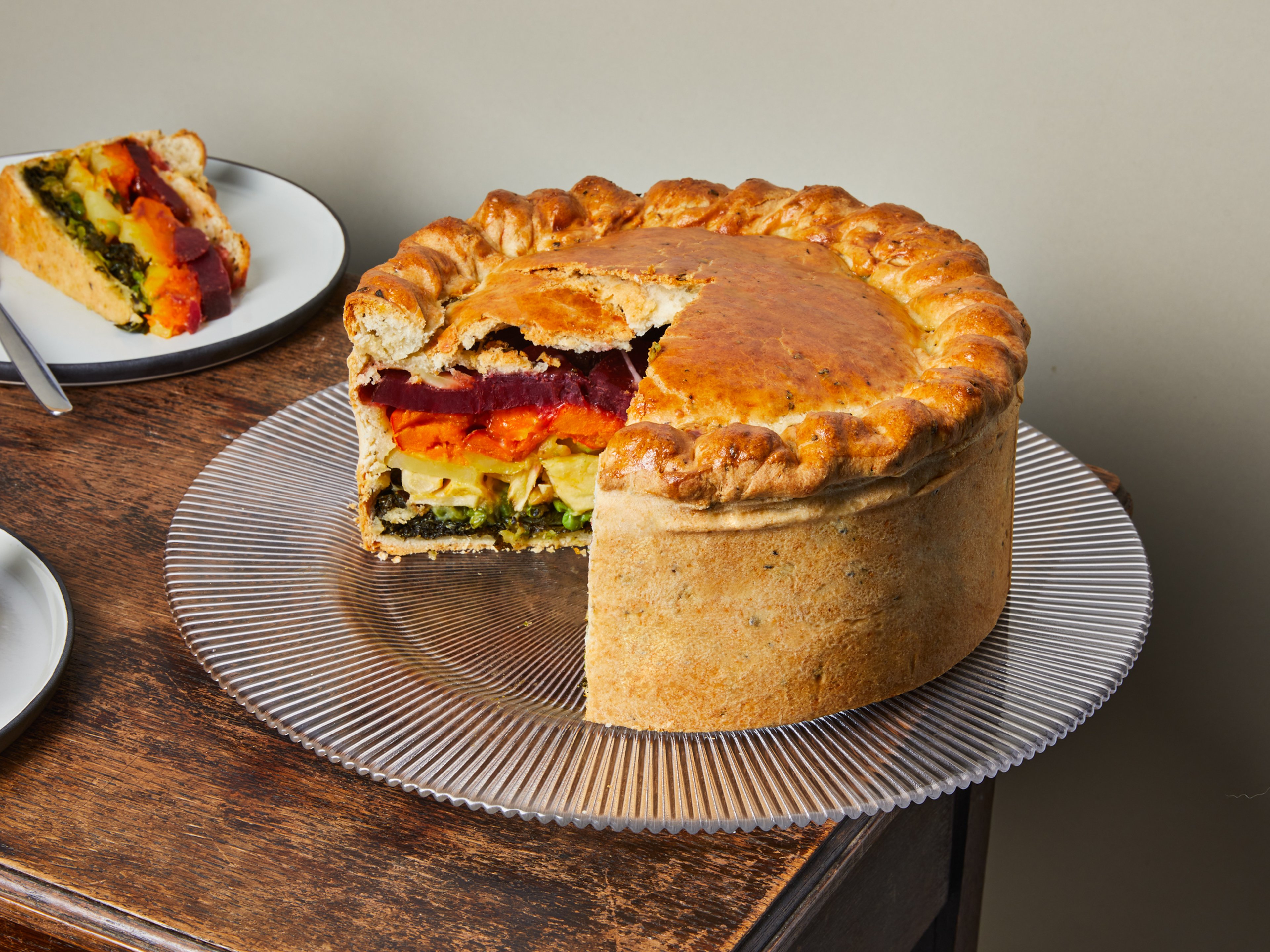 Hanna makes a rainbow vegetable pie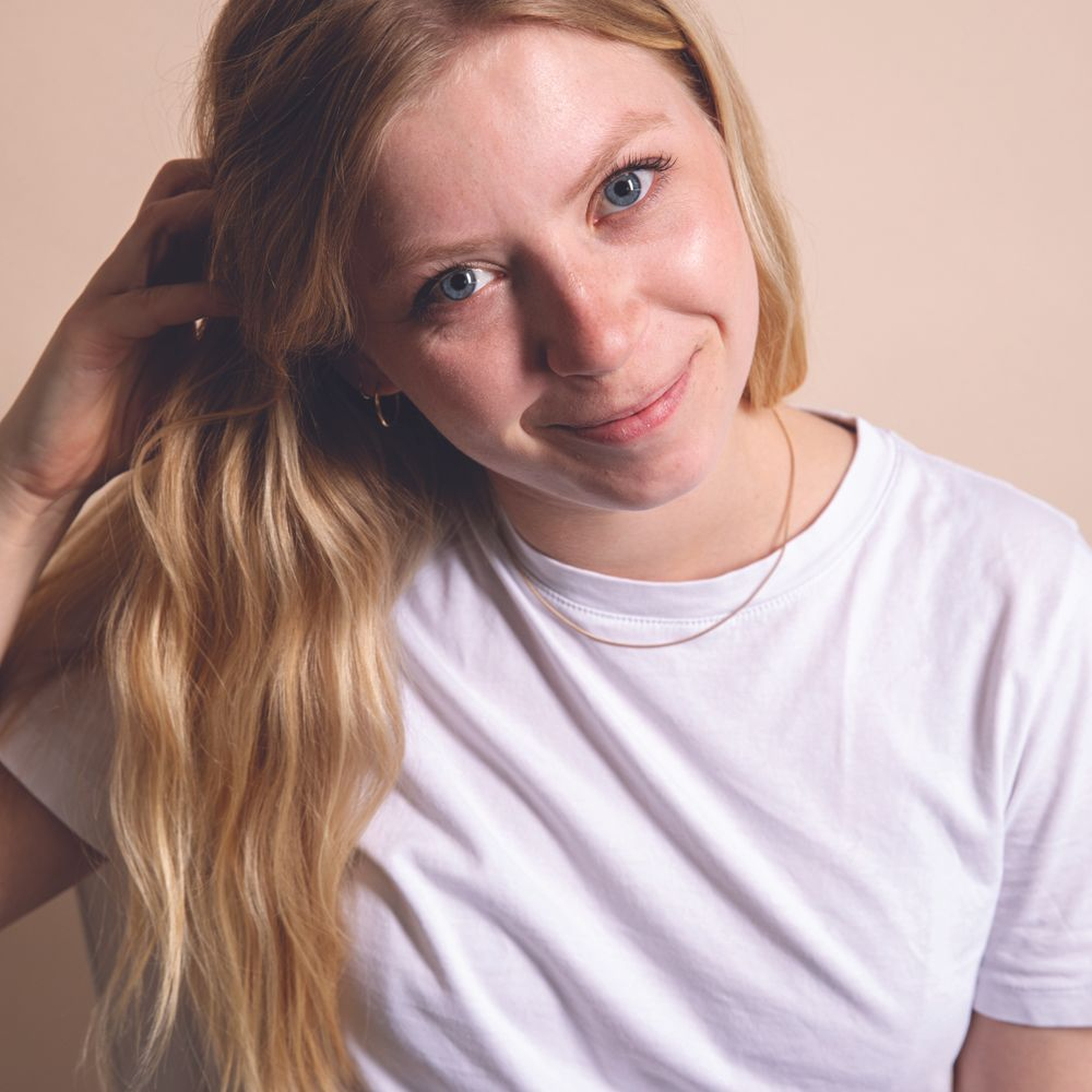 "This festive vegetarian pie is an eye-catcher that's sure to amaze everyone around the table. It's super filling and a great meatless alternative to a classic holiday roast; it can even make a great hearty birthday or brunch centerpiece. Watch me make the recipe on our new Youtube channel, just search Kitchen Stories! This recipe was heavily inspired by Anna Jones' Goodwill Pie. Since I love to cook by color, I stuck with the principle and inside, you'll find a bright rainbow of layered vegetables. Of course the pie can be filled with any pre-cooked vegetables from boiled potatoes to leftover roasted vegetables from the day before—you name it! This is not a quick recipe, but to break it down you can prepare the dough and vegetables the day before and postpone the rolling (take the dough out of the fridge 30 min. before), layering, and baking until the day you want to serve it. If there are any leftovers, reheat them in the oven at 180°C/350°F for about 20 min. or even freeze slices for eating later."
Utensils
bowl (large), knife, cutting board, grater, bench scraper, kitchen towel, oven, peeler, baking sheet, 2 parchment paper, pot (large), spatula, frying pan, rolling pin, springform pan (8 in.), whisk, bowl (small), pastry brush
How-To Videos
How to grate cheese
How to prepare garlic
How to prepare kale
How to prepare beets
How to cut Hokkaido pumpkin
Step 1/ 5

41⅔ g

butter

8⅓ g

Parmesan cheese

1⅔ g

rosemary

salt

100 g

flour

⅛ tsp

baking powder

33⅓ ml

water (cold)

bowl (large)
knife
cutting board
grater
bench scraper
kitchen towel

For the dough, cut butter into rough cubes and finely grate Parmesan cheese. Mince rosemary, add to a mixing bowl and mix with salt, flour, baking powder, and grated Parmesan. Transfer the mixture to a clean work surface. Form a well and add in the butter. Use a bench scraper to work the butter into flour until you have a crumbly mixture. Again, form a well in the center, gradually add the cold water and continue to work it in until a dough forms. Return to the bowl, cover with a clean kitchen towel, and let rest in the refrigerator for approx. 30 min.

Step 2/ 5

108⅓ g

Hokkaido pumpkins

66⅔ g

parsnips

⅞ g

sage leaves

salt

olive oil (for greasing)

oven
peeler
baking sheet
parchment paper

For the filling, preheat the oven to 200°C/400°F top/bottom heat. Remove the seeds from the pumpkin, then cut into wedges. Peel parsnips and slice. Spread sage on one half of a parchment-lined baking sheet, and place the pumpkin on top. Spread the parsnips on the other side, season with salt and drizzle with olive oil. Bake in the preheated oven for approx. 40 min.

Step 3/ 5

100 g

potatoes

41⅔ g

kale

olive oil (for frying)

nutmeg

⅓

shallots

⅓ cloves

garlic

butter (for frying)

33⅓ g

peas (frozen)

⅛

lemon

83⅓ g

red beets (cooked)

salt

pepper

pot (large)
spatula
frying pan

Peel the potatoes and transfer them to a large pot. Cover with cold water, season with generously with salt, and bring to a boil. When cooked through and tender (approx. 30 min.), drain, let cool and slice into approx. 1 cm/⅓-inch thick slices. Wash kale and remove the stalk. Sauté kale in a large pan with a little olive oil until tender. Season with salt and nutmeg and set aside. Peel and mince shallots and garlic. In the same pan set over medium-high heat, sauté the peas in a little butter for approx. 2 – 3 min. Season with salt, pepper, lemon juice, and lemon zest. Mash coarsely in the pan using a fork and set aside. Slice cooked beets and season with salt.

Step 4/ 5

33⅓ g

Gruyère cheese

salt

rolling pin
springform pan (8 in.)
parchment paper

Preheat the oven to 200°C/400°F convection. Line the bottom of a springform pan with parchment paper and grease the sides with butter. Toll out ⅔ of the chilled dough on a lightly floured work surface, until approx. 0.5 cm/¼-inch thin. Transfer to springform pan. Spread the cooled kale evenly on the bottom of the crust and press down. Grate some Gruyère cheese on top. Layer in the peas, parsnips, potatoes, and pumpkin with a layer of Gruyère in between each vegetable, and press down each layer. End with the beets and finish with some salt and the last layer of Gruyère.

Step 5/ 5

whisk
bowl (small)
pastry brush

Now roll out the remaining dough until approx. 0.5 cm/¼-inch thin and cover the pie. Bring the edges of the two doughs together, roll them up, and seal them. Use a wooden spoon handle to press a pattern into the edge (see video above for more detailed instruction). Beat an egg in a small bowl and brush the dough with egg wash. Bake in the preheated oven for approx. 40 – 50 min., or until the top is golden brown. Remove from the oven and let rest for approx. 30 min. before slicing. Enjoy!

Enjoy your meal!
More delicious ideas for you