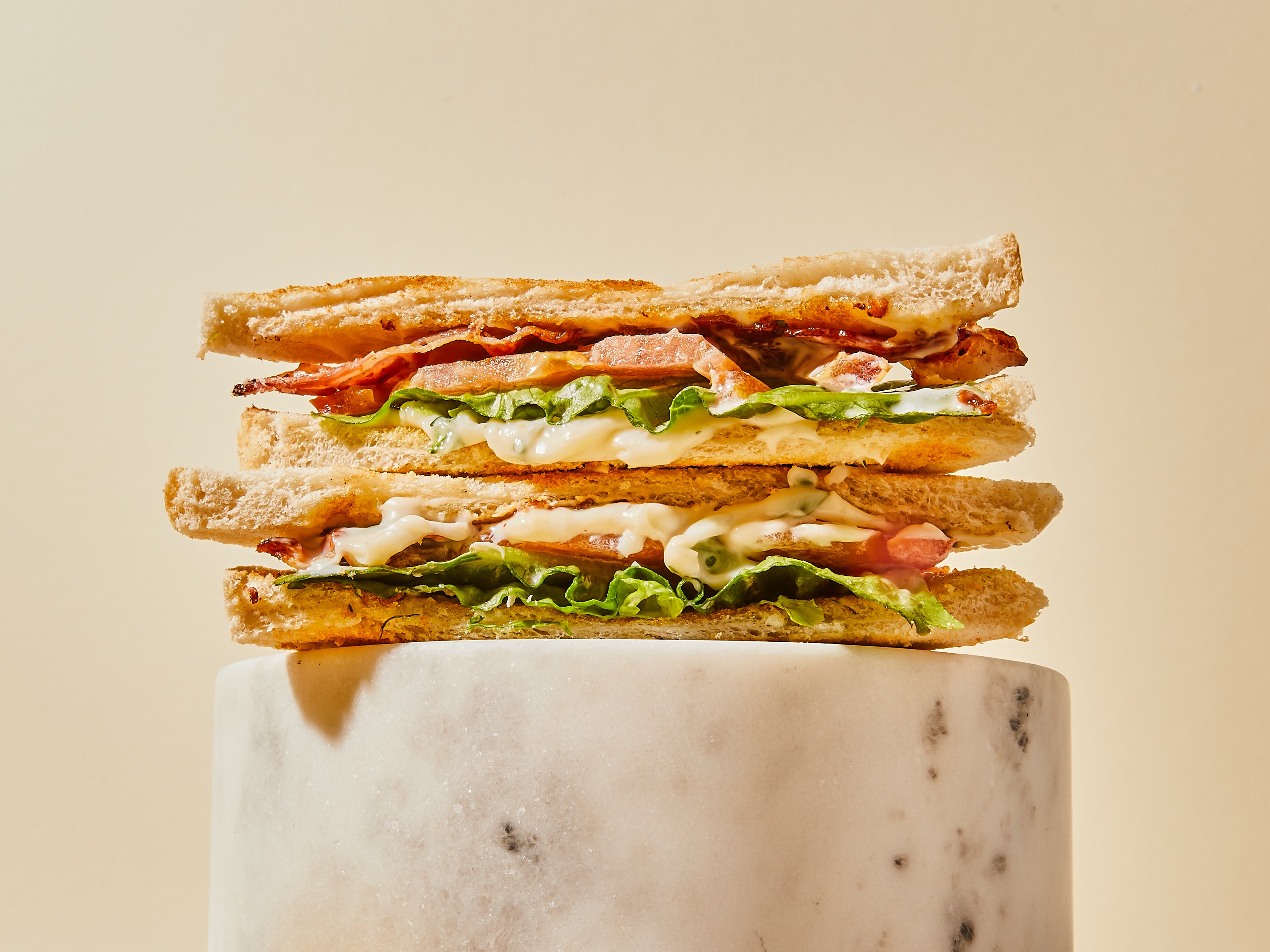 More Mayo, More Flavor: 6 Tasty Ways to *Upgrade* Mayonnaise
Just add—pantry!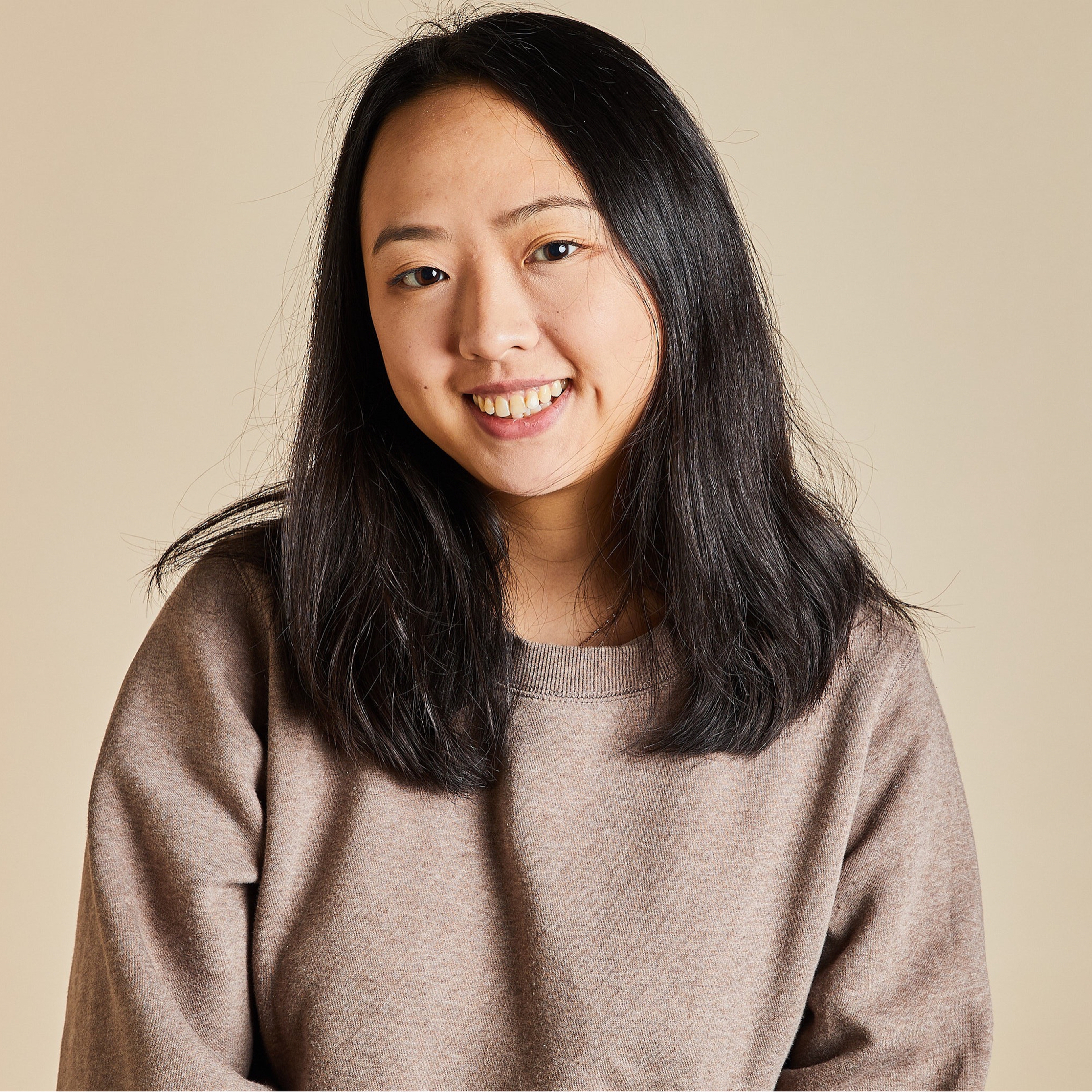 Flavor—it's what takes eating from something we must do, to something we want to do. This article is part of "The Flavor Issue" our month dedicated to dialing up every dish and making every day taste better. To follow along, you can check back here for an overview of all our latest stories and recipes from the issue. Don't forget to follow us on Instagram for behind the scenes, extra community content, and more! We hope to see you around Flavortown!
Ketchup or Mayo? It's an age-old question—or at least the most common one you'll hear when you order fries. Although my love for ketchup is definitely there, I grew up with Kewpie, a Japanese mayonnaise that we slathered it on everything, from toast to salad, especially fruit salad. However, as a home cook, my imagination for mayo's potential stops at burgers. Untilm, this assignment to discover more potential.

My first discovery? My personal neglect doesn't stop mayonnaise from being an omni-condiment: It's hiding as a dip for fried food (if you happen to make our fried chicken), in the spread for an OG club sandwich or my personal favorite Japanese egg sandwich, and a base for salad dressing (most famously ranch dressing). Ruby taught us to spread the outside of our grilled cheese with mayonnaise instead of butter. And don't forget French Remoulade. Mayo also works, unexpectedly, in cakes, too. As the taste itself is not so pronounced, it holds up various flavors and makes a humble, creamy binding agent.
How to upgrade your mayonnaise
Upgrading your mayonnaise, whether it's homemade or store-bought, is a fun journey. We're going to take you a bit further than aioli. These hacks are speedy and easy: For most of the flavors, you only need a spoon or a whisk to mix, but for solid ingredients like capers and anchovies, an immersion mixer or food processor would be a great help.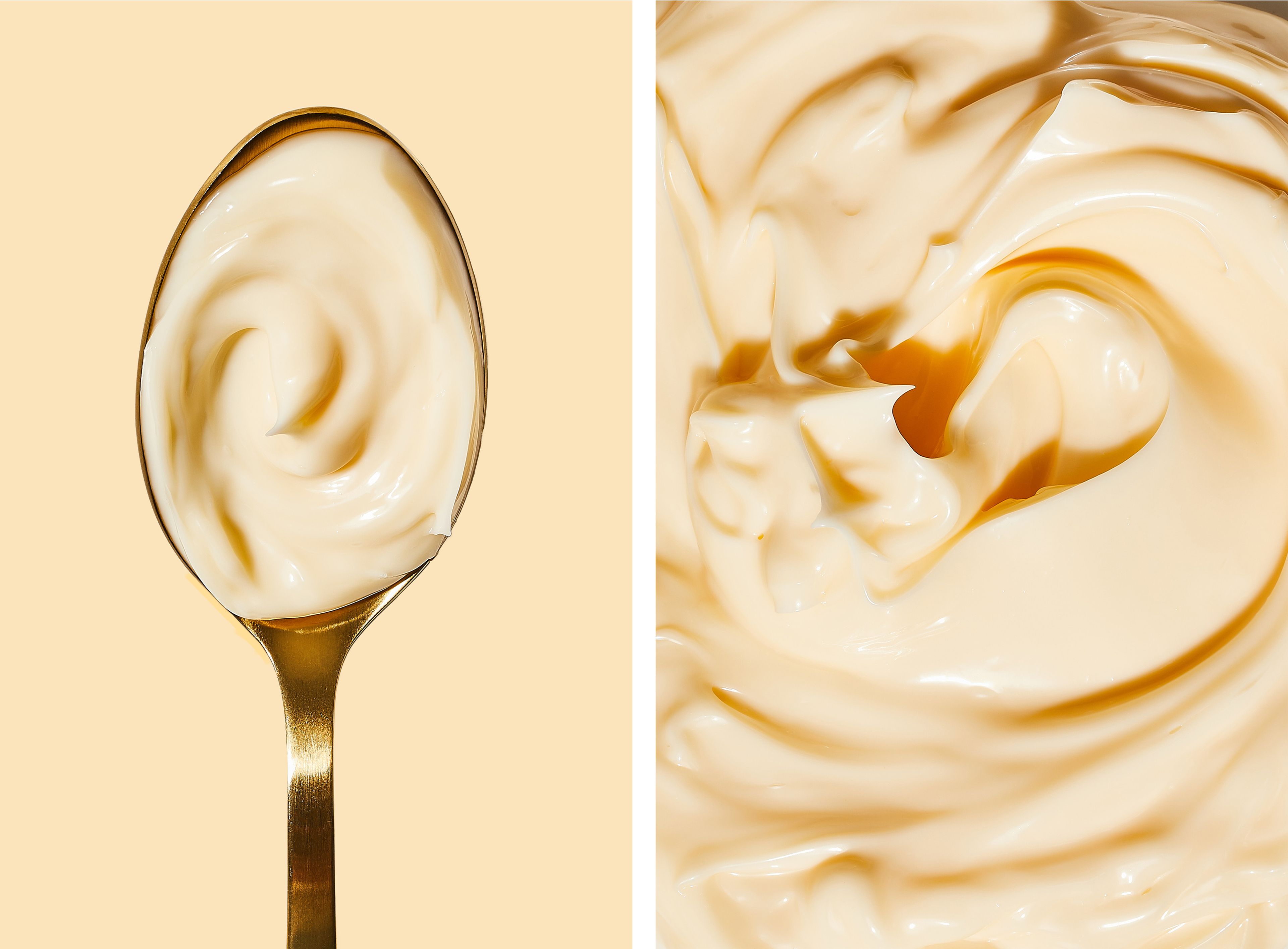 Here are 6 ways to upgrade mayo: Save our infographic to have spicy, fruity, herby, umami mayos on stand-by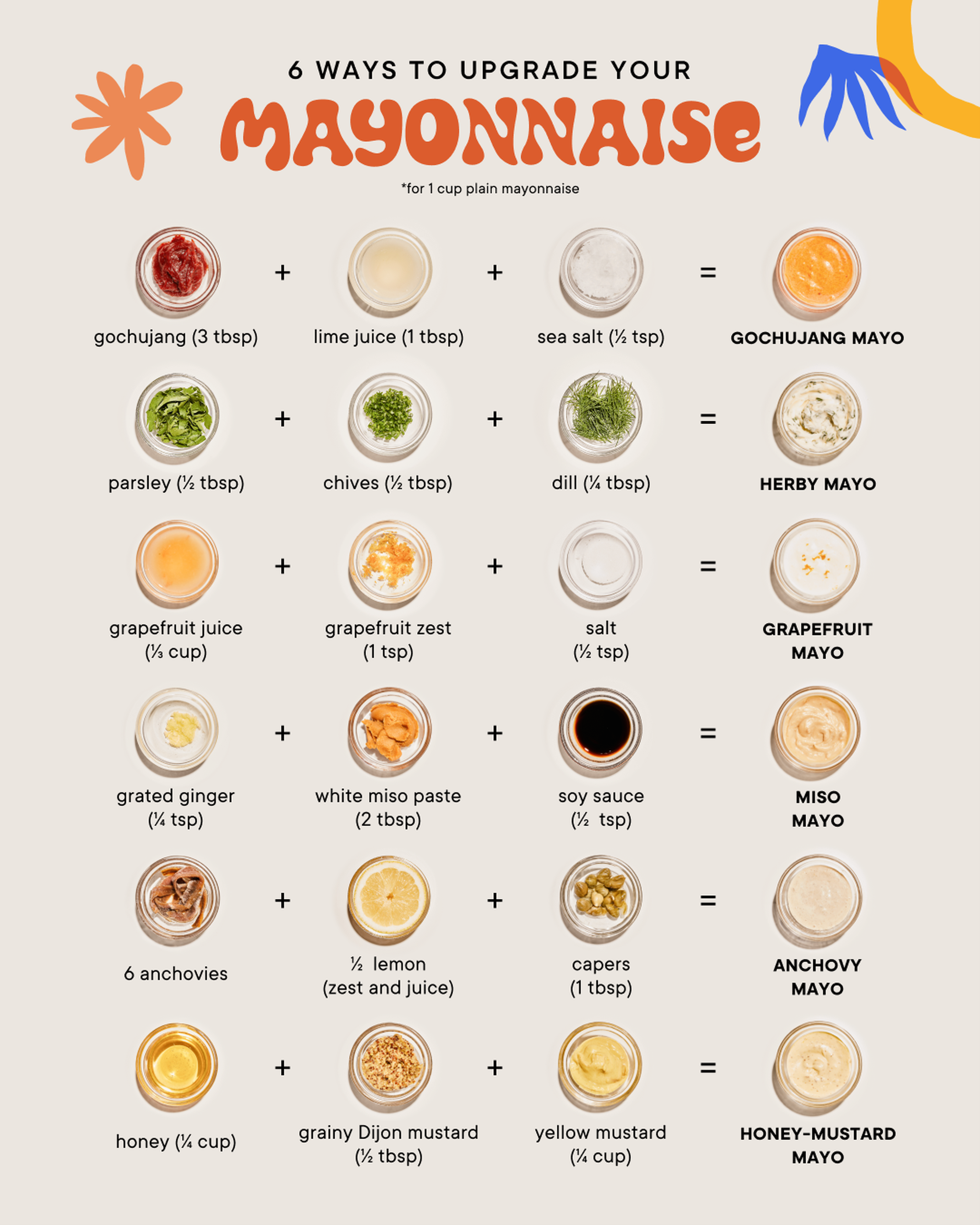 Let's refer to the formula "salt, fat, acid, heat" from food writer Samin Nosrat, as mayo is in fact a type of fat. My approach here was to experiment with the other three elements.
Spicy mayo
Let's start with the heat. One thing that works great with mayonnaise is some spiciness Sriracha mayo was (or still is) a thing—the Flying Goose brand even has a pre-mixed Sriracha mayonnaise. The good news is, almost all spicy condiments match mayonnaise. For more pungent hot sauces like tabasco, add some sweetness to balance it; for those that already have a hint of sweetness, like Sriracha and gochujang, citrus juice (I prefer lime) will add a fresh and bright touch.
More hot ideas: sambal oelek, chipotle (powder or adobo sauce), Jalapeno pepper, wasabi, horseradish, kimchi.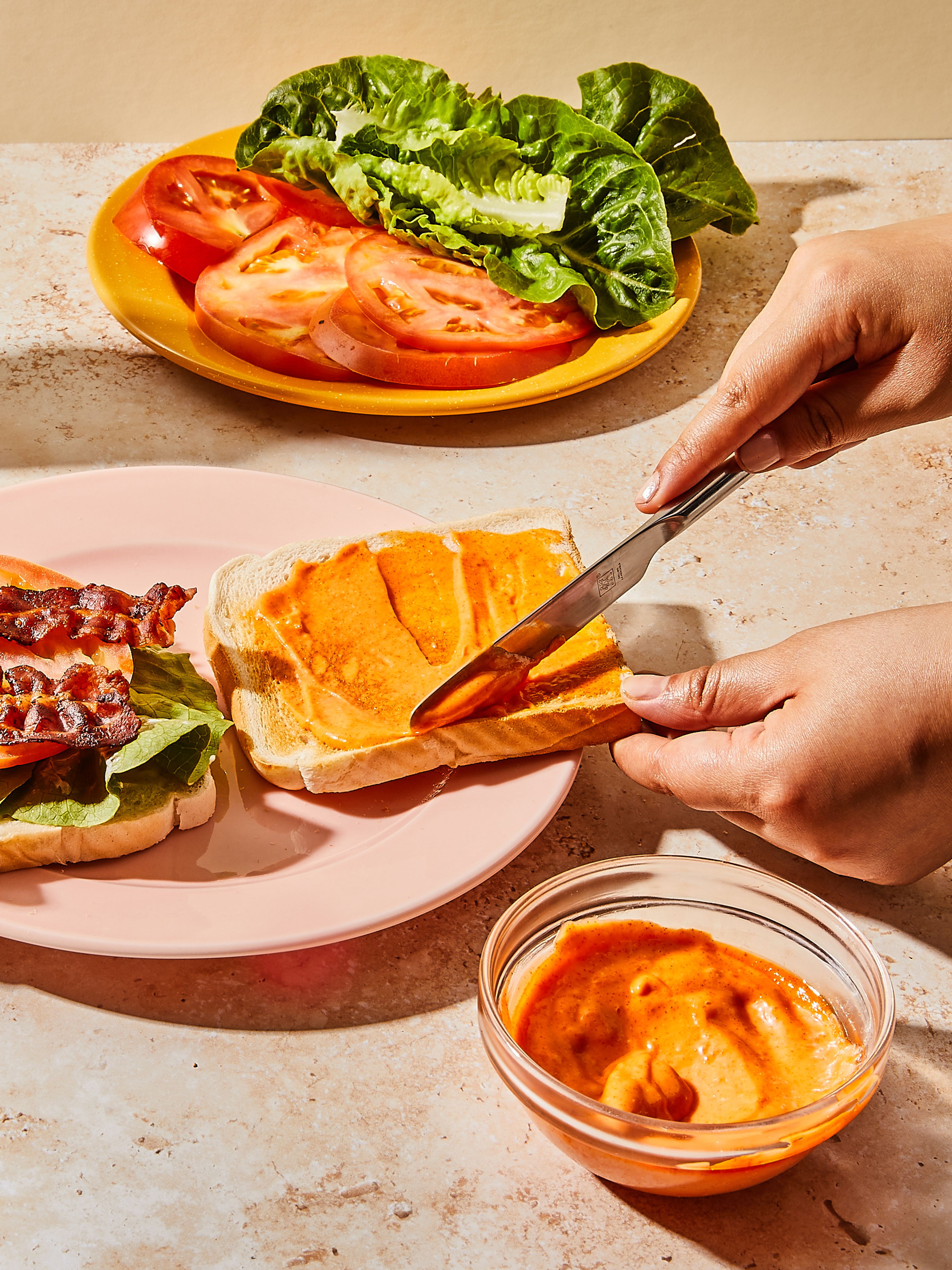 Salty, umami mayo
Salty ingredients lift up mayonnaise, too. We're talking about ingredients that are not salt itself, but miso paste, soy sauce or anchovies, which add a splash of umami. This kind of mayo works great for grilled food and salad.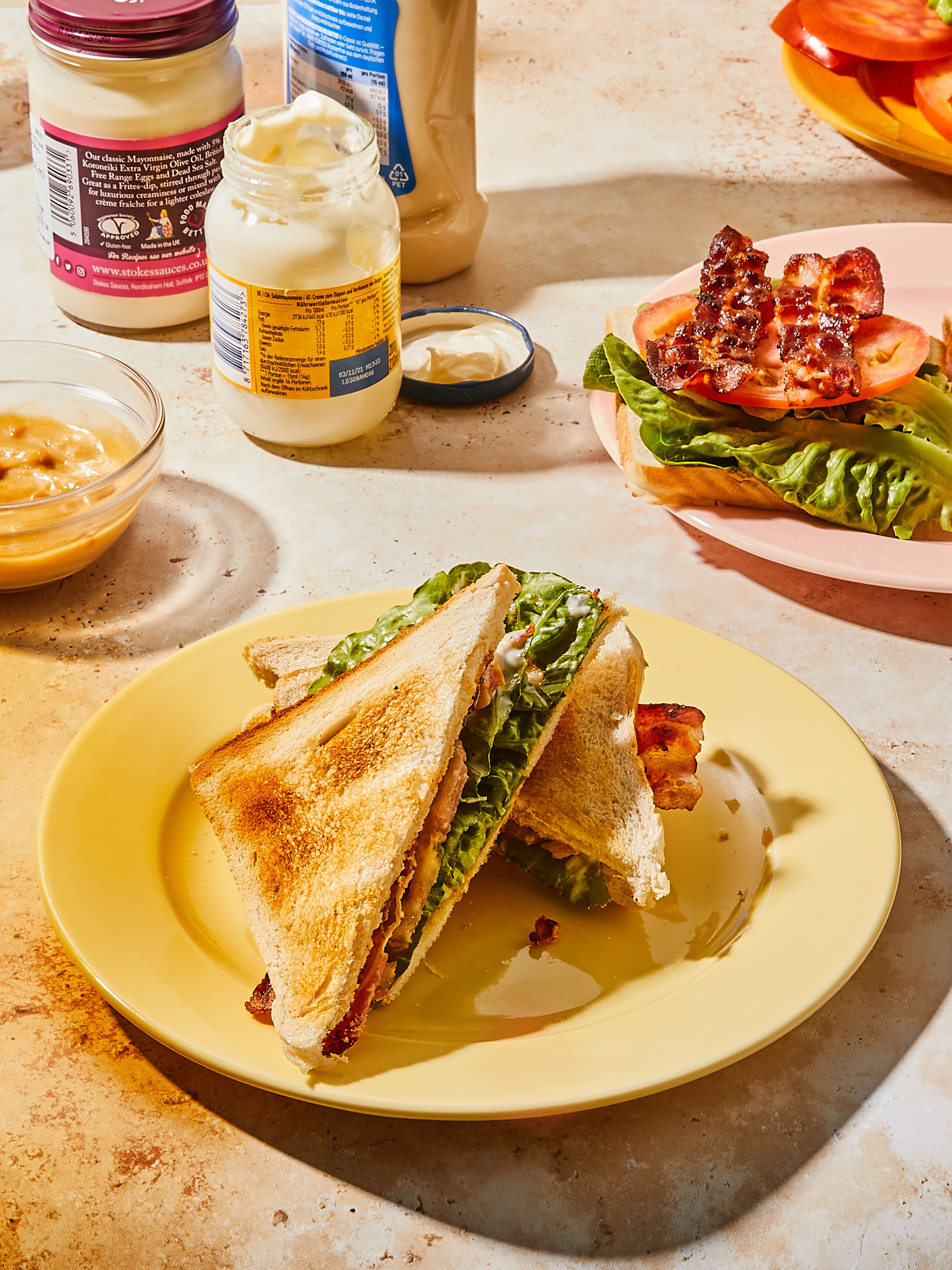 Herby Mayo
Chopped fresh herbs are no stranger to mayonnaise, proven by much-loved ranch dressing. I would just go for what I have in the fridge: fresh herbs like basil, dill, parsley or chives work especially well. Adding some acid, for example buttermilk, or yogurt thins out the texture, which makes it perfect to drizzle on salad. Herby mayonnaise is a nice match with potato salad, grilled fish, and vegetables. I haven't tried it myself, but word is that basting mayonnaise on fish or vegetables before cooking helps create a creamy layer that sticks better than other fat.
Other ways to fancy up your mayonnaise
Ruby suggested trying a bold fruity version, which was (un)surprisingly great! Using grapefruit added a bright, fruity taste that I could imagine pairing with deep-fried goodness like chicken nuggets and wings. You can also add avocado to mayo to make it even creamier. Or truffle oil, which is your pantry fast-track to fancy.
Ever upgraded mayo—or have we given you new inspiration? Let us know in the comments!
Published on June 4, 2021
More delicious ideas for you