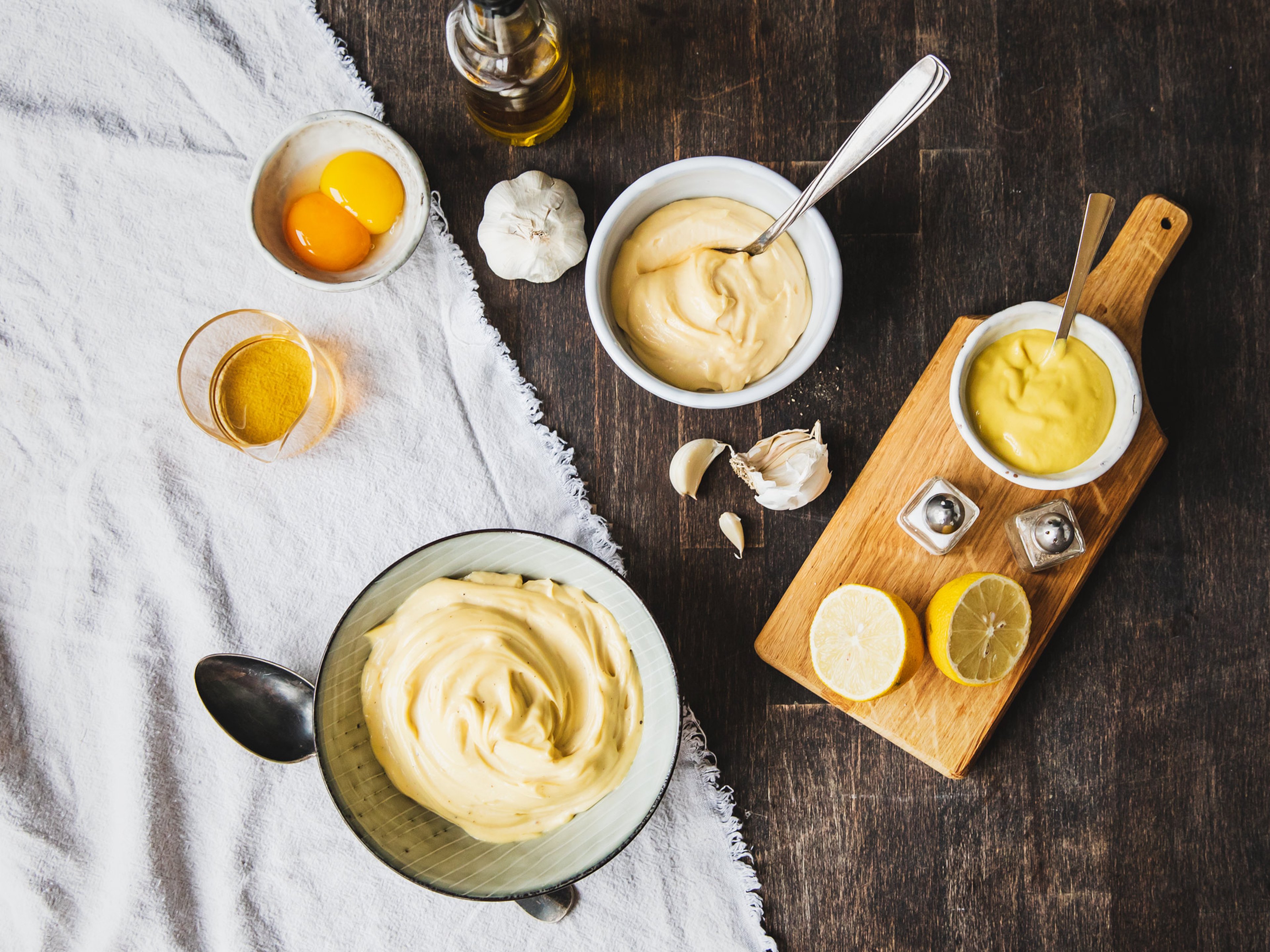 How to Make the Best Homemade Mayonnaise and Aioli
The best recipes (and our tips) for these classic dips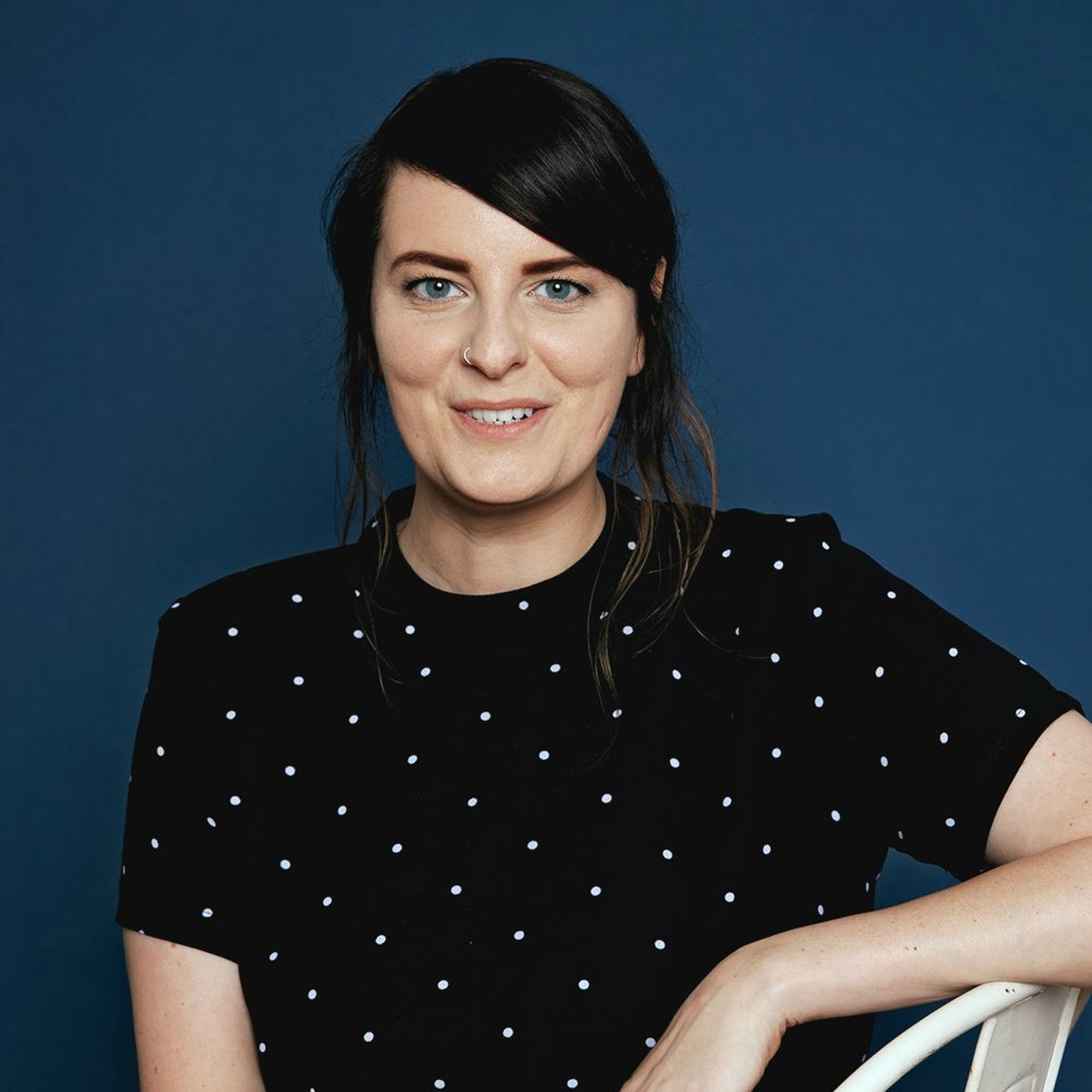 What would crispy sweet potato fries or blistered padrón peppers be without a matching dip? I don't know about you but for me there's practically nothing better than dipping—the fry or pepper is merely a vehicle for the dip. Just think how sad you would be noshing on dip-less nachos, grissini, or crunchy vegetable sticks from the buffet.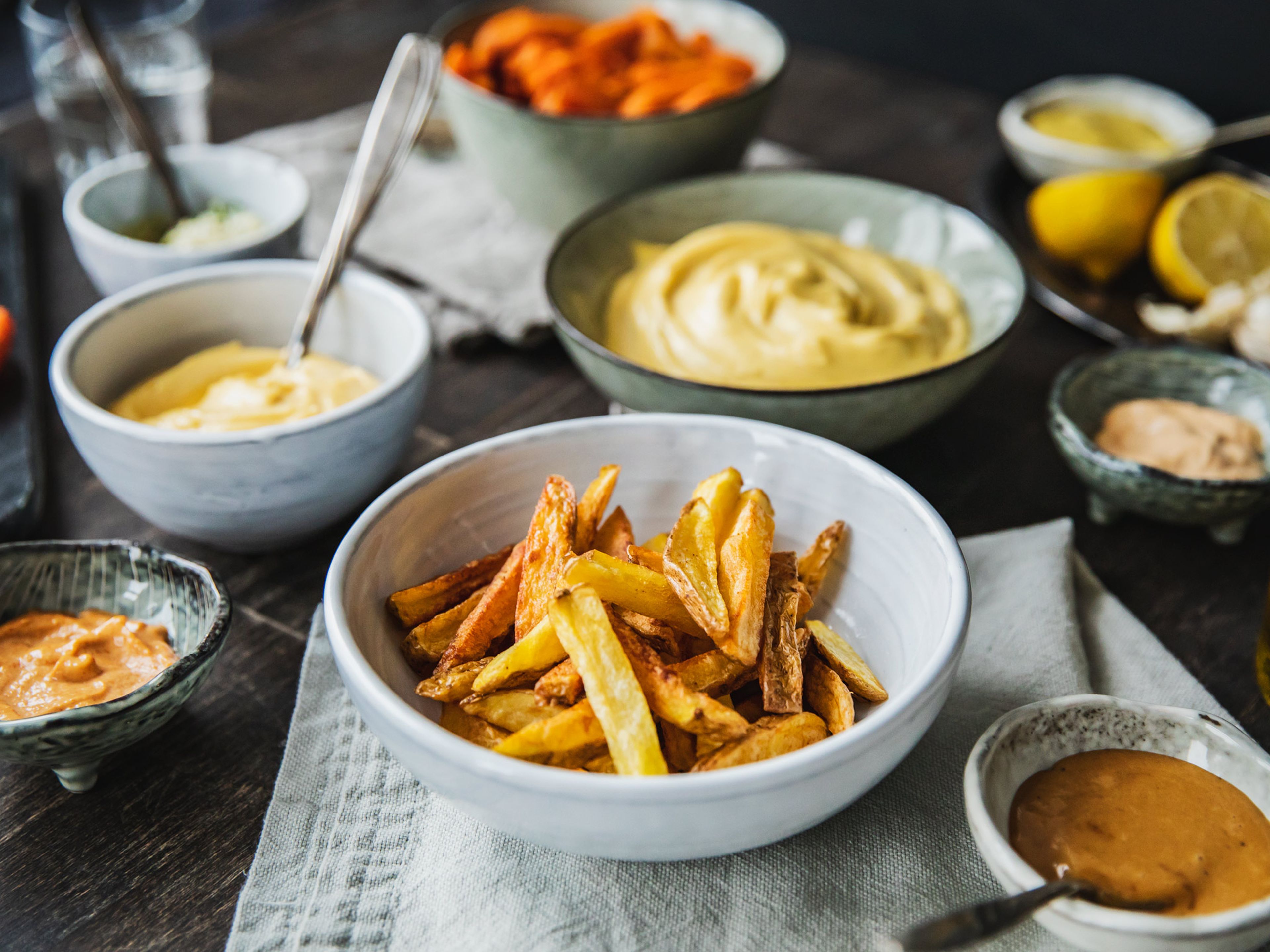 Whether I'm having a big party or simply inviting two or three friends over for a bottle of wine—the first thing I always think about when catering for my guests: The dips! I would never dare to serve a pack of crackers or a plate with carrot sticks without the right creamy counterpart—and don't even get me started on the store-bought versions. Let's face it, making a mayonnaise or aioli yourself is really not that big of a deal, and the purely magical taste is more than worth the effort!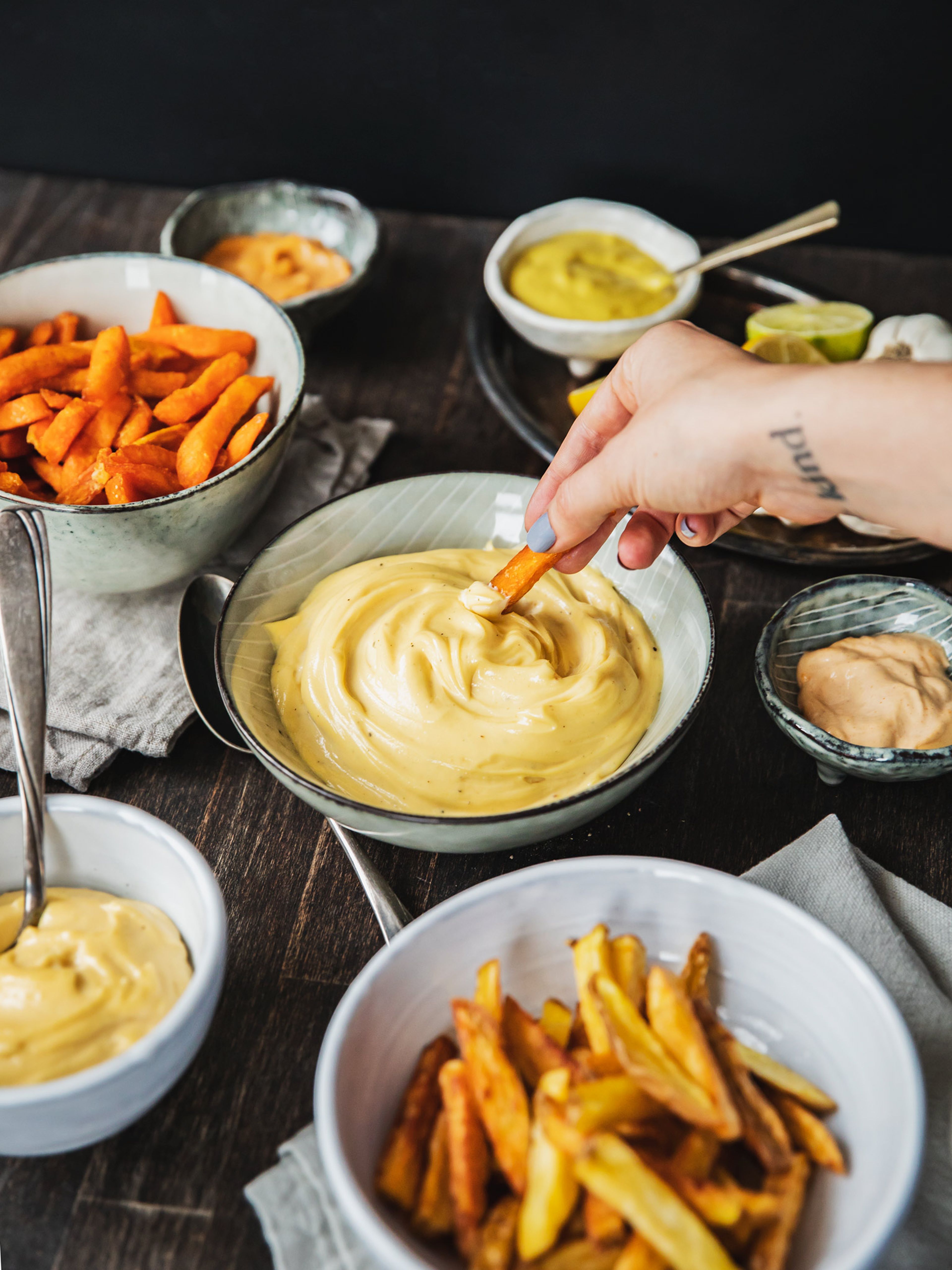 From now on there are no more excuses! I'll show you how easy it is to make homemade mayo and aioli using different techniques, plus, how to refine them and, the most important part, how to enjoy them.
How to make homemade mayonnaise

To make mayo yourself, you only need 3 components: Eggs, vegetable oil, and acid—typically either lemon juice or white wine vinegar. Then you can season your mayo with mustard, salt, pepper, and/or chopped herbs of your choice.
Usually, only the egg yolk is used to make mayo, as the lecithin in the egg yolk acts as an emulsifier, thus helping to create a fine, creamy mixture. But it is also possible to prepare it with whole eggs. The only difference: If you only use the egg yolk, your mayo will be creamier. In any case, make sure that you only use the freshest eggs you can find. In some recipes, hard-boiled egg yolks are used instead of raw egg yolks so as to avoid any risk of salmonella.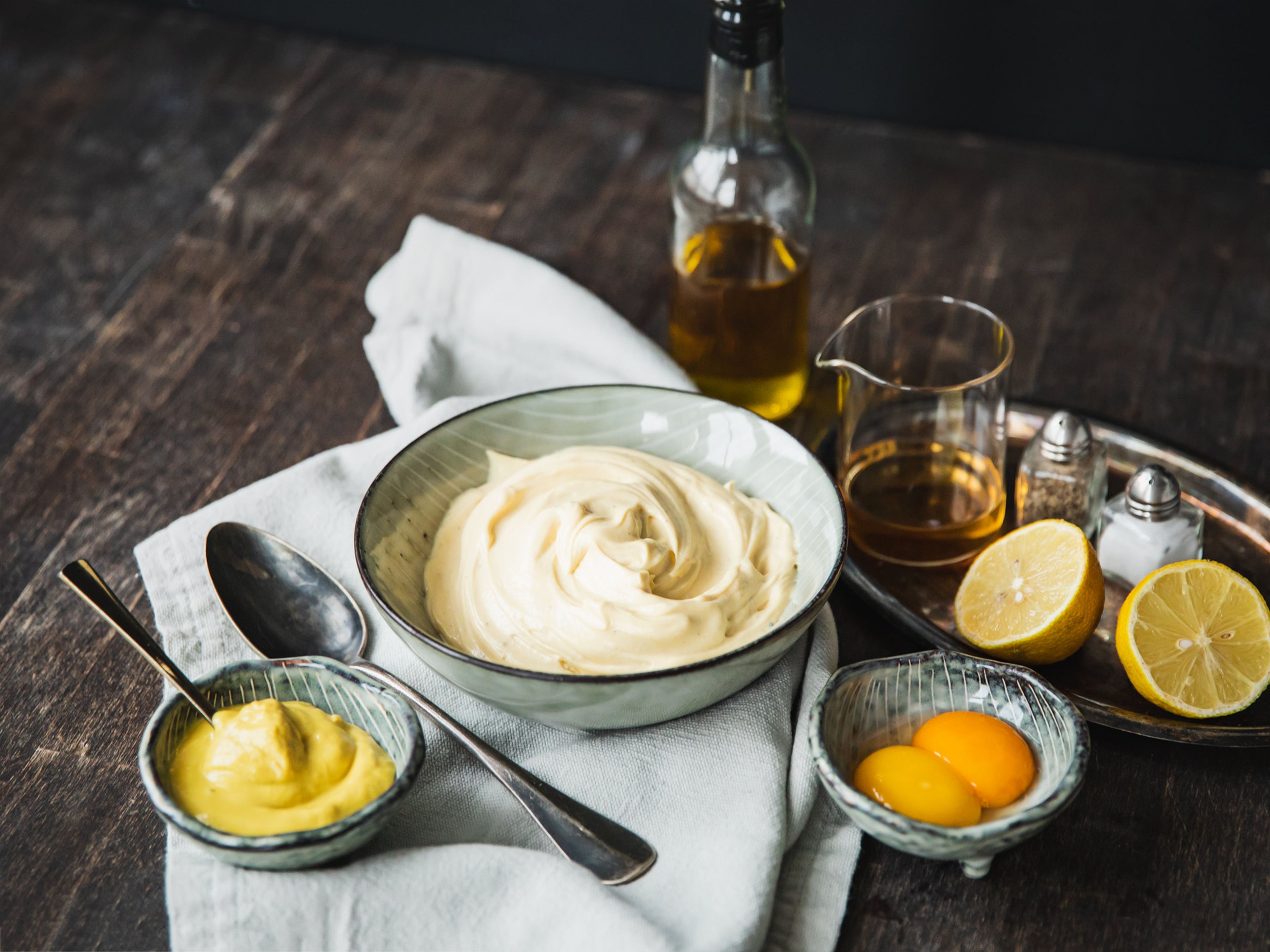 Which oil you use is entirely up to you but mayonnaise is often prepared with a tasteless sunflower or rapeseed oil. Experiment with walnut oil, peanut oil, or truffle oil to give your mayo an extra special aroma. If you want to prepare mayonnaise with olive oil, I recommend that you use whole eggs. The beating of the eggs can lead to the development of bitter substances in the olive oil, which affects the taste, but the egg white helps to neutralize these bitter substances.
Watch our video to see how easy it is to make your own homemade mayo.
Basic mayonnaise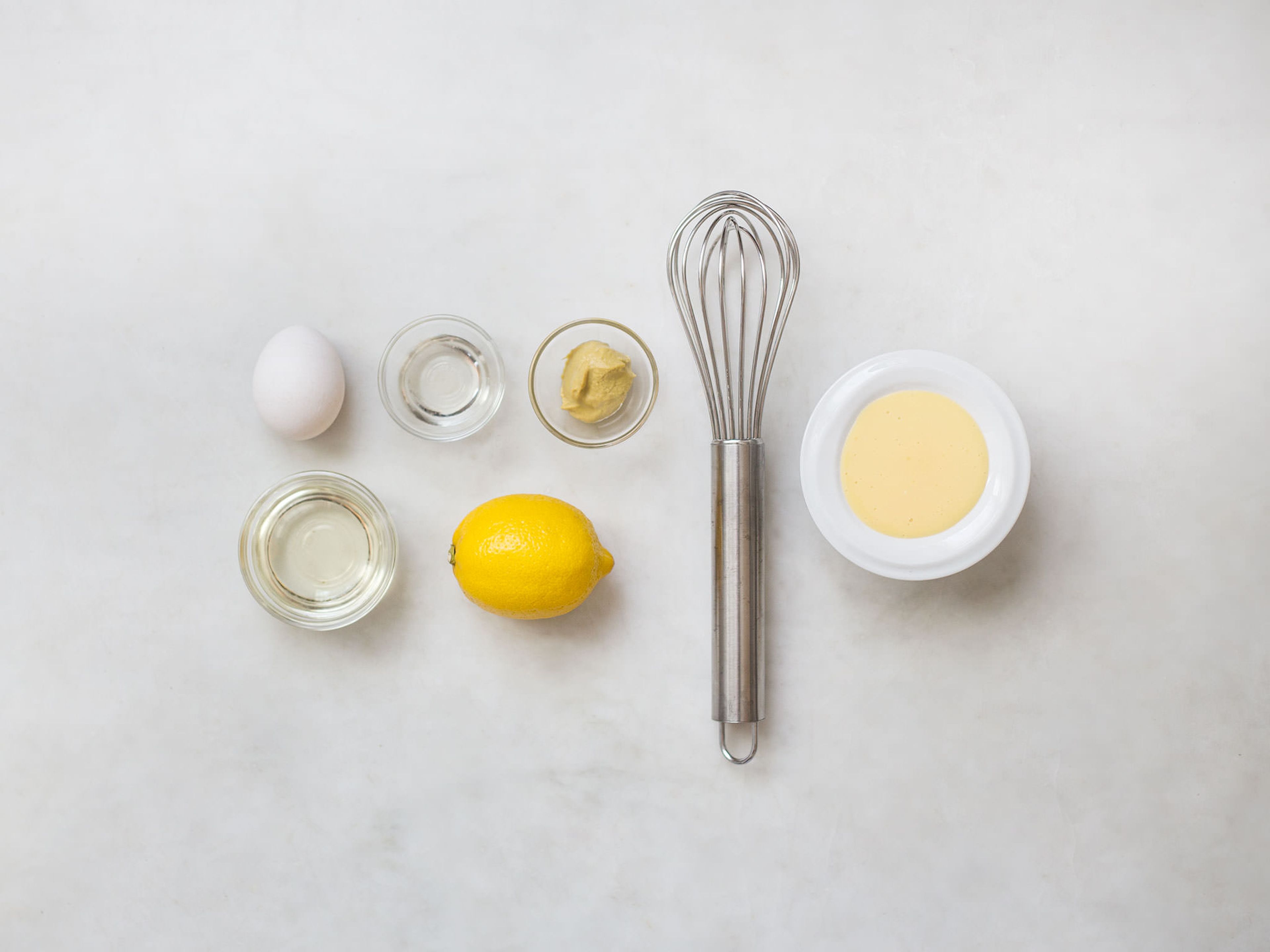 → Go to recipe
Did your mayonnaise separate? Here's how to save your mayo
For the ideal creamy texture, bring all the ingredients to room temperature before starting to make you mayo. Add the oil very slowly to the other ingredients, whisking constantly and quickly while the oil is slowly drizzled in. If the mayo separates, this might be a sign that you added the oil too quickly. But don't worry, you can save your homemade mayonnaise. Just add mix an egg yolk and a dash of lemon juice or white wine vinegar together then carefully whisk them into the separated mayo.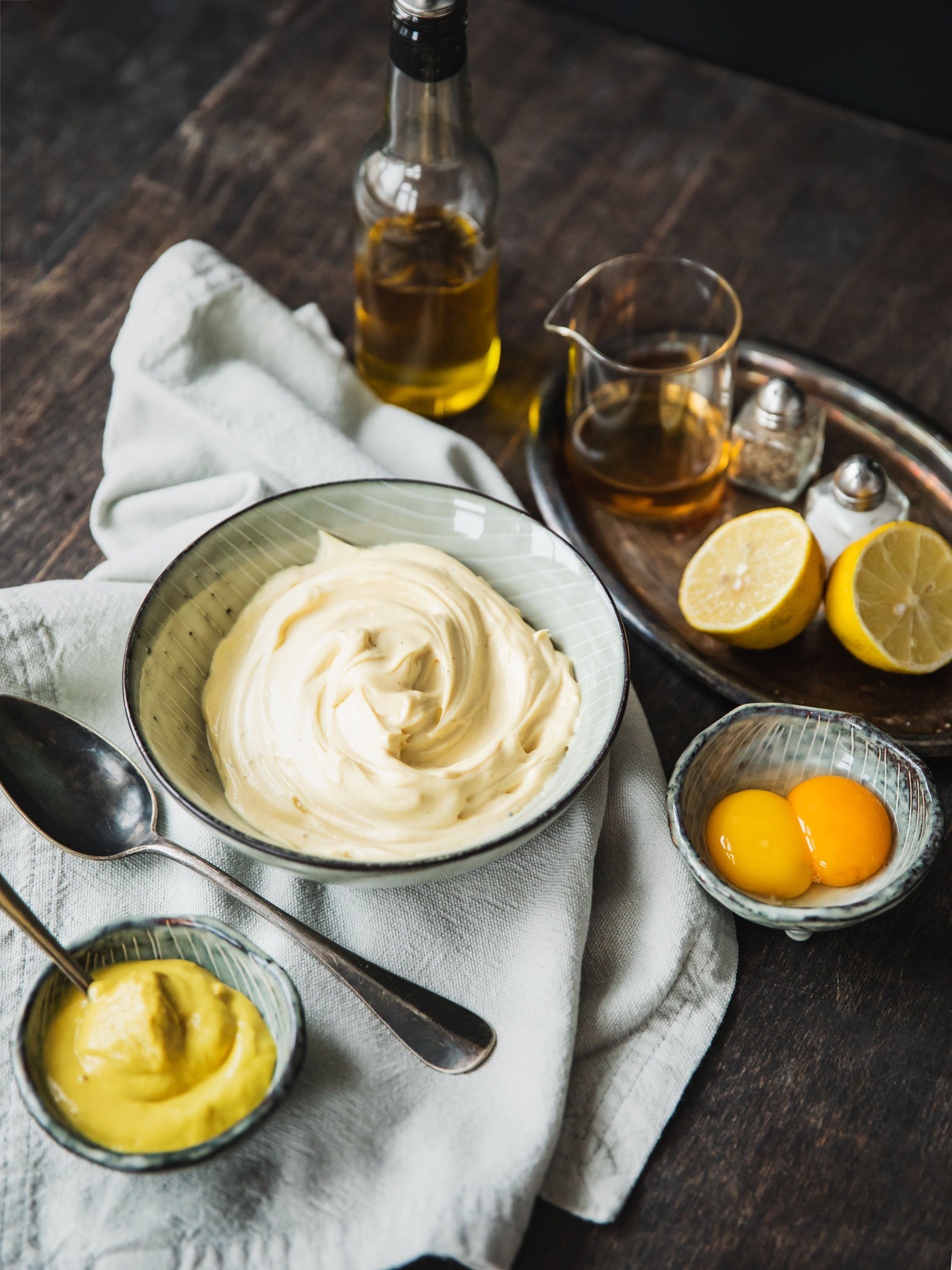 Your mayonnaise is not thick enough?
If your mayo is too thin, you can slowly add a little more oil while whisking to help it have a thicker texture.
How to jazz up your mayonnaise for a dip, marinade, or sandwich spread
Mild and creamy, mayo not only tastes divine on its own but also serves as the basis for many other sauces and dips that you can prepare in just a few simple steps.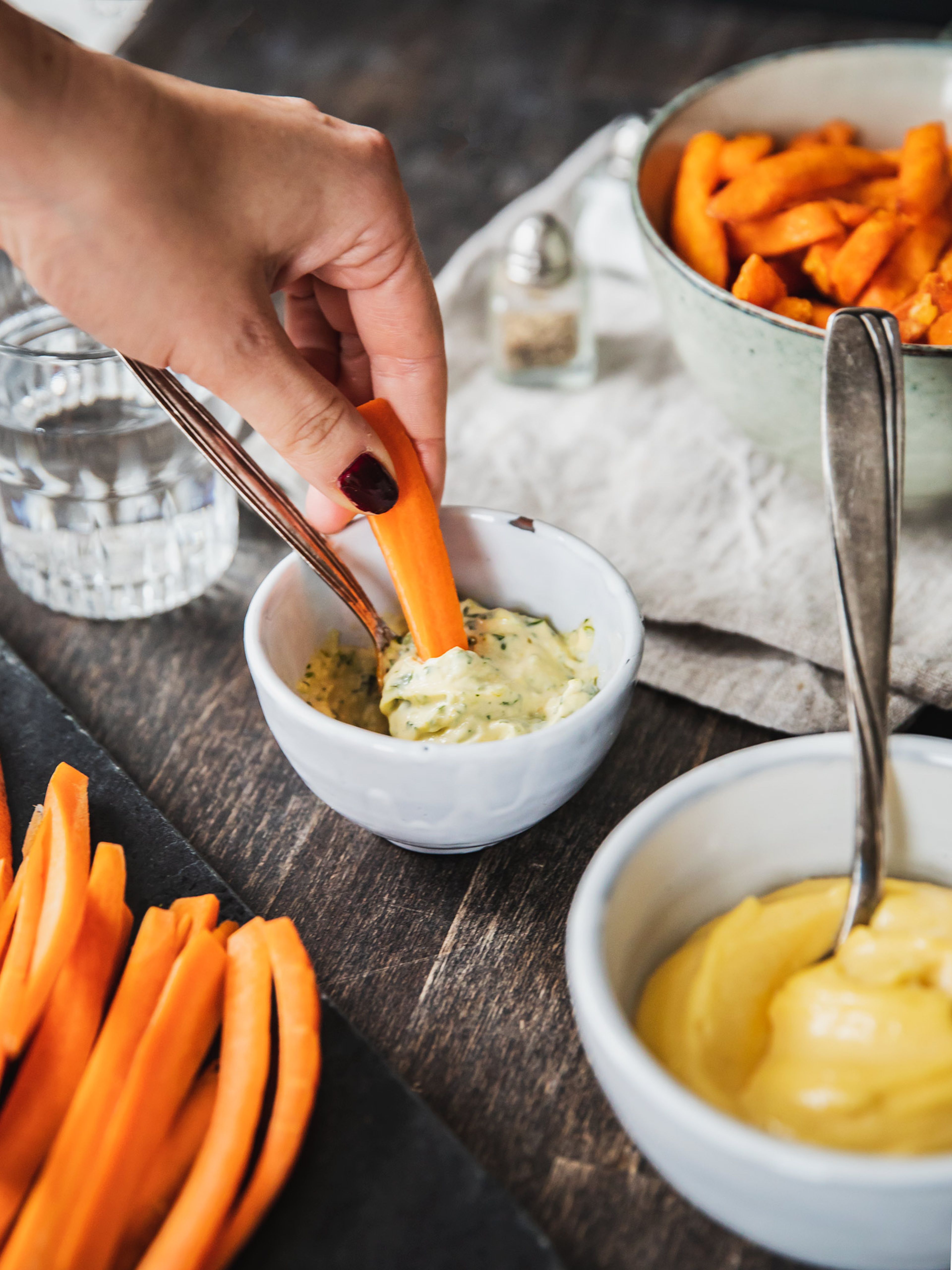 Remoulade: In addition to the base ingredient of mayonnaise, this aromatic variant also includes finely chopped herbs such as parsley, chervil, and tarragon as well as capers and, depending on who's making it, finely chopped gherkins or anchovies. In Germany, remoulade is often served with fried fish, boiled and roast beef, but it's also used as thick slather on sandwiches.
Fish fingers with mashed potatoes and remoulade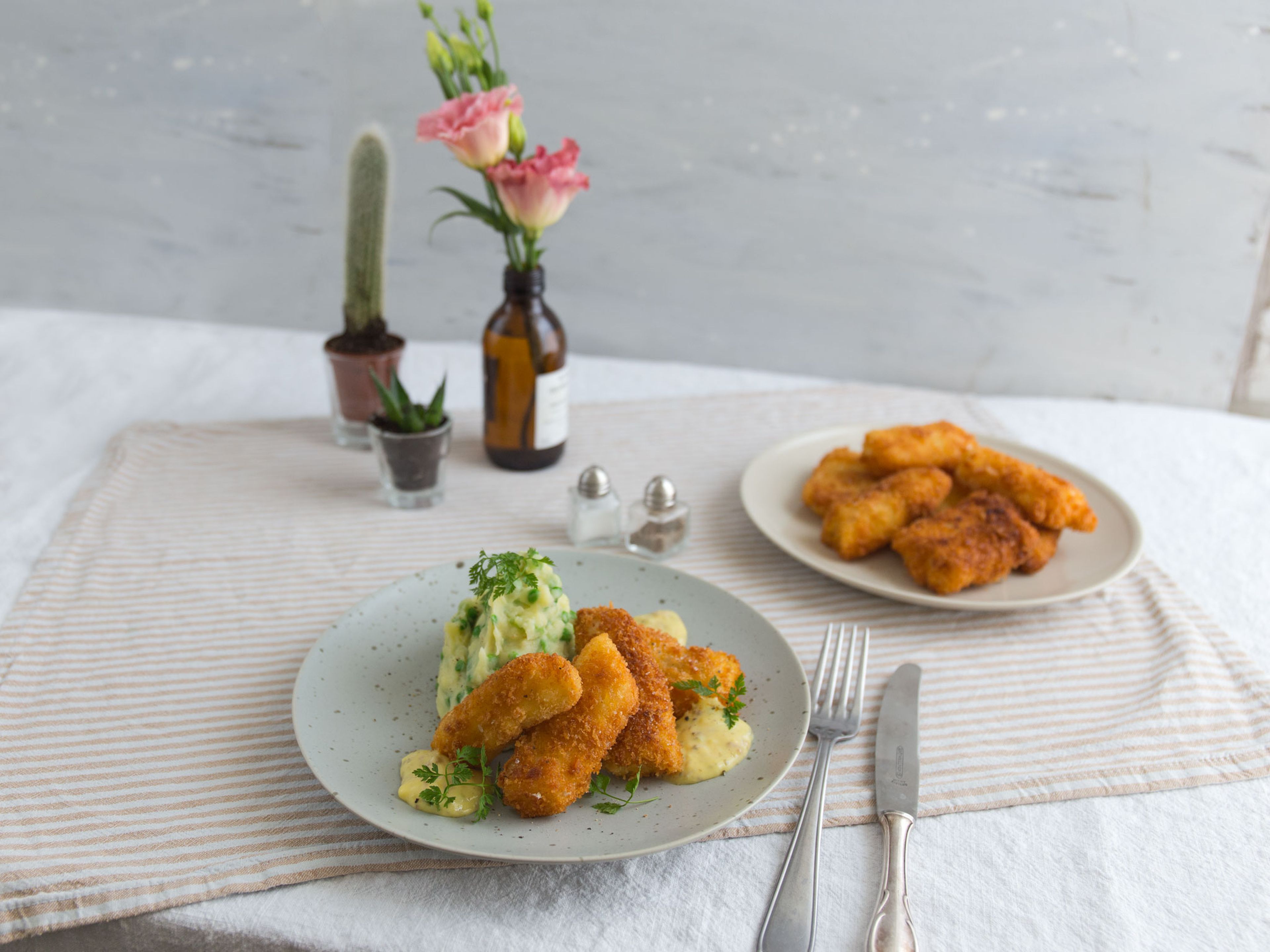 → Go to recipe
Rouille: For this classic French sauce, garlic and small red peppers are finely crushed and added to the base mayonnaise. In some recipes a mashed potato is added or the sauce is refined with saffron. Traditionally, the creamy sauce is served with bouillabaisse.
Simplified bouillabaisse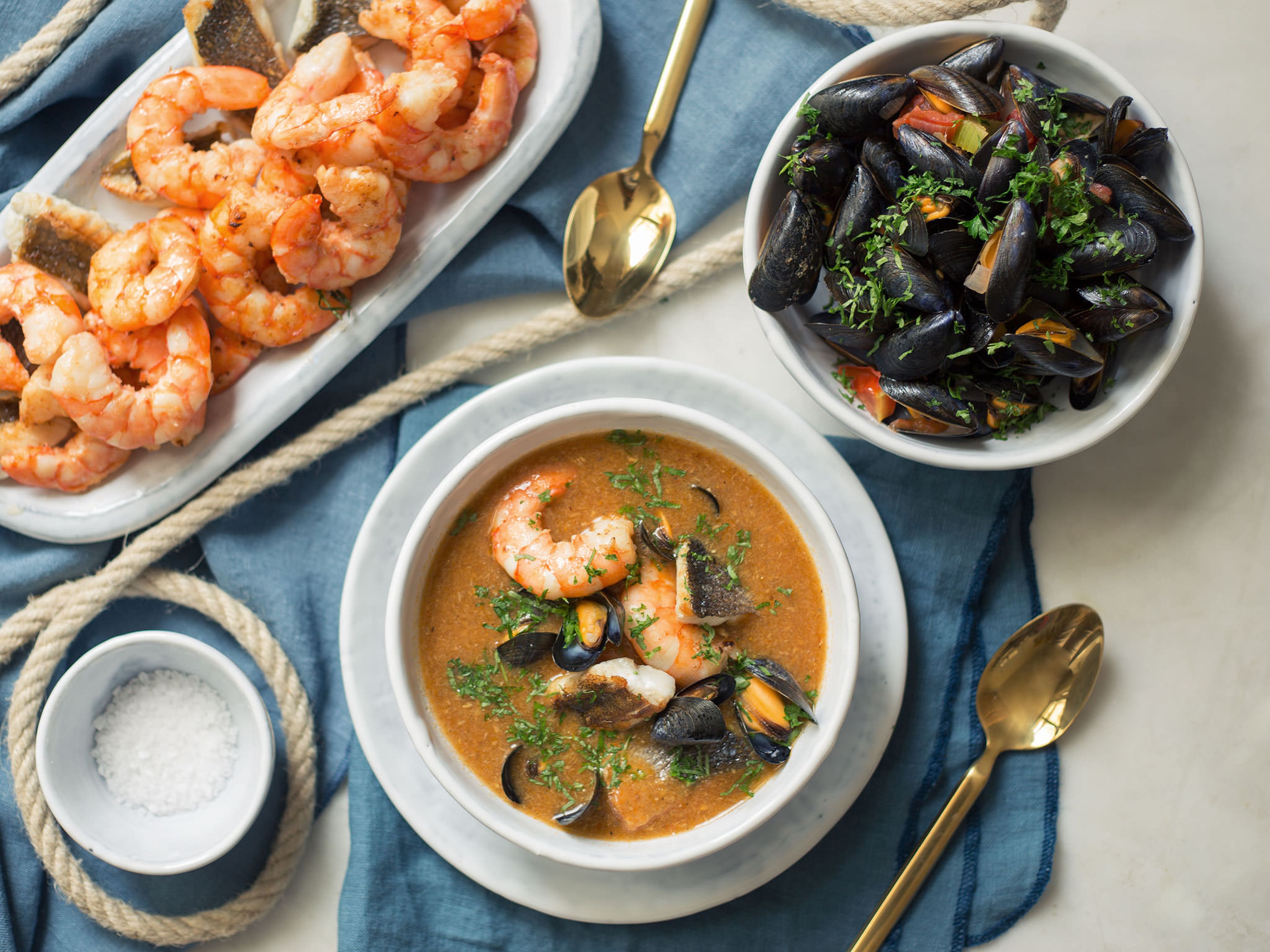 → Go to recipe
Tartar sauce: This cold sauce also comes from French cuisine and is usually prepared with hard-boiled egg yolks instead of raw ones. Rounded off with finely chopped or pureed spring onions or chives, tartar sauce goes wonderfully with fish and other seafood.
Spanish-style garlic shrimp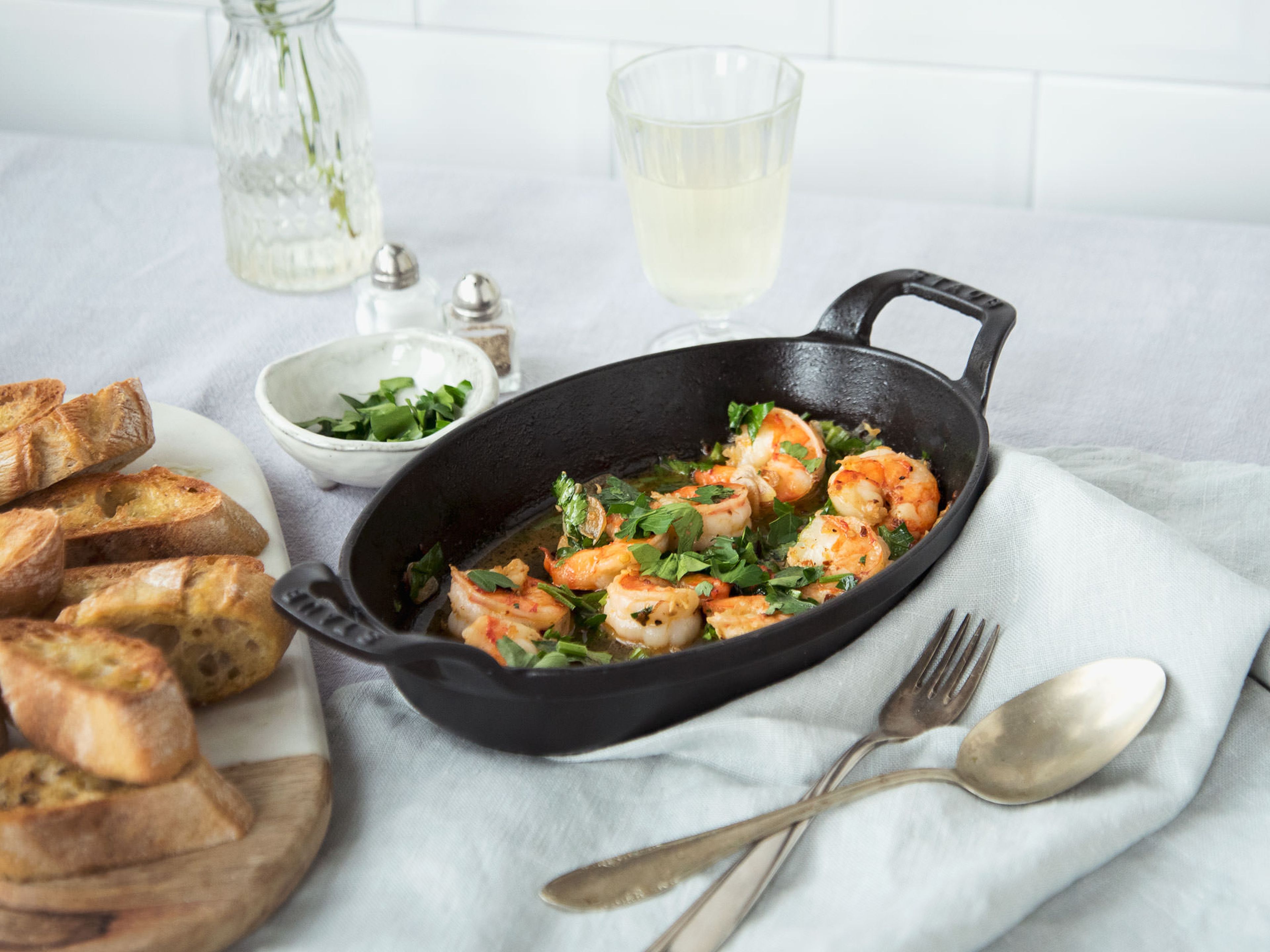 → Go to recipe
Russian dressing: One of the main components in the trendy Reuben Sandwich is Russian dressing, a spicy sauce made from mayonnaise, ketchup, cucumber relish, and horseradish.
Reuben sandwich with pastrami and coleslaw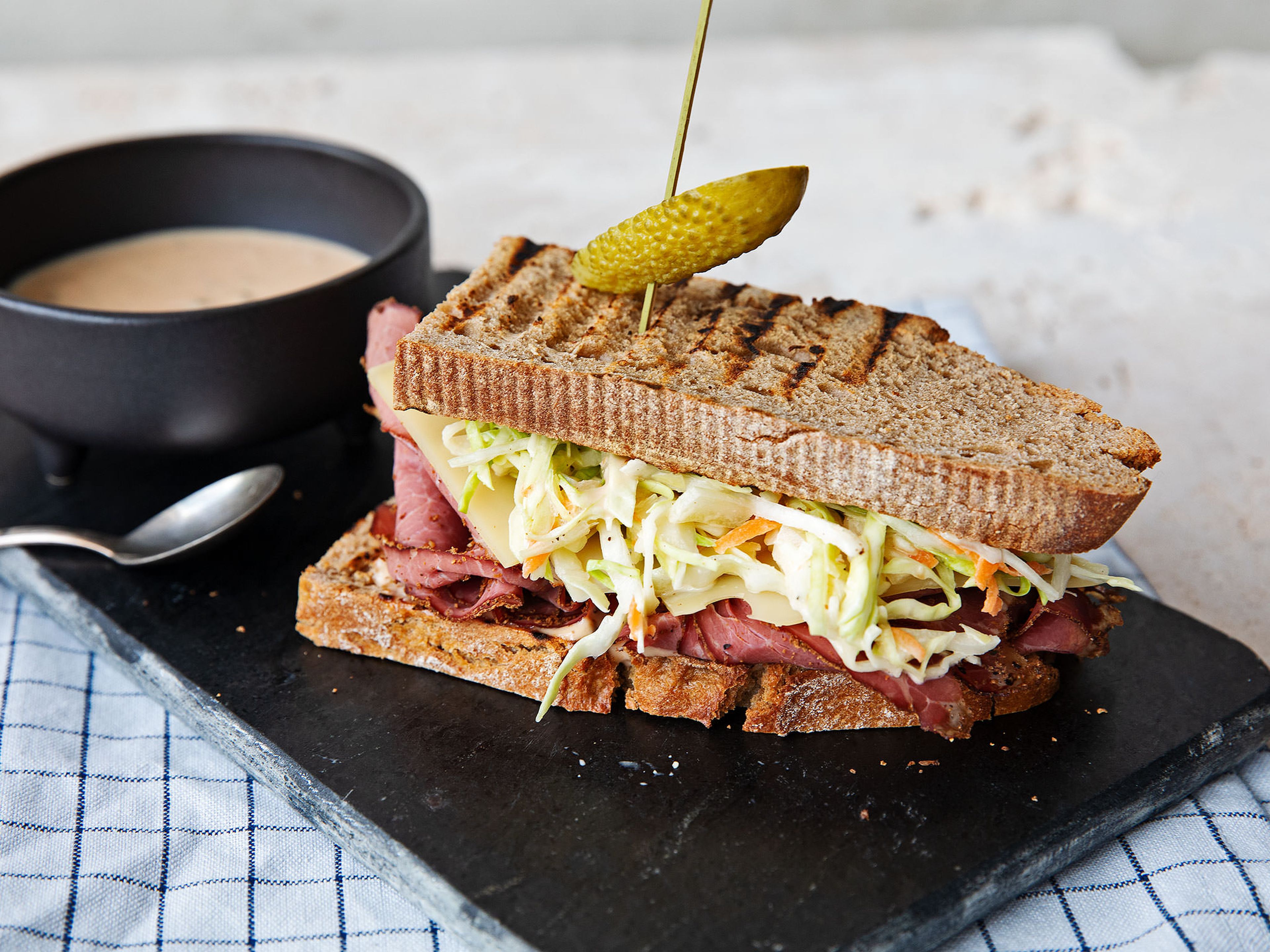 → Go to recipe
Aioli: The most popular variation of mayonnaise is quite obvious: Aioli! Loaded with garlic, this delicious sauce plays the perfect counterpart to French fries, patatas bravas, pimientos de padrón, crunchy vegetable sticks, or simple slices of bread.
Blistered padrón peppers with garlic dip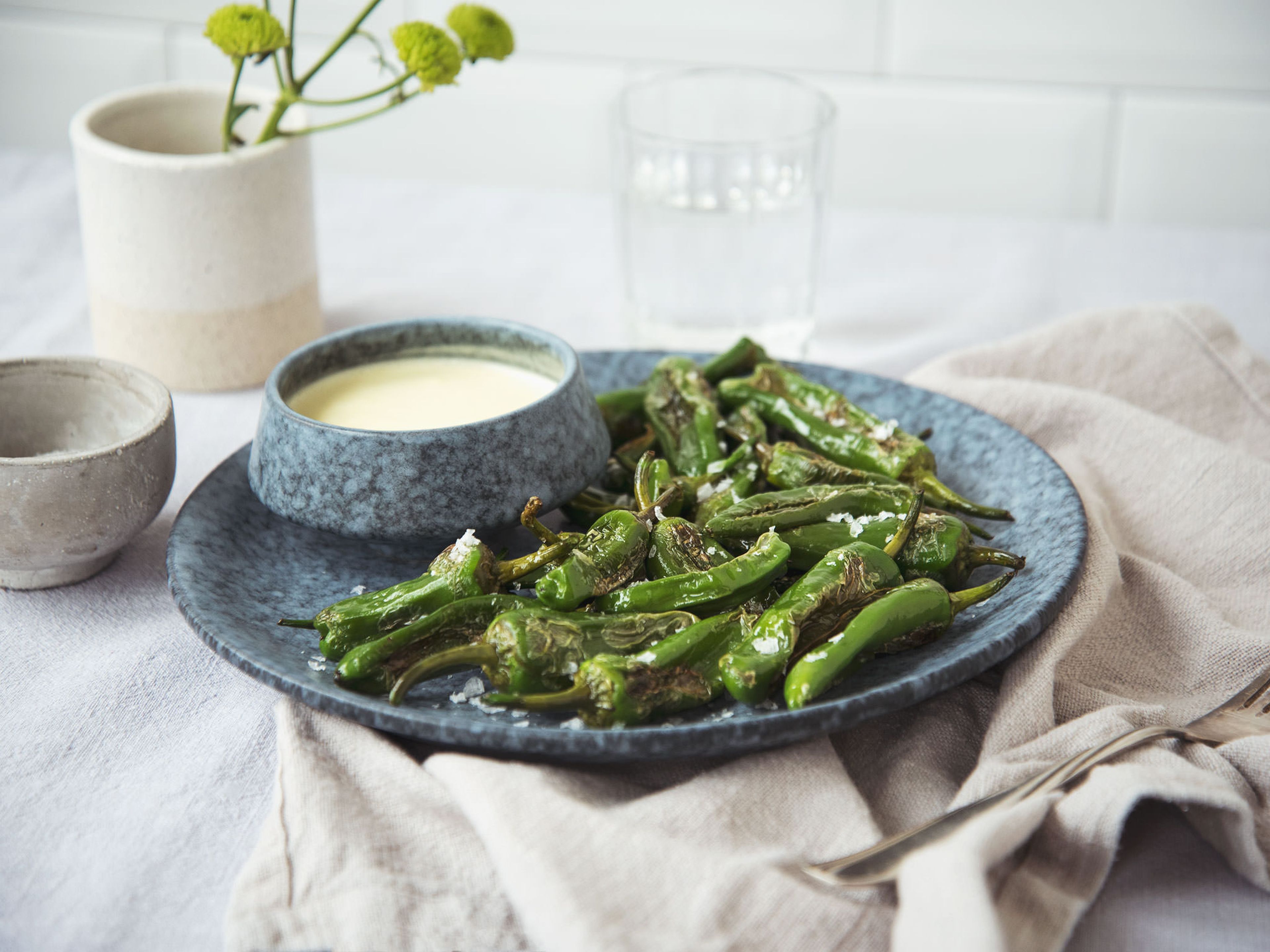 → Go to recipe
What is aioli?
What is the difference between the famous Spanish garlic cream and ordinary mayonnaise? As already mentioned, the magic word here is garlic. It gives the cream its characteristic taste and also serves as an emulsifier.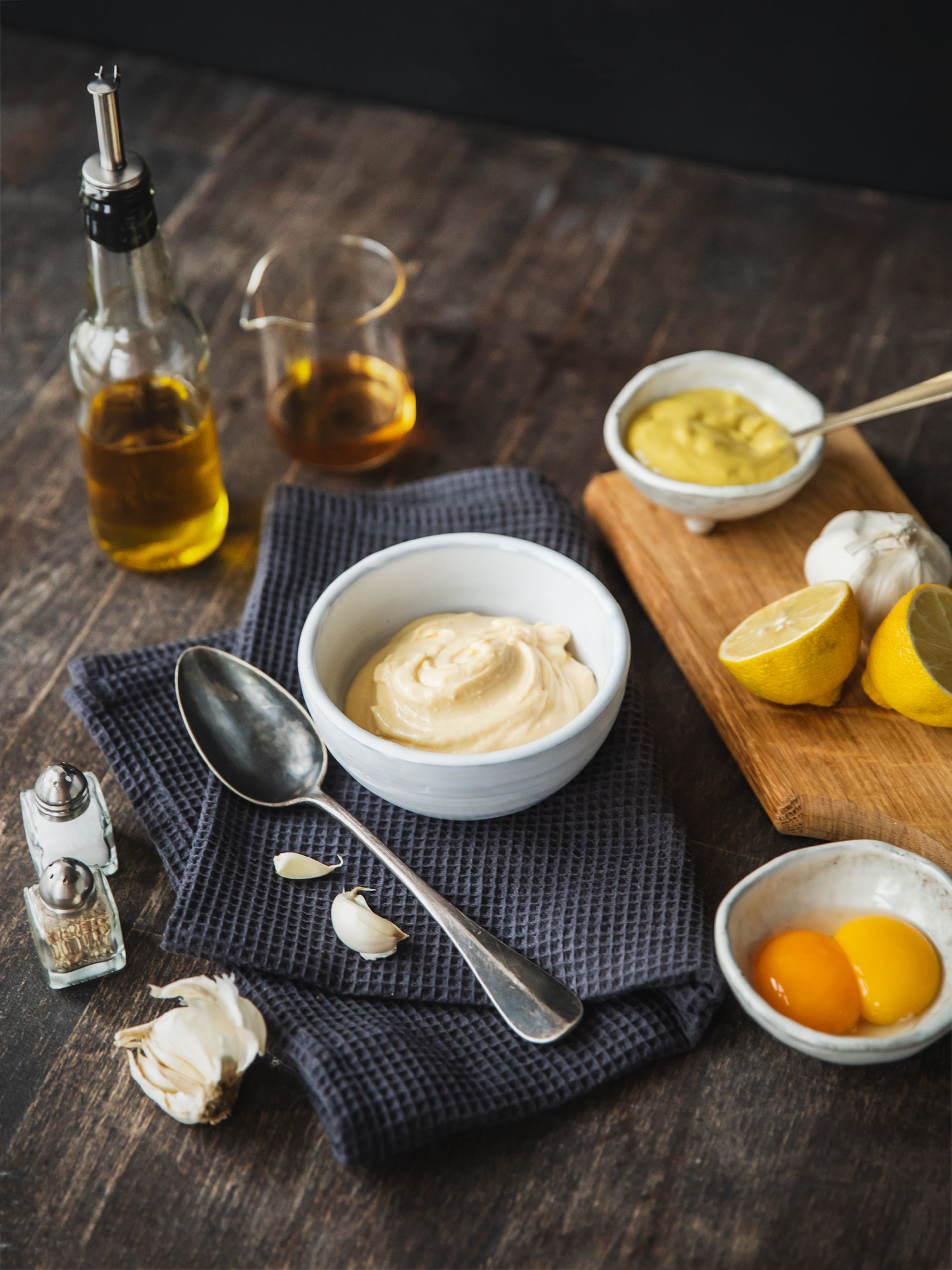 What you need to make homemade aioli
You can basically prepare aioli with the same ingredients you use when preparing mayo: egg yolks, vegetable oil, mustard, lemon juice and/or white wine vinegar, and some salt and pepper. However, with this variant, you start with a few cloves of finely chopped garlic.
Traditional aioli doesn't include eggs. Garlic and vegetable oil is mixed with a little salt – giving it a much sharper taste than garlic mayo. However, this version can be enjoyed longer as is does not contain any perishable ingredients.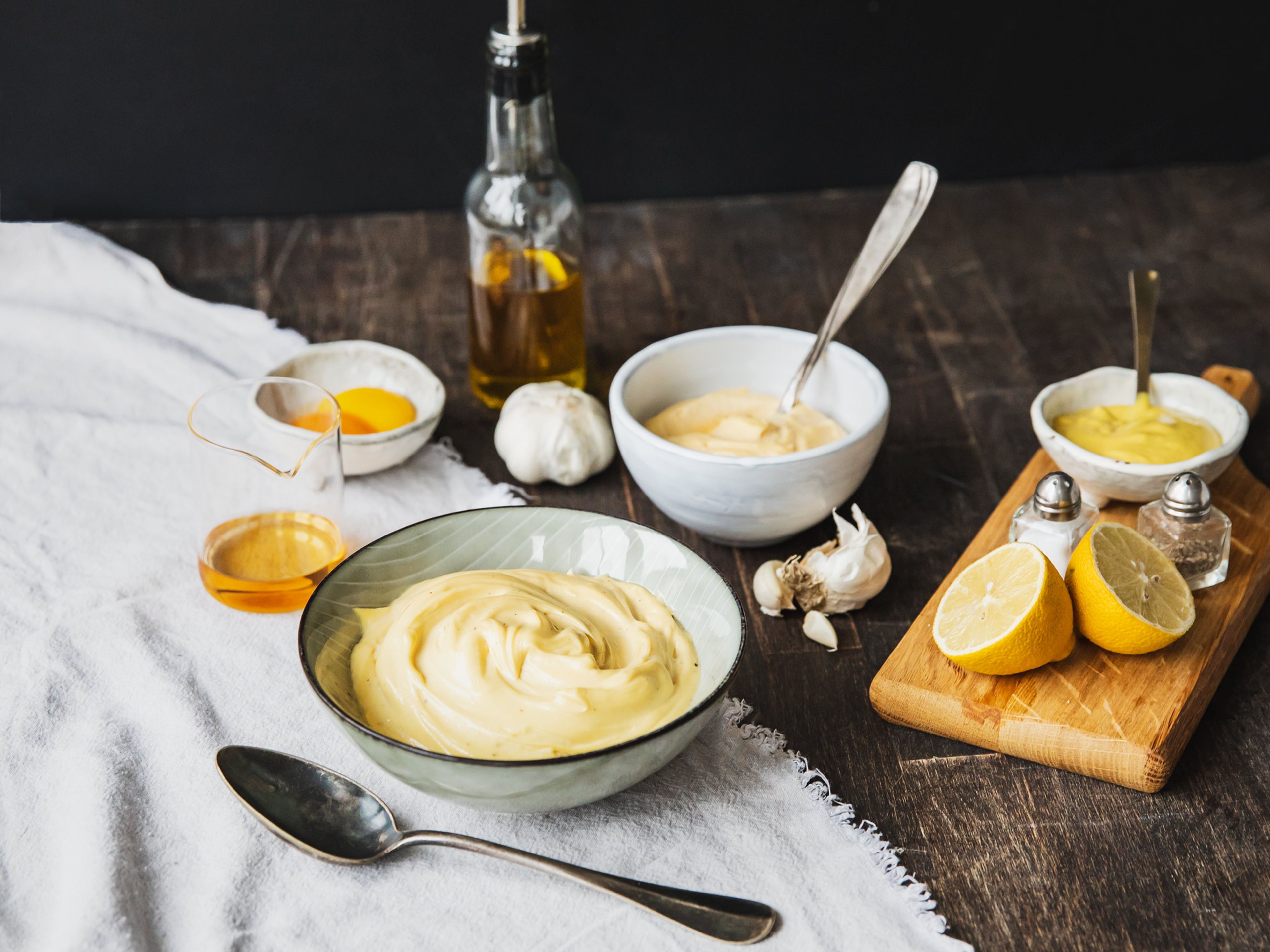 The Mallorcan aioli also does not contain egg yolk, instead a little milk is added. Since the garlic acts as an emulsifier, you can also use this recipe to make a wonderfully creamy aioli dip.
Our homemade aioli recipe
Now it´s time to reveal our quick and easy aioli recipe. Take a look at our How-To to learn how the technique.
Homemade aioli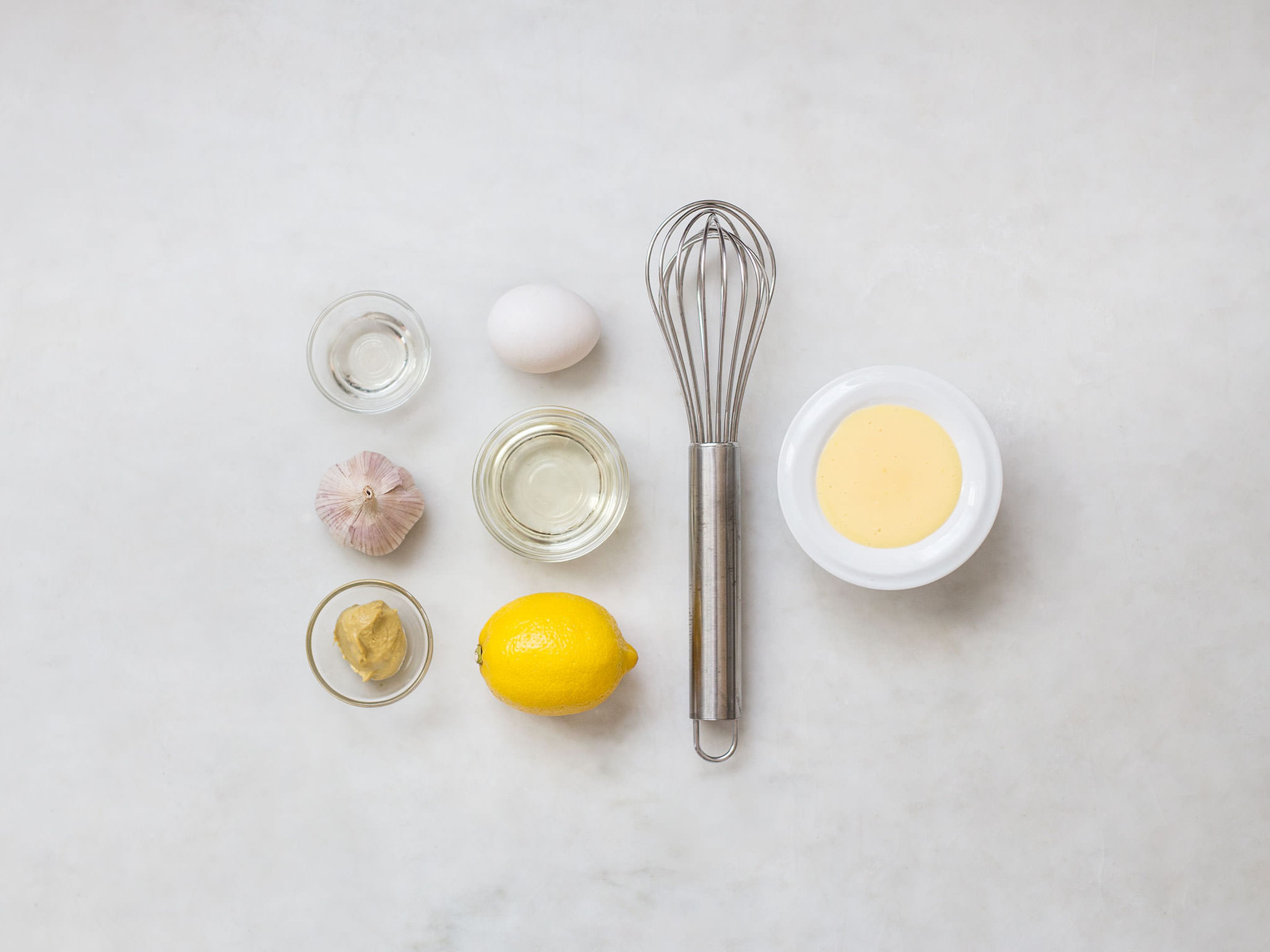 → Go to recipe
Use these methods to prepare aioli at home
There are different methods to making homemade aioli. While some people use an immersion blender, others swear by the classic method of whisking. Of course, it's entirely up to you which method you choose, but each option has their pros and cons.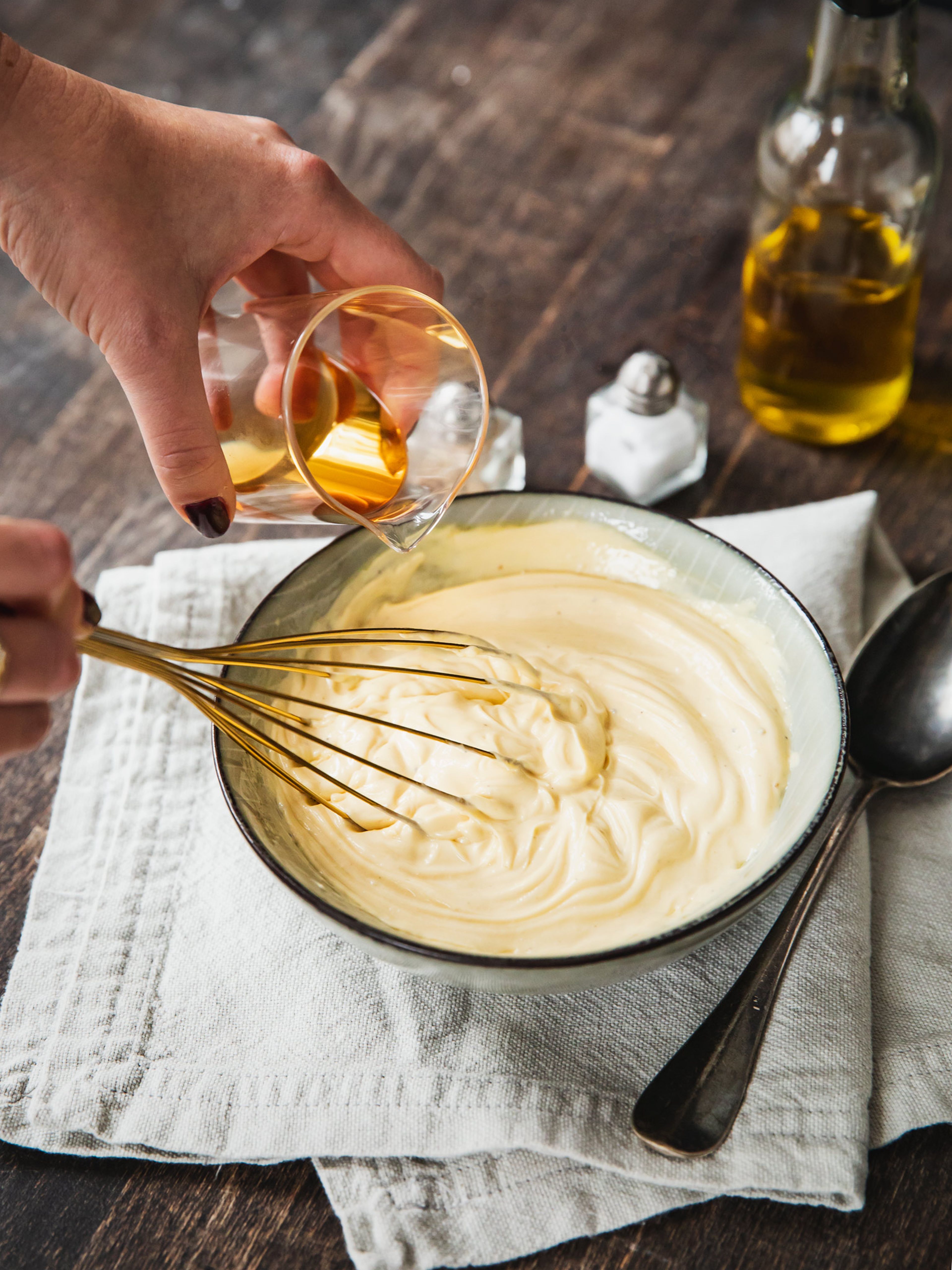 Preparing aioli with an immersion blender: Perfect for a really quick mayonnaise or aioli—all you have to do is put all the ingredients except the oil into a measuring cup and blend together on medium speed. Slowly add the oil and your immersion blender will do all the work.
Preparing aioli in a blender: If you want to prepare large quantities of aioli, then preparation with a blender is just the thing for you. Mix together all the ingredients except the oil, then gradually add the oil until you have a creamy, thick texture.
Preparing aioli with a Thermomix: Using a Thermomix is the easiest method as it's quick and uncomplicated. Crush the garlic cloves on speed level 5. Then add all the remaining ingredients except the oil, switch the appliance to speed level 3.5 and slowly add the oil until thick.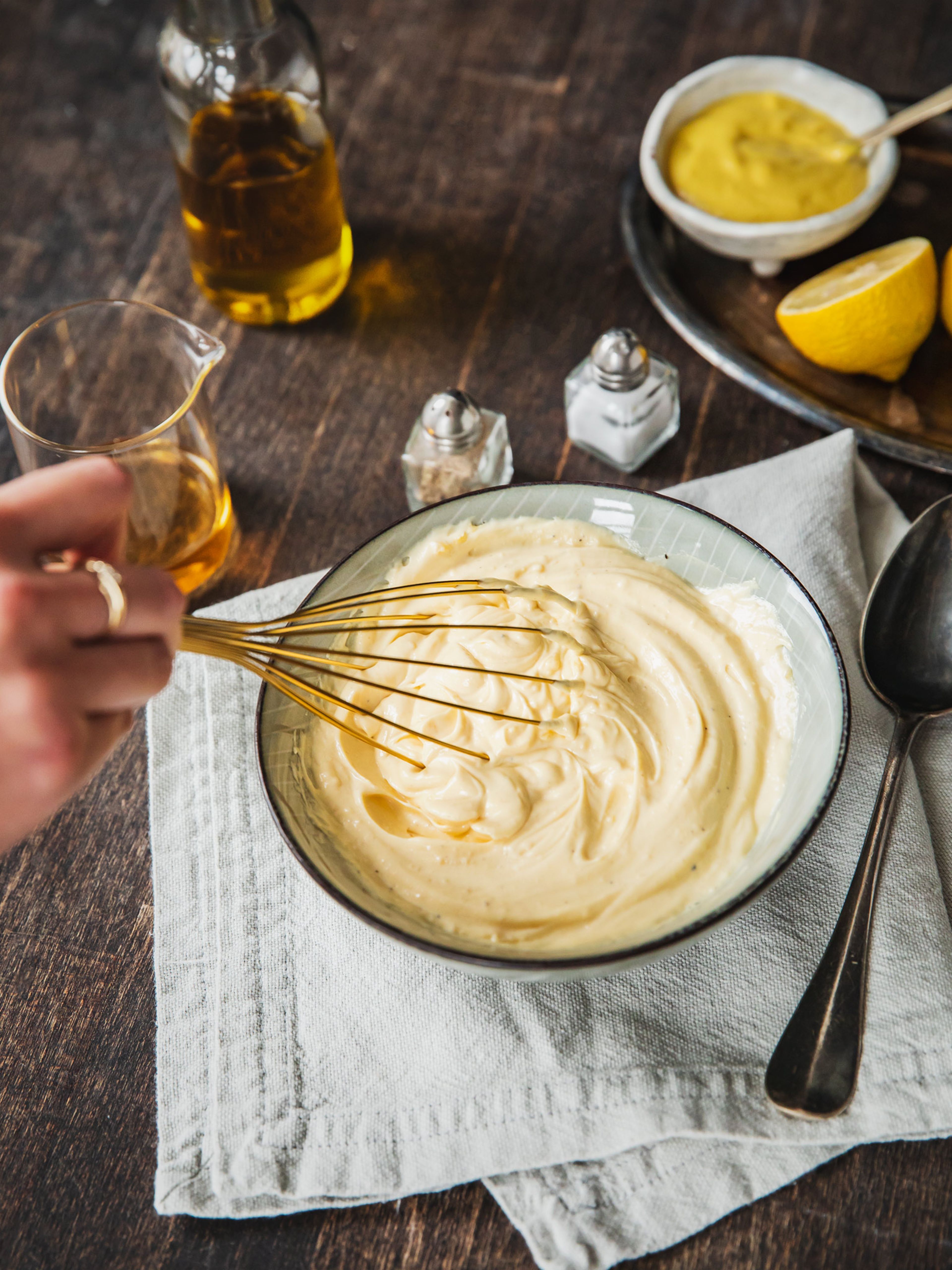 Preparing aioli with a whisk: For this old-school method you need some sensitivity and some muscles. Whisk up the eggs with finely chopped garlic, mustard, and lemon juice or vinegar. Then, while you continue whisking, slowly add the oil. This may sound a bit complicated, but with a little practice you can make your own aioli using this method in just 3 — 4 minutes.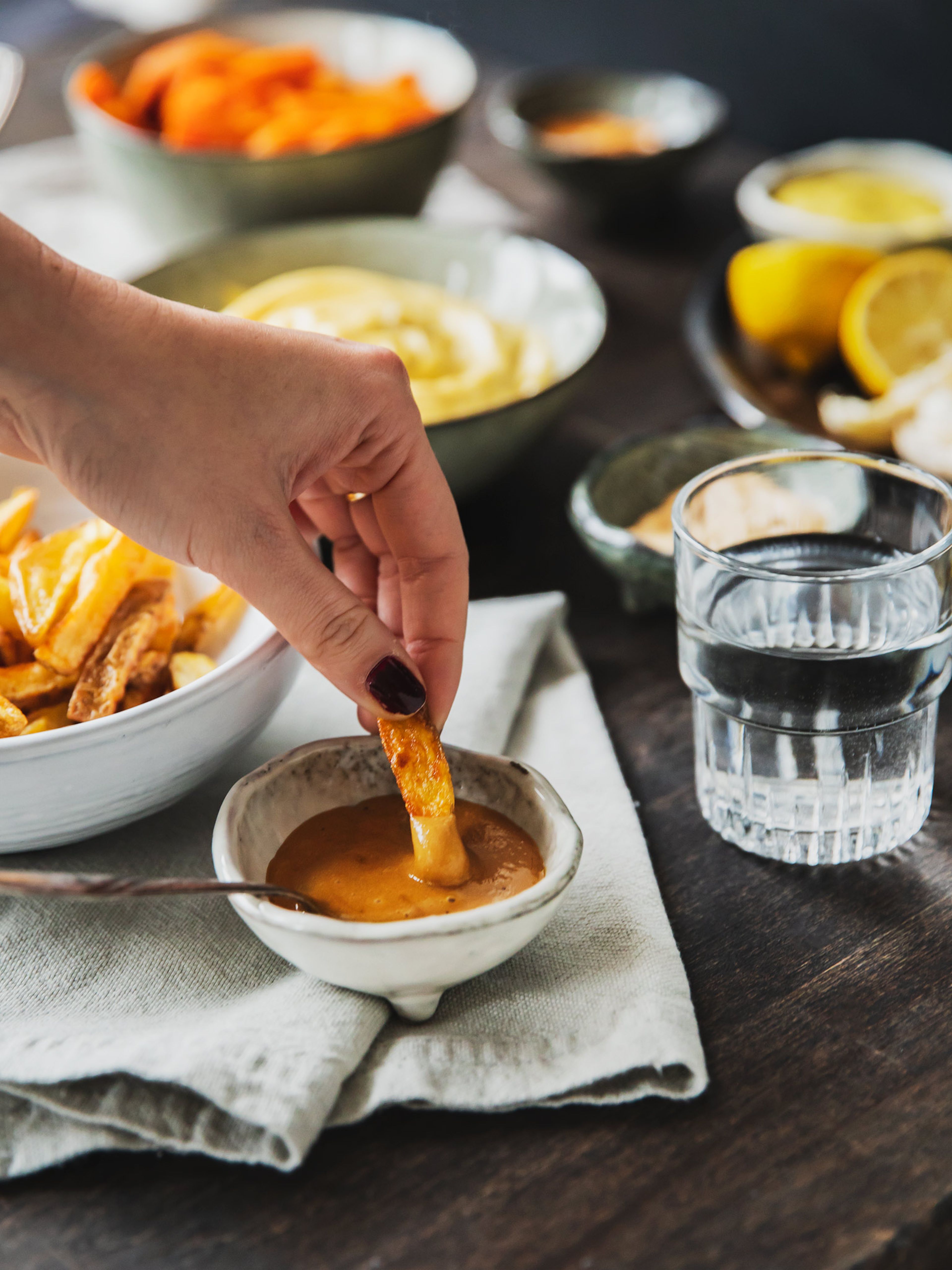 Our 7 favorite aioli variations
We all agree that there are only a few things that can top a homemade aioli. But just like with mayonnaise, you can add extra flavor to the creamy garlic dip. How about a lime or lemon aioli, a truffle aioli, or a green aioli with herbs? Have a look at the infographic below to find our favorite combinations.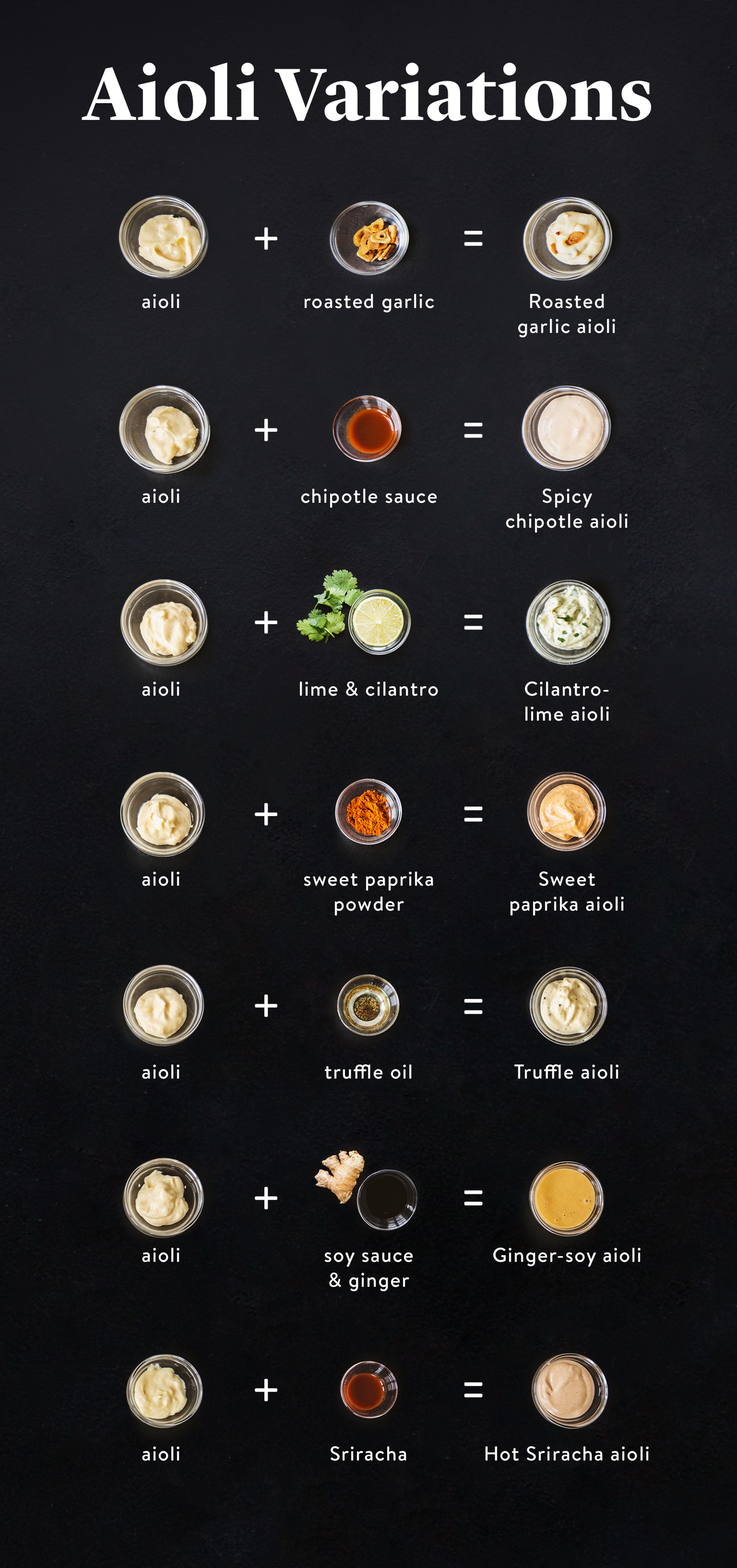 How long does homemade aioli last?
Homemade aioli should be stored in an airtight container in the fridge and consumed within a few days. The traditional aioli (without eggs), on the other hand, can be stored a little longer—about 2 to 3 weeks. Just like mayonnaise, homemade aioli cannot be frozen. The best way to prepare and enjoy aioli is when it's fresh.
Our favorite recipes with aioli
Although I think that aioli goes well with almost everything, here are my three personal favorite recipes where aioli plays a key role.
Hasselback potatoes with sun-dried tomato aioli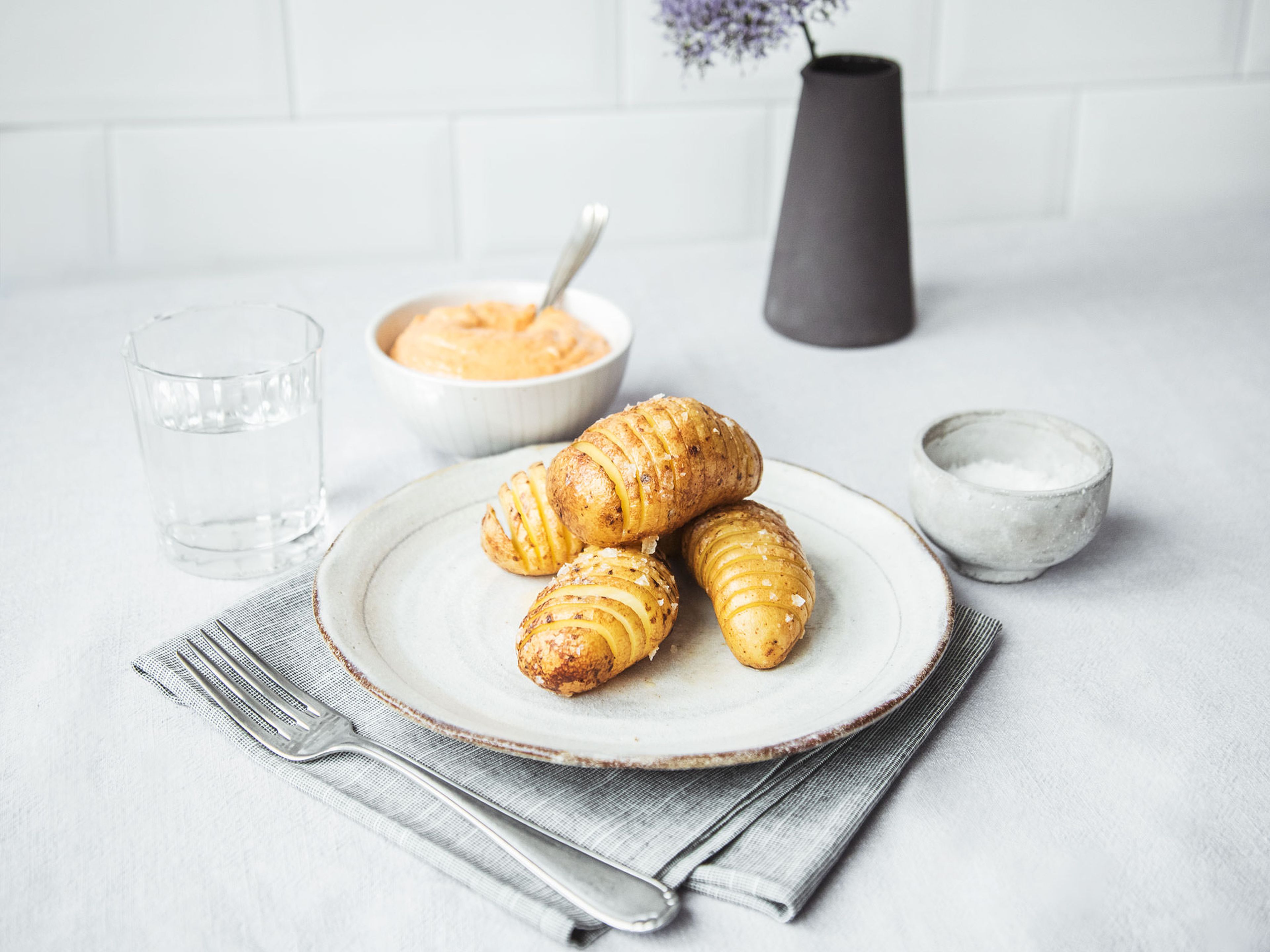 → Go to recipe
Roasted Romanesco salad with pomegranate aioli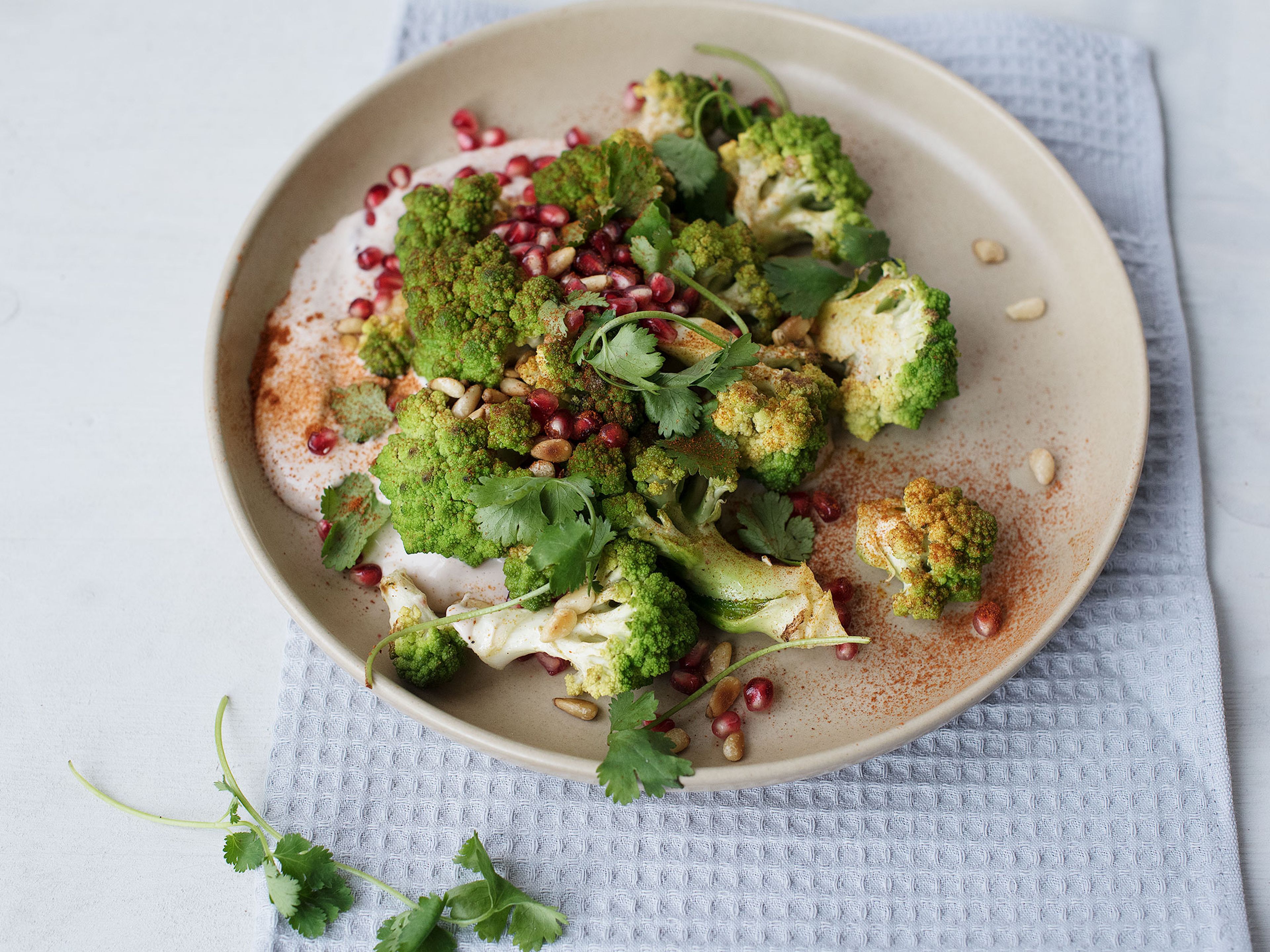 → Go to recipe
Spanish roasted potatoes with salsa brava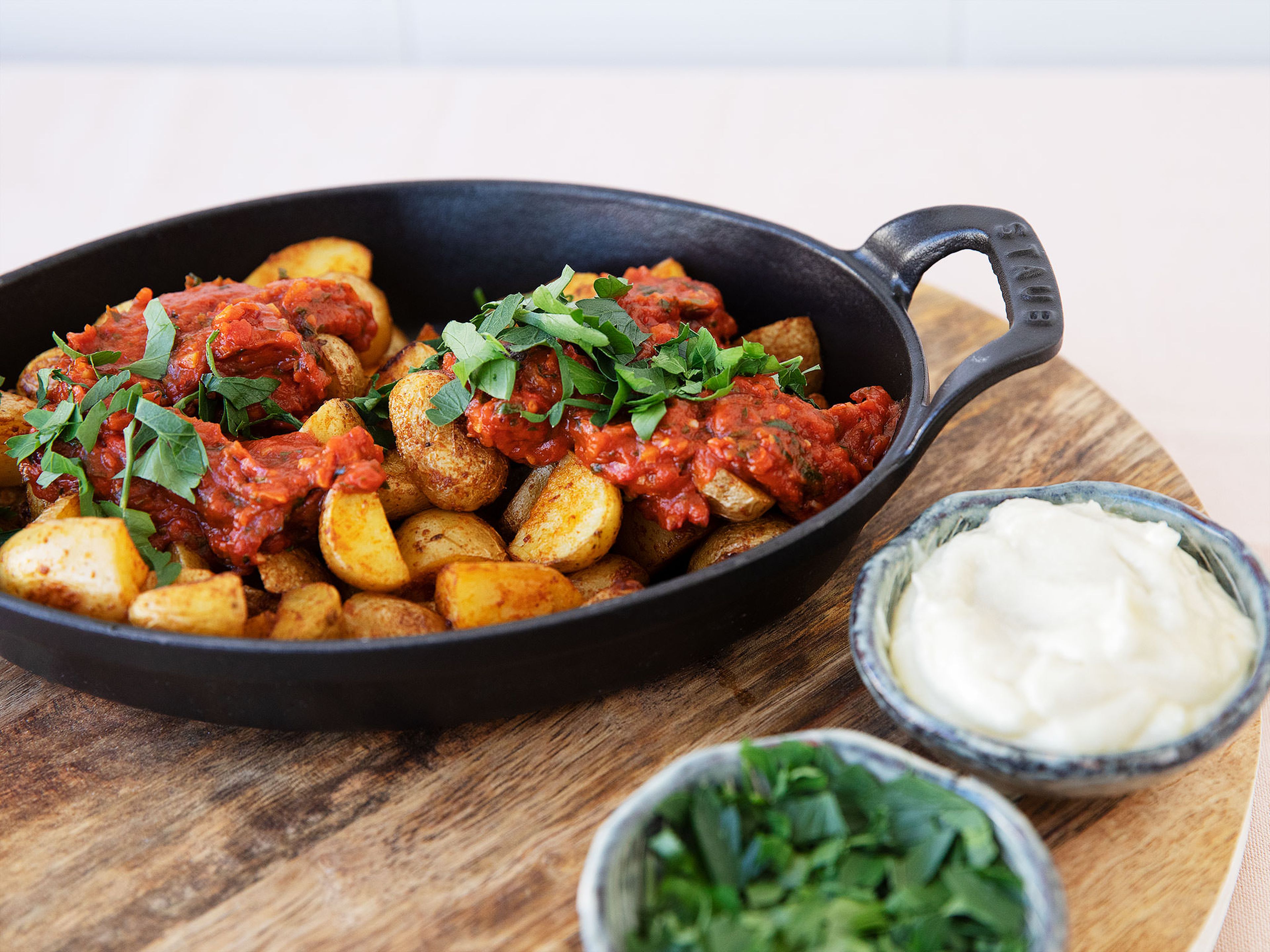 → Go to recipe
Are you a fan of homemade dips or do you prefer the store-bought versions? What´s your favorite dish to serve with mayo or aioli? Let us know in the comments below or upload your best recipe to our app to share it with the community.
Published on December 12, 2018
More delicious ideas for you