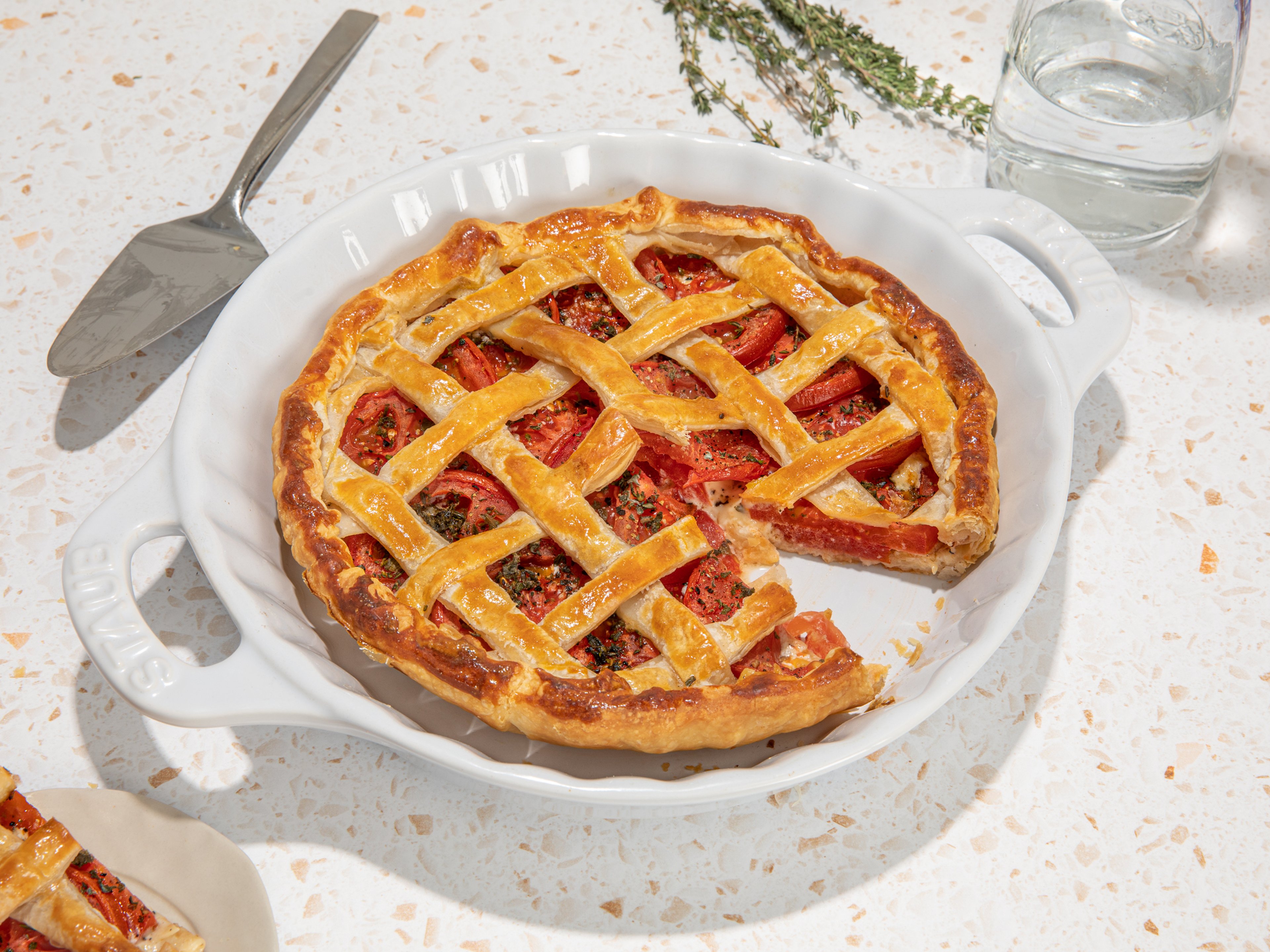 Savory tomato pie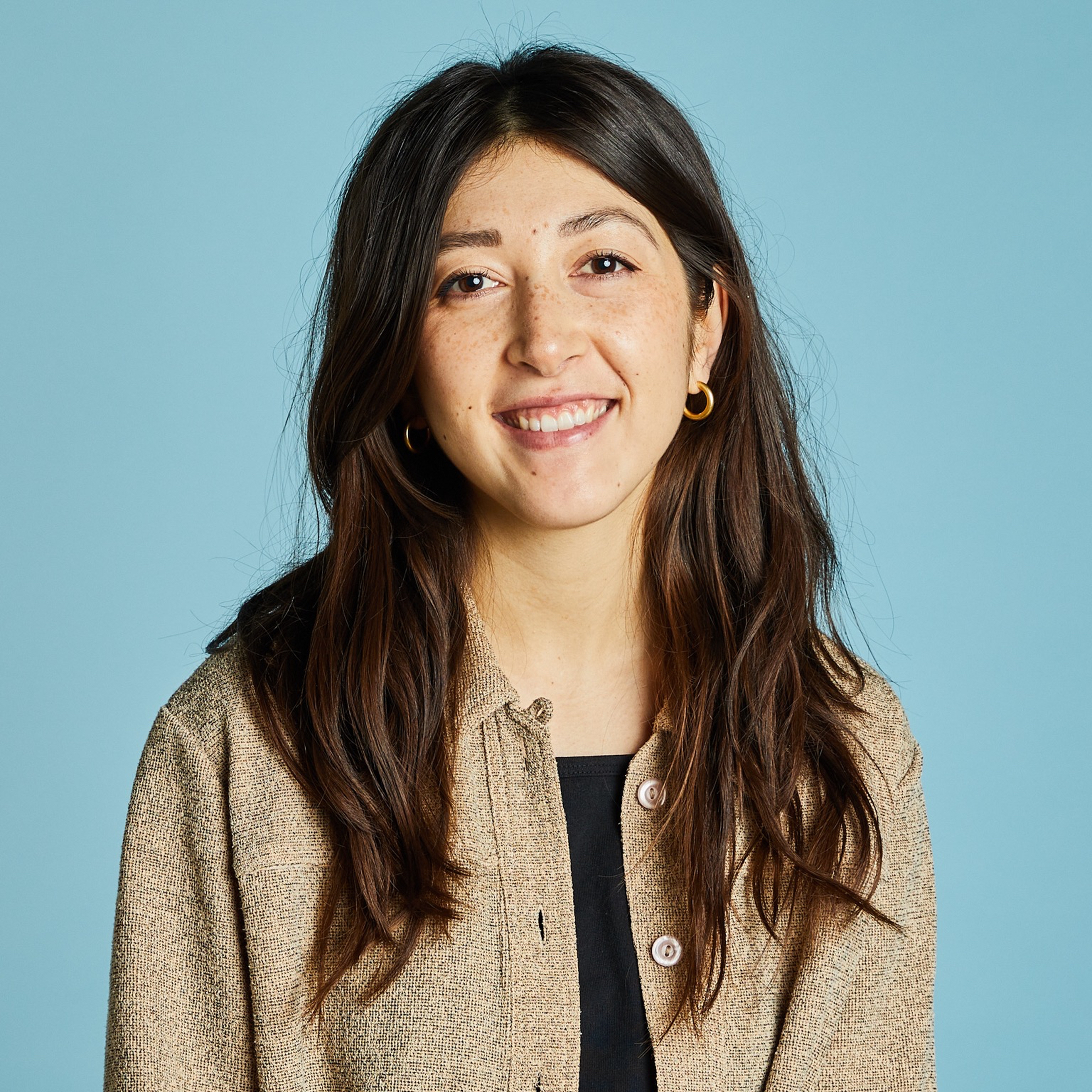 "This savory pie is impressive, yet incredibly easy to throw together. Serve it in small slices as an appetizer or snack or make it to serve alongside a light salad for an easy lunch that will last you the whole week. Use the best tomatoes you can find, as the taste of your tomatoes will really drive this dish to be great, or let it fall flat. You can also use homemade pie dough or even go topless and use a savory, cracker and butter-based crust instead."
Ingredients
unsalted butter (for greasing)
Utensils
2 ovens, cutting board, 2 knives, frying pan (small), cooking spoon, pie dish (9 in.), bowl (small), pastry brush, wire rack
How-To Videos
The easiest way for prettier pies
How to prepare a pie dish
How to fit dough into a pie dish
Pie crust - a basic recipe
Step 1/ 5

¼

shallot

¼ clove

garlic

1

undefined

⅛ tsp

thyme

⅛ tsp

oregano

Preheat oven to 190°C/375°F. Peel and finely slice shallot and garlic. Slice tomatoes. Roughly chop fresh thyme and oregano leaves.

Step 2/ 5

¼ tbsp

unsalted butter

salt

pepper

frying pan (small)
cooking spoon

Melt butter in a small pan over medium heat. Add shallot and garlic, season with salt and pepper, and sauté for approx. 8 - 10 min., or until the shallot just begins to brown.

Step 3/ 5

¼

puff pastry sheet

3¾ g

shredded Gruyère cheese

3¾ g

Parmesan cheese (grated)

28¾ g

mayonnaise

salt

pepper

sugar

unsalted butter (for greasing)

pie dish (9 in.)
bowl (small)

Grease a pie dish, add half of the puff pastry—you'll have some overhang, don't worry, that's what you want. Add Gruyère cheese, Parmesan cheese, and mayonnaise to a bowl and stir to combine. Season with salt and pepper. Add the cheese mixture to the puff pastry-lined pie dish and spread evenly. Add shallot mixture and layer on sliced tomatoes. Season with salt, pepper, and sugar, and sprinkle with chopped fresh thyme and oregano.

Step 4/ 5

Cut the second sheet puff pastry into approx. 1 ¼ cm/½ in. wide strips. Layer the strips to form a lattice pattern over the pie. Now trim both pastry sheets, leaving approx. 1 ¼ cm/½ in. of dough hanging over the sides. Press to seal the dough together and wrap it up around the edges.

Step 5/ 5

oven
pastry brush
wire rack

Bake pie at 190°C/375°F for approx. 20 min. Open the oven, and carefully brush the top of the pie with beaten egg yolk. Bake for another approx. 20 - 25 min., or until the crust is golden brown. Remove from the oven and let cool on a wire rack for at least 30 min. before slicing. Enjoy!

Enjoy your meal!
More delicious ideas for you