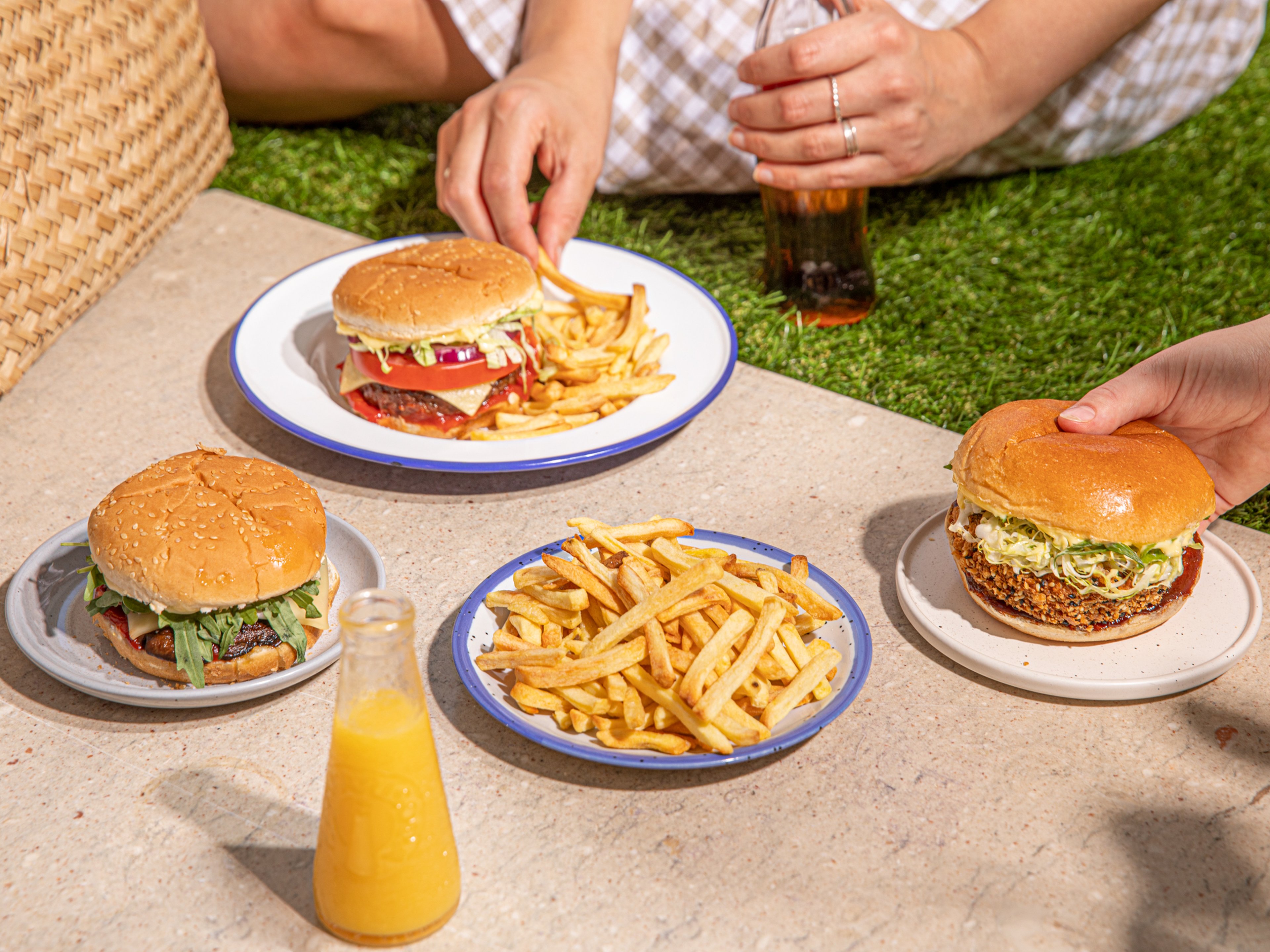 This Crunchy, Eggplant Katsu Burger Will Make You Rethink Burgers Entirely
Plus, six more veggie burgers we can't get enough of!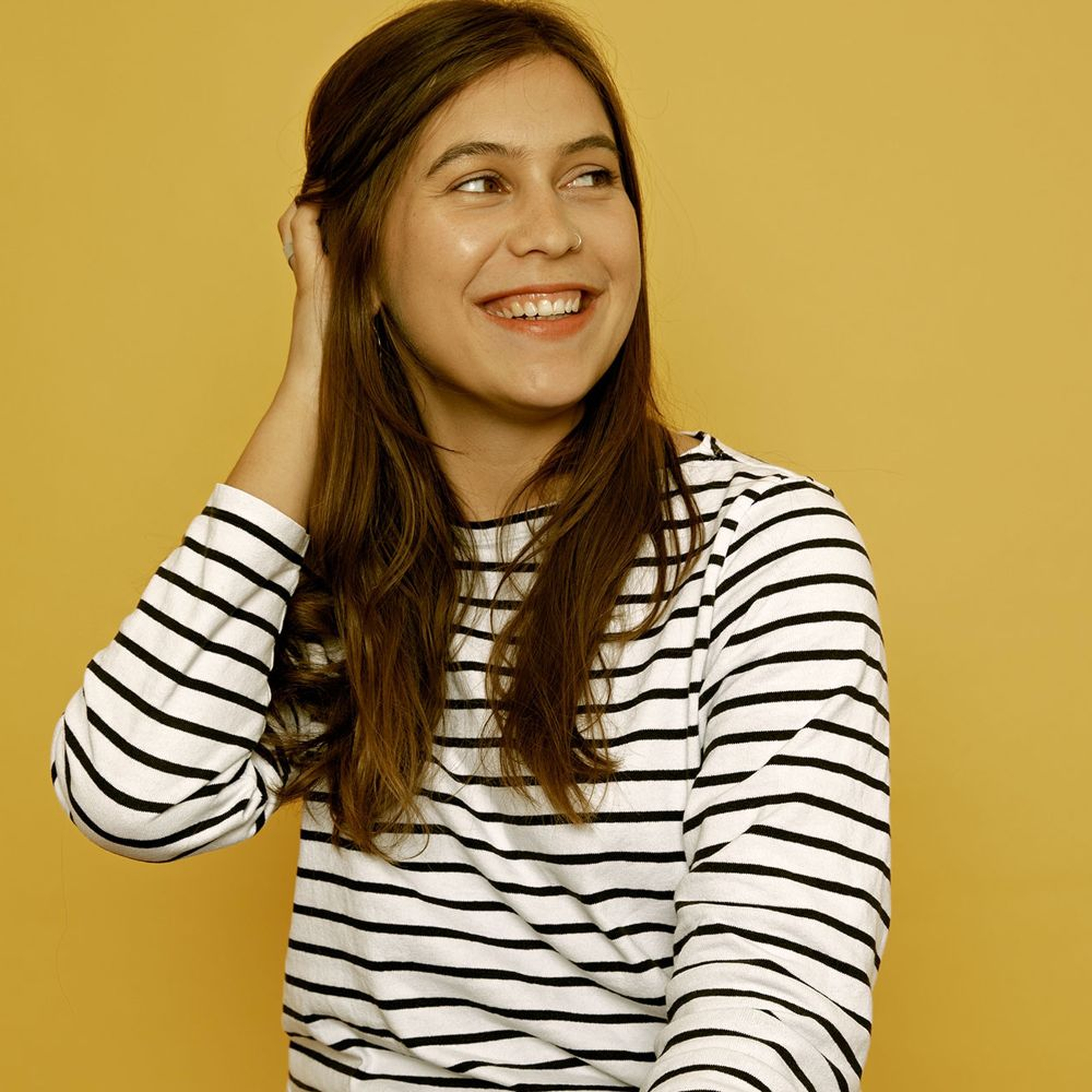 From big bunches of Swiss chard to baskets full of juicy heirloom tomatoes, aromatic peaches to bundles of crisp red radishes, enjoying the abundance of summer is one of life's simple pleasures. This article is part of "The Big Veggie Summer Issue," a month of plant-based recipes presented by Garden Gourmet. Whether you're an omnivore or flexitarian, vegan or vegetarian, there's something for everyone! To get up to date on all the amazing veg we're cooking with this month, check back here for a full list of our latest recipes and articles, and don't forget to follow us on Instagram for extra tasty content!
Ever since I really got into frying, I haven't been able to stop. My latest victim? The eggplant with its juicy, meaty-but-not texture that inspired Gordon Ramsay's viral vegan eggplant 'steak'. My version uses eggplant to make a burger patty with a difference: A breaded disc of delight, inspired by crispy Japanese katsu—usually a foil for pork or chicken.
Eggplant, once deep-fried (don't worry you can use a small pot, which = less oil) in a coat of panko breadcrumbs and sesame seeds, transforms into a patty that is all noisy crunch on the outside and silky, creamy delight within. It's this delicious textural contrast that's made eggplant our favorite katsu vehicle at home, over any meat version. Truly! Usually, we (in the interest of giving the partners-of-food-editors the credit they're owed, the eggplant katsu is a recipe my other half first fried it up at home) cut the eggplant into big chunks, bread them and then deep-fry them. We serve up the crunchy, golden nuggets with rice, a quick cabbage slaw, and Japanese curry gravy. While repeating and celebrating this dish (ie. overeating) my thoughts strayed to katsu sando territory—and it just so happened burger season was upon us. A natural extension planted itself in my mind: A brioche burger filled with a crunchy katsu eggplant patty, tangy cabbage slaw, scallions, kewpie mayo and hoisin sauce (go for Japanese tonkatsu sauce if you can find it!). It's a little bit fancy and a lot of fun for two—or a crowd!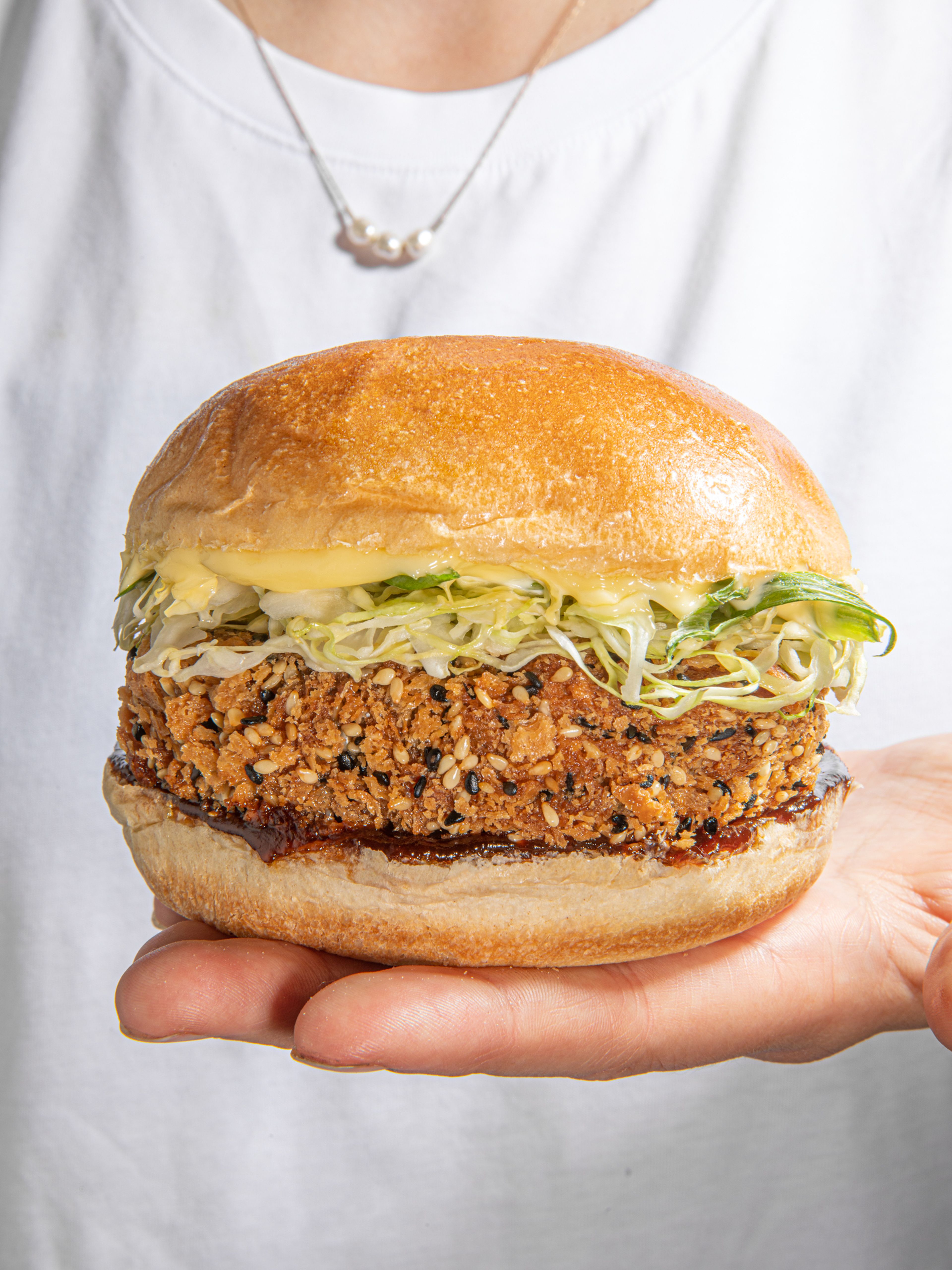 Get the recipe for our new eggplant katsu burger below!
Eggplant katsu burger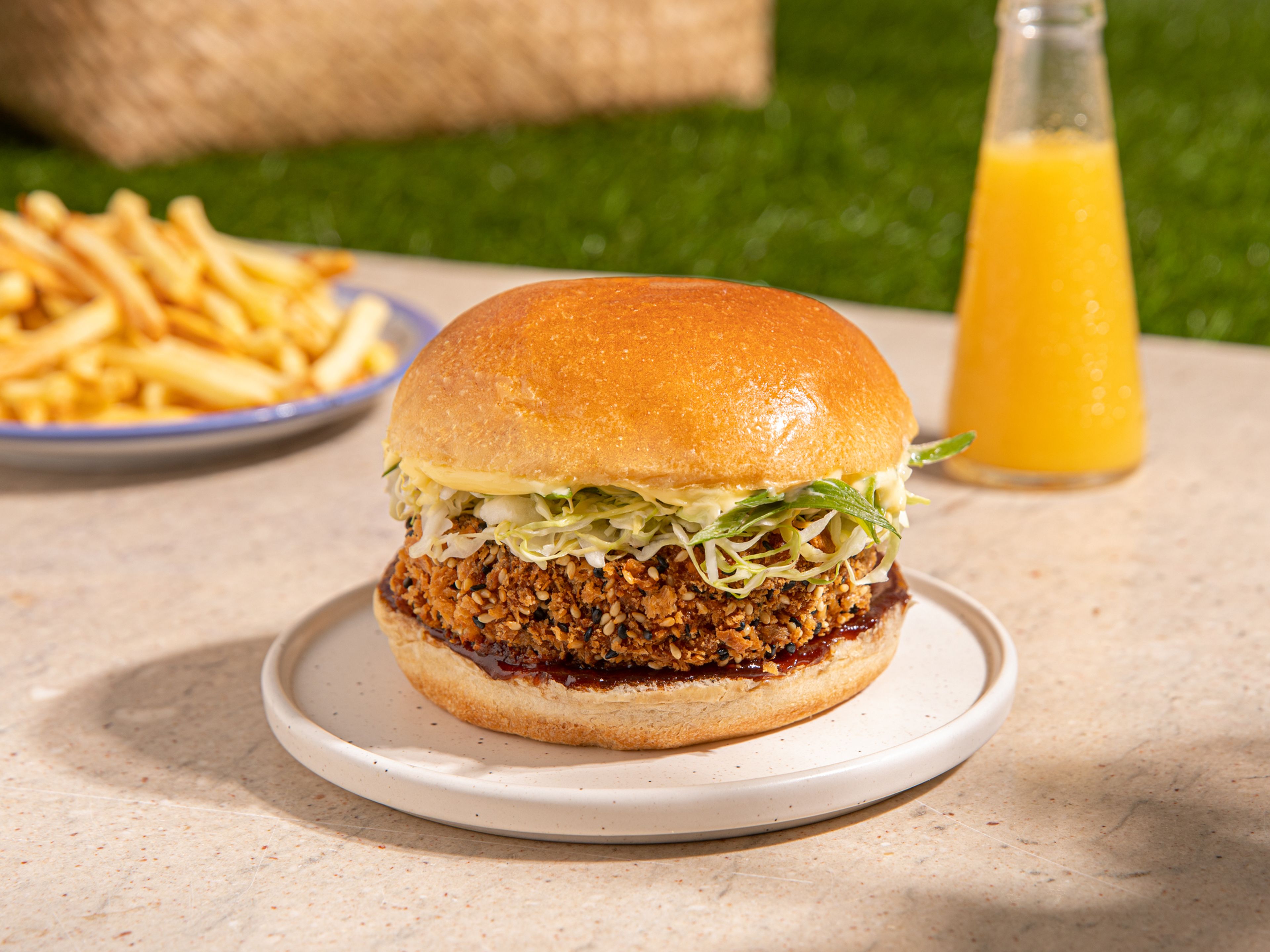 → Go to recipe
How to make the perfect eggplant burger patty
Create the right patty size: To make the patty, get yourself a sizeable eggplant: You then slice discs out of the middle section where it's thickest and you've got yourself perfect rounds, made by nature. I go for about 3-cm-thick (just over 1 in.) to get some real height and really give yourself something to bite into.
Alternatively, if you've got a thinner eggplant, cut an oval disc on the diagonal to get more surface area. You then need to peel the outsides of your patty so the panko breading sticks better—and either save the remaining bits of eggplant for your next recipe or make extra eggplant deep fried delights, the oil's going to be on, so why not?
Prep and salt the eggplant: I then salt the eggplant, pat dry after some water is drawn out, and then head to the breading station (don't forget the sesame, they add a toasty coating of flavor). Once they're coated, you leave the patties to sit so the breading will stick while the oil heats up—they only need a brief 6-ish min bath in there—then dinner's ready.
6 more vegan and vegetarian burger patties we love
1. Vegetarian 'meat' burger patties: They look like meat, they even taste like meat, but they aren't meat! The rise of meat-replacement products like burger patties, has opened up a lot of exploration, especially when it comes to mimicking the textures and flavors of the original.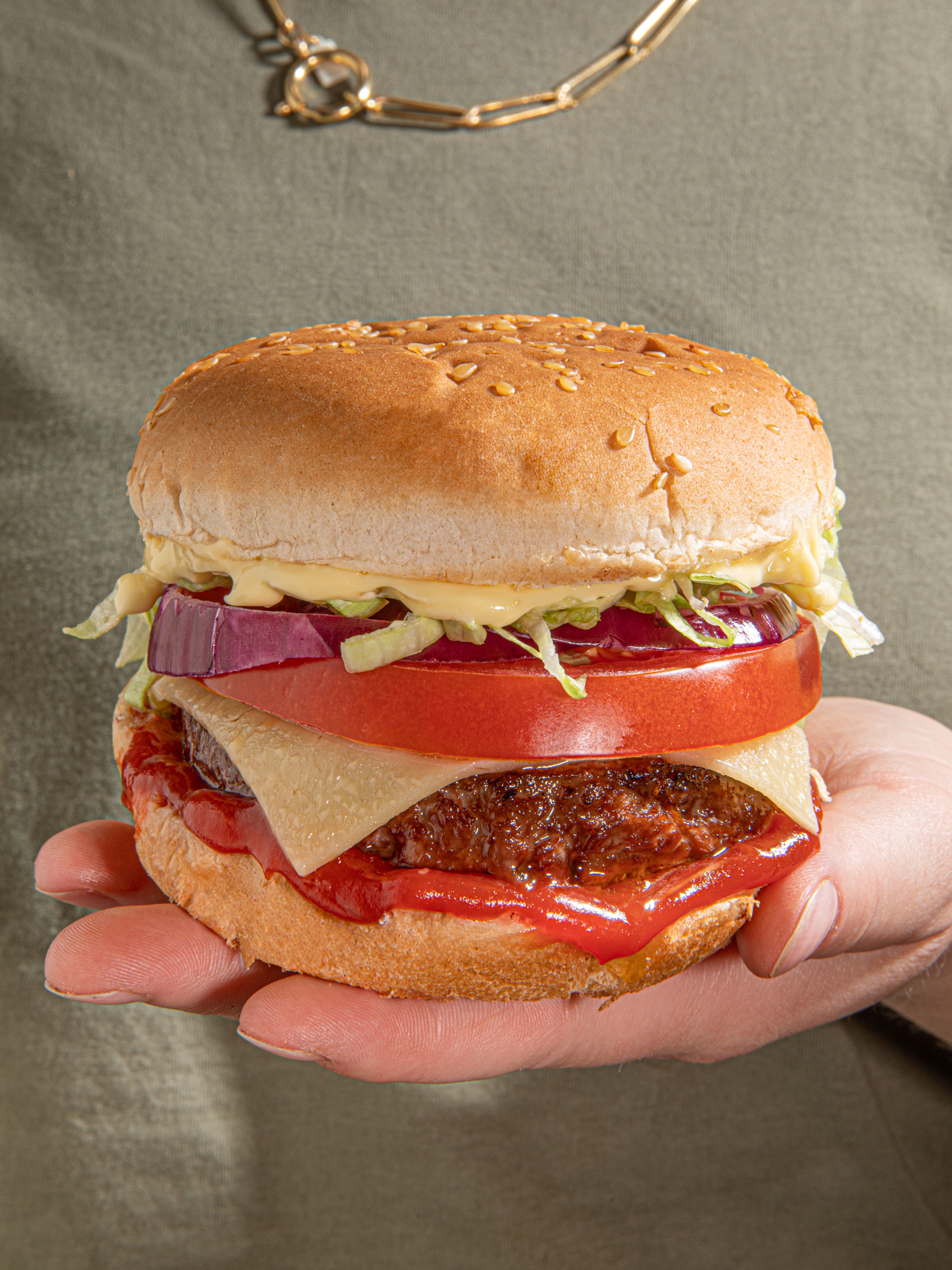 2. Pulled jackfruit burger: With its stringy, fall-apart texture and bite, jackfruit is the no. 1 pulled pork replacement and excellent in a burger.:
3.Halloumi burger: Squeaky halloumi gives you something to sink your teeth into, plus lots of salty, creamy flavor.
4.Portobello mushroom burger: It's always been called the vegetarian steak, so this recipe provides an opportunity to test the theory.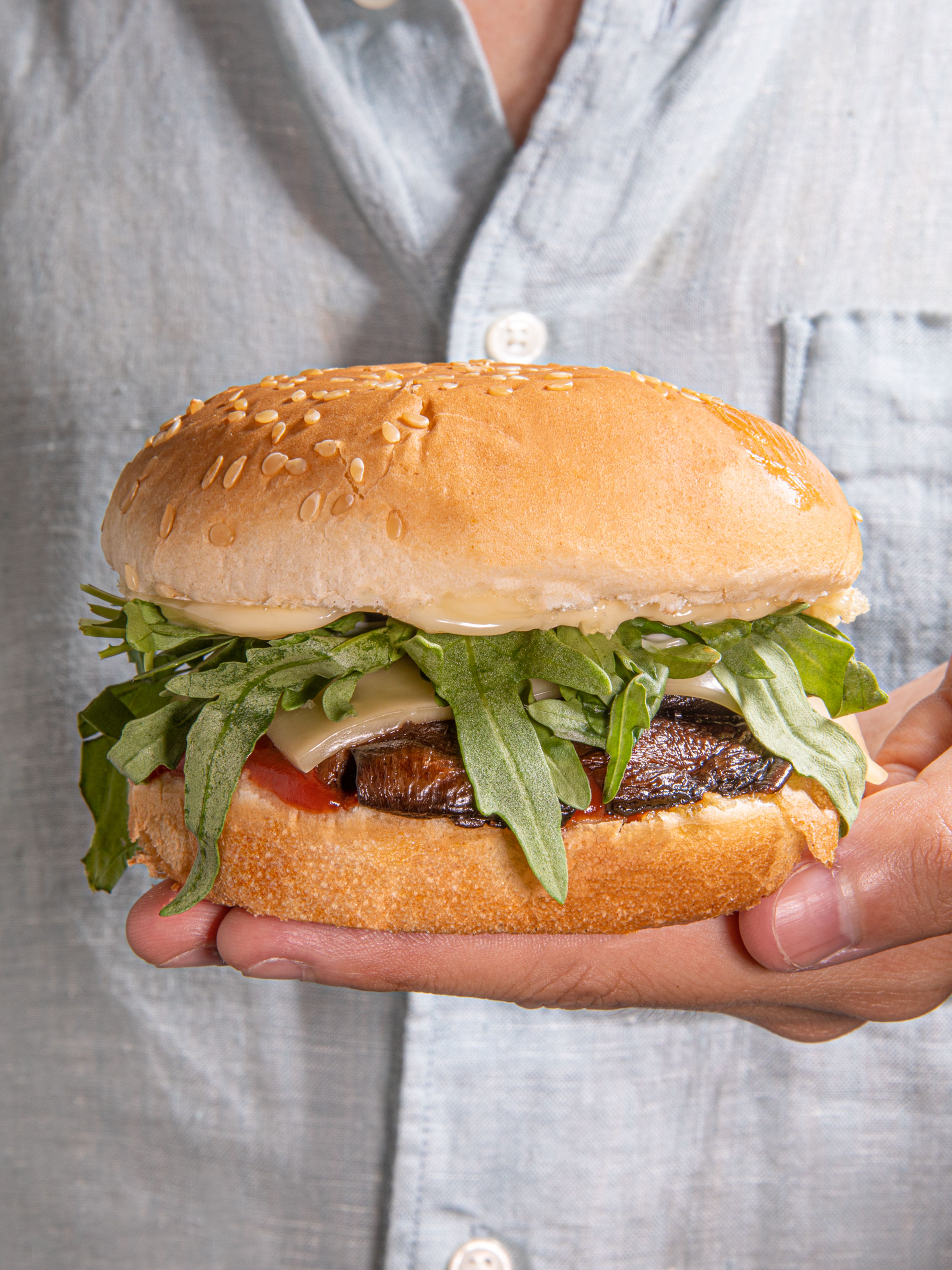 5. Spicy chickpea patty: Chickpeas are both an excellent filler and conduit of flavor, here, they're spiced up into a patty.
How to build the perfect vegetarian burger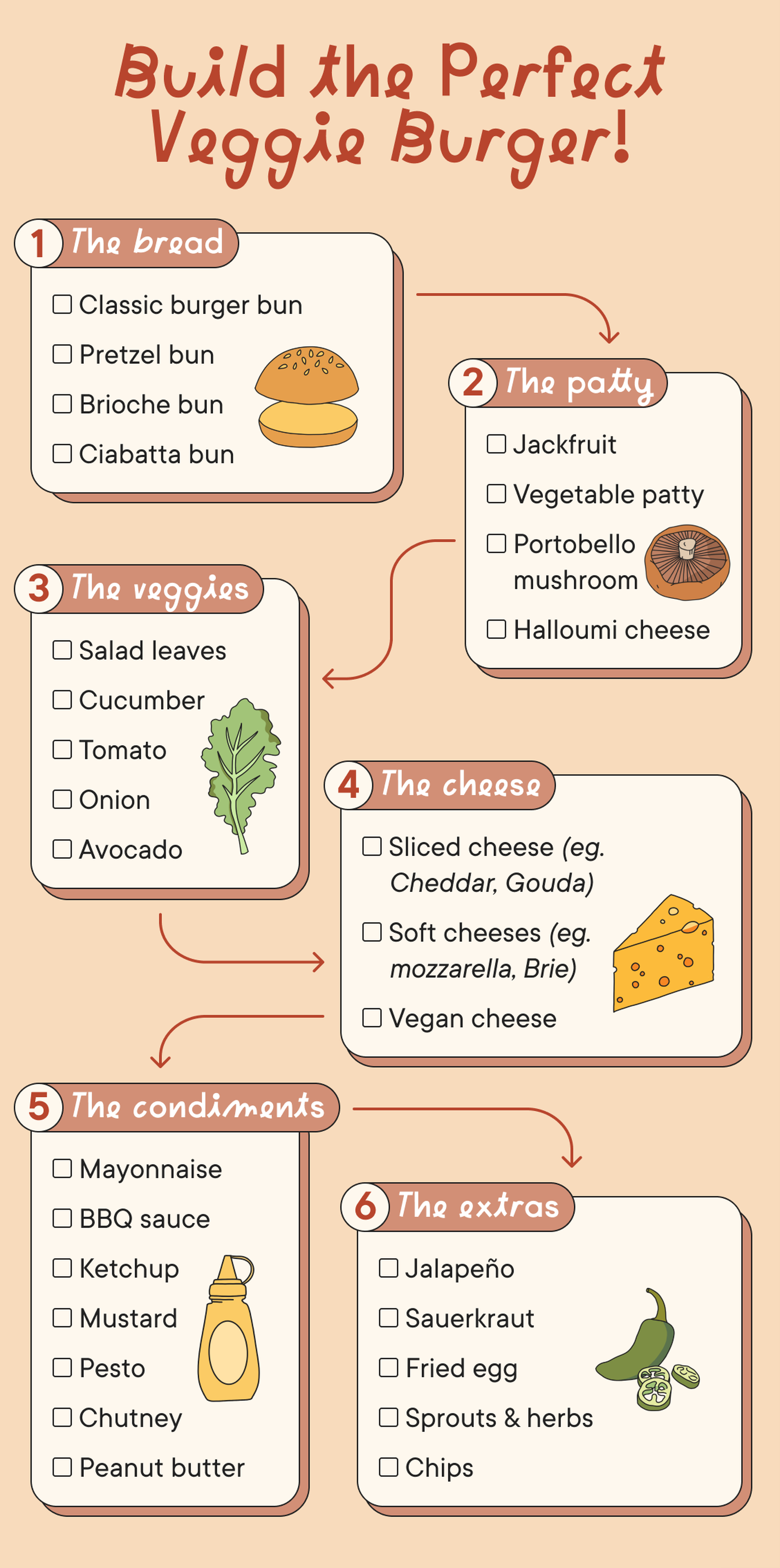 What's your favorite veg burger patty? See you in the comments!
Published on July 5, 2021
More delicious ideas for you