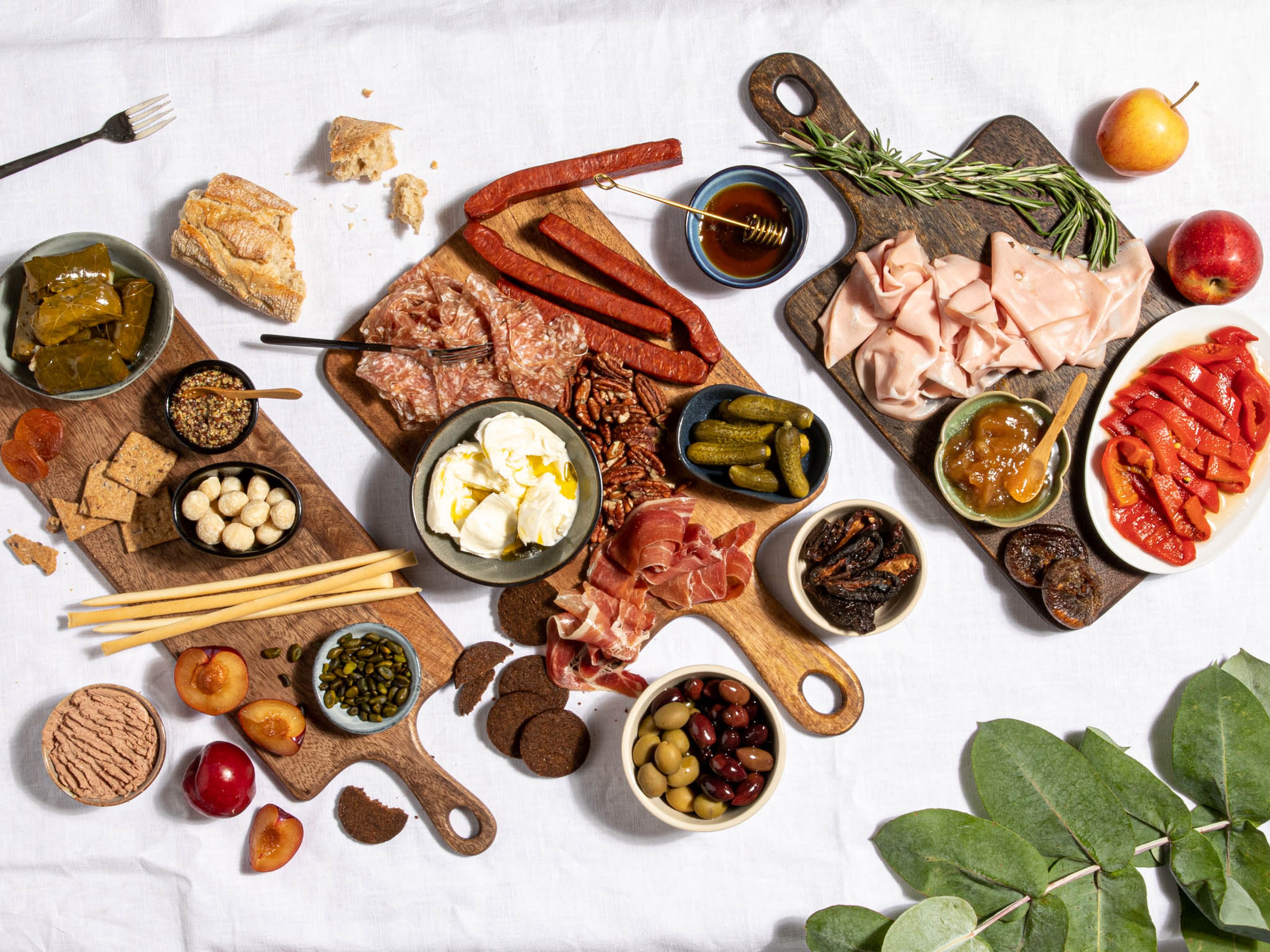 How to Build an Antipasti Platter Worth Dreaming About
Our best recipes, tips, and more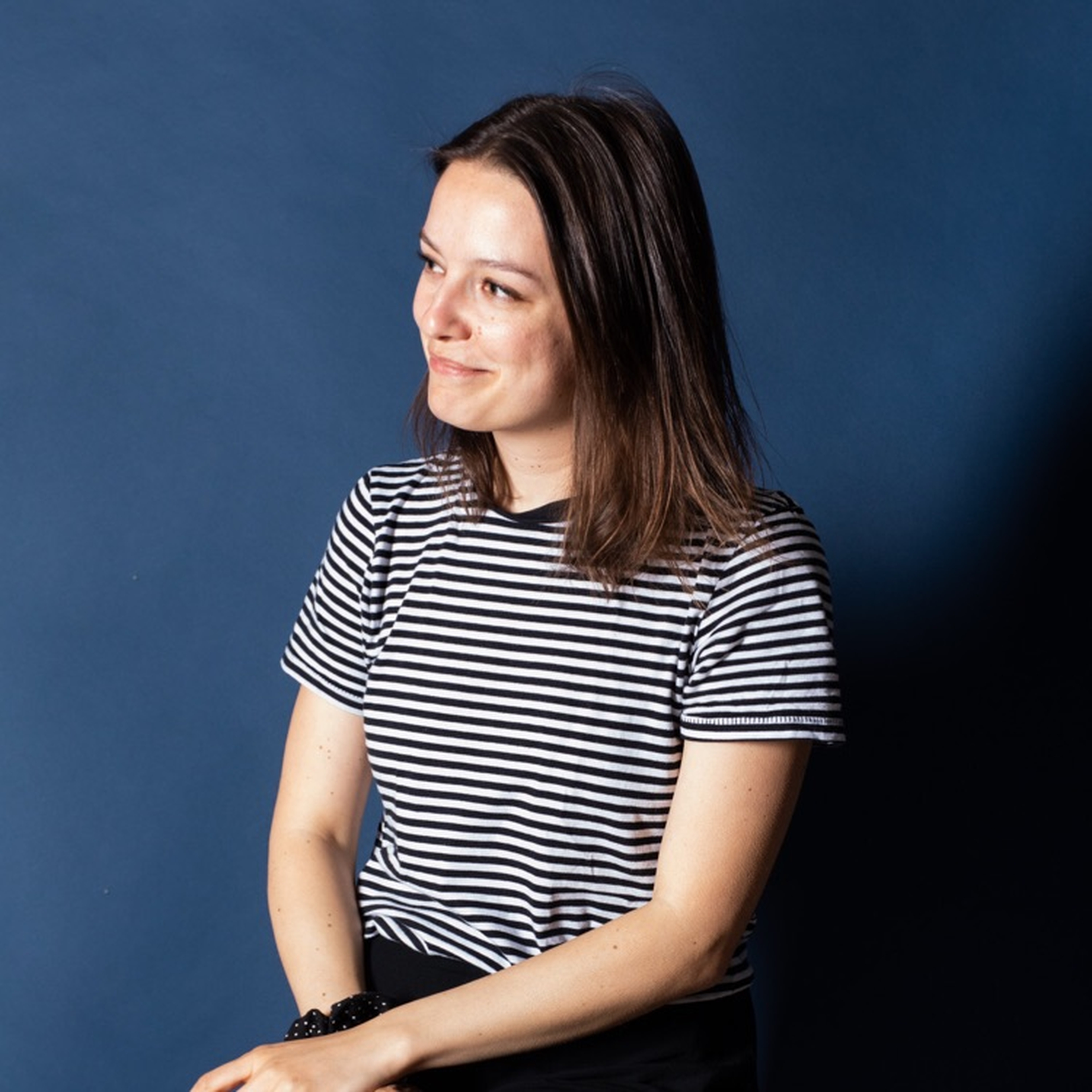 Antipasti or antipasto means "before eating"—but that doesn't mean you should assume a platter full of meats, cheeses, and salty bites is only enjoyable as an appetizer or light snack, because that my friends, is far from the truth. A great antipasti platter can, with the right boxes checked, be the star of an evening with friends or casual picnic lunch in the park.
The best thing about an antipasti platter is that, similar to pasta salads, there is no need to keep to a specific recipe—as long as you have the right components, you're home free. Another plus to the platter? It's super easy to prep-ahead. Depending on the size and bites you choose, you can assemble your platter in the morning, store either the individual components or the entire plate in the refrigerator, and simply pull it out 15 to 20 minutes before serving—as most antipasto are best enjoyed at room temperature.
Now that you've been briefed, let's dive into the details and get to know all about antipasti vegetables, the meats that suit, and how you can make it your own with various bits of this or that. If you're a cheese-fiend, don't worry, we got you with our super detailed story about building a better cheese platter—simply take what you learn there, bring it over here, apply your knowledge.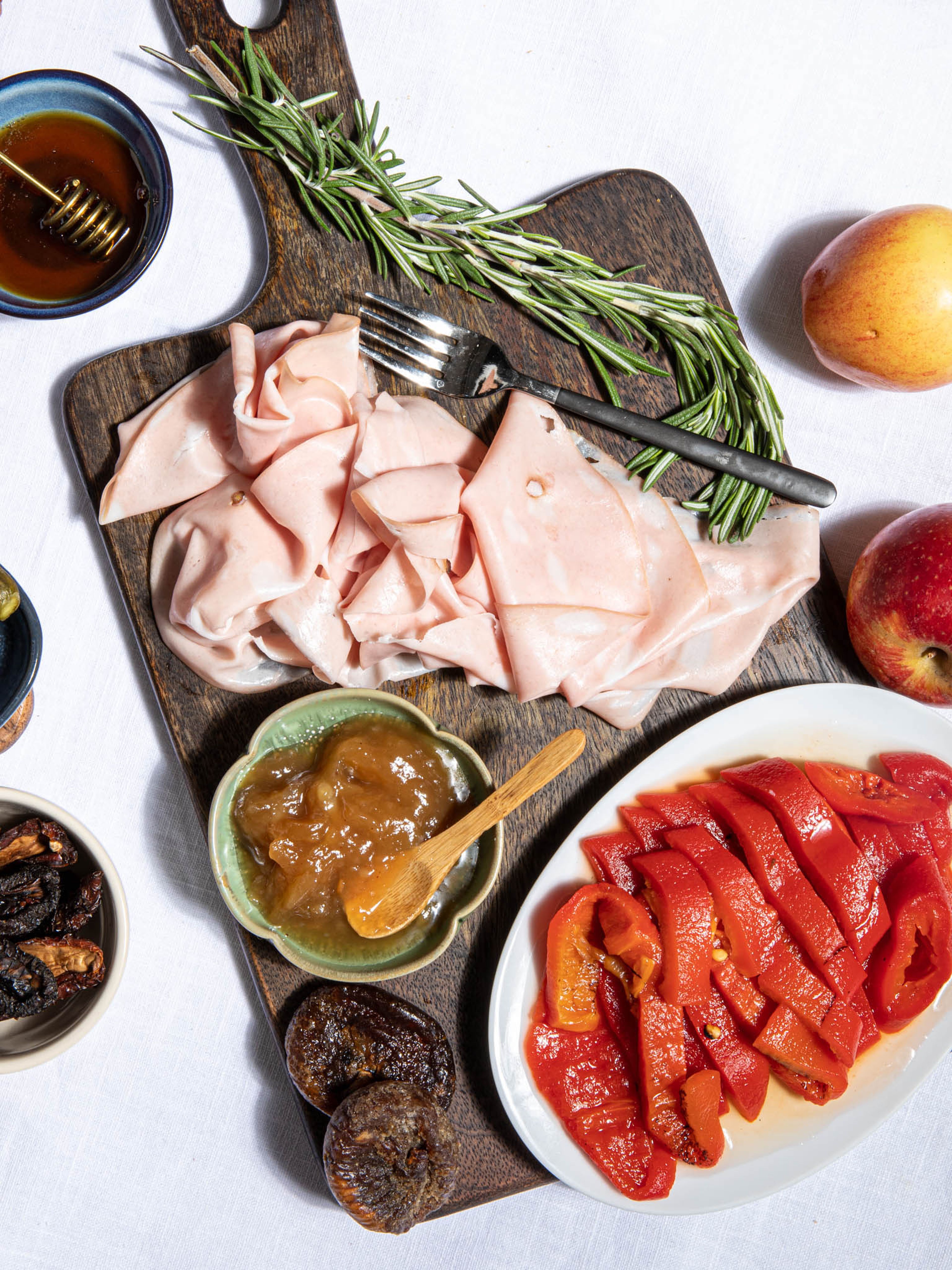 6 ½ steps to the best antipasti platter
As already mentioned: There is not the "one" recipe for a "right" antipasti plate. All you need are good, high-quality ingredients, a bit of creativity, and an eye for the details. Have fun picking out the pieces at the supermarket, be relaxed when you pull them all together, and then enjoy with your friends, family, or even all alone! Here are our 6 ½ steps on how to plan and assemble your antipasti platter.
Step 1: The platter
The basis of each and every antipasti platter is, of course, the platter itself. I for one am on team one big wood or stone board, but compiling several small boards close to each other is a perfectly viable option as well. I like the board to be a bit messy and imperfect, but am a perfectionist at heart, so my inner dialogue here can get rough. It helps me to put all the ingredients on a table and ask myself: What needs a small bowl? What can be set directly on the board? What pairs well with what? The answers then help me when it comes to assembly, but you're probably wondering what should go on the platter—so let's get to the good stuff!
Step 2: Meats
Typically the meat on an antipasti platter is thinly sliced, making both eating and assembly easier. My tactic for a rustic, casual look is to simply drape the slices into loose piles directly on the board. If you are more of perfectionist (I got you!), then you can roll or fold the meats (think mortadella, salami, prosciutto) a bit more neatly and layer them in an offset fashion across sections of the board. The important thing is to serve thin slices that will stimulate appetites, not immediately fill your guests. To add some more intrigue to the meat areas of your plate, think of adding something like hunks of chorizo, pieces of landjäger, or swoops of paté.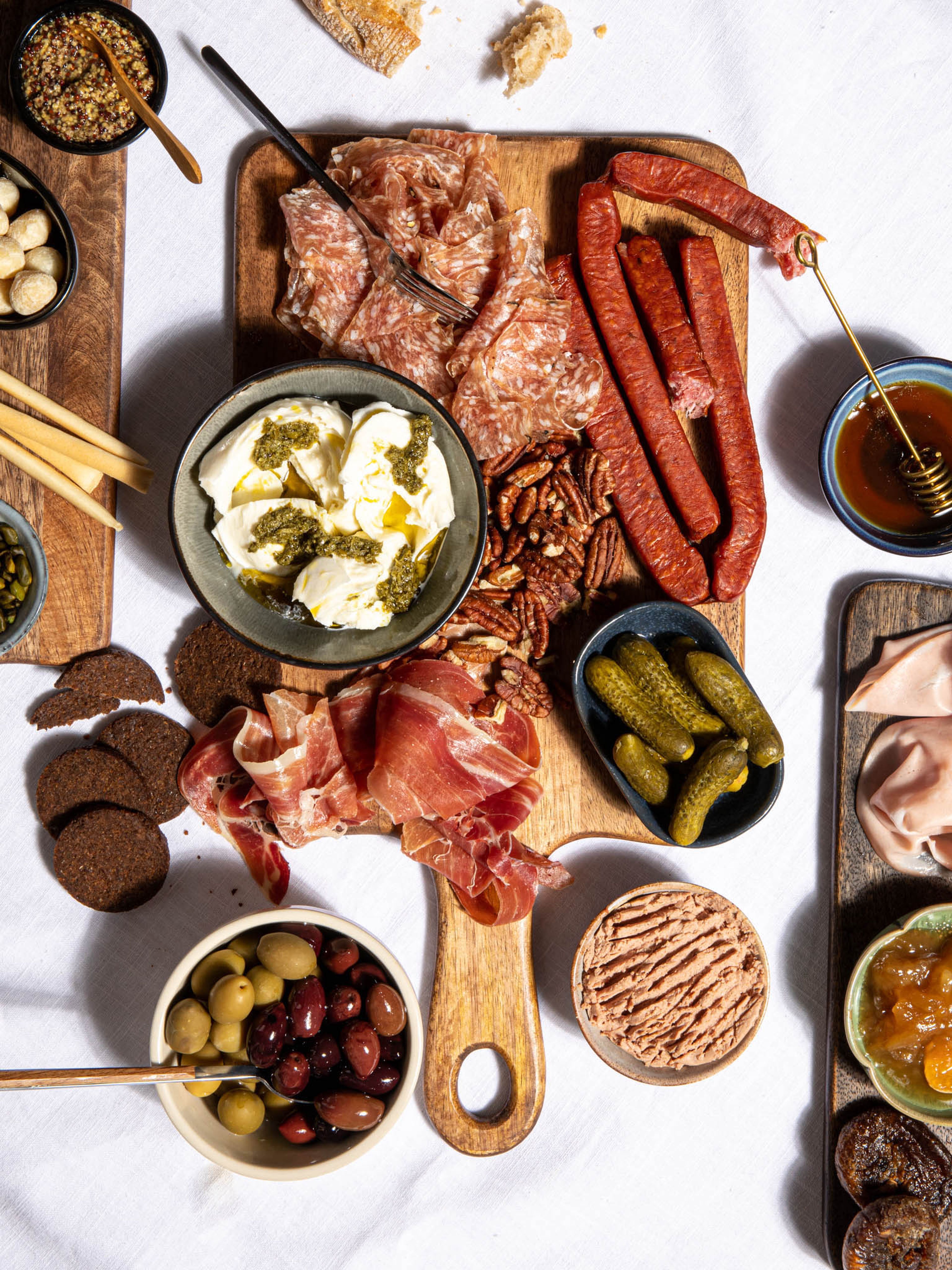 Step 3: Antipasti
What directly comes to your mind when you think about antipasti? Most likely one of these time-tested favorites: grilled, marinated zucchini or bell peppers, pickled mushrooms, filled grape leaves, olives, cornichons, olive-oil soaked sun-dried tomatoes, marinated artichokes. In other words: A wild and especially colorful mix that pleases the eye and the palate. While all of these things can be picked up at the supermarket, further down in the article we share recipes to make antipasti at home.
Step 4: Sweet and savory spreads
Just like cheeses, there are lots of spreads that go well with an antipasti platter. From sweet spreads like fig mustard, honey, or fruit chutneys and jams, to something a bit more savory like grainy or spicy mustards, tapenades, or pestos—a spread or two (or three) will add some textural elements and hands-on entertainment to your platter.
Step 5: Breads and crackers
The antipasti plate is, at it's core, all about the mixing of texture and flavor, so the same effort should be made when it comes the carbs. This can be done by, for example, offering softer slices of baguette, ciabatta, or sourdough breads in addition to crunchy crackers, breadsticks, or bite-sized hunks of darker breads like pumpernickel or rye. You can also try a bruschetta recipe served alongside your antipasti for a more filling option, but if the antipasti platter is your starter, it's best to go lighter on the bread and stick to things that can be eaten on their own—like the meats, cheeses, and vegetables.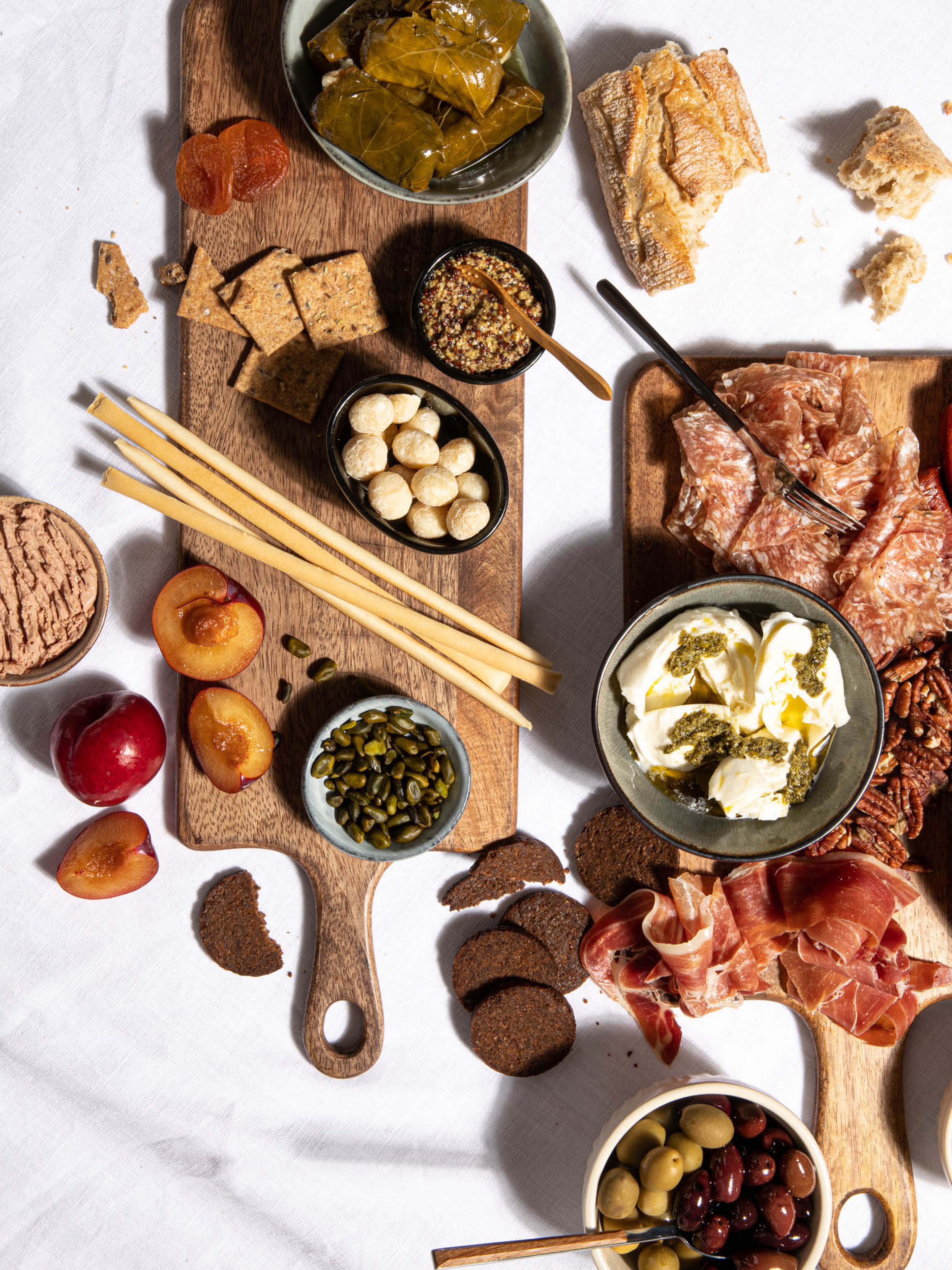 Step 6: The details
We all know the saying: the devil is in the details. So as soon as all the main actors are on stage, it's time to take care of the extra little details that will elevate your antipasti platter to dream-worthy (and drool-worthy) new heights. First ask your self this: Which textures and colors am I still missing? For me, the addition of salty roasted nuts like macadamias or almonds are always a nice touch. You can even go a step further and opt for caramelized nuts here. Fresh and dried fruits like cranberries, apricots, raisins, grapes, and figs add a bit of life and freshness as do fresh vegetables like cherry tomatoes and herbs such as rosemary, basil, or mint. The trick is not to go overboard on the details, but to just pick a few added elements that will complement what you already have on the platter.
Step 6 ½: What's missing?
Are there any small forks missing for the meat? What about spoons for your spread? Would a little sprinkle of salt and pepper be necessary anywhere? Have you considered all the consistencies (creamy, crispy, soft) and flavors (salty, sweet, sour, bitter and umami) to the best of your abilities? Take a run through each component again and don't forget to pull out your plates, napkins, cutlery, and drinks. That way, you can enjoy alongside your guests!
How to make your own antipasti
Now you know how to build your antipasti plate, but is that enough? Take it the next level and impress with homemade antipasti. For a heartier spread, add homemade arancini, a modified Caprese salad, or carpaccio.
Homemade arancini
Have you ever prepared arancini at home? Here you find a recipe of the fried rice balls from Italy.
Homemade Caprese salad
My favorite Caprese salad combines avocado, vine-ripened tomatoes, and buffalo mozzarella cheese, but there so many other ways to make it. No matter which way you choose, always add plenty of balsamic vinegar, olive oil, basil, flaky salt, and freshly ground pepper.
Insalata Caprese with baked cherry tomatoes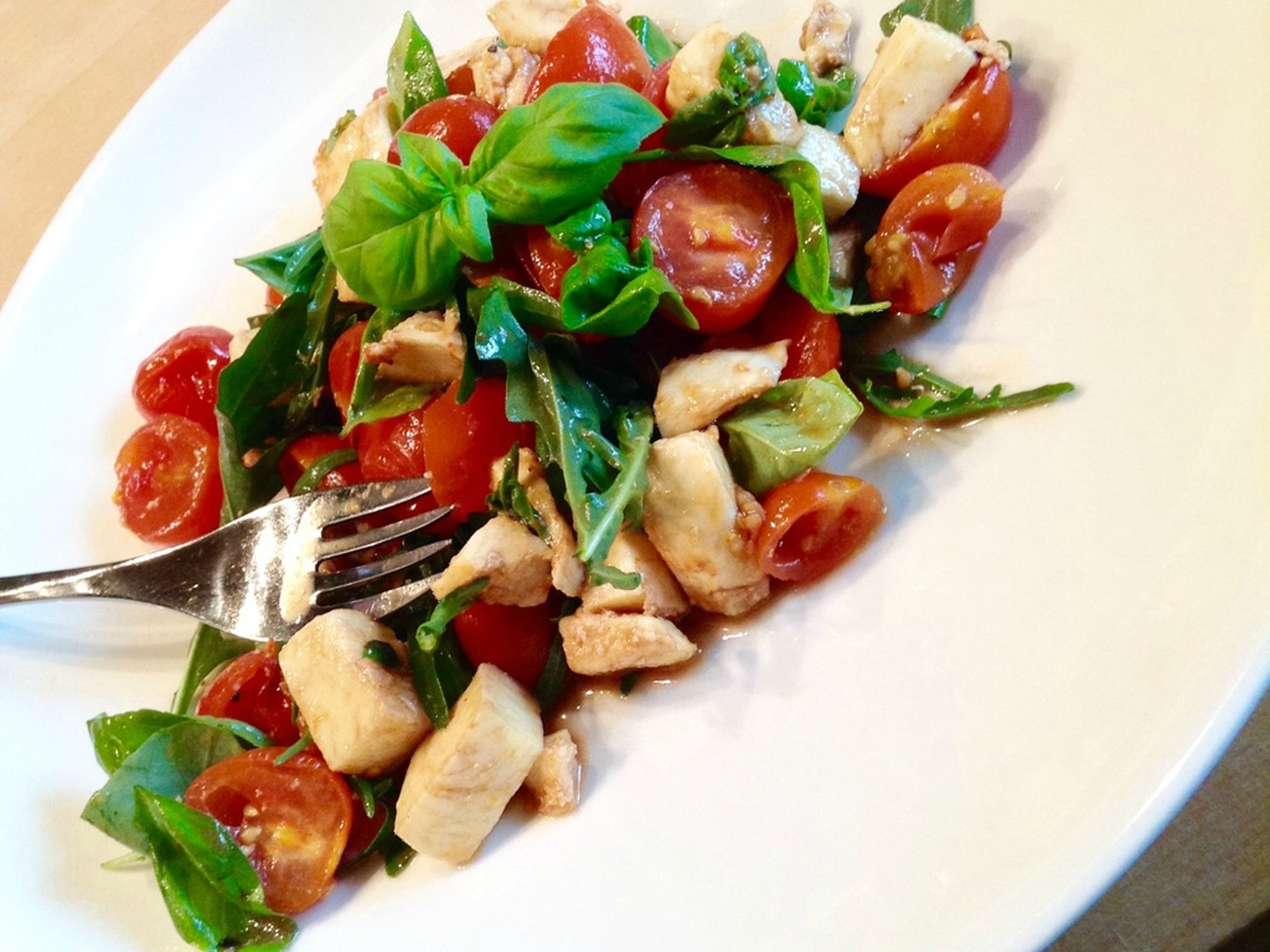 → Go to recipe
Peach Caprese salad with basil oil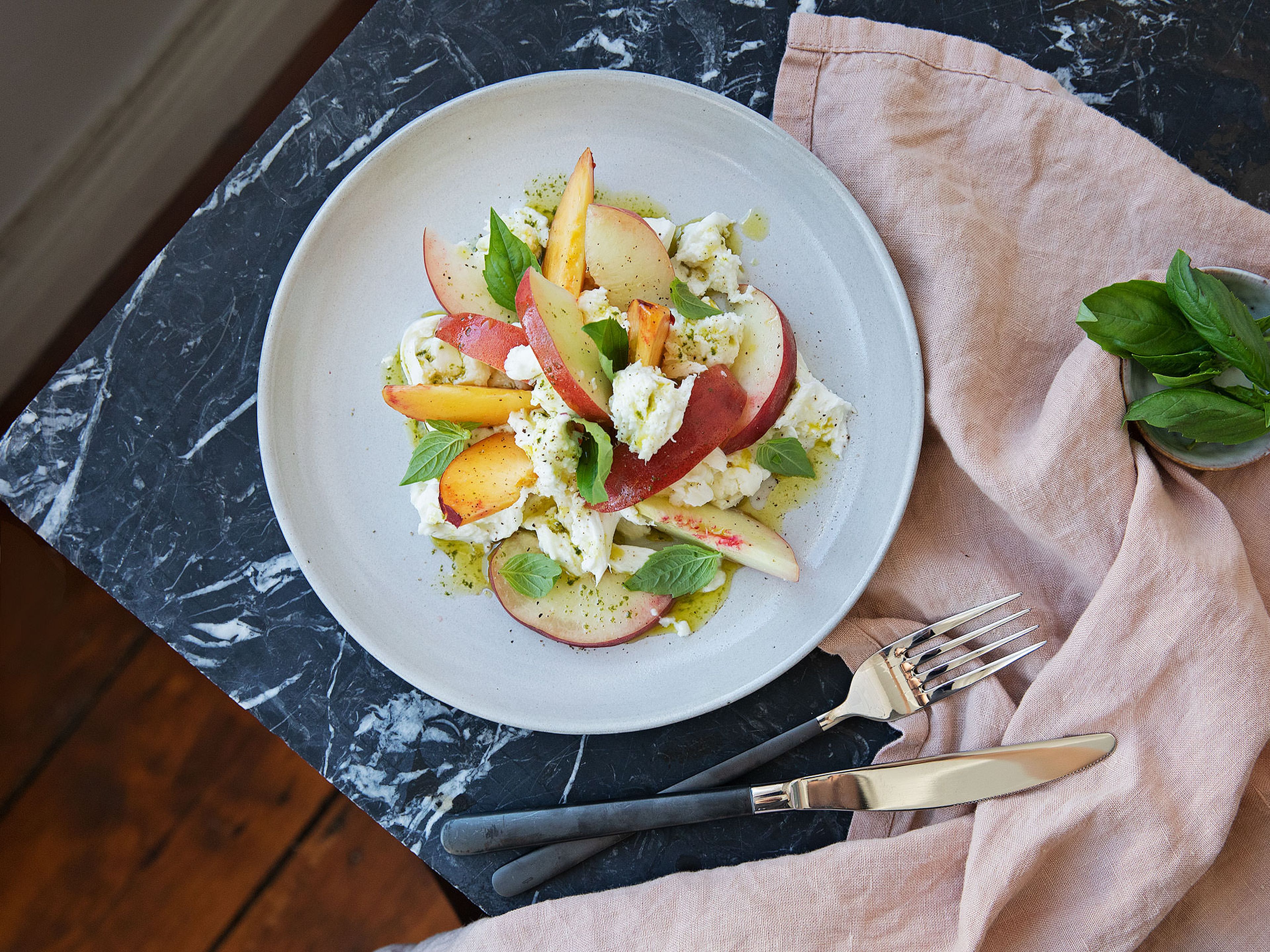 → Go to recipe
Heirloom tomato and mozzarella salad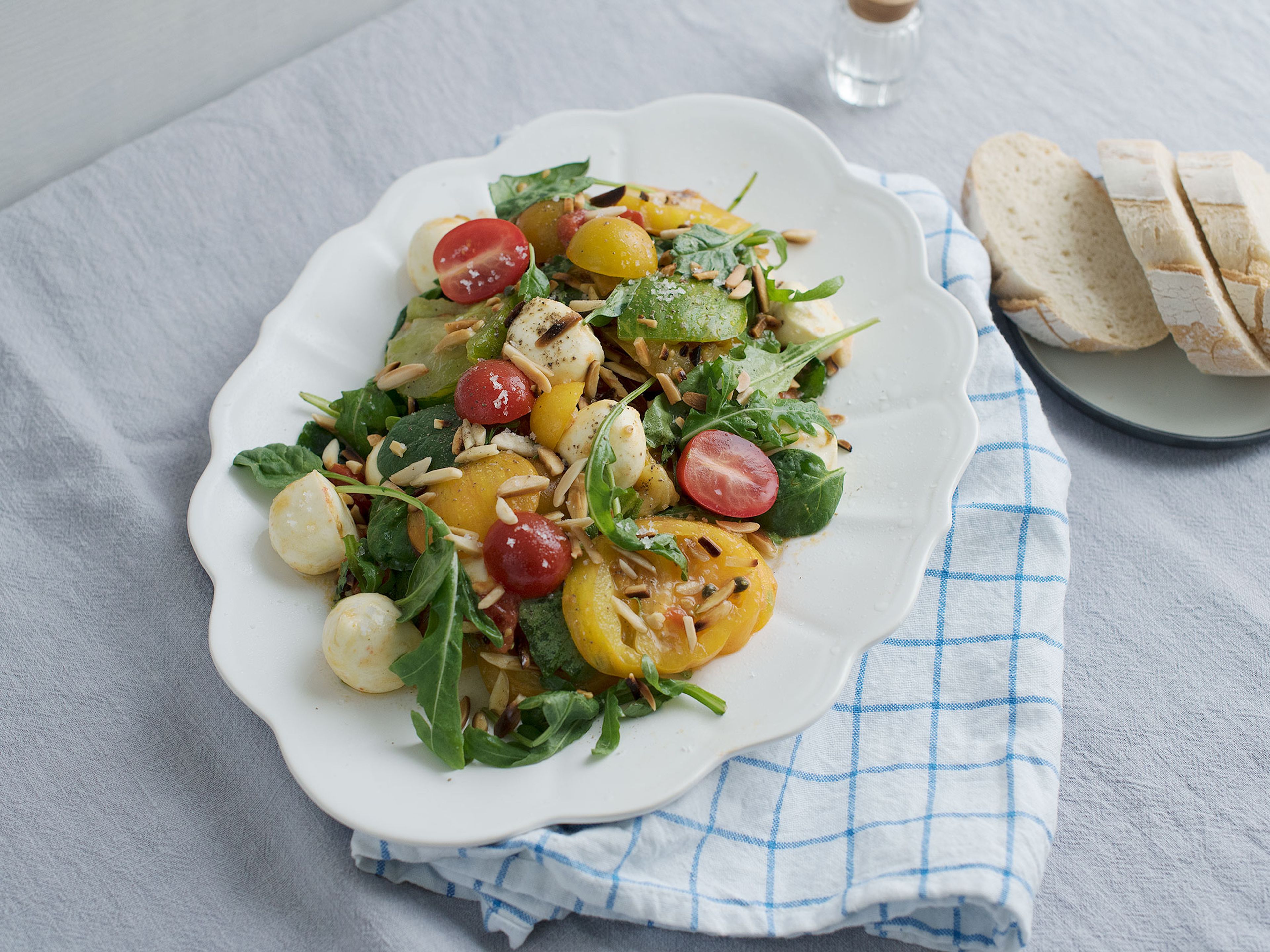 → Go to recipe
Homemade carpaccio
Classic carpaccio is thinly sliced beef drizzled with vinaigrette. A version of this, vitello tonnato, takes thinly sliced, cooked veal and tops it with a rich and creamy tuna-based sauce. Our recipe combines these two ideas, but makes it pescatarian. Try it for yourself!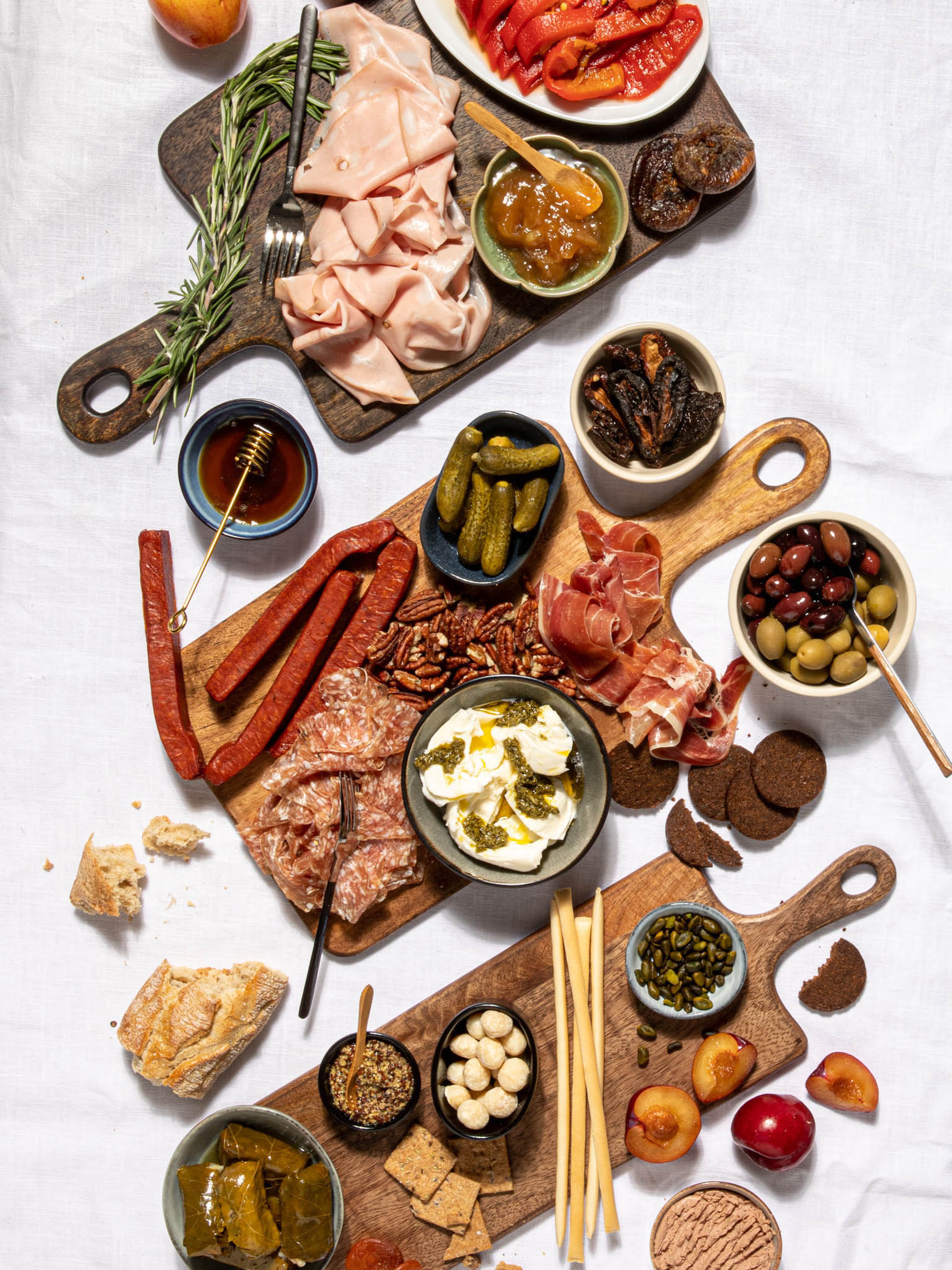 Our prime example of a killer antipasti platter
As you already now, an antipasti platter should have a little bit of everything. It can stick with the classics or lean towards the eccentric with a creative and colorful combination of ingredients. When there is a generous handful of everything on the plate, no one will go hungry and everyone will be happy. Here's what you can find on my ideal platter, but of course you can always use this list as a guide and adjust to your taste!
- Grilled bell peppers
- Green olives 
- Kalamata olives
- Cornichons
- Stuffed grape leaves 
- Mortadella slices
- Landjäger
- Italian salami
- Serrano ham
- Chicken liver paté
- Buffalo mozzarella cheese drizzled with olive oil
- Apricot chutney
- Honey
- Grainy mustard
- Baguette sliced
- Crackers
- Pumpernickel bread
- Grissini (Italian crispy breadsticks)
- Roasted and salted macadamia nuts
- Pistachios
- Pecans
- Dried figs 
- Sun-dried tomatoes
- Dried apricots
- Fresh plums
- Apple slices
- Rosemary sprigs
A sweet finish: The dessert platter
When a shared platter full of food is the motto of the night, then a sweet and salty dessert plate might fit the bill just right. I got this idea from a friend, as his enthusiasm about a dessert platter was so strong, I just had to try it out for myself. The highlight, for me, are the frozen grapes! For colder months, add red wine-poached pears and serve them lukewarm with a cinnamon whipped cream.
- Frozen seedless red grapes
- Dark chocolate 
- A strong soft cheese like Cambozola
- Pear slices
- Cold orange segments
- Roasted, salted or caramelized cashews
- Espresso or filter coffee to sip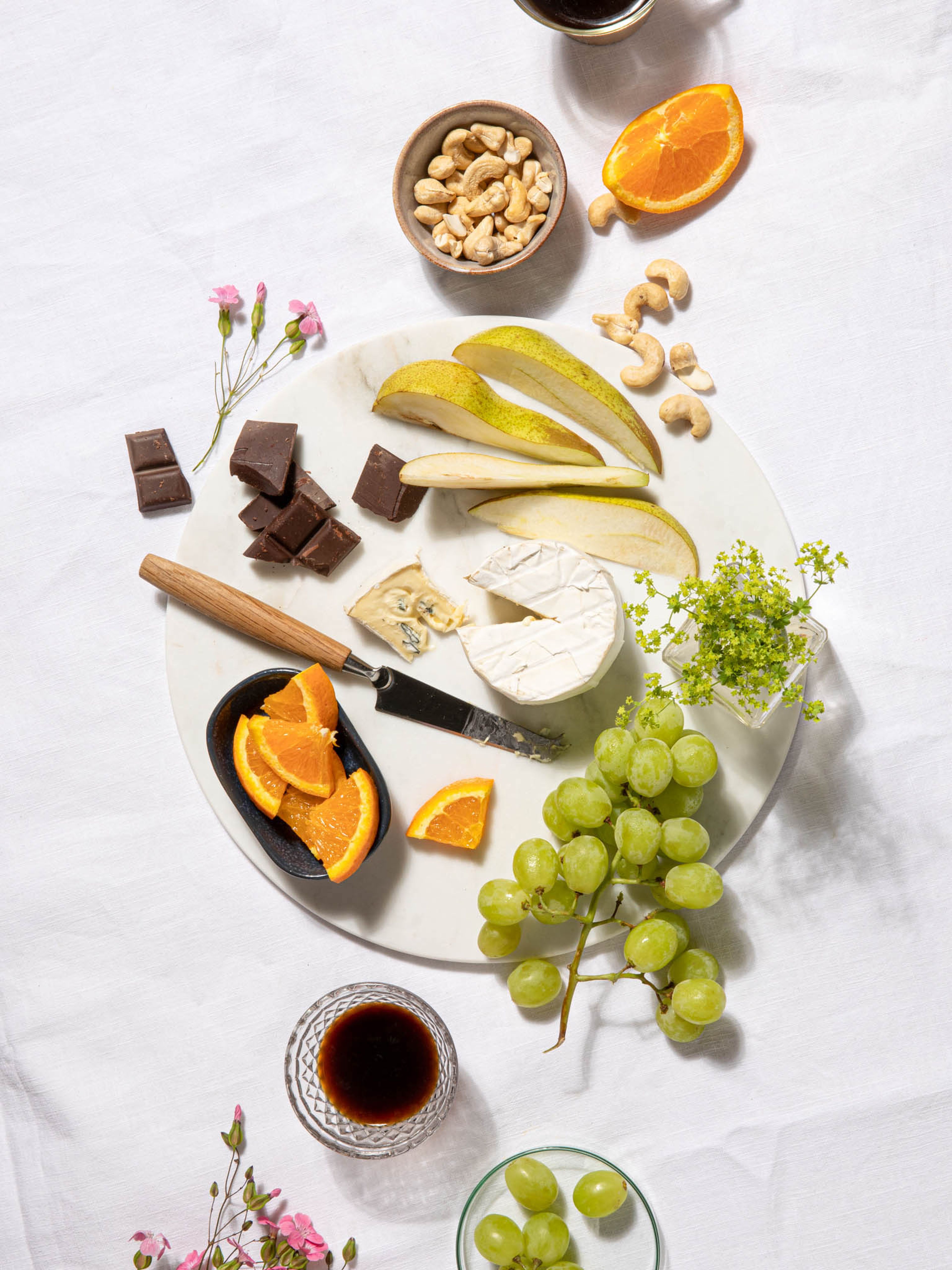 What to do with any antipasti platter leftovers
In most cases, nothing will be left of your antipasti platter but the tidbits you'll pop in your mouth as you clean up. However, an antipasti salad is the perfect solution for the next day's leftover meal. Mince cornichons and fresh or dried fruits, roughly chop any meats, fry crispy croutons from remaining bread with olive oil and garlic, and boil some pasta to bring it all together. Make an easy dressing with mustard, olive oil, honey, and fresh herbs, roast the nuts, chop and top—et voilà! You could also do an antipasti sandwich with the same idea in mind of using all leftover pieces in between two hunks of bread.
Panzanella bread salad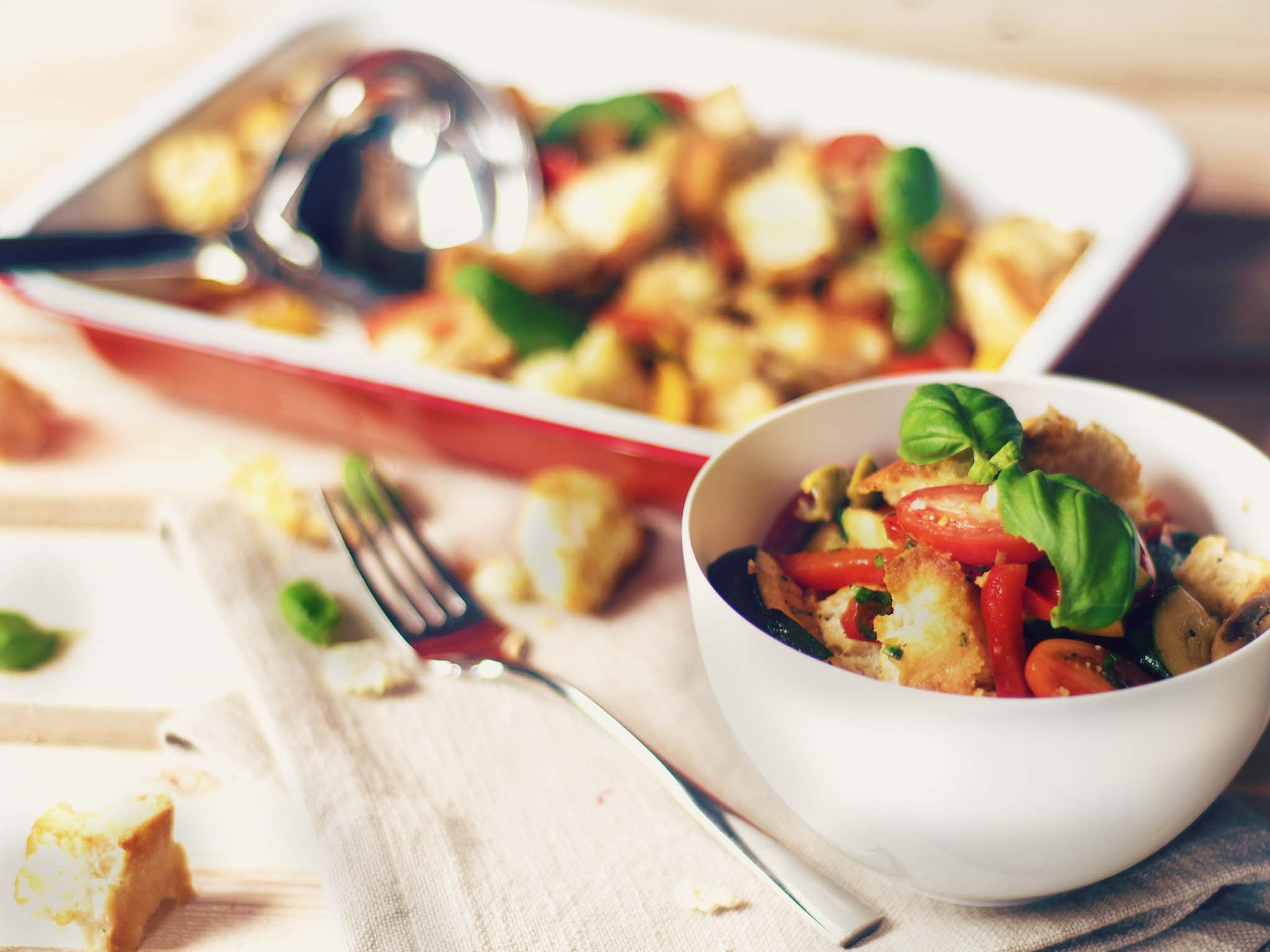 → Go to recipe
Simple Mediterranean pasta salad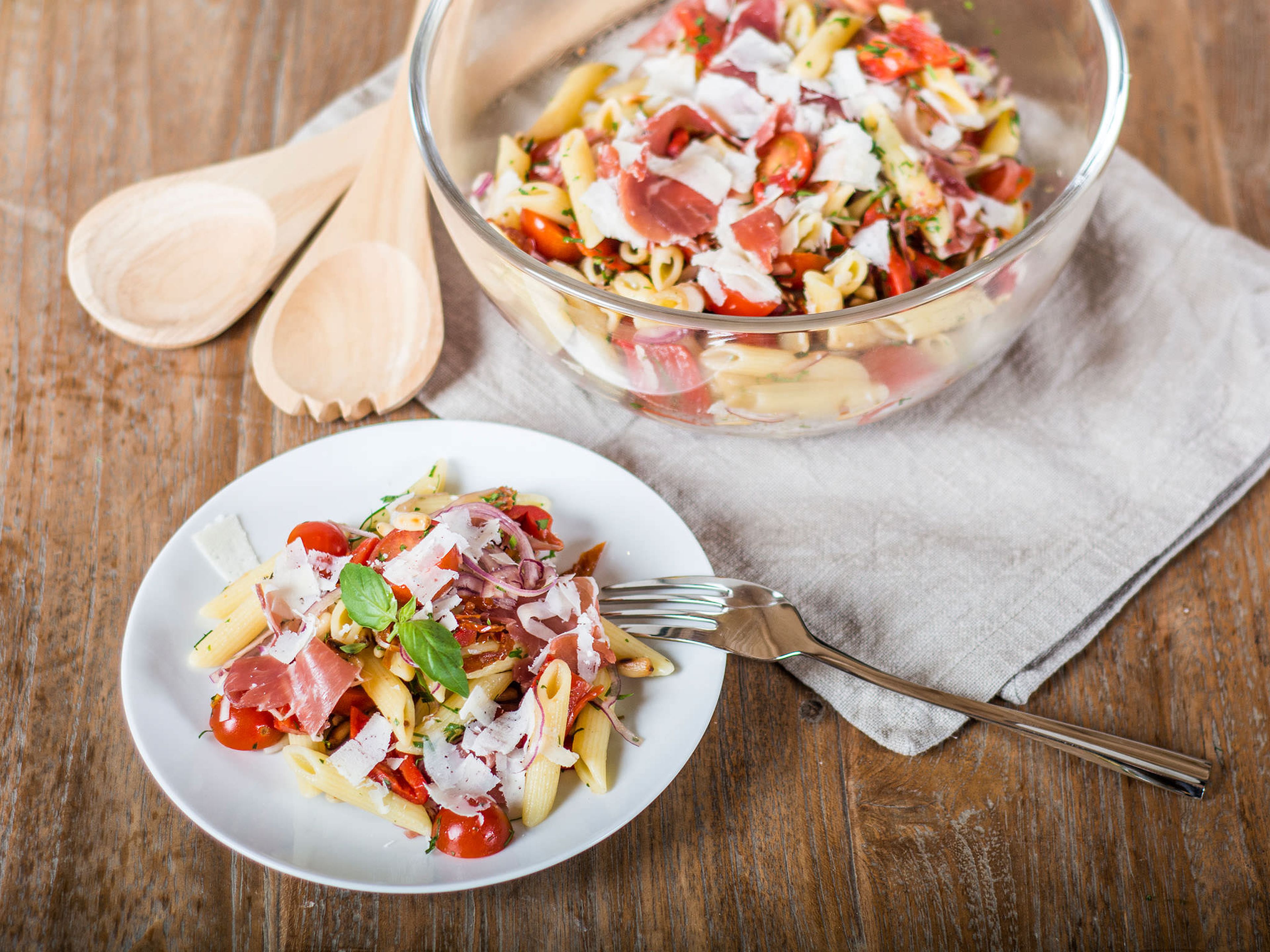 → Go to recipe
Italian sandwich with prosciutto di Parma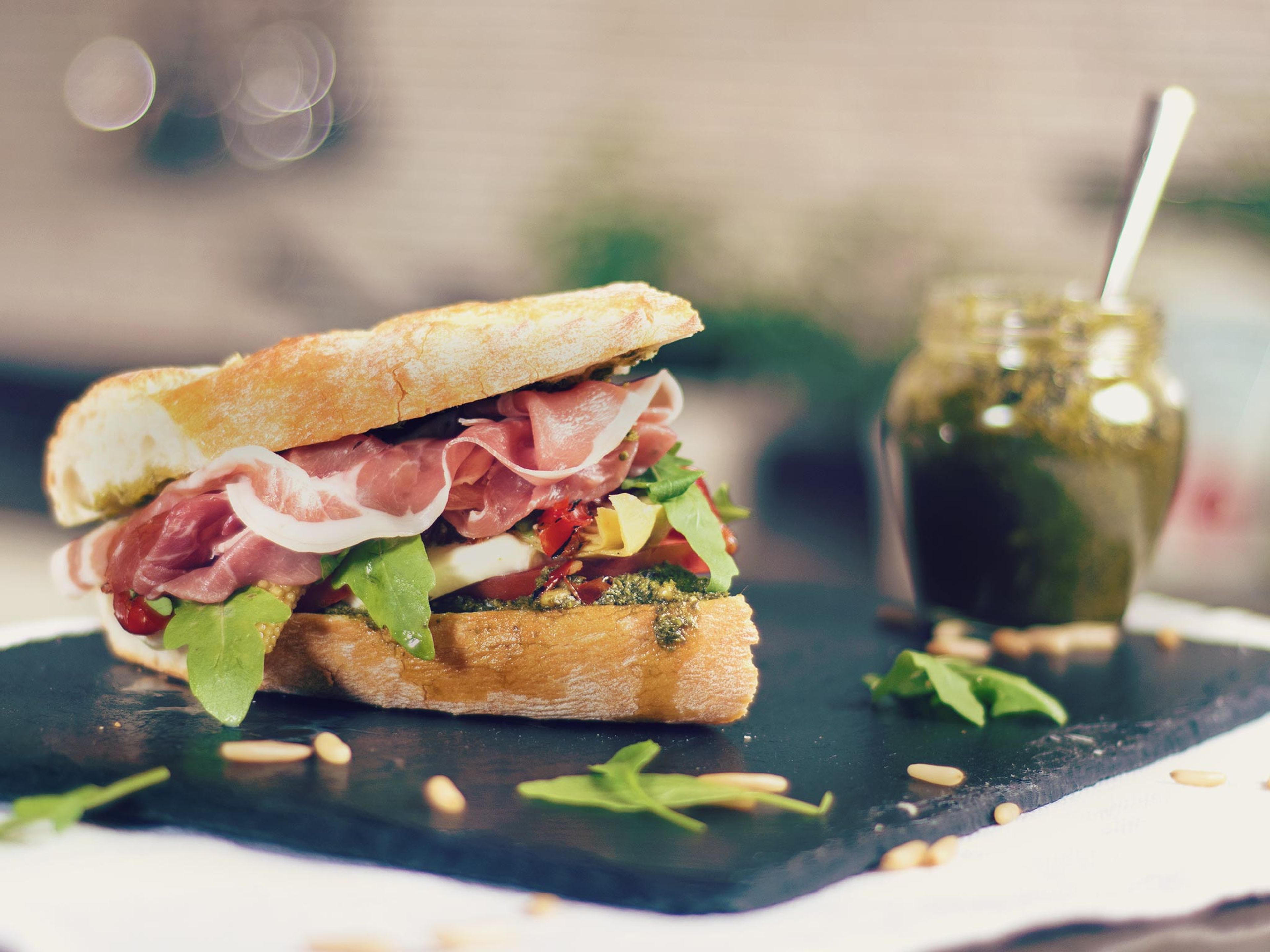 → Go to recipe
More antipasti appetizers
Antipasti skewers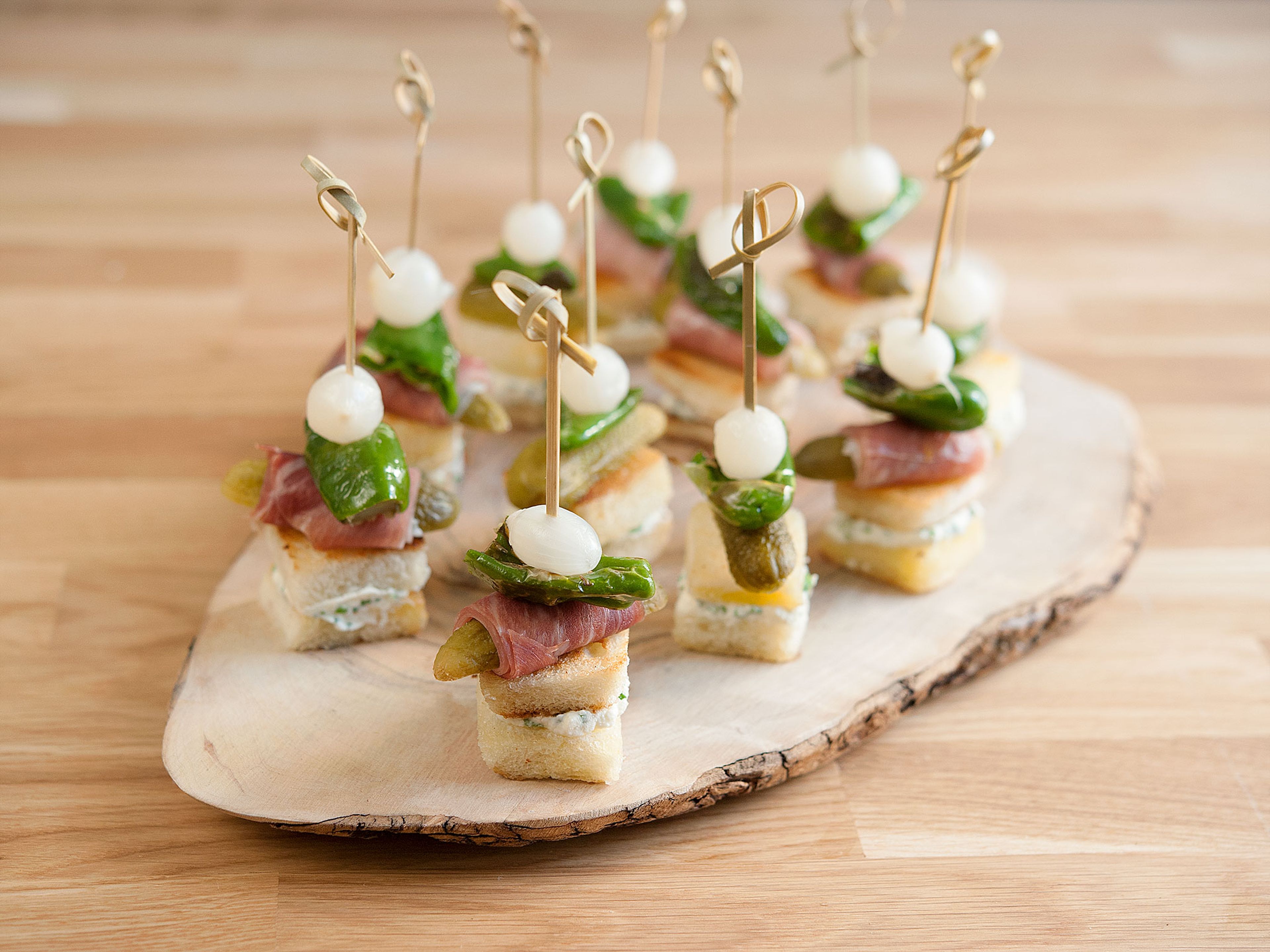 → Go to recipe
Bruschetta and antipasti crostini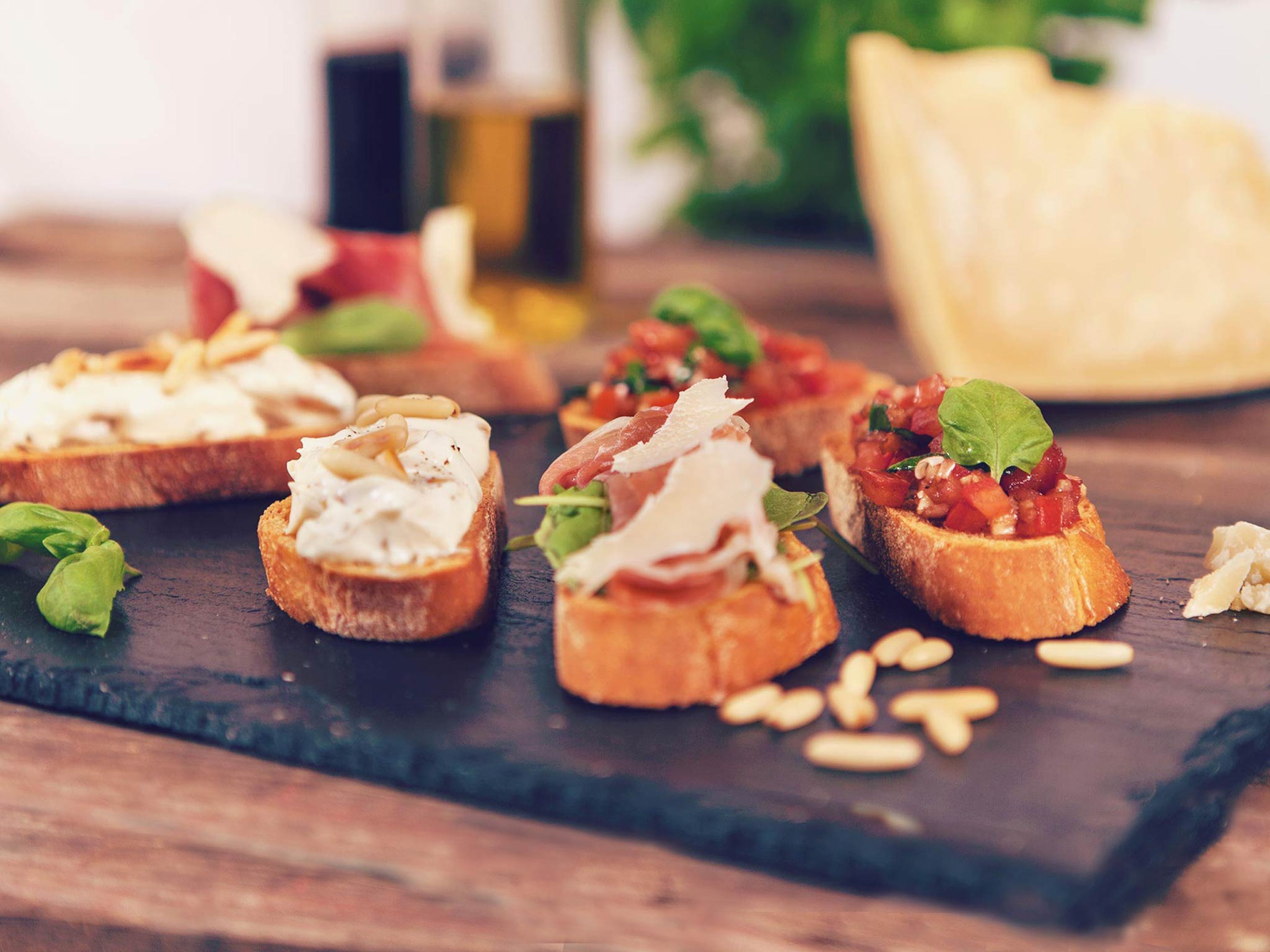 → Go to recipe
Published on July 20, 2019
More delicious ideas for you