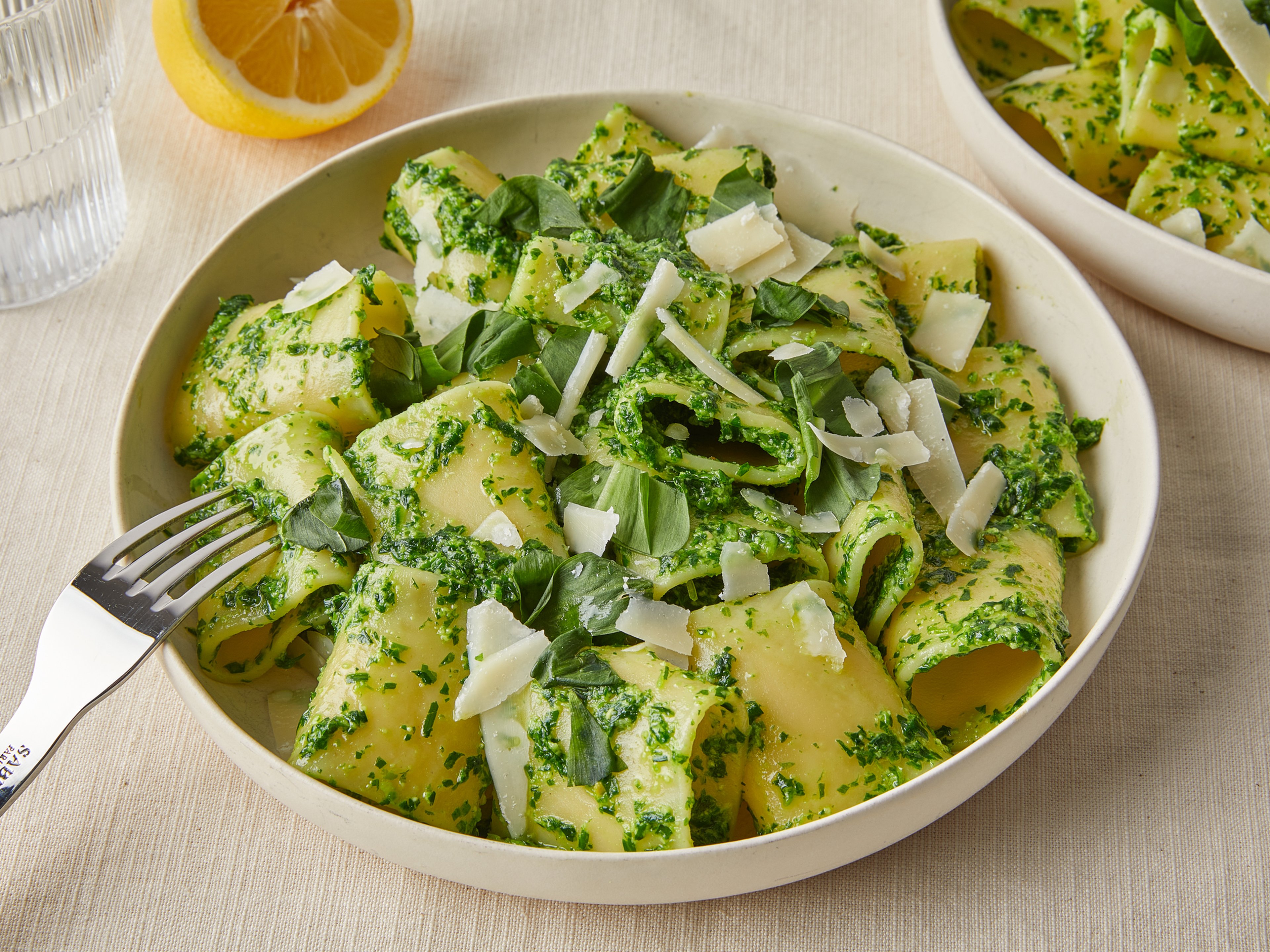 12 Ways to Savor In-Season Wild Garlic
Celebrating the beginning of spring with a leafy favorite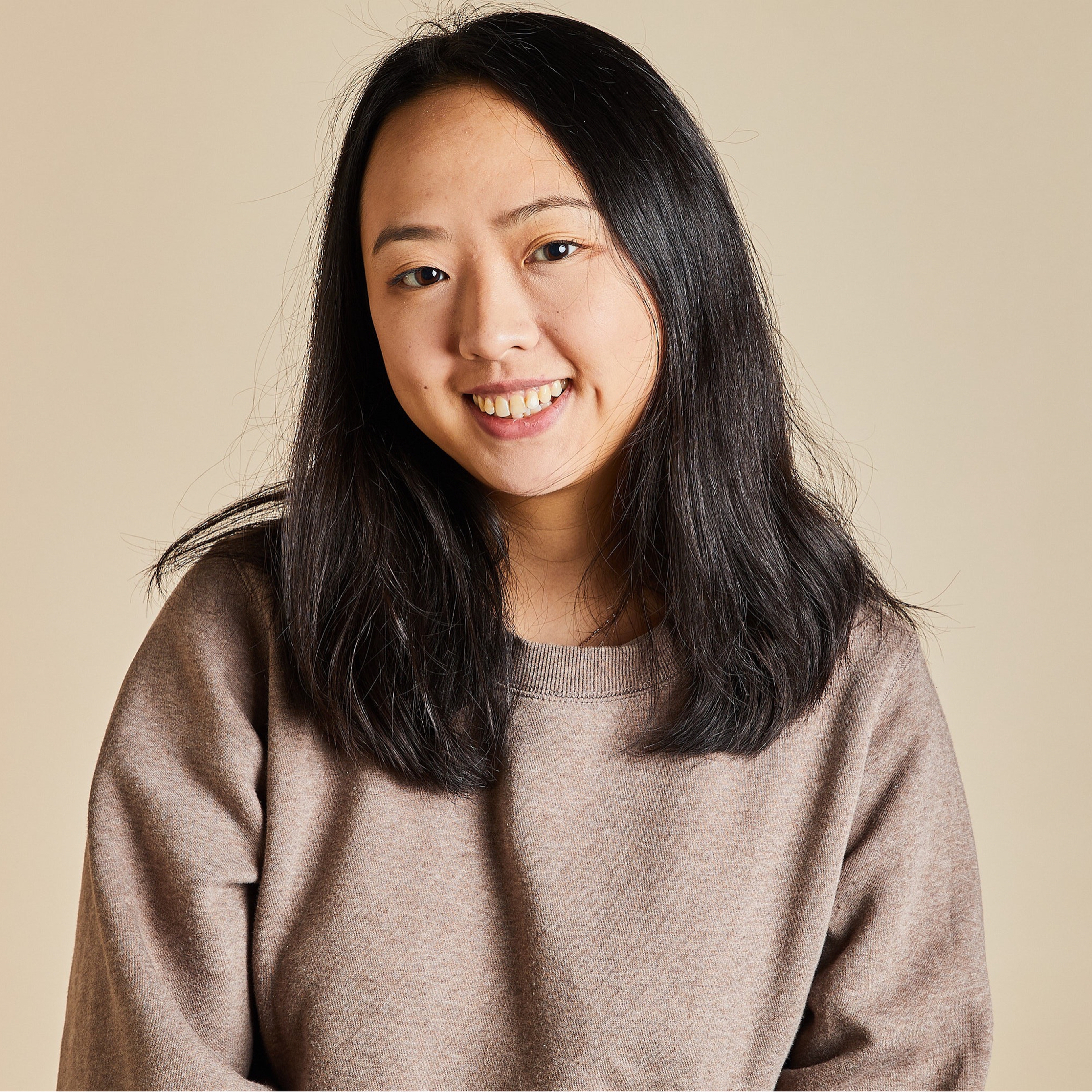 When it comes to cooking, you never stop learning. A small tip in the right direction can transform a dish from just okay to out-of-this-world delicious: So to help you cook with confidence (and stop sifting through confusing Google results) we've set up our very own Cooking Hotline. It's time to ask us your burning cooking questions: Submit them here!

If there's just one spring "vegetable" that metaphorically captures the season in Germany, I'd say it's wild garlic (also known in English as ramps), because both can slip away in a snap. This delicate, garlicky herb can be found between March and May, and serves as a tasty first sign of spring; an alert that the truly beloved bounty of spring and early summer are still to come, namely through asparagus, strawberries, and rhubarb, all seasons of which are just about worshipped here in Germany.
With wild garlic for sure, a little carpe diem spirit is needed, so once you see it in the market, grab some, and get cooking! Wild garlic can be used in a variety of ways, but here are some of our favorite recipes for this spring-has-sprung herb.
Blend wild garlic into pestos and dressings
It's no doubt that wild garlic works great in pesto because of its tender texture and pungent flavor. When making the pesto in the office, Christian advised to use just the tender leaves, and save the stems (and blossoms, if you're lucky to have any) for salads or pickles. You need to blanch it very briefly (about 15 - 30 seconds) and transfer it to cool or ice water to preserve the bright green color. Wild garlic pairs well with different nuts, like cashews, pistachios, and pine nuts. Once you have the pesto, swirl it through hot pasta, a big pot of risotto, over potatoes, into eggs, or serve it on top of just about anything. 
Tagliatelle with wild garlic pesto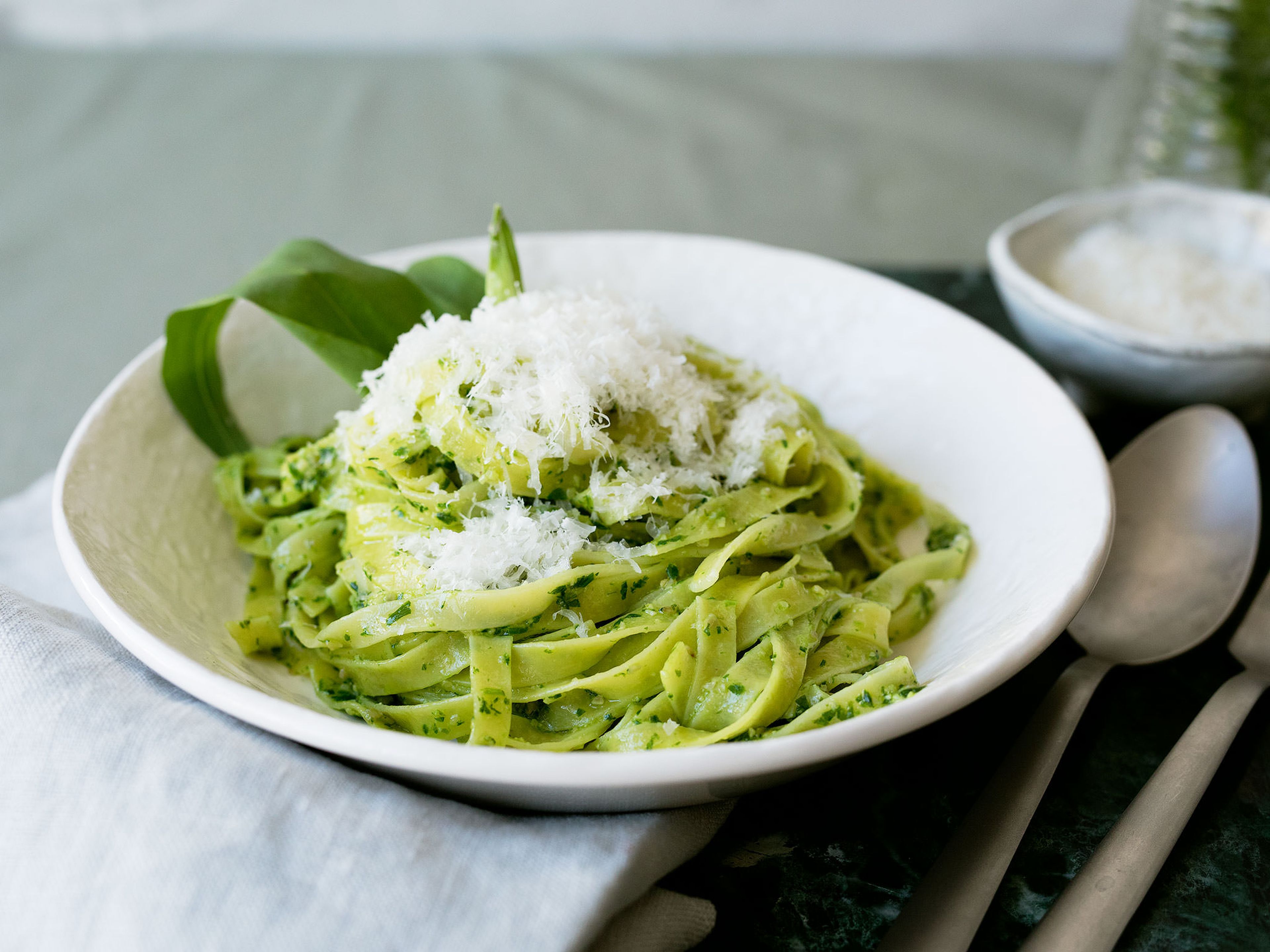 → Go to recipe
Wild garlic and asparagus risotto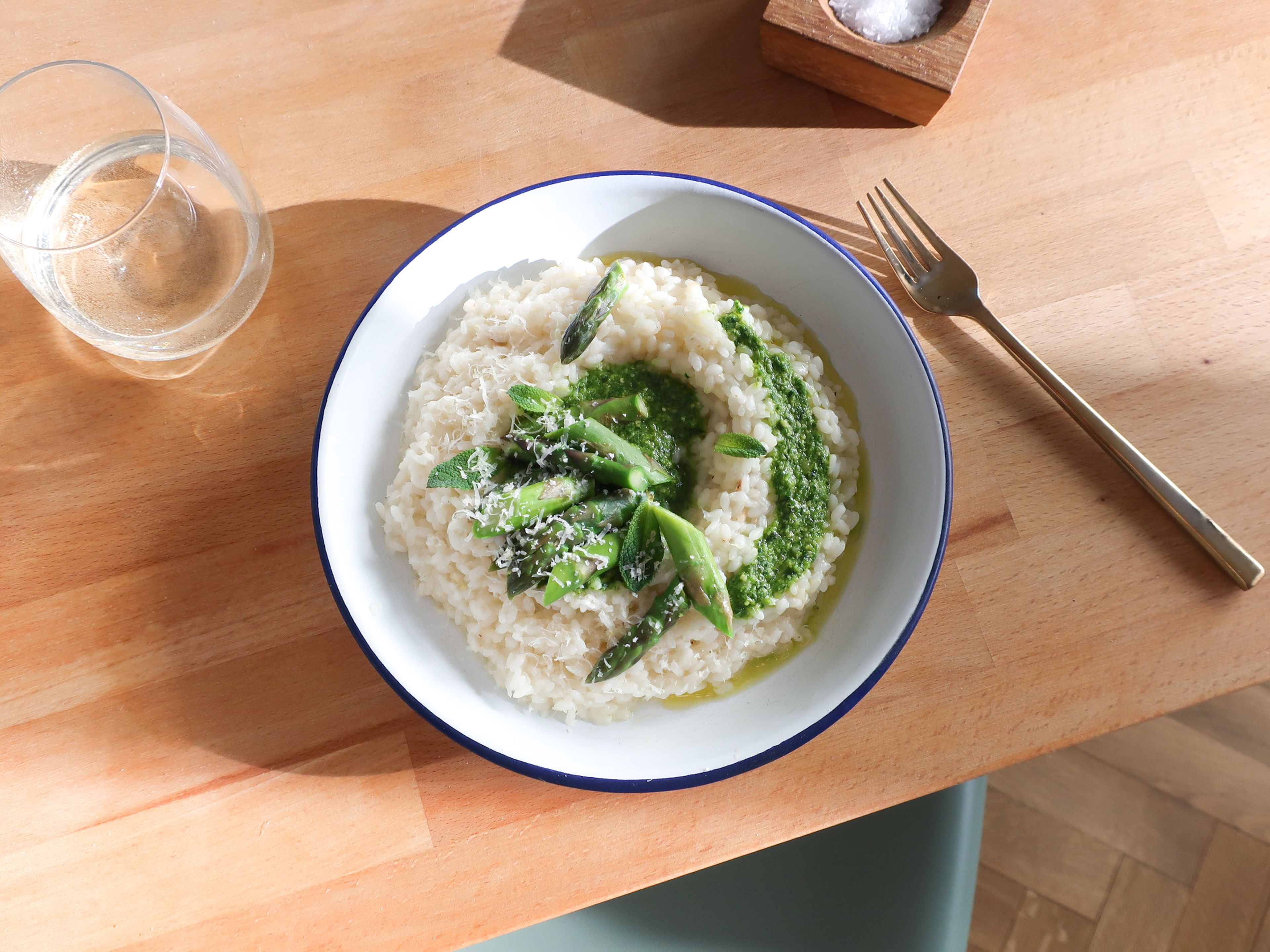 → Go to recipe
Wild Garlic Pistachio Pesto Zoodles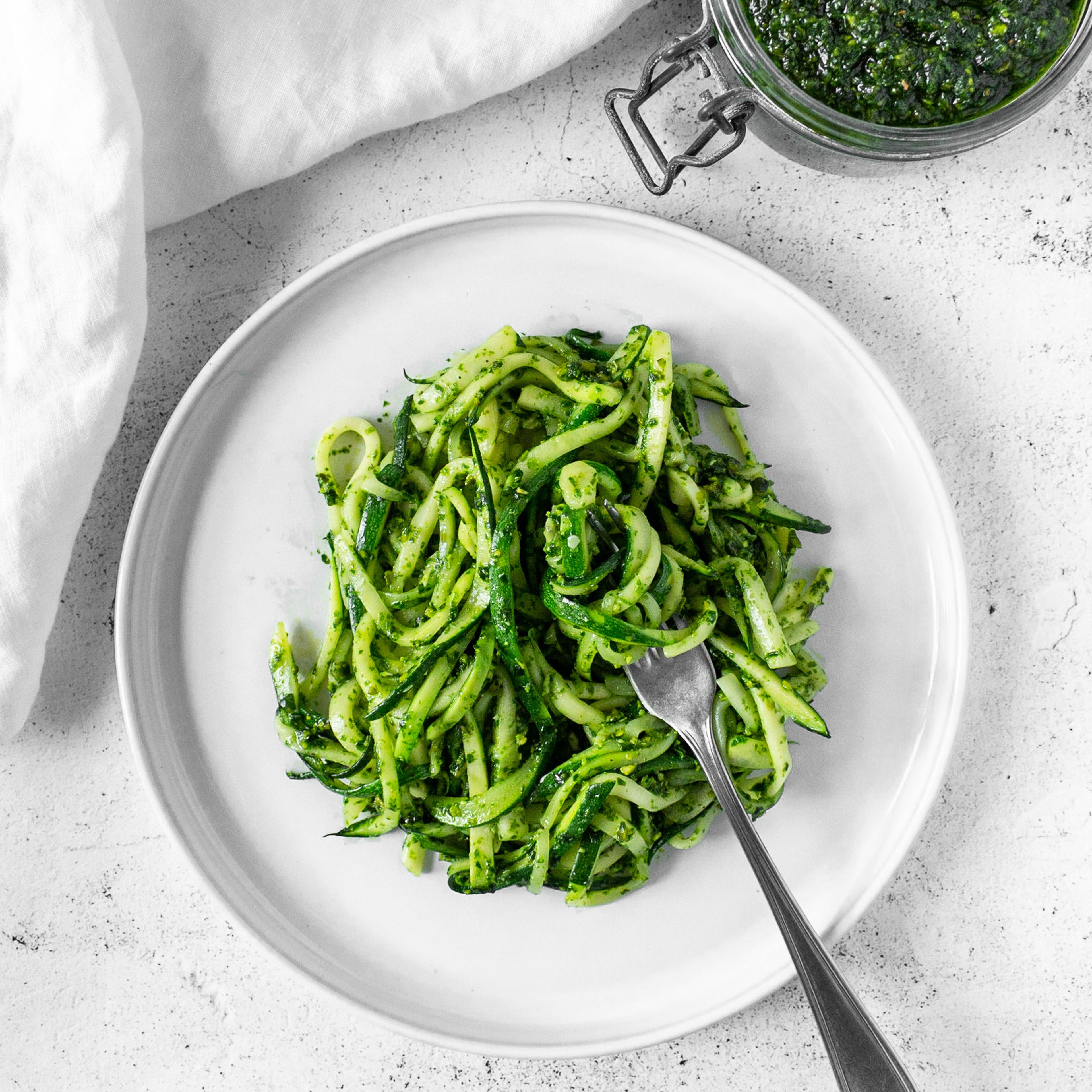 → Go to recipe
The world of green sauces doesn't stop at pesto, there are also bolder options such as this green salsa and chimichurri, which pairs great with grilled meat and fish!
Pork tenderloin skewers with wild garlic chimichurri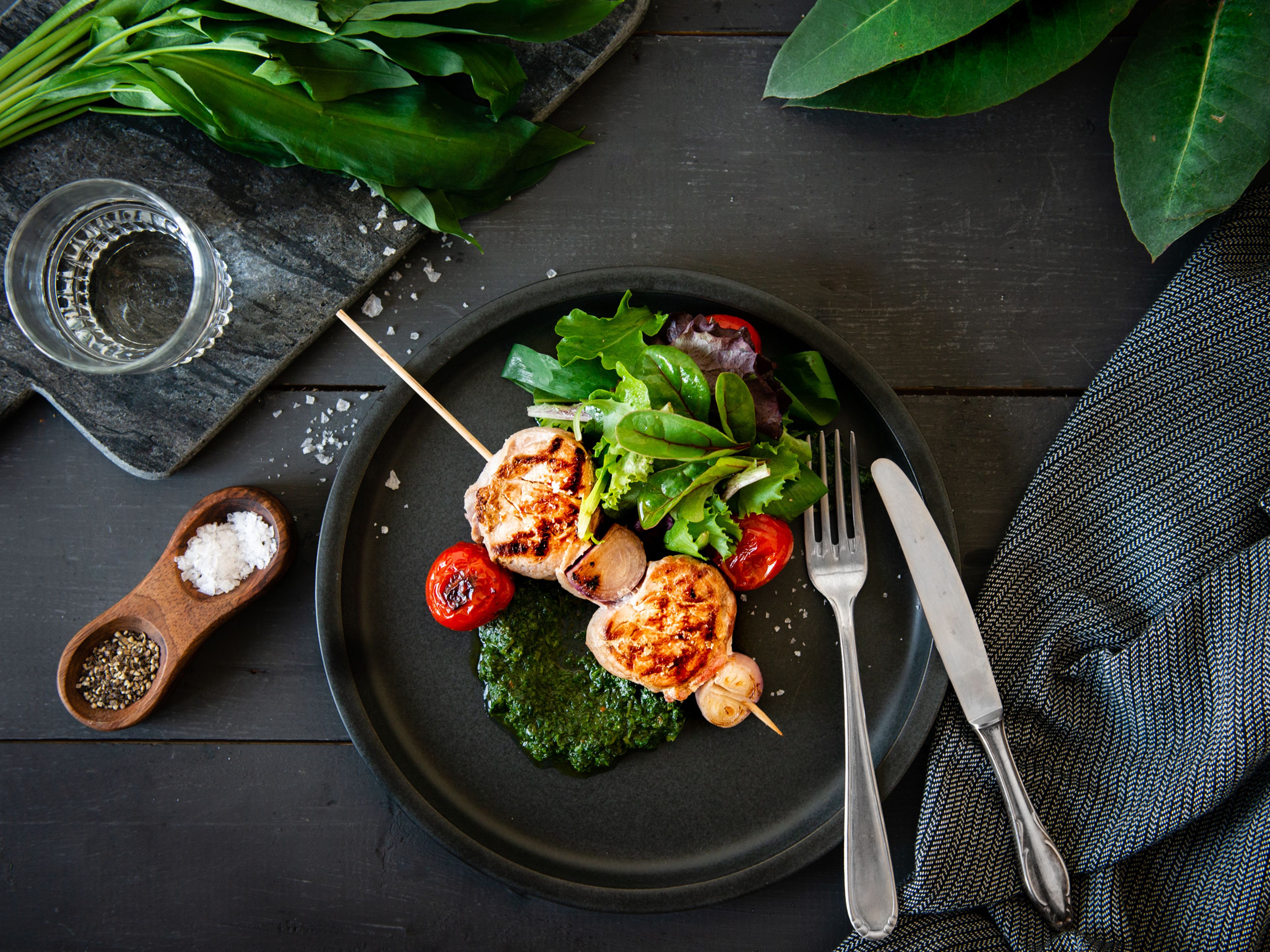 → Go to recipe
Roasted salmon with wild garlic salsa verde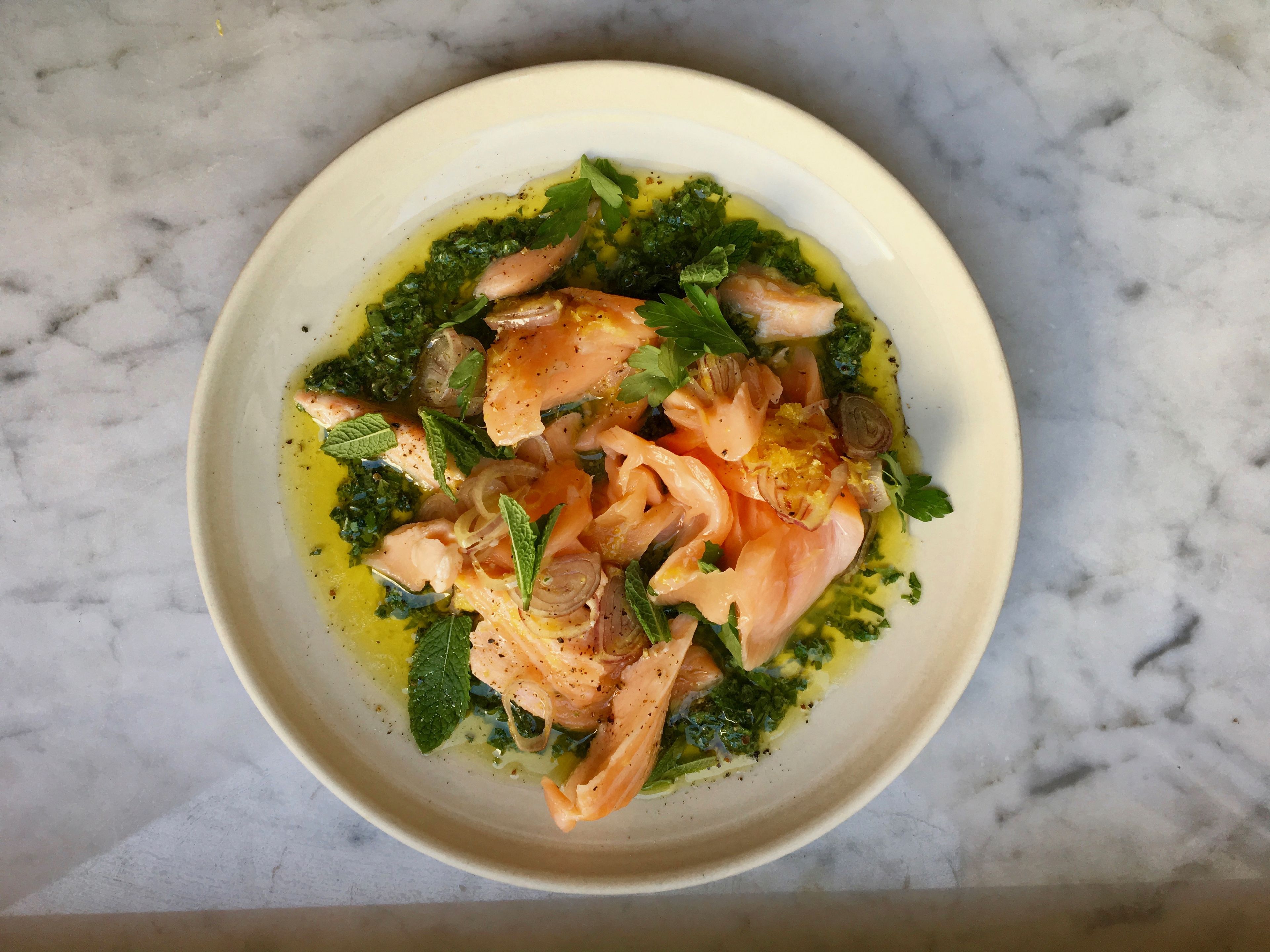 → Go to recipe
Fold it into dough
If you're a fan of herb or garlic breads, try these two recipes for some delightful, seasonal, wild garlicky treats.
Skillet pull-apart wild garlic bread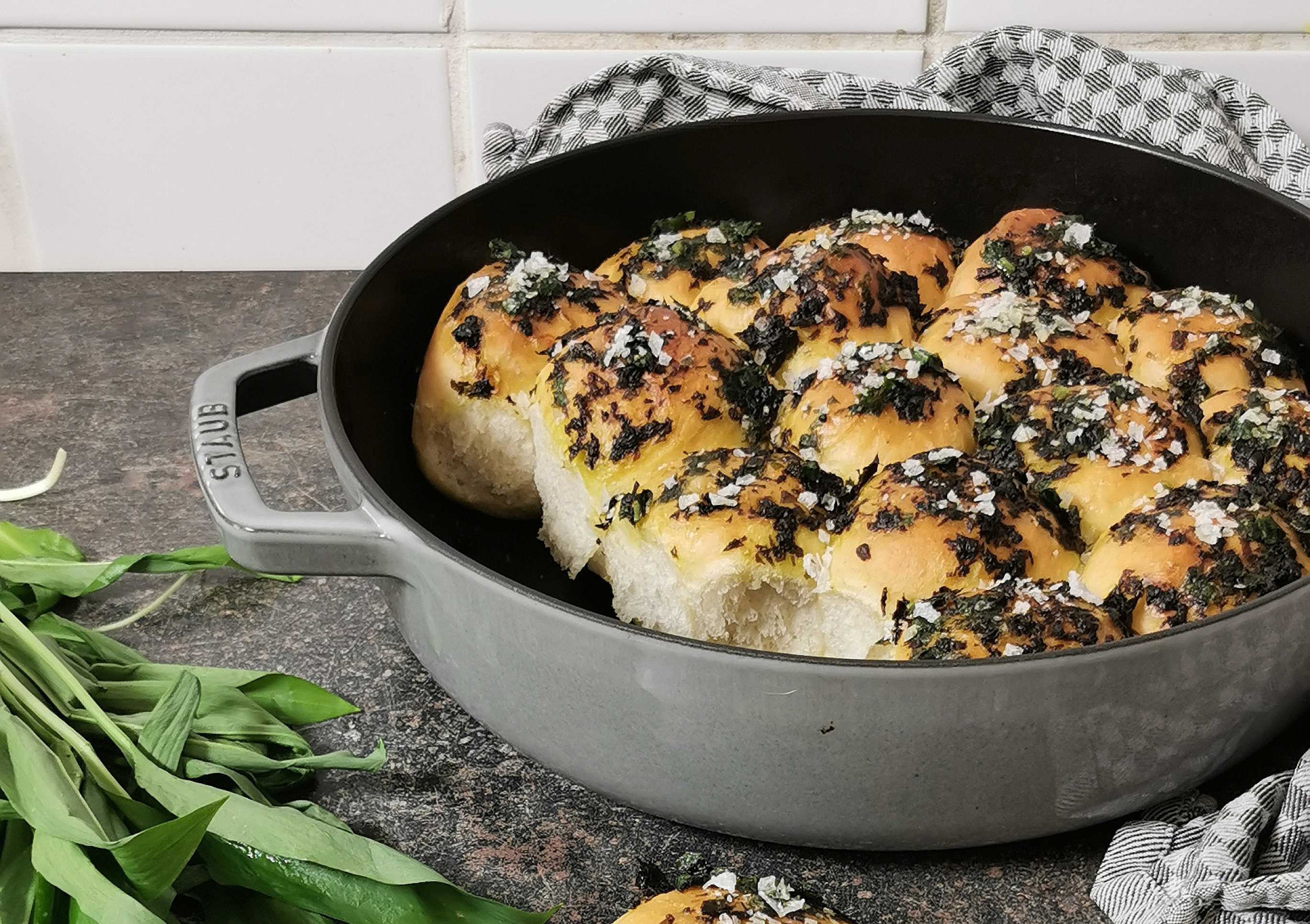 → Go to recipe
Chinese wild garlic pancake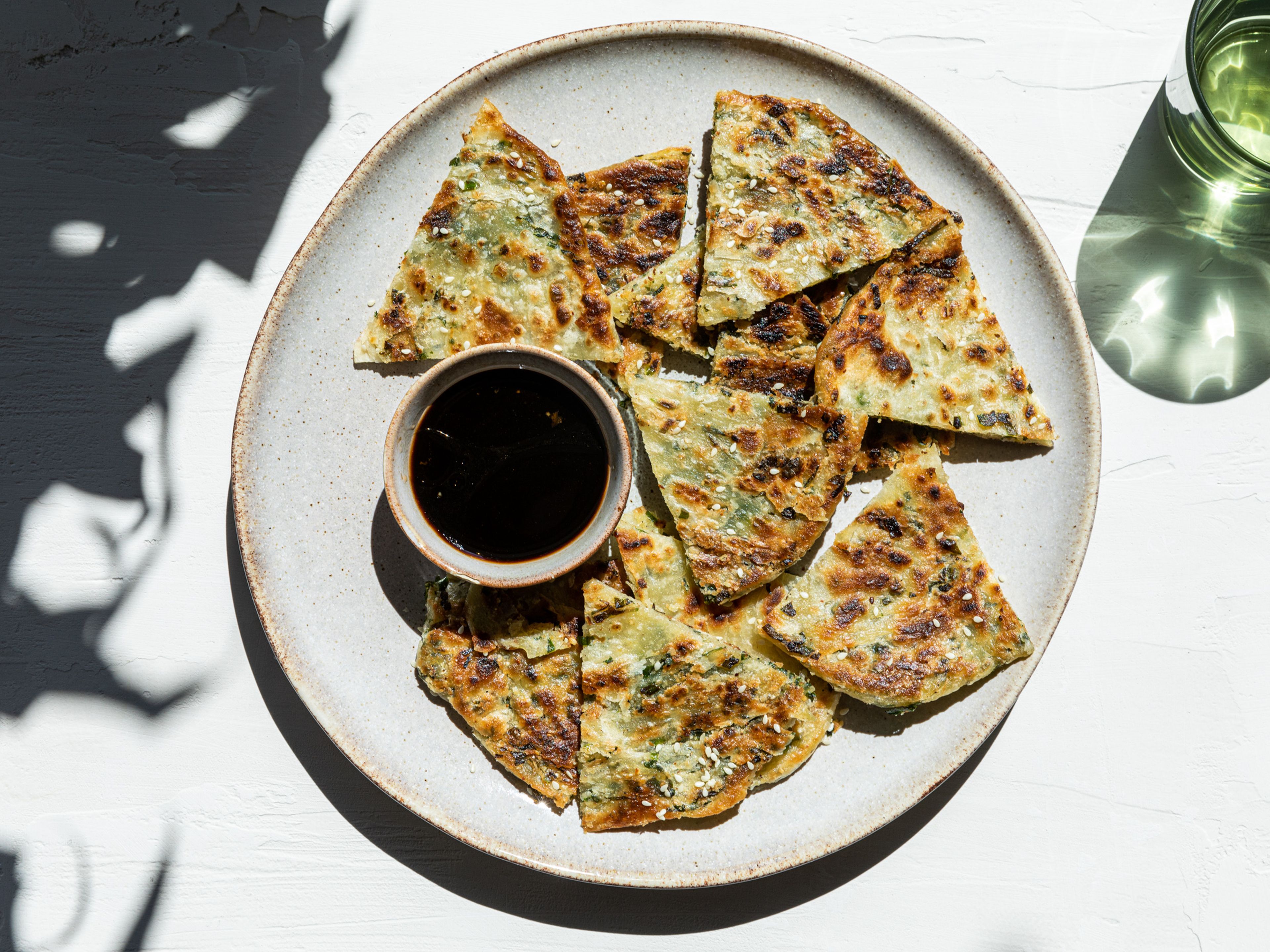 → Go to recipe
Everything else you can make with wild garlic
You can also use it directly as a garnish, like parsley leaves, for both the fresh look and vibrant taste.
Creamy pasta with shrimp and wild garlic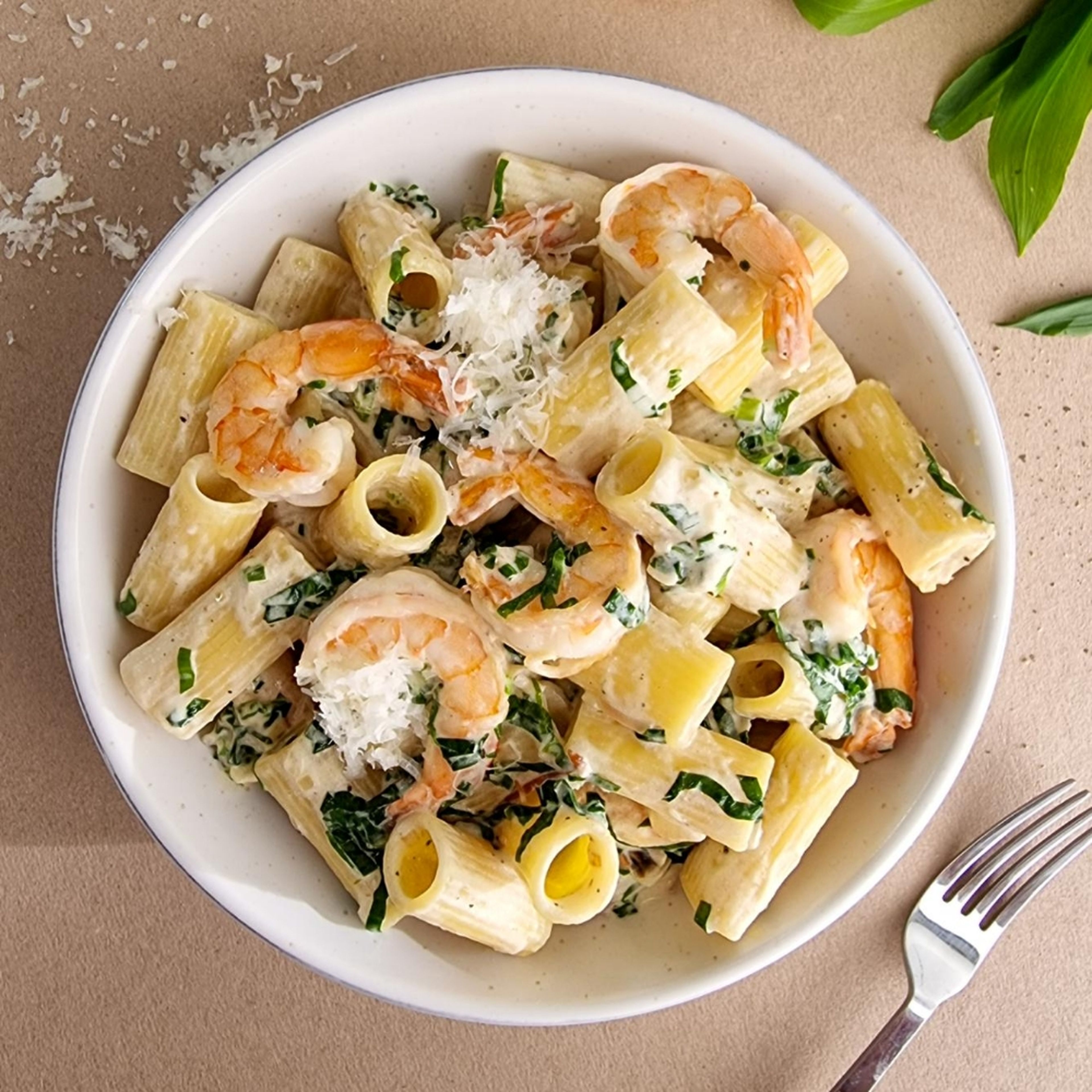 → Go to recipe
Or use it as Christian does in his newest recipe, where he wraps wild garlic leaves with smoked salmon into fresh crepes.
Wild garlic, white asparagus, and smoked salmon crepe rolls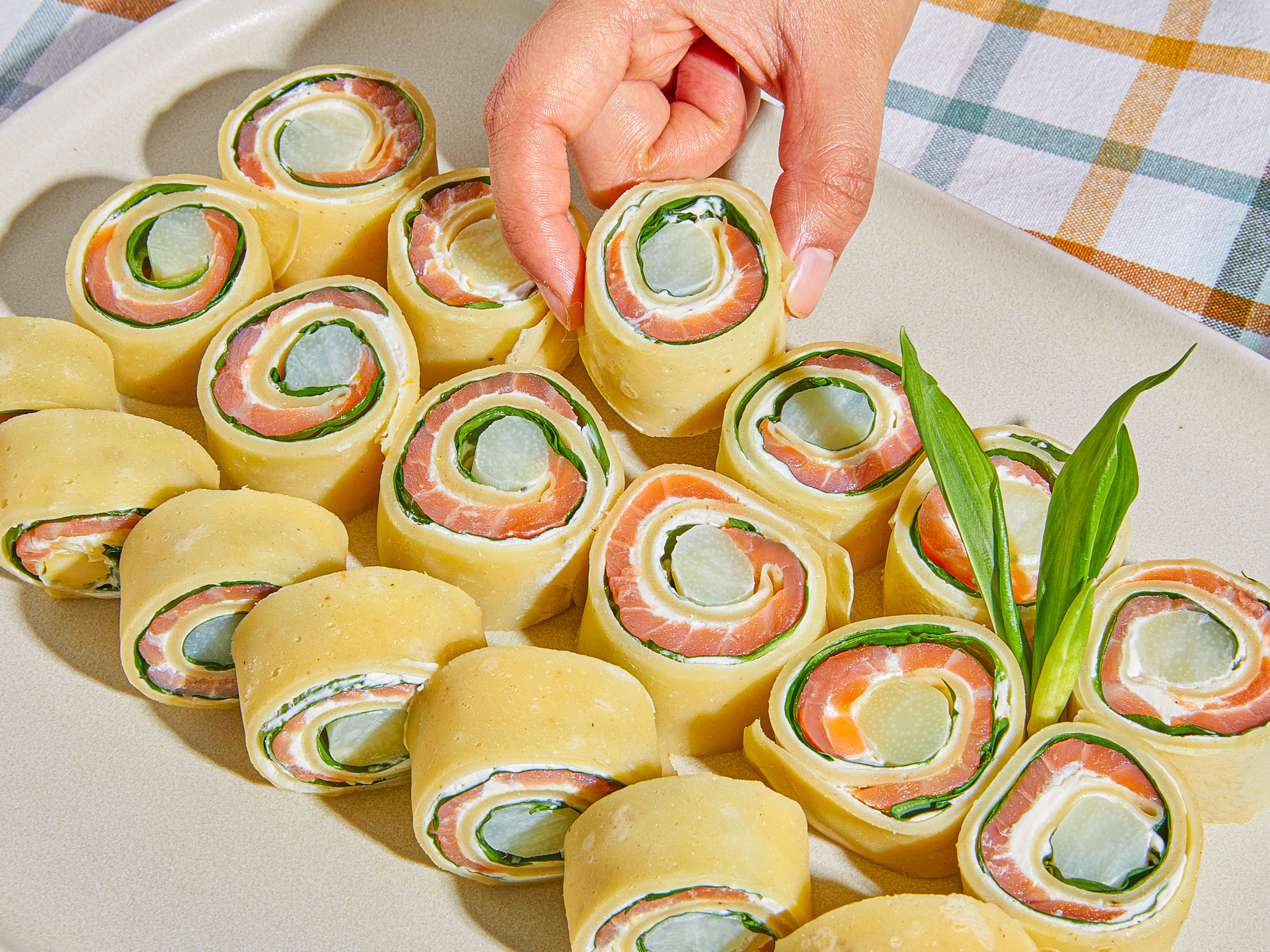 → Go to recipe
Try it in the dumpling filling: Lisa suggested wild garlic taste great in Maultaschen (German ravioli) filling, substituting it in for the baby spinach in this recipe. From my experience, it's an amazing add-in to Chinese dumplings as well as a replacement for Chinese chives.
Char it on the grill: Simple but magical, you can also char whole bunches of wild garlic on a grill or a cast-iron pan, with some olive oil, salt, and pepper! Delicious!
Got extra wild garlic? Freeze it!
You can also save some for later by freezing your in-season bounty of wild garlic. Wash and dry the bulbs and leaves, chop finely, and freeze in an ice cube tray with a little bit of oil or water. You can also freeze them whole in freezer bags, but we find the smaller ice cube tray version easier to use and portion out into various dishes.

Published on April 4, 2022
More delicious ideas for you