Nothing Says Spring is Here Like These Chinese Wild Garlic Pancakes
When you can't find Chinese chives, use wild garlic!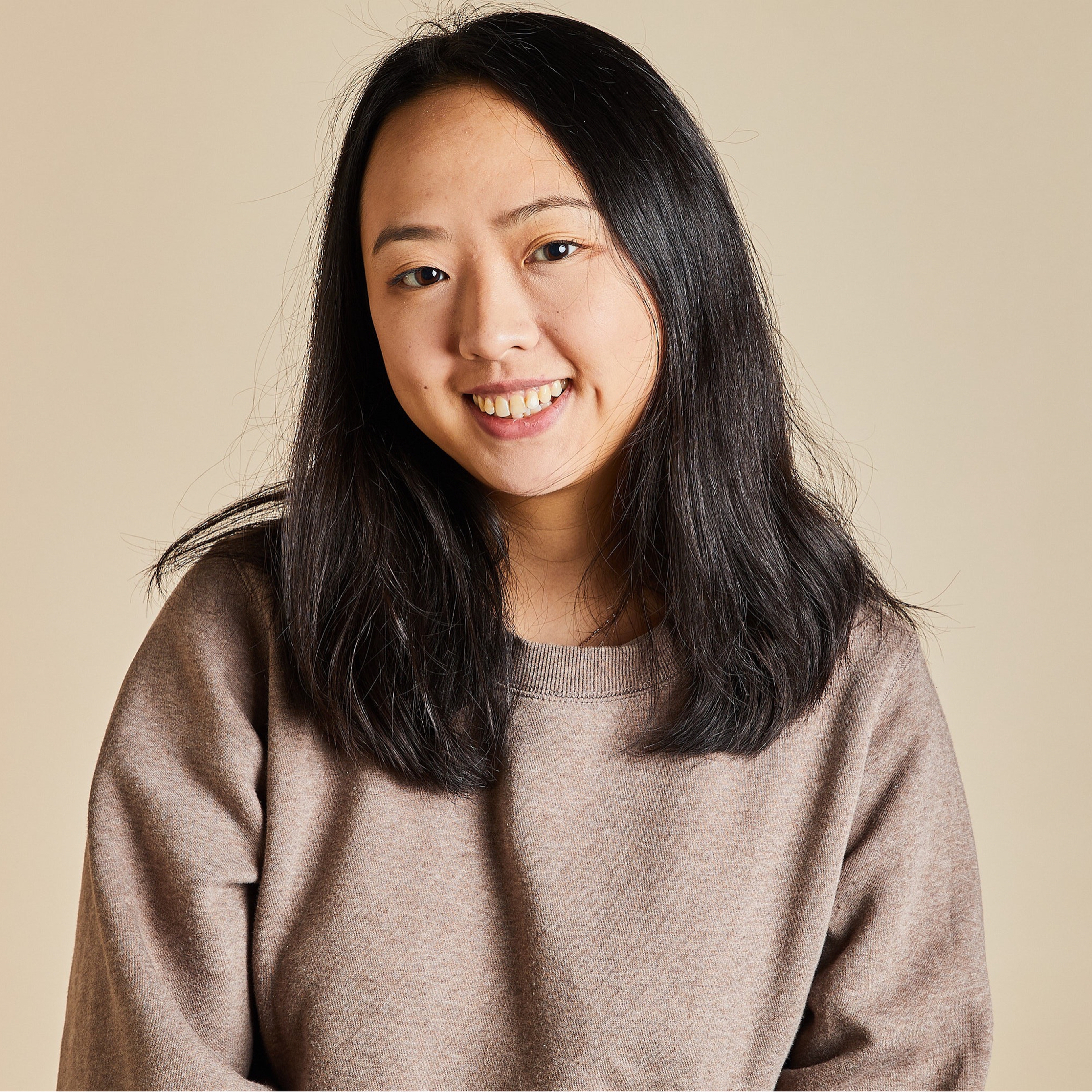 This article is part of "The Community Issue", our celebration of what brings us together: Food. This issue is a collaboration with Infarm, the fastest growing vertical farming network from Berlin, that grows 100% local with zero pesticides. At Infarm the plants are harvested at their freshest point and with their roots on to keep the taste and nutrients in! This month, we'll be giving you recipes that you asked for, highlighting some amazing recipes that you've shared, exploring what we've learned from each other here at KS, and so much more! Join us as we connect with each other through food this month and check out this link for an overview of our latest stories and recipes from the issue. Don't forget to follow us on Instagram for extra community content and more.

At the beginning of April last year, my very first social contact after a few weeks of hardcore lockdown was from a Chinese friend living nearby. She dropped me some dumplings made with wild garlic, which she found and picked while out walking her dog. The dumpling filling was made with the pungent herb, which sprouts up come European spring, some stir-fried eggs, and glass noodles. I might be exaggerating, but the taste was completely delightful; mixed in with the feeling of spring and of hope.
Until this first bite, I'd never paid much attention to wild garlic (or ramps). But, since then, I've learned that many Chinese people living in Germany use wild garlic as a handy, spring-time substitute for Chinese chives (or garlic chives, 韭菜), and gave it the name ye jiu cai (野韭菜, wild Chinese chives). A convincing culinary substitution, as they're both alliums (belonging to the family of Amaryllidaceae) and taste astonishingly alike. Chinese chives are mostly used in dumpling fillings, or stir-fried with shrimp, which sometimes deliver a more distinct garlicky flavor.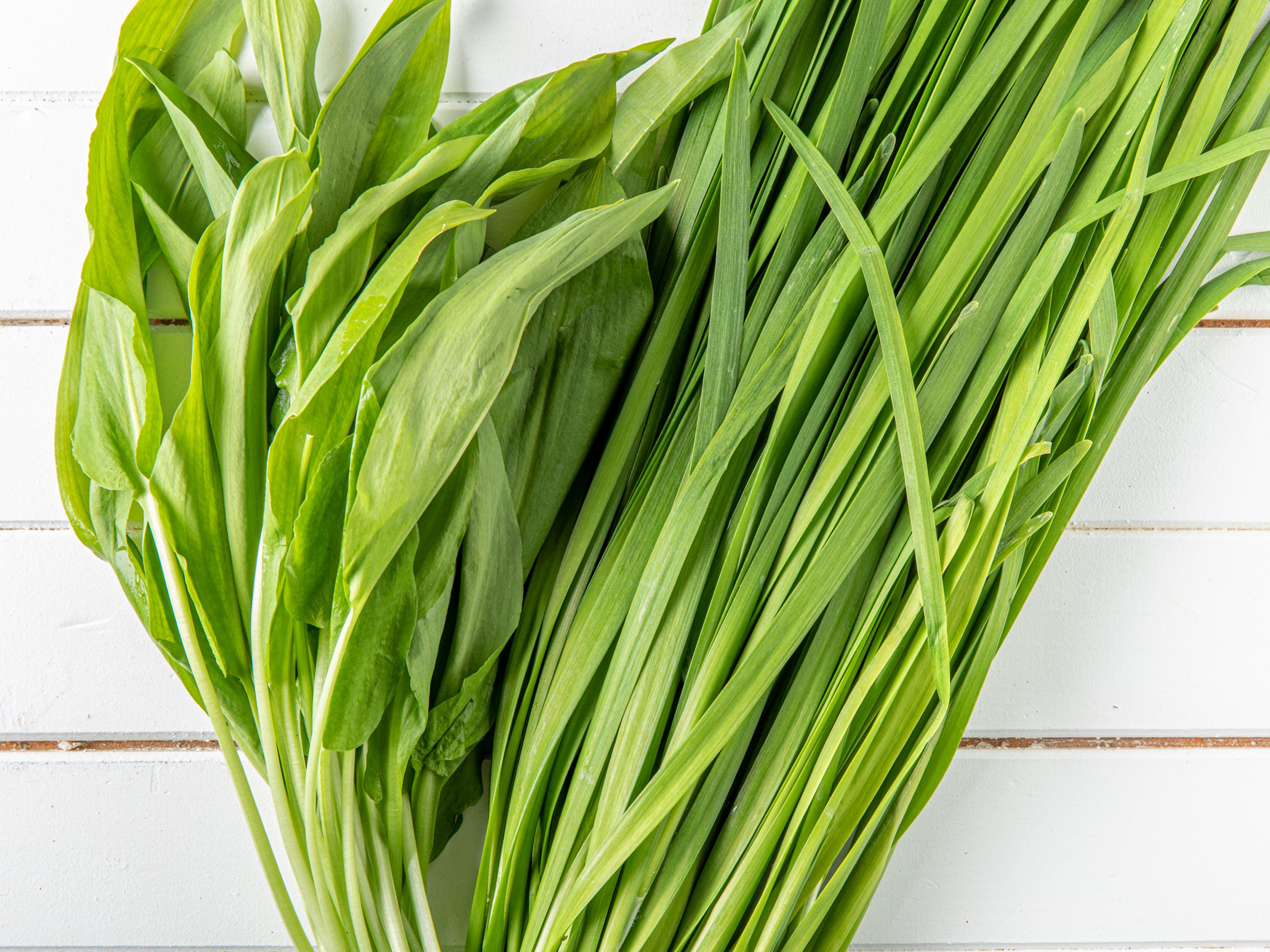 If you've ever eavesdropped on conversation among Chinese diaspora, you'll know that there's a 90% chance they're talking about food. How to find a taste of home locally is always the topic between friends, at gatherings, and on social media posts. Wisdom flows and tips are shared: How to use ready-made dough to make bao buns, puff pastry to make Shanghai-style mooncakes, and of course, when and where to find wild garlic. There's nothing quite like the excitement among my friendship circle in Berlin, when crab (Chinese mitten crab) or crayfish season comes.
For millennia, traditional Chinese cuisine has revered eating seasonally, specifically sticking to the the 24 solar terms or seasonal periods in the Chinese calendar. My grandma always advises: "Eat daikon radish in winter and ginger in summer to keep the doctor away!" When spring comes, foraging and consuming wild plants is both a tradition and a trend. Seasonal foods tied to spring, such as qingtuan (a mochi-like dessert made with mugwort or wall barley), have become popular even among the younger generation. Foraging enthusiasm is equally popular here on the other side of the world, whether we're chasing asparagus or wild garlic, or (back in my hometown) pea shoots or fish mint. Essentially it speaks the same spirit: an appreciation of seasonality and the abundance that nature has to offer.
This scallion-ish pancake lets wild garlic shine
Given that wild garlic works on focaccia, I had the idea of trying it in the famous scallion pancake, one of my favorite Chinese pastries. Unlike American-style pancakes, Chinese scallion pancakes are savory, flaky on the outside, and chewy on the inside. You can eat them alone dipping in a simple sauce, or use them as a wrap-base for jianbing. Wild garlic is a perfect match for these, resulting in a more delicate version of the original but resulting in a nicely charred, herby aroma. You could also try onions, leeks, and other herbs.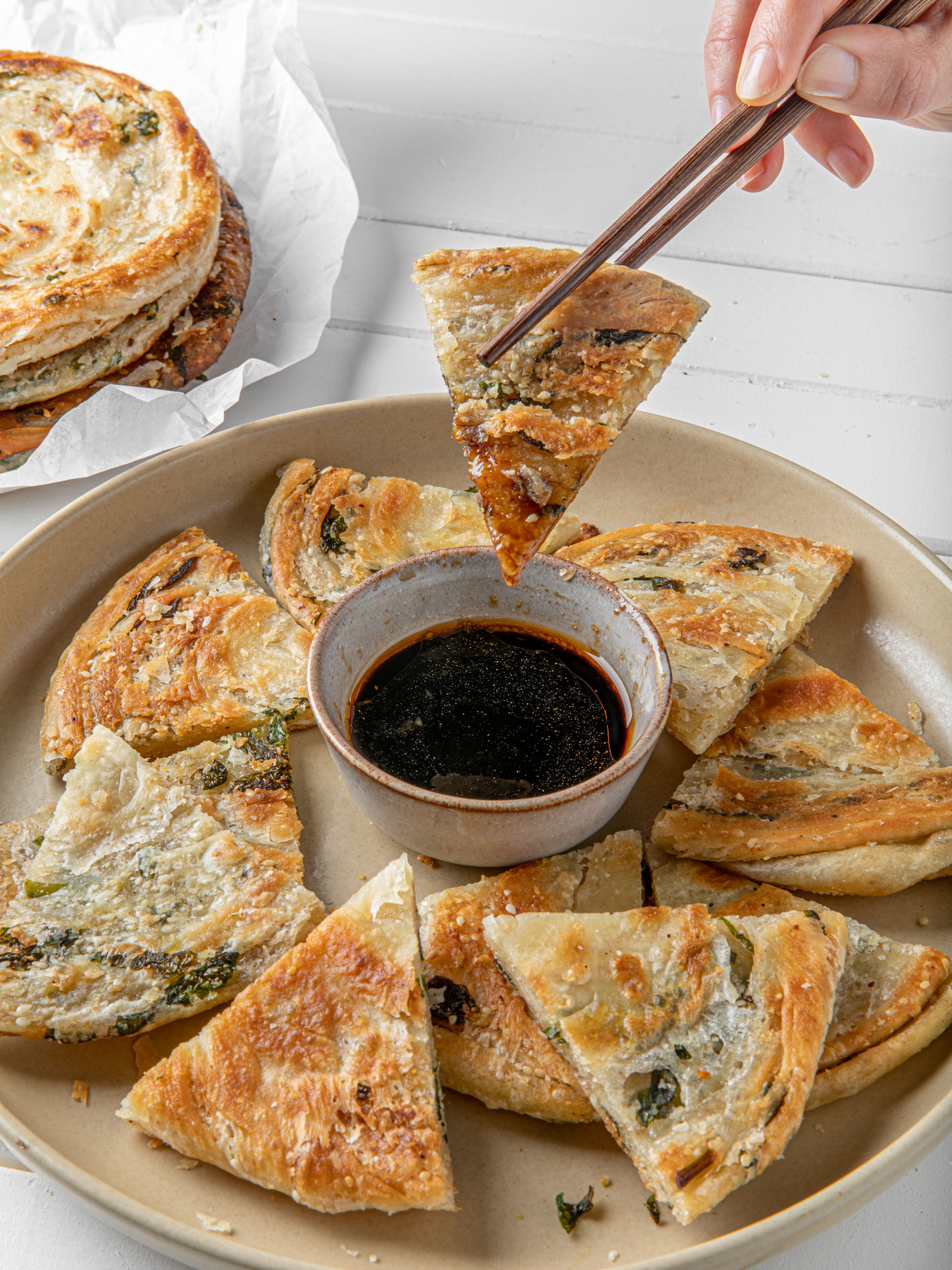 To make the best scallion-ish pancake, here are two essential techniques:
1. Make a dough with *fire and ice*
The pancake dough uses both boiling water and room temperature or lukewarm water. The hot-water dough (tang mian 烫面) is a classic Chinese pastry technique to create a soft dough. But adding room-temperature water then helps to make it more elastic than a dough made entirely with boiling water: so both work to achieve the combined texture that is both soft and chewy. The dough needs to rest for at least half an hour until it becomes more smooth. I tried different batches and found resting in the fridge gave the best results.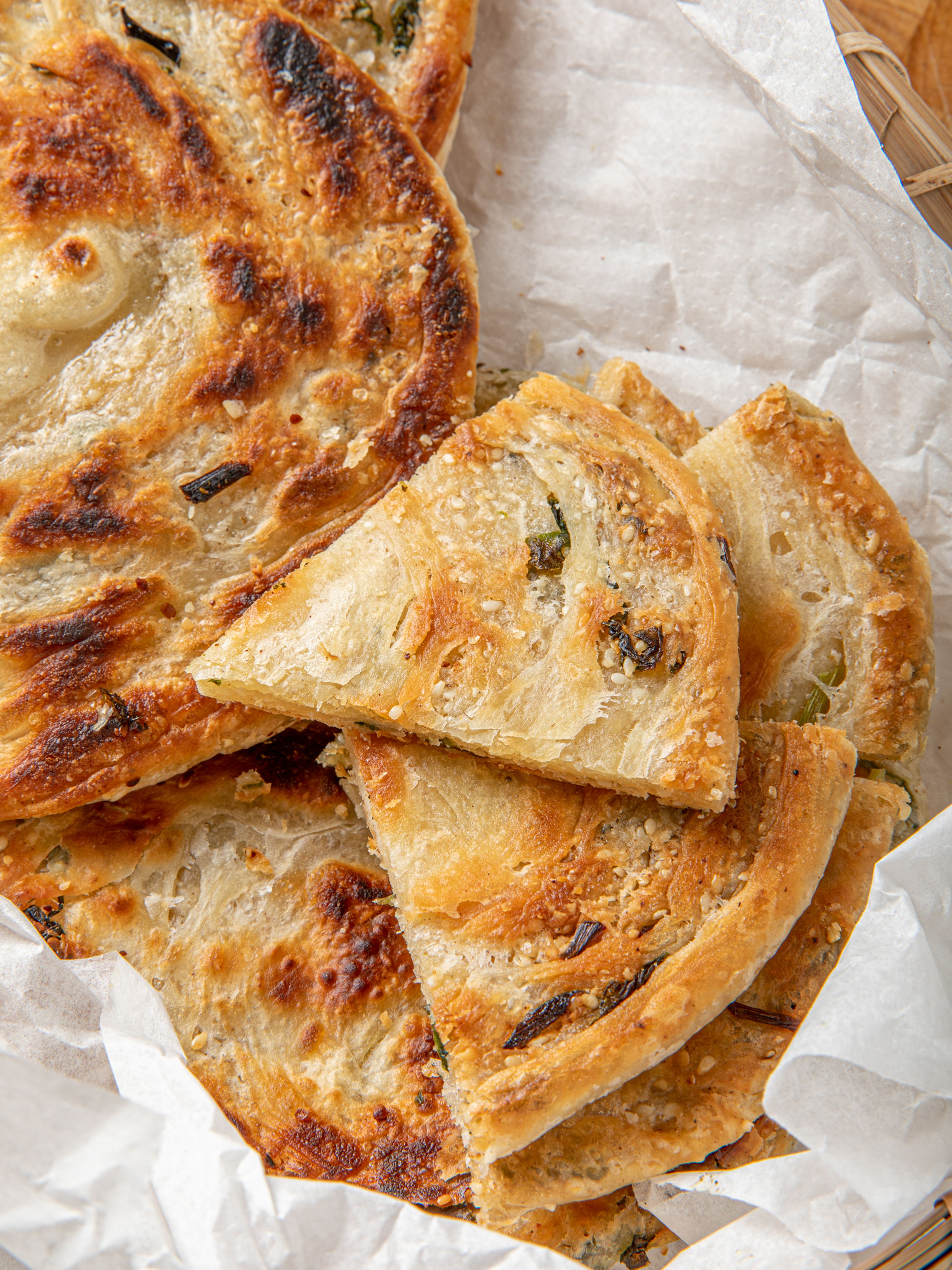 2. Make an oil paste
A roux-like oil paste (you su 油酥) is made for the filling by pour hot oil on chopped herbs with flour and seasoning. This will help create the flakiness in the pancakes and release more aroma from the herbs. Alternatively, you could use coconut oil and pork lard (highly recommend!) without heating, just spread with the mixture first, then add chopped herbs and seasoning.
For many pancakes, the size doesn't matter, but here it sort of does. If you want to achieve the classic layers, a smaller piece of dough won't work as well. If you want the pancake to be more crispy, cook it without a lid and flip it over more frequently, or if you want them softer, cook them with a lid on so they won't dry out.
Chinese wild garlic pancake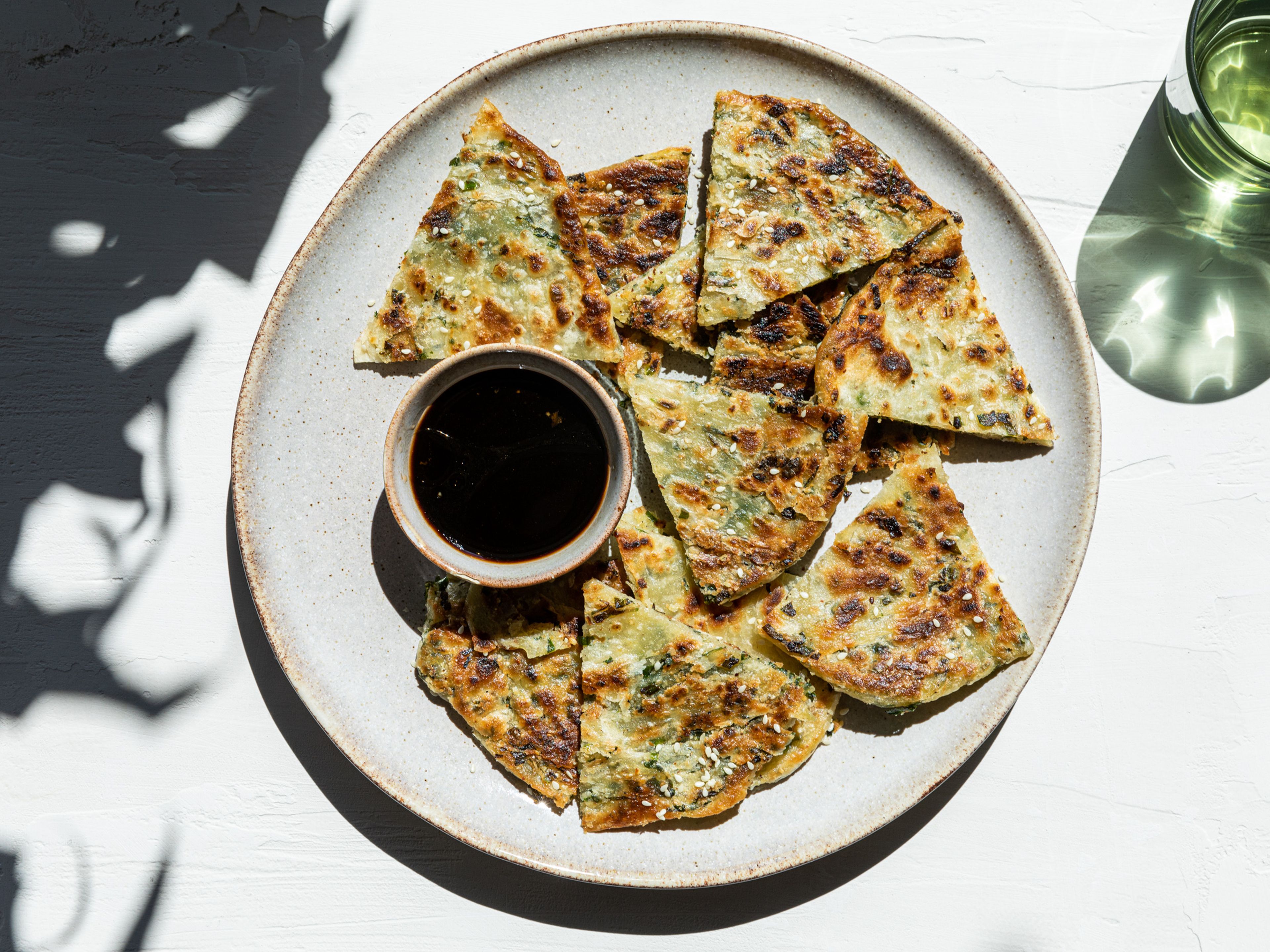 → Go to recipe
Recipes to cook with leftover herbs
Beyond scallion-ish pancakes, there are more ways of using different herbs, use them in pesto, in dumplings, in dips, salad dressing and pancakes (like Korean Pajeon!). Here are some recipes to use the herbs more creatively!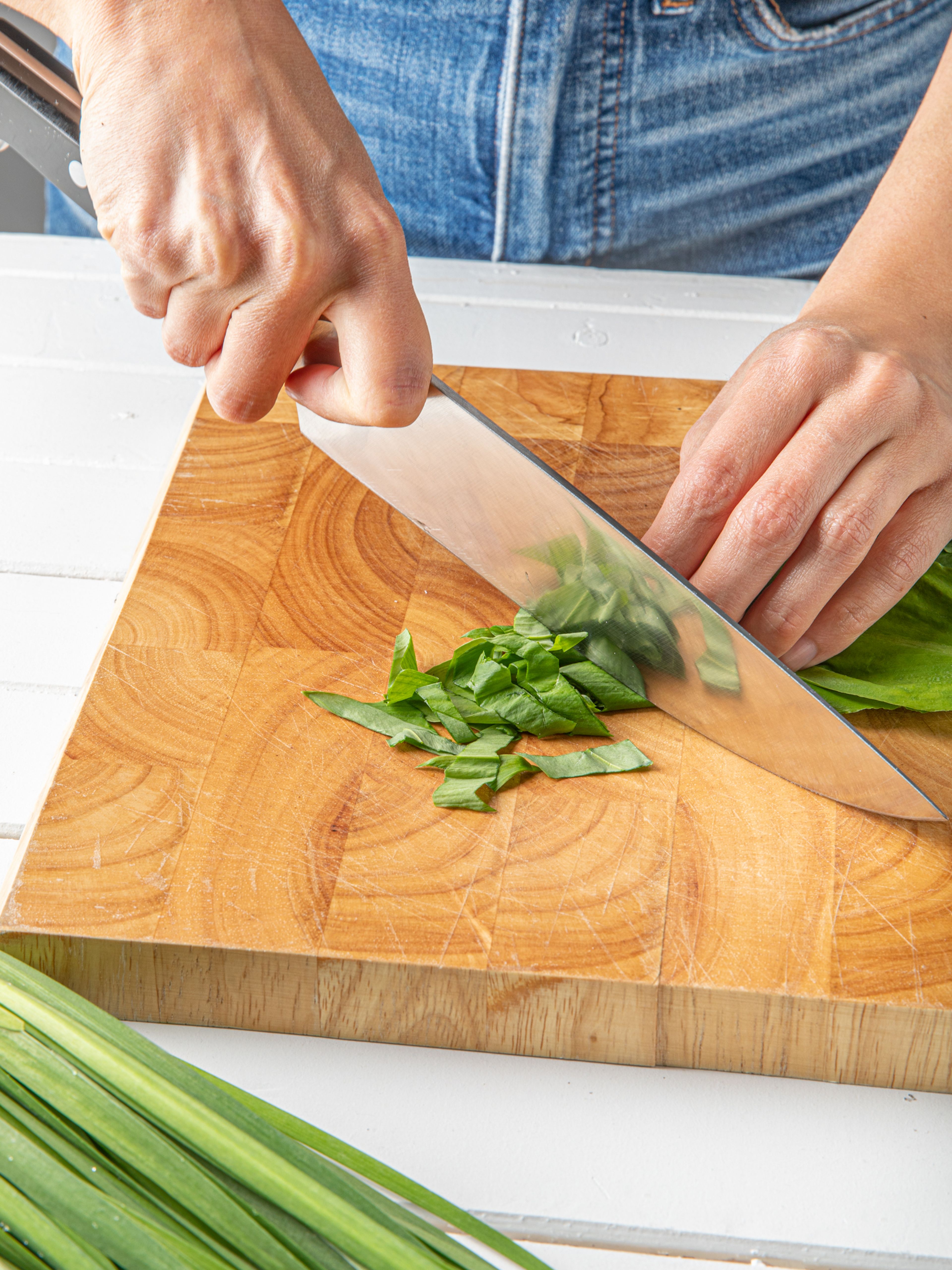 Sourcing herbs
We've been loving the selection of herbs from our fellow Berlin-based farming revolutionaries at Infarm. Depending on where you're located, you can access a variety of interesting herbs from Infarm, from pea shoots to mountain coriander to Peruvian mint. Since 2013 they've been on a mission to provide quality, fresh, and locally grown herbs and lettuces (including 5 different kinds of basil!) to communities around the world; they're now found in 10 countries and 30 cities. Using modular, modern vertical farms that automatically provide the plants with water, light, and essential nutrients, Infarm enables cities (like our hometown, Berlin) to grow locally all year round and save valuable resources. In addition, they don't use any chemical pesticides! Check out their website for more information about what they do and to check if their 100% locally grown produce is available in your community.
Published on May 7, 2021
More delicious ideas for you