Tie-dye dumplings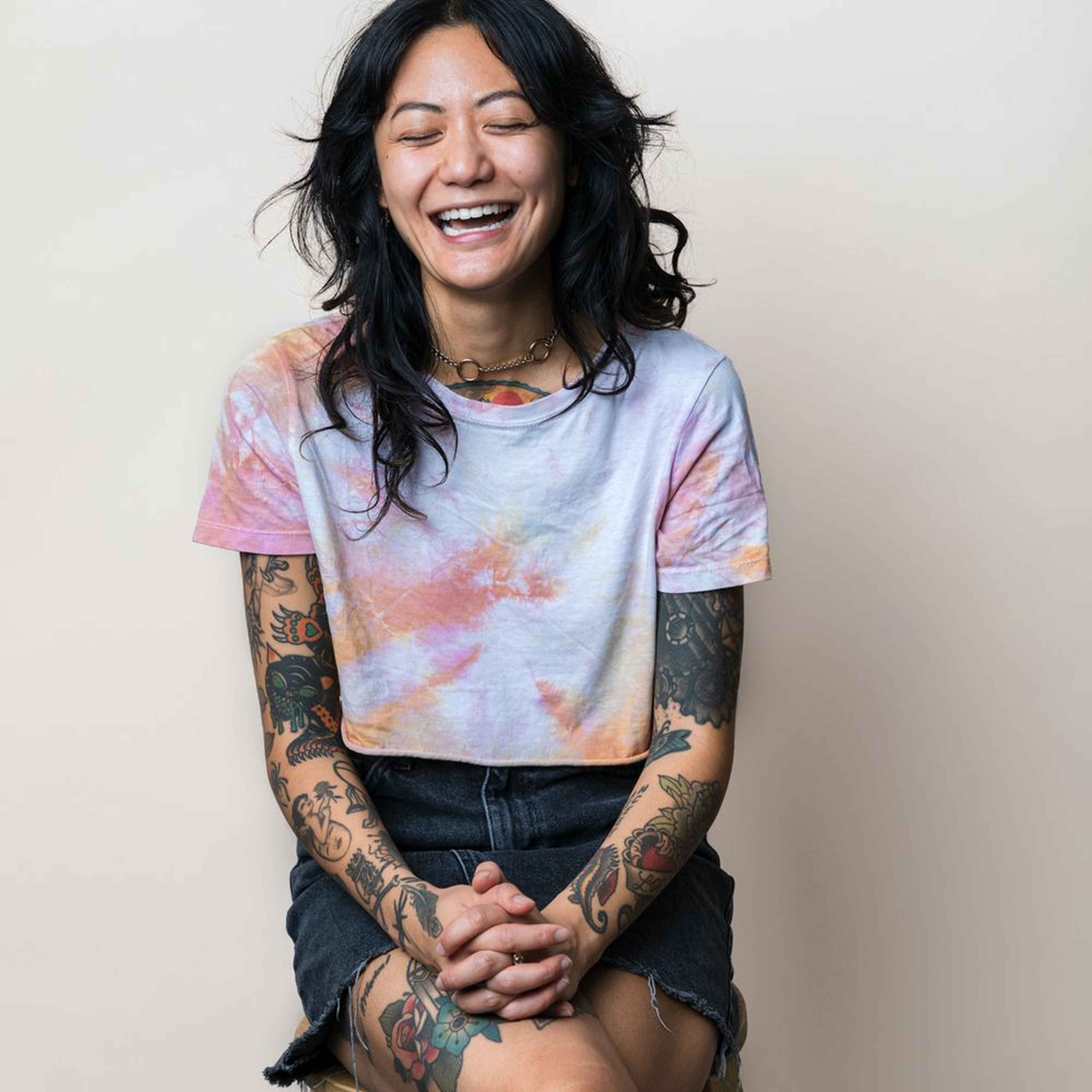 "Whenever there's cause for celebration, copious amounts of dumplings are, in my opinion, an absolute must. Drawing inspo from Sonia Wong's galaxy dumpling wrappers, this recipe uses spinach and beet juice to create a natural tie-dye pattern that's playful and delicious. Making dumplings at home is always easier with extra hands, but if you're flying solo in the kitchen, just remember to work in small batches to prevent the dough from drying out. I prefer pleating to seal the dumplings, as it showcases the colors beautifully but you can wrap these dumplings in whichever way you like."
Ingredients
rice vinegar (for serving)
Utensils
4 bowls, plastic wrap, pot (small), immersion blender, bowl (large), knife, rolling pin, frying pan
How-To Videos
How to fill dumplings
How to roll out homemade dumpling wrappers
How to blanch
How to pan fry dumplings
Step 1/ 6

9⅜ g

flour

5 ml

water

vegetable oil

Add half the flour and half the warm water to a bowl and mix until well-combined. On a floured work surface, knead dough until smooth, approx. 5 min. Drizzle some oil to coat the dough, then wrap dough tightly in plastic and let rest for approx. 1 hr.

Step 2/ 6

1⅔ ml

red beet juice

2⅛ g

spinach

2 bowls
pot (small)
immersion blender

Divide remaining flour into two separate bowls. Add beet juice to one of the bowls and mix until well-combined. Then quickly blanch spinach and use an immersion blender to purée until smooth. Transfer to the third bowl of flour. Knead the dough balls for approx. 5 min. each, then drizzle some oil to coat. Wrap them tightly in plastic and let rest for approx. 1 hr.

Step 3/ 6

⅜ cloves

garlic

⅞ g

ginger

6⅔ g

shiitake mushrooms

⅓ stalks

scallions

10⅜ g

cabbages

⅛ tbsp

soy sauce

⅛ tbsp

sesame oil

While dough rests, mince garlic, ginger, mushrooms, and scallions. Shred cabbage. Add chopped veg to a mixing bowl with soy sauce and sesame oil. Mix everything together and set aside.

Step 4/ 6

With damp hands and on a floured work surface, roll each dough ball into a thin log. Carefully wrap the colored strands around the plain one, then halve the roll with a knife lengthwise and weave the two parts together. Squeeze and roll to combine.

Step 5/ 6

Cut the log into 24 equal pieces and use a rolling pin to roll out the dough into equal-sized circles, rotating the dough as you go to ensure an even thickness. Set aside a small bowl of water. Scoop approx. 1 tbsp of filling to each wrapper, brush the edges with water, and pleat, pressing along the edges to seal. Repeat this process with remaining dough and filling.

Step 6/ 6

soy sauce (for serving)

chili oil (for serving)

rice vinegar (for serving)

Add some vegetable oil to a frying pan over high heat, then add some of the dumplings. When the bottoms start to brown, pour in enough water to cover approx. one-third of the dumplings, then cover with a lid. Let water evaporate completely before removing from heat, approx. 5 min. Repeat until all dumplings are cooked. Serve with soy sauce, chili oil, and a splash of rice vinegar, if desired. Enjoy!

Enjoy your meal!
More delicious ideas for you