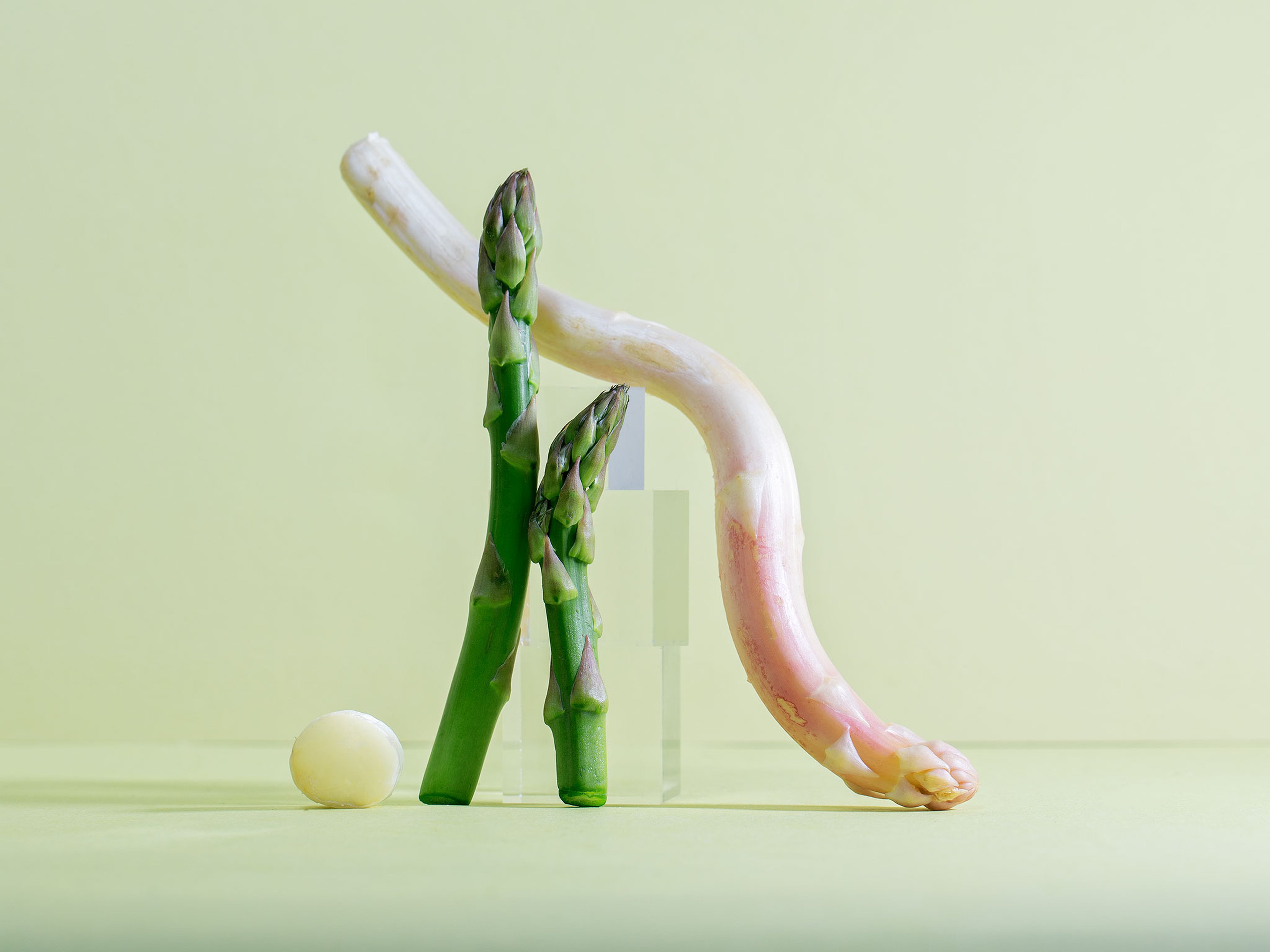 Everything to Know About Cooking and Shopping for In Season Asparagus
Plus 3 new recipes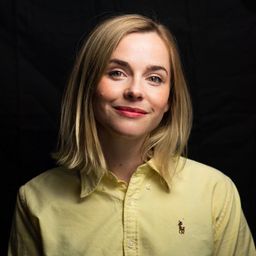 The best way to shop? With the seasons! So, every 2 weeks at Kitchen Stories, we'll be highlighting a different in-season ingredient along with 3 new recipes. To the market, we go!

In our home base, Germany, no seasonal vegetable is quite as eagerly anticipated as asparagus—particularly the larger, white kind. Not only tasty, juicy, and full of vitamins, asparagus is also the perfect embodiment of spring—when bright green, white, or purple spears start showing up on market shelves, you know warmer weather can't be far. It's also one of the few vegetables that tastes naturally umami, a deeply savory flavor that can prove irresistible, especially when combined with ingredients like Parmesan.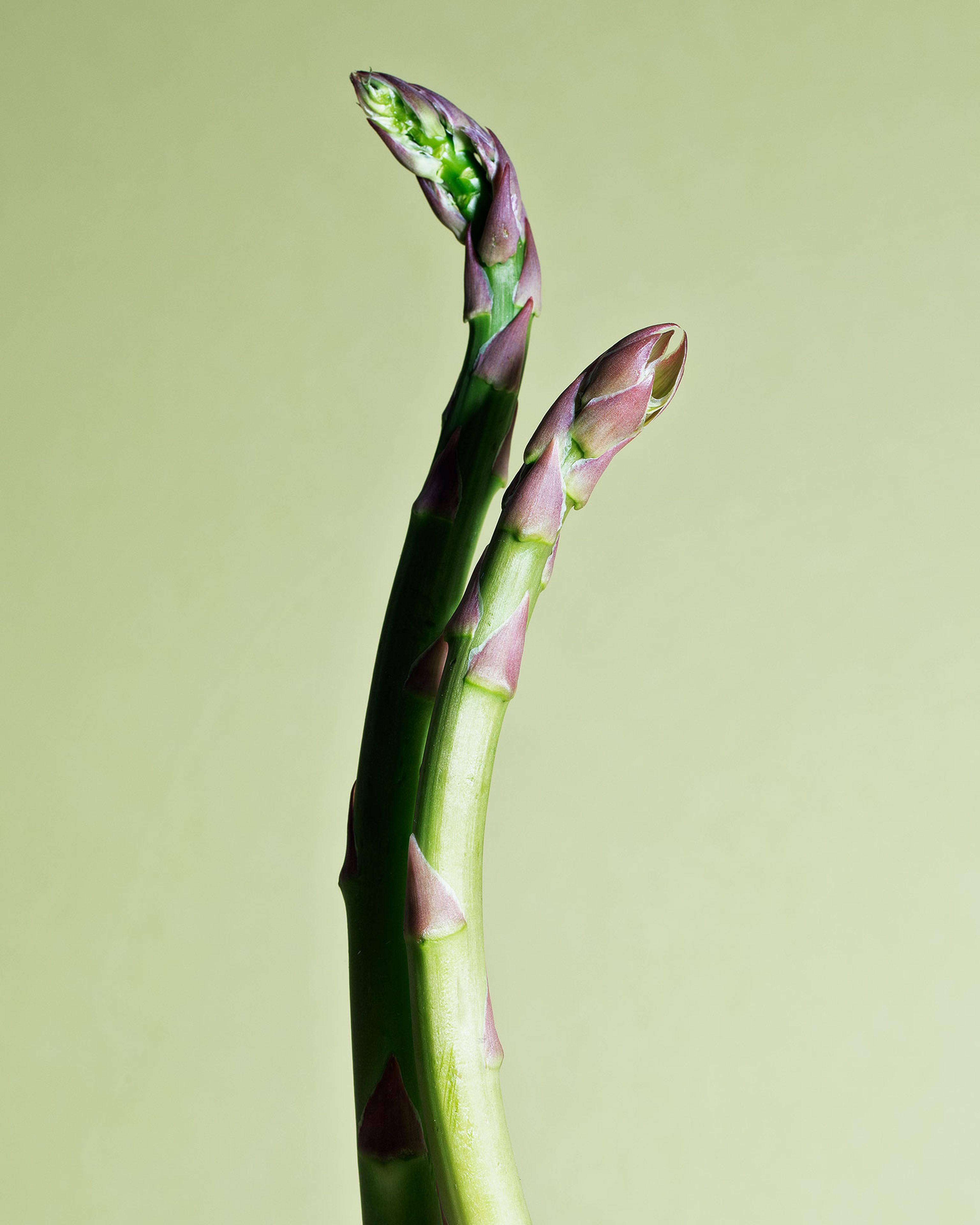 But what kinds of asparagus are there, what's the best way to store it, and what kinds of dishes can you make? Find out more about one of the most interesting spring vegetables below.
1. Hello, my name is asparagus
Asparagus has been a favorite for millennia. It was so beloved by the Roman elite that Augustus Caesar is said to have kept his very own "Asparagus Fleet" to get asparagus from harvest to dinnertime as quickly as possible.

One of the reasons why asparagus is a prized delicacy is the cultivation process. It can take up to 3 years between planting and harvesting it for the first time—although after this period, each plant can survive for up to 20 years.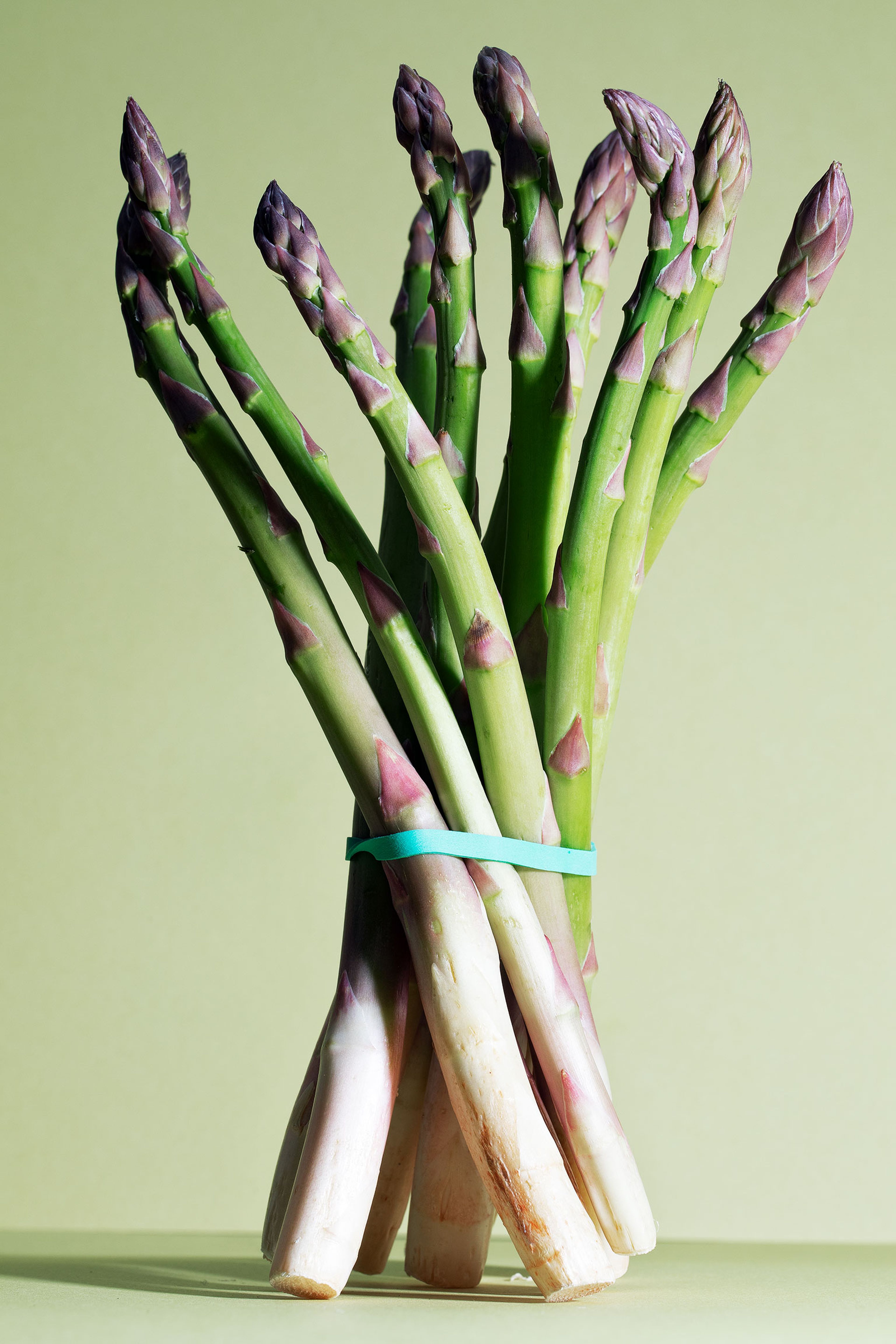 Green asparagus might be best known worldwide, but it's certainly not the only option. There are also purple varieties, which tend to be sweeter and more tender. They turn green after being steamed or grilled, so it's best to enjoy them raw if you'd like to preserve the pretty color.
How to prepare green asparagus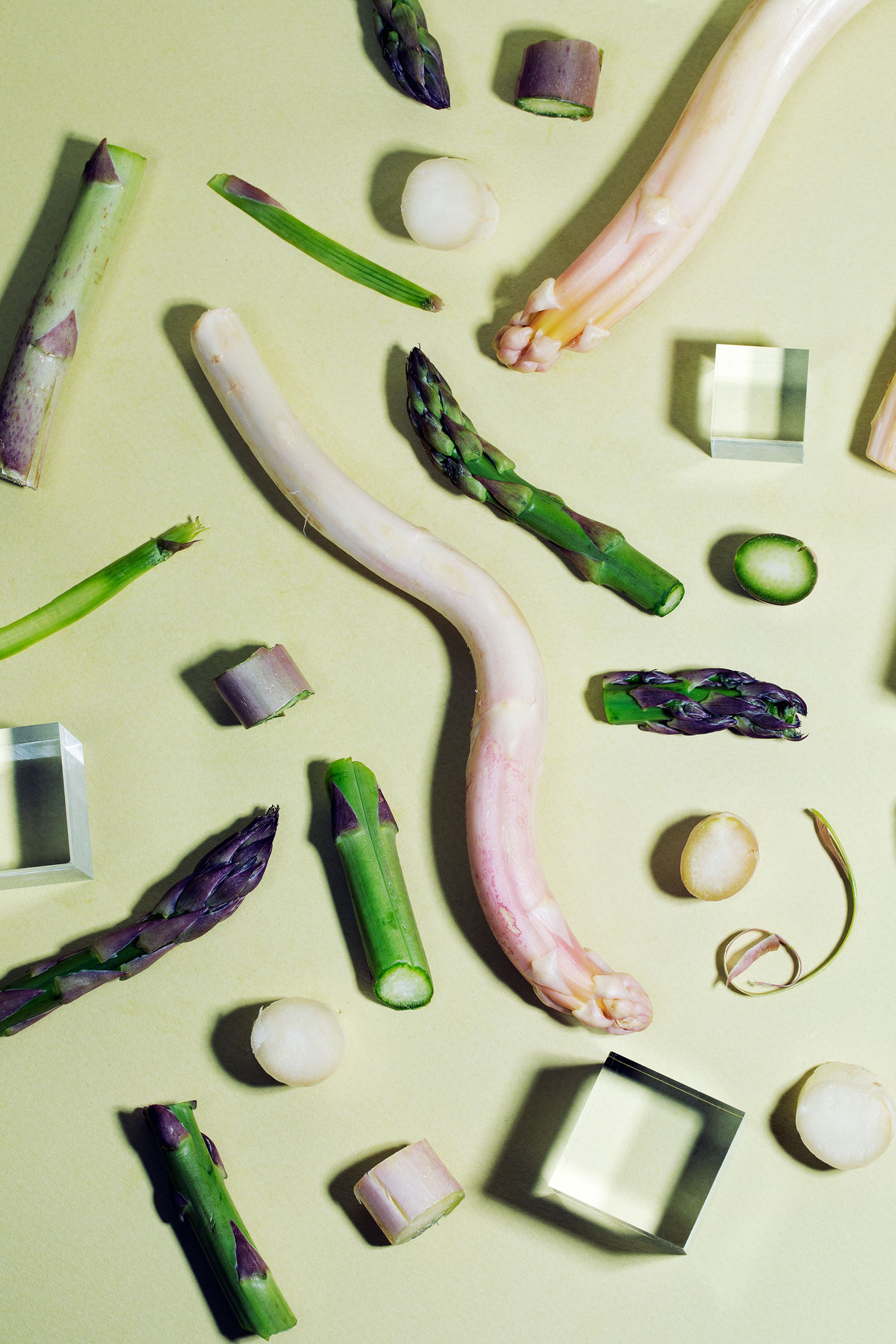 The white asparagus loved by many Europeans isn't actually a genetically different variety. Instead, farmers carefully pile soil over the growing spears so that they aren't exposed to sunlight and don't develop chlorophyll; to prevent them from growing through the soil into the daylight, they are cut by hand while still underground. White asparagus has a milder taste and a succulent texture, but make sure to remove the bitter outer skin before cooking.
How to prepare white asparagus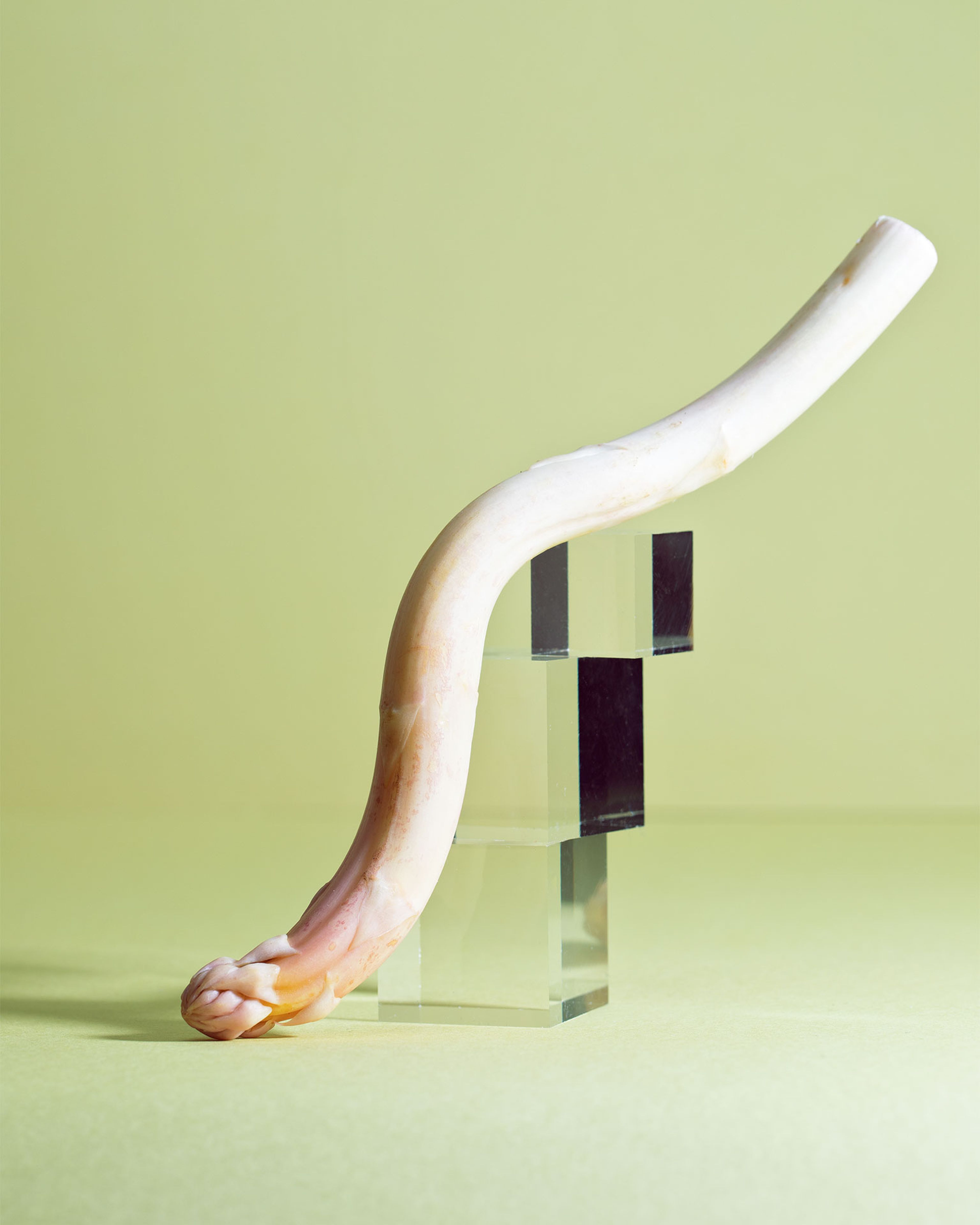 Regardless of which kind of asparagus you find at your local farmer's market, you can be sure it'll be a powerhouse of antioxidants and minerals, including vitamins C, K, and A, magnesium, folic acid, and calcium.
2. When (and how) to buy perfect asparagus
In Europe, asparagus can be found from February to June, but they're at their best at the beginning of the official season in April. When you're looking to buy the best asparagus, keep an eye out for a closed, tight bud and a firm stalk that has a little spring to it. Wrinkled or limp asparagus is probably a few days old and will be less tasty. Even for the freshest asparagus, the ends will be a little fibrous and woody—that's the spears' reaction to being cut, and it isn't anything to worry about. Just snap it off before you start cooking.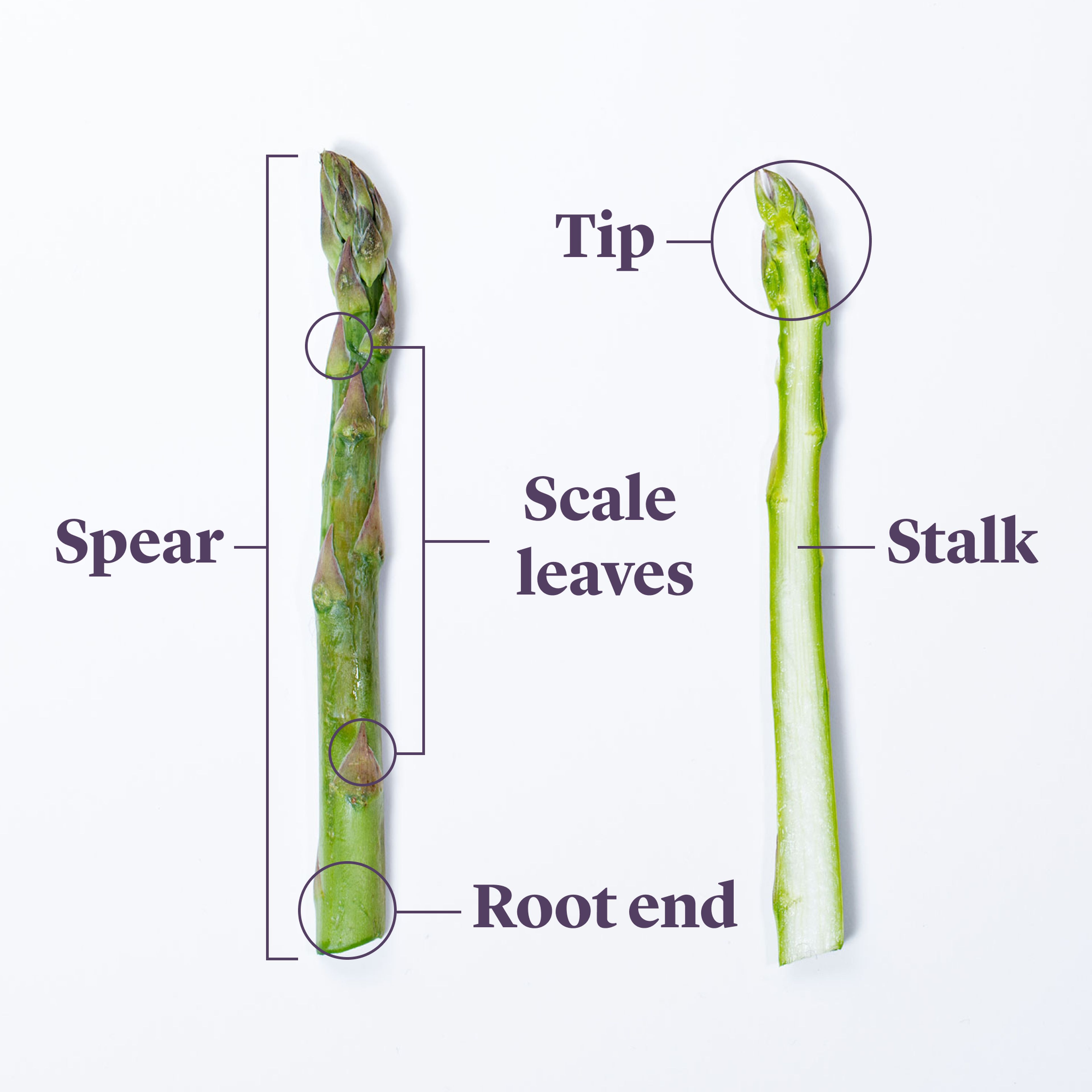 3. How to store fresh asparagus
It's best to eat asparagus as fresh as possible, as the flavor and texture are at their peak just after harvest. If you need to keep it for a few days, put the whole bunch in the fridge with a damp paper towel wrapped around the stem ends. Alternatively, you can place them stem-end down in a jar of water and put the whole thing in the fridge.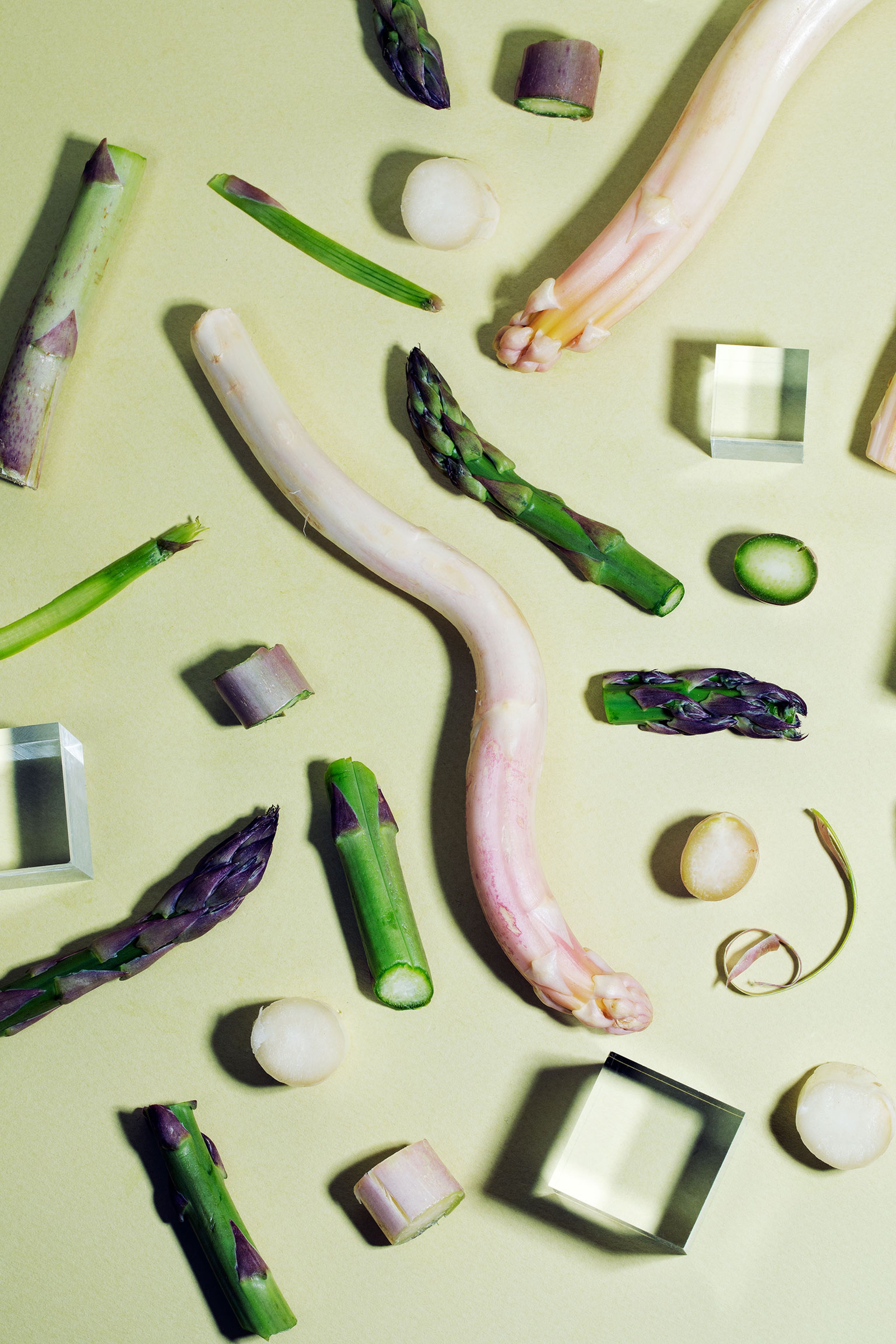 If you're lucky enough to find yourself with more asparagus than you can handle, you can also freeze it: Steam for three minutes, cool in an ice bath, dry carefully, and put in a labeled freezer bag.
4. All the ways to enjoy asparagus
Steamed asparagus likes to be the star of the show: It can be enjoyed with as little as a squeeze of lemon and a crack of black pepper. It's also particularly good for breakfast with a poached egg and hollandaise sauce, or even wrapped in a slice of delicate Parma ham as part of a snack platter.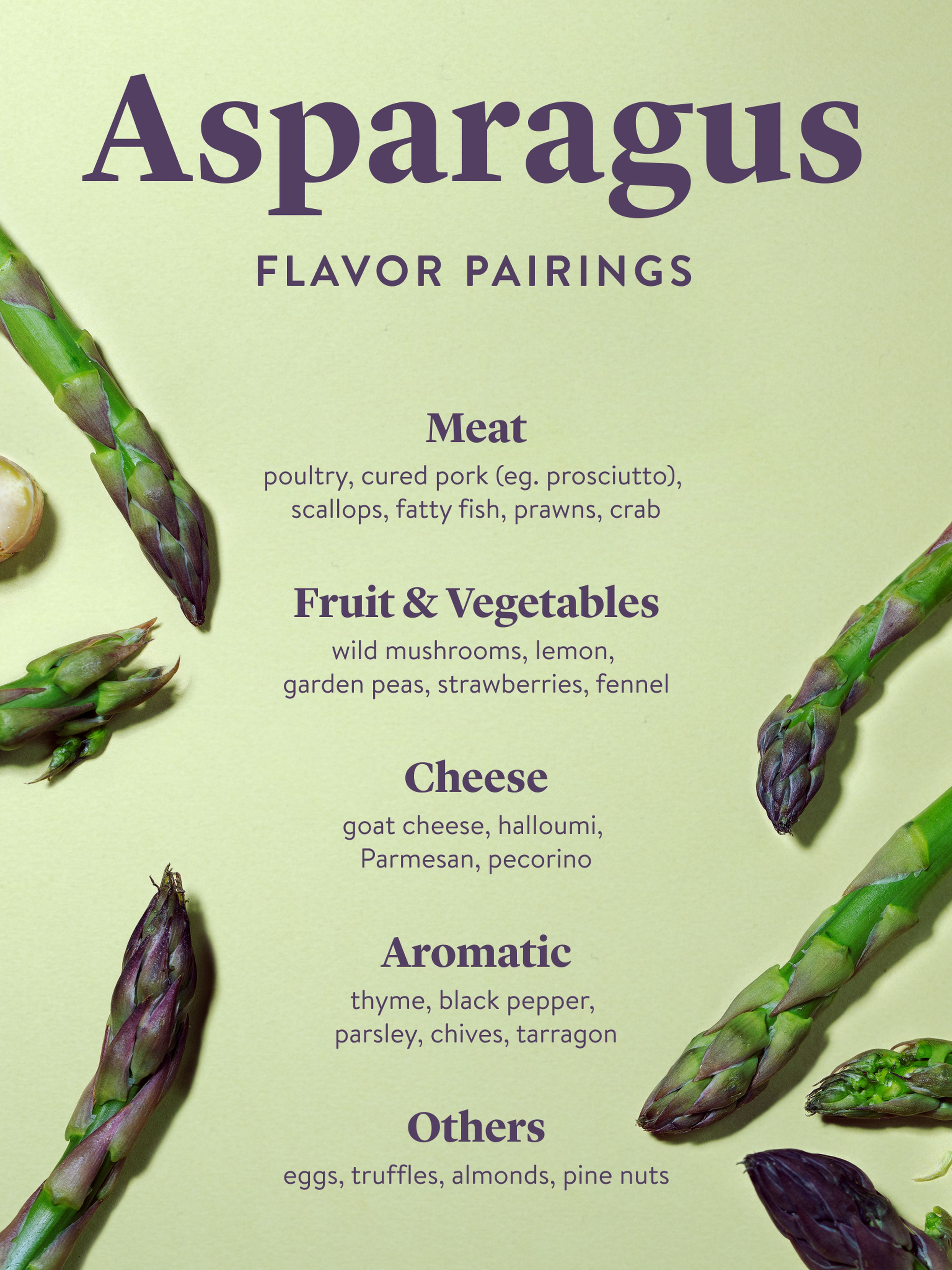 If you've gotten beautifully fresh asparagus from a farmer's market, less is more. In fact, you don't even need to cook it: Shave it into raw slices and serve as a salad, maybe with creamy goat cheese and some tart pomegranate molasses to punch up the flavor.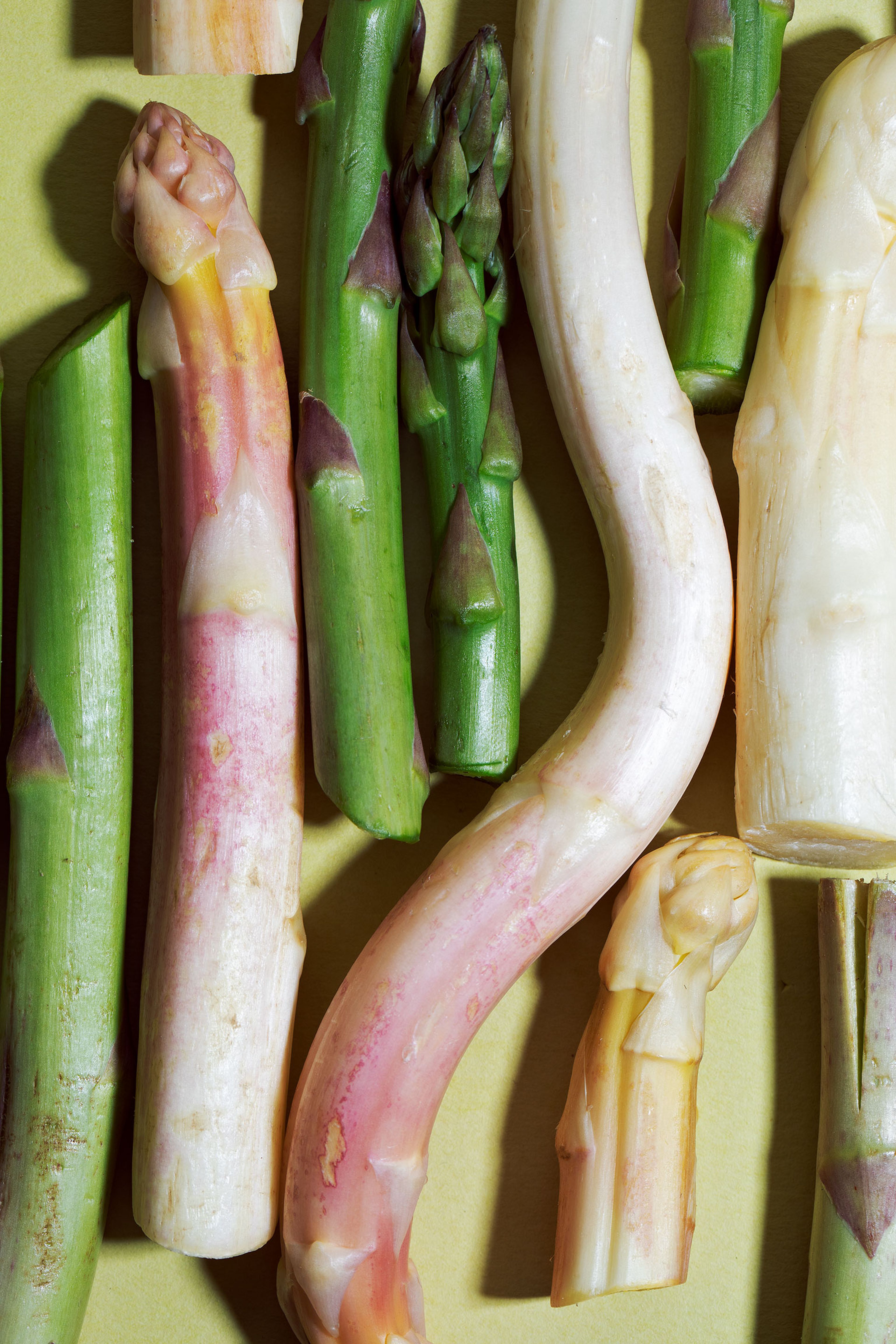 Grilled asparagus, where the sweetness is balanced with a lick of bitter smokiness, can be a fantastic side dish to salmon for a quick low-carb dinner—or you can take advantage of its natural affinity with Parmesan and serve it with a creamy risotto.
5. What to make next
We'll be releasing new asparagus recipes all week, so keep checking back! Here's where to start:
Charred asparagus salad with creamy basil dressing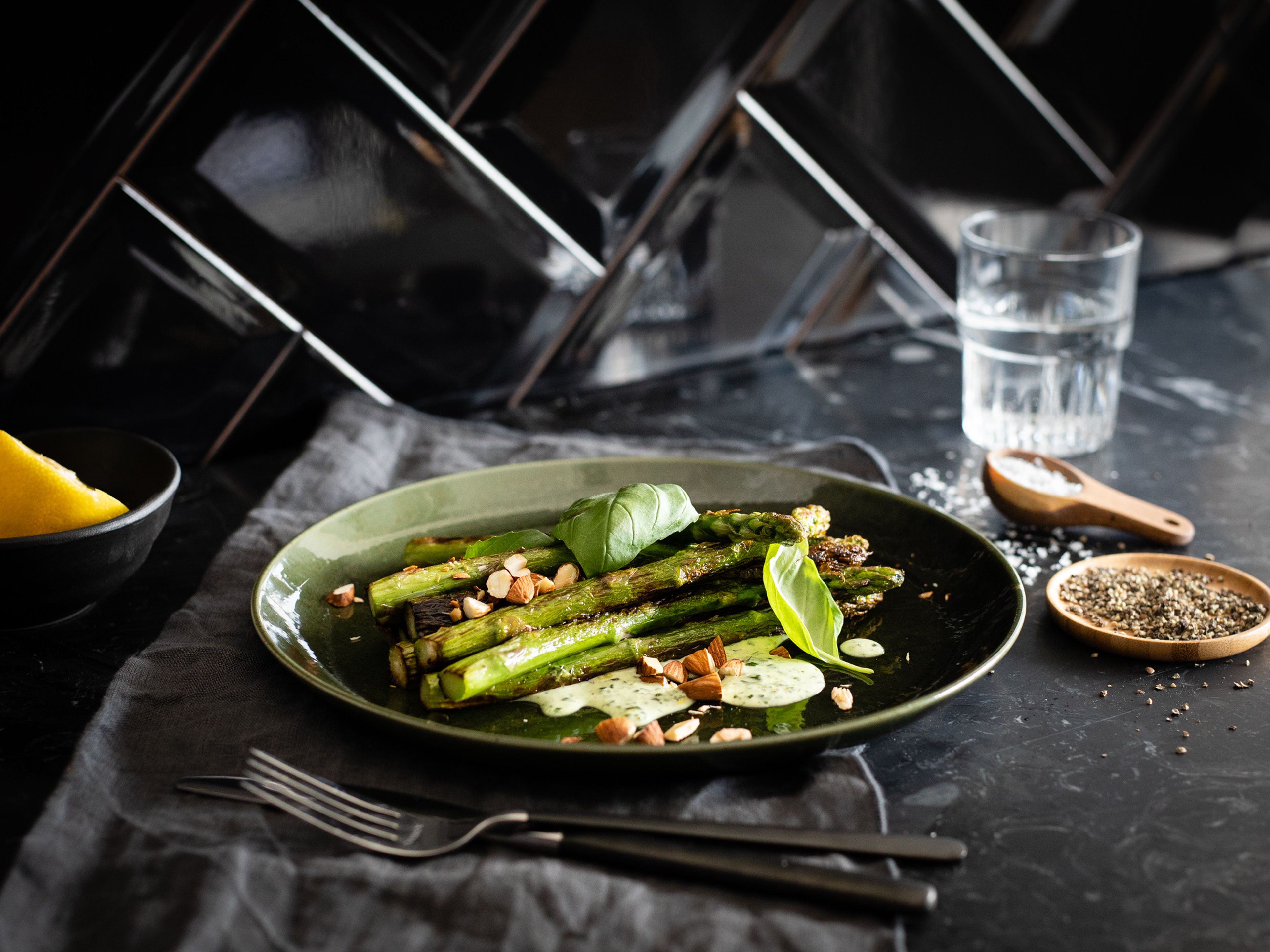 → Go to recipe
Congee with ground pork and asparagus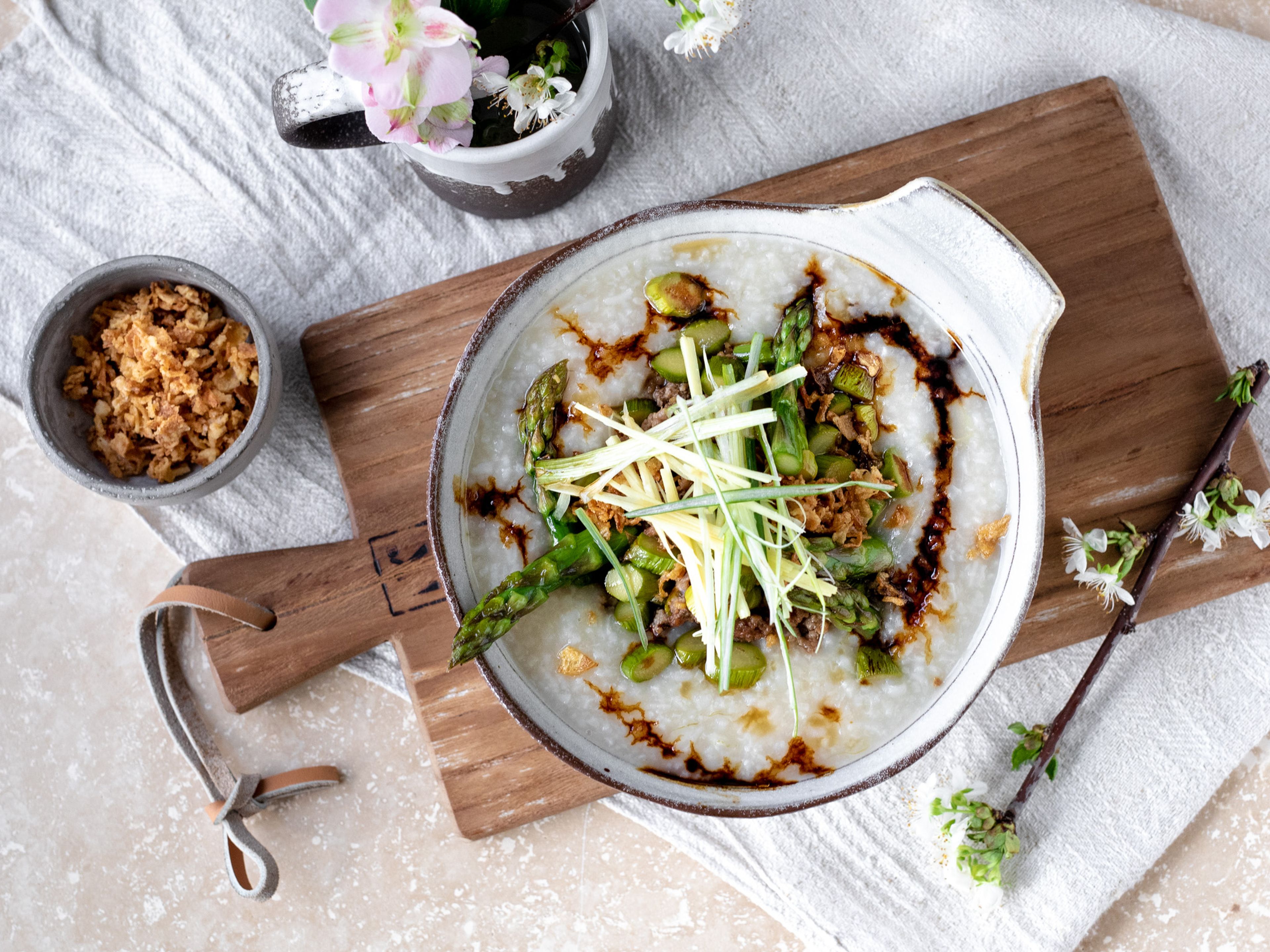 → Go to recipe
White asparagus risotto with Taleggio and pangrattato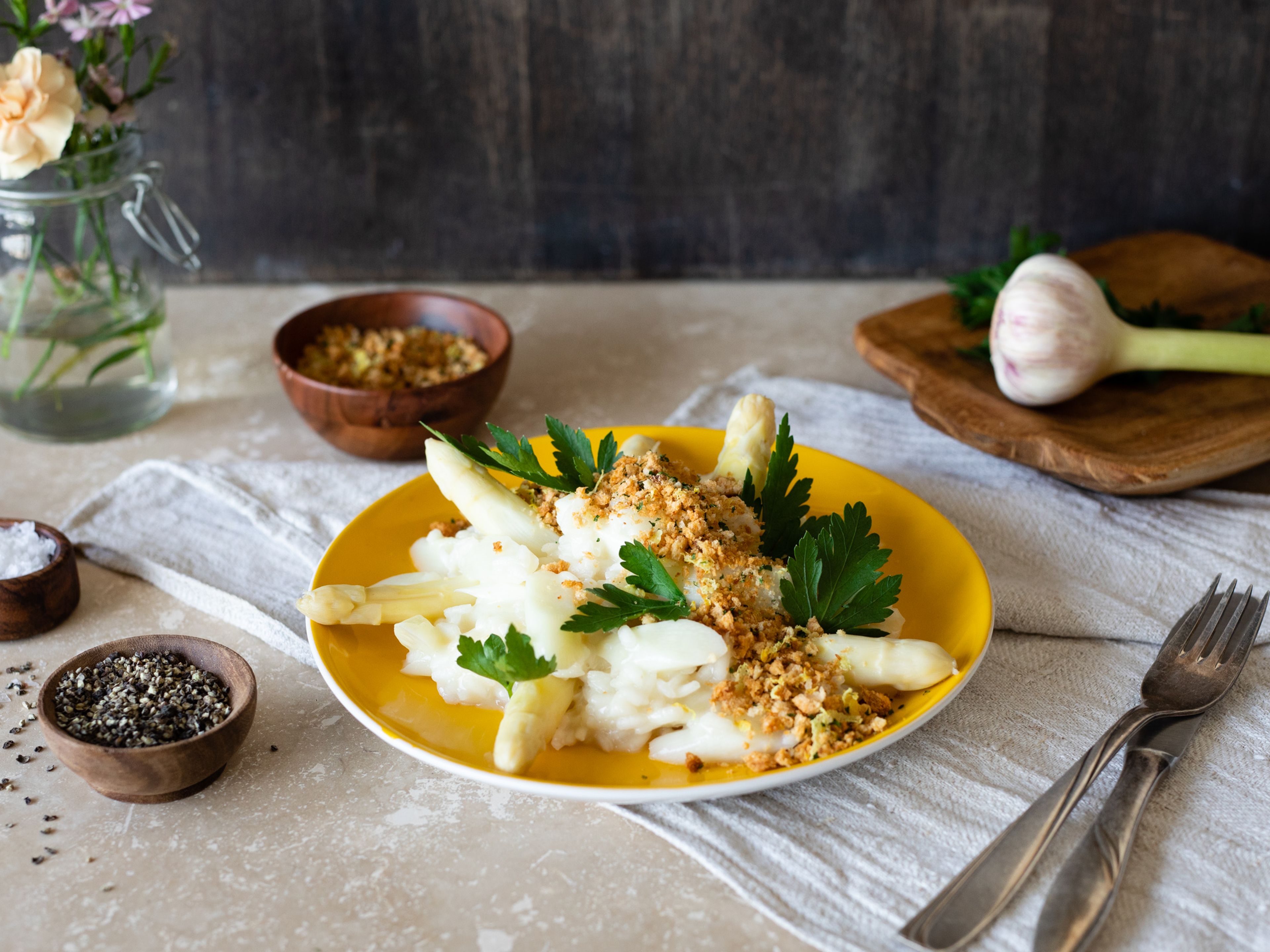 → Go to recipe
Published on April 21, 2019
More delicious ideas for you