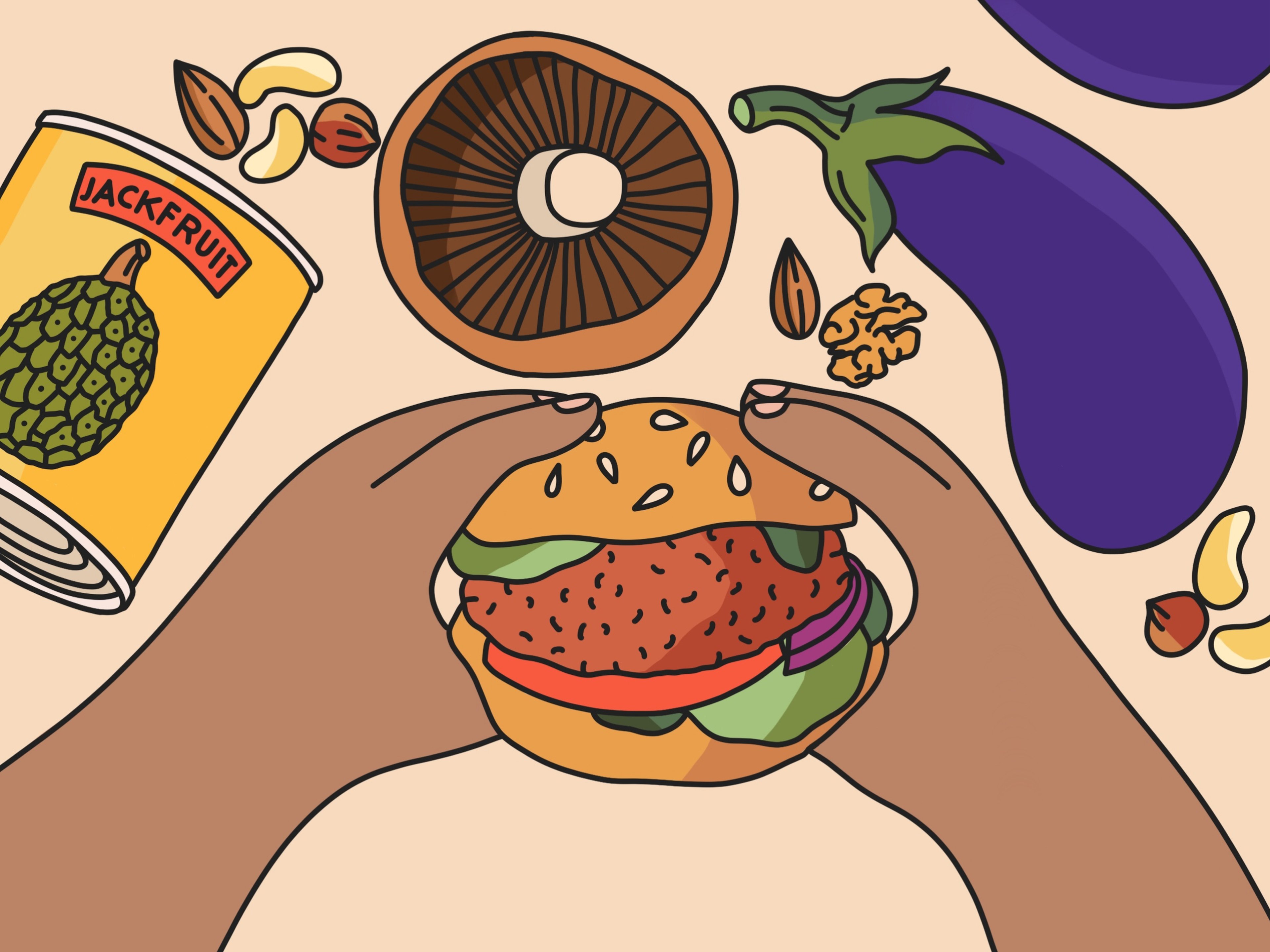 6 Magic Ingredients to (Deliciously) Replace Meat in Any Recipe
Here's how to achieve the meatiest texture and depth of flavor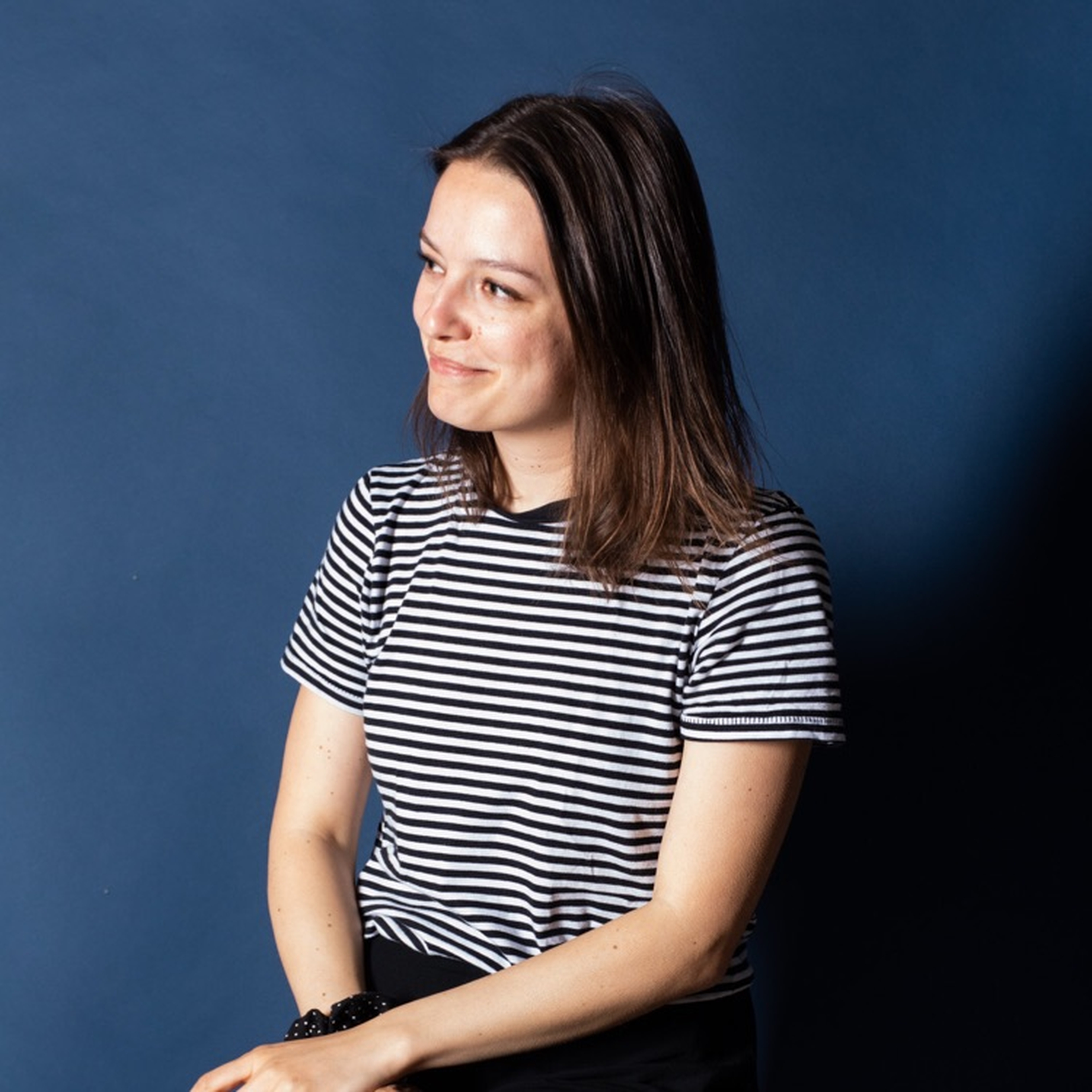 From big bunches of Swiss chard to baskets full of juicy heirloom tomatoes, aromatic peaches to bundles of crisp red radishes, enjoying the abundance of summer is one of life's simple pleasures. This article is part of "The Big Veggie Summer Issue," a month of plant-based recipes presented by Garden Gourmet. Whether you're an omnivore or flexitarian, vegan or vegetarian, there's something for everyone! To get up to date on all the amazing veg we're cooking with this month, check back here for a full list of our latest recipes and articles, and don't forget to follow us on Instagram for extra tasty content!
This article is for those of us who often find inspiration in recipes with meat—but tend to stick to a vegetarian or vegan diet. For me, it's the flavors, special techniques, and the way the dishes are put together as a whole that are particularly useful guides. But I'm convinced that a lot of (umami) flavor can also be purely plant-based. Whenever my colleagues release another hit (a recipe they've fine tuned to the last detail and tested again and again), I'm right in the front row thinking about how I could create a veggie version. That's what happened to me with Devan's chicken lettuce wraps (and very often with Asian recipes, since I still have so much to discover and learn). I was curious about the marinade, which features, among other things, a very dark, almost black caramel (you can find what I used instead of chicken here). But I was also quite taken with Ruby's salsiccia lasagna with sage and make it instead with a ground meat replacement. It's no surprises I'm loving our July Big Veggie Summer Issue (especially Andreas' mushroom pad kra pao that he developed to mark the occasion, jackpot!).
The recipe won't exactly replicate the original, but that's not necessarily the goal. It's more about using the dishes to discover new approaches and new flavors and learning to cook recipes so that they suit you. The "substitutes" below are mainly to help you find the right consistency for a recipe. After all, the taste (usually) has little to do with the meat itself, but rather comes through the flavor-carrying fat and paired spices in the dish—and both also be integrated into your veggie version.
Plant-based substitutes to replace the meat in any recipe
Jackfruit
I tend to turn to canned jackfruit when I want to try a great marinade and need something for salads or wraps, for example. As a meat substitute, it holds up as it's fibrous, stringy-but-tender texture creates a fall-apart effect. That's why jackfruit was (or is still is?) all the range for a veggie pulled pork burger. Pieces of jackfruit also work great in stir-fries or an all-vegetable goulash or stew.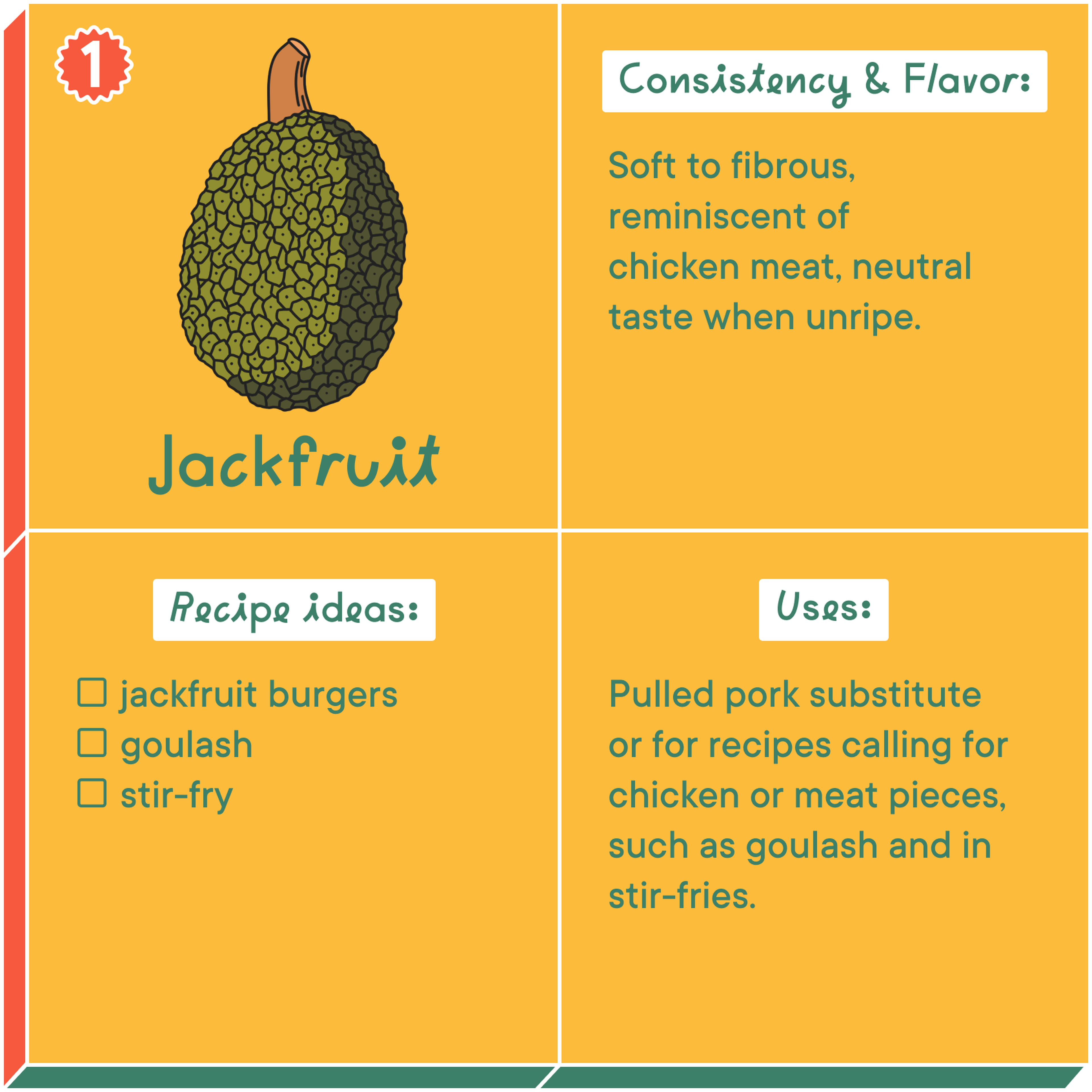 Mushrooms
Let's stay on the topic of all things braisey: Have you ever had a mushroom goulash or this mushroom ragout? With the current summery temperatures, I can of course think of lighter dishes, but anytime of year, it's worth putting this on your cooking list. When making mushroom braises, to build up flavor, I dice a handful of mushrooms (or their stems) as small as onions and garlic and sauté them all together and the rest goes into the goulash. Cook the mushrooms on high and add a little liquid to help carry the flavor into the rest of the dish. For example, I deglaze the mix with white wine to make a great base for intense, hearty sauces. For me, a sauce can always do with the addition of soaked dried mushrooms for added flavor. And if you're looking for more meaty mushroom uses, fresh mushrooms make a great textural meat substitute, for example in this portobello burger recipe.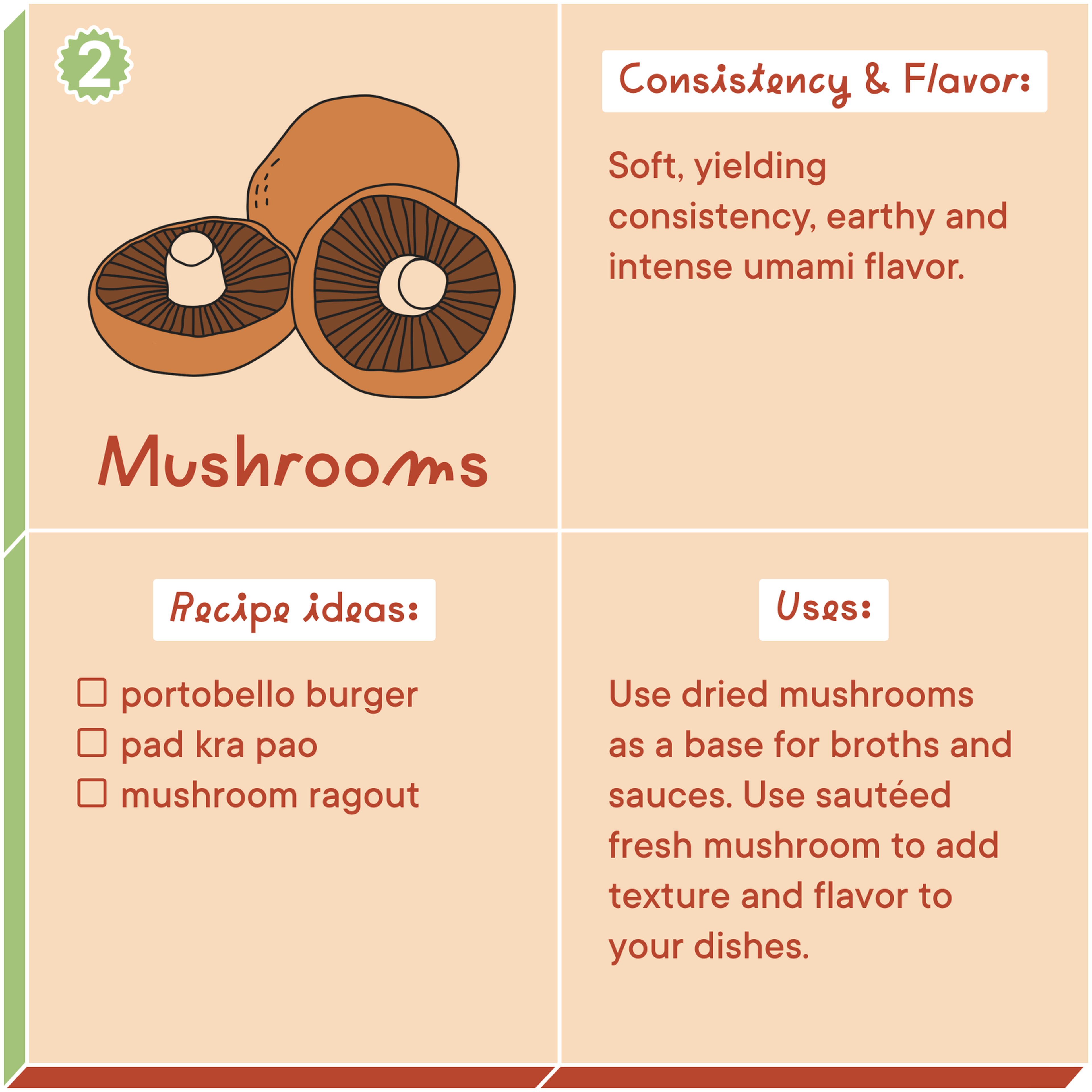 Eggplant
Ruby wrote it best: "Eggplant has become our favorite katsu vehicle at home, over any meat version". Her eggplant burger tastes so tender, crispy, and delicious that there's no missing out. And for additional inspiration, try the eggplant cordon bleu.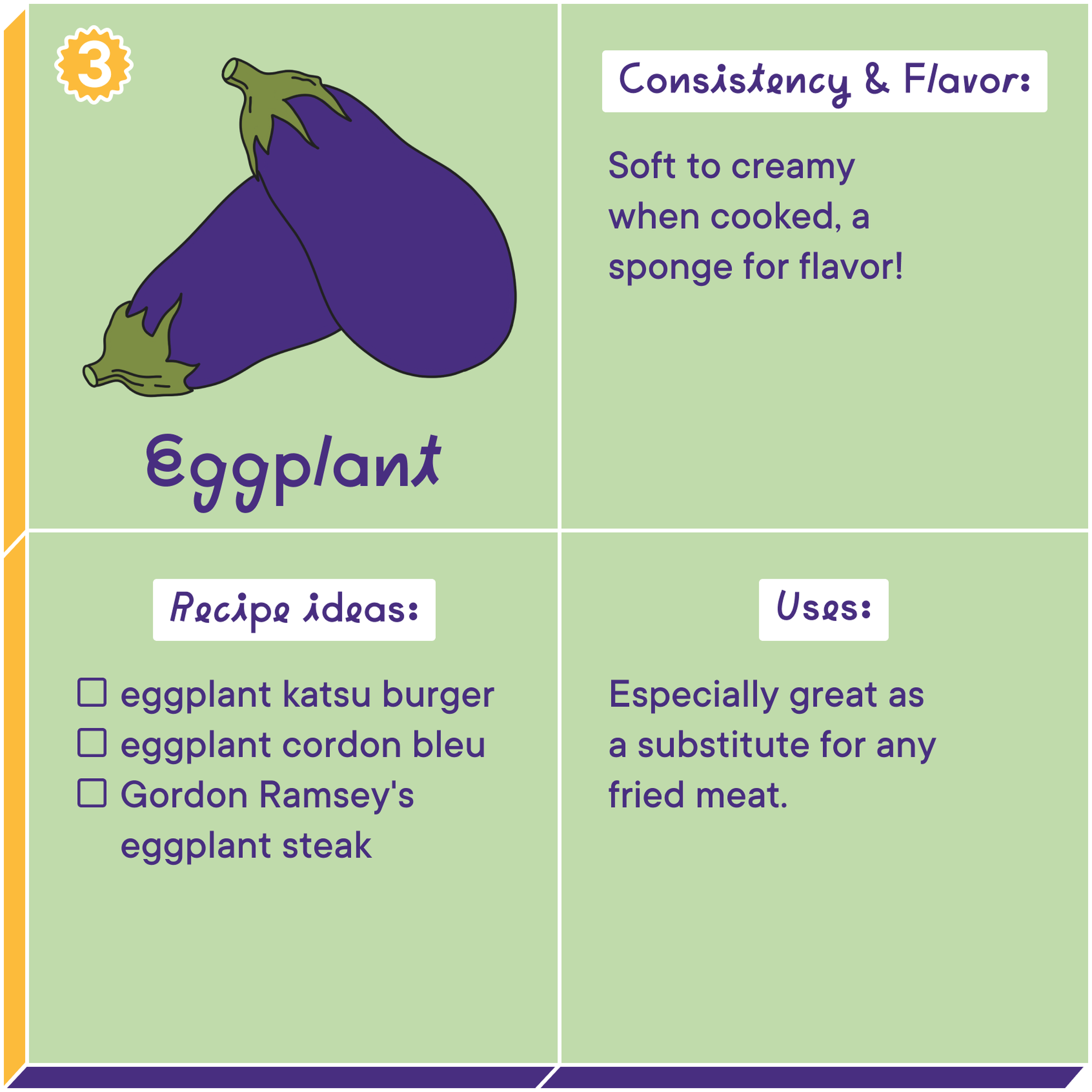 Lentils
Lentils can't really be lumped together because, depending on the variety, they quickly become soft and creamy during cooking or remain firm to the bite. Red lentils, for example, can help your burger mixture hold together better because of their binding properties. For lentil bolognese, however, I prefer to use a mix of red (soft) and green or brown (firm to the bite) lentils or I add a few chopped nuts so that I don't end up with a mushy mess on my plate.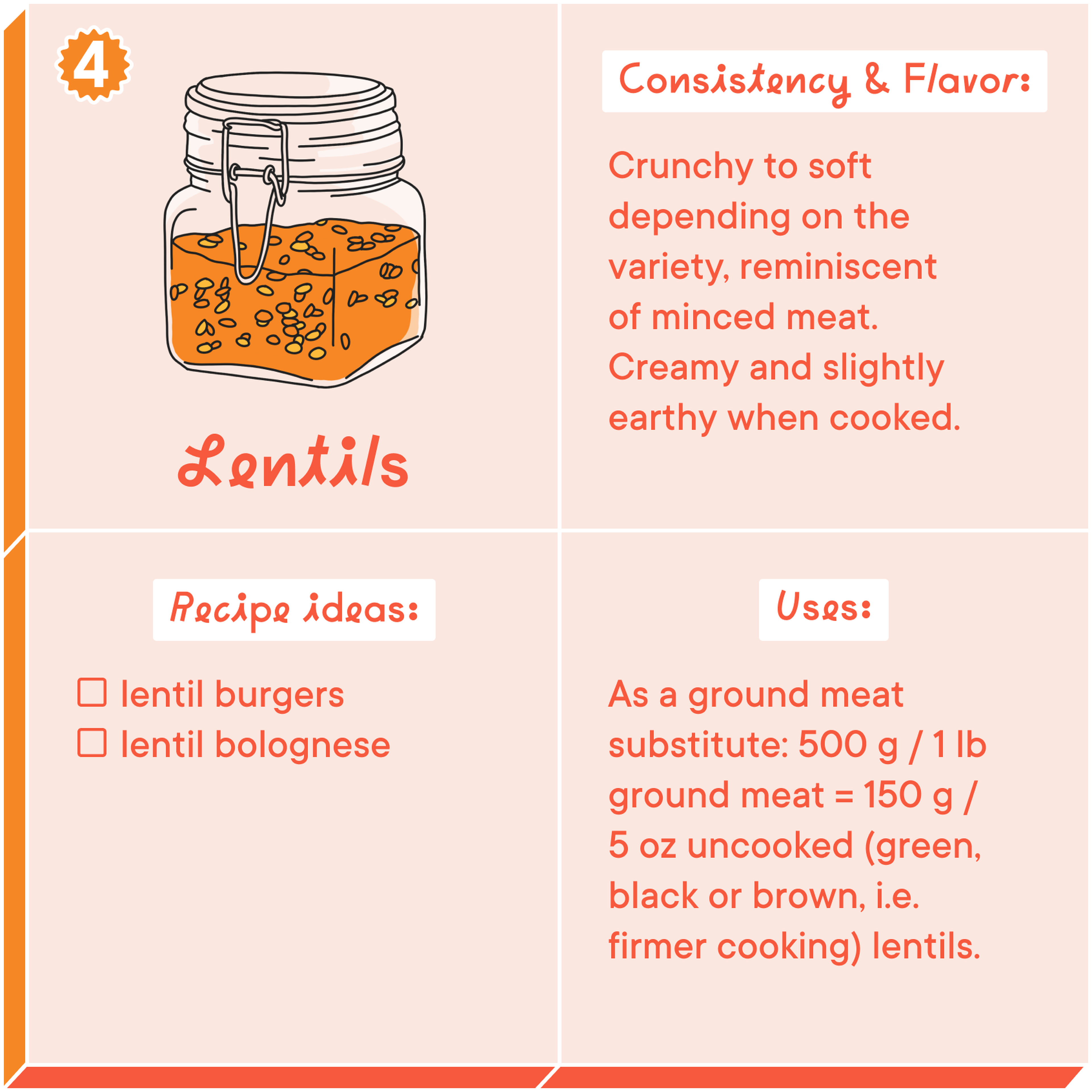 Nuts
Same goes here: Walnuts, cashews, chopped hazelnuts, and the like will help you achieve a more hearty, texturally-pleasing result. An addition of finely chopped nuts always do well in recipes that actually call for ground beef. I really encourage you to try things out and cook intuitively, because once you try new things and adapt recipes according to your preferences, you can't help but go with your gut (and taste buds, of course).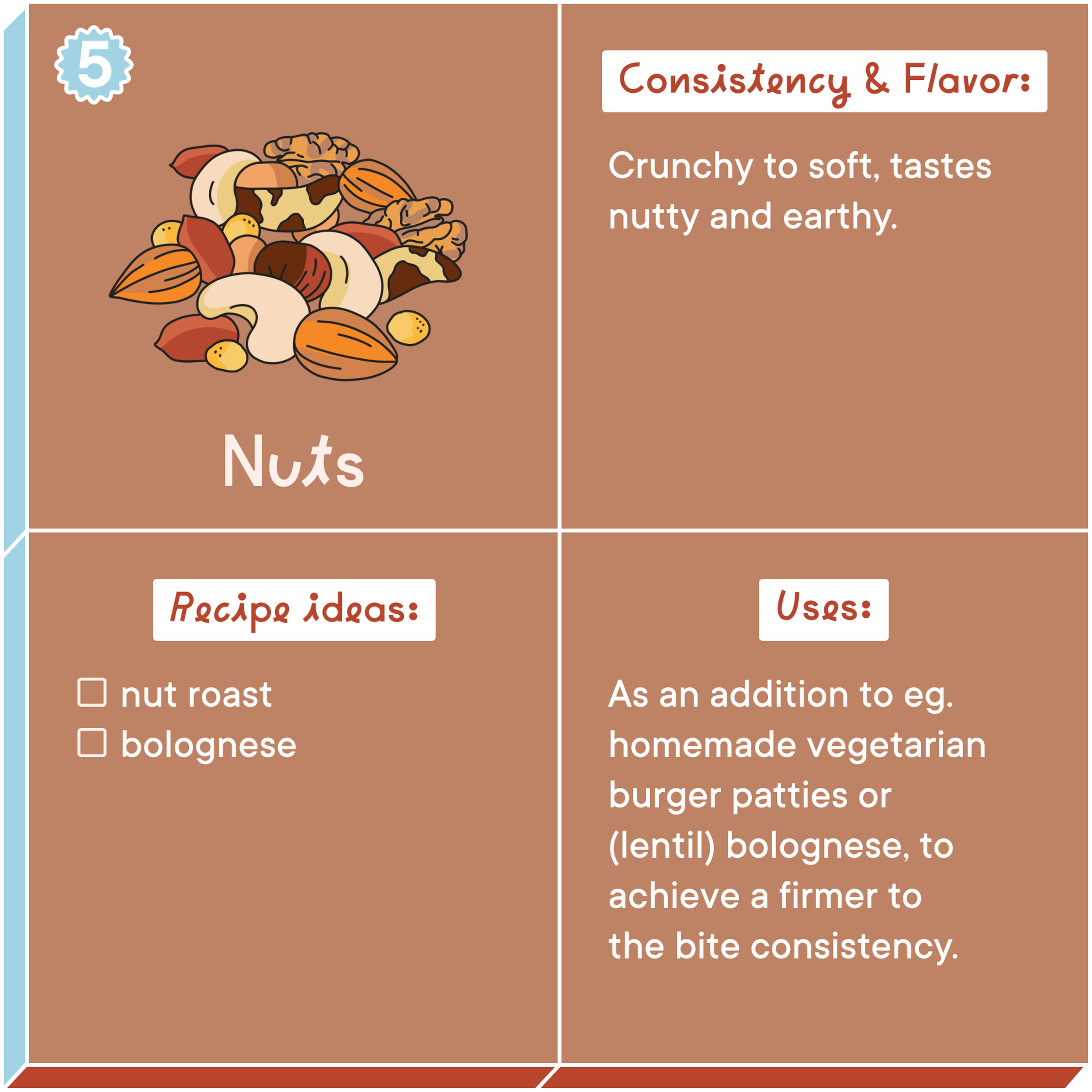 Tofu & Seitan
The headline here should really be "soybean", because of course, in addition to various types of tofu, tempeh (which tastes great in place of beef in this recipe) and etc. Tofu can be used diced in pretty much any stew or stir-fry or even crumbled and made into this flavorful vegan scrambled egg, which is so worth trying! Seitan, on the other hand, is something I love to use when I get schnitzel fever.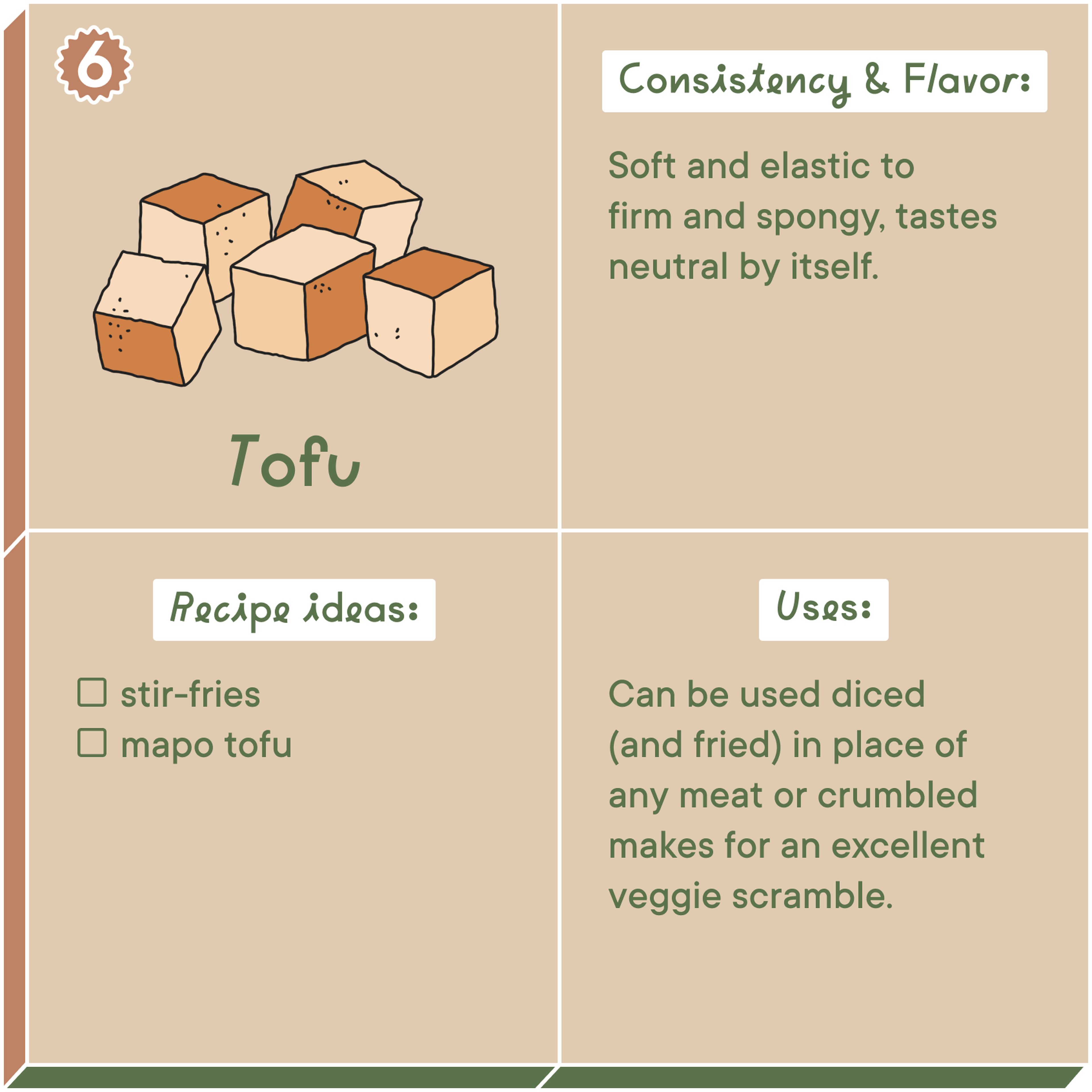 Have you got any go-to meat replacements? Or have you made a meatless recipe you're particularly proud of? Let us know in the comments or upload your own recipe to share it with our global Kitchen Stories community.
Published on July 18, 2021
More delicious ideas for you