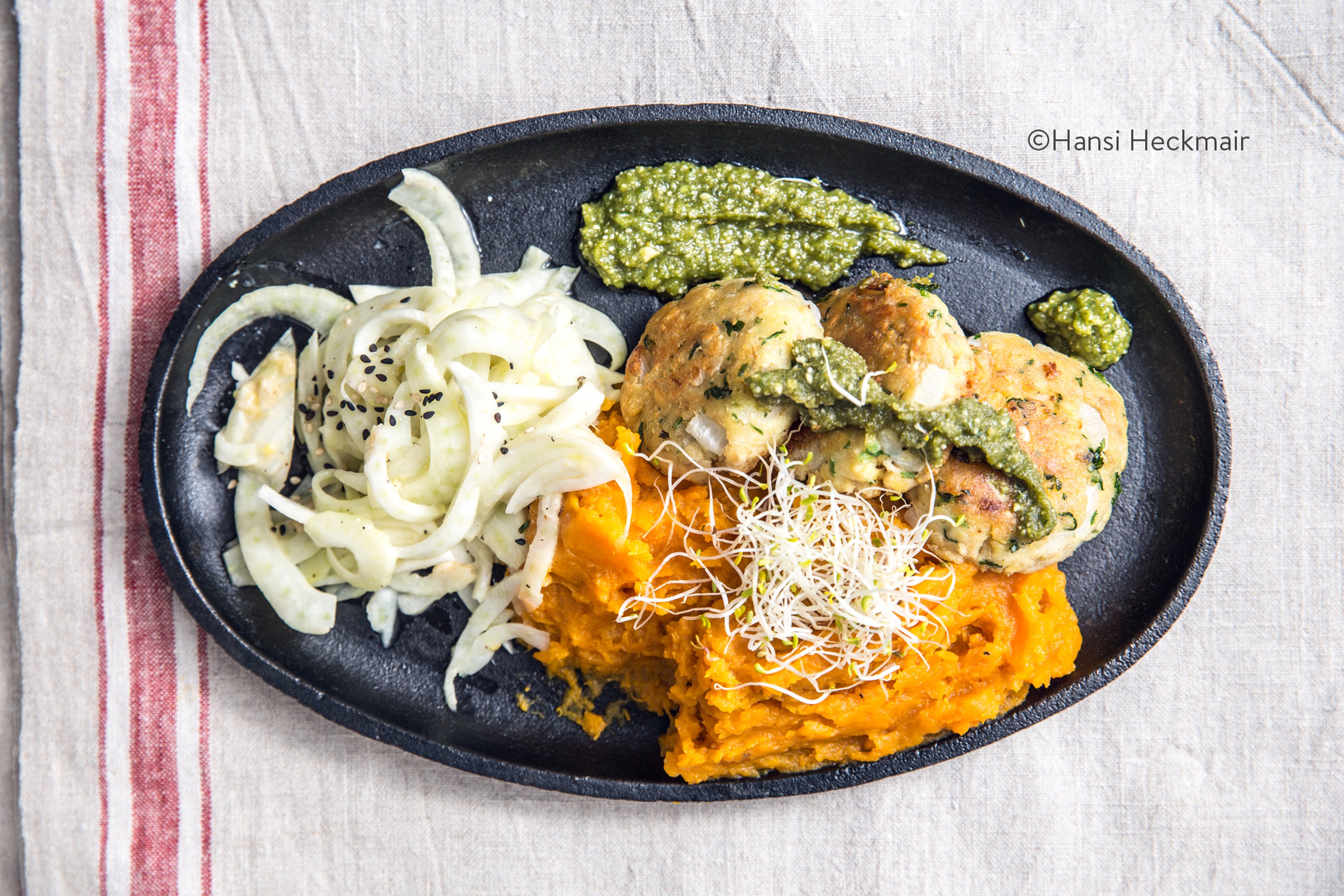 Tempeh fritters with fennel, sweet potatoes and basil pesto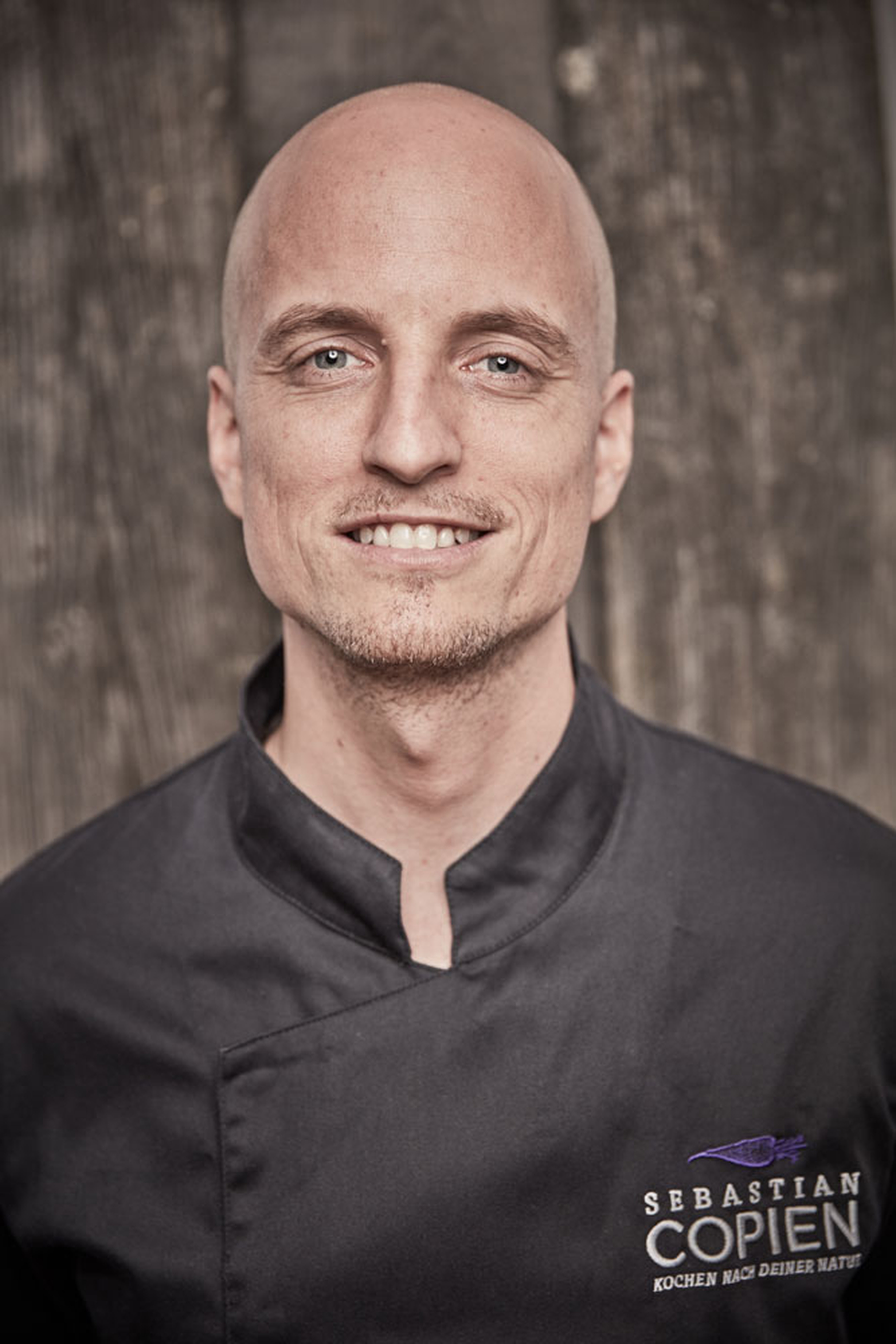 "If you don't want to eat soy, swap it with tempeh made of lupines. As an alternative, soak red lentils in pure water for at least 3 hours or overnight. Drain the lentils and rinse them well. Then, mince the raw lentils to crumbs in a "meat" grinder or blender. Process the "mince" as described for the tempeh, but use a little more oil, and roast them not for 8 but for approx. 10 minutes."
Utensils
cutting board, knife, frying pan, pot, steamer basket, immersion blender, bowl
Step 1/ 6

1

onion

30 g

parsley

3 tbsp

oil (for frying)

200 g

tempeh

30 g

rice flour

1 pinch

smoked paprika powder

½ tsp

marjoram

1 tsp

soy sauce

1 pinch

pepper

cutting board
knife
frying pan

Finely dice onion, finely chop parsley, and crumble tempeh with a fork. Roast the onion cubes and parsley in 1 teaspoon frying oil till golden. Combine them with the squashed tempeh, rice flour, paprika powder, majoram, tamari/soy sauce, and knead together with a good pinch of pepper. Make approx. 4cm long and 1.5cm thick patties. Heat up the remaining oil, and fry the patties on heat level 7 of 9 for approx. 8 minutes till golden brown.

Step 2/ 6

500 g

sweet potatoes

3 tbsp

olive oil

½ tsp

salt

¼ tsp

pepper

Peel sweet potatoes and cut into 2-cm cubes. Steam the sweet potato cubes for 15 minutes in a steamer basket, or boil them in a pot filled to 2cm with water. Squash the cubes with a fork, and season with olive oil, salt and pepper. Add some fresh silantro or other herbs, thinly cut spring onions, and 1 tablespoon tahin.

Step 3/ 6

20 g

basil

10 g

parsley

100 ml

olive oil

2 tbsp

lemon juice

15 g

white miso paste

1 tsp

lemon zest

½ tsp

salt

½ tsp

pepper

100 g

cashews

For the pesto roughly chop basil and parsley, and blend cashews to fine crumbs. Blend basil, parsley, olive oil, lemon juice, miso, lemon peel, salt, and pepper till smooth. Mix it with the cashew crumbs, and season to taste with salt and pepper.

Step 4/ 6

2 tbsp

white balsamic vinegar

1 tbsp

olive oil

1 dash

agave nectar

1 tbsp

tahini

½ tsp

salt

1 pinch

ground cinnamon

¼ tsp

pepper

200 g

fennel

Cut fennel with the stalk in ultra thin slices. Mix the vinegar, olive oil, agave syrup, tahin, salt, cinnamon, and pepper, and spread the marinade over the fennel.

Step 5/ 6

Arrange the mashed sweet potatoes, fennel slaw, and patties in a bowl. Sprinkle some pesto over the patties, and garnish with sprouts.

Step 6/ 6

Find more recipes in my free Ebook www.vegan-bowl.de!

Enjoy your meal!
More delicious ideas for you