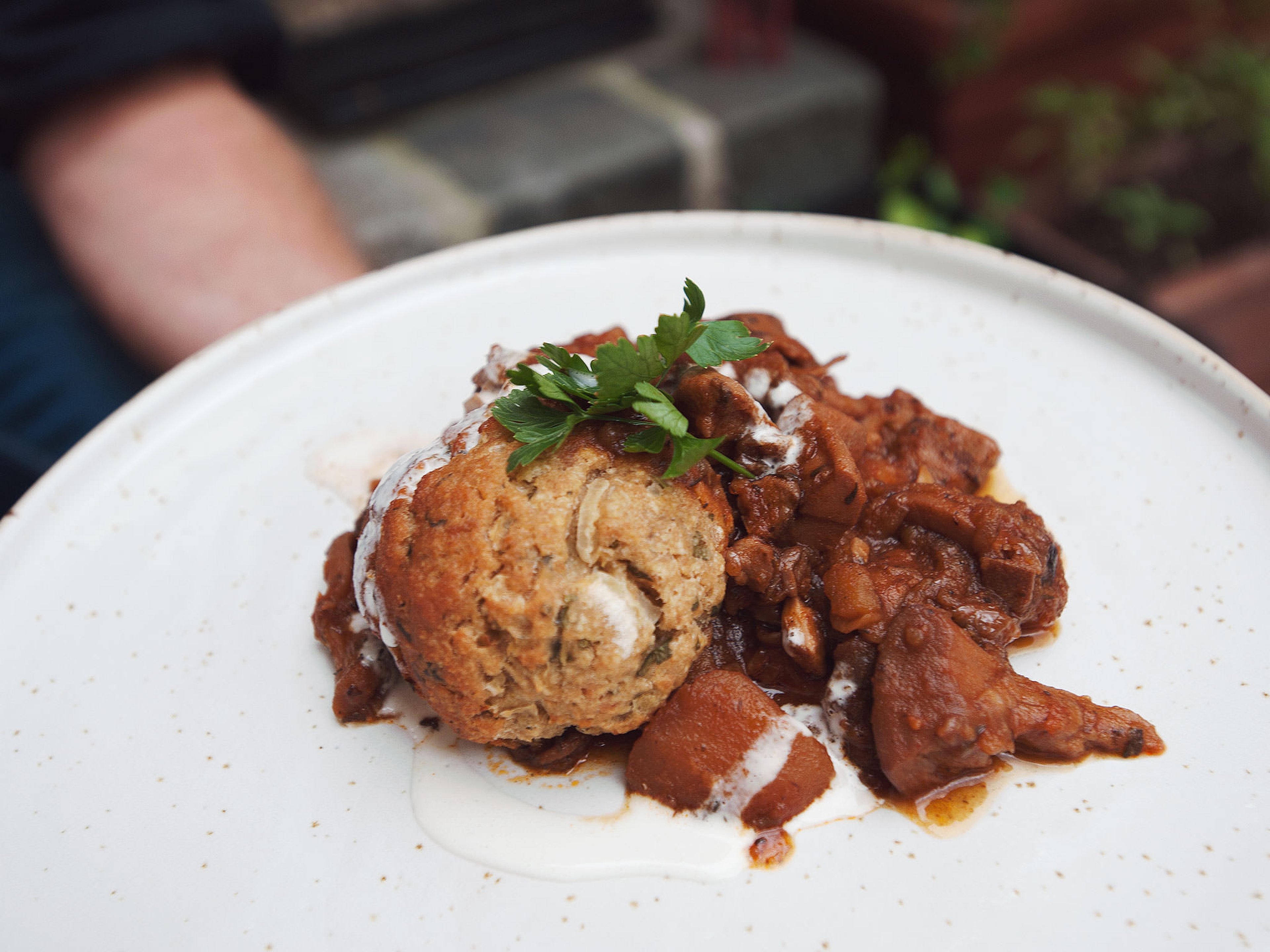 Smoky mushroom goulash with bread dumplings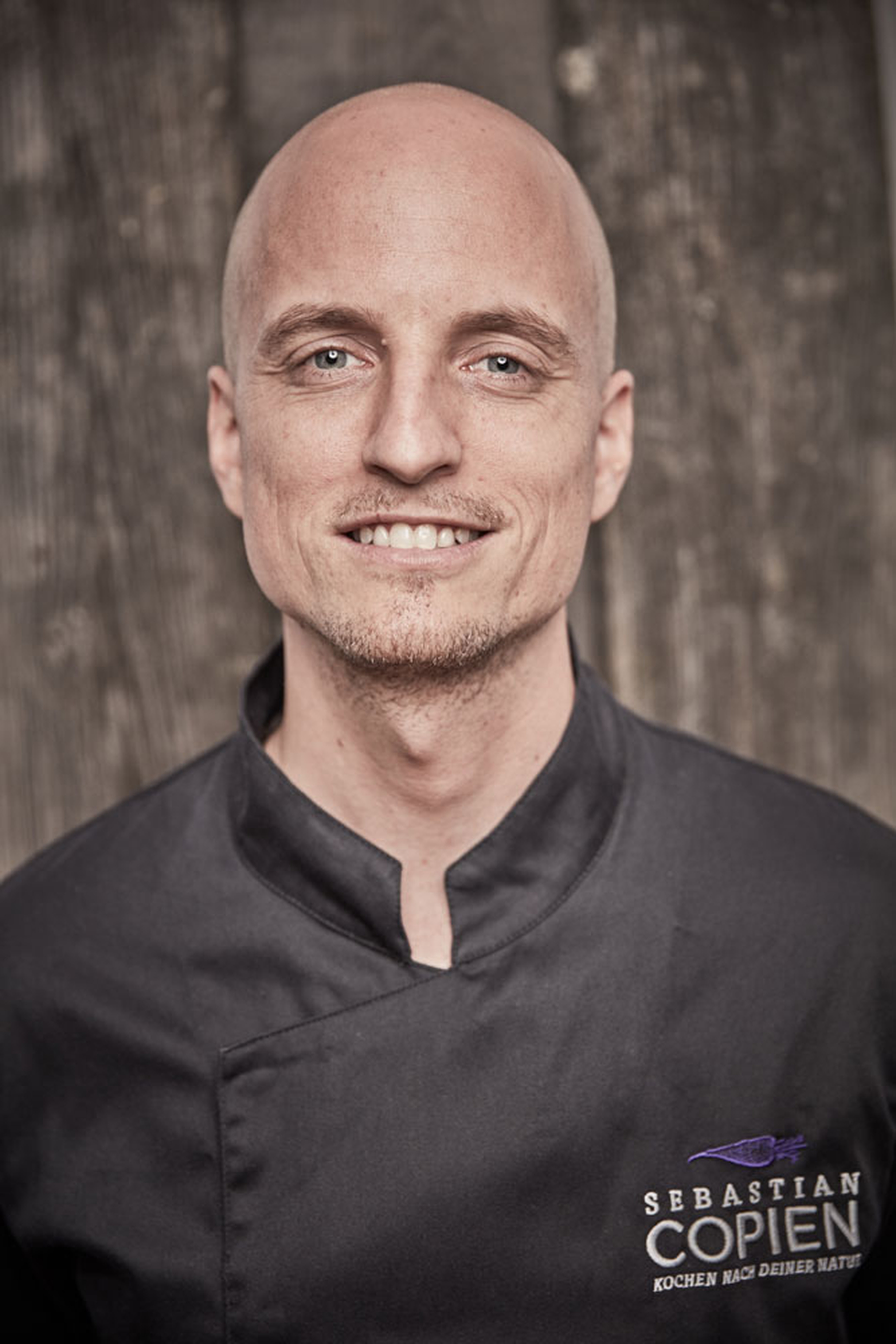 "Most people cannot believe that there are only plants in this dish, since it simply abounds with hearty flavors."
Ingredients
almond-spelt milk (divided)
Utensils
vegetable peeler, cutting board, knife, large pot, small saucepan, large bowl, small frying pan, small bowl, large saucepan, parchment paper, baking sheet
How to clean mushrooms
Homemade vegetable stock
Step 1/ 11

2½

onions

125 g

waxy potatoes

1½

garlic

225 g

king oyster mushrooms

125 g

oyster mushrooms

vegetable peeler
cutting board
knife

Preheat oven to 200°C/390°F. Peel onions and cut into rings. Peel and dice potatoes. Peel garlic cloves. Clean mushrooms, cut king oyster mushrooms in half, and finely slice oyster mushrooms.

Step 2/ 11

Heat oil for frying in large pot and add onion rings. Sauté over high heat for approx. 5 min. Add diced potatoes.

Step 3/ 11

Add king oyster mushrooms and oyster mushrooms. Keep roasting for approx. 5 min. more.

Step 4/ 11

150 ml

dry vegan red wine

2 g

dried porcini

½ tbsp

marjoram

½ tsp

caraway

½ tsp

fresh or dried thyme

1 tbsp

sweet paprika

¼ tbsp

smoked paprika

⅛ tsp

red pepper

1 tbsp

raw cane sugar

½ tsp

salt

½ tbsp

lemon zest

225 ml

vegetable stock

salt

pepper

Deglaze with redwine and let liquid reduce for approx. 5 min. Add garlic and porcini. Season with marjoram, caraway, thyme, paprika, red pepper, raw cane sugar, lemon zest, and salt and roast together for approx. 2 min. Afterwards, add vegetable stock. Transfer pot with lid to the oven and roast for approx. 90 min. Stir every 30 min., then season with salt and pepper when done cooking.

Step 5/ 11

250 ml

almond spelt milk

ground nutmeg

salt

pepper

In a small saucepan, heat up almond-spelt milk and season with nutmeg, salt, and pepper.

Step 6/ 11

Transfer dumpling bread to a large bowl and pour heated almond-spelt milk over it.

Step 7/ 11

½ tbsp

oil for frying

½

onion

3 tbsp

parsley

5 g

light flax seed flour

50 ml

almond spelt milk

2 tbsp

breadcrumbs

5 g

corn starch

1 tbsp

lupine flour

small frying pan
small bowl

Peel and finely cut onion. Heat oil in a large frying pan, add onions and sauté until caramelized. Chop parsley and add to pan. Fold mixture into bread dumplings. Let rest for approx. 10 min., then stir again and let rest for approx. 10 min. more. In the meantime, prepare "flax egg": Mix light flax seed flour and remaining almond-spelt milk in a small bowl and set aside for approx. 10 min. Along with corn starch, lupine flour, and breadcrumbs, stir flax egg into bread dumpling dough. If the dough is too sticky, add some more flour and breadcrumbs. If it is too dry, add some more almond milk.

Step 8/ 11

large saucepan
parchment paper

In a large saucepan, bring water to boil and add salt. Turn down heat until the water is hot but does not bubble anymore. Slightly wet hands and form a ball the size of a golf ball out of dumpling dough. Transfer first test dumpling to the saucepan. If it falls apart, add more flour and breadcrumbs to the dough.

Step 9/ 11

When test dumpling succeeds, form balls out of remaining dough and place them on a baking sheet lined with parchment paper. Add all bread dumplings to saucepan, being careful to arrange them so that they don't lie on top of each other. Let them simmer for approx. 20 min. Pay attention that water doesn't boil again.

Step 10/ 11

cashew cream for garnish

parsley for garnish

Serve goulash with fresh parsley and bread dumplings. Add cashew cream if desired.

Step 11/ 11

This and many more recipes can be found in Sebastian Copien´s cookbook 'Die vegane Kochschule' (Christian Verlag).

Enjoy your meal!
More delicious ideas for you