5 Noteworthy Pasta and Noodle Recipes From the Community
Keep uploading your recipes, we love them!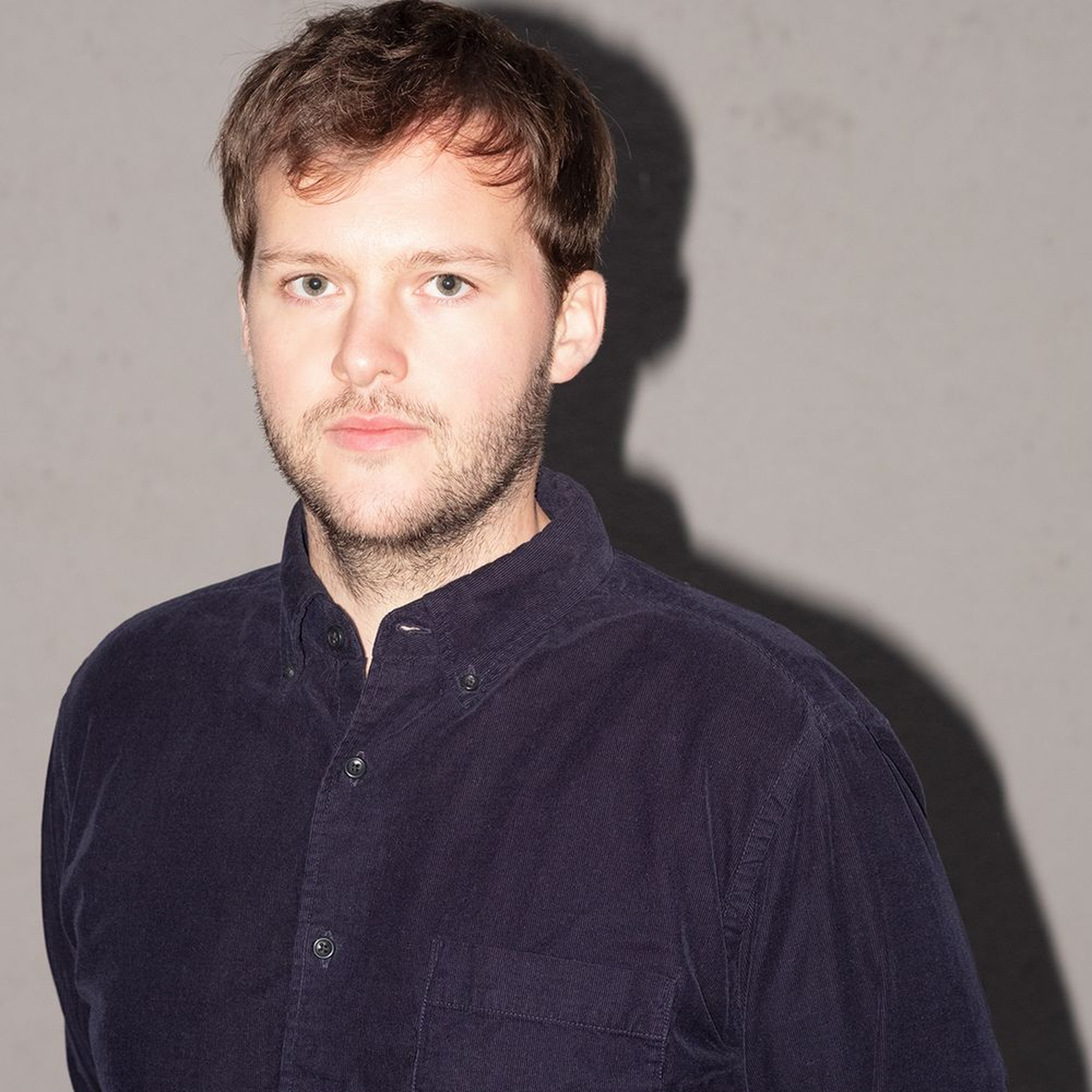 From one-pot pastas to homemade hand pulled Chinese noodles, this month is dedicated to exploring all ends of the pasta and noodle spectrum. To stay up to date with Slurp! The Everything Pasta and Noodles Issue, check back here for the latest recipes and articles, and don't forget to follow us on Instagram for exclusive content.

When we decided to dedicate a month to everything pasta and noodles, it was clear from the get go that we also wanted to get your recipes in the mix, because if there's one thing we all really like to cook it's pasta and noodles. So we set out to find some of you, our community's most remarkable plates of pasta or noodle dishes. We hope you'll agree, these recipes are something else! Save, cook, and rate them this month, we'll be right there with you.
Ashley's tagliatelle with Prosciutto and sage
There are certain flavor combinations that simply evoke positive associations. For me, sage and Prosciutto is one such combination. It always reminds me of saltimbocca, which I tend to cook myself quite often, maybe far too often... In Ashley's recipe though, this timeless combo meets thick strands of tagliatelle, butter, and Parmesan to become one of their favorite dinners when they want something both quick and flavorful. What also wowed us was Ashley's dedication to detail in their step-by-step photos and videos, where they vividly demonstrate how to chiffonade. It looks so professional, we weren't surprised when they told us that they also cook full-time! Try out the recipe:
Prosciutto and Sage Tagliatelle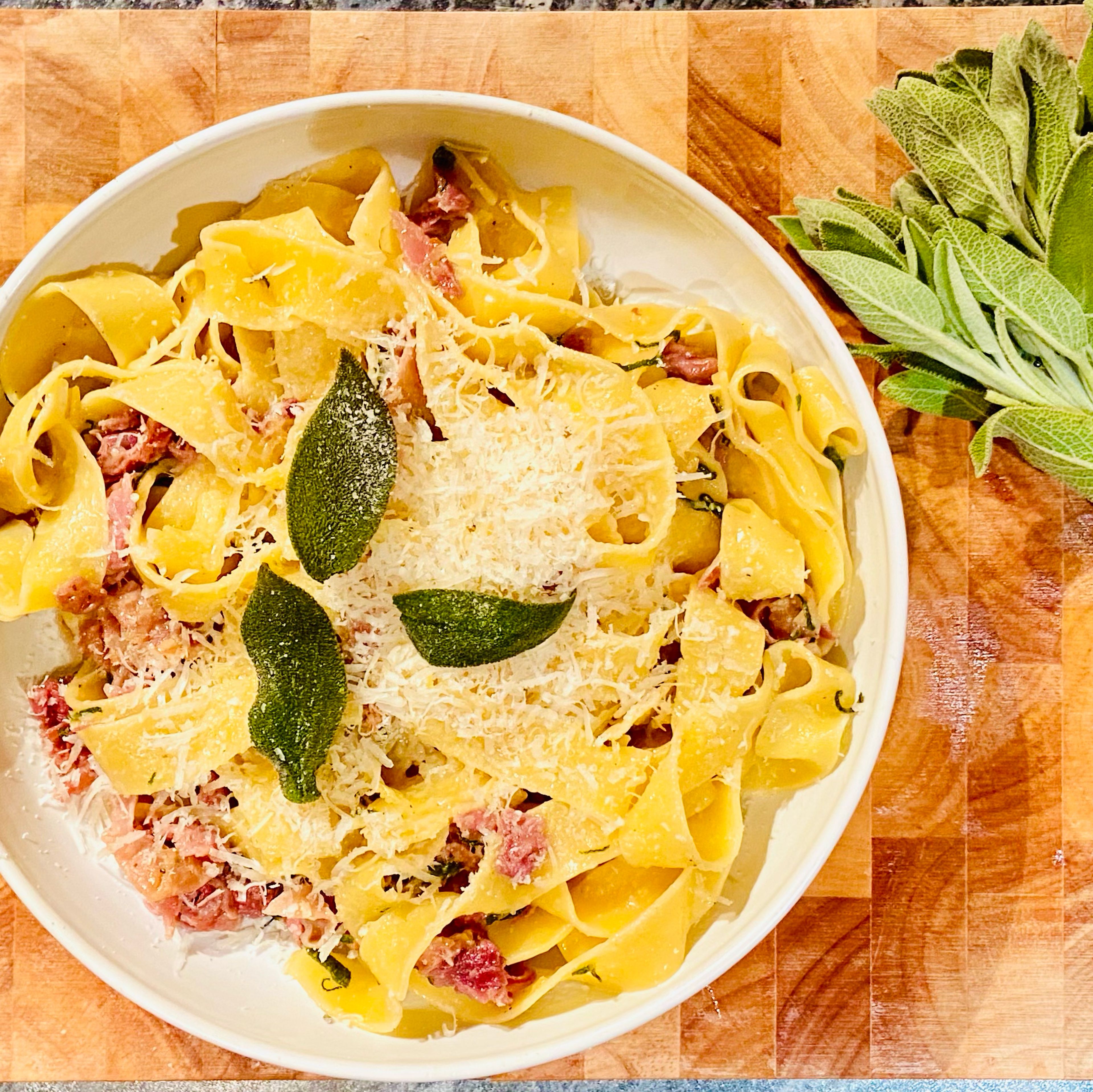 → Go to recipe
8-minute chili garlic noodles from Jasleen
In an ambitious 8 minutes—the cooking time for the noodles—our community member Jasleen helps you bring this spicy spaghetti to the table. The flavor combination of sambal oelek, garlic, savory soy sauce, and just a touch of honey has already delighted several other cooks in our community. The whole thing is finished off with fresh cilantro, scallions, and a few more slices of jalapeño. It's fast and fiery!
8 min. Chili Garlic Noodles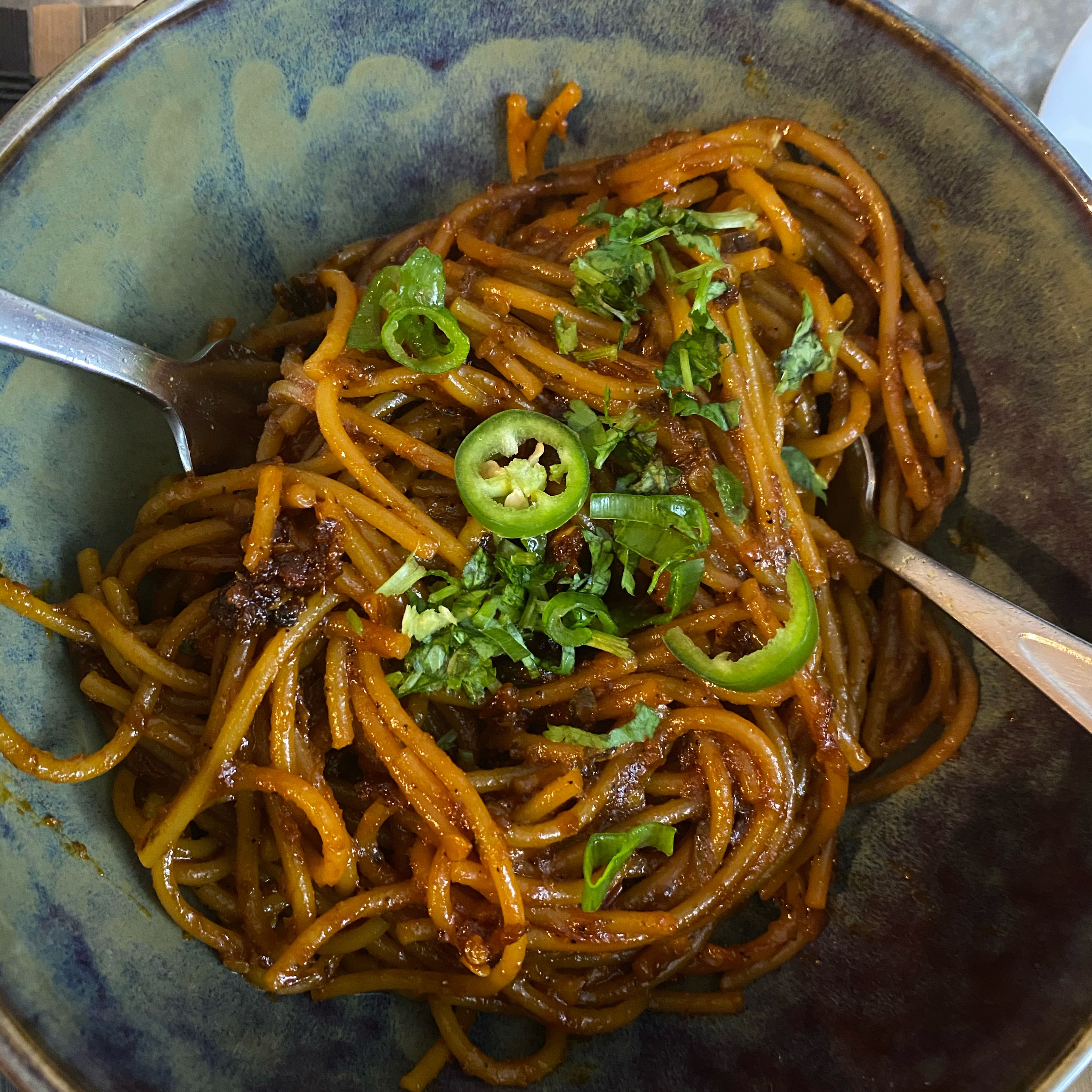 → Go to recipe
Kevin's mushroom ravioli with Parmesan foam
It's always impressive when you interpret a classic dish and make it look completely different. In this recipe for homemade ravioli, Kevin adds some tomato paste and spinach paste to the dough to give it a wonderful look–reminiscent of the Italian flag. Inside, on the other hand, a traditional filling of finely chopped mushrooms, herbs, shallot, and ricotta comes to the fore. The whole dish is rounded off by a foamy whipped Parmesan sauce. A little bit of effort, sure, but totally worth it for a fun take on ravioli.
Mushroom ravioli with Parmesan foam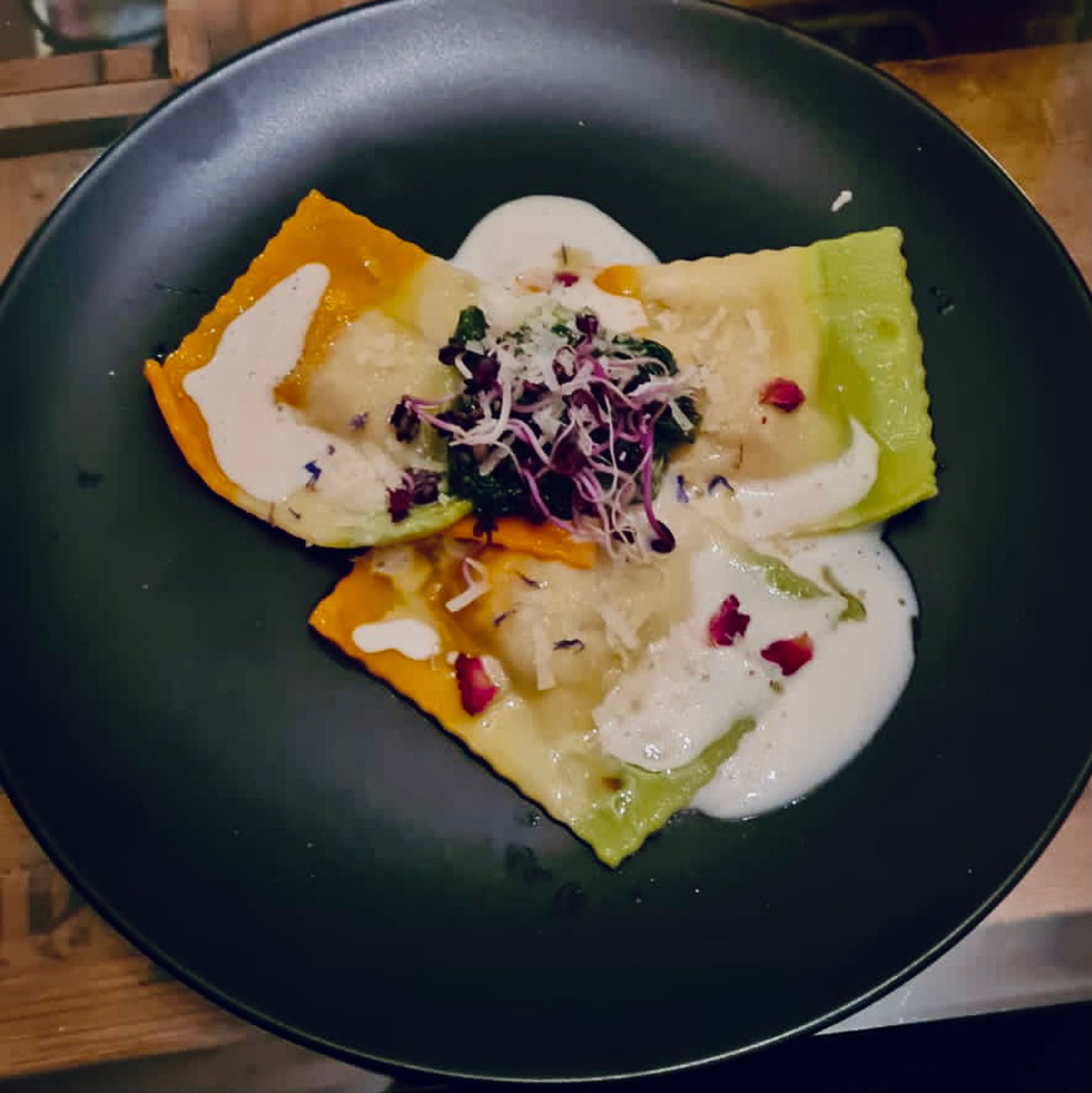 → Go to recipe
Encore & More's zoodles with wild garlic-pistachio pesto
Zoodles, or zucchini noodles, are a healthy, low-carb alternative to pasta; hopefully you're already familiar with them from some of our recipes. Community member Yvonne, who shares their beautiful recipes with all of us under the name of their blog, Encore & More, turns zucchini noodles into a dream in green with the help of wild garlic and pistachio. Her photo looks so good, I had to do a double-take to make sure it wasn't from our own photo studio.
Wild Garlic Pistachio Pesto Zoodles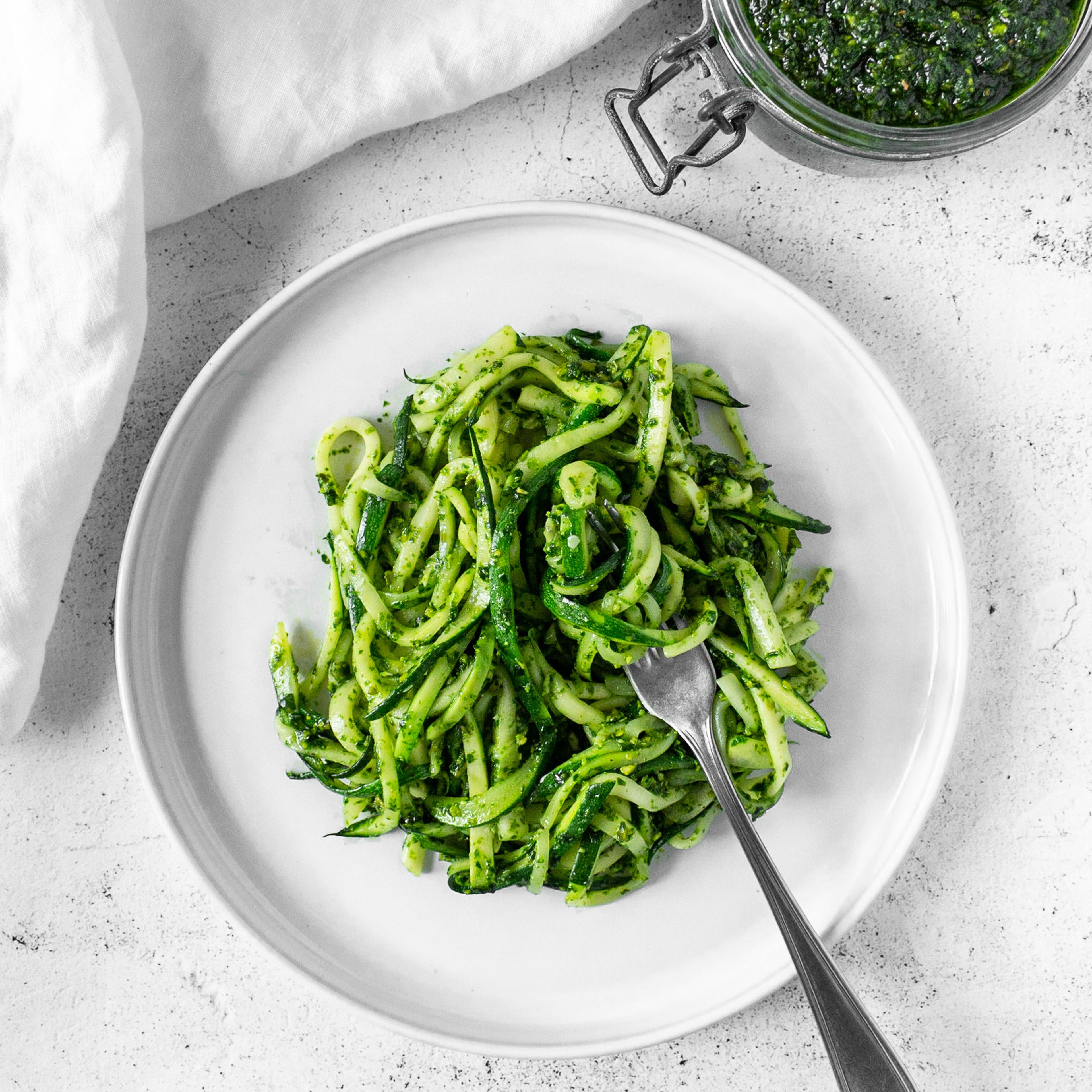 → Go to recipe
Aglio e olio reinterpreted (three times over!) by limes&pepper
Thanks to community member limes&pepper, we have three new ways to enjoy aglio e olio: one with tomatoes, one for summer, and the version we might just love best, with black garlic and dried tomatoes. For those who don't know black garlic, it's fermented garlic. In the process of fermentation, the garlic turns black, loses its "spicy" pungency, and acquires a slightly acidic sweetness reminiscent of balsamic.
AGLIO E OLIO - Hipster Edition (with black garlic)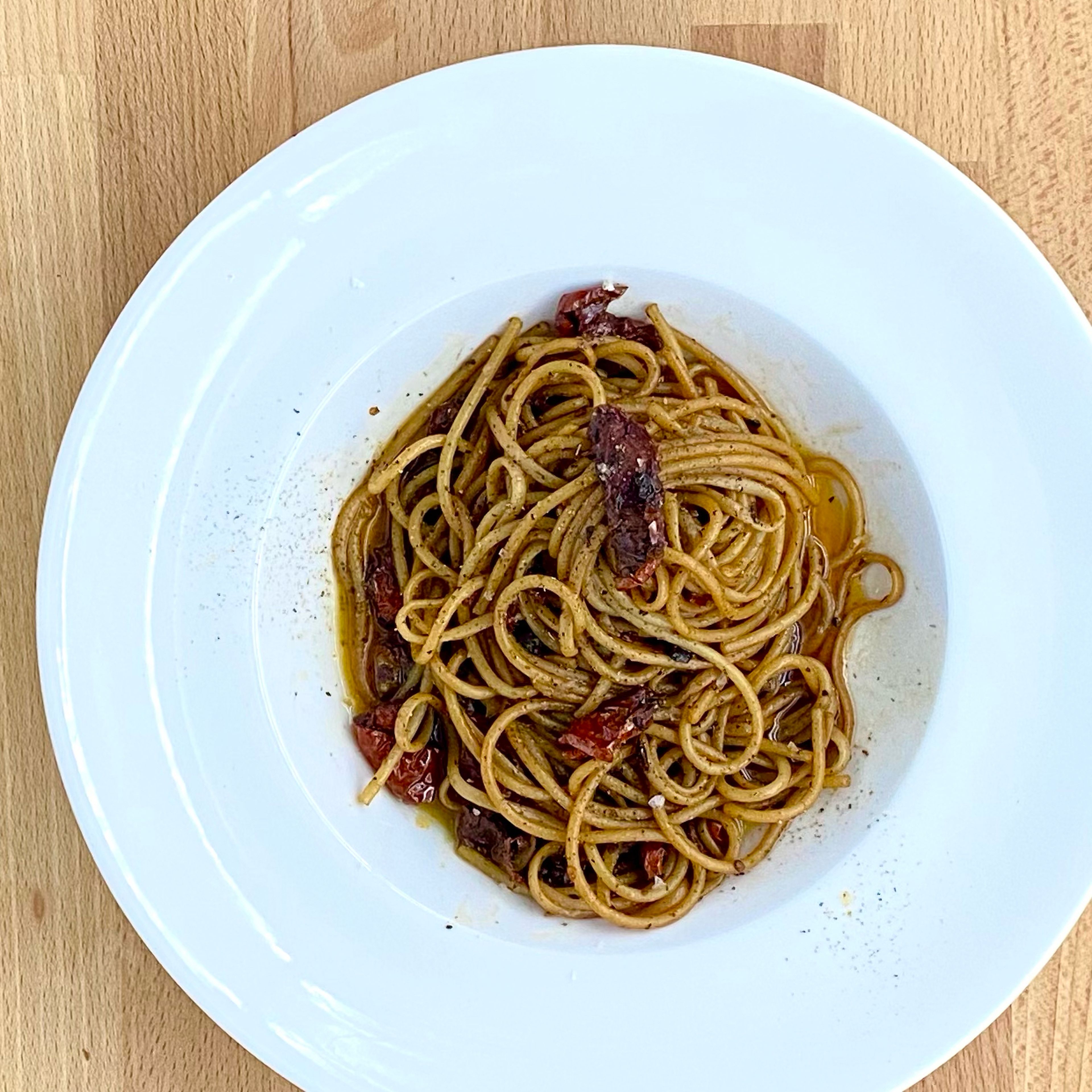 → Go to recipe
How do you like your pasta best? Tell us about it in the comments! Or do you have a great pasta or noodle recipe that you want the whole world to know about? Upload it via our app or website and share it with us all!
Published on September 14, 2021
More delicious ideas for you