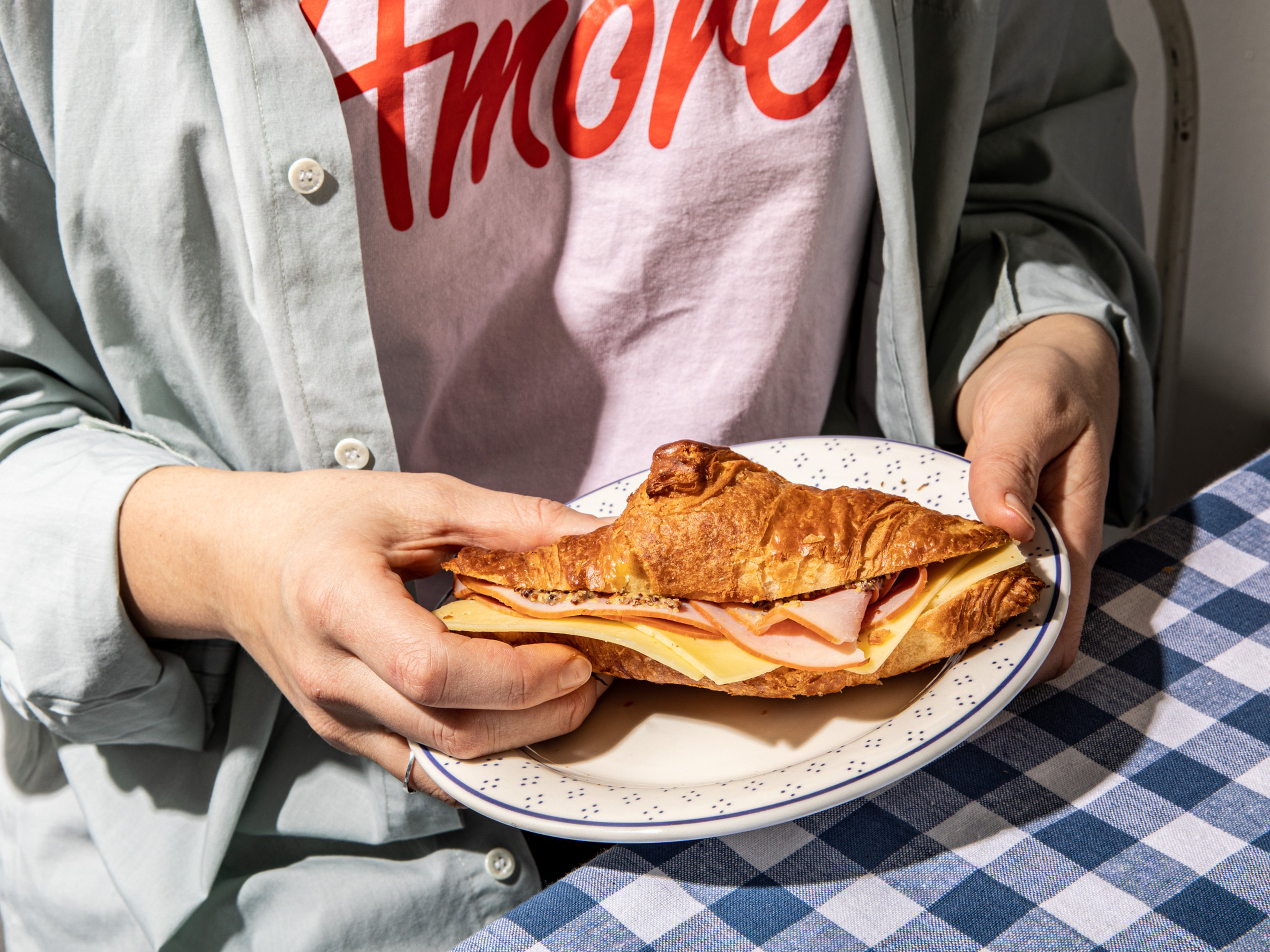 The 5 Most Perfect Breakfast Sandwiches Ever
...according to our team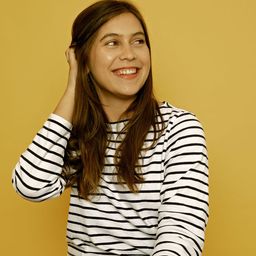 This article is part of our monthly issue "The Breakfast Issue," an all-you-can eat celebration of one of our favorite meals. All month long, we'll share tasty new recipes, fun ideas to entertain you at home, tips for better prep, and great starts for days to come! Check out this link to find an overview of all our weekly topics, stories, and recipes—and don't forget to follow us on Instagram for behind the scenes, extras, and more!
Taken by its narrowest definition, a sandwich usually means anything stuffed between two square pieces of bread. But at breakfast—amidst the promise of a dawning day—anything goes. English muffin or brioche? Croissant or pita? Soft taco, roti, or a supermarket sandwich loaf? If it's wrapping up your first meal of the day, it belongs here. It's a breakfast sandwich.
But among these, is there a "best" one? Is there a "right" way? As an ever-cautious, risk-assessing species, we love the comfort of a superlative. Admittedly, I went into this article thinking I could describe to you the perfect breakfast sandwich. I realized I can't. I can only tell you my own answer to the question and advise you of the core elements: an oozing sauce, a crunch, a savory filling (eggs! ham! bacon! chorizo! cheese!), packed inside a fluffy, crunchy case.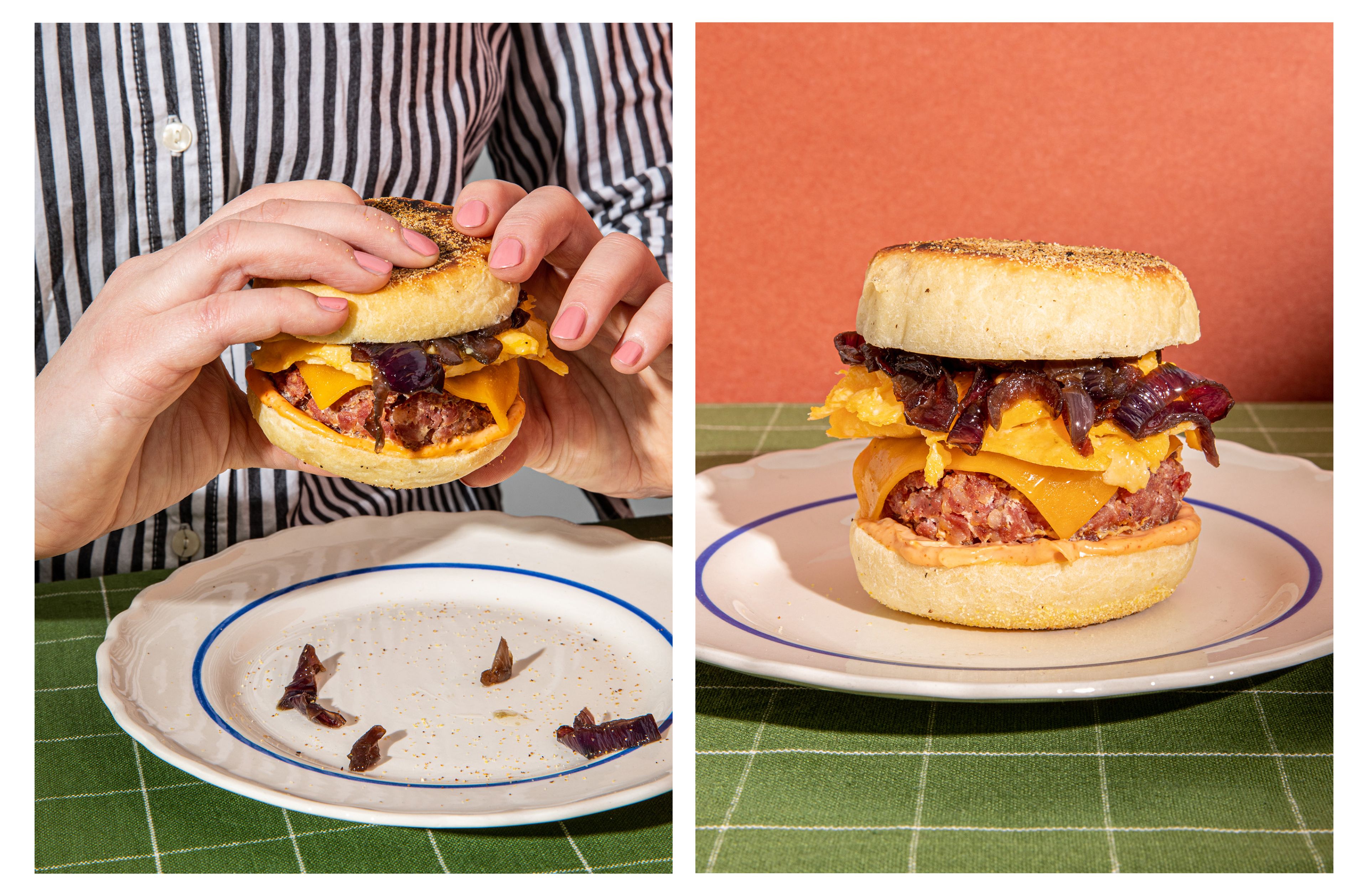 What's your favorite? Mine is a breakfast burger. Though it's inspired by fast food creations from the '90s—whether it was a drive-through sausage and egg McMuffin or a slap-up steaming creation, stuffed in a paper bag from a cafe—I like to think of my recipe as a sloppy burger that went to finishing school—with tangy caramelized onions, custardy eggs, an Italian sausage patty, cheddar, and sriracha mayo. 
Hungry? Watch the video below where I walk you through how to make my "perfect" breakfast burger.
Make the perfect breakfast burger with Ruby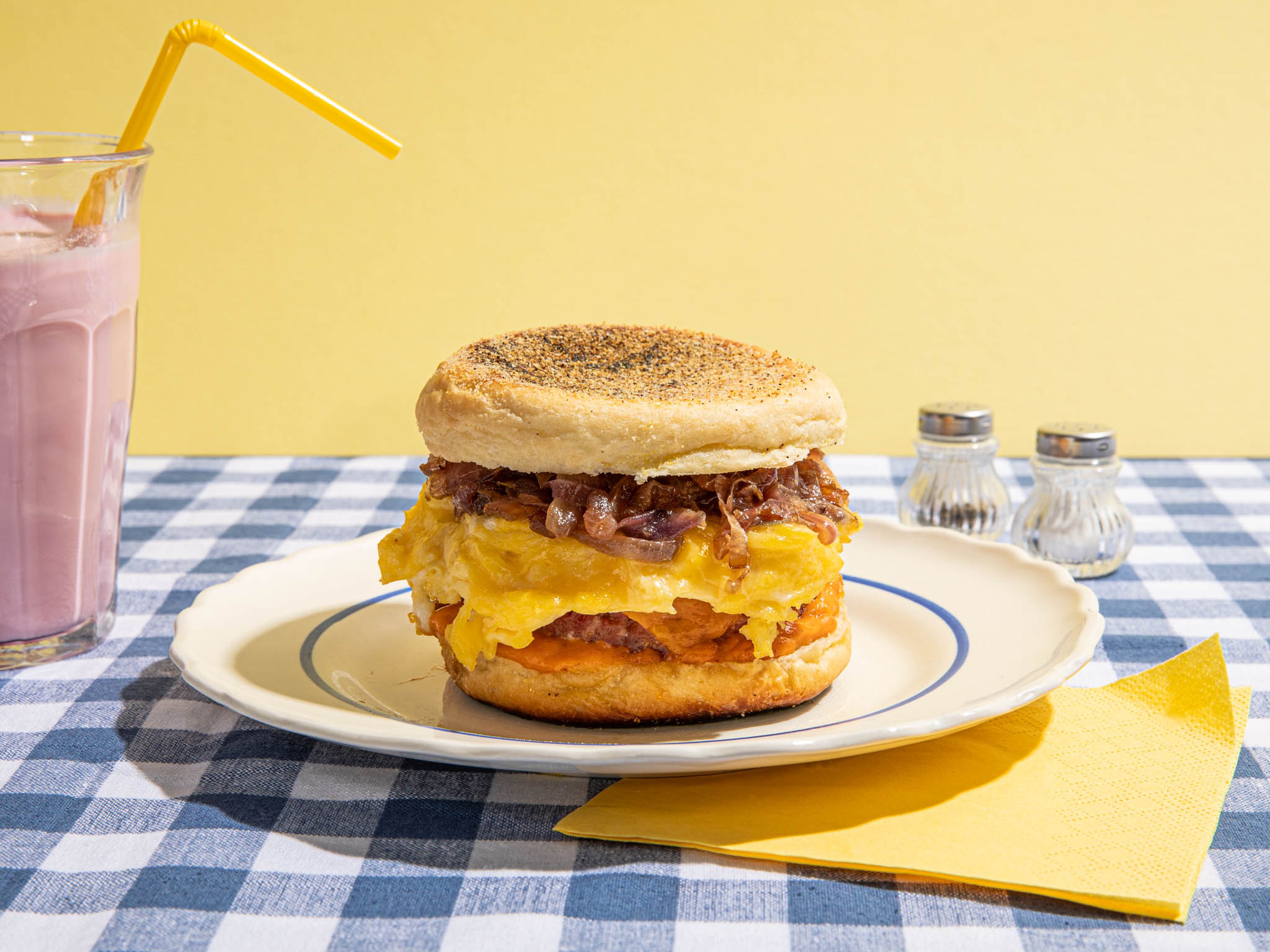 → Go to recipe
But there's a little more to why it's perfect to me: It's the kind of sandwich that makes me feel like I'm going somewhere. I don't mean that metaphorically, though with the current state of the world, it could angle that way. What I mean is that it's like a pre-road trip snack. It's an, "I'm up early in the morning and need some heavy sustenance" dish. Maybe it's a dawn drive to the beach from the city, or maybe it's that my day is so open ahead of me that I'm starting big, with every chance I'll crash imminently after a calorific craze. But who cares? This is a burger about living in the moment—and apparently, savoring the moment is the essence of mindfulness. What better for the most important meal of the day?
Here are 4 other "perfect" breakfast sandwich contenders, as recommended by more of the KS crew.
The Taco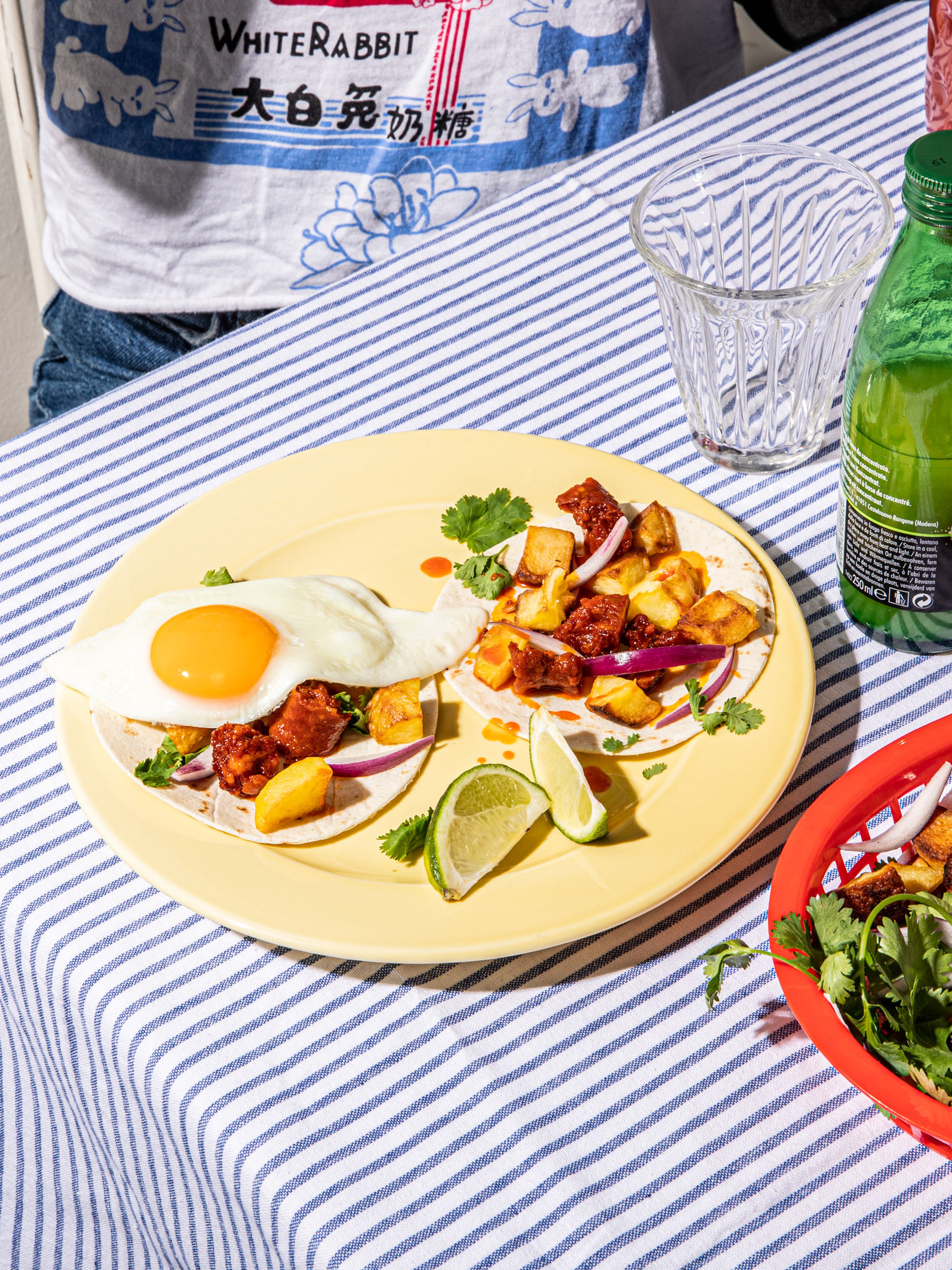 For Devan, our managing editor, the winner is undoubtedly a breakfast taco: "Whether you fold and call it a taco or wrap and call it a burrito, I'm a huge fan of nestling a pile of eggs, strips of bacon, maybe a small handful of potatoes, freshly grated cheese, and a spoonful of salsa in a warm flour (or corn) tortilla and calling it breakfast. A breakfast taco isn't a sandwich per se, but it shares all the trademarks of the platonic ideal of a breakfast sandwich: portable, handheld, cheesy, loaded with eggs, and wrapped in 'bread' (that's a stretch, I know, but you get the gist). If you haven't had the pleasure of eating a breakfast taco (or burrito), take this as my gentle request to clear your calendar this weekend and change that."

Try this recipe for chorizo breakfast tacos with salsa verde.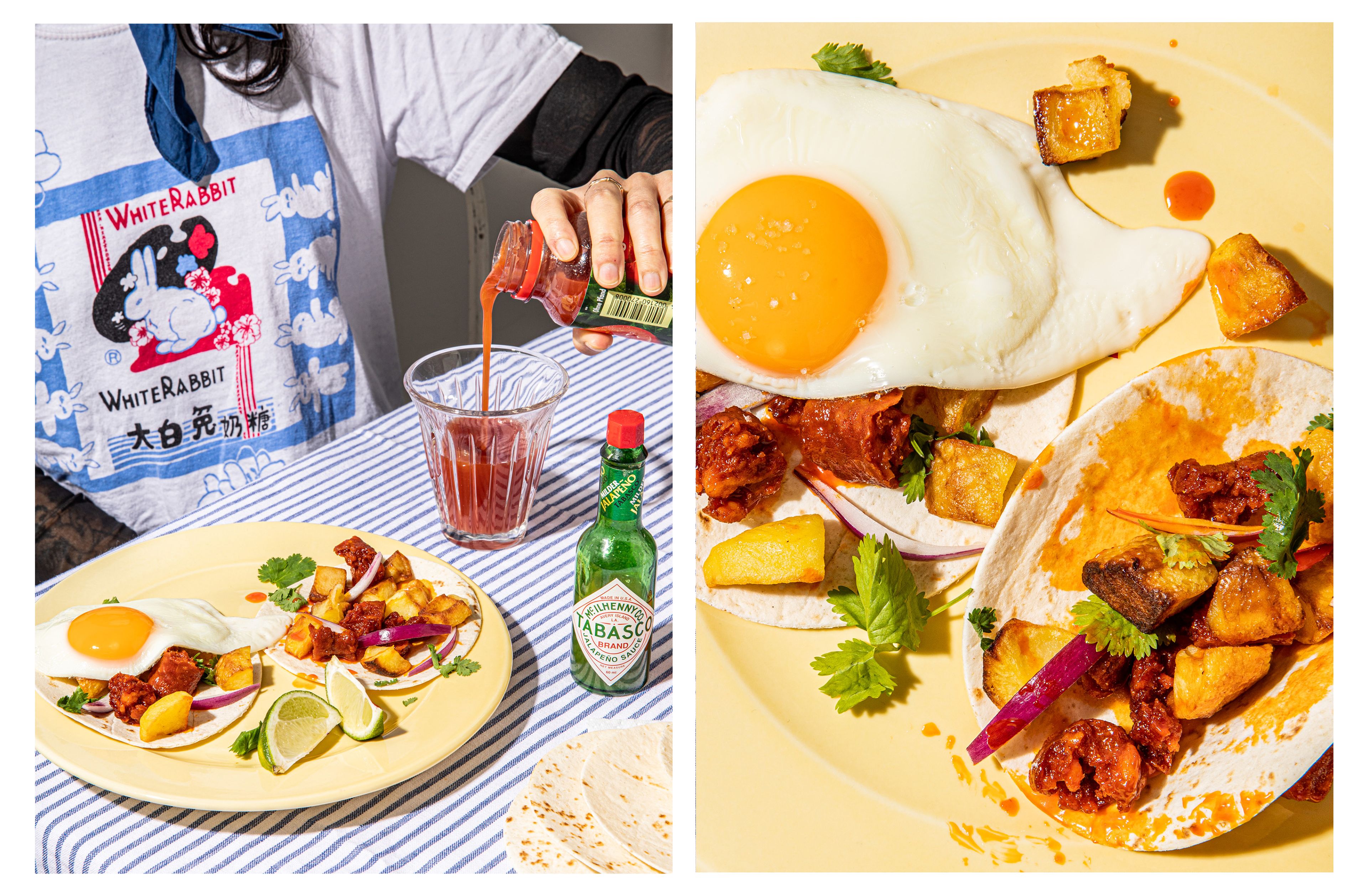 The Ham and Cheese Croissant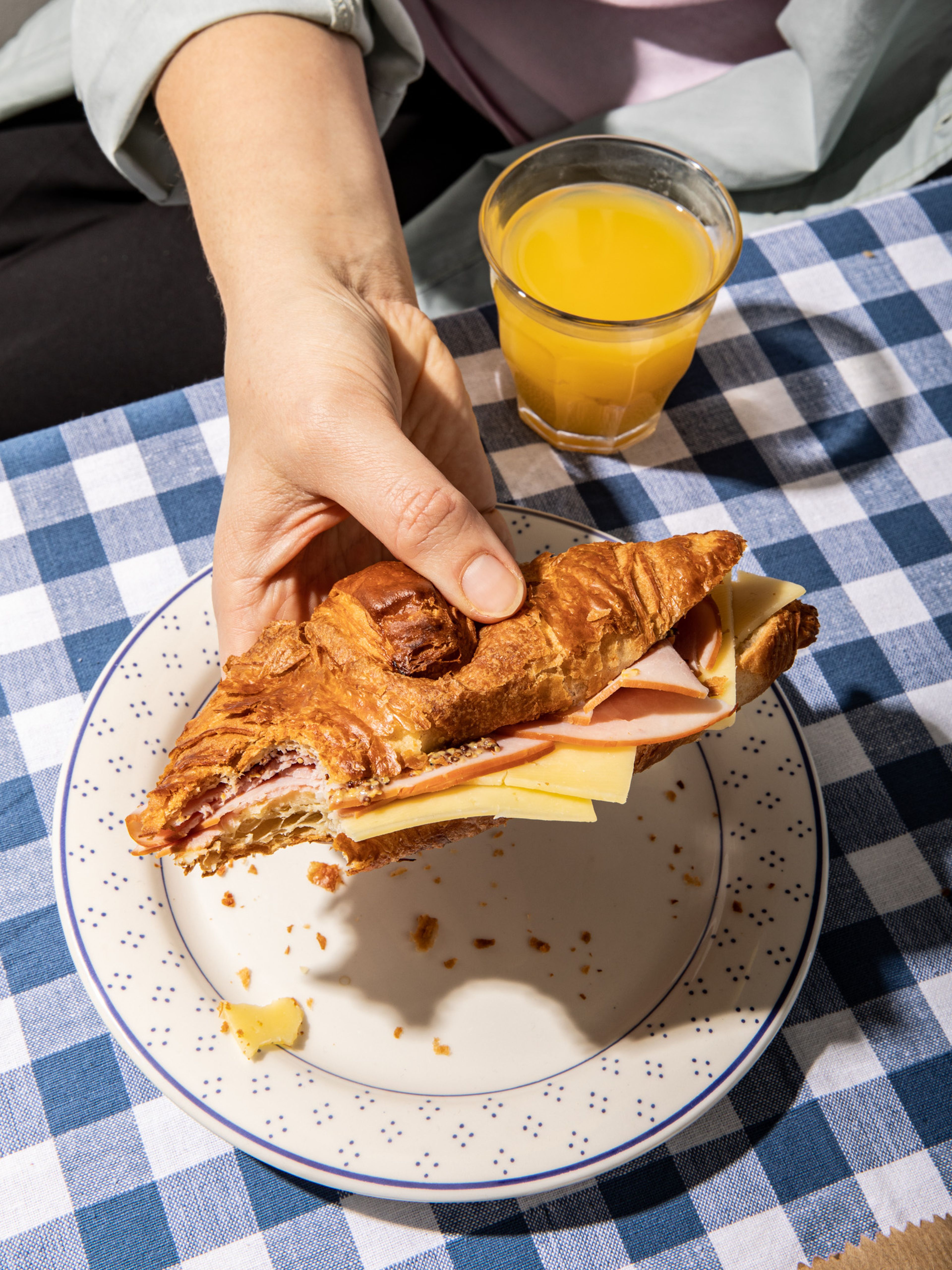 I caught our chef Hanna sneaking herself an extra ham and cheese croissant when I walked into the test kitchen as she was prepping for this shoot. "Caught! I think this is my perfect breakfast sandwich," she revealed. "I love the whole grain mustard, and to me, what's essential is that you eat it just like this—not warmed up so the cheese is melted. It's perfect like this and it tastes exactly like the one you'd get from Le CroBag (a French-ish bakery chain in Germany)."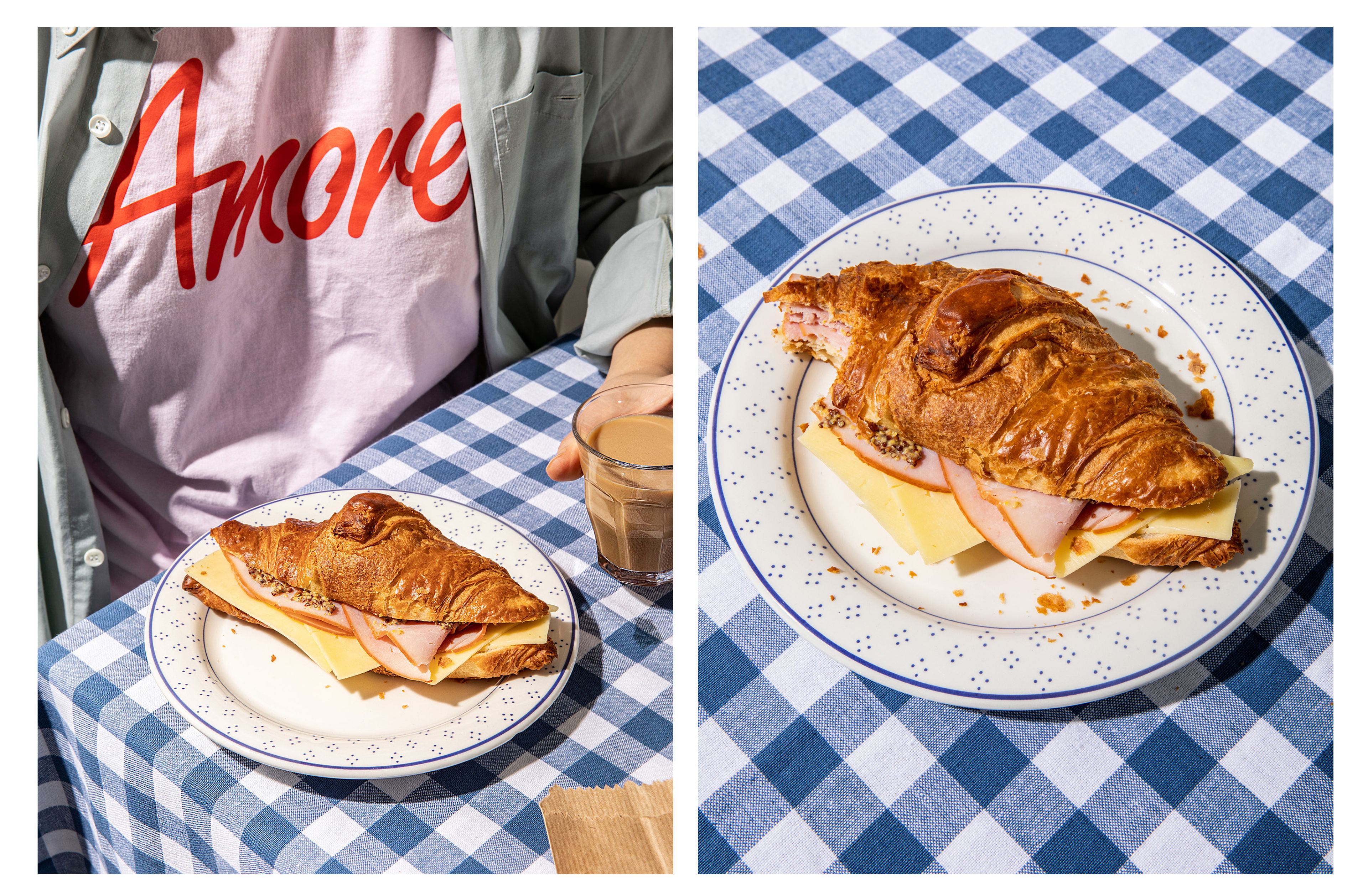 The bánh mì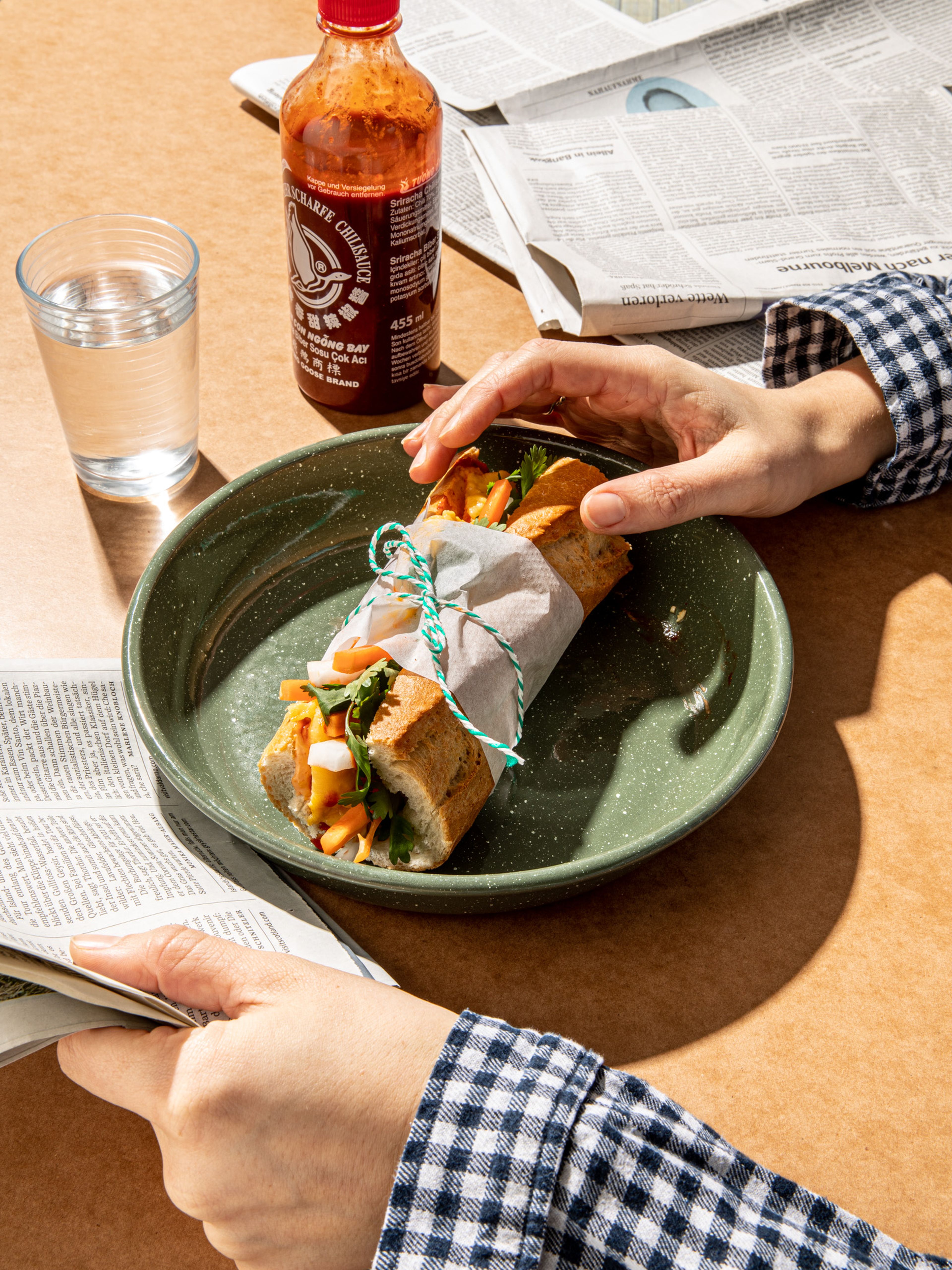 My fellow editor Mary-Linh says bánh mì is the real breakfast hero here. "Lots of people know and love bánh mì, but the breakfast version of it, or bánh mì ốp la, as I know it, isn't on as many people's radars. It's odd because this is a morning staple in Vietnam. All throughout Saigon, you'll find street vendors and carts selling these from the crack of dawn until they run out of eggs. As a kid, I hated bánh mì—I've always thought pâté is a bit weird—but when you strip away the meaty fillings and swap in fatty fried eggs with beautifully crisp edges, tangy pickled carrots and daikon, crunchy cucumbers, soy sauce (Maggi is actually more commonly used), cilantro, and its signature mayo cut with butter, the result is something truly delightful. Some things in life are better enjoyed with simplicity and bánh mì ốp la is a testament to that. Although it'd veer from tradition to top your bánh mì with bacon strips, I don't see why you shouldn't do that."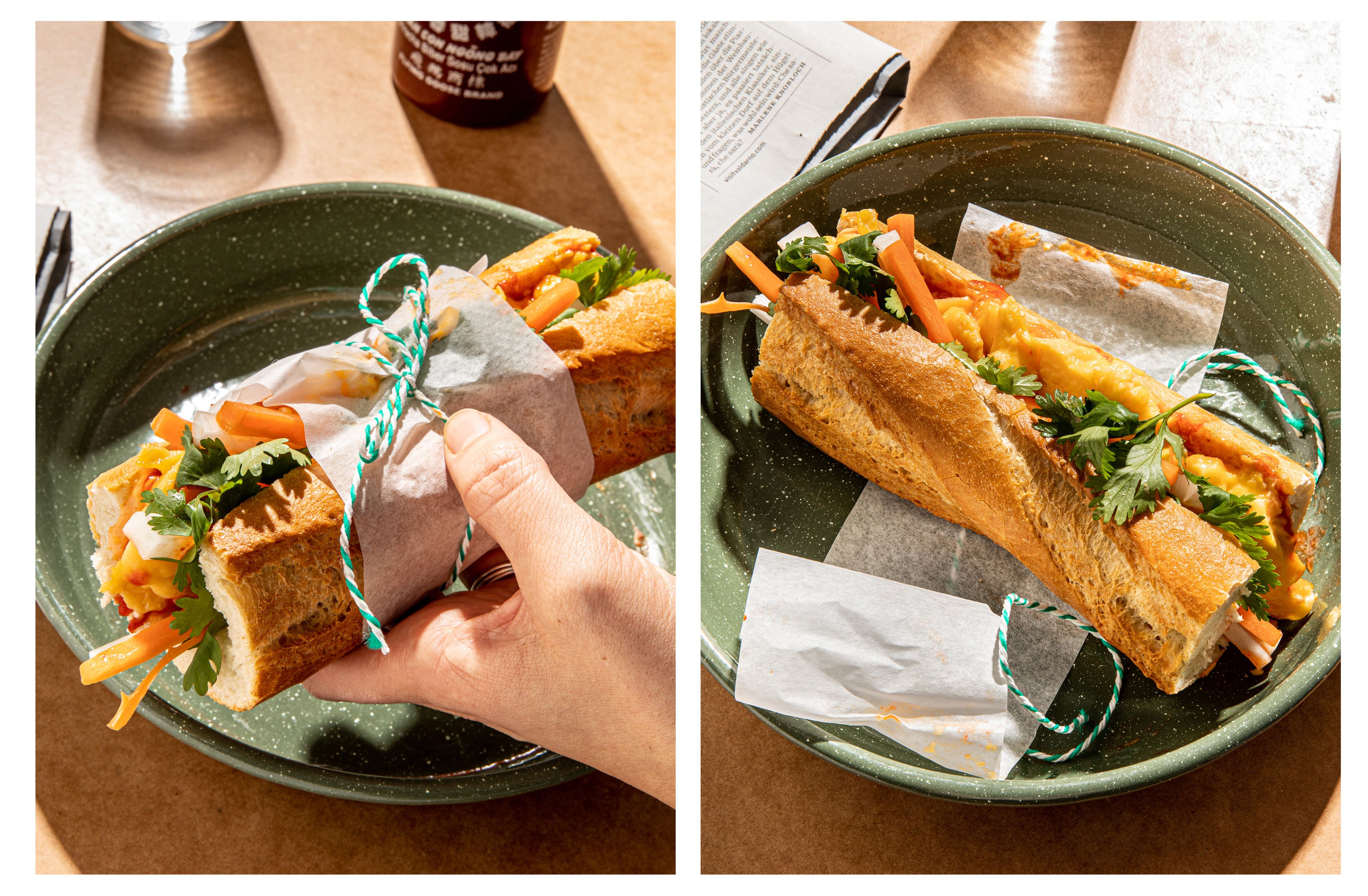 The Bacon Sandwich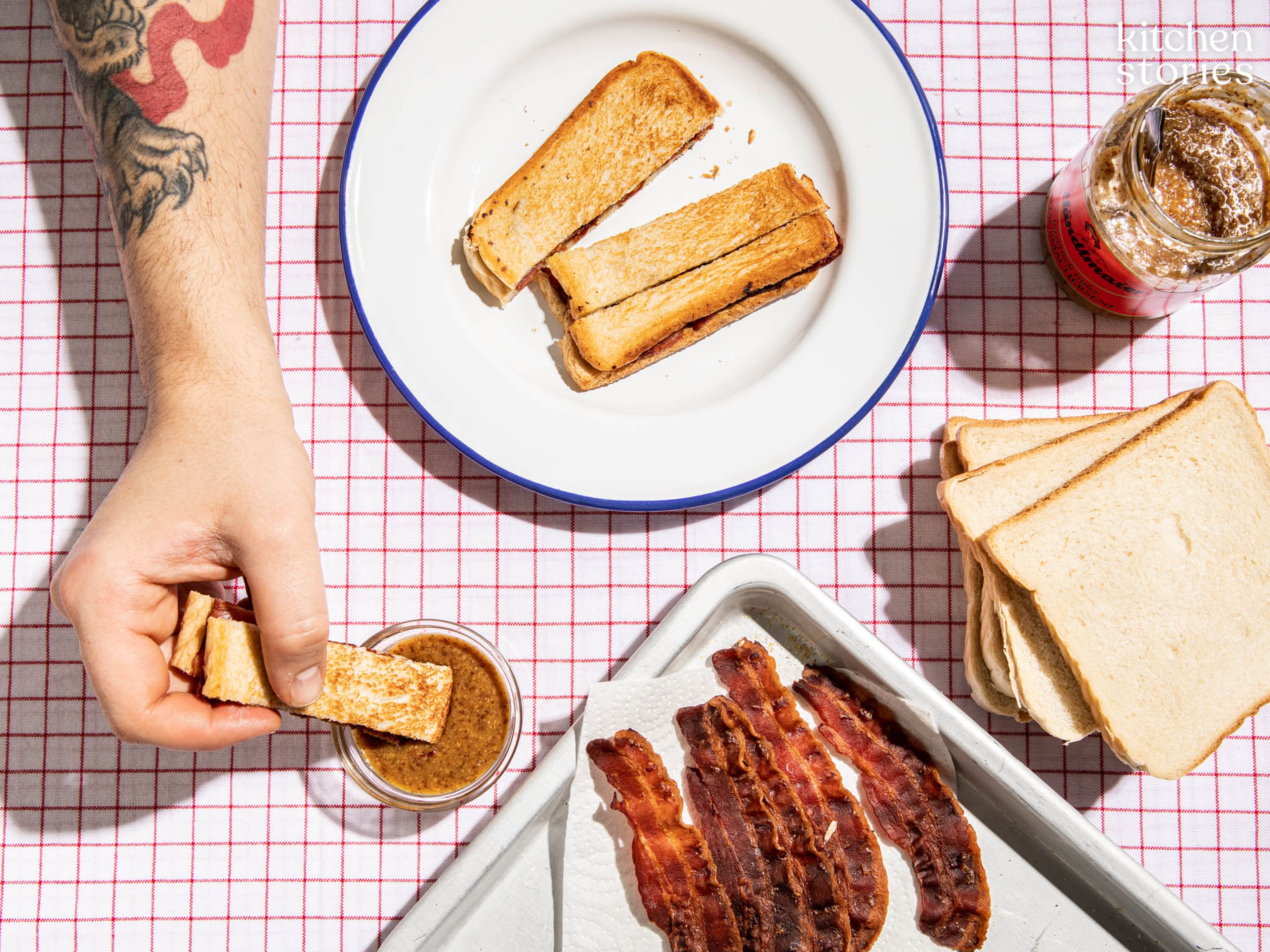 According to our chef Christian, "This is the perfect bacon sandwich"—objectively speaking, even. The key element is the tiny list of ingredients (the keys being bacon, bread, butter) and the bacon fat, which you fry your sandwich in, squashing it down to get it nice and crispy. His preferred way to cut it is into soldiers, to be dipped into sweet whole grain mustard. "You don't need anything else," he says. Though a bit of ketchup wouldn't go astray, he was later caught admitting.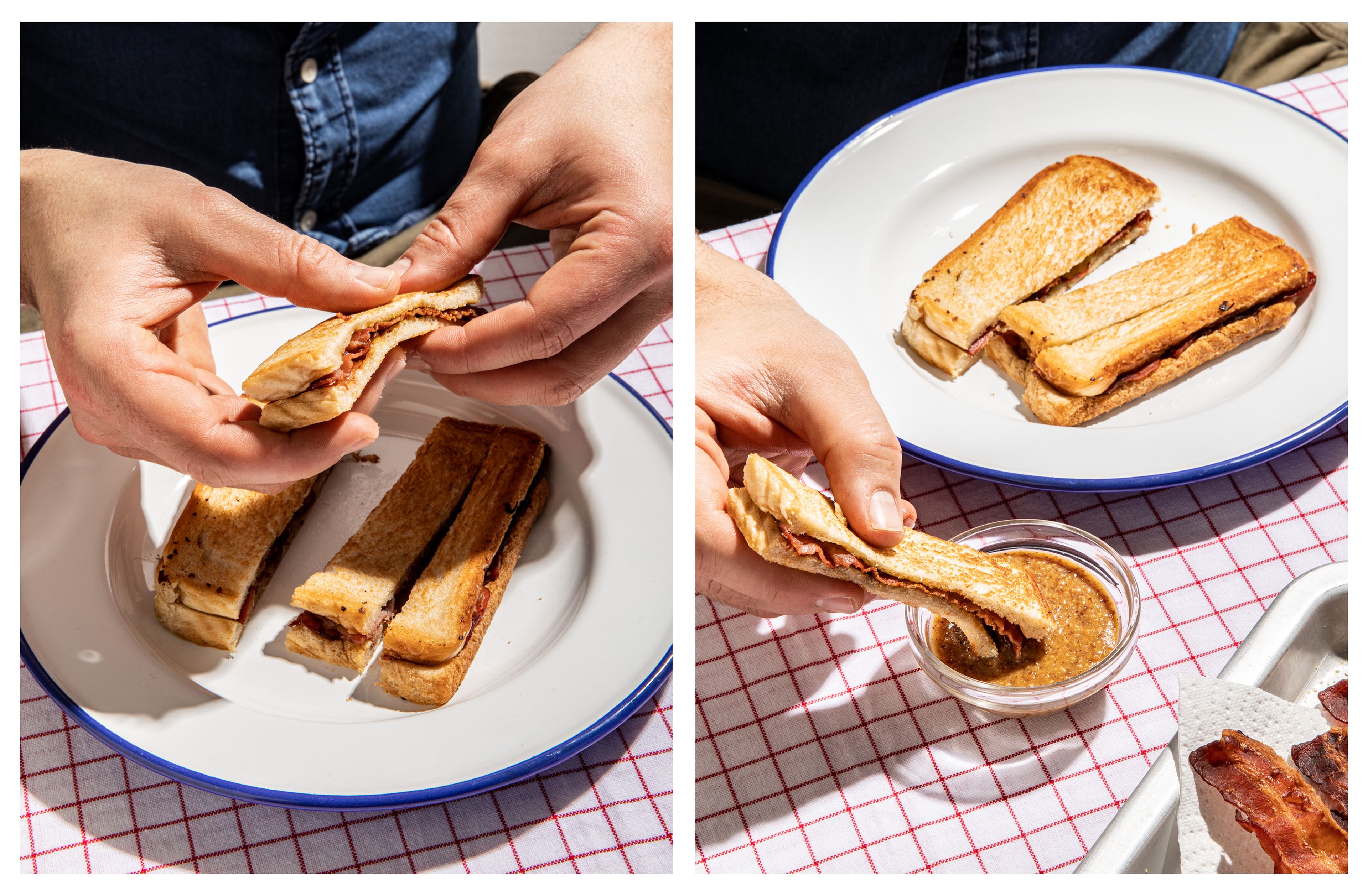 Master the simplicity in the recipe below:
Easiest bacon sandwich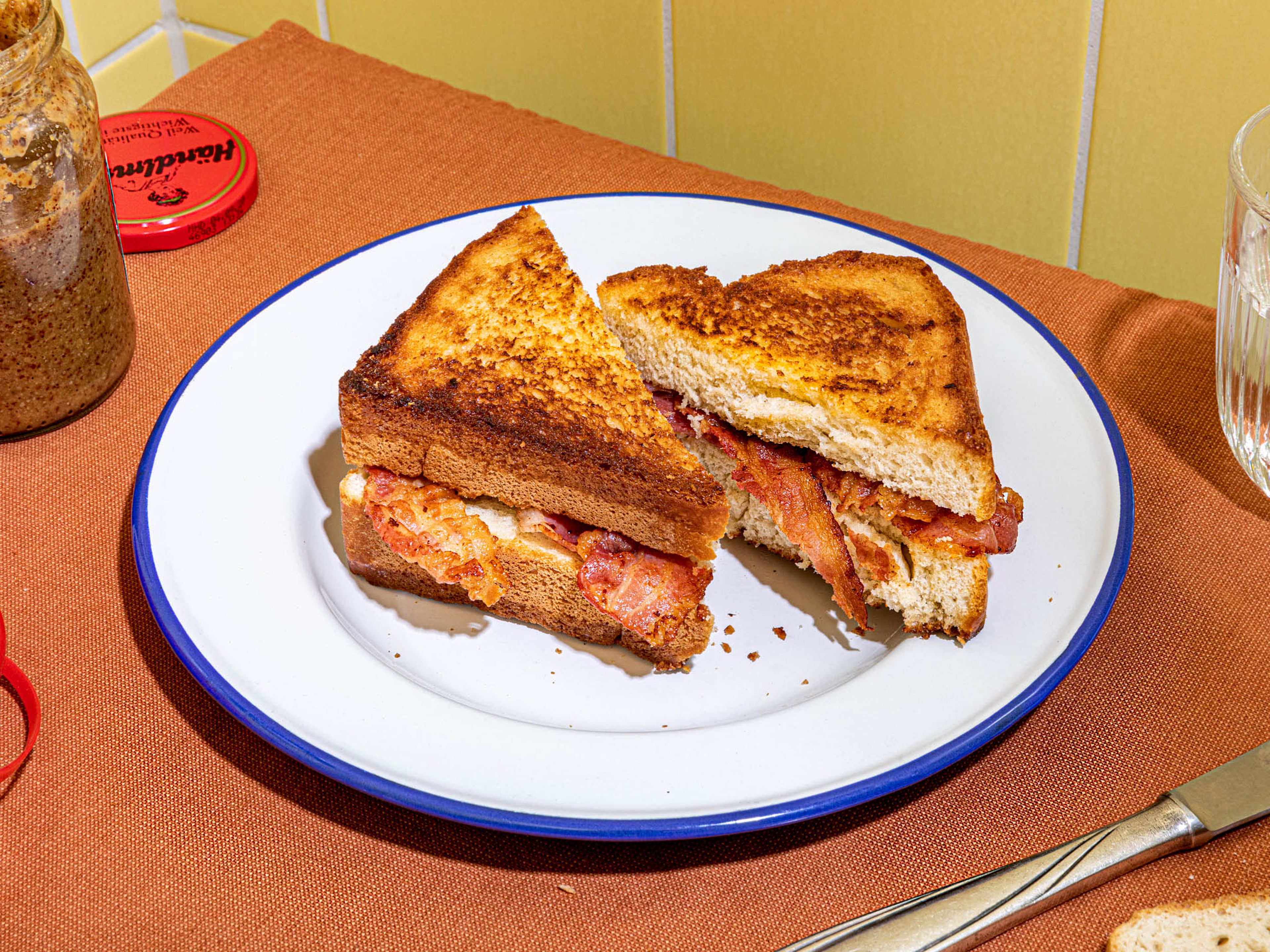 → Go to recipe
Published on February 7, 2021
More delicious ideas for you