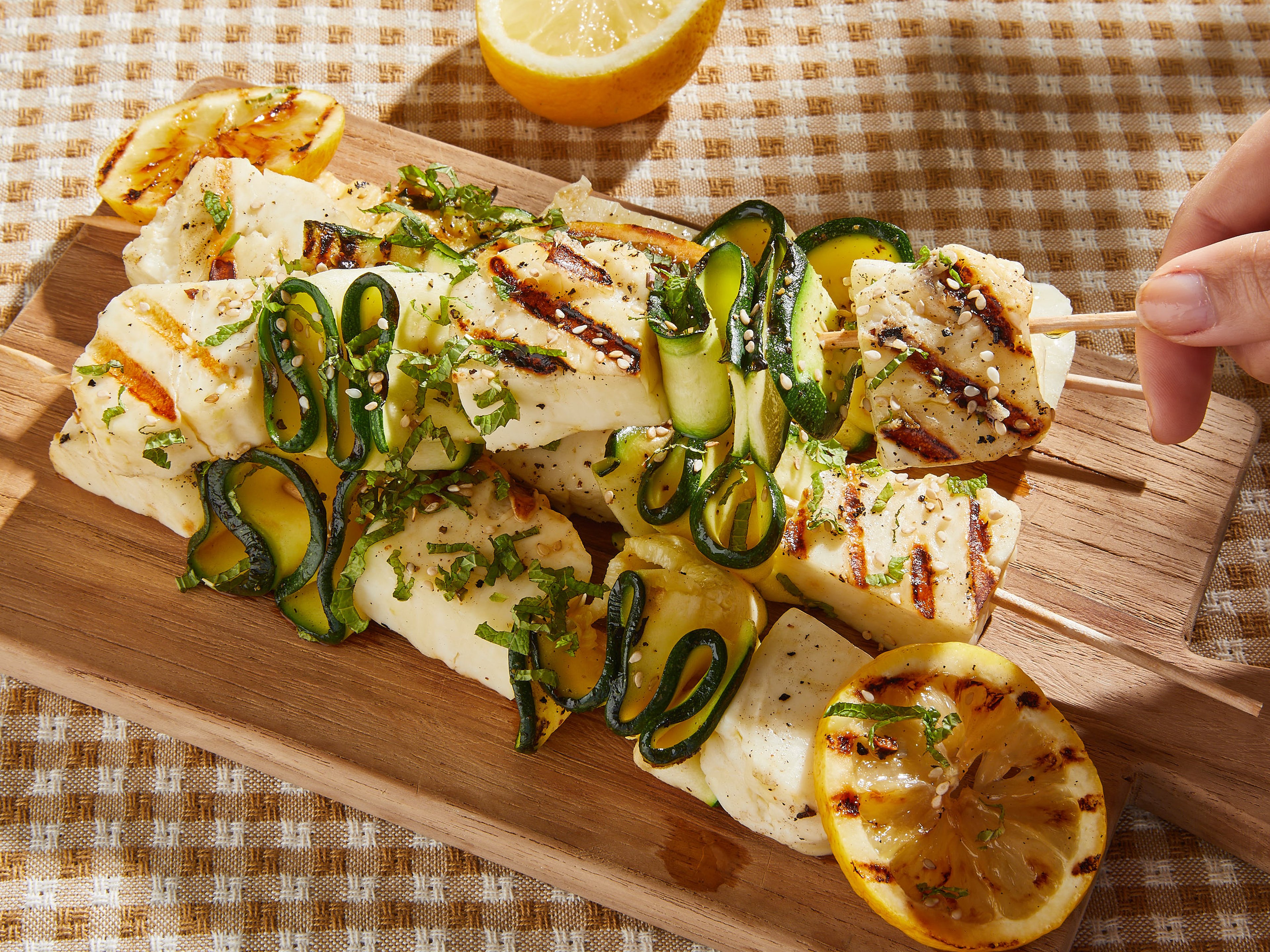 5 Tips to Make Better Skewers
For Your Summer Cookouts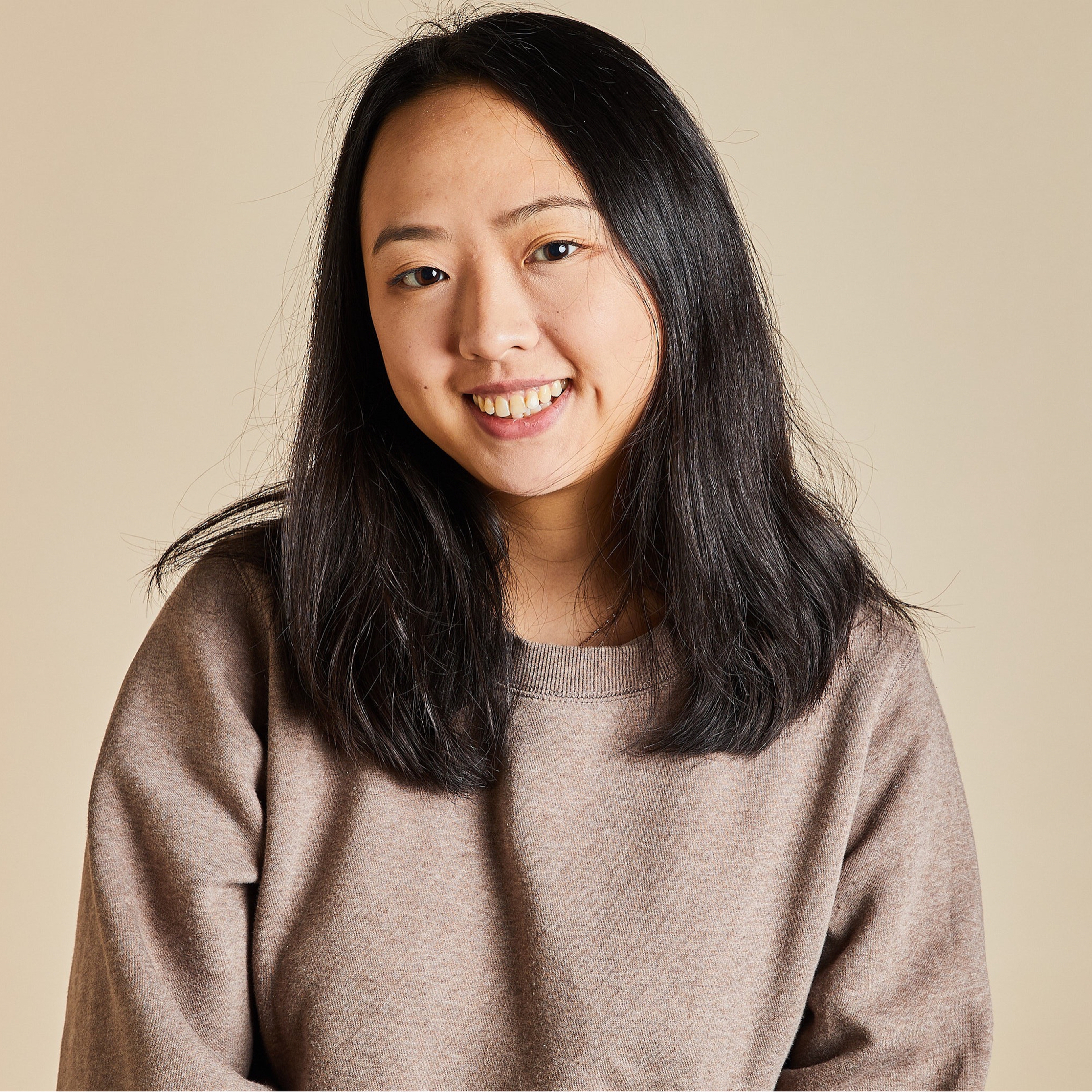 I'm a firm believer that everything tastes a bit better when grilled on sticks. This comes from my early experience with barbecue: growing up in Sichuan China, the nightlife was all about sitting in the street and munching on charcoal-grilled skewers (Shao Kao, also known as Chinese street kebabs), from fatty lamb to tender chives, heavily seasoned with cumin and chili flakes. The summer night breeze mixed with the smoke from all kinds of grilled goods, along with a cold soda or beer in hand , have rendered the essential memory of summer.
The enthusiasm for grilling is shared around the world, and many of the variations appear skewered: namely Yakitori, Kofta, Kebab, and Satays. It is an easy way to make any food more snack-able and presentable to feed a crowd. No matter if you're having a proper summer cookout, or just want to chill at home (learn how to grill without a grill), don't worry, even if they only appear at a dinner table, they will bring the ultimate summer vibe.

5 tips to make better skewers
1. Pick ingredients with similar cooking time and sizes
Pick ingredients that have similar cooking time, and cut them into equal sizes. Pair meat chunks with veggies that can cook longer and won't be burned easily, such as onion, zucchini and bell pepper.
2. Soak the skewers ahead of time to prevent burning
If you're using wooden or bamboo skewers, it's recommended to soak them in water for 30 minutes. This will prevent them from burning when in direct contact with heat. This is a tip I learned from Christian when making the German summer classic Grillfackeln. You could also use tin foil to cover the ends. Or, just use metal skewers, which are better for meat that needs a longer time to cook. For fast-cooking food, you can even use herb stems, or lemongrass as your skewers.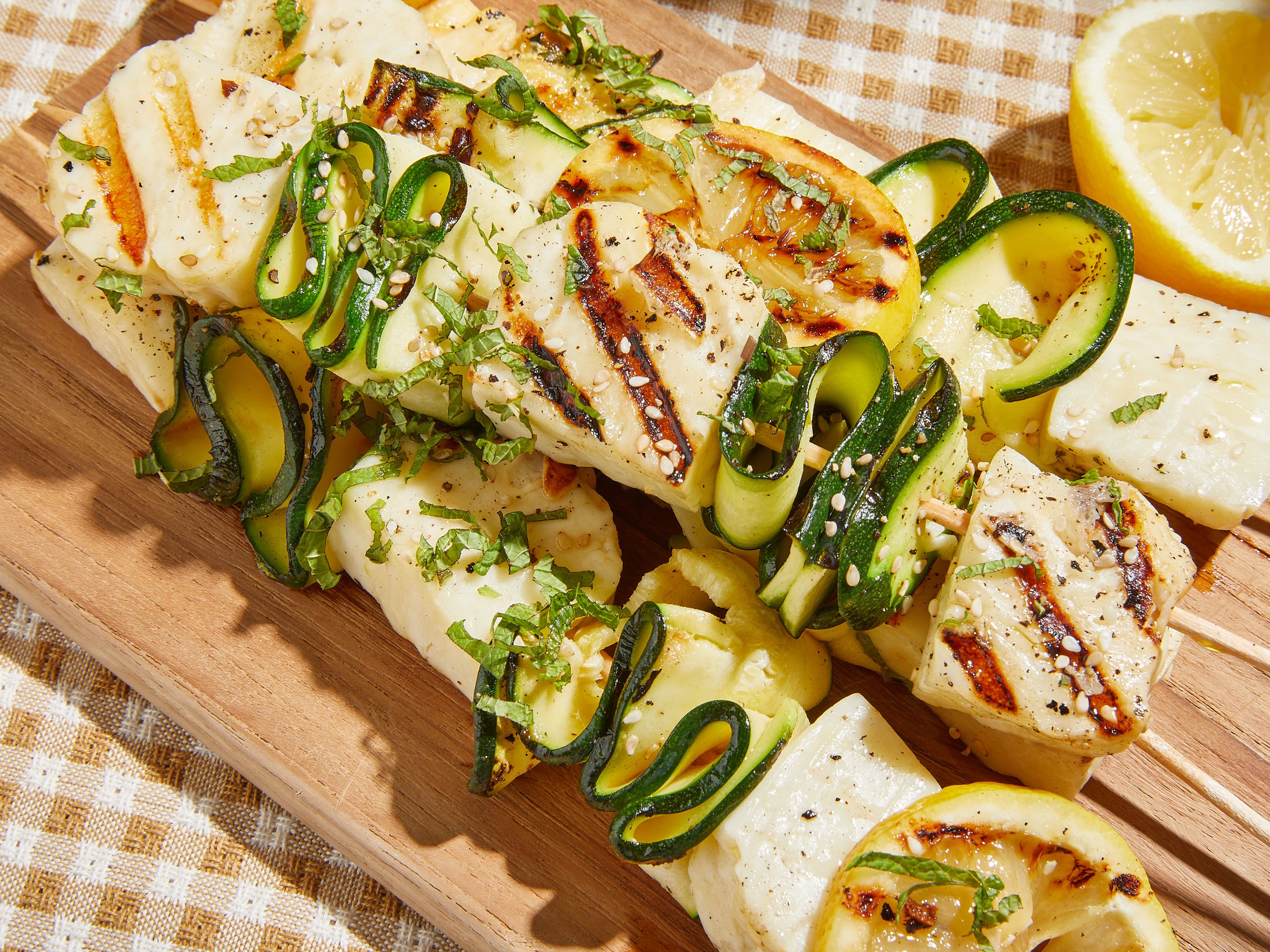 3. Marinate, or be bold with seasoning
I'd say a bland and dry kebab is more disappointing than anything in the realm of summer grilling. So, marinate your meat for a fair amount of time (at least 30 minutes to a few hours). Read up on Ruby's guide to marinade and rubs to bathe your skewers in flavors. However, as she suggested, make sure to wipe off the excess marinade before they hit the grill. What I learned from Chinese street kebab is to season the skewers multiple times when they're on the fire.
4. A little space is good
This might apply to many aspects of life but for threading the skewers, leaving a little space between chunks allows the hot air to circulate and cooks the ingredients better, especially when there is meat. Don't pack your skewers with too much, as this will extend the cooking time and leave some parts overcooked and other parts raw. The same rule applies when you arrange them on the grill or grill pan.
5. Use the tongs
A pair of sturdy kitchen tongs should be what you use to turn or move, not your hands (I learned my lessons as an eager eater). Turning regularly will also help even cooking.
Check out two brand new skewers recipes!
For this summer, we have two new recipes for you to try out! A meaty one and a vegan one.
Grilled sweet and sour pork skewers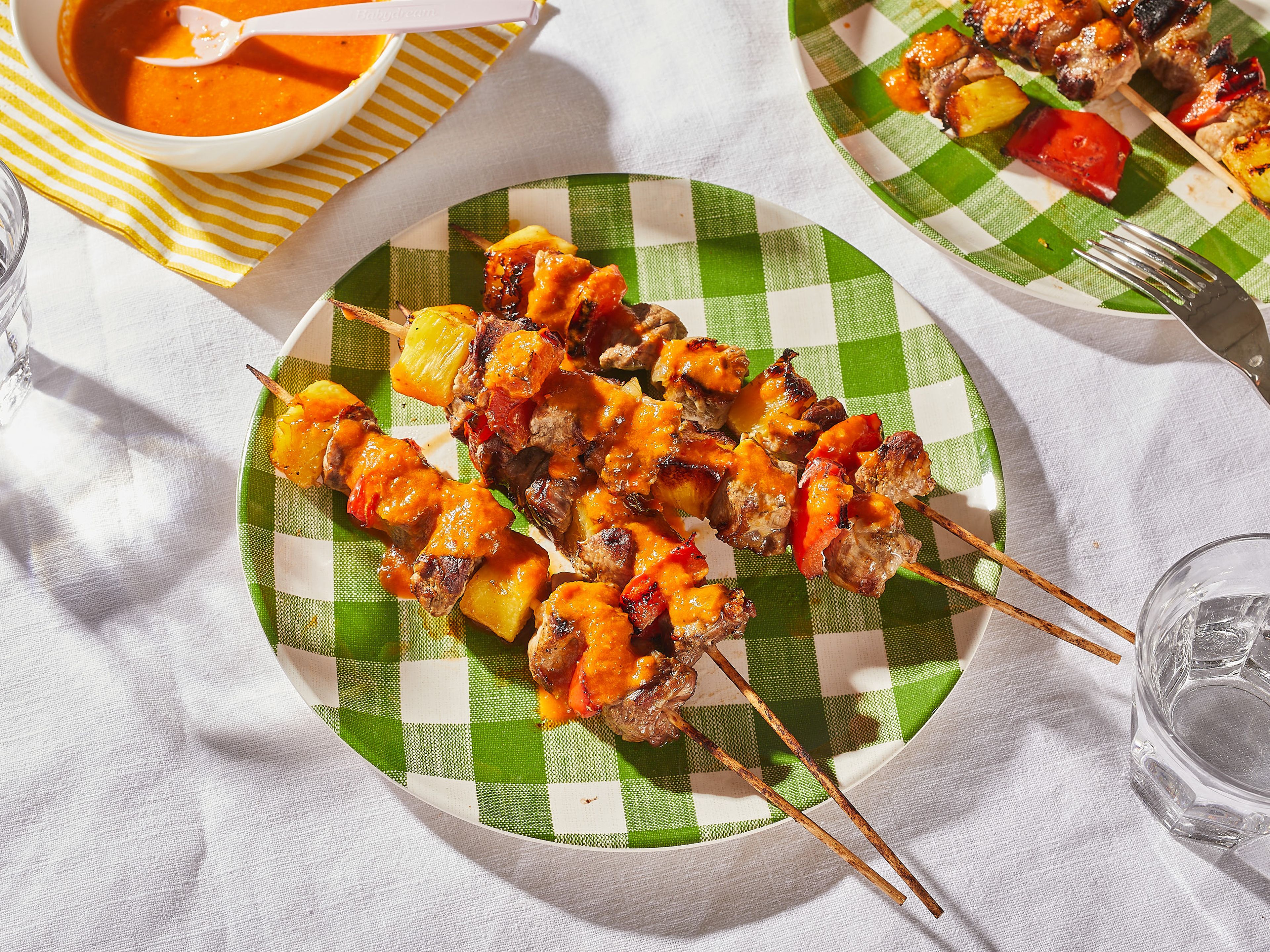 → Go to recipe
Grilled halloumi and zucchini skewers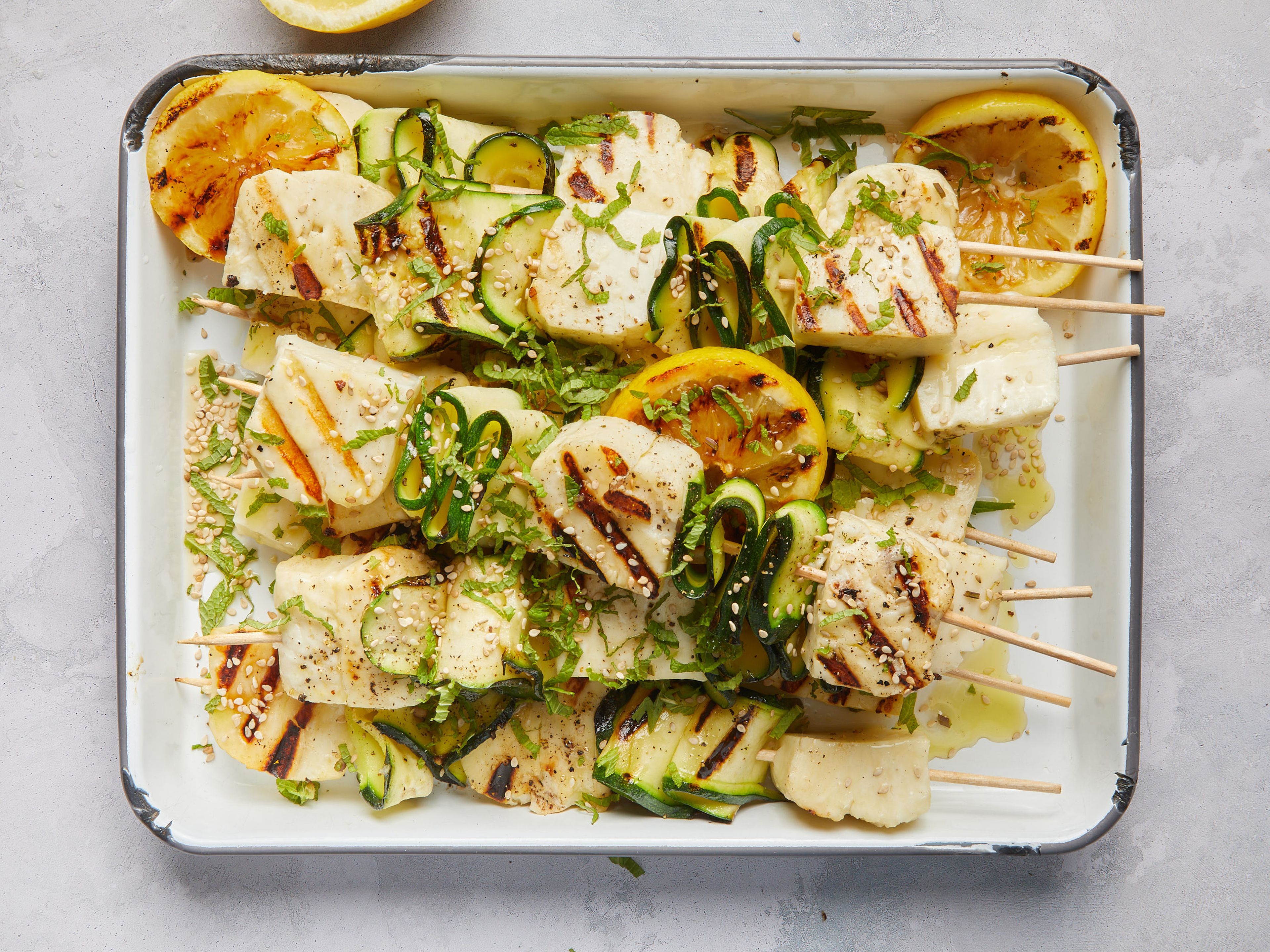 → Go to recipe
More Recipes for your next grill
If you're looking for more inspiration, here are some of our favorite recipes!
Published on June 27, 2022
More delicious ideas for you