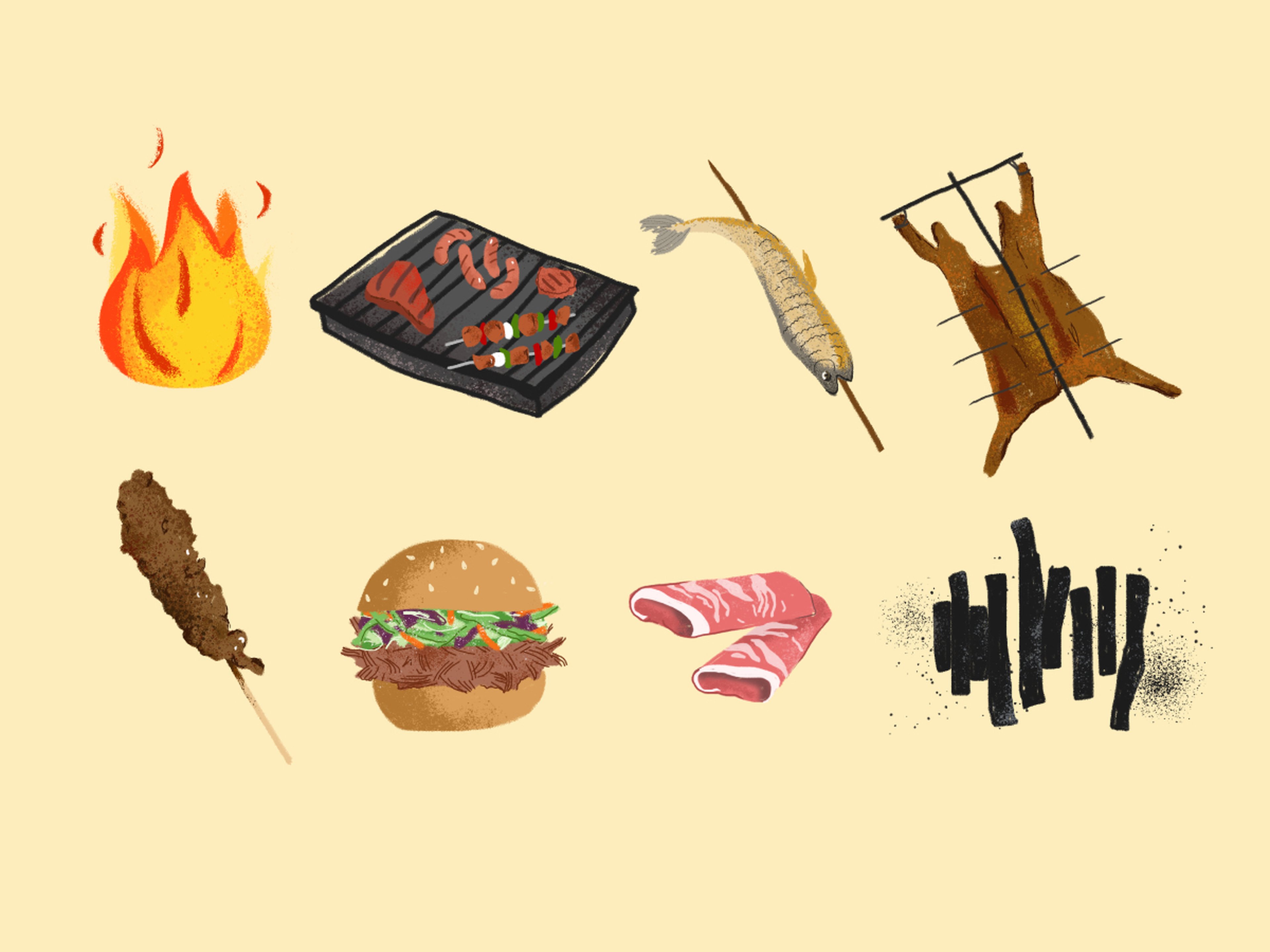 Grilling Traditions Around the World
Charred meats, open flame, can't lose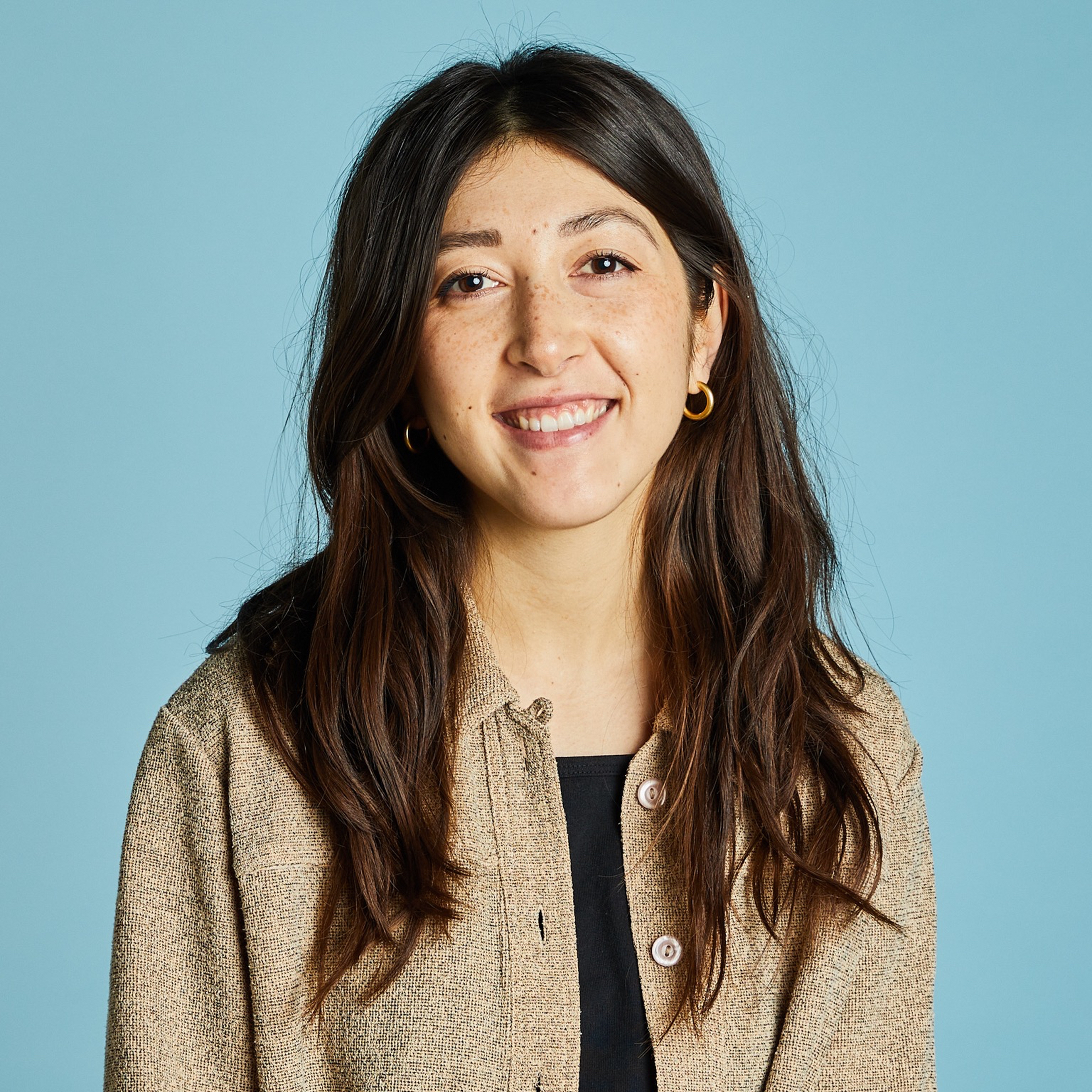 Just one whiff of a barbecue—whether the grill is loaded with meat, fish, vegetables, or fruits (yes, even fruits)—is enough to make anyone's mouth water. The scent of burning wood, blackened charcoal, and charred, Maillard-reacted food is heady, fragrant, and ignites the most basic of our human desires. Cooking over an open flame is a deeply elemental way of cooking, one that takes us back to when we manipulated fire in various ways to cook our catch into a satisfying meal.

Exactly how long we've been cooking our foods over flame is disputed—some say there's evidence as early as 2,000,000 years ago, while others claim it couldn't have been earlier than 125,000 years ago. Either way, our approaches have evolved over time and led to a multitude of regional approaches and time-tested traditions that bring families and friends together around food and fire.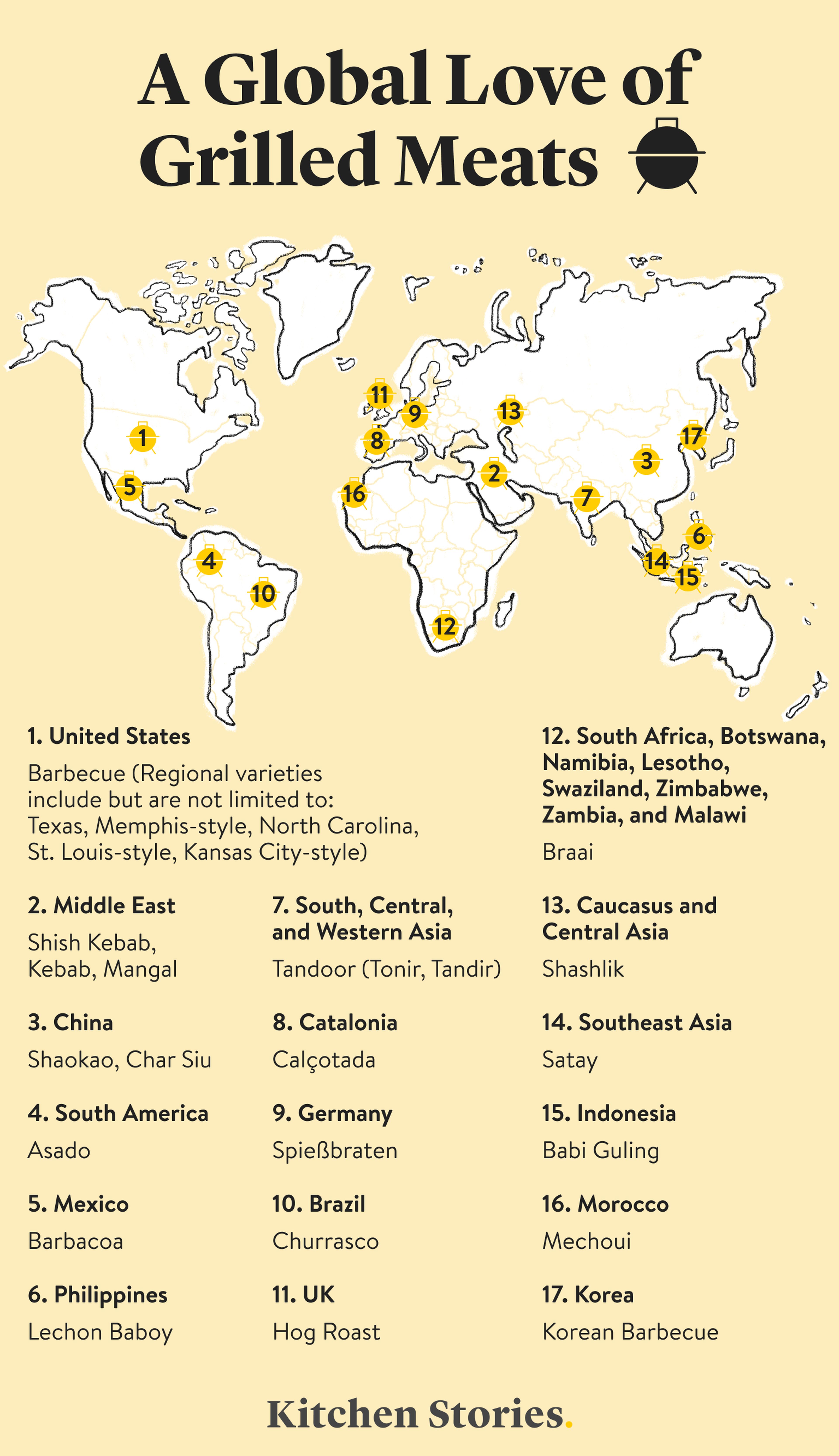 Whether enjoyed in an endless array of rolled meats and small bowls of banchan in Korea or at a pig pickin' in North Carolina, most of the globe's grilling traditions and foods, highlighted by name above, converge around two things: meat and fire. I won't go in depth on each and every tradition, but instead have decided to spotlight 5 traditions that showcase the ways humans have honed our most primal cooking technique, transformed it, and made it even more magical.
Korean barbecue (Gogi-gui)
A cascade of reaching hands—equipped with chopsticks, scissors, or tongs—descend on a smoky round grill inset into a large table and surrounded by various bowls of pickled, fermented, and marinated vegetables; whether you've eaten Korean barbecue before or not, you've probably heard of it, seen photos and videos, and possibly even peered through the windows of your local Korean BBQ restaurant for a glimpse. In an effort to learn more about this tradition and its slow but steady spread around the globe, we'll go back to the beginning and start with one of the most important Korean dishes, kimchi aside: bulgogi.

Literally translated, bulgogi is "fire meat," thinly sliced prime cuts of beef (or pork), marinated in an umami-rich mixture (usually consisting of soy sauce, sugar, garlic, green onion, and, sometimes, pureed apples, pears, and/or onions) before being grilled or stir-fried. Eaten simply over rice or snugly wrapped in crisp pieces of lettuce, bulgogi is a staple in today's Korean households, stemming originally from maekjeok—a skewered, grilled meat dish seen between approximately 37 B.C. and 668 A.D. From maekjeok to neobiani (broad, thin slices of extremely tender marinated, grilled beef), with a few pit stops in between, modern day bulgogi transformed over time, but by the 1990s became widely considered as the most popular dish in Korea.
Korean beef bulgogi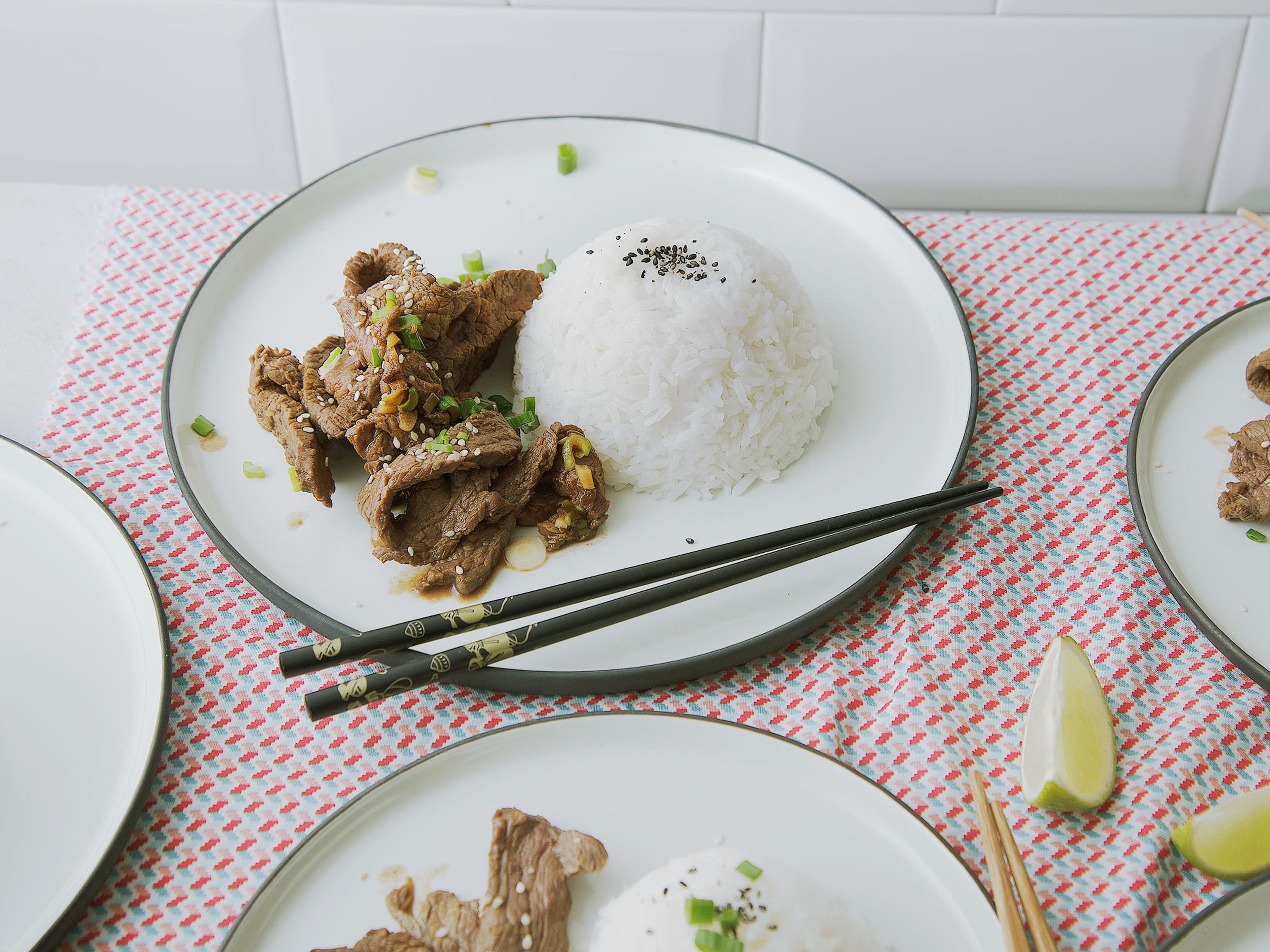 → Go to recipe
As bulgogi and by association, Korean barbecue, spread (mainly through immigration, like many flavors and foods), diners already intimately familiar with the flavors of barbecued meats found it an easy entrance to the cuisine of Korea—and the rest, as they say, is history.
Korean barbecue with Sam Jang dip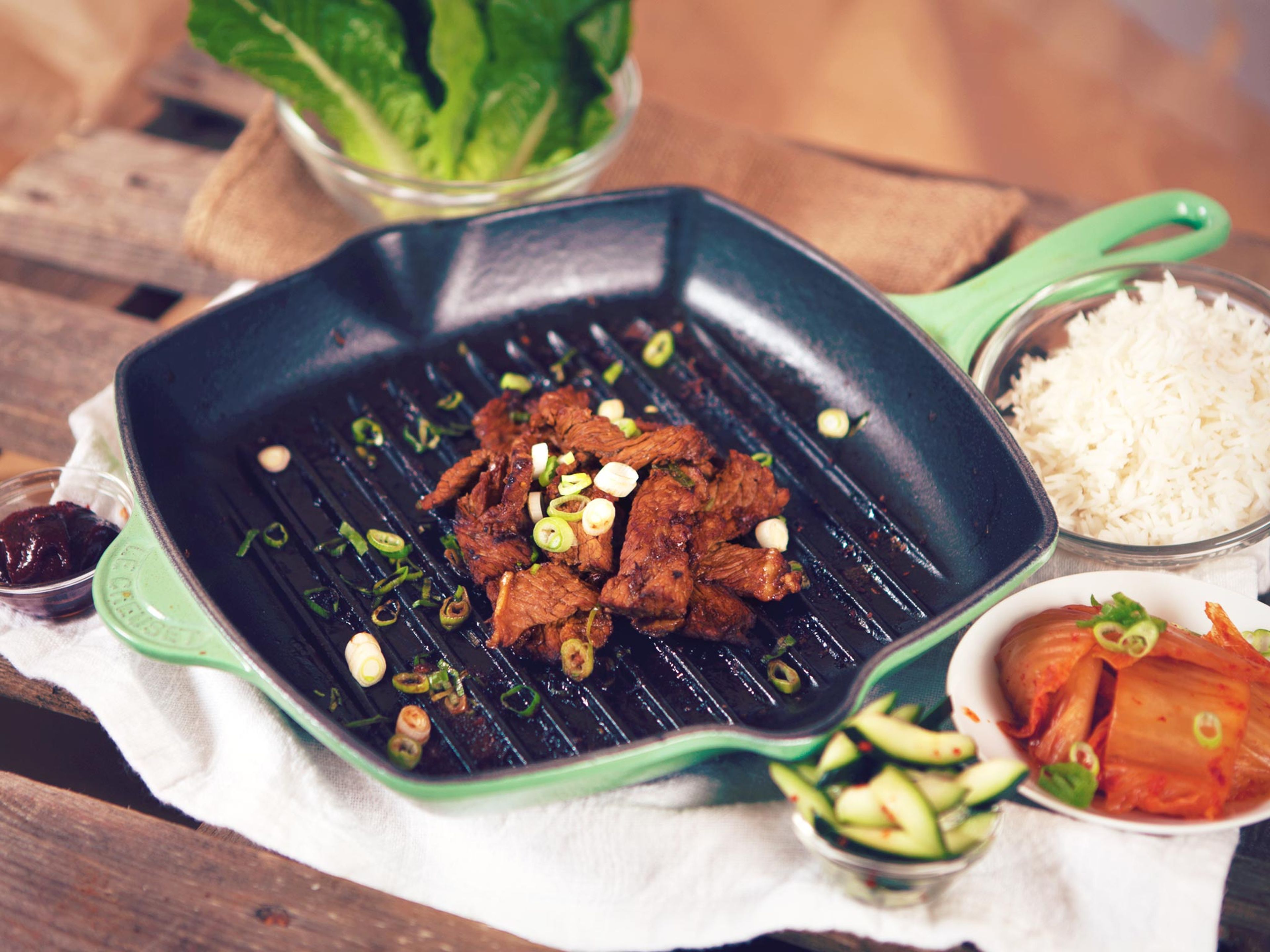 → Go to recipe
Argentine asado
When you think asado, four things should come to mind: an iron cross, beef, whole animals, and Argentina—okay, actually five things, because I feel it's my duty to include famed Argentine chef Francis Mallmann. The episode of Chef's Tableabout him (season 1, episode 3 to be exact) is a dream through and through—I highly recommend giving it a watch if you haven't seen it already.
Asado is intimately tied with the landscape and history of Argentina, where herds of wild cattle used to roam the fertile grasslands of the pampa in the center of the country in the mid to late 1800s. Gauchos—the nomadic, skilled horsemen and cattle ranchers renowned by many South American writers—lived in this region and had a diet consisting almost entirely of grilled beef (asado) and yerba mate tea.

While asado is enjoyed in many other South American countries (particularly Uruguay and Paraguay), it's Argentina's national dish and arguably it's most famous piece of cultural capital. Asado is both the name of the dish (grilled meat) and the event surrounding it, where a large fire is burned to white hot coals before whole animals (most commonly lamb and goat) and giant sides of beef stretched over an iron cross are staked into the ground around the coals—tended to as they cook by the asador. It's also common to grill thick hunks of meat, chorizo, chicken, and pieces of offal on typical grills with open fires—called parillas and tended to by parrilleros.
The meats are typically prepped simply, with just olive oil and salt, and might be brushed with a brine (salmuera) during the grilling process. This simple preparation lets the true flavor of the meat and smoke shine, allowing it to be enjoyed without distraction accompanied by red wine, a few salads, and a spoonful or two of punchy sauces like chimichurri and salsa criolla—a cold sauce of thinly sliced onion, bell pepper, tomato, vinegar, and oil.
Flank steak with Chimichurri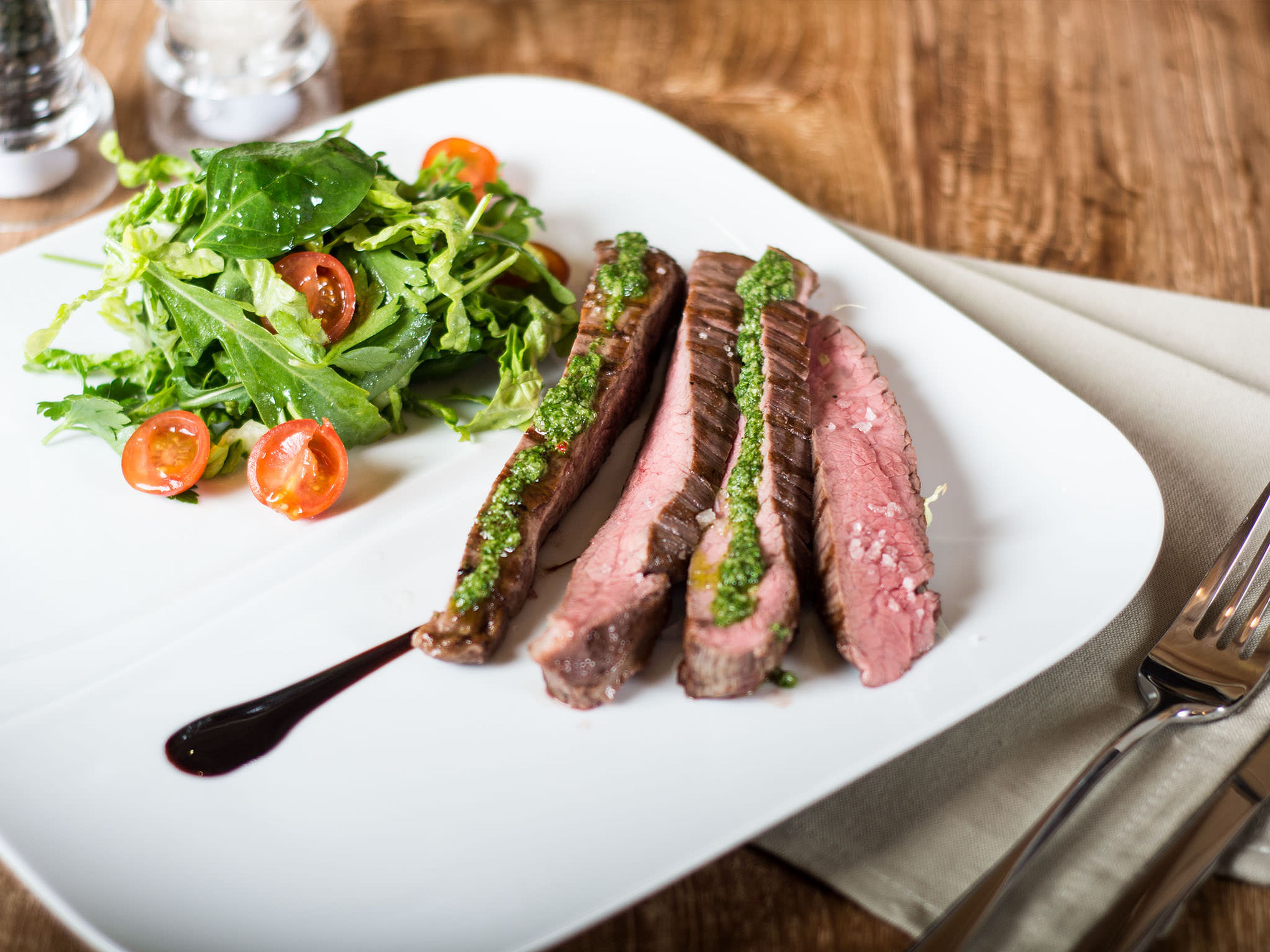 → Go to recipe
Grilling in Japan
Hibachi, yakitori, robata, yakiniku, teppanyaki: Grilling in Japan goes by many names, however, the one thread that connects nearly all type of grilling in Japan is binchō-tan—a special charcoal made from Japanese oak.
An extremely hard coal, binchō-tan burns white and is known for its purity—a characteristic leveraged by the health and nutrition industry for products like water filters, toothbrushes and toothpaste, and face and eye masks. When it comes to grilling though, the purity refers to the fact that the charcoal burns cleanly—practically without a flame and producing no smoke—leaving no black residues or harsh odors on the surface of the meat. It also burns longer and cooks the meat at a lower temperature than other charcoals—hitting the heat sweet spot where the meat will sear, but won't dry out.

There are many types of Japanese grills used in various situations for preparing a meal, both at home and in restaurants. Hibachi (literally "fire bowl"), shichirin, and irori use coals, whereas a teppan (of teppanyaki fame) does not. There are also konro grills which can either make use of charcoal or be fueled by gas.

Foods grilled in Japan fall into categories as well: teppanyaki, yakiniku, yakitori, and robata being the most well known. Yakiniku is the closest thing to barbecue as the Western world might know it, where small pieces of meat are grilled on a metal grate directly over coals. Robata (or robatayaki, literally "fireside-cooking") and yakitori refer to grilled foods cooked over coals (typically without a grate) via bamboo or steel skewers. In Japan, yakitori refers exclusively to grilled, skewered chicken that's usually served brushed with or alongside a tare (dipping sauce)—similar to our teriyaki chicken skewers.
Teriyaki chicken skewers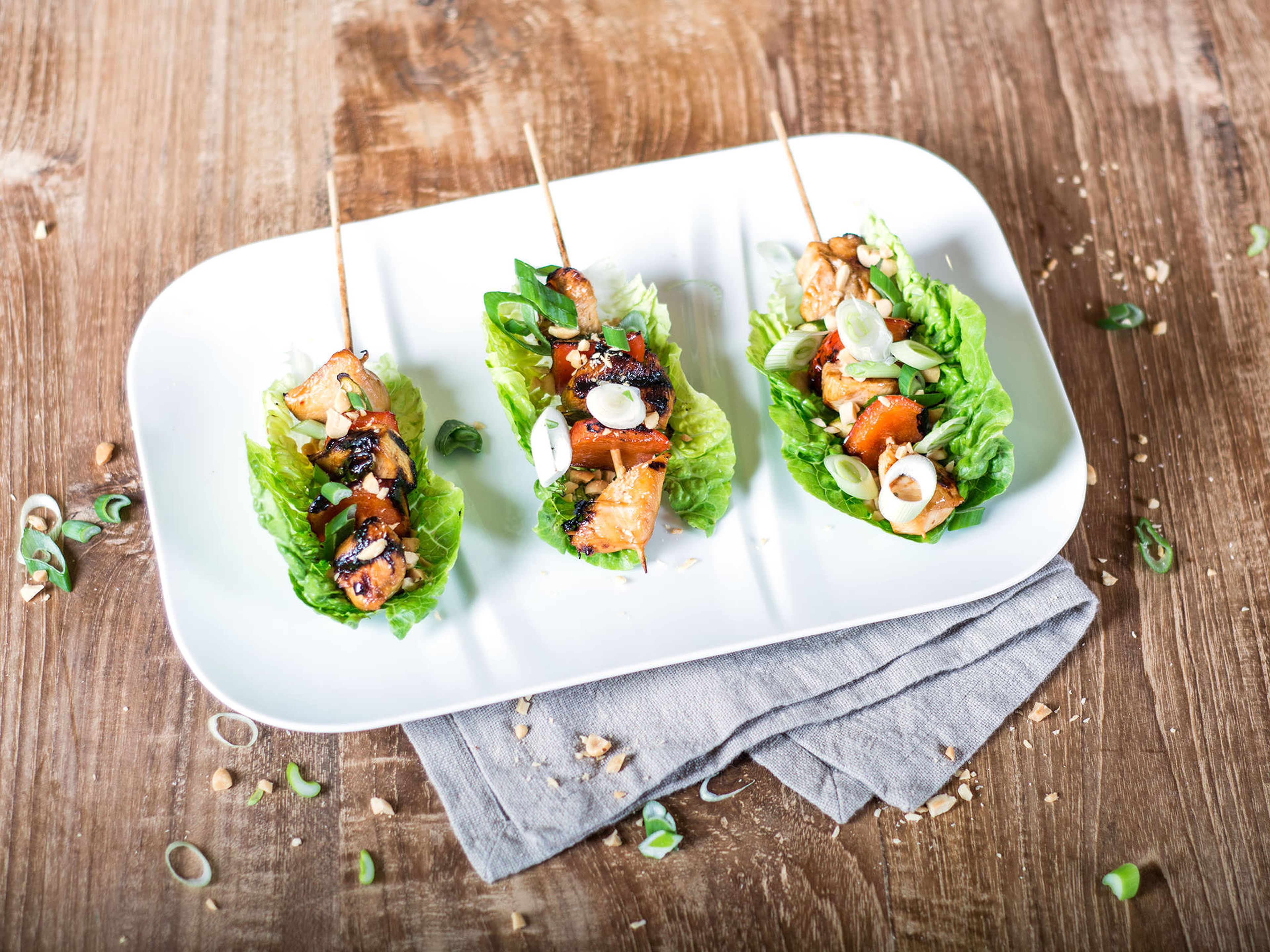 → Go to recipe
Barbecue in the United States
Barbecue in the U.S. can be a very divisive thing. Whether you prefer a typical plate of barbecued meats in St. Louis, MO or Austin, TX, everyone has their favorite—and everyone is always right. While typical barbecue foods (and fun—since barbecue refers, like Argentine asado, to both the meat itself and the event where it's eaten) are found all over the U.S., the region where barbecue as we know it has its roots, and where it is best known and celebrated, are the southeastern states—Texas, Oklahoma, Missouri, Kentucky, Virginia, Tennessee, North and South Carolina, Georgia, and Alabama.
The common thread tying the south together when it comes to barbecue are perhaps the oft-uttered phrase, "Low and slow," and wood smoke—most typically from hickory, mesquite, and oak, but also sometimes from fruit tree woods like apple, pear, and cherry. When it comes to favored cuts and sauces, a clear line is drawn. From Texas to the Carolinas, Memphis to Kansas City, here are some of the most basic "need to knows" of American barbecue.

Being that Texas is the second largest state in the U.S. (approximately one-third of the size of Alaska, the biggest state in the country), it's not hard to imagine why there are regional varieties of barbecue within the state itself. Divided into East, Central, West, and South, the styles differ mainly when it comes to their sauces, cuts, and grilling techniques. East Texas is the land where pork shoulders, pork ribs, brisket, and sausages are smoked and doused in a sweet tomato-based sauce. In Central Texas, the meats are typically enjoyed market-style (sold by weight) and sauceless, dusted solely with salt and black pepper, and include pork ribs, sausages, and huge beef briskets—what Texas barbecue might be best known for. The West Texans favor dry rubs and are known for cooking their meats over direct heat (usually over mesquite), whereas the South opts for thick, sticky sauces and is known (although these traditions are dying out) for cooking cow heads (barbacoa) over open pits.
Both North and South Carolina typically opt for pork—smoked whole over wood and served chopped, pulled, or shredded—but offer something different when it comes to sauce-style. North Carolina is known for its thin, tangy vinegar-based sauces, whereas South Carolinians in the so-called "mustard belt" prefer to dress their meat with an intense mustard-based barbecue sauce.

If you're looking for pork, and only pork, Memphis-style barbecue is just the ticket. Pork ribs are a specialty and are served "wet" or "dry"—meaning the ribs are basted before and after cooking with a tomato-and-vinegar-based barbecue sauce (wet) or simply seasoned with a dry rub (dry.) The pulled pork sandwich is also a Memphis classic, served simply with that tangy tomato-vinegar barbecue sauce and a scoop of coleslaw.
Lastly, we come to Kansas City-style barbecue. From smoked turkey to pork ribs, brisket to chicken, a typical Kansas City-style barbecue restaurant will have it all and serve it up with a side of fries and that iconic American definition of barbecue sauce—thick, sweet, and red—based on tomato and molasses. Perhaps the most unique thing to be attributed to Kansas City-style barbecue are burnt ends, super flavorful hunks of meat cut from the pointed end of a smoked brisket—or what any barbecue lover might wish to see at the end of a rainbow.
Pulled BBQ jackfruit burger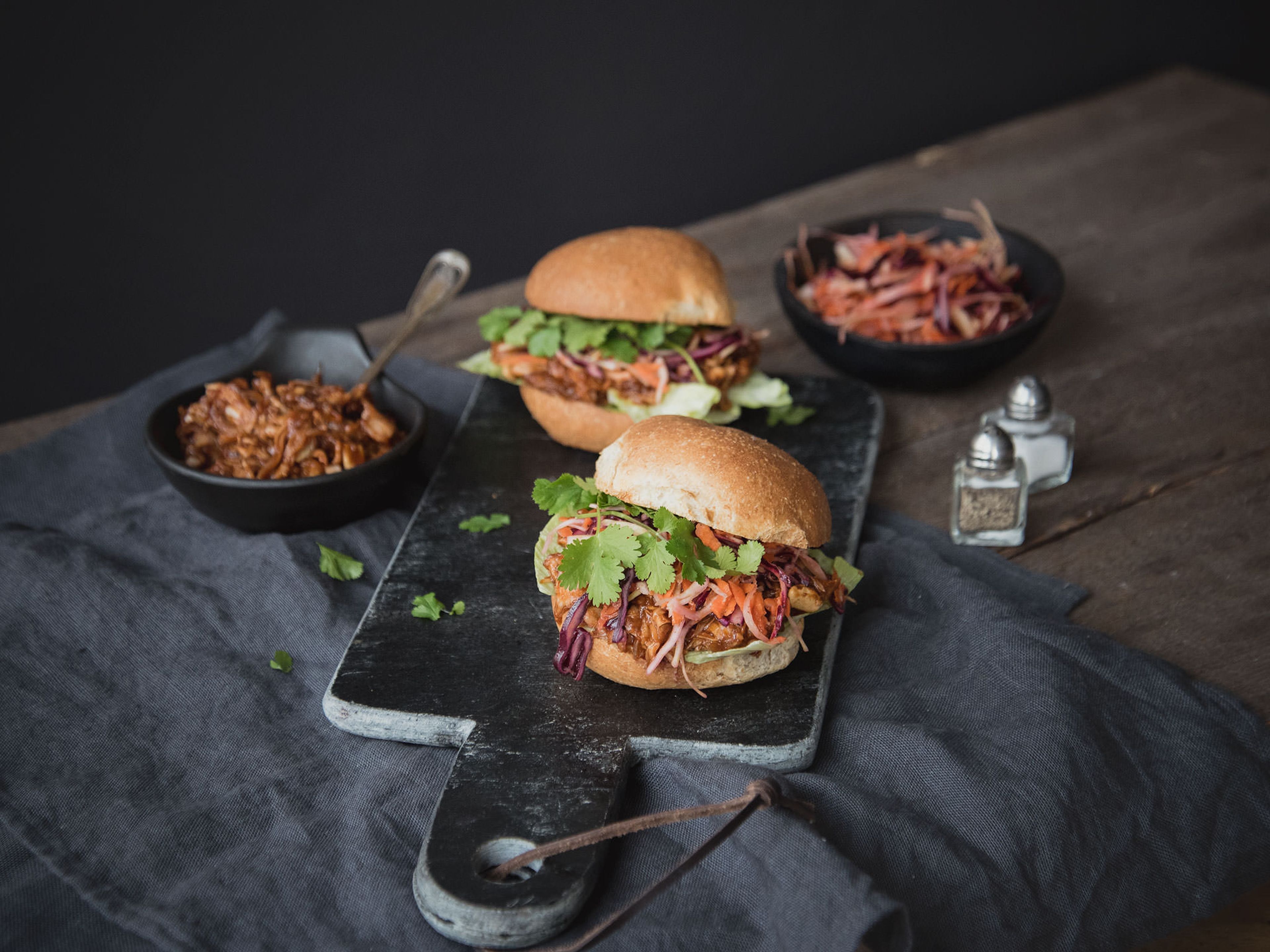 → Go to recipe
3 meats, 3 marinades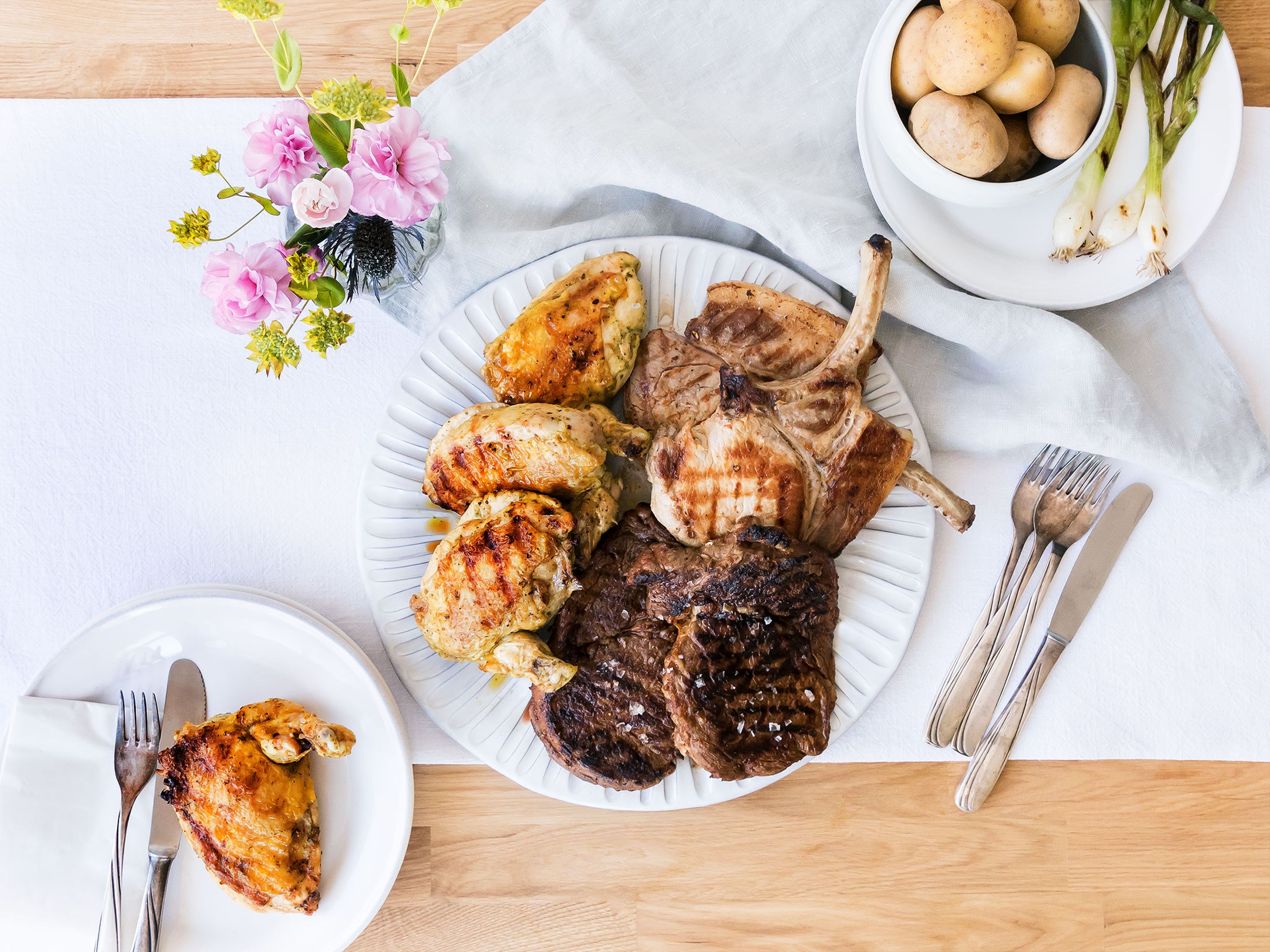 → Go to recipe
Indonesian satay (Sate)
Throughout Southeast Asia (but especially in Malaysia, Thailand, Vietnam, and Indonesia) you'll find people skewering their meats (typically with bamboo skewers) and grilling them directly over hot coals on special satay grills—similar to yakitori-style grilling in Japan, shish kebabs of the Middle East, and shashlik from the Caucasus and Central Asia.

Originating on Indonesia's largest island, Java, satay is the national dish of Indonesia and there are hundreds of different kinds. From sate matang (beef satay in a spicy, sweet soy sauce) to sate padang (cow or goat offal boiled then grilled and served with a signature yellow sauce), there's practically no meat not prepared for satay; chicken, beef, goat, water buffalo, pork, fish, eel, shrimp, shellfish, offal, vegetables, and even eggs are commonly used.
In contrast to the huge variety of what's actually skewered and grilled, there are only a handful of sauces typically served alongside the satay. The general go-to is a spicy peanut sauce, but yellow sauce (made from turmeric and other aromatics), kecap manis (a sweet Indonesian soy sauce), or sambal (a thick chili sauce) make appearances as well, alongside additions of lighter bites like rice cakes and simple pickles.
Duck breast skewers with Asian marinade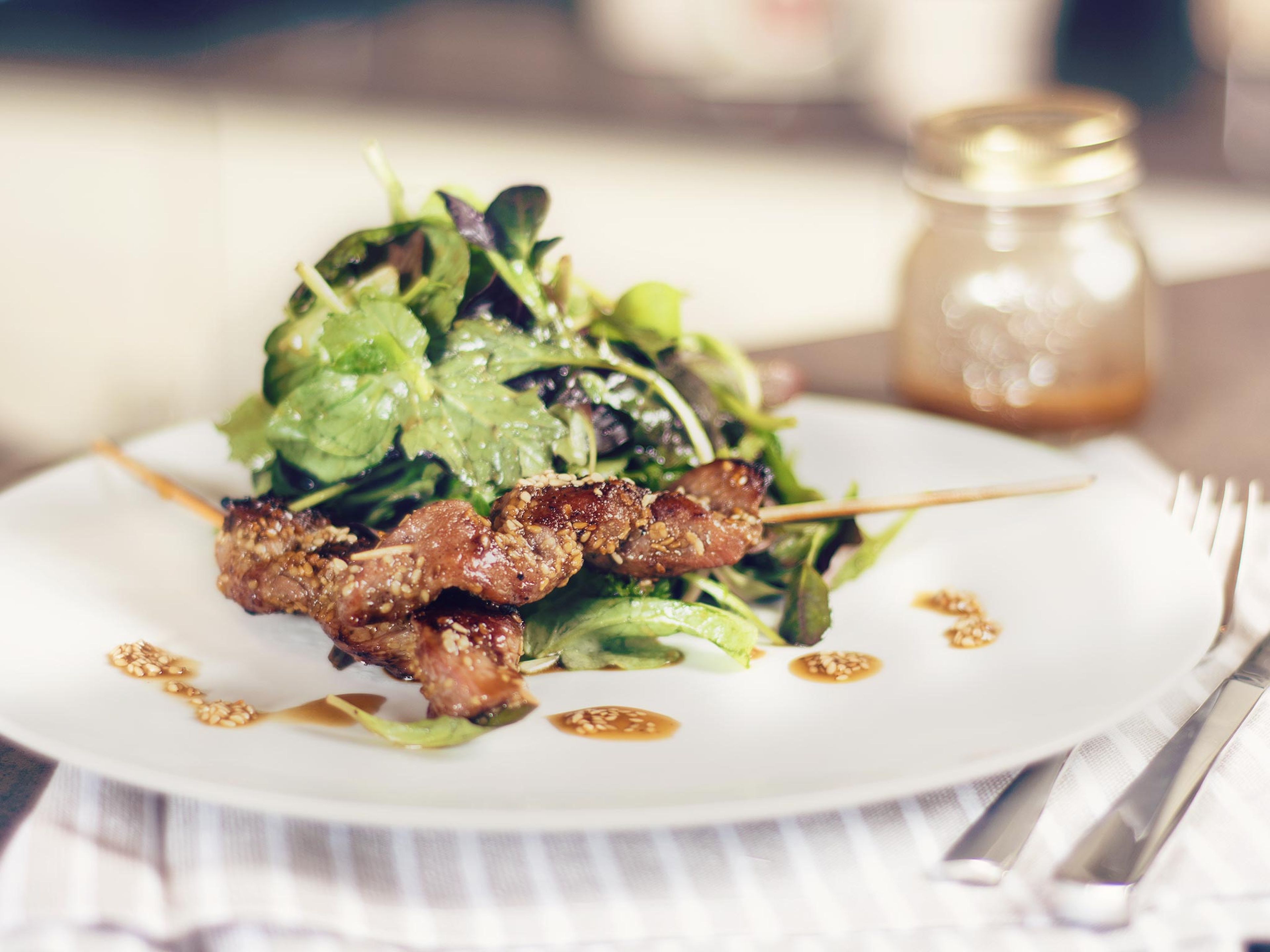 → Go to recipe
Chicken satay with peanut sauce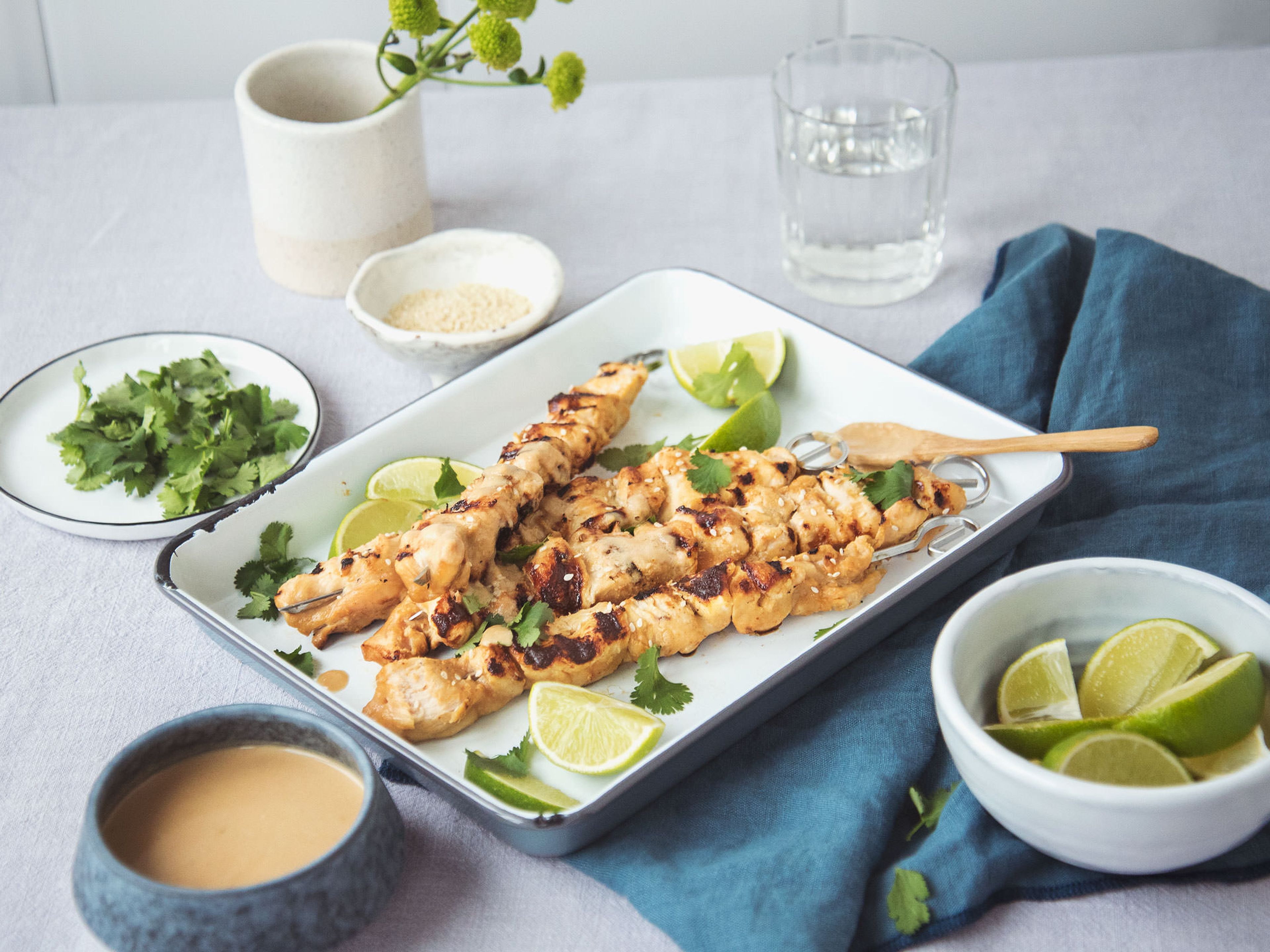 → Go to recipe
Published on June 23, 2019
More delicious ideas for you