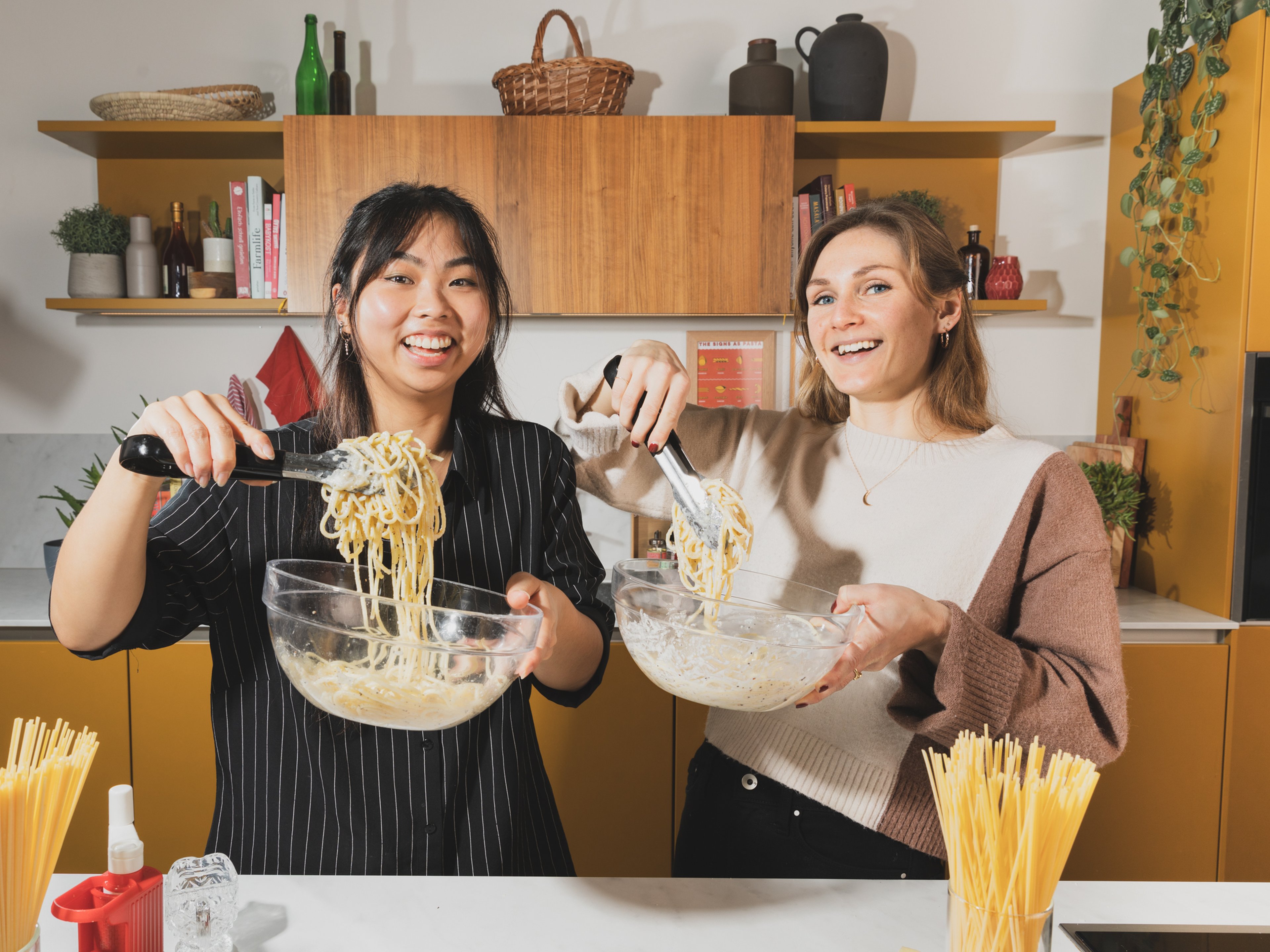 Italian for Everyone
4 Roman Pasta Classics + Italian Language Learning Tips You Should Know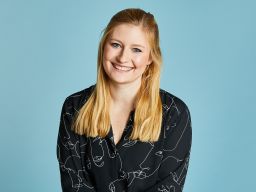 Food Editor at Kitchen Stories
The Italian way is through the stomach - life in Italy revolves around the love of good food, cooking, and sharing meals with loved ones.
I've been addicted to the country's olive trees, aperitivo culture, and pasta dishes for years. Since my semester abroad in northern Italy, I've been a regular visitor to Italy.
But imagine you're at an osteria run by an Italian nonna, how do you order that wine and cheese plate without outing yourself as a tourist? Or imagine you've gotten your fresh produce from the Sunday market in Bologna, how do you cook classic recipes from a cookbook written in Italian without missing its unique tricks and tips?
In our article below, you'll learn the most important vocabulary and phrases for your next (foodie) vacation! We'll walk you through quick recipes for four Roman pasta classics + share useful tips on Italian food culture. By the end, you'll be cooking like a local–and speaking like one, too!
Before we dive: for inspiration on La Dolce Vita ( → the sweet life), check out @italysegreta's Instagram account.
We believe the best way to learn and practice a language is through cooking and eating. Are you with us? Andiamo! (→ Let's go!)
How to cook the Italian way?
At Kitchen Stories, Italian is the most sought-after cuisine by country. On the popular language learning app Duolingo, Italian is the most popular language to learn. No wonder, it's hard to say no to the combination of such delightful flavors and sounds!
- The ragù simmers on for hours, stirred regularly until the lasagna in the oven cooks with béchamel sauce and mozzarella cheese. The whole family drools while waiting, snacking on cheese and olives, sipping wine. - THIS is Italian cooking, just as much as whipping up tomato sauce for an after-school pasta lunch with garlic, olive oil and tomatoes all in 15 minutes.
Italian cuisine is characterized above all by the use of regional & seasonal ingredients of the best quality, careful preparation, and most importantly, a huge scoop of love for good food.
3 facts about Italian food culture
1. There is not ONE Italian cuisine
Pasta, pizza, and pesto crossed Italy's borders to the rest of the world a long time ago and are an integral part of the worldwide Italian food culture. Nevertheless, Italian cuisine across the 20 Regioni ( → regions) has an incredibly diverse range of regional varieties to offer, such as baked artichokes from Lazio or spaghetti allo scolio from Campania. When it comes to pizza alone, opinions differ: airy Neapolitan pizza from the Campania region or crispy Roman pizza al taglio ( → pizza by the slice)? → Find out more in our pizza guide. Which one is your favorite?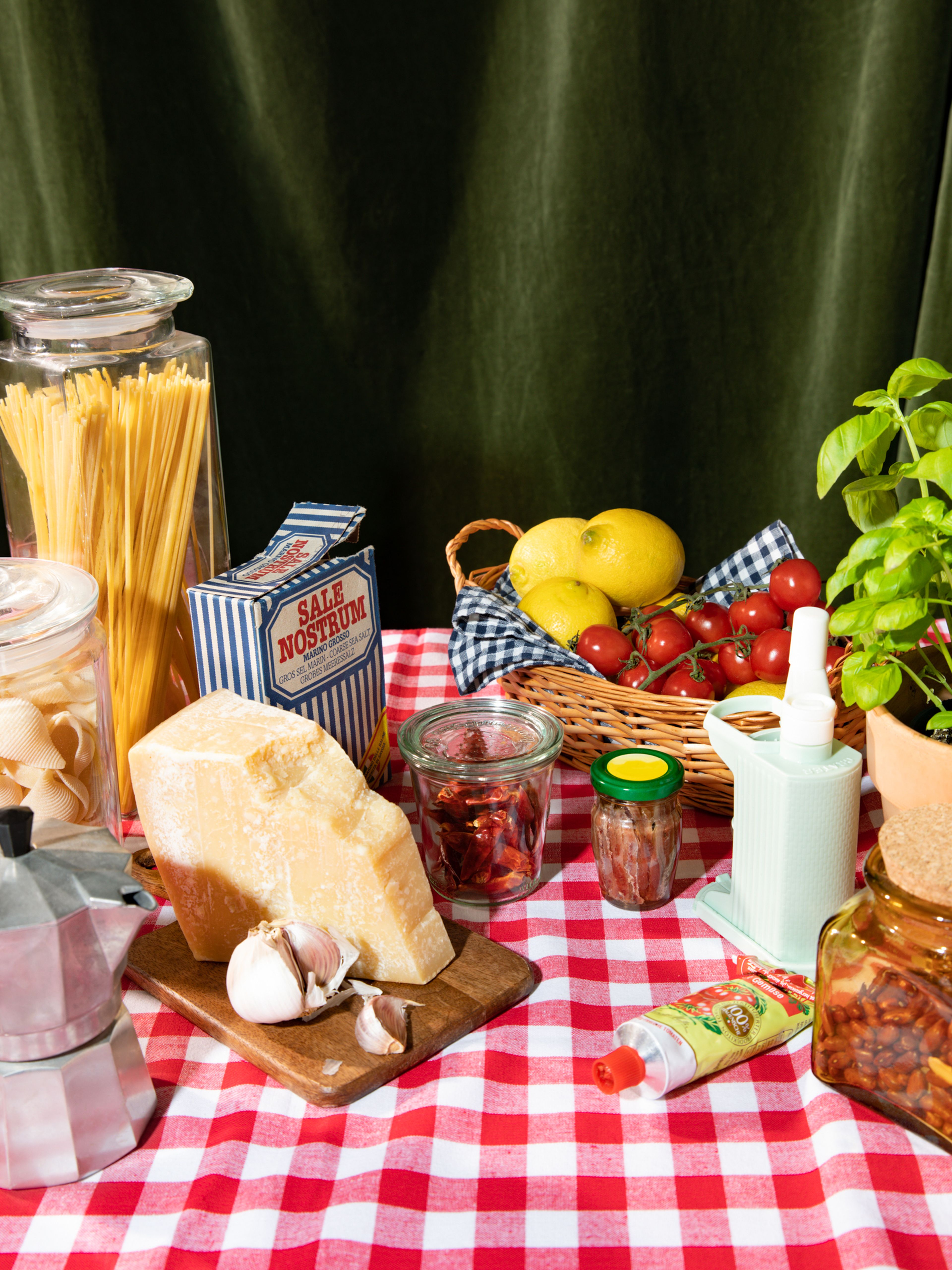 2. The Italian menu
In Italy, a meal often consists of several courses. Throughout la cena ( → dinner), you take your time throughout the courses and enjoy it with your loved ones. Of course people don't always stick to the same sequence at home, but here's a classic order for a meal:
The classic sequence in a restaurant:
1. Antipasto ( → appetizer) & Aperitivo ( → aperitif): small appetizers that tickle the palate ( → solleticare il palato), such as bruschetta, sliced ham, or olives.
2. Il primo piatto ( → first course), such as risotto, pasta, or soup.
3. Il secondo piatto ( → second course) & Contorni (→ side dishes), such as fish or meat with grilled or cooked vegetables or salad.
4. Dolce ( → sweet) & Café ( → espresso) & Digestivo ( → digestif), such as tiramisu or panna cotta and an espresso + grappa.
And if you're wondering now how to save enough room for four courses: you can also choose just a first or second course, or opt for a pizza.
3. Bread etiquette
How to out yourself as a tourist: In many Italian restaurants, you will often find a bread basket, olive oil and aceto balsamico (→ balsamic vinegar) on the table. Unlike in many other countries, oil and vinegar in Italy are used exclusively for dressing the salad during the second course. With the bread, on the other hand, you make fare la scarpetta (→ make a little shoe → dip leftover sauce with the bread) and, as a real expert on Italy, it's best not to dip it in olive oil at the beginning of the meal.
What other culinary etiquettes in Italy are you familiar with? Tell us about them in the comments!
How do language and cuisine fit together?
Language is the key to understanding a country's culture and, indeed, to its cuisine. Learning it helps decode the stories and traditions associated with many recipes. To understand Italian cuisine in all its diversity from Trofie al Pesto in Liguria to Sicilian Caponata or Penne alla Norma, knowing a few culinary vocabulary helps. Many recipes and tips will make much more sense if you understand how they are written in the original!
The story with the tiramisu
Tiramisu → pull me up → tirare (to pull), mi (me) and su (up).
The story goes: the grandfather of the owner of the restaurant "Le Beccherie" in Veneto wanted something for dessert that would "pull him up, get him going". The grandson developed a dessert called tiramisu from mascarpone, espresso and sugar. You can learn how to make a classic tiramisu from my colleagues Lisa and Ruby here and here!
How to learn a new language
Let's get the most important thing out of the way: Anyone can learn a new language. What matters is the right approach and tips!
Tips for learning languages:
Tip 1: Find a way to stay motivated!
It's hard to stay motivated throughout the journey of learning a new language. You need reasons to keep you going. For example, you have family in the country or you work in that language. Or, our favorite motivation factor: you want to travel to the country and understand their culture and cuisine better. We think that learning a language through the love of food works out particularly well–after all, you'll always have to eat!
Tip 2: Integrate languages into your everyday life, e.g. with an app.
Learning languages effectively doesn't have to be boring, and with language learning apps, like Duolingo, it's possible to do it for free, regardless of location and time. Duolingo has made it its goal to become the world's most efficient and accessible language learning platform. In addition to Italian, you can also learn Portuguese, Hebrew or Swahili, among many others.
Whether you are a language beginner or a professional, you will be guided by the feathered friend Duo through interactive exercises with playful features and exciting challenges - also known as the Duolingo method. In short lessons you train your speaking, reading, writing, listening and speaking skills, develop your vocabulary and grammar. With the help of Artificial Intelligence and language research, you learn at exactly the right level and speed, easily personalizing your Duolingo learning journey. The combination of research-based learning methods and entertaining content turns language learning into a daily habit and a fun experience. Try it right now and download the app here!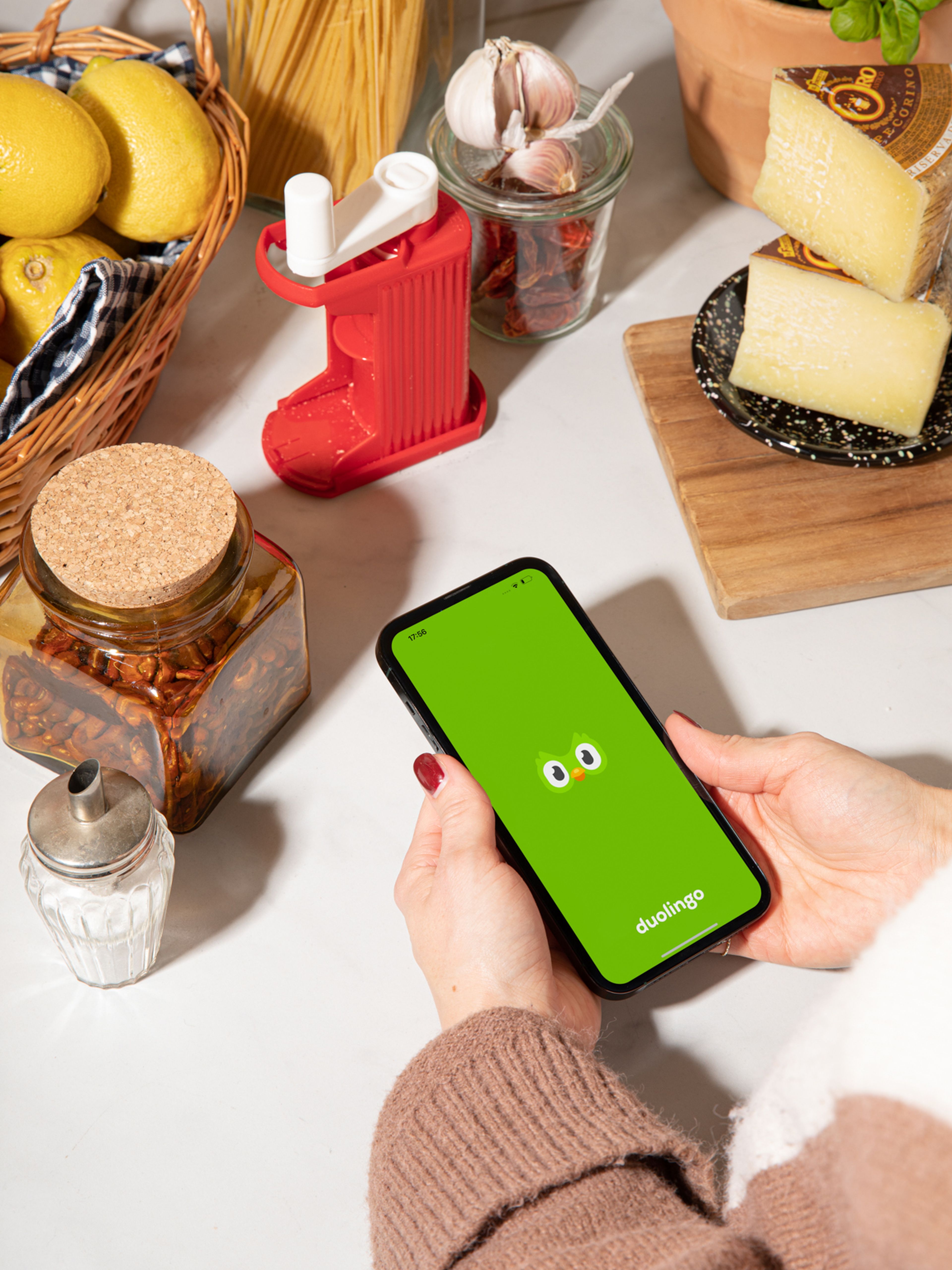 Have you ever learned a language with Duolingo? Tell us in the comments!
Those of you familiar with Duolingo probably remember funny sentences like "your bear drinks beer" that you would rarely use in everyday life. That's on purpose: Besides functional sentences for real-life communication, weird sentences and unexpected content appear because they stay in your memory longer that way. It adds more fun and makes you think about the language from a different perspective.
Use your free time on the train or while traveling to your next vacation and become a Duolingo pro! Download it now from the App Store or Google Play!
Tip 3: Use the language!
If you link practical sentences with situations from everyday life (on vacation), they will stick much better to your memory!
Where else, if not in the country of the language you're learning, can you put what you have learned into practice right away? You can immediately practice asking for directions or ordering in a café or restaurant. These are often phrases that you can write down and rehearse beforehand, as you will probably need them several times during your trip. Pay attention to the person you are talking to, because when learning a language it helps a lot to watch native speakers speak and to look at their gestures and facial expressions - especially with Italians, gestures are part of the language!
I have saved on my phone a list of the most common Italian phrases and words that have helped me in recurring vacation situations! For example, learning to conjugate modal verbs like 'can, should, would like to' allows you to quickly formulate simple and helpful sentences.
Tip 4: Find a tandem partner!
In a language tandem, you teach the other person your native language and learn theirs in return. It is important that you have approximately the same learning level, otherwise the tandem can quickly turn frustrating. Whether you exchange ideas over coffee or cook together is up to you. If successful, a tandem can help you learn your partner's culture and speed up your language-learning process.
Tip 5: Watch movies and series in the original language!
With well-known streaming providers, you can watch movies and series in the original language or set the subtitles in the language of your choice. This way you train your listening comprehension and learn new words and useful everyday phrases. Subtitles will help you in the beginning, until - if you follow all our tips - you will soon be able to watch without them!
And don't forget - practice makes perfect!
Whether it's with the language learning app Duolingo, a language tandem, and/or watching your favorite show in the original language, language learning works best with a combination of fun and efficient methods. We think merging food and language does just that, so we made a video to show you how!
We've brought the Duolingo language duel to Kitchen Stories–watch our new video to see how our contestant Lisa learns Italian gestures and watch our second contestant Jenny fish out pasta that is no longer al dente.
<video link>
The Duolingo culinary duel:
Test yourselves! Are you better, worse or just as good as Jenny & Lisa? Tell us in the comments!
Our two candidates compete in 6 fun rounds and collect points. Lisa and Jenny hold everyday conversations and offer entertaining translation and quiz rounds in Italian while taking on the culinary challenge: making Cacio e Pepe! Whose Italian knowledge, cooking skills and cultural facts will convince our Roman game judge Matilde?
Pasta, pasta, pasta
Everyone loves pasta and, especially in Italy, it's an undisputed staple. It can be served with fruity tomato sauces, seasonal vegetables and hearty ragùs (probably a little better known as bolognese) as lunch or as a primi piatto at an extensive dinner. Let's have a closer look:
In accordance with the purity law for Italian pasta from 1547 (yes, it really exists), traditional pasta secca ( → dry pasta) consists exclusively of durum wheat semolina and water. Pasta fresca ( → fresh pasta), on the other hand, is made from type 00 flour and eggs. Since durum wheat traditionally comes more from the south of Italy, you will find this type of pasta more as you travel down to the heel of the boot. Pasta all'uovo ( → pasta made with egg), on the other hand, is popular in the Emilia-Romagna region in northern Italy, where the famous handmade tortellini filled with meat in brodo ( → in broth) can be found on many menus. If you want to learn more about the regional pasta dishes, click here!
Maybe you have penne all'arrabiata as a quick dinner during the week, or maybe you regularly use your pasta machine to prepare homemade tagliatelle, ravioli and the like for large groups. We want to introduce to the mix four of the most important, if not THE most important pasta dishes of Roman cuisine, which you can prepare with store-bought or homemade pasta.
You should remember this:
Even though the dishes vary regionally, Italians are pretty united on a few principles when it comes to making pasta:
1. Pasta water is generously salted → 1 tsp per liter of pasta water.
2. Pasta MUST always be al dente ( → bite into it → still a little firm to the bite) → Remove pasta from the pot 1 min. earlier than the package instructions say.
3. Cream should only appear on the ingredient list for Tortellini alla Panna at most.
4. Gently mix the pasta and sauce together before serving.
5. Use pasta water for the perfect sauce.
The starch trick with pasta water
The starch in pasta is released into the salt water during cooking, making pasta water the ultimate natural thickener for your pasta sauces. It helps the sauce form thicker and mix more evenly. This is especially an important step for our Roman classics that use only a few ingredients. Our tip: always keep a large jar of pasta water!
4 Roman pasta dishes + tips for preparation
Simple (almost) always wins! These 4 Roman pasta classics are a great proof of that rule, and shouldn't go missing from your Italian cooking repertoire. To succeed, quality ingredients, pasta water, & the right temperature are crucial. They reflect the basic principles–high quality, simple ingredients + patience & love–that make up any perfect Italian dish.
The crowd favorite: Spaghetti Carbonara ( → Köhler style → favorite dish of cabbage traders*)
Classic spaghetti carbonara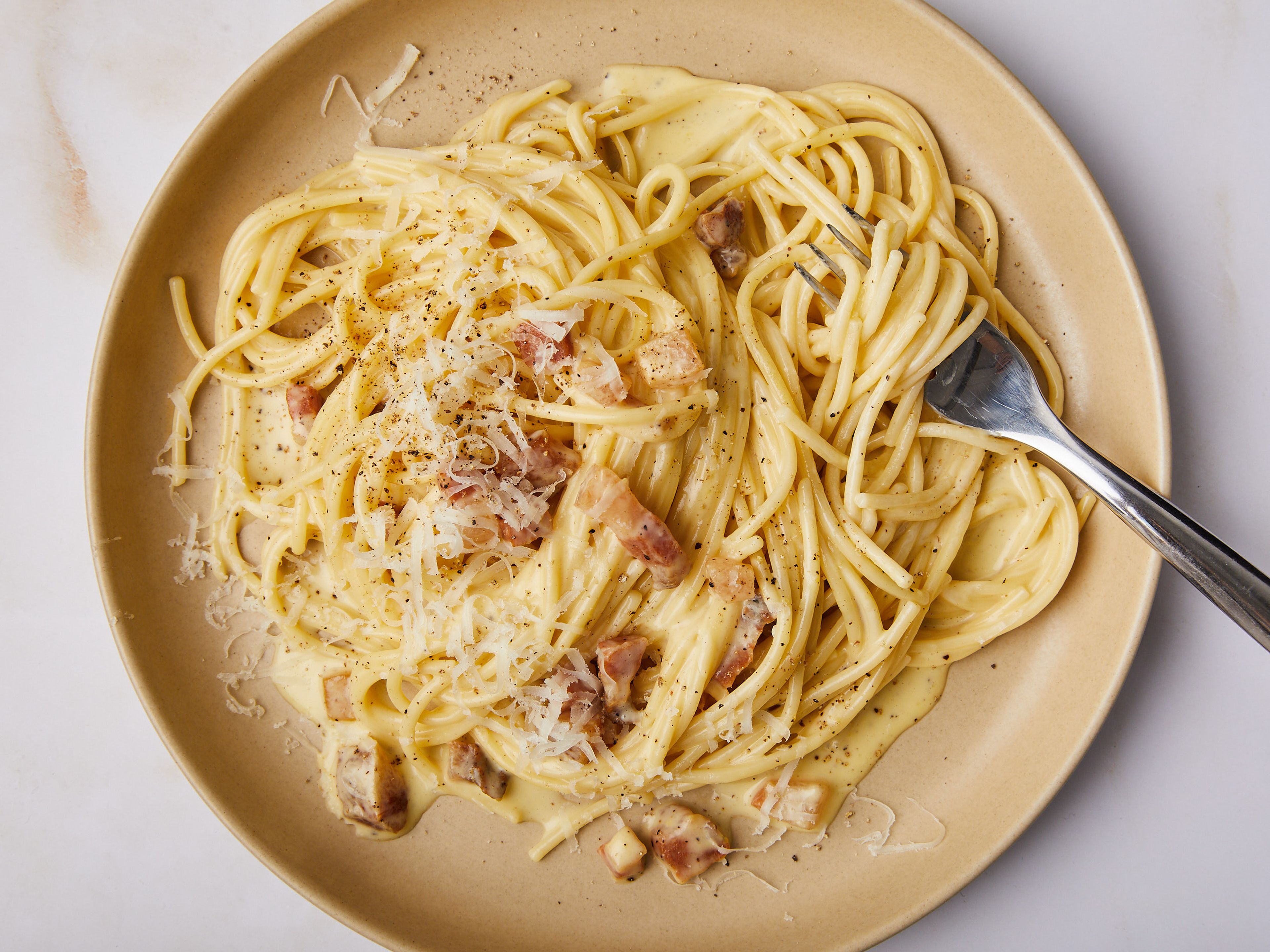 → Go to recipe
Top tip for a creamy sauce:
To prevent the eggs from setting while you're making spaghetti with them, the pan in which you mix the pasta with the yolk and cheese should be off the heat. The eggs should be at room temperature when added, and you should also add some pasta water.
2. The recipe from Challenge 3 of our Duolingo duel: Cacio e Pepe ( → cheese and pepper)
Cacio e Pepe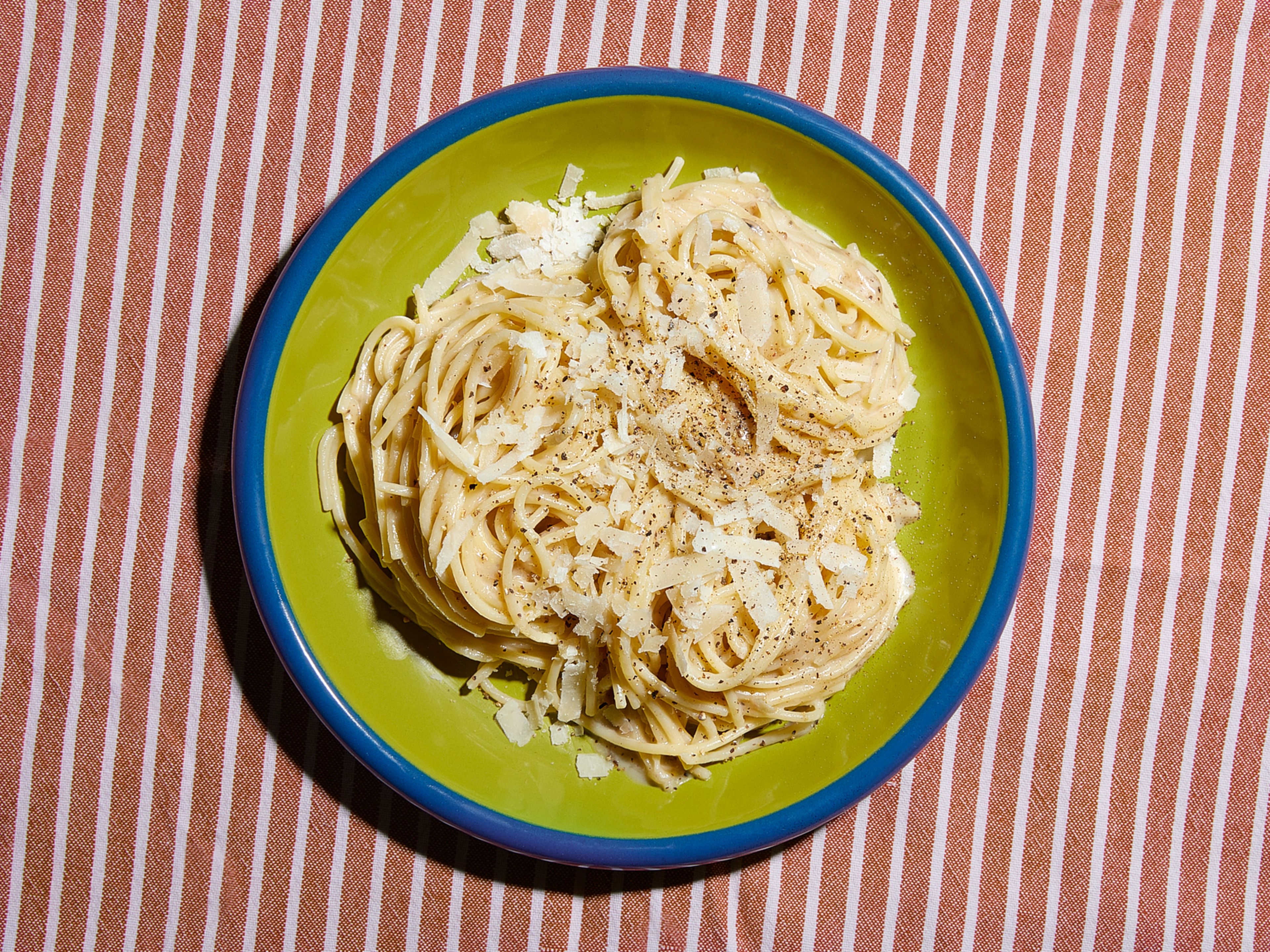 → Go to recipe
Jenny and Lisa put their pasta cooking skills to the test in our culinary duel and made delicious Cacio e Pepe! Did you pay attention to the recipe steps from our game judge Matilde and find out who won? If not, click here (Youtube link from 12/12).
Top tip for a creamy sauce:
Even with only three ingredients, things can go wrong and you end up with curdled cheese instead of creamy. Make sure your pecorino cheese is at room temperature and very finely grated. Mix cheese, pasta water, and a lot of black pepper to make a sort of cheesy paste.
And again, for a creamy result, mix the cooked pasta with the cheese paste without any additional heat, and stir, stir, stir + don't forget extra freshly ground black pepper!
3. Matilde's favorite: Bucatini all'Amatriciana ( → Amatrice: a town near Rome).
Buttery pasta all'amatriciana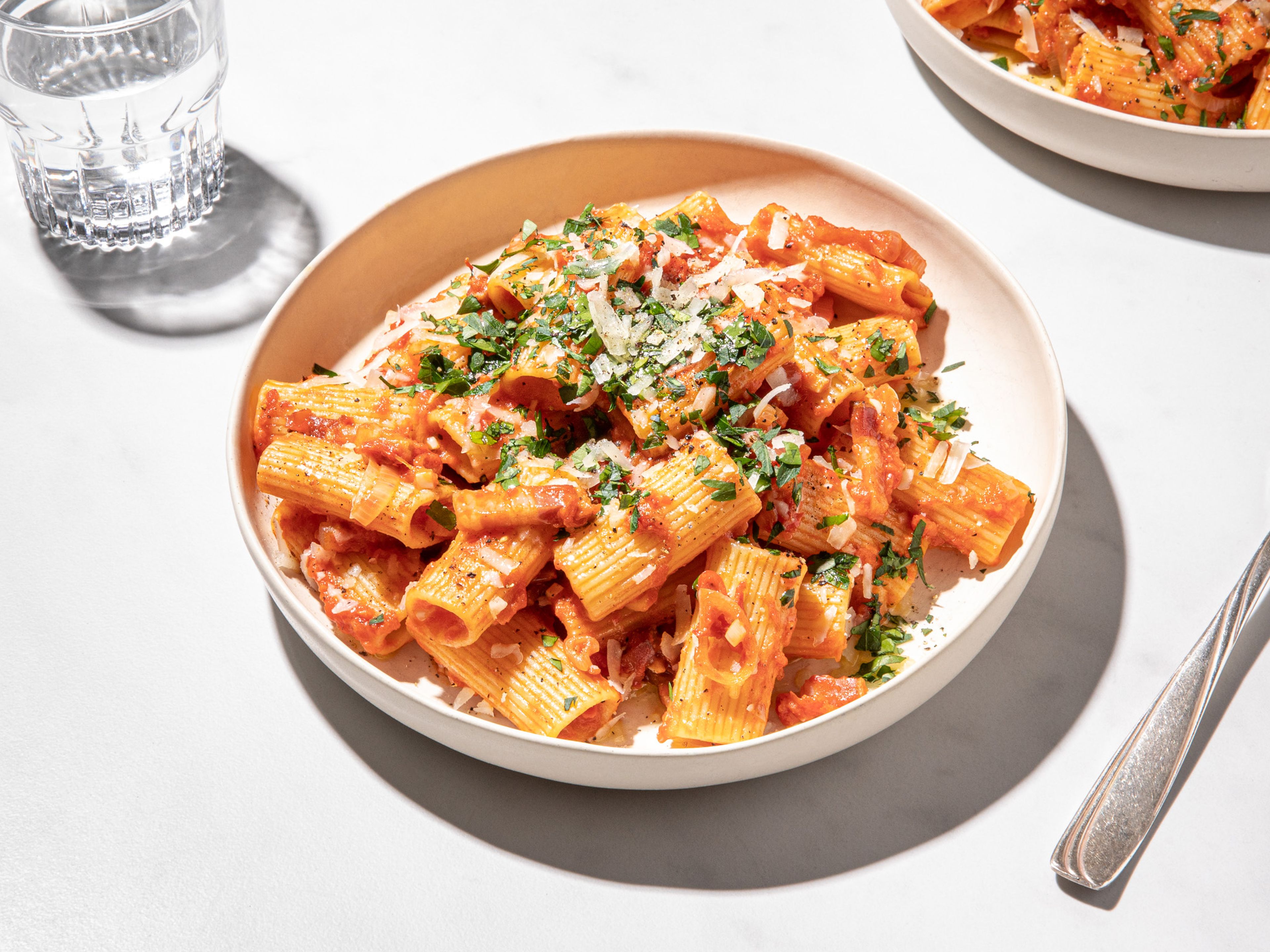 → Go to recipe
Top tip for an aromatic sauce:
Traditionally, this pasta dish flavored with guanciale (spicy pork bacon) and aromatic tomato sauce is made with bucatini, the tubular, thicker relative of spaghetti that really soaks up the sauce through the hole in the middle. Additionally, be sure to use high quality passata di pomodoro ( → strained tomatoes) and make the tomato sauce with the fat from the guanciale for extra flavor.
4. The hidden gem: Pasta alla Gricia ( → Griciano: a small village near Rome).4
Pasta alla gricia (Pasta with Pecorino and guanciale)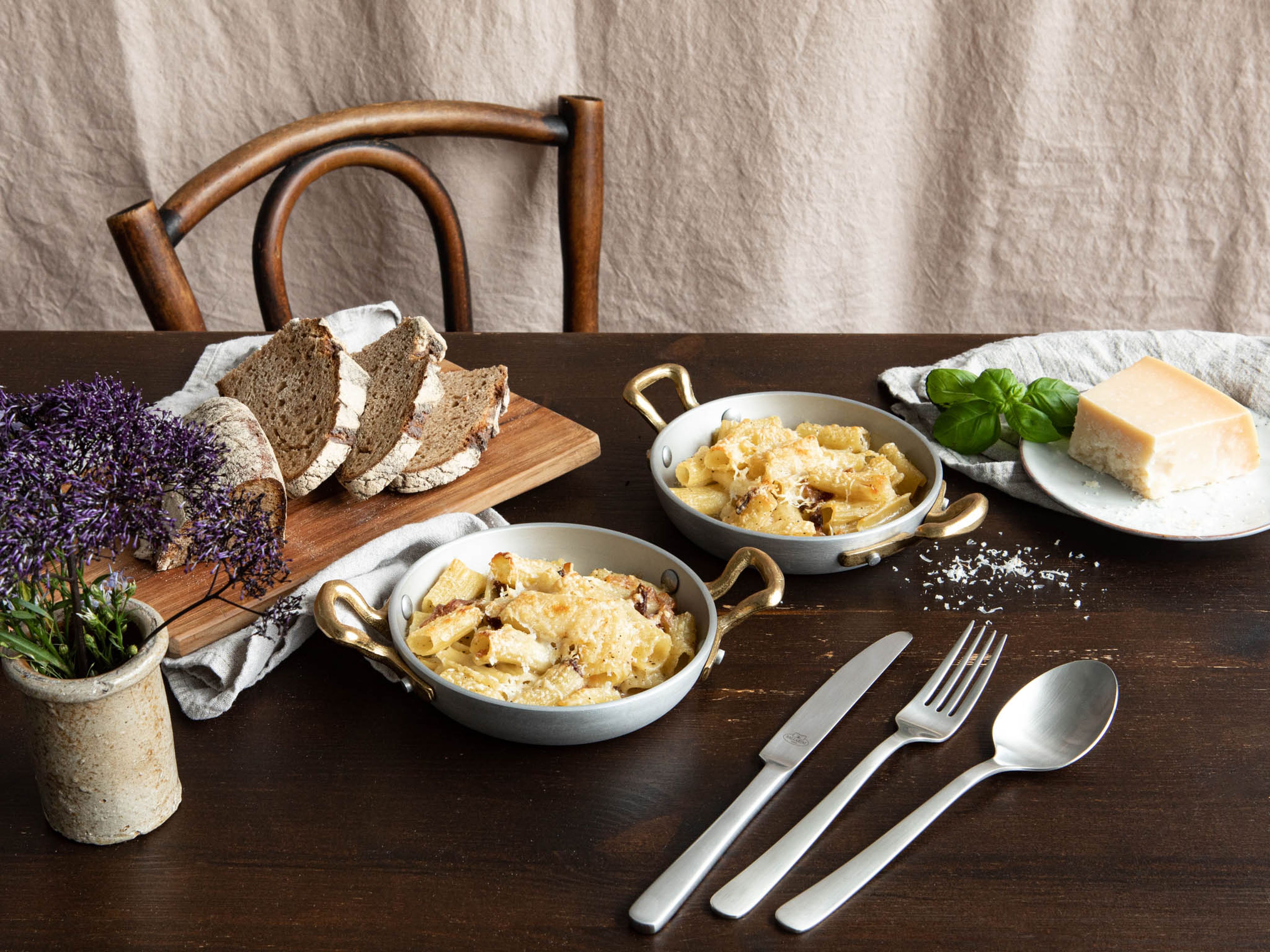 → Go to recipe
Top tip for a creamy sauce:
Some say this pasta dish combines the best of the other three classics: guanciale, pecorino cheese and black pepper; others say it is carbonara without eggs or even white amatriciana. Again, the key to success is stir, stir stir + extra freshly ground black pepper. Because likewise for this dish, the creaminess of the sauce comes from pasta water and cheese mixing in with the pasta without additional heat.
Here you can find even more tips for cooking pasta.

Maybe you, like Lisa and Jenny, were able to pick up some new vocabulary and phrases for your next trip to Italy, and got in the mood to make some classic Italian dishes.
If you don't have Matilde to learn Italian with, try the language app Duolingo! Download it now!
Let us know what dishes you end up trying with your new vocabulary. For now, CIAO and arrivederci!

Published on December 10, 2022
More delicious ideas for you