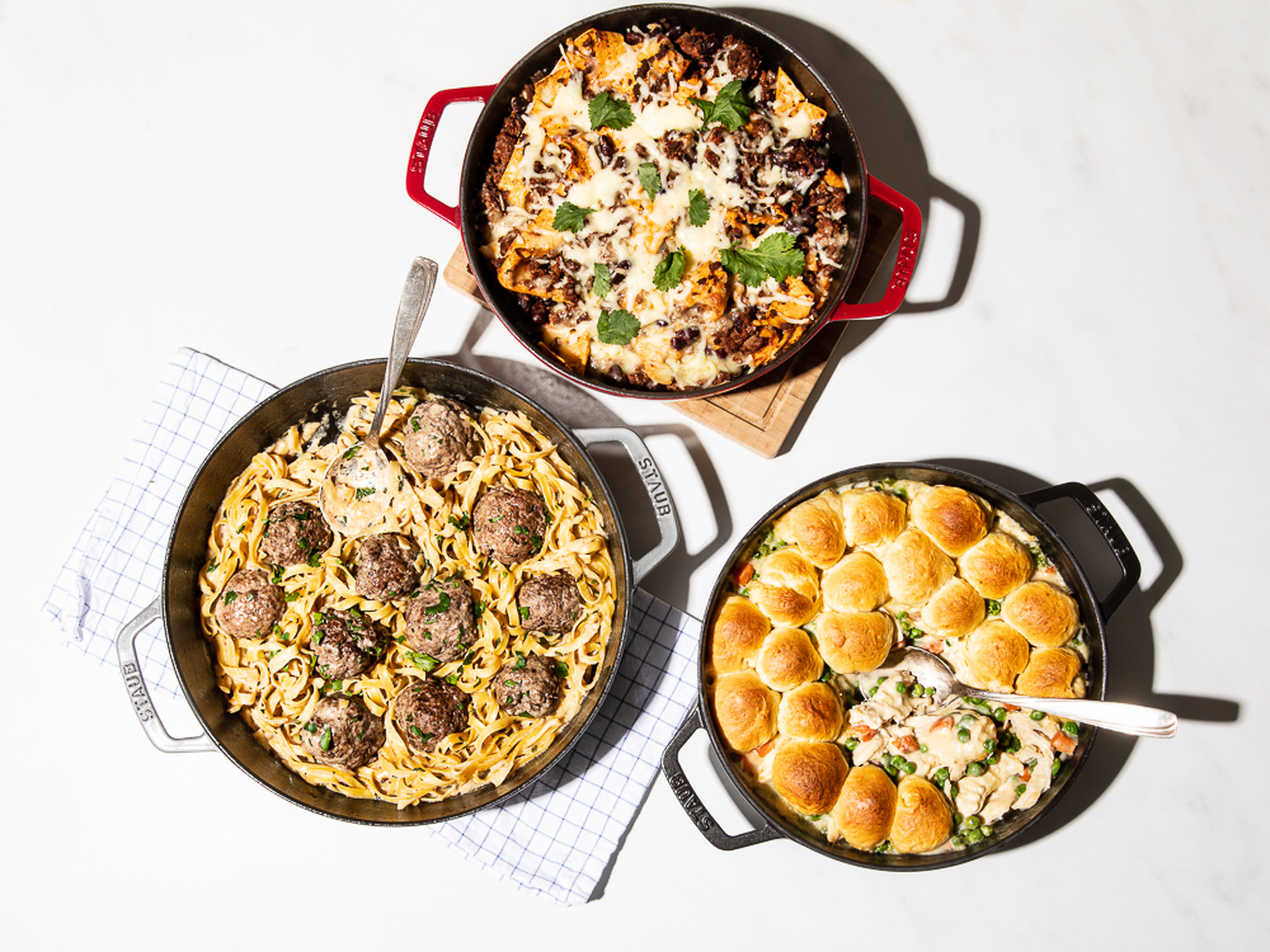 Can You One-Pot It?
We put burritos, pasta and meatballs, and chicken pot pie to the test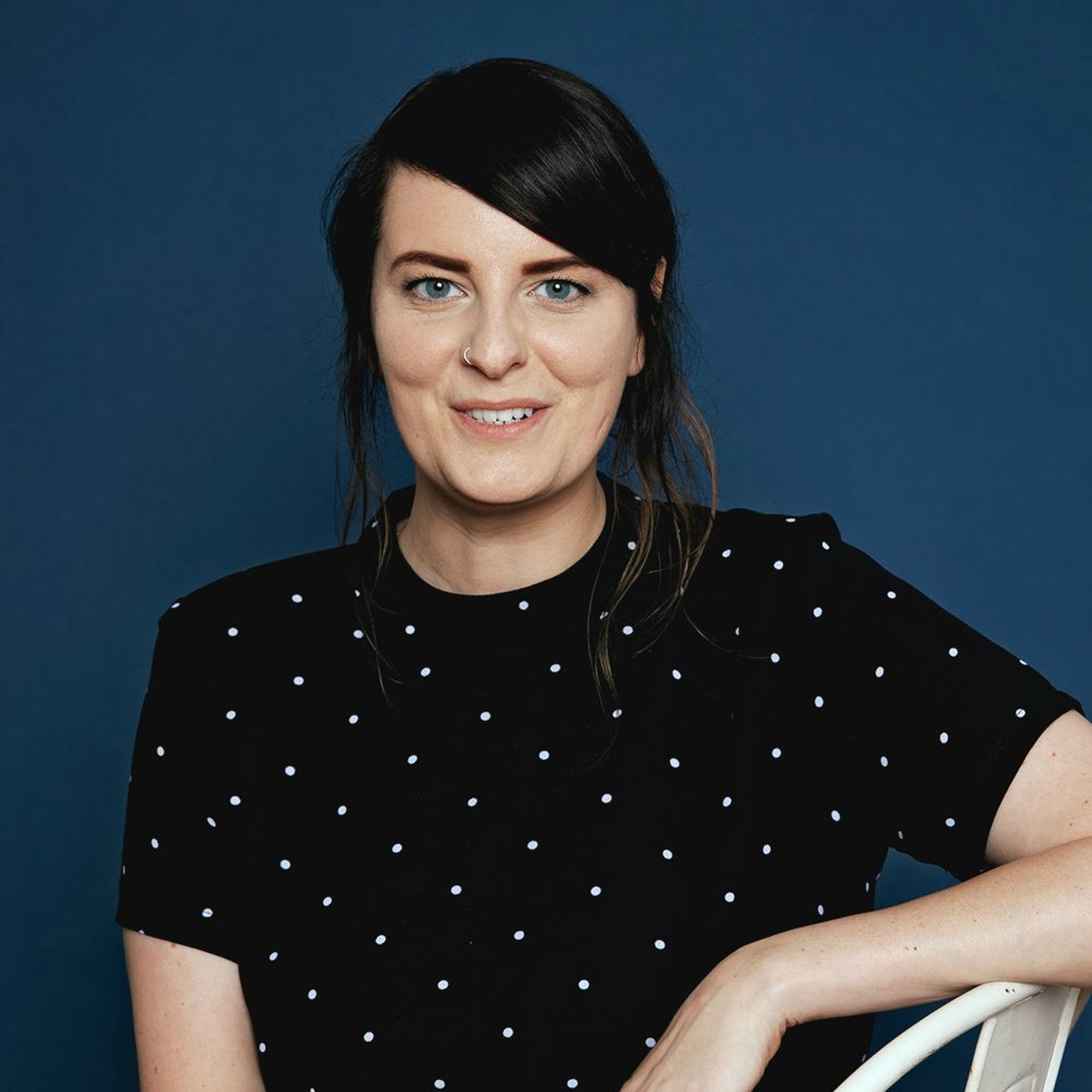 It's a not-so-well-kept secret among the Kitchen Stories editors that I like to misuse kitchen utensils and appliances. Although I own a handful of impeccable frying pans, I tend to cook up potato fritters, French toast, and sometimes even an omelette in my beloved waffle iron.
I have to admit that I wasn't thrilled about this initially. One-pot meals are already pretty popular and it didn't really seem like the biggest challenge...at first. However, once I took a closer look at the most common one-pot recipes, I realize that, in practice, you often need more than just a single pot.
And so, in the end, my ambition was awakened and I began to search for 3 suitable candidates for my can you one-pot it test. Find out which dishes made it into the trial and whether I was satisfied with the result right here!
Recipe 1: One-pot swedish meatball pasta
Why did I choose this dish?
I've thought about testing a one-pot pasta for a very long time. Since this cooking method is pretty common by now, I decided to combine it with another dish for an added level of challenge. Pasta and meatballs are always a good idea, so it wasn't hard to quickly decided on the first recipe: One-pot swedish meatball pasta.
Okay, two dishes in one pot—things could get really interesting here.
How did I make it?
I started with making the meatballs, combining ground beef, breadcrumbs, and eggs, then forming them into small balls and frying them in the pot with some olive oil. After they were crispy on the outside and cooked through, I added beef stock and milk, and brought it to a simmer (yes, the meatballs were still in there). Finally, I added the tagliatelle and cooked everything for about 10 minutes, finishing with some chopped parsley for garnish.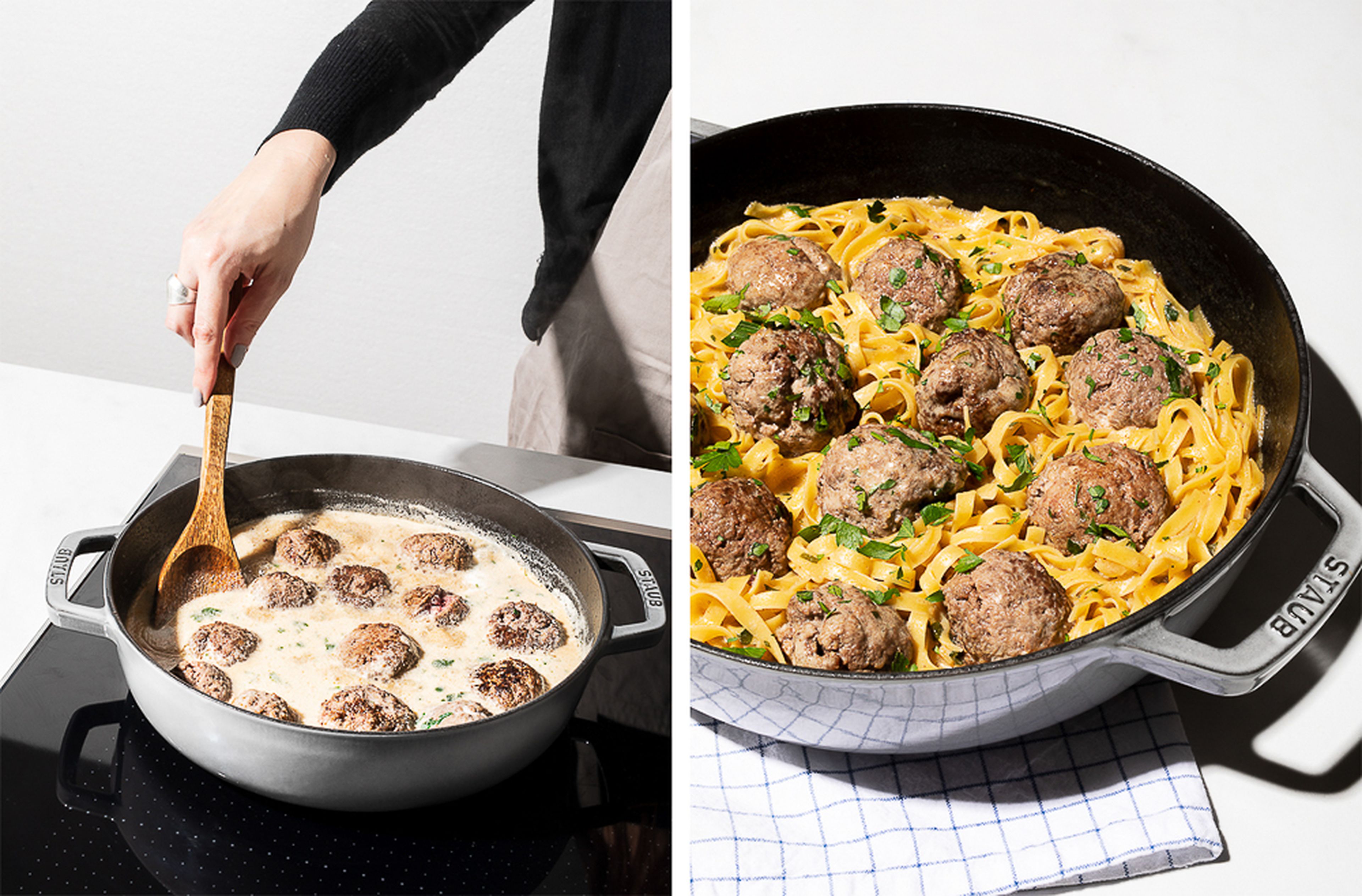 Ingredients for cooking the recipe at home: 1 lb (500 g) ground beef, 2 oz (50 g) bread crumbs, 1 egg, olive oil for frying, 2 cups (500 ml) beef stock, 2 cups (500 ml) milk, 14 oz (400 g) tagliatelle, 1 oz (30 g) parsley.
Will I make it again?
Recipe 2: Chicken Pot Pie
Why did I choose this dish?
For a classic chicken pot pie is kind of shortcrust pastry-blanketed tureen with a chicken and vegetable (usually peas and chopped carrots) filling. For our Kitchen Stories recipe, we use puff pastry and portion the dish out into small molds. What would the one-pot version look like? Let's find out.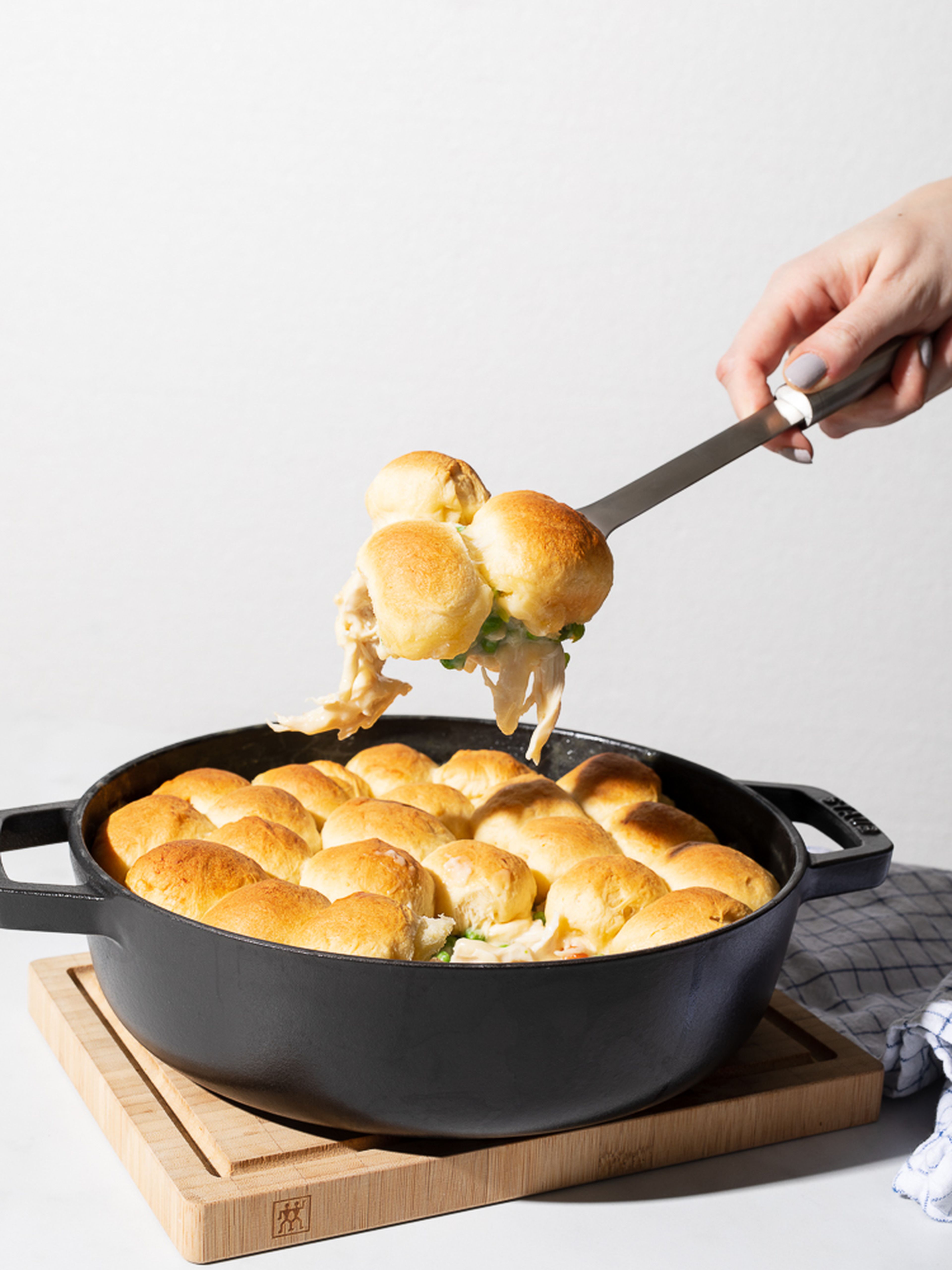 How did I make it?
First, I poached the chicken breast in a pot of water until cooked through, then I removed it from the pot and shredded it, using two forks. After that, I discarded the cooking water and added some butter to the same pan, melting at medium-high heat. One after another, I added diced onions, peas, diced carrots, and the shredded chicken. Finally, I poured in the chicken stock and let everything simmer for a couple of minutes.
Then, I had to cheat a little bit: Instead of puff pastry or shortcrust pastry, I used a ready-made dough for buttermilk biscuits, rolling it into small balls, and using these to cover the chicken filling with as a kind of dumpling crust. Now, the pot only had to go into the oven for about 15 minutes (needless to say, you have to use an ovenproof pot for this recipe).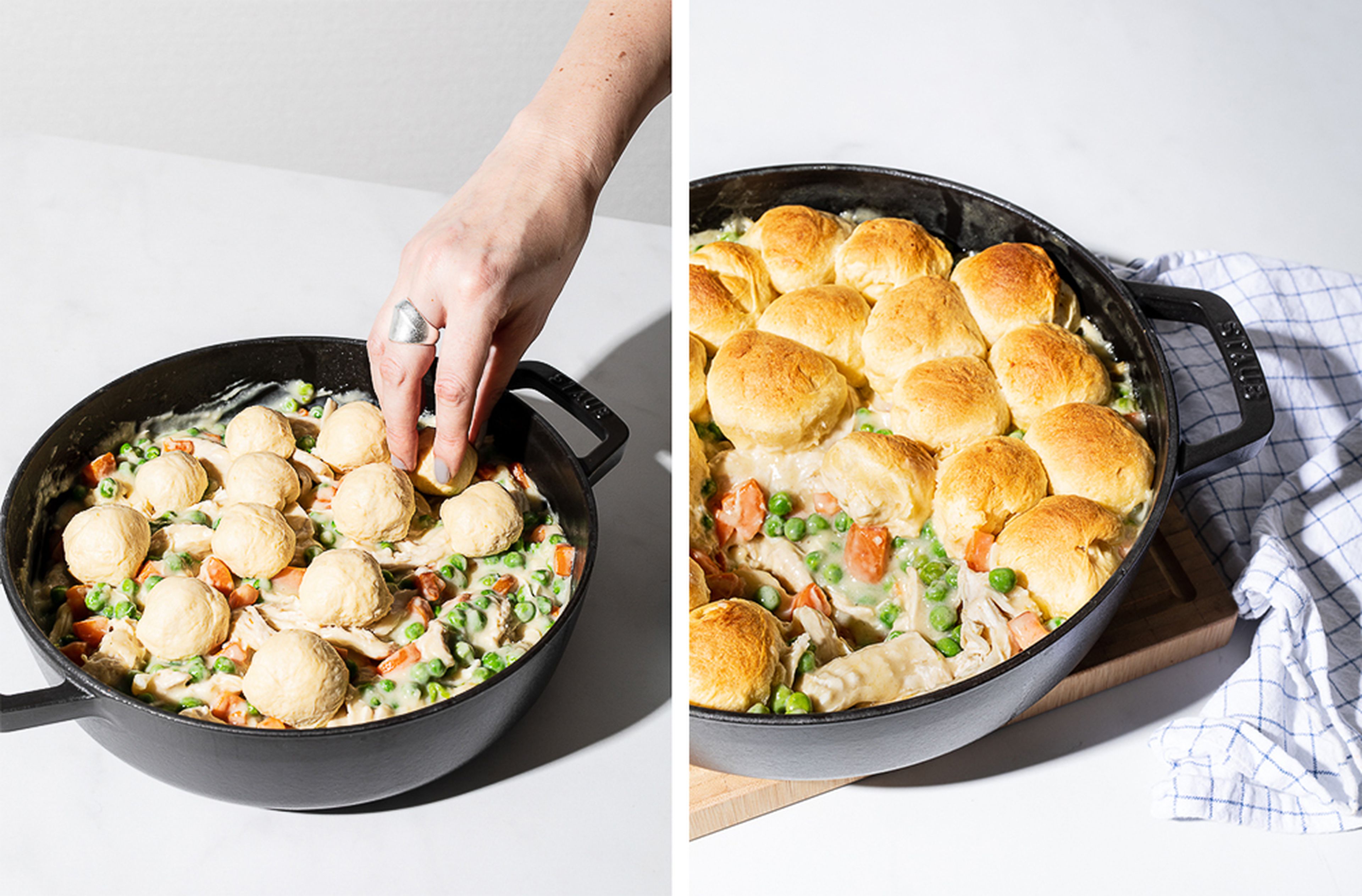 Ingredients for cooking the recipe at home: 3 onions, 1 stick (100 g) butter, 7 oz (200 g) of frozen peas, 3 carrots, 1.5 cups (400 ml) chicken stock, 14 oz (400 g) chicken breast, 1 pack ready-made buttermilk biscuit dough.
Will I make it again?
Perhaps. It was pretty easy to make and I was pleasantly surprised at how well the buttermilk dough fitted the recipe. However, it still couldn't quite match up to the one-pot meatball pasta.
Recipe 3: One-Pot Burritos
Why did I choose this dish?
For the third recipe, I wanted to take things up a notch, so I chose a recipe that you wouldn't think of as a one-pot dish in a million years: A burrito! But can it actually work?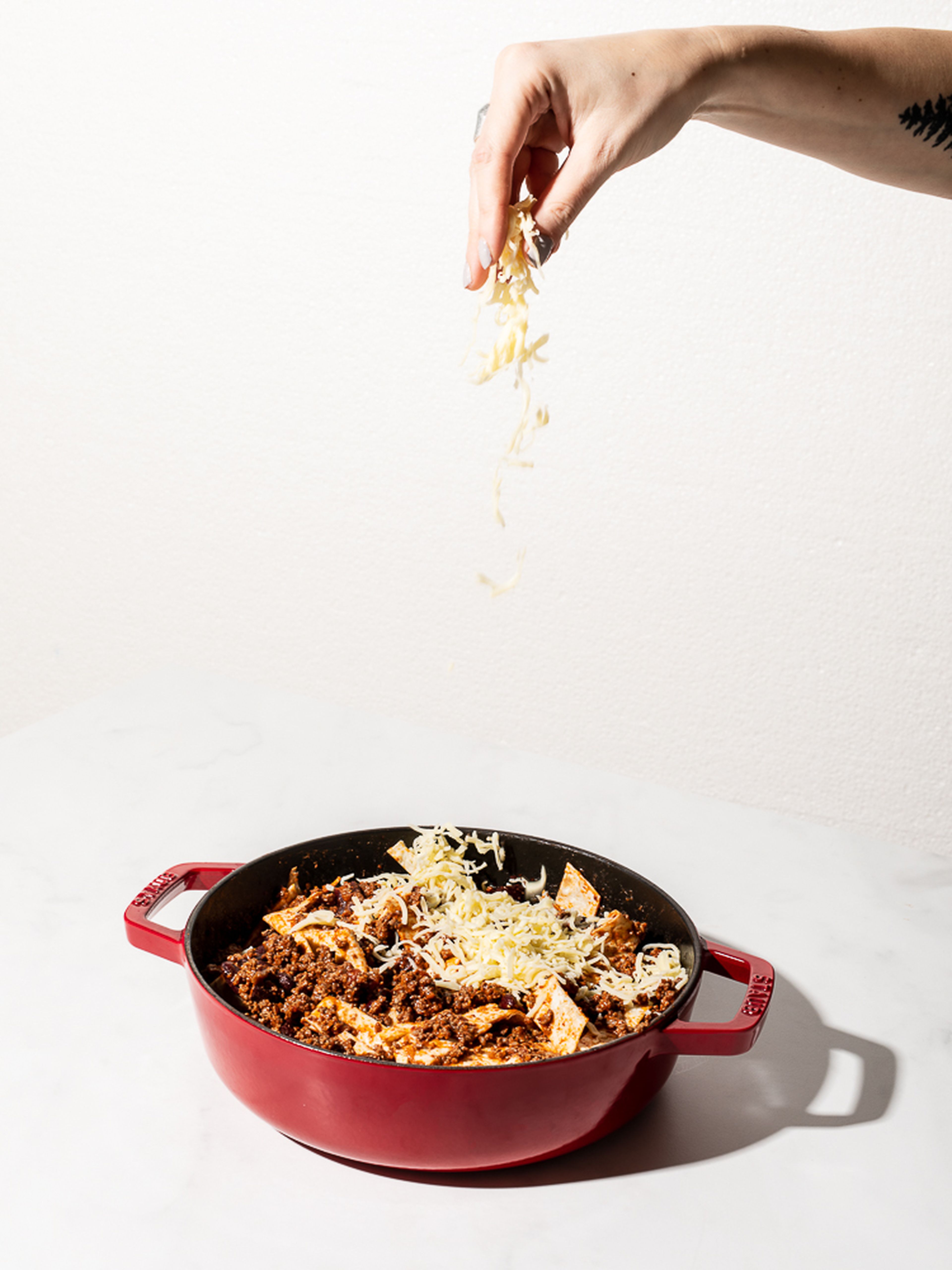 How did I make it?
As unusual as the recipe might seem at first, it's very straightforward: brown ground beef with spices of your choice, then add canned pinto beans and tomato purée, mix well, and continue to fry everything for a couple of minutes. And what about the wheat tortillas? Instead of using them as a wrapper, I cut them into strips and mixed them with the meat and beans. Finally, I topped everything with grated cheese and fresh cilantro.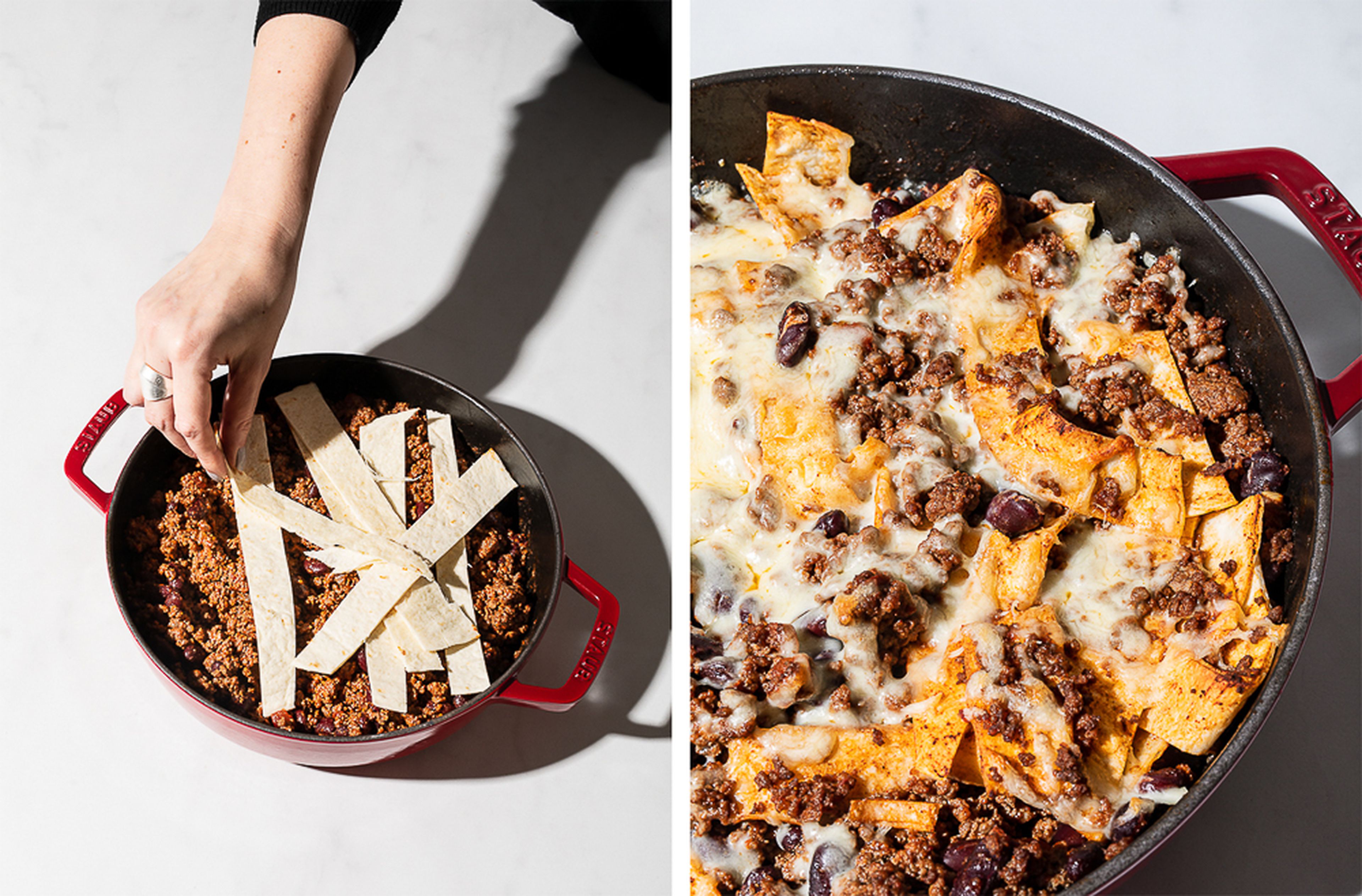 Ingredients for cooking the recipe at home: 1 lb (500 g ground beef,) ½ tsp chilli powder, ½ tsp paprika powder, ½ tsp ground cumin, ¼ tsp cayenne pepper, ½ tsp dried oregano, canned pinto beans, canned tomato purée, 6 wheat tortillas, 7 oz (200 g) grated Edam cheese, 1 oz (30 g) cilantro.
Will I make it again?
Probably not. The mixture of beef and tortilla strips tasted more than okay, but the real character of this former finger food meal got completely lost on the way.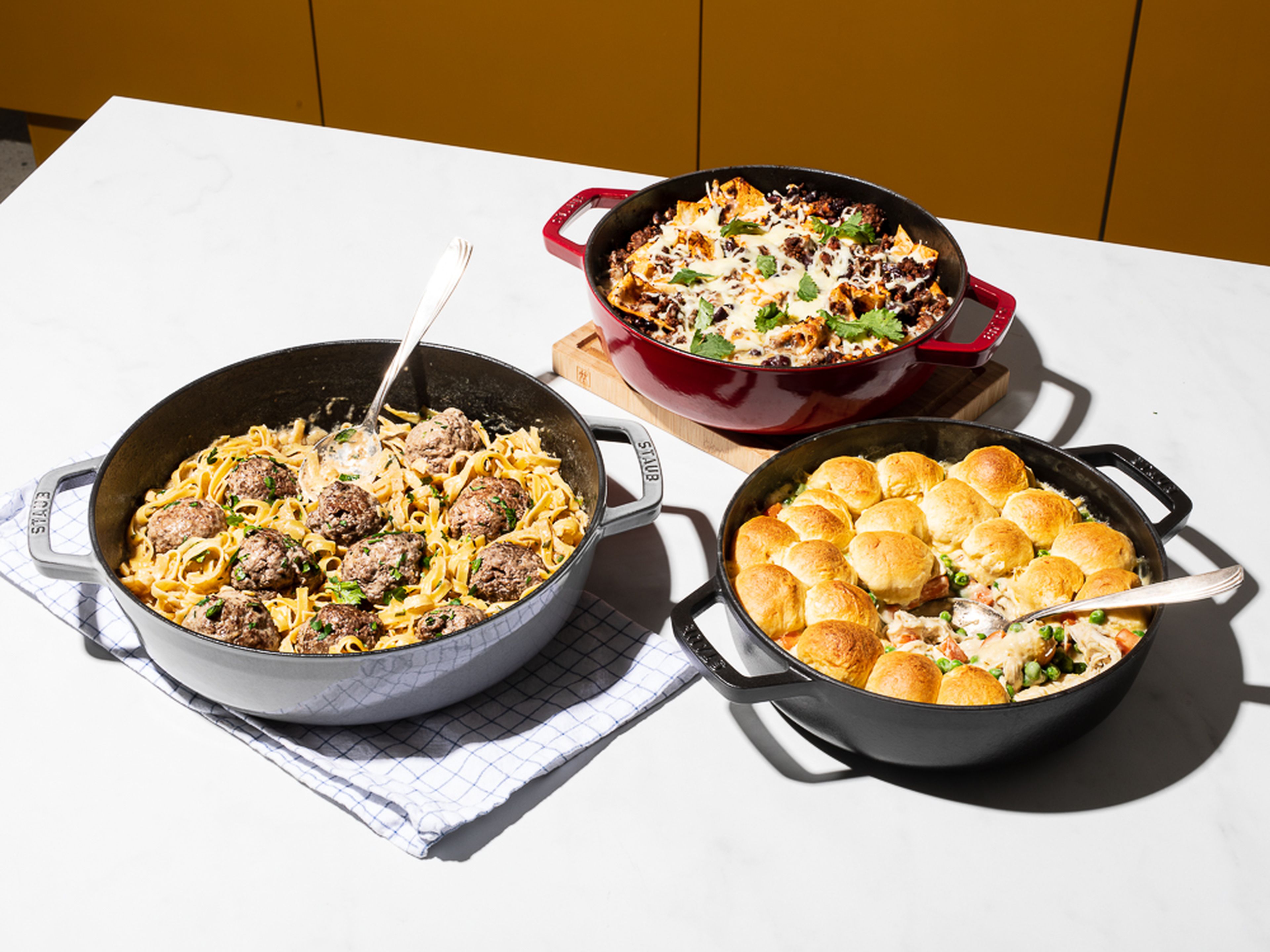 Would you try one of these dishes? Do you have a favorite one pot dish? Tell us in the comments or upload your own recipe!
Published on November 30, 2019
More delicious ideas for you